Compared to traditional single music, remixing songs gives a new experience. That is why people like attending clubs and parties where a DJ can mash up songs in a new and exciting way. Thanks to several convenient online programs, it is now easy to get a background DJ music remix to download. These tools make it easy to mix different songs without being a professional DJ.
This blog aims to give you a list of our best DJ editor online free tools for instant DJ music remix and download. We'll show you the best DJ app for PC and Mac with Spotify. You will find these apps and online tools quite helpful in giving you the best DJ music mash-up experience.
Part 1. 10 Popular Online DJ Song Makers [Simple to use]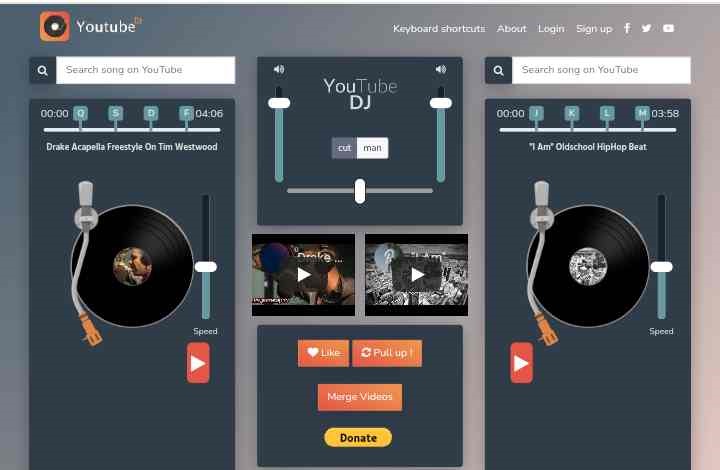 The first DJ mixer we will be discussing is the free music mixer called YouTube DJ. It lets you make music mash-ups from YouTube videos, thereby helping you create whole new beats that will entertain your listeners. YouTube DJ audio editor online provides features such as the following, for free:
It has been designed on any excellent default web browser. Hence it is a purely DJ editor online.
You will find keyboard shortcuts for each function on this site, which make your DJ mash-up fast.
You can merge songs, crossfade between songs, make loops, change the speed and tempo of the songs.
After making your DJ remix, you can save it by downloading it to your device storage.
You.DJ is another free DJ app for remixing cloud music and songs from your device storage. All these can be done on your internet browser, so you cannot download the software. Other features of You.DJ online app are outlined below:
The software is easy to use in mixing and remixing DJ music.
There is a free Chrome Add-on you can use in addition to this editor to give you the best mash-up results.
You can access YouTube music and use this editor for your remixes.
There is the option to bookmark your favorite songs on this site.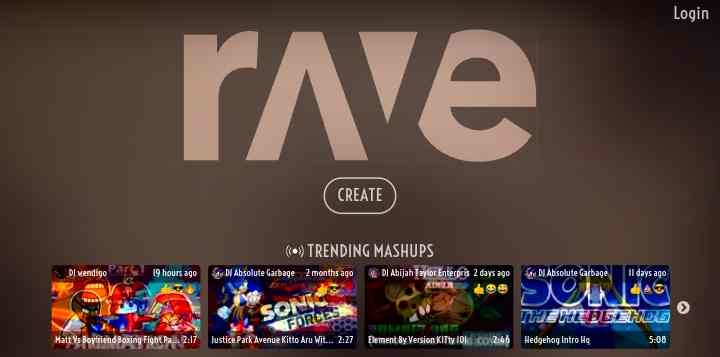 Rave DJ is the ultimate DJ editor online free tool for mixing songs you want to use at a party or for your gym sessions. It lets you create remix playlists with your favorite songs.
The interface is filled with trending playlist categories such as mash-ups, mixes, and the latest remixes.
It works on browsers, so you don't have to spend time downloading and setting up an app.
This DJ editor online is a free download tool with an attractive interface that gives you a party scenario vibe.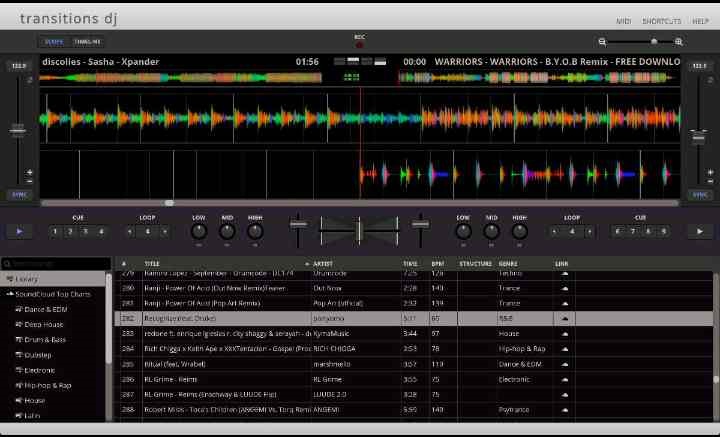 Get Transitions DJ editor online for your DJ mash-ups on Windows, Mac, and Chromebook, as well as the web. It provides you with a library of DJ soundtracks for free download and mixing.
It provides a host of effects and filters such as loop, cut and trim, to give your audio sound a more exciting twist.
Background DJ music on this site is arranged by genre to make it easier to choose the songs to mix as you go.
The start points are cued to guide you.
You can easily change the BPM of the music as it plays.
Party Cloud is a DJ software Spotify Windows app which can also be used on Mac. Note that it is a purely desktop computer tool that works efficiently in mixing DJ instrumental music for free.
It gives you total DJ deck access online, so you can mix songs as you wish.
There is a wide range of effects to make music remix better; they include song echoes, loops, changes in BPM, etc.
The songs on this site music library are derived from Soundcloud, giving you access to millions of DJ cloud music.
It does not consume much space or resources, ideal for a swift music mix.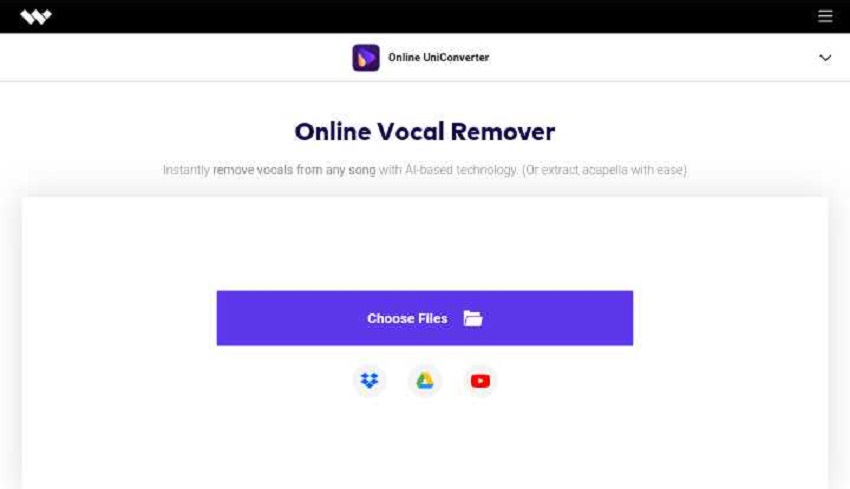 Online Vocal Remover is an AI DJ mixer that instantly separates the vocals from the instrumentals of your favorite songs. You can easily download the Karaoke versions of songs from YouTube videos as background DJ music for free.
This tool is ideal for DJ Karaoke music free download. All you need is to get the music you want to use for your DJ mix, upload it on Vocal Remover and extract the free karaoke version for your mash-up.
It is ultra-speed, a requirement for quick DJ music remix.
The audio produced by this DJ editor online free tool is of top-notch quality. The original quality of songs is not compromised, unlike most free online tools out there.
It supports media files of formats like MP3, MP4, Mkv, WAV, MOV, M4A, etc.
It is the ideal tool for getting DJ Karaoke music free download. You can convert video to audio, combine different songs, make appealing music videos and use them for wedding party, birthday parties, festivals, meditation, or workout gym.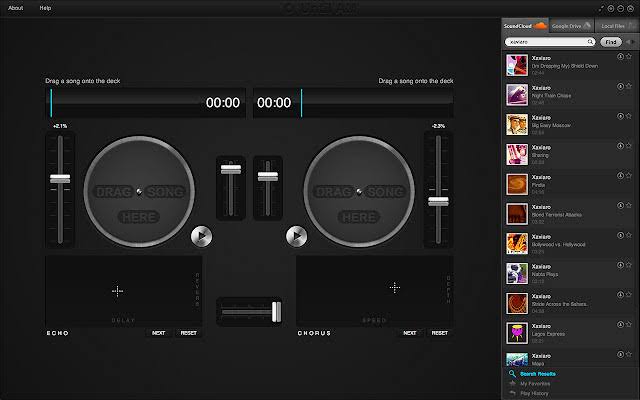 UntilAM is a virtual DJ compatible with Mac OS, Windows, and online browsers. You can drag songs and drop them from the list of popular songs arranged for you on the interface. You can also remove songs from your music library, Soundcloud and Google Drive.
It contains virtual DJ turntables, live/real-time effects, and vinyl scratching to give you that physical DJ play experience.
It allows you to either speed up or slow the music down as you remix.
It is simple to use.
It allows for waveform visualization.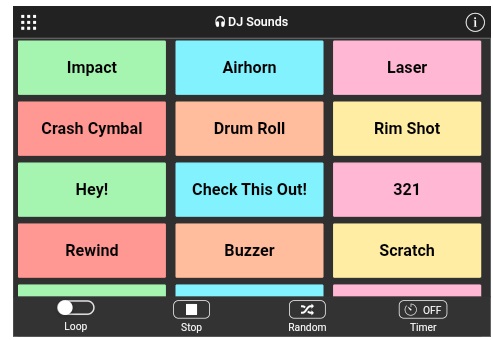 This is an online DJ games site with which you can play DJ mixes that are of high quality. With just a button tap, you can create a fantastic DJ mash-up with this tool. You can download this DJ app for Mac Apple music and Android PlayStore.
There is a wide range of DJ effects, vocals, DJ drops, sample kicks, snare, etc.
The sound effects you can use on this soundboard include Airhorn, Laser, Buzzer, Laugh, Dial Tone, Explosion, and so much more!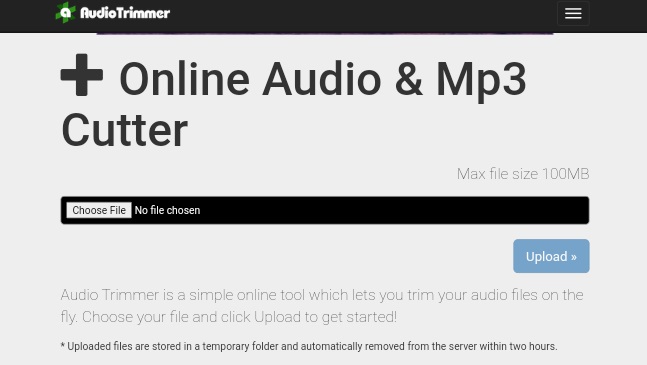 Audio Trimmer is an audio editor you can use to trim songs and merge them to form a whole new remix. This tool is recommended for DJs and users who desire to enjoy a simple sound mix without formal training.
It supports different audio file formats, including 3GPP, MP3, AIFF, OGG, etc. That makes it easy for you to use any song you like without limitations because of the file format.
It is free for online use.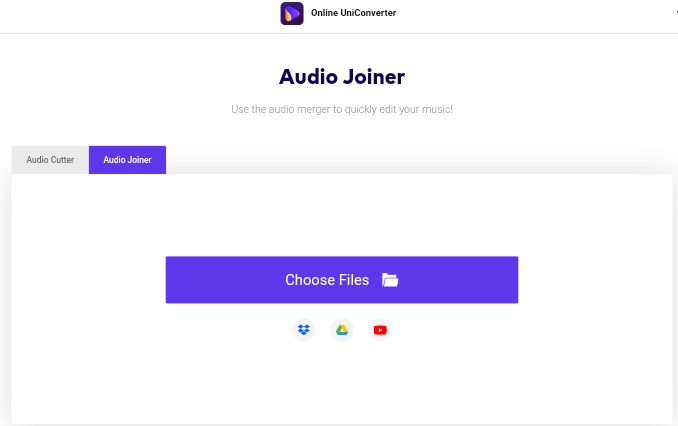 The final tool we will be showing you is the Online UniConverter Audio Joiner. You can tell that this tool has been designed for joining or merging audio sounds from its name.
There is a cross-fade feature already built in this tool to easily slide from one song to another. Fade-in and fade-out features are also present.
It allows you to merge MP3 songs and other audio formats all online.
It works with incredible speed to mash up different songs in seconds.
Your online privacy is protected as files uploaded on this site are deleted 24 hours after editing them.
Part 2. DJ Software/App for Spotify [Bonus #1]
A bonus editor you can use is the recommended DJ app for PC Spotify; it is also a DJ software Mac Spotify tool. Virtual DJ 2021 Vocal Remover is an editing app that separates stems in a song and gives you advanced technology to reinvent the game of DJing. The new version of this app allows you to separate and remix the different track components such as the vocals, instruments, hi-hats, kicks, etc., all in real-time.
With VirtualDJ 2021, DJ music mash-ups have been made easier, transitions from song to song are seamless, and specific sections of songs can be removed or isolated to suit the new song remix. It is a powerful tool that is surprisingly easy to use, even for beginners who have never had skill training on DJ remixes.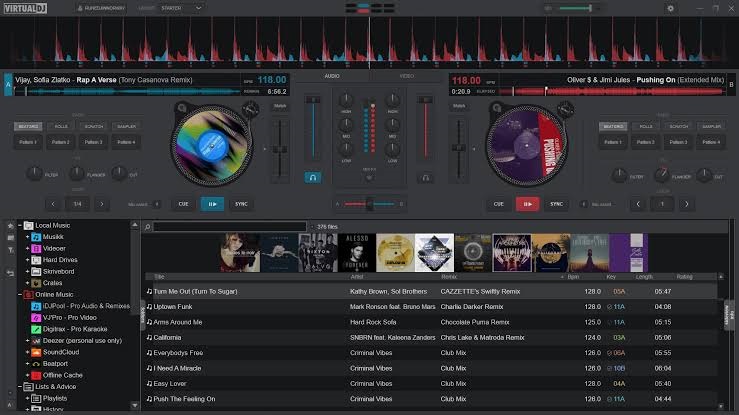 Part 3. 3 Best Places to Free Download DJ Sound Tracks [Bonus #2]
Are you looking for background DJ music remix MP3 to download online? There are many available sites for DJ instrumental music for free download, but not all these sites are reliable for good DJ soundtracks.
The three best places you can get DJ soundtracks for free download include Soundcloud, Bandcamp, and Facebook. You can search for the DJ mix by name, artists, or genres on these sites. In addition, you will find DJ mash-ups that will thrill you and your friends at your next party.
Alternatively, you can get DJ Karaoke songs for free download by extracting them from songs you like on the Online Vocal Remover discussed in Part 1 above.
Conclusion
Many available online DJ song makers promise to deliver the best results for DJ mash-ups and song remixes. This blog has given you a list of the best free online DJ beatmakers for PC, Mac, iOS, and other systems. The bonus tools will also come in handy when you extract and download background DJ music remixes online.