MP3 Karaoke is karaoke vocal remover software that lets you remove vocals from songs to get the karaoke version. With this tool, you can remove vocals from multiple songs at the same time with MP3 Karaoke. You can also make adjustments to the downloaded music without vocals.
As impressive as this tool sounds, it has limitations. These limitations border on the malware that users sometimes download when trying to download karaoke songs on the site. This issue arises mainly because the tool has not been updated since February 2020.
That is why this blog will provide you with free karaoke maker software that will serve as proven alternatives to MP3 Karaoke freeware in converting MP3 to Karaoke.
Part 1: Why and how to use MP3 Karaoke software
You need MP3 karaoke software to access karaoke versions of songs for your parties and events. So, if you are a lover of karaoke music, you will find karaoke converter apps quite helpful. Create Karaoke MP3 songs from your music collection or your favorite songs online using MP3 Karaoke Software. It is a free tool that can quickly eliminate vocals and leave the instrumentals of any song you want. It has been optimized to batch-convert songs at a breakneck speed. It is freeware that operates nicely with Windows Operating System (specifically Windows 7 and Vista).
Remove vocals and sing Karaoke with MP3 Karaoke by following the steps below:
Step 1: Launch the website or download MP3 Karaoke software and install it on your PC.
Step 2: Load an MP3 file on the site; then initiate the voice removal process by selecting the "K" icon or simply pressing F3.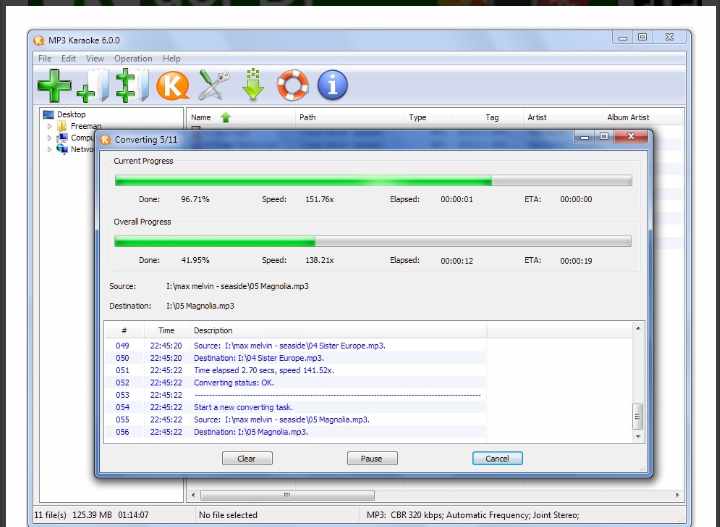 Step 3: The karaoke song is automatically stored in a folder on your local storage.
Part 2: 4 different Karaoke makers for PC/Mac/Mobile
The top recommendation for free karaoke editor is Online UniConverter Vocal Remover. It is an online AI vocal remover that works on any system. Using it, you can achieve high-quality karaoke files to separate songs into acapella and karaoke versions. Do not be restricted to only vocal removal and creation of MP3 Karaoke with Online UniConverter as you can access other editing tools like audio trimming, GIF maker, cutting and compression, and so on.
Other features you stand to enjoy when you use Online UniConverter Vocal Remover include the following:
It is 30 times faster than other audio converter tools.
It has excellent customer support to guide you through any issues you may have when using the tool.
It has amazing AI-based tech for understanding and separating vocals from Karaoke.
In one click, you get to convert songs to Karaoke on UniConverter.
MP3 is not the only file format supported on the site; others include OGG, WAV, MKV, MP4, M4A, and MOV.
This online free karaoke converter is not like other free tools that are filled with ads. You get to enjoy the smooth process of MP3 karaoke song conversion without any ads interrupting you.
Here is how to use this Karaoke maker for the best professional results:
Step 1: Launch Vocal Remover site and tool
Go to media.io site and click "Vocal Remover". It will give you access to the vocal remover tool.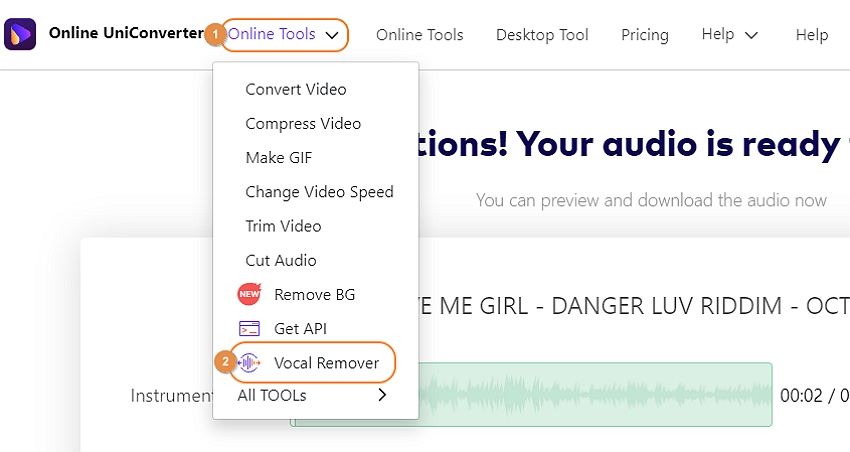 Step 2: Activate Vocal Remover
Click "Choose Files" to add an audio file. Alternatively, drag and drop the file from local storage to the home page.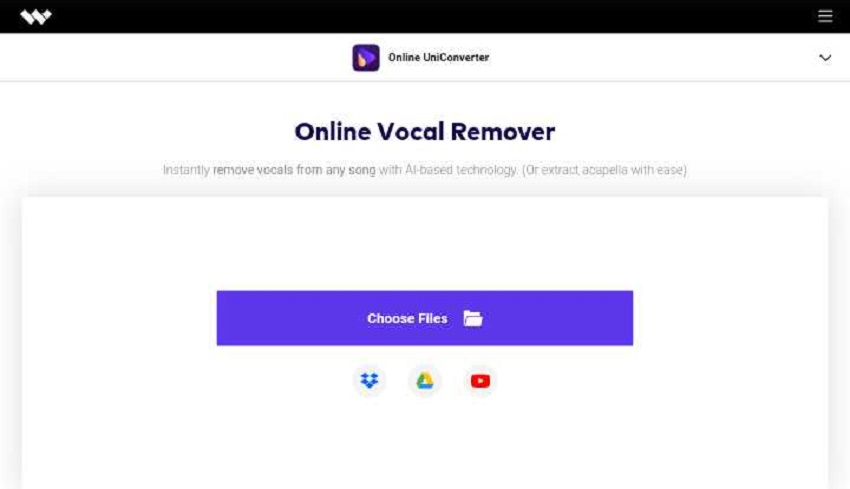 Step 3: Preview and Download Karaoke music
Two tracks will be displayed. That is because this tool removes vocals and creates MP3 Karaoke music. Choose the "Download" button for the instrumental to get the karaoke version of songs.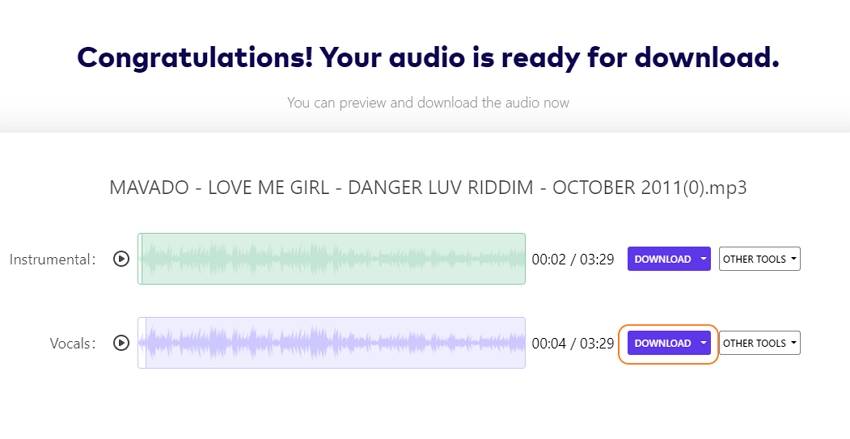 Audacity is an MP3 to Karaoke Converter Online free tool that has been designed for Windows OS (version 7 to 11), macOS (versions 10.7 to 12), and Linux/GNU devices. It is an open-source video editor with which you can easily create MP3 Karaoke from your favorite songs. Audacity Karaoke is the way to go if you want your karaoke song in high quality.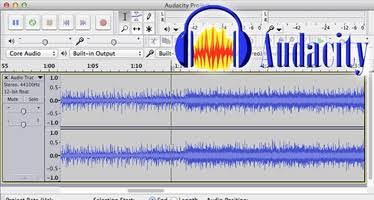 Some of the critical features of Audacity Karaoke maker include:
A sufficient number of clip bars have been included in the software to make audio clips adjustment easy to navigate.
It allows you to edit songs from multiple sources using many effects, including pitch change, speed, tempo adjustments, etc.
It easily removes the vocals from audio files and lets you record your voice and edit the song to your satisfaction.
The Audacity interface supports different language translations so that it can be used by people worldwide.
It supports audio file formats like MP3, WAV, FLAC, OGG Vorbis, MP2, and AIFF.
Audacity Karaoke Maker free download is available online, so give the software a try, and you will enjoy using it.
Limitations:
However, you should know that, unlike MP3 Karaoke Maker, you need to download the software to use Audacity for MP3 karaoke conversion.
Also, if you love the customizable user interfaces, you will be disappointed in this instance. That is because users have complained about the interface having only two options: dark and light backgrounds.
It is also not the best for beginners as it can be complicated when you first come across the tool, unlike MP3 Karaoke Maker, which amateurs can use. All the same, advanced users will find it quite enjoyable.
Vocal Remover for Karaoke is our recommended MP3 to Karaoke converter app for Android users. It works well on all Android devices for vocal removal and instant karaoke making. The latest version 1.2 of the app produces improved audio quality, better performance and allows you to save your processed audio to a file.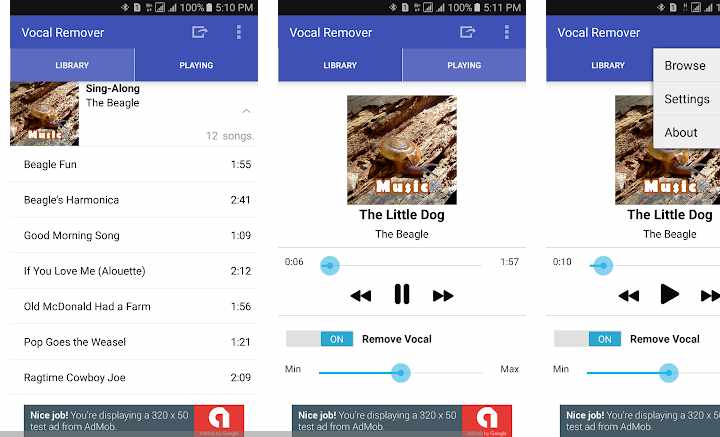 Below are some admirable features of Vocal Remover for Karaoke:
The tool supports the adjustment of effects' strengths when editing the audio, just like MP3 Karaoke Maker.
You can remove song vocals from any song in your audio library and add effects in real-time.
It lets you control playback seeking, which gives it an edge over a tool like MP3 Karaoke Maker.
The save file bitrate 96-320 kbps is adjustable.
Vocal Remover for Karaoke is an Android app, unlike MP3 Karaoke Maker, which works on Windows Operating System.
Limitations:
Vocal Remover for Karaoke sometimes experiences glitches when converting MP3 to Karaoke or removing vocals from a song. Unfortunately, the output quality of the audio depends on the original music and the devices used. That means that it doesn't improve sound quality like MP3 Karaoke Maker. That is an aspect that the manufacturers still need to work on improving.
MP3 to Karaoke App for iPhone
Get the Karaoke version of your favorite songs on your iPhone using the Vocal Extractor-Karaoke maker. Using AI Deep Learning Technologies, Vocal Extractor separates the vocals from the accompanying instruments of any music you upload on the software. Then, it instantly gives you a Karaoke version of the music. Afterward, you can save both the karaoke and acapella versions of the music to your local storage in file formats WAV, M4A, or MP3 at 44.1 kHz.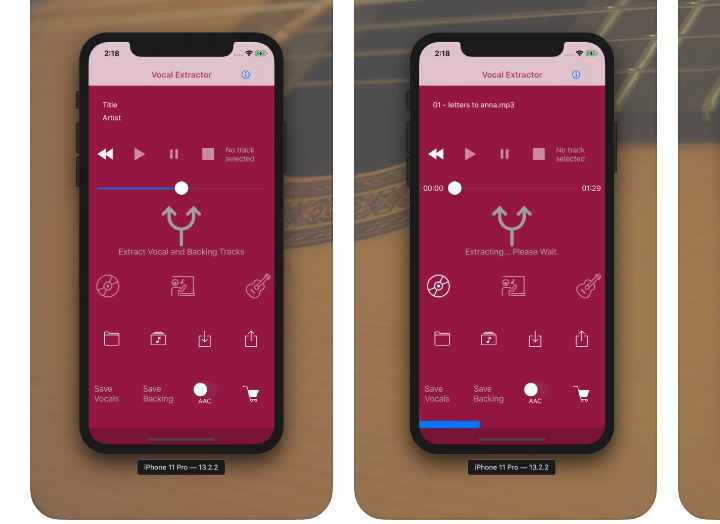 If you use this free Karaoke player software for your iPhone, you get to enjoy the following features:
It is a free tool like MP3 Karaoke Maker, but there are in-app purchases you need to make to access certain features and remove limitations.
It allows for file sharing to other social apps. Simply save the extracted karaoke track to iCloud, Dropbox, or Google Drive, then use it on other apps.
It uses AI tech to separate the vocals from songs, unlike other traditional karaoke apps like MP3 Karaoke Maker. That is a big selling point for Vocal Extractor.
You can import songs from iCloud, Google Drive, Dropbox, or even other apps like YouTube on Vocal Extractor before removing the vocals.
Limitations:
The audio output may be without the vocals, but the instruments come out faded. The app is also limited in the number of devices it is compatible with, as it requires only iOS13.1 or later for iPhone and iPod touch and macOS11.0 or later for Mac.
Part 3: What is the best Karaoke converter for free?
Our top-rated MP3 karaoke software alternatives for different devices are:
Online UniConverter Vocal Remover.
Audacity Karaoke Software for Mac and Windows.
Karaoke Converter App for Android.
Vocal Extractor - Karaoke Maker for iPhone.
These Karaoke maker tools are some of the best you can find as they give you karaoke versions of the music for free.
However, if you must enjoy all the features of the apps and save larger files, you will need to pay for an upgraded version. Some of the apps have in-app purchases to get these upgraded features. Also, you may experience processing glitches sometimes and delays in MP3 karaoke conversion.
The online version of converting MP3 to Karaoke is preferable to karaoke converter apps in dealing with these limitations and ensuring speedy conversion. You can use tools like Online UniConverter Vocal Remover for this purpose. Other online Karaoke Converter tools you can consider include SongPeel, PhonicMind, Conversion Tool Online, etc.
Conclusion
We have provided you with the best free MP3 Karaoke maker software for Windows, Mac, Android, and online use. You do not always have to use MP3 Karaoke Maker to convert your MP3 songs to Karaoke as you have ample alternatives. Hence, select a right app for your device and use it to convert MP3 audio to Karaoke effectively.