When you surf the internet, you will find music sounds that you like, but sometimes, this music comes with videos that you do not necessarily need. If you are a music lover that wants to use sounds to create your beat or videos, you will need to take the sound out of the video.
This blog aims to show you several solid ways to extract sound from video online or using third-party apps. The suggested video audio extractors can be used to extract music from videos on your computer system and smartphones, so follow carefully.
Part 1. How to extract sound from video on Web/Computer/Smartphone [Online & Fast]
The first three methods center on voice extraction online on any device you are using.
Audio Converter by 123Apps is a toolbox used for online video editing within seconds or minutes at most. This tool easily converts video files to audio; these files can be in different formats like OGG, FLAC, WMA, WAV, MP3, etc. The tool is also available for other video editing options like trimming and cutting, rotation, speed change, looping, volume adjustment, equalizing, etc. Visit the site to extract voice from video online and try out these additional editing features.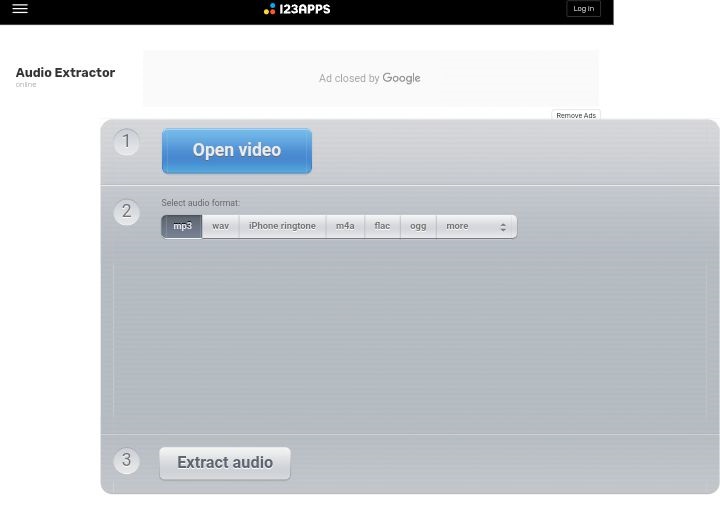 Use the steps below to rip sound from video with this audio converter feature.
Launch the audio converter feature.
Click the "Open files" button. Here, you will choose the video you want to use for the audio extraction.
Select your preferred output format while the video loads on the website. MP3 is the recommended default audio format.
Select "Convert".
Click "Download" to save the audio file.
Wondershare Online UniConverter is a video vocal remover that extracts the music from any video you upload in formats like MOV, MKV, WAV, AVI, etc. It effectively does this by converting video to audio so you can download the audio for other purposes. It is a free tool that does not bother you with ads and it neither adds a watermark to video or audio files. You can access it on your default browser, be it Chrome, Safari, Edge, or Firefox, on different computer systems and mobile devices such as Windows PC, Mac systems, Android, iPhones, etc. Moreover, Online UniConverter does not compromise on the output quality of converted audio files.
Now you could visit the UniConverter website and follow these steps to learn how to extract sound from video on desktop or your mobile device:
Step 1: Upload a video file on the site to begin the process. Ensure you choose the file format for both input and output.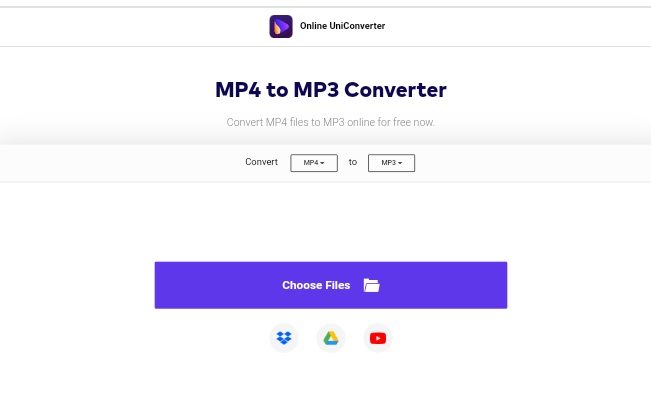 Step 2: Tap the "Convert" button to initiate the video to audio conversion.
Step 3: After the tool has converted the video to audio MP3, you can click "Download" and save it on your device storage or Dropbox.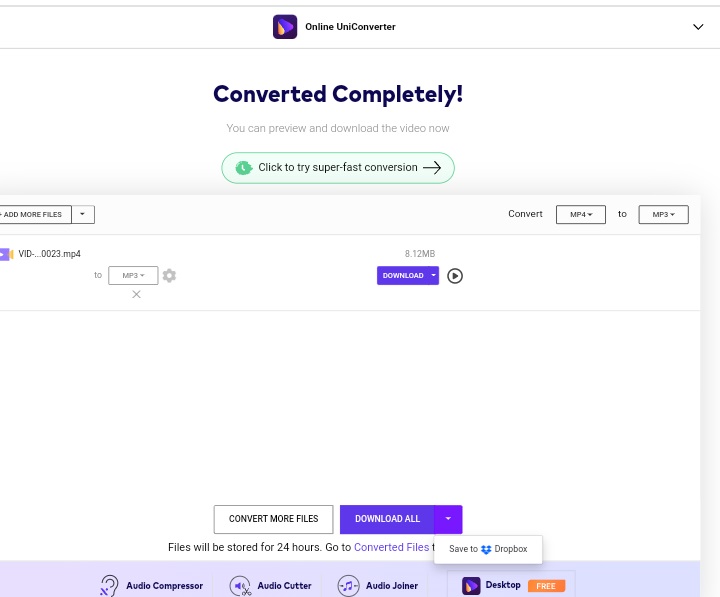 Bonus tips: If you want a specific voice from the music or a soundtrack from a video, use Online UniConverter Vocal Remover. This vocal remover helps you isolate vocals from videos in a matter of seconds. You can download the music separately from the lyrics. Visit the toolbox site to know how to remove a specific voice from a video.
FileConverto Video Vocal Extractor
FileConverto Extractor is the third recommended tool you can use to extract voice from video online. This tool supports audio and video file formats such as MP4, MOV, MP4, AVI, MKVetc. Additionally, it converts different multimedia files into images and PDF documents and not just videos and audio. After converting the video to audio, you can join it with other audios, rotate, and flip. The preferred output format of FileConverto video vocal extractor is MP3, the standard audio file format for quality preservation.

Vist FileConverto online on any device and remove voice from video with these steps
Add the video file to the site by selecting "Browse" to find the file location on your local storage device.
Select the "Submit Now" button. Wait as FileConverto rips the sound out of the video.
Download the converted file to save it.
Part 2. How to take sound out of a video on Windows/Mac [Software]
This part will show you how to remove voice from video with an app on Windows and Mac Operating Systems. A well-recommended video vocal remover you can use to take the sound out of a video on either Mac or Windows is Adobe Premiere. With this software, you can remove audio from video or even mute the audio from the whole video in formats like MP4, FLV, AVI, and MPEG.
Download Adobe Premiere Pro on your computer system and follow these steps:
Create a new project to work by going to the "New" option under "File."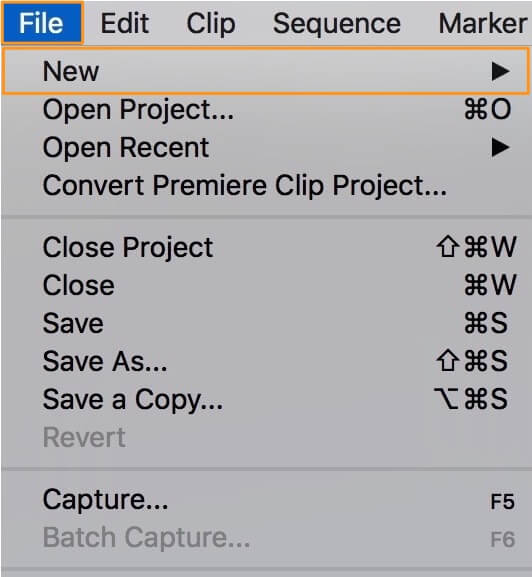 Click "Import" under "File" again to import the video from where you want to extract audio.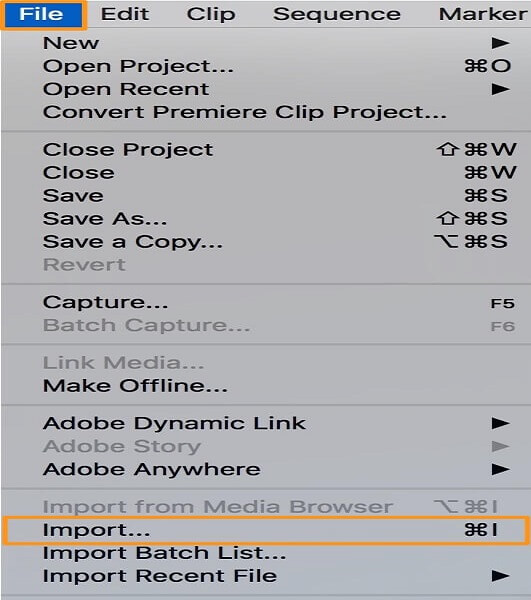 Move the video to "Timeline" under "Project" and highlight it by clicking on it.

The first way to extract audio from video on this software is by selecting "Extract Audio" when you right-click the video on the timeline. A new file is generated with everything intact from the original track but audio-only.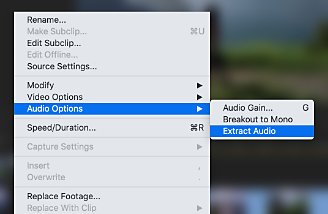 Another way you can completely rip sound from video on Adobe Premiere Pro is by unlinking. Again, right-click the video on the timeline and select "Unlink."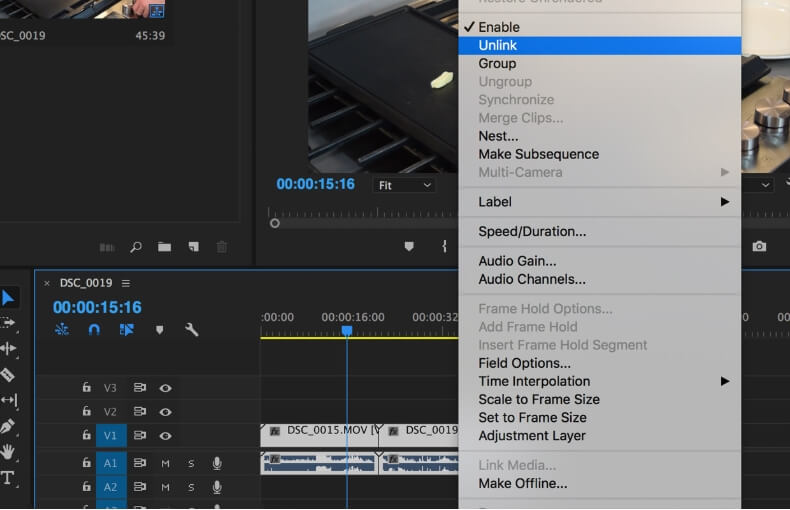 Edit the audio track if you want. Click "Export" from the drop-down "File" menu; select your preferred output format, then save the file to your device storage.
Part 3. 2 Best Apps to rip sound from video on Android/iPhone [Third-Party App]
Below are the final two best apps to take audio out of video for Android and iPhone users:
Audio Extractor is an app suitable for audio extraction, trimming, and audio change on all Android mobile devices. For example, when you remove voice from video on this app, you can use the extracted voice on another video. It works with audio formats like AAC, MP3, and WAV. It is precise and allows for video looping and trimming.
Check out other notable features of this video vocal remover for Android:
It maintains a high quality of audio after extracting from videos.
It can easily change the format of audio files to your preferred format even after converting from video to audio.
It allows you to share edited media files directly to your social media platform from the app.
You can preview your converted file before you decide to save it.
Videos are not watermarked after conversion on this app.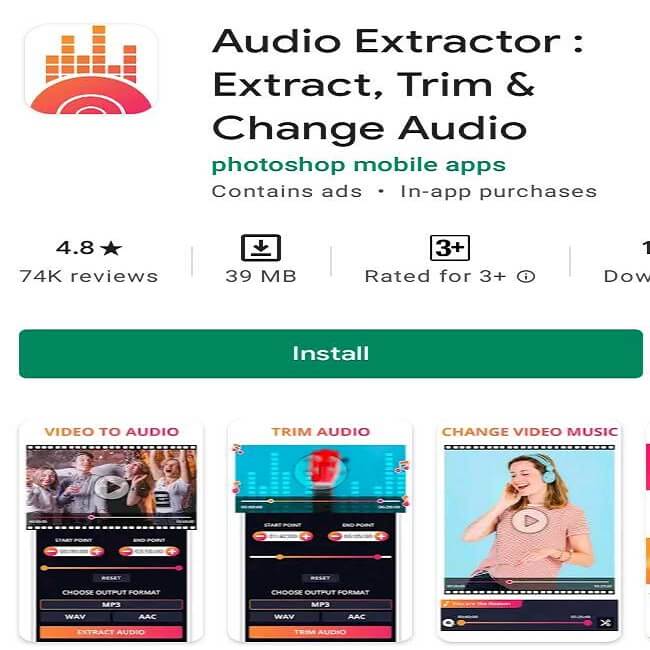 This app contains ads, unlike Online UniConverter, although it is a free tool. More so, you have to make in-app purchases if you must use the app's premium features. It is also limited to Android devices only, which comes short of online tools when it comes to device versatility.
The last video to audio converter app we will be discussing is the Audio Converter app for iPhone and iPad. This app can be accessed on the App Store by iOS users to extract music from videos on their mobile devices professionally. If you use iOS 8.0 or later and macOS 11.0 or later, you can use this software. It supports video file conversion of formats such as MP4, MPEG, MKV, MOV, 3GP, ASF, WMV, etc.
Other unique features you can enjoy when you use this Audio Converter to extract music from videos are enumerated below:
It allows for conversion into audio formats such as MP3, OGG, M4A, AIFF, AAC, M4R, WMA, FLAC, etc.
Additional editing features that can be accessed include audio file cutting, trimming, and file format conversion.
The latest version, 2.3, has better performance than previous versions.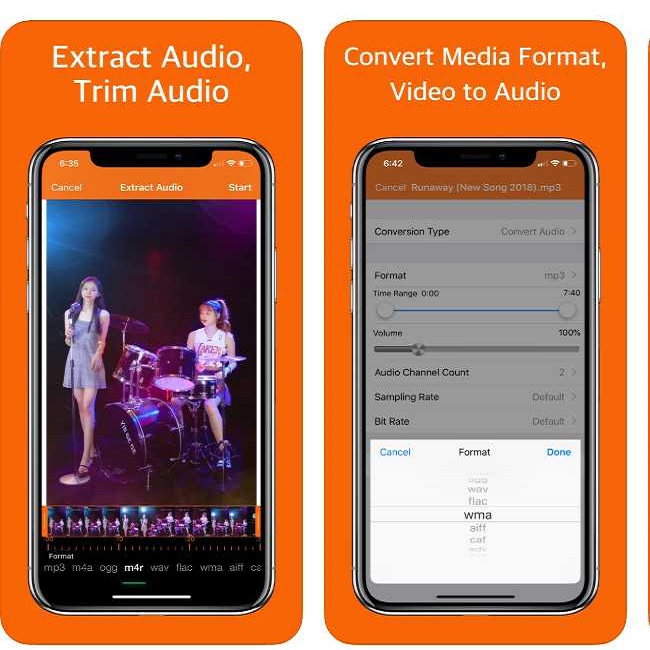 Compared with the online solutions discussed above, this app requires space and time to extract voice from video, unlike the online tools that allow you to convert video to audio speedily since they do not require you to download software to use them.
Conclusion
Extracting sound from video online and with an app has been made easy by the solutions provided in this article. No matter your computer system or Smartphone, you will find the video vocal remover suitable for your needs. And if you need fast results, you can trust that the vocal remover video online tools we have suggested will get the job done. More so, when you follow the steps provided here, you will know how to extract sounds from videos without stress.