Music lovers or musicians, for that matter, wouldn't miss a chance to sing along to their favorite music tunes. For this reason, they may want to extract acapella or vocals from a music file for playback on an audio player or karaoke practice. But there is a small problem; digging out the best acapella extractor from the hundreds of options online can be challenging. Don't worry, though, as you'll quickly find an acapella maker in this listicle with up to 12 AI-powered online apps.
Part 1. What is an AI acapella extractor?
Before we dive in to discuss an AI acapella generator, let's first know what an 'A Capella' song is. According to Wikipedia, a capella is a song performance without instrumental accompaniment. In short, acapella is basically a vocal performance with no beats, bass, piano, etc. Some people even prefer to call it a karaoke performance.
With that in mind, an AI acapella extractor is a program (online or dedicated) to help users generate vocals from songs without lifting a finger. All the acapella user needs to do is upload a video, and the app will automatically extract the lyrics. You can then go ahead to use your removed acapella for personal use or a private party.
Part 2. Quick navigation of top 12 online acapella extractors
Below is a quick overview of the 12 best AI acapella extractors this article will be discussing:
Acapella Extractor
Media.io Vocal Remover

[Recommended]

Lalal.ai
Moises
Vocal Remover
PhonicMind
X-Minus.Pro
EditYourAudio
Splitter.ai
Melody.ml
Voxiso
AI Vocal Remover
Part 3. 12 best free acapella/vocal makers online in 2022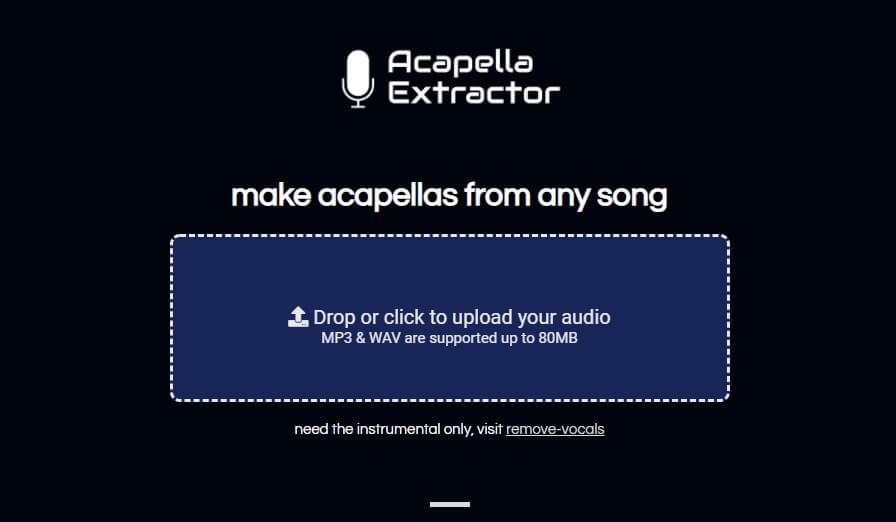 Acapella Extractor should be your first consideration if you want to extract acapella from audio and videos. This acapella maker online is simple and supports extracting vocals from MP3 and WAV. To isolate vocals, you only need to upload a song on the drag and drop UI, and the AI-powered system will do the rest. You'll then be redirected to a download page. Sadly, the maximum file size you can upload is 80MB. In addition, you can only edit two files per day.
Key features:
Simple drag-and-drop UI.
Extract vocals from MP3 and WAV.
Upload up to 80MB audio files.
No download or registration is required.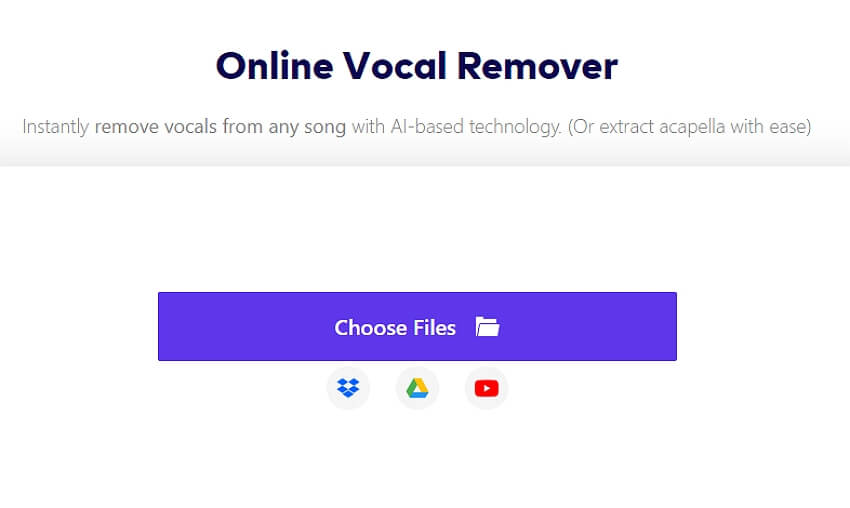 Online UniConverter Vocal Remover is a new kid on the block with fun features. It boasts an AI-supported and straightforward platform to help you make acapella online without lifting a finger. Unlike most online programs on this list, Media.io Vocal Remover supports extracting vocals from videos and audio. It supports MP3, M4A, MOV, MPV, VOB, etc. And after extracting lyrics, it features tools for trimming, compressing, adding audio to video, etc.
Key features:
Extract vocals with a single click.
Generate lyrics from all standard video/audio formats.
Excellent tools for adding audio to video, trimming, compressing, etc.
Free to use with no signup needed.
100MB maximum file size.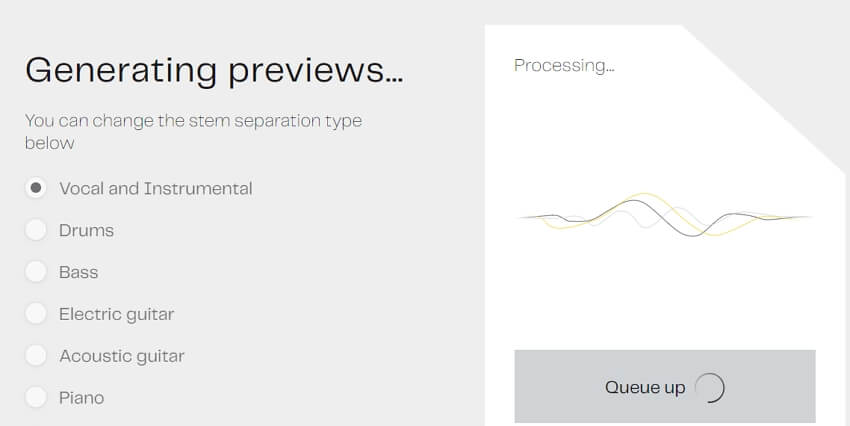 Lalal.ai is a music separation service that runs smoothly on any updated web browser. It offers fast, straightforward, and lossless stem extraction. With it, you can extract vocals, bass, piano, guitar, and so on. Like Online UniConverter, it supports standard video and audio formats like MP4, MOV, MKV, AIFF, OGG, and more. However, free users are limited to only OGG, WAV, and MP3 uploads. What's worse, the upload size limit is just 50MB.
Key features:
Fast and smooth AI-powered technology.
Extract vocals, bass, piano, and so on.
Compatible with MP3, WAV, OGG, AIFF, etc.
50MB maximum file size.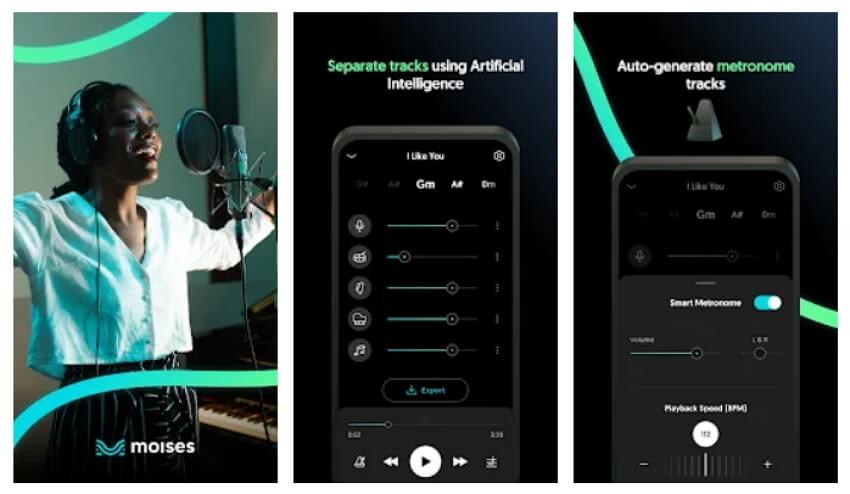 Moises is not an online acapella creator. That's because it's a dedicated app for Android and iPhone to help you harness all your musical talents on the go. With Moises, you can isolate vocals from instrumentals and edit by changing pitch, remixing, applying motion effects, and so on. Moises accepts file formats such as MP3, AAC, WAV, OGG, MP4, M4R, MOV, and more. And after creating, you can download your acapella file in WAV or M4A.
Key features:
Multiple input and output formats.
WAV and M4A downloads.
Separates all instruments from vocals.
5-minute playback duration per file.
Trim and mix audio.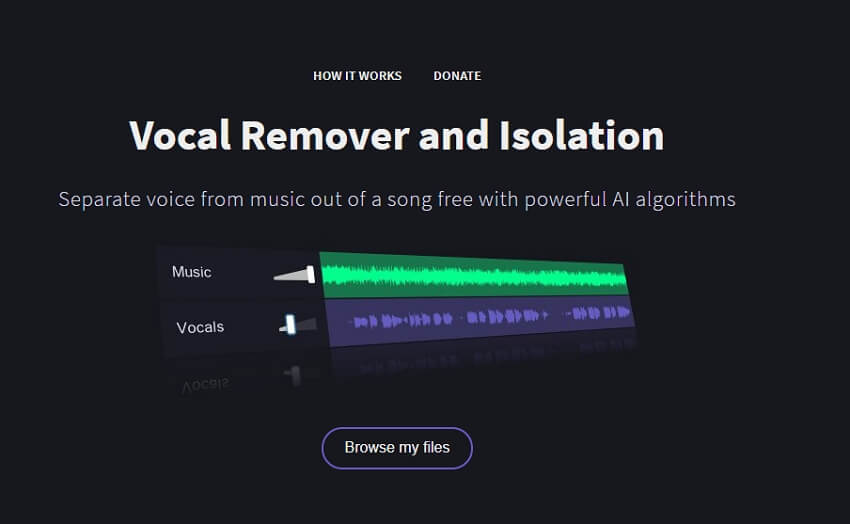 Vocal Remover is a clean and simple acapella extractor online that doesn't need any signup or registration to use. This free software is excitingly fast, taking no more than 10 seconds to process your files. Once you select a song, the AI system will separate your files, giving you two tracks for vocals and instrumentals. Plus, it comes with additional tools like an audio joiner, audio cutter, karaoke recorder, and more. Unfortunately, you can only output the original file format.
Key features:
Clean, simple, and ad-free UI.
Separate vocals from instruments automatically.
Trim and join audio.
Record voices and karaoke.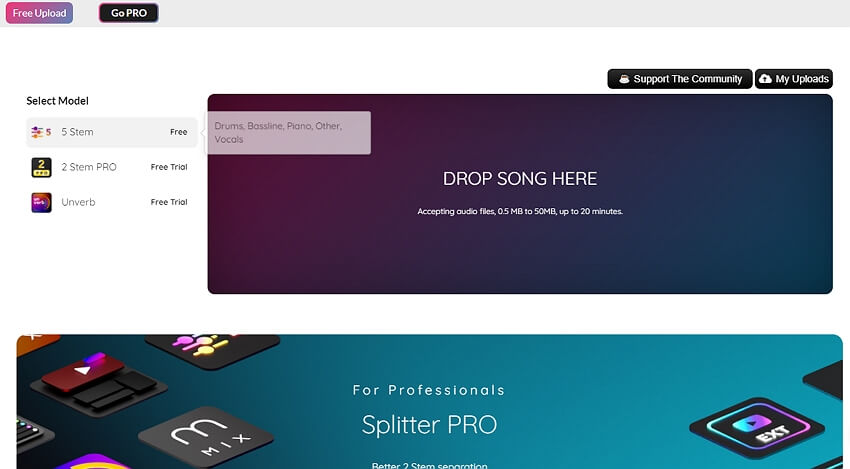 PhonicMind is a paid online acapella extractor that also offers a limited free service. This program can extract vocals, bass, drums, and other instruments from songs. It features a drag-and-drop platform to upload WAV, AIFF, FLAC, WMA, ACC, and MP3 files. As usual, just add a file, and the AI system will extract your vocals and instrumentals quickly. Remember, you can also remove songs on Android or iPhone using its dedicated app.
Key features:
Simple, ad-free drag-and-drop platform.
Separate vocals, drums, piano, bass, etc.
Compatible with standard audio formats.
100MB maximum file support.
Dedicated apps for iPhone and Android.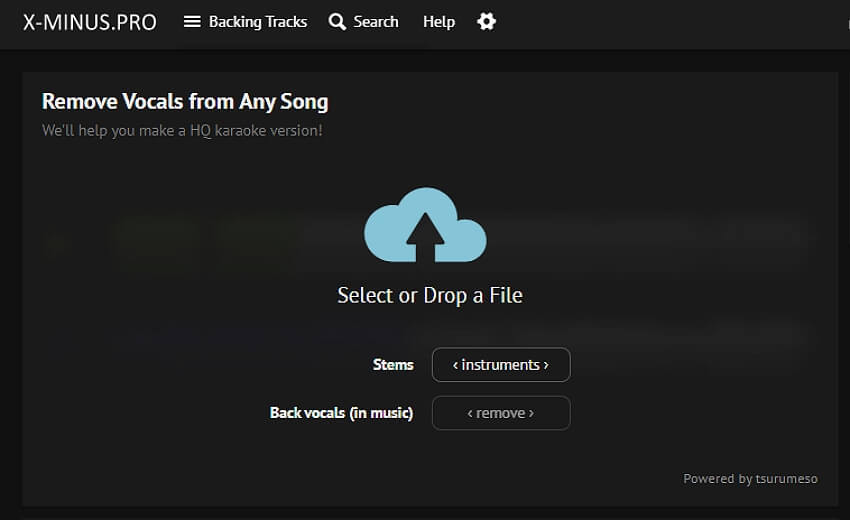 Thanks to its powerful AI technology, this online software can easily remove vocals from songs. As expected, using the software is free and doesn't require any registration or subscription. In addition to extracting vocals from audio, users can also adjust the audio pitch and tempo without compromising quality. But on the flip side, the maximum audio file size you can add is 60MB. Also, it supports MP3 outputs only.
Key features:
Isolate vocals from instrumentals automatically.
Change audio pitch and tempo.
60MB maximum file size.
MP3 outputs only.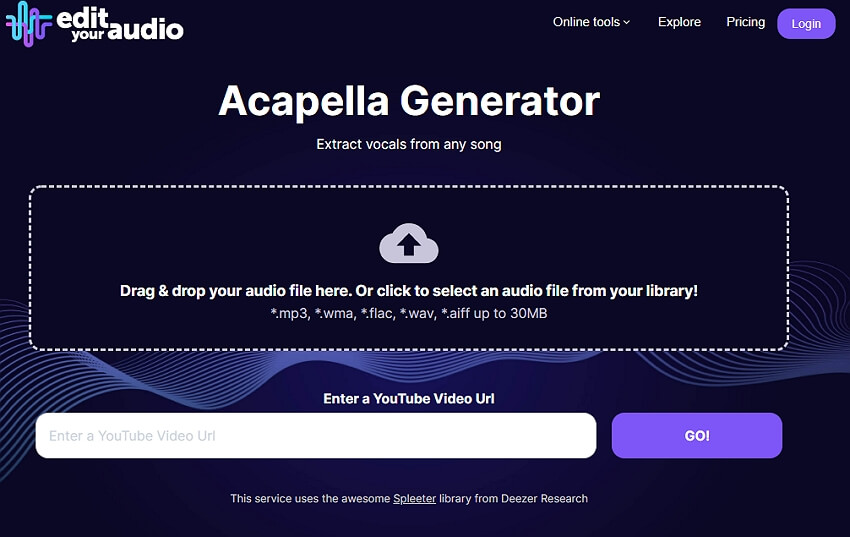 Edit Your Audio does precisely that – edit audio files with lossless quality. This free online program has multiple tools that musicians can exploit to generate an Oscar award-winning karaoke performance. Under the hood, the website packs an acapella generator to help you create vocals from MP3, WAV, AIFF, WMA, and FLAC. Just upload your song and download the acapella or vocal in MP3. Note, however, that 30MB is the maximum file size.
Key features:
Supports MP3, WMA, AIFF, WAV, and FLAC.
Generate vocals from local and YouTube files.
Simple and free to use.
Multiple free vocals to download.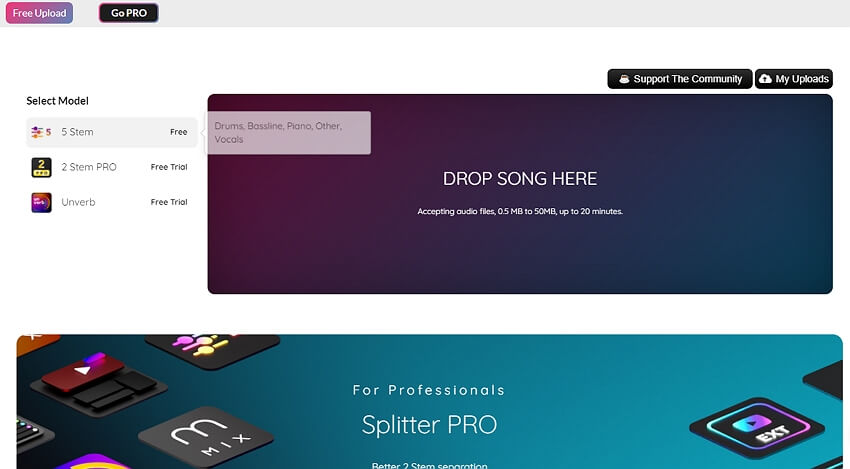 Isolating instruments and vocals from songs is a cakewalk with the AI-supported Splitter.ai. Here, users can extract stem models such as piano, bass, drums, vocals, guitar, etc. But before you start extracting, note that this program only supports MP3 inputs. Also, the maximum file size is 50MB. Nonetheless, it's an excellent free acapella extractor.
Key features:
It supports five-stem separation.
Super-fast rendering speed.
Separate up to 50-minute audio.
50MB maximum file size.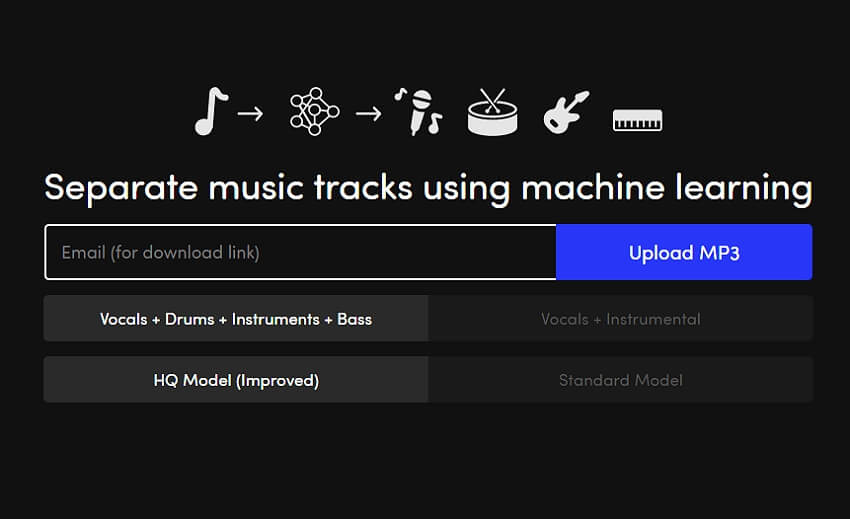 Wrapping up the top ten but not necessarily the best ten acapella extractors is Melody.ml. On its stylish user interface, you can upload MP3, WAV, OGG, and FLAC songs and proceed to extract stems like bass, drums, and vocals. Not only that, but creators can also directly export the download link to the provided email address. However, the file processing speed isn't up to scratch. Also, the maximum file size is 100MB.
Key features:
It supports MP3 inputs and outputs.
Extract vocals, instruments, bass, and drums.
Directly share the download link to email.
100MB maximum file size.
Last but definitely not least is Voxiso – a simple AI-powered audio isolation program. It's a paid program that allows you to isolate vocals from instrumentals without even doing much. Just add an audio file, and Voxiso will start analyzing it instantly. After separating the sources, you can then preview and download your audio. In addition to vocals, you can separate bass, piano, drum, and more. However, you'll need a Professional plan to unlock these features.
Key features:
Quick and effective AI vocal isolation.
Isolate bass, piano, drum, and other instruments from MP3, AAC, OGG, etc.
10MB maximum upload limit.
Multiple subscription plans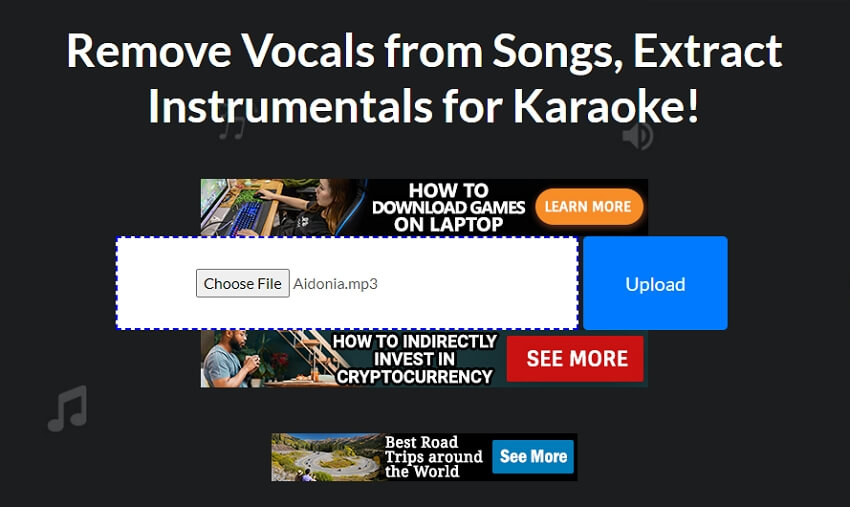 Finally, use AI Vocal Remover to enjoy creating acapella songs on a straightforward AI-powered UI. This software supports the extracting of vocals from MP3 and WAV files. You can also extract bass, piano, drums, and more from lyrics. And like the other programs on this list, this acapella voice generator is absolutely free to use.
Key features:
Upload and output MP3 and WAV.
Free to use.
Extract vocals, drums, piano, bass, etc.
No file limit.
Part 4: People also ask: How to get acapella from a song with ease?
Now that you know where to find the best acapella extractor, let's learn how to convert song to acapella online with Online UniConverter. This process won't take you more than a minute. Follow me:
Step 1: Open Online UniConverter Vocal Remover on your favorite web browser and then tap Choose Files to add video or audio. Or, just drag and drop it there.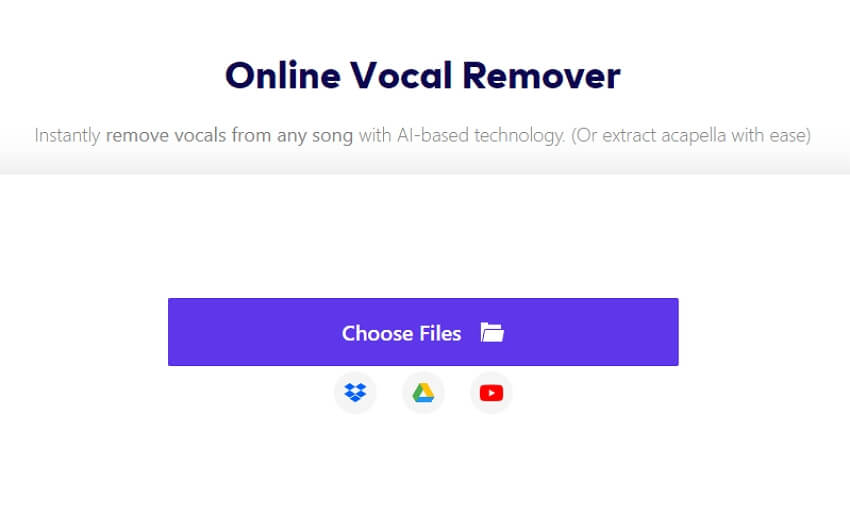 Step 2: Online UniConverter Vocal Remover will analyze and process your vocal and instrumentals in minutes. Just sit back and relax!
Step 3: Preview the extracted file before clicking the Download button to save it.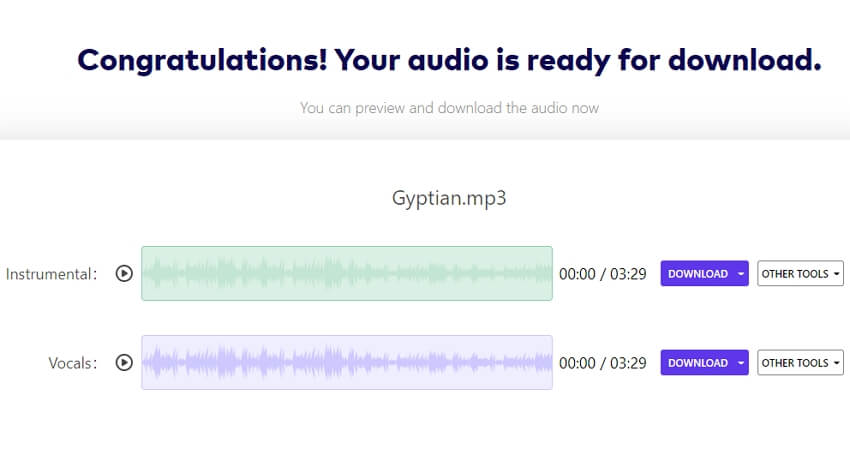 Conclusion
The twelve acapella extractors listed above should help you separate vocals from instrumentals easily. Just choose one that ticks vital boxes like simplicity, free of use, multiple format support, and so on. In that case, use Online UniConverter Vocal Remover, although the other options are also worth a try.