People remove vocals from songs for different reasons. Some common reasons why people remove vocals from songs include: to use the instrumentals for sound mixing, to create song covers of the original songs, for meditation, entertainment at Karaoke bars, wedding events, etc. However, music lovers have found that Audacity ranks top for the perfect software to remove vocals from songs.
That is why people prefer to use Audacity to remove voice from their favorite songs for whatever reason. In addition, Audacity is free; it is a professional audio editor, gives impressive quality in a short period, etc.
Now, it leads us to the purpose of this blog. In this blog, we will show you the easiest way to remove vocals using Audacity. Additionally, you will be given some excellent audio editing tips that you will find helpful.
Part 1: What is Audacity?
Audacity is an open-source audio editing app designed to remove vocals from songs and edit any audio sound. It works well on Unix-like systems, Windows PC, and macOS/OS X. It also helps with vocal reduction and isolation on some stereo tracks. That means that, with Audacity, you can isolate the vocals or specific aspects of a recording from the others. Sounds cool, right? If you love to mix parts of different songs, you will learn how to isolate vocals in Audacity by the time you are done reading this article.
As a musician who wants to sound like a professional on that song cover, you may wonder, does Audacity have auto-tune? Here is the thing: Audacity does not have auto-tune on its own even though it has many features that make song editing fun. However, you can install an auto-tune plug-in to Audacity and get the results you want. You will be given tips on how to apply auto-tune in Audacity, so stay tuned!
Part 2: How to isolate vocals in Audacity (remove voice)
Audacity vocal remover may be a professional tool, but it does not imply that it is difficult to use for even the most basic user. In just three steps, we will guide you on how to remove the voice from a song in Audacity.
First, it is necessary to download and install Audacity for Windows, Linux, or Mac. Next, launch the app and follow the steps below to remove vocals from MP3 in Audacity:
Step 1: Add and Split Audio File on Audacity
The first step in removing vocals from songs on Audacity is to click File and select the audio file on which you want to work.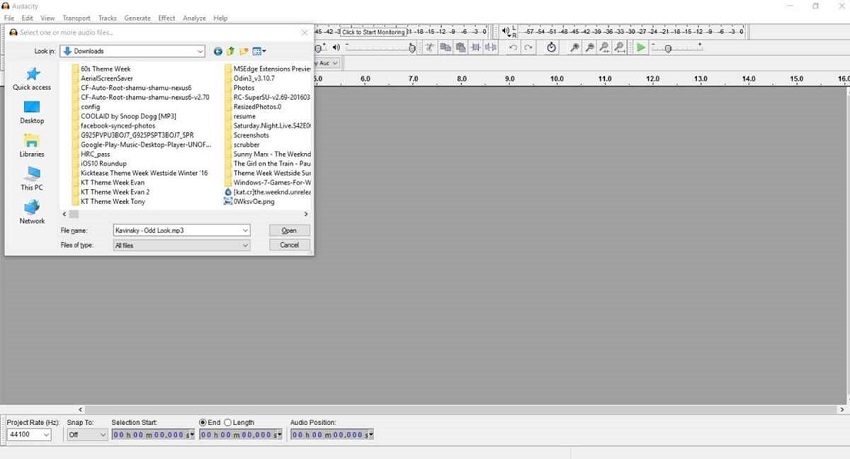 The next thing is to click Split Stereo Track from the track's drop-down menu.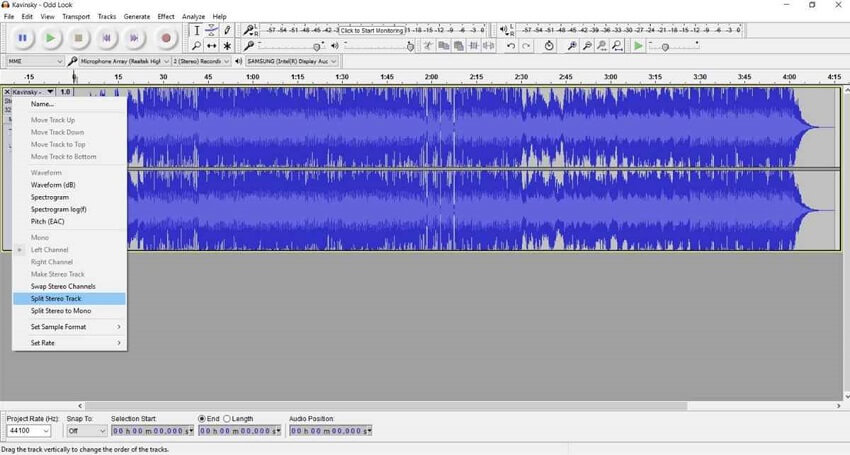 Step 2: Invert the Bottom Channel
After separating the song into two channels, invert the bottom channel by clicking Invert on the Effects menu.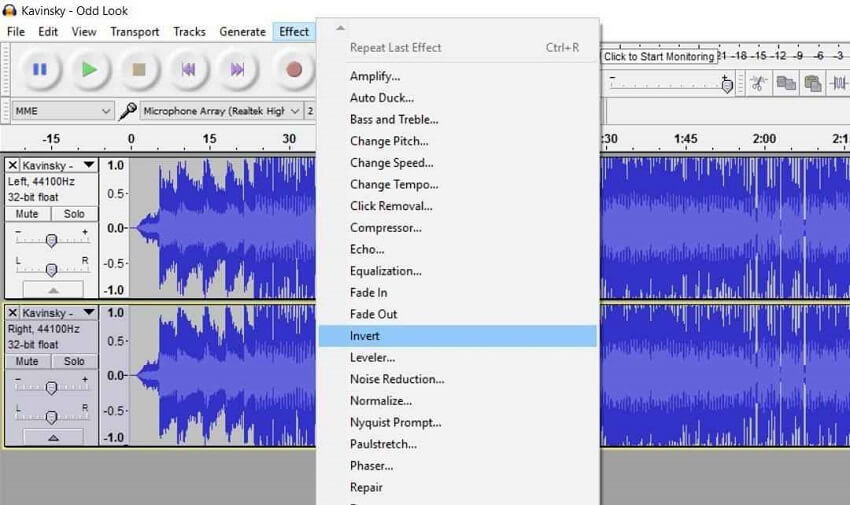 Step 3: Set each Channel to Mono
Click the top track's drop-down menu and select the Mono button. Do the same for the bottom track.
Now that you are done, you can save the audio file.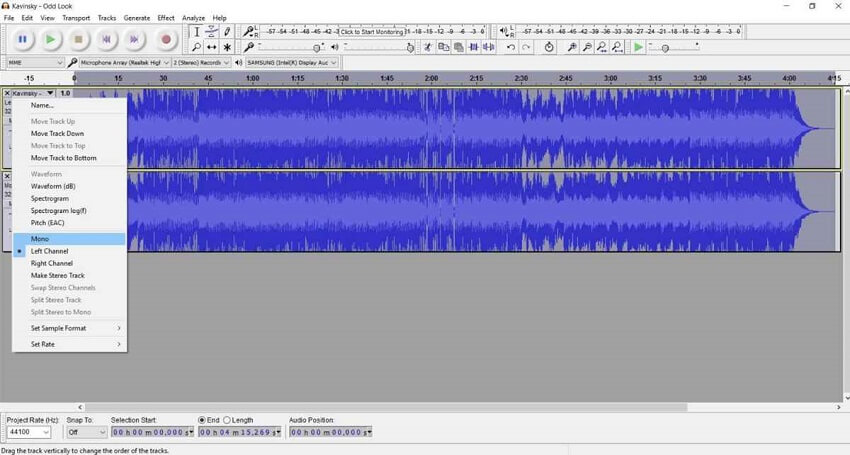 Note: If you feel like the audio sounds low after you have removed the vocals using Audacity, there is a way out:
Go to the portion of the audio you want to adjust, and using the Selection Tool, highlight it.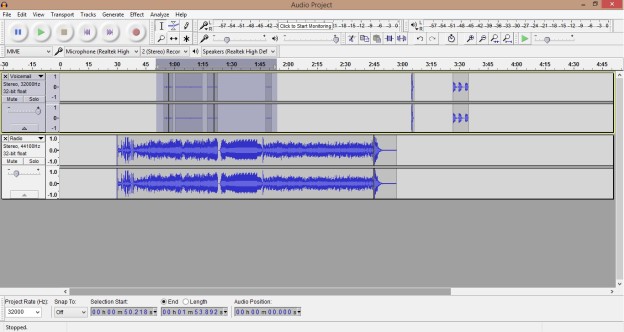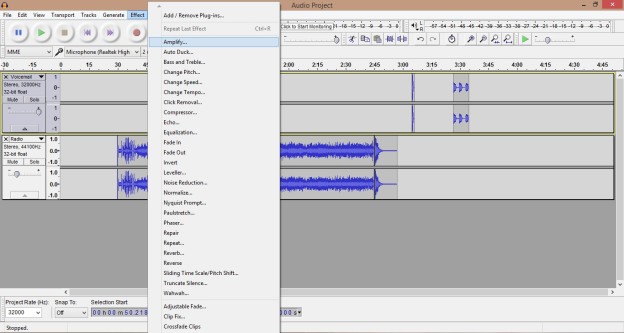 Amplify the sound to the volume you want, and that solves your problem.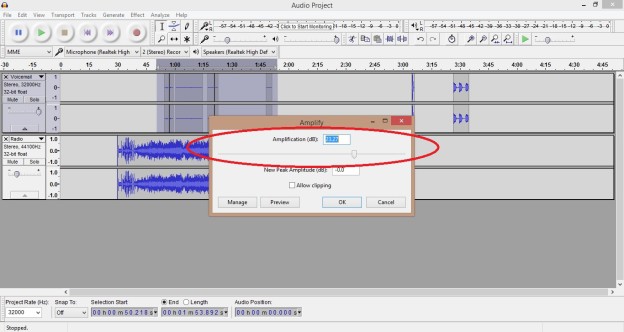 Part 3: The easiest way to remove vocals online in one step
Audacity seems like the ultimate vocal removal software, but even this app has its shortcomings. First, you may be struggling with the challenge of Audacity not removing vocals completely from your song. That would naturally make you look for an alternative tool. But, again, if you do not want to download any software to remove the vocals from your song, Audacity is not ideal for you.
That is why it is always advisable to have an online tool ready to use in such cases. Online UniConverter Vocal Remover is just the tool for the job. While it takes three steps to isolate vocals in Audacity, you can do the same on UniConverter Vocal Remover in one click. We recommend UniConverter Vocal Remover because it is an online free tool that separates vocals from songs instantly, and you do not have to worry about the quality of the music.
With Online UniConverter Vocal Remover, you can enjoy the following features:
It uses AI (Artificial Intelligence) based technology to listen to music and separate the voice, giving you karaoke and an acapella version.
The interface is glitch-free. It is possible because there are no ads that interrupt your song conversion process. This feature makes UniConverter unique from other free tools.
UniConverter Vocal Remover is suitable for Karaoke MP3 conversion and other editing functions such as file format conversion, audio trimming, video audio conversion, and so on.
With it, you can process audio files in OGG, MP3, M4A, and WAV formats. Additionally, you can process videos in file formats such as MP4, MKV, and MOV. The output is always of high quality as the original sound quality is not reduced after processing.
It is an ultra-fast tool that removes vocals from songs in one click. Try this out by following the steps below:
Step 1: Add audio files
Add the audio file whose vocals you want to remove on Online UniConverter Vocal Remover. This site allows you to convert files of 100MB maximum for each. Click Choose Files to add the audio file or copy the song URL and paste it on the field box provided.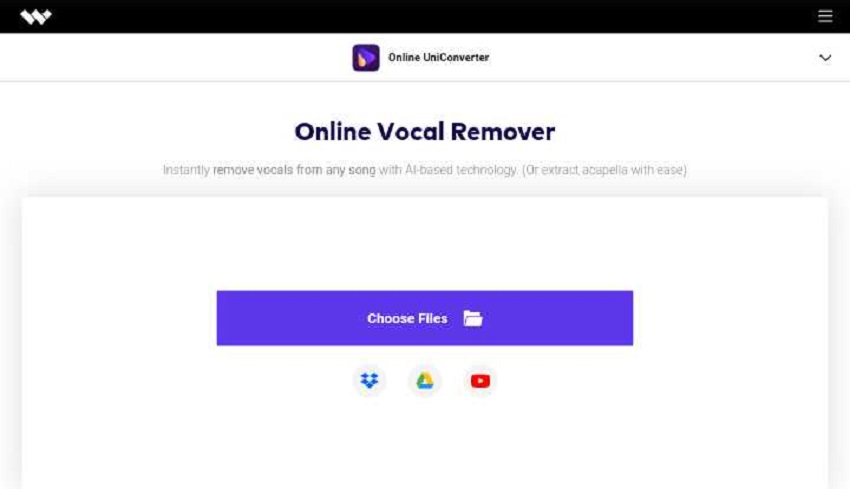 Step 2: UniConverter automatically removes vocals
The AI-based algorithm has already been configured to automatically process any song you upload on the site to remove the vocals and leave you with the instrumentals. So wait for a few seconds for the voice to be removed from your song.
Step 3: Preview and download Karaoke music
Go ahead to preview and download the instruments of your song to your local device storage. And this is how you make a song instrumental version using the Online UniConverter Vocal Remover.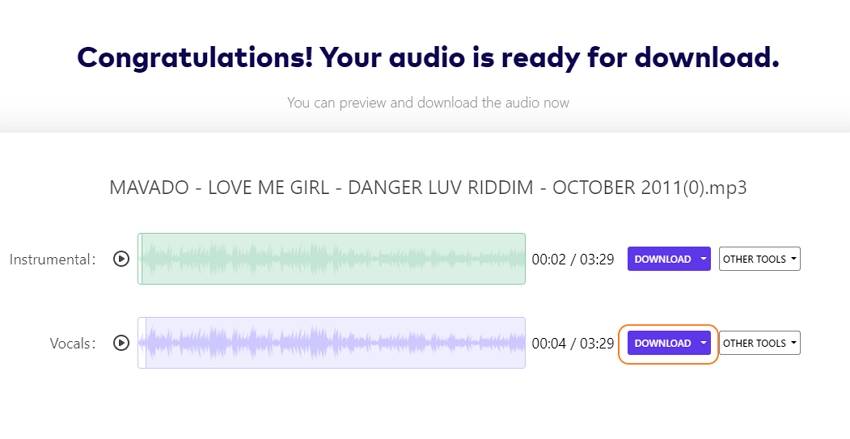 Part 4: Extensive tips - how to apply Auto-tune in Audacity
Auto-tune makes your voice sound professional and seamless when applied to the song covers you've made. That is why this section will give you some interesting tips on auto-tune.
In response to the question, does Audacity have auto-tune? we stated that on its own, Audacity does not have auto-tune. However, you can use an auto-tune plug-in to create free auto-tune for Audacity. As promised in part one above, this is how you can apply auto-tune to songs while editing them on Audacity.
Remember that Audacity is an audio editor that lets you tune and work on songs post-production.
Also, you can find several auto-tune plug-ins online, so that we will be using the GSnap plug-in as an example. It is the ideal plug-in example as it is both free and works on all the devices you can use Audacity.
Step 1: Download GSnap auto-tune
Visit the GSnap website and select the version for your particular device or computer system. Save it on your system storage. Remember where you saved the plug-in for later use.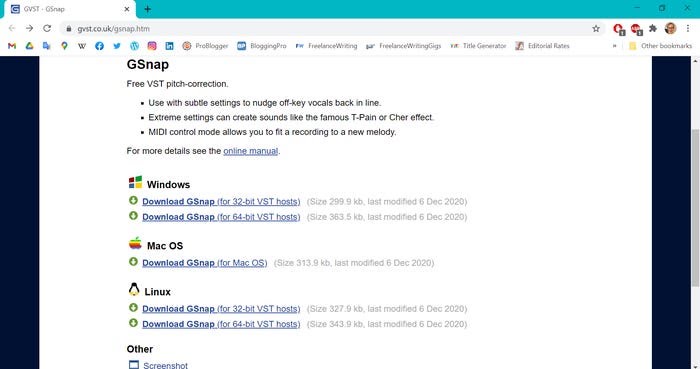 Step 2: Copy GSnap downloaded plug-in
Open the zip file of the downloaded plug-in and copy the file named GSnap.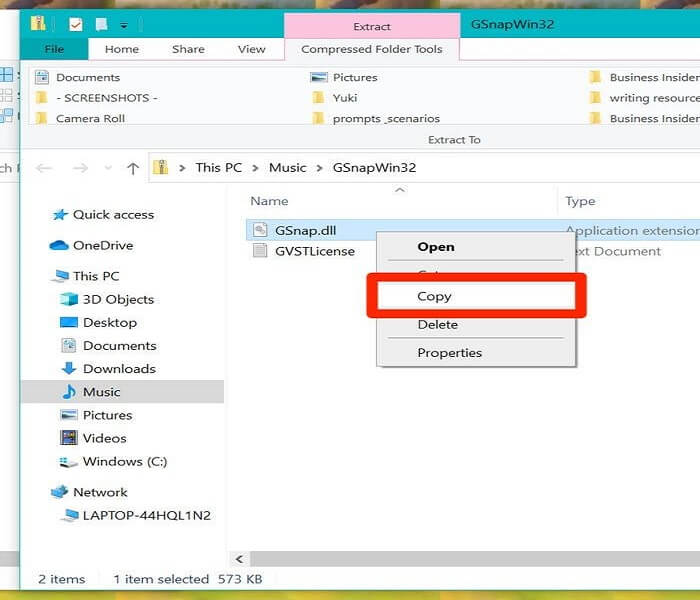 Step 3: Add plug-in to Audacity file
Navigate to where you saved your Audacity downloaded software and paste the GSnap plug-in under audacity plug-ins.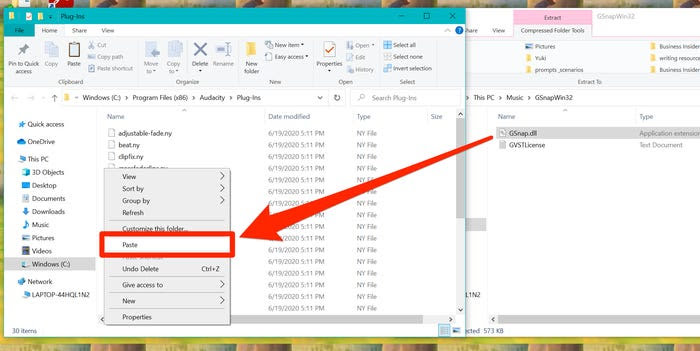 Step 4: Add plug-in to audio file
Give administrator permission and continue to open Audacity. However, if it has already been opened, restart it to see the plug-in you just pasted on the Audacity file.
Record audio to your instrumentals and open it or open an already-recorded audio file. Then, click Add/Remove Plug-ins… from the Effects menu.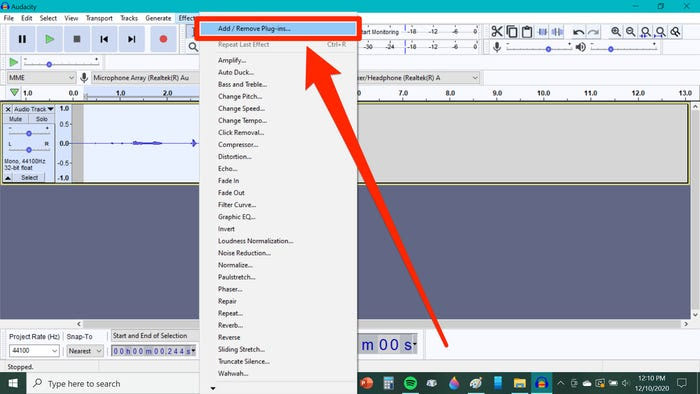 Step 5: Enable GSnap plug-in.
Find the plug-in from the menu and click Enable.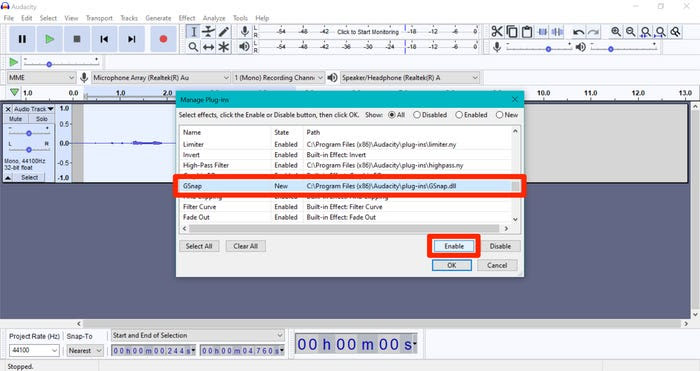 Now you can use the GSnap auto-tune plug-in when you open Effects on Audacity.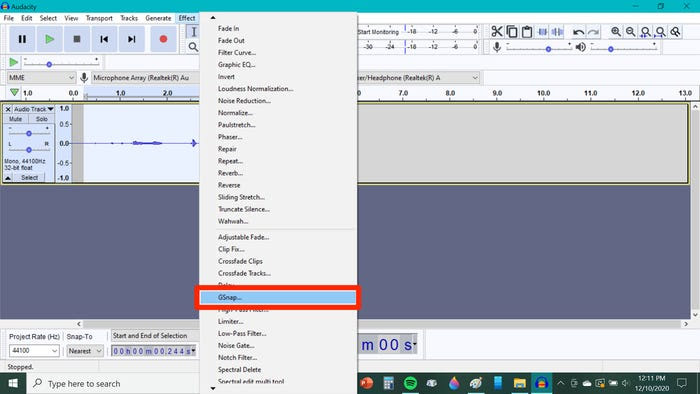 Conclusion
The bottom line is this: removing vocals using Audacity is not as difficult as you may think. It is possible in just three steps, as shown in this article. First, follow the guidelines provided on how to isolate instruments in Audacity and get the best karaoke versions of songs. And if you don't want to go through the stress of downloading software or don't have the time for it, then you can use Online UniConverter Vocal Remover to remove vocals in just one click. It does get faster than Audacity!