The web is loaded with vocal remover software that claims to interpret best. Yet you all know that there is a significant difference between claiming and practically proving it. Many of you waste your time and effort in checking out this software. It can lead to problematic scenarios. To cater to this issue and optimize your workflow efficiency, you need to use a tool to help you with its higher functionality.
For this reason, this article will discuss the best vocal removal software. You can use software to get the work done with exclusive results. A bonus tip addressed at the end of the article will also be very helpful for professional audio editors.
Part 1: What Features to Look into a Software to Remove Vocals
Before working with vocal isolation software, you need to remember some features. The features that you need to look into a software to remove vocals are listed below:
Complimentary Features:

If you are going to use software that offers a vocal remover feature only, it will be a limited thing for you. Sometimes you need to edit sound, or sometimes you need to cut it. If the tool does not allow you to do these things, you can face many problems.

Price

: Initially, you need to work with software that does not cost you a fortune to complete the work. Always use the tool that can give you desirable results in a limited amount.

Compatibility:

It is good to use an online tool, but if you don't have a good internet connection, consider using the offline one. However, always check the compatibility of the software before downloading. Make sure it supports diversified operating systems.

Easy to Use:

Following a complicated process to remove vocals seems a bit more challenging. Thus, select a tool that doesn't have any complicated procedure. Above all, mind its processing speed. It should work at a good speed; otherwise, it will take hours to process a little bit large size file.
Part 2: 6 Best Software to Remove Vocals in High Quality
Do you want to work with the best software to remove vocals? In this section, you will find top-notch vocal removers. They are fully optimized and can escalate your workflow efficiency. Above all, you can find all the look-before features mentioned above in these vocal removers.
This software is perfect for those who are just starting their audio editing career. This vocal isolation software is straightforward to use. You just have to add a file, and this AI-powered tool will work for you. Above all, it doesn't compromise the quality and other properties of the file, even after removing the vocals. Wondershare UniConverter is the most reputable and serviceable tool to accomplish this task.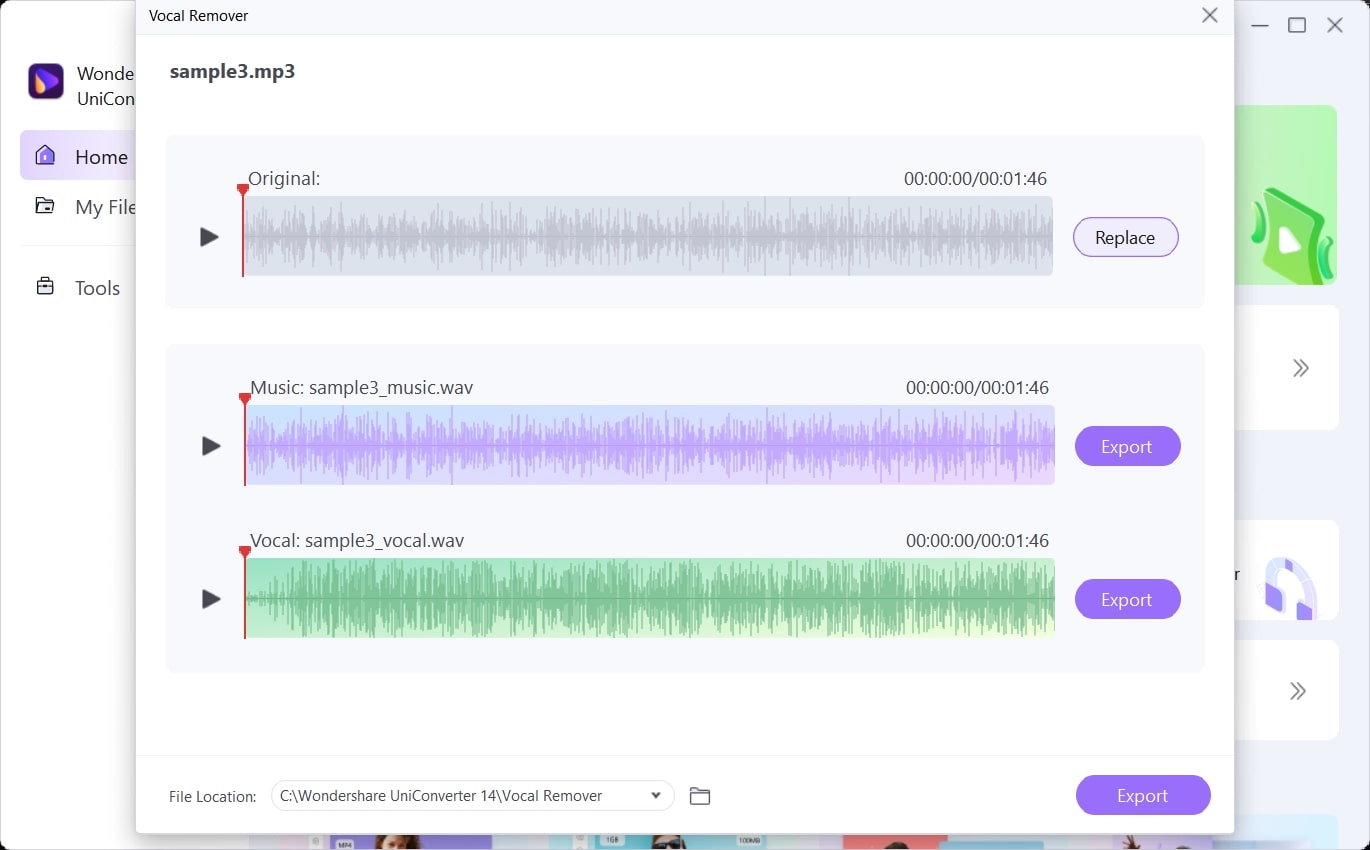 Key Features of Wondershare UniConverter
It supports a wide array of formats, including MP3, MP4, MOV, and more. You can work without any restrictions with it.
Not only can you remove vocals, but you can also convert, trim, compress, and edit the audio in several ways with this tool.
The vocal remover of this tool is free for a limited time and can be used for both audio and video files.
Compatibility: Windows, Mac
Pricing Plans
| | |
| --- | --- |
| Quarterly Plan | $29.99 |
| Annual Plan | $39.99 |
| Perpetual Plan | $59.99 |
Adobe Audition is also a known software to isolate vocals from music. It is a digital audio workstation that features powerful and quick approaches. With this tool, you can also work on multiple files simultaneously. It also provides stability along with performance improvements. You can also work on diversified types of files with it.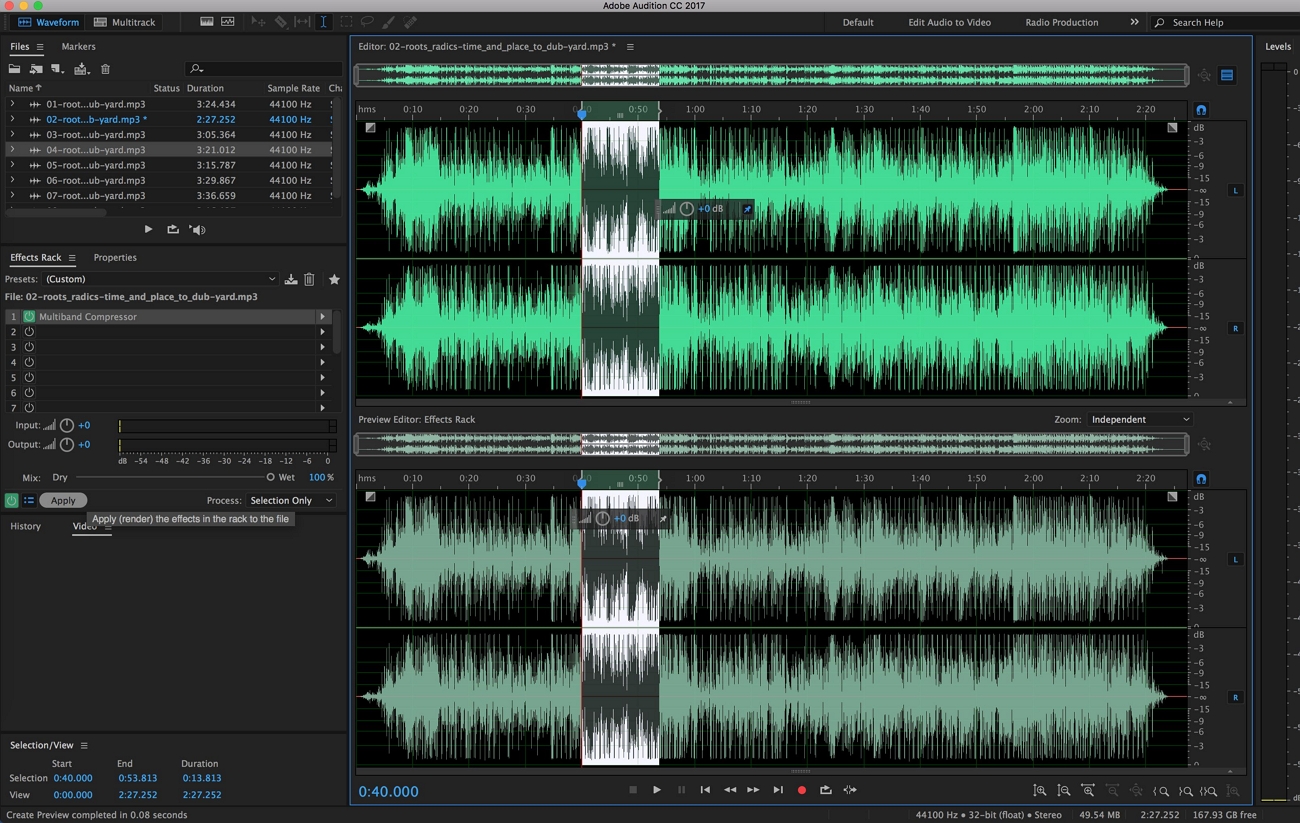 Key Features of Adobe Audition
It allows you to edit, record, mix, restore, and do many other thongs to the audio.
This vocal remover can also help you in reducing the background noise present in your audio files.
You can create a podcast, remix the audio and add oomph to the audio files with Adobe Audition.
Compatibility: Mac, Windows
Pricing Plans
| | |
| --- | --- |
| Monthly | $31.49 |
| Yearly (Billed Monthly) | $20.99 |
| Yearly | $239.88 |
Wondershare Technology never fails to amaze users with its exclusive products. Another free vocal remover software of Wondershare Technology is Wondershare Filmora. It comprises a super intuitive user interface that can upgrade your user experience. Moreover, Filmora also helps you with video editing and visual content. You can also experience cross-platform accessibility in it.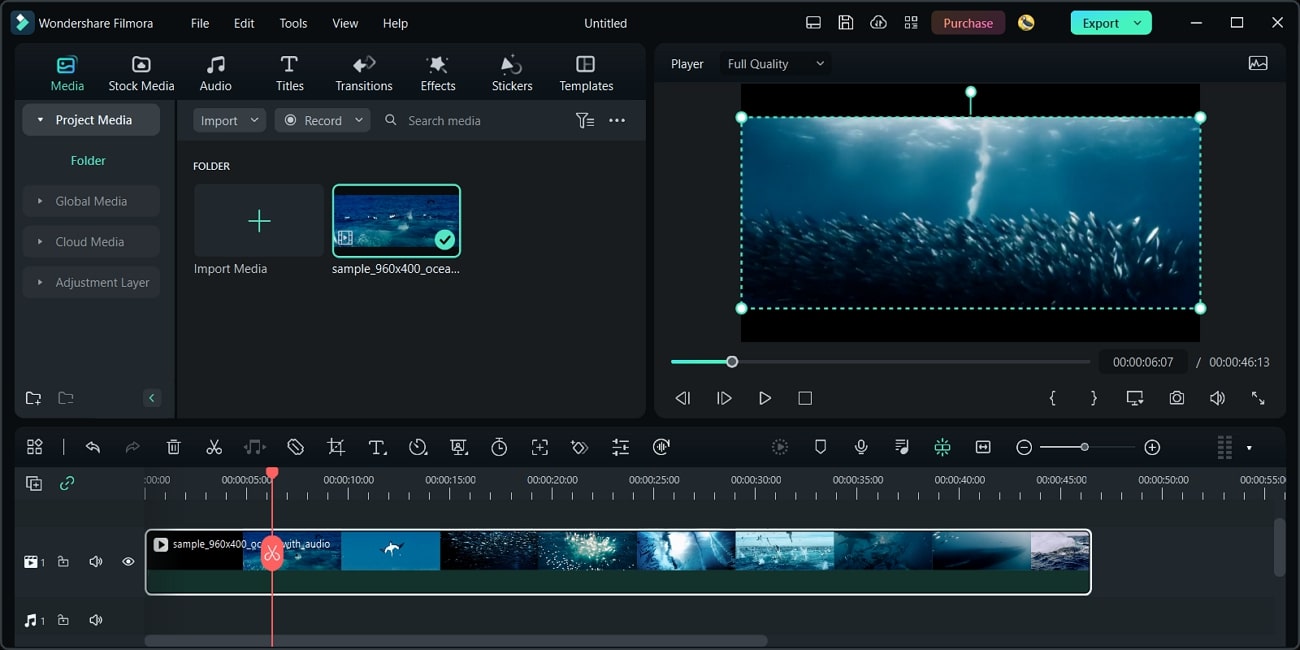 Key Features of Wondershare Filmora
You can extract the vocals with this, along with distinctive sounds. Moreover, it does not compromise the quality of any file.
There is a unique audio equalizer in it which gives you complete control over every type of file editing.
The processing speed of Filmora is ultra-fast, and you can quickly import and export the files irrespective of their size and length.
Compatibility: Windows, Mac, Android, iOS
Pricing Plans
| | |
| --- | --- |
| Monthly Plan | $19.99 |
| Yearly Plan | $49.99 |
| Cross Platform Plan | $59.99 |
| Perpetual Plan | $79.99 |
Audacity is open-source vocal remover software. With it, you can work on multiple types of audio at once. The processing speed is entirely satisfactory, and the interface is also simple compared to the latest audio editors. You can also create professional-level audio with this software. Furthermore, you can participate in recording live audio and can also use plugins to optimize your recorded audio.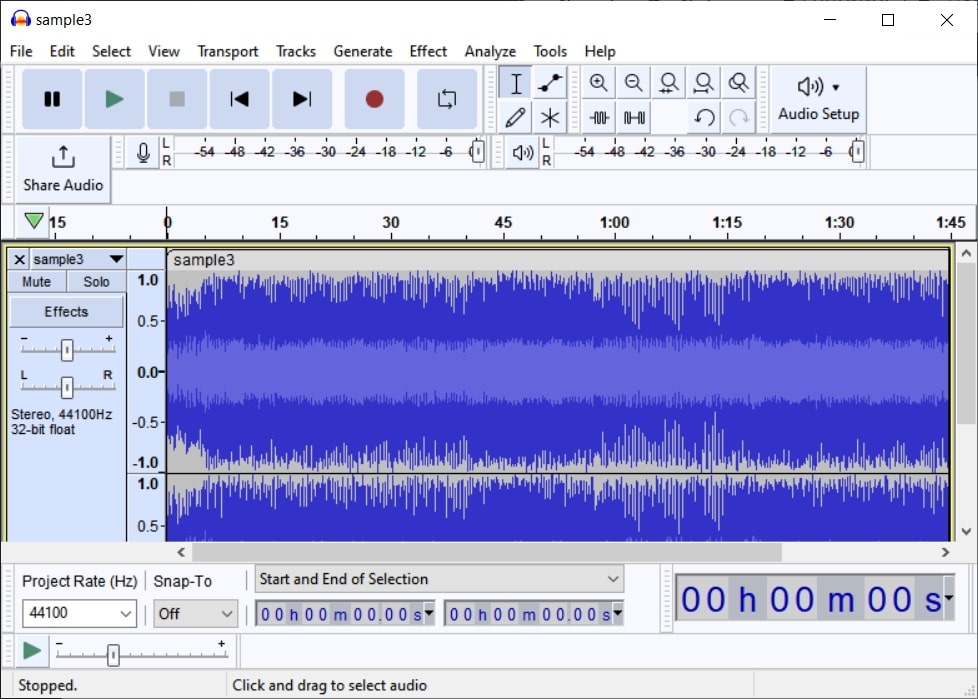 Key Features of Audacity
It supports a wide array of audio file formats, such as FLAC, WAV, MP2, OGG, and more.
You can also edit audio with it by splicing, cutting, mixing, and copying it.
Audacity also allows you to add effects to the sound and export it in different formats.
Compatibility: Windows, Mac, Linux
Pricing Plan
With this full-featured vocal remover for PC, you can customize your audio in the most efficient ways. You can also cut and paste the different parts of the audio with it. Moreover, WavePad allows you to pitch, compress and shift the sound accordingly. It also supports diversified file formats like OGG, AIF, AU, WAV, MP3, and more.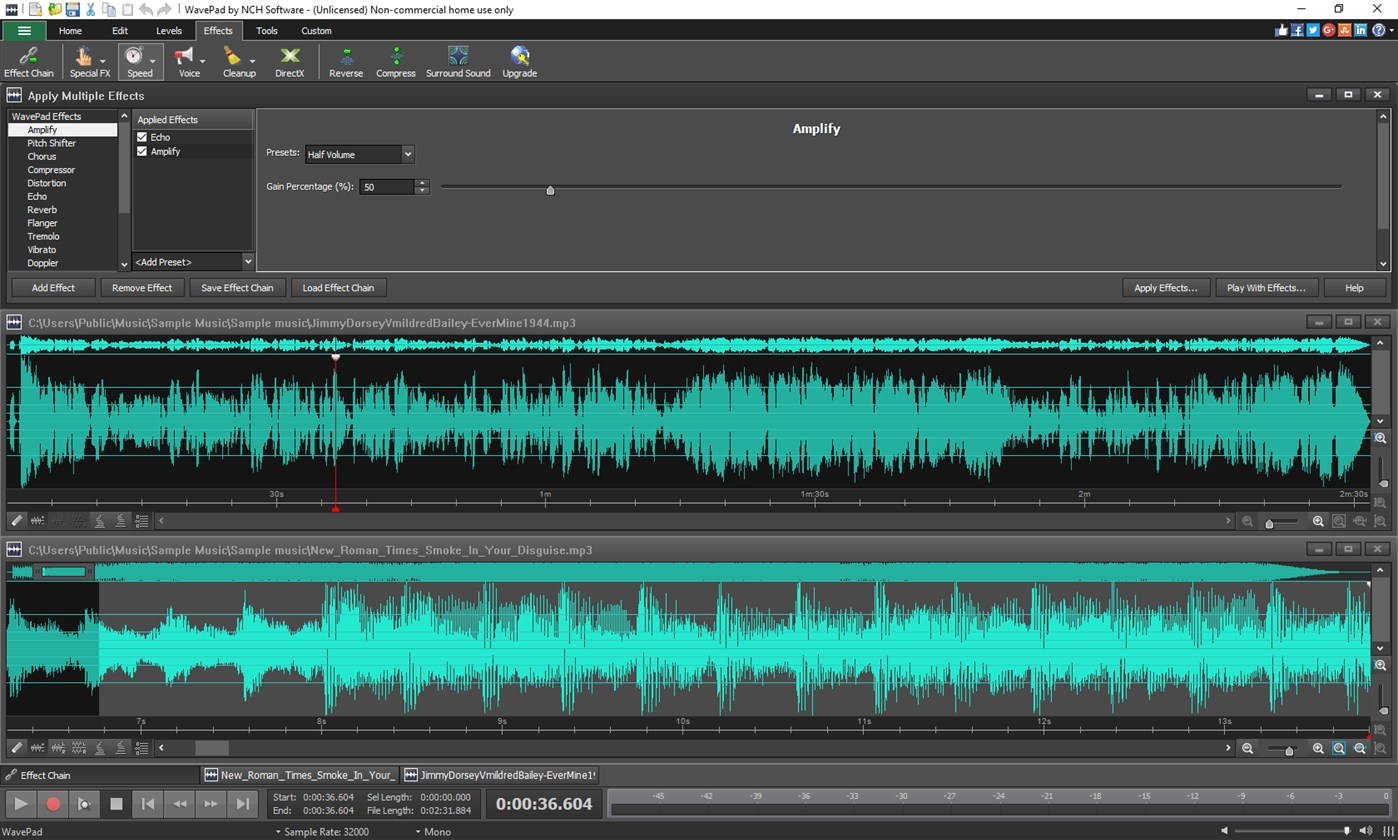 Key Features of WavePad
It has a proper sound effect library which you can use to add multiple types of interactive effects in audio.
You can also export the audio file to the video along with image visualization and waveforms.
Some advanced tools exist in it, like speech synthesis, spectral analysis, and more.
Compatibility: Mac, Windows, iOS, Android
Pricing Plans
| | |
| --- | --- |
| Standard Version | $70 |
| Master's Version | $129 |
| Master's Version Quarterly | $5.50/month |
With this software to isolate vocals, you can separate vocals from both videos and audio. It does not compromise the quality and overlays of the media file, even after removing the vocals. HitPaw comprehends the advanced AI algorithms, which also play an essential role in making it good software. They could analyze the whole track and remove vocals in a fully precise manner.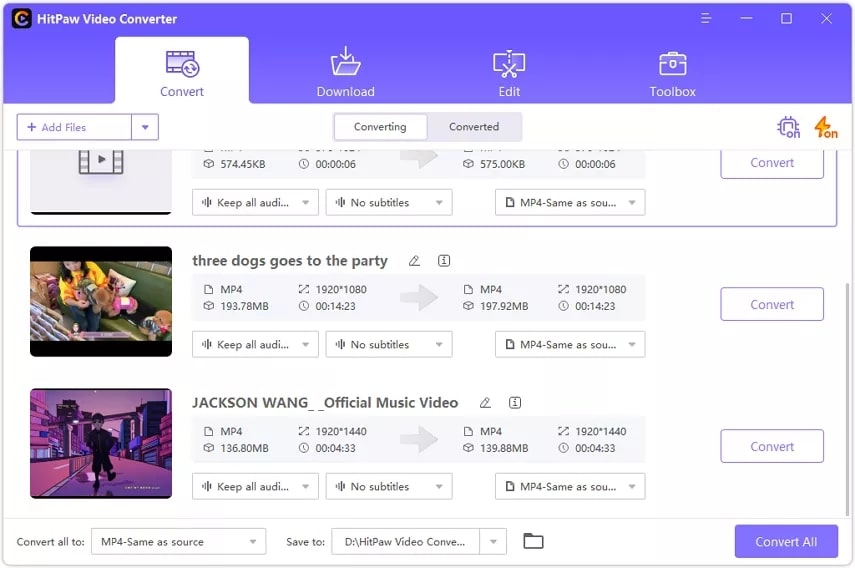 Key Features of HitPaw Video Converter
It is a 100% safe vocal remover. Thanks to its strict data policies, you can even work on your sensitive data with it.
The Acapella Extractor in it allows you to extract vocals from audio and videos with a high-quality index.
This tool can also convert protected Apple songs to various DRM-free audio formats.
Compatibility: Windows, Mac
Pricing Plans
| | |
| --- | --- |
| Monthly | $19.95 |
| Yearly | $39.99 |
| Lifetime | $79.95 |
Bonus Tip: The Best Online Vocal Remover app for All Operating Systems
No doubt that vocal isolation software can help you also, but sometimes it can be challenging. Not all of them are beginners friendly, so you need to use a tool with the most simplified solution. Media.io - Vocal Remover is the best tool that can help you in removing vocals from both audio and video files. It never compromises the quality of both original and edited files.
Media.io lies in the list of the best software to remove vocals because it has lightning-fast speed. You can get the work done in the blink of an eye. Moreover, the interface of this too is very user-friendly, which makes your work easier than ever. In short, it is true to say that Media.io is the most proficient and perfect tool to remove vocals from media content.