It is common to see vocal removers for MP3 audio in today's online market. Unfortunately, many people are not familiar with MP4 vocal removers, making them convert their MP4 files to MP3 via extracting vocals or instrumentals from the music or video. As a result, most vocal users have to import YouTube videos through the URL to remove vocals from MP4 videos. But what if we told you there are better methods to convert MP4 to Karaoke online? Wouldn't you take it?
Well, that is the purpose of this blog. Here, we will show you our top 3 vocal removers for MP4 files. Using the simple guidelines we will provide, you will be able to remove audio from MP4 online for free effectively.
Part 1. The Best MP4 Vocal Remover Online Free [Most Straightforward]
The best MP4 vocal remover online free tool we recommend is Media.io Online Vocal Remover. As the name suggests, Online Vocal Remover is an online digital media editing tool that can be freely used to remove vocals from MP4 video. It uses Artificial Intelligence (AI-based) tech to listen and understand music to separate vocals from instrumental MP4 media files. You can upload media files on this site from your device storage or copy and paste the video link from YouTube.
Here are other unique features of Media.io Online Vocal Remover:
It supports fast conversion and extraction speed as you can extract vocals in one click.
It allows you to directly upload video files from your device in formats like MP4, MKV, and MOV.
You can extract the karaoke version of video music for music production, entertainment, and relaxation sounds.
It allows you to freely use it for ten files of up to 100MB each. To get an unlimited size conversion, you need to pay for the premium version of the tool.
It has an ad-free UI (User Interface), so you do not have to be concerned if you're worried that your file extraction will be interrupted by ads because it is a free tool.
It maintains the originality of file quality, so even after extracting vocals, you are sure of high-quality output.
The music video maker gives you more editing options.
How do you remove vocals from an MP4 video in 1 click? Find out below:
Step 1: Upload your MP4 video file.
You have two options here; you can copy and paste the MP4 video URL or choose the video file directly from your saved files' location. As you can see, this tool is not limited to only video links.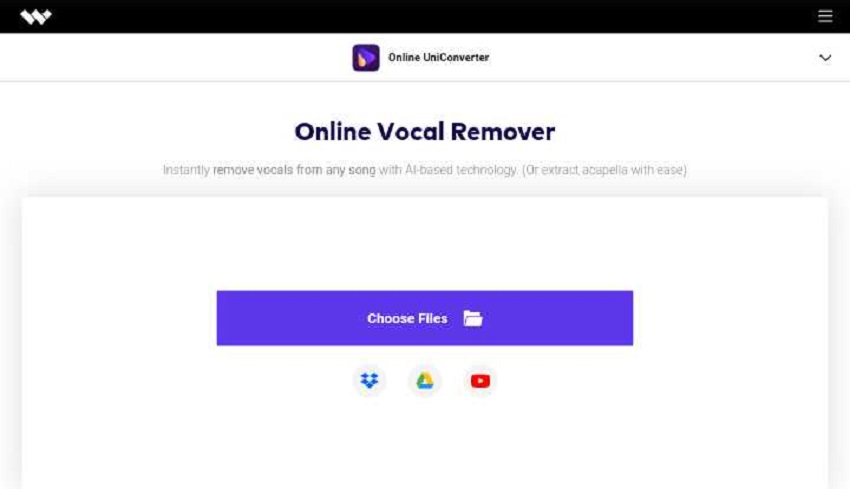 Step 2: Remove vocals from the MP4 video.
Once you have uploaded the video file, this tool's AI has been trained to extract the video's vocals within seconds automatically.
Step 3: Download extracted vocals.
You will be given two outputs: the vocals version and the karaoke version of the video. Choose to preview first, and then download the extracted vocal track to your device storage.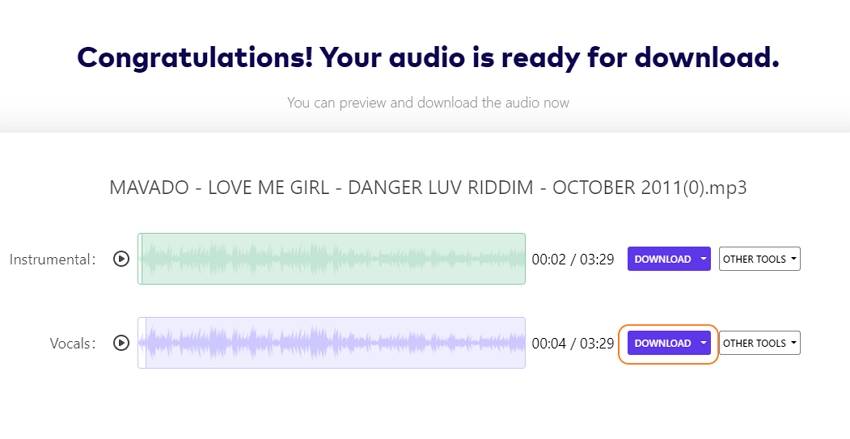 Bonus Trick: Media.io Online also has another toolbox called the Mute Video feature. With this tool, you can remove audio from MP4 online for free by muting the audio completely. Just visit the tool to and use these simple steps to remove sound from the video:
Upload the MP4 video file using either the copy-paste URL method or choosing the file from your device storage.
This toolbox will automatically mute the video. Wait, as it only takes a few seconds to complete.
You can download the muted video to your Google Drive, Dropbox, or device local storage.
Part 2. Other 2 Proven MP4 Vocal Remover Online Free [Most Straightforward]
This section shows you two more proven MP4 rippers to effectively remove vocals from MP4 videos. However, you must remember that although these tools easily convert MP4 to Karaoke online, they can only support the conversion of files through copying and pasting the YouTube URL of these video files. In addition, you may only be able to convert only audio files. Therefore, if your MP4 file is not from YouTube, you may be required first to upload the file to YouTube to get its URL (or link) which would be used to load on the site for audio extraction. Because of stress like this, we suggest the method above, using the Media.io Online toolbox.
However, if your file is originally from YouTube, then you can go ahead and use the tools discussed below to convert MP4 to Karaoke online. That is because both tools have been proven valuable and powerful in getting instrumental MP4 files online.
Edit your audio is originally a Karaoke maker designed to easily convert YouTube videos to Karaoke. It delivers quick results and gives you high-quality audio output. With the accessible version of this tool, you are allowed to upload YouTube video files of 30MB maximum. With its Spleeter library, EdityourAudio Karaoke Maker can easily convert your video file to instrumental MP4 for free. It also supports file formats like MP3, FLAC, WMA, etc.
You will find the latest karaoke music generated from popular video music online on the friendly user interface. You may find that the song you want is on the list, so all you need to do is download it.
However, if you want to convert MP4 to Karaoke format for free using this tool, follow the steps below:
Step 1: Copy the YouTube video link or URL from YouTube and paste it on this site to upload the MP4 video.
Step 2: EdityourAudio will automatically remove audio from the MP4 online.
Step 3: Download the converted audio for your music production, song covers, or meditation music, and so much more.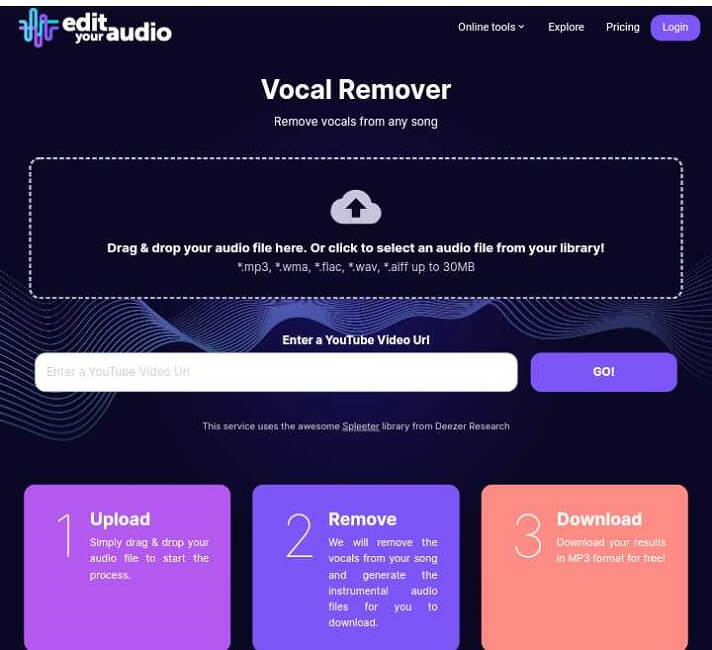 Vocal Remover and Isolation MP4 splitter is a tool that uses powerful Artificial Intelligence or AI algorithms to remove vocals from MP4 videos online. It takes approximately ten seconds for this tool to use its AI-based technology to convert MP4 videos to any Karaoke audio format for you to download. This tool is free to use no matter how complex the file is.
Here is how you can use this MP4 vocal remover online:
Step 1: Browse the video files you want to upload for vocal removal.
Step 2: The AI creates two tracks from your video: the acapella or isolated version and the Karaoke or instrumental version of the music video.
Step 3: Download the version you want to use.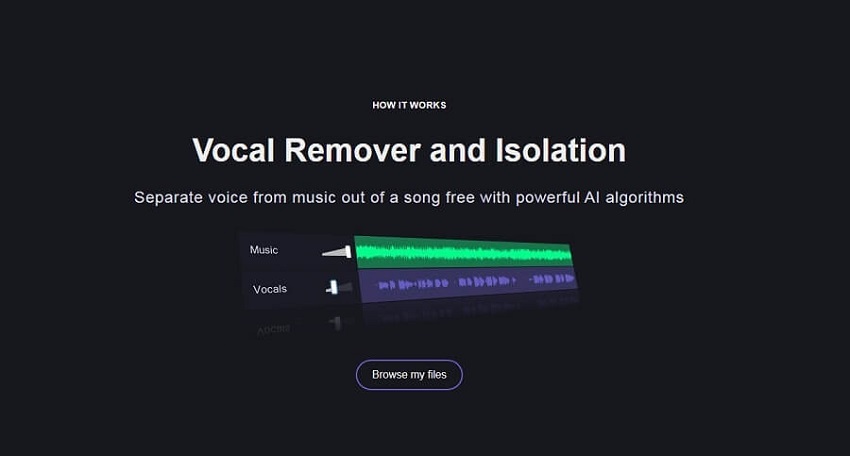 Part 3. More MP4 Solutions to Note
Q1: Where can I find the best free MP4 background music?
A: The best place to get MP4 background music to add to the videos you create is visiting websites that offer royalty-free background music. You can get free MP4 background music on websites like YouTube Audio Library, Jamendo, Free Music Archive, FreeSound, SoundCloud, Incompetech, etc. Alternatively, get the video with the MP4 background music, upload it on any of the tools mentioned for removing sound from videos and get the background music without the vocals. This option is helpful for situations where the royalty-free music sites do not have the particular background music you want.
Q2: How do I split MP4 into multiple clips on Mac/Windows?
A2: You can use several MP4 cutter online tools to split MP4 files into different clips. However, it would be advisable to use the desktop version of any such tools like the desktop version of UniConverter for Mac and Windows systems. It is the ideal MP4 splitter for Mac and Windows. It's an ideal option to cut multiple MP4 video files in a bulk.
Q3: How do I rip DVD to MP4 video?
A3: You may have a great collection of videos on your DVD that you want to convert to MP4 videos to use any media player on your system in accessing these videos. There is software available for this purpose, such as Wondershare UniConverter DVD to MP4 Converter and Extractor and VLC Media Player. All required is to download and install the converter and insert the DVD to your computer to access the video files. If they are saved on your computer, launch the converter and choose the output format as MP4 before ripping.
Conclusion
In a nutshell, this article has shown you how to remove audio from MP4 online using free tools. With the methods recommended here, you can also get the MP4 videos you find online vocals tracks. These can be done using the best MP4 rippers. And from these suggestions, it is glaring that Media.io is an all-in-one lightweight audio extractor and video/audio editor that you can trust for all your MP4 video file editing.