Smartphones come with powerful capabilities these days. For instance, your Android phone can separate vocals from instrumentals with lossless quality. But with multiple options on Play Store, finding the best vocal remover app for Android can be challenging. The best vocal remover app should be simple to use, affordable, and support most video/audio formats. So, if you're looking for a vocal remover app for Android that ticks all these boxes, this blog has multiple suggestions to ponder.
Part 1. The quickest way to remove vocal online for Android/iPhone/PC/Mac [Free]
Let's begin by discussing the best vocal remover for Android – Online UniConverter Vocal Remover. As the name hints, it's an online software that works smoothly on any mobile or computer browser. Using this program is dead simple as you only need to upload your media file, and the AI-powered system will do the heavy lifting. The supported media formats include MP4, MOV, MTS, 3GP, MP3, M4A, FLAC, VOB, and more. And, of course, it comes with other tools for cutting, joining, converting, and compressing the extracted vocals.
Key features:
Remove vocals from MP4, MOV, MTS, MP3, M4A, FLAC, and more.
Edit the extracted vocals/instrumentals by trimming, merging, and compressing.
Quick rendering speed thanks to the powerful AI.
Excellent video editor for compressing, merging, flipping, cropping, etc.
No sign-up or registration is required.
Best vocal remover app for Android, iPhone, Mac, and Windows.
Steps to extract vocals or instrumentals on Android using Online UniConverter:
Step 1. Launch the online vocal remover tool.
Click Online Vocal Remover here and it will present an operating interface instantly.
Step 2. Upload your video or audio file.
Click Choose Files to open your local media files and select a video or audio to upload. After choosing a file, Online UniConverter will automatically start separating vocals from instrumentals. The process is swift and straightforward.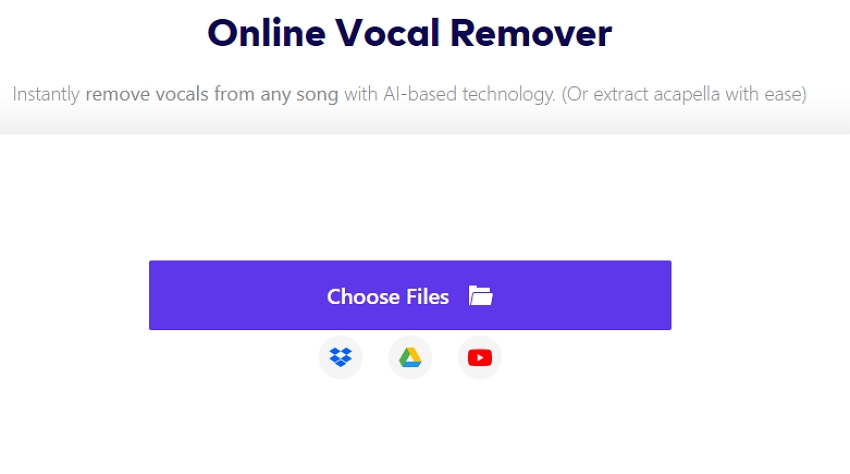 Step 3. Download the vocal file.
After Online UniConverter Vocal Remover has finished processing the file, click Play to preview it. You can now download the instrumental or vocal file and enjoy a personalized music experience.

Bonus tip: Online UniConverter comes with other handy tools for audio cutting, audio compressing, audio joining, and audio converting.
Part 2. Top 5 free vocal remover Apps for Android
Now let's jump in and discuss some five dedicated Android apps to remove vocals or instrumentals from a song. Remember that some of these apps have their iPhone versions as well.
SonicMelody is a vocal remover app for Android free download that can transform any music into a karaoke. This app uses powerful AI capabilities to extract vocals from MP3 and other audio formats without lifting a finger. In addition to vocals, users can also isolate bass, drums, piano, and other instrumentals. Also, SonicMelody comes with other tools like an audio cutter, equalizer, karaoke recorder, audio joiner, and more. Moreover, you can directly upload your edited audio on apps like TikTok, Starmaker, Make Popular, and more.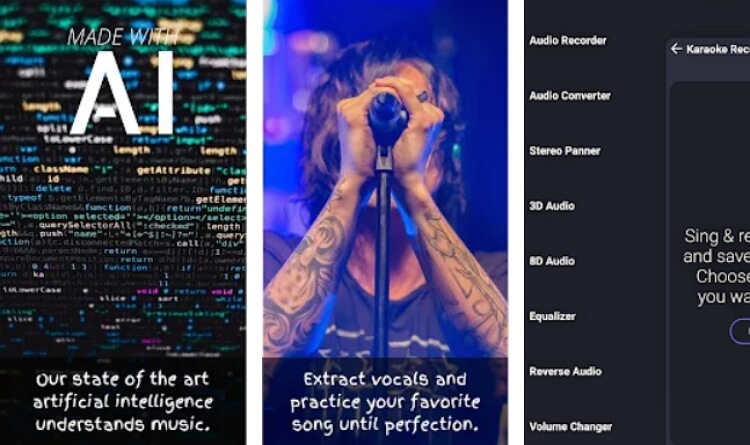 Likes:
Separate songs automatically with AI.
Compatible with most audio formats.
It provides options to separate bass, guitar, vocals, instrumentals, etc.
Record and share karaoke with friends and family.
Dislikes
Not compatible with video formats.
It has pesky adverts.
Here is another vocal remover for Android to help you extract vocals and instrumentals from MP3 instantly. With this AI sound extractor, you can extract voice and acapella from MP3 and other audio formats. However, the download button is a bit buggy, which is disappointing. Also, MP3 Vocal Remover App for Karaoke doesn't offer essential audio editing tools for cutting, merging, and converting. Nonetheless, it's a nice free vocal remover to have.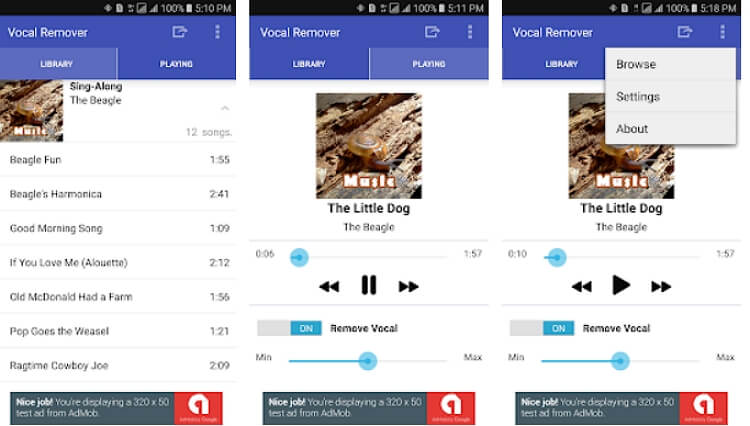 Likes:
AI vocal and instrumental extractor for MP3 and other sound formats.
Super simple to use.
No sign-up or subscription is required.
Frequent app updates from the developer.
Dislikes:
It crashes regularly.
Extracts but can't download vocals.
The third alternative to help you remove vocals from MP3 on Android is SplitHit. This app uses state-of-the-art AI capabilities to extract vocals from songs losslessly. In addition to vocals, SplitHit also separates bass, piano, guitar, and other musical instruments. And after removing the music instruments, this app allows you to record yourself as you sing along to the extracted file. Overall, it's the perfect app for practicing singing, playing piano, and so on.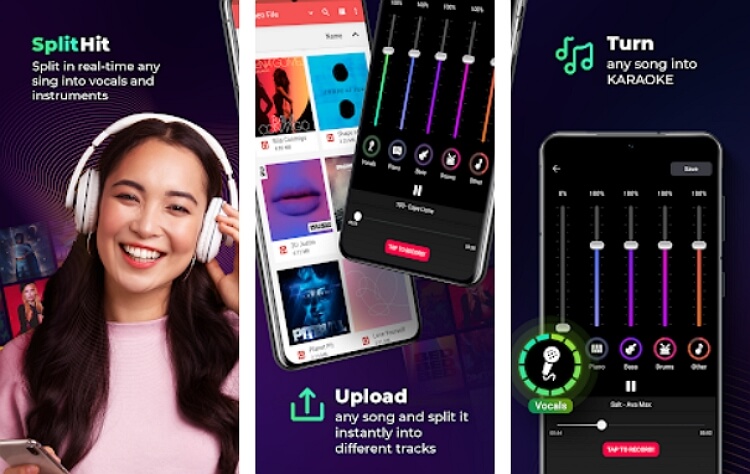 Likes:
Convert any song into vocals and instrumentals.
Create high-quality DJ mashups.
Record yourself singing.
Amplify sound and instrumentals.
Dislikes:
Free version limits users to one song per day.
It crashes sometimes.
Never mind the low rating on Play Store; this app is pretty good at what it promises to do. It can transform any music format in your library into karaoke without compromising the output quality. After extracting vocals and instrumentals from songs, this app allows you to process them into audio files. But before that, you can adjust the audio bitrate to suit your music listening style. Unfortunately, you'll experience some glitches when extracting vocals. Even worse, it doesn't completely remove lyrics. In other words, it just makes the vocals quieter.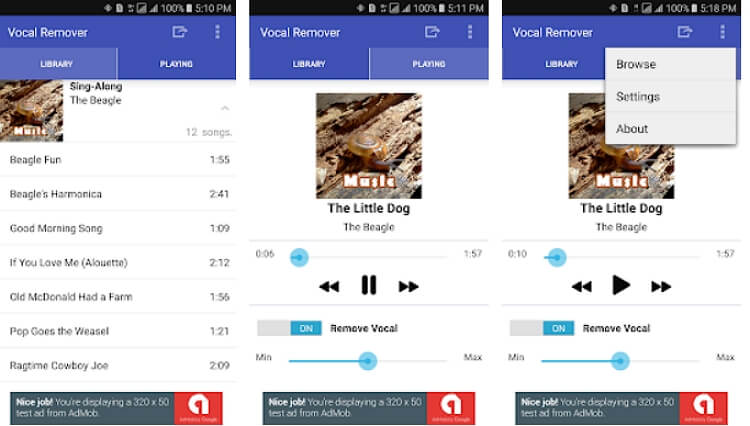 Likes:
Extract vocals from any music format.
Smooth music playback controls.
Save the processed song locally.
Adjust the audio bitrate.
Dislikes:
Poor output quality.
No audio recording option.
Finally, use EasySplitter's AI vocal remover to extract vocals, drums, bass, and instrumentals from any song. You'll enjoy a straightforward music separation interface that does its job nicely without any quality loss. After splitting songs, they will be saved under the Files History section for seamless access to your vocals and instrumentals. All in all, it's an excellent app for DJs, songwriters, singers, and students.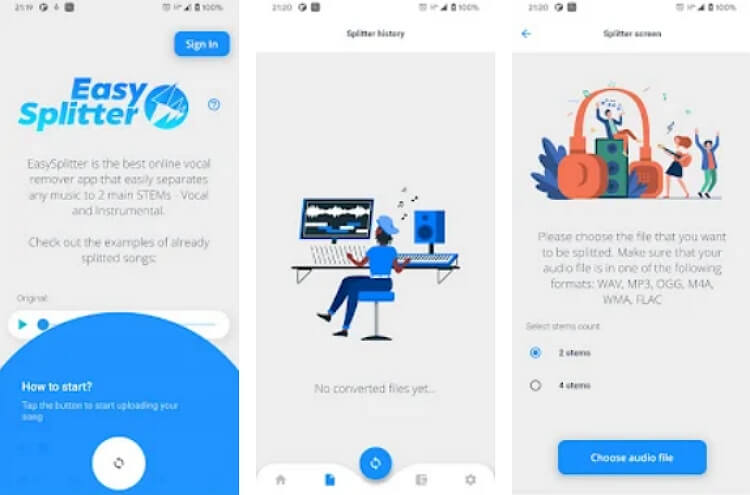 Likes:
Fast rendering speed.
It works with most sound formats.
It has a web version.
The user interface is ad-free.
Dislikes:
Size limit of 15MB per file.
Not a free vocal remover app for Android.
Part 3. How to remove voice from song in Android with the best App
To wrap up this guide, let's learn how to split songs into vocals using SonicMelody. As said before, it's a fantastic karaoke maker app that works with most audio formats saved on your phone. So without much talk, below is how to remove background music from a song in Android with SonicMelody:
Step 1: Install and run SonicMelody on your Android smartphone and then create an account. Then, accept the app's terms and conditions before permitting it to access your local files.
Step 2: Click the Plus icon to open local files and upload audio before tapping Submit.
Step 3: SonicMelody will immediately start splitting your song's vocals and instrumentals. The rendering speed depends on the input file size.
Step 4: After successfully splitting the song, click the Share button to export it to email, Messenger, TikTok, Skype, and other Android apps.
Conclusion
And that's how to remove voice from a song in Android in multiple ways. Although using a dedicated app is more convenient, this comes with limitations like limited file support and low-quality outputs. What's worse, you can't separate vocals on other platforms like iPhone, Mac, and Windows. So, to be safe, use Online UniConverter Vocal Remover.