Instrumental Maker
Make an Instrumental version of any popular song online in a few taps.
Accurately remove unwanted human voices and get music without words in high quality. Create karaoke version!
*Exciting News: We've just launched an AI Royalty-free Music Generator ↗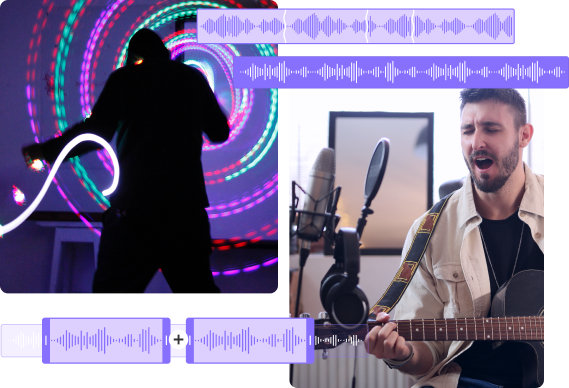 How to Make a Song Instrumental Online?
Do you want to extract instrumentals like bass, piano, guitar, and keyboard from a song? Media.io instrumental maker is simple, fast, and the output quality is 100% crisp clear. You can isolate and create instrumentals from any video and audio files like MP3, M4A, OGG, MP4, VOB, MTS, AVI, MKV, among others. The AI Instrumental Generator can auto-separate instrumentals from vocals. For you, only need 3 steps to get the instrumental of a song, then you can enjoy karaoke at home!
Step 1. Upload a Music File

Click the Upload button or drag & drop to upload videos or music tracks of various formats to the app interface.

Step 2. Extract Instrumental from Song

Media.io AI Instrument Extractor will analyze your video or audio file and auto-separate vocals from instrumentals.

Step 3. Download the Instrumental Tracks

You can play the extracted instrumental track to preview it. Then tap the Download button to save it.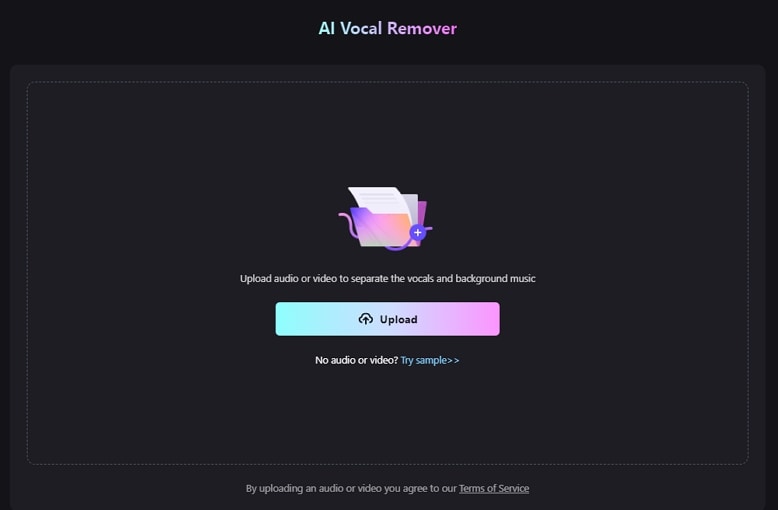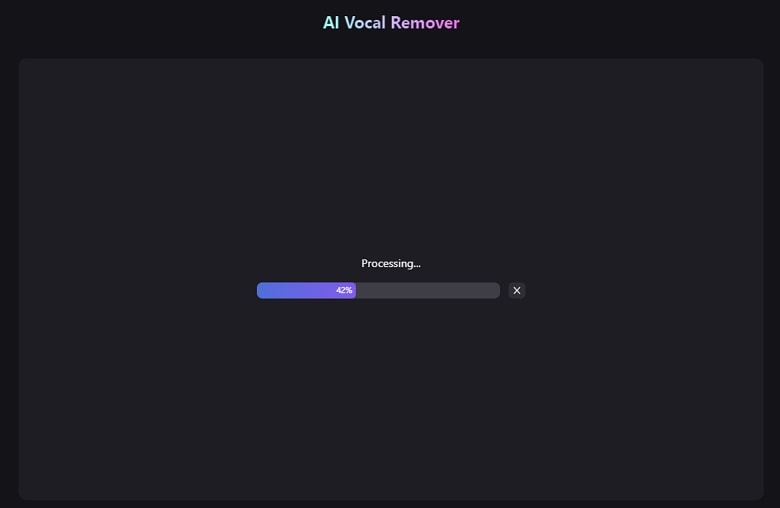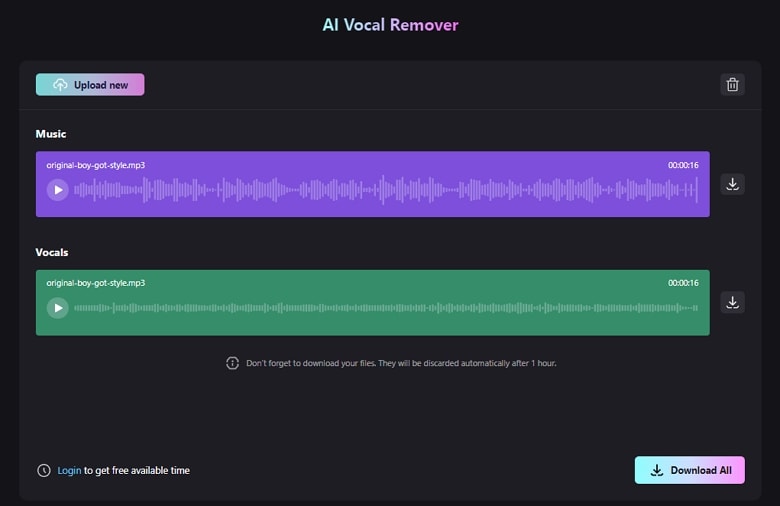 Why Choose Media.io Instrumental Maker?
If you are a karaoke lover or prefer to listen to the pure melody in a TV drama, YouTube video, movie, etc... like the OST, you definitely need an AI instrumental extractor for helping you extract instrumentals from songs by auto, and save these instrumental tracks in regular audio formats like MP3 for further use. It offers excellent cross-platform compatibility on mobile or PC through web browsers. Media.io Vocal Remover makes it a cakewalk to remove vocals from music, you can customize the perfect instrumental ringtone for use! Give it a try!
Extract Any Instrumental Music
This vocal remover can separate any type of instrumental from a music or video file. Automatically extract bass, keyboard, piano, guitar, synths, and the original accompaniment track from any song.
Free AI Karaoke Maker
Media.io is an excellent karaoke maker to extract karaoke instrumentals to multiple music formats from any song you like. You can freely enjoy the karaoke feast with your friends at home!
Free Online to Make Instrumentals
Media.io is totally free for audio editing. The AI algorithm will do the isolating work for you. Easily get the instrumental songs free to download through any browser with no app or software required!
Automatic Track Separation
Media.io uses AI technology to auto-separate vocals from instrumentals, you can get a perfect music file without words. Extracted instrumental tracks also retain the Hi-Fi quality.
Support Multiple Formats
This instrumental music maker supports 1,00+ file formats. It supports various formats to extract and can generate instrumentals to MP3, OGG, AU, FLAC, FLV, MTS, MP4, MOV, 3GP, etc
Make High-Quality Instrumental
Media.io Vocal Remover won't compromise the overall quality of your instrumentals tracks. It can completely erase vocals from instrumentals, leaving you with a crisp, clear file. No echoes at all!
FAQs Concerning Instrumental Maker
How to remove vocals from a song with a few clicks?

You can easily remove vocals and instrumentals from a song using Media.io Vocal Remover. Here is how:
Step 1. Open Media.io Vocal Remover and then drag and drop your music file on the program. Or, tap Choose Files to load media.
Step 2. Media.io Vocal Remover will automatically analyze your uploaded file and separate vocals from instrumentals.
Step 3. Play the Instrumentals or Vocals track to preview it and tap Download to save it on your device.


How to make an instrumental ringtone online?

With Media.io, you can make a unique instrumental ringtone for your iPhone or Android phone. To do that, simply load a music file on the Vocal Remover tool and download the instrumentals file. Then, upload the downloaded instrumental file (s) on the Audio Cutter tool to trim, merge, and convert audio to M4R (iPhone ringtone) or MP3 (Android ringtone). Remember that iPhone ringtone playback duration cannot exceed 40 seconds.

Where can I get music instrumentals?

Apart from using Media.io to generate instrumentals from music, you can also directly download instrumentals files online from some websites that allow you to access thousands of viral royalty-free instrumentals and vocal sounds, like Splice.com, Noiiz.com, Landr.com, etc.
However, most websites are not free. There is a price to pay, so, the most cost-effective option to access instrumentals you like could be Media.io online instrumental maker. It doesn't cost you a penny to use.

Can I convert YouTube to MP3 instrumental?

Yes, use Media.io Vocal Remover to convert YouTube links to MP3 on any web browser. Apply these steps:
Step 1. Open Vocal Remover and then tap the YouTube icon to paste the YouTube video's URL link.
Step 2. Click Add to process the URL link. Media.io will automatically do that for you.
Step 3. Finally, download the instrumental track to your device and enjoy.
Jolie the Don
Ever since I discovered this vocal remover for karaoke, I simply can't live without it. It helps me create remixes of my favorite tracks without bursting my brain out. Recommended!
Lloyd Divan
This is the only instrumental maker that does what it says. Forget those overrated mobile apps; this website delivers clear instrumentals without a single echo.
Brown Bear
This website helps me unlock my music creativity and inspiration. It's definitely recommended for any upcoming artist.
Jedi Harrison
If you want to enjoy some creative freedom, here's the best app for you. It works just as advertised, and the output is of high quality. Kudos!
Incan Shah
I've tried practically all mobile apps to create vocals and instrumentals. But even paid ones can't win this online instrumental maker. I just wish it could independently separate bass, piano, guitar, and other instrumentals. Other than that, I love it!
Instantly Remove Vocals from
Any Song with
AI Vocal Remover
Completely erase voices, sounds, vocals in audio or video.
Remove Vocal Now