A vocal remover extracts vocals from any video song or audio file. With such tools, you can create perfect BGMs and instrumental sounds without worrying about the vocals. It is also very convenient for music learners and music teachers. There are diversified tools that can help you regarding this issue.
Audacity is one of the popular vocal removers on the web. Yet, you need to follow the proper working of a vocal remover to derive desired results. Don't worry if you don't know anything about it because Audacity vocal remover will greatly help you regarding this issue. Moreover, you will also learn how to remove vocals with Audacity. The perfect AI alternative to Audacity will also be discussed in this article.
Part 1: A Brief Overview of Audacity and its Features
Initially, you need to know what Audacity is and why it is popular. Vocal remover Audacity is a trendy thing among many audio file users. With this tool, you can remove vocals from versatile audio files without compromising its other properties. Moreover, it is free to use, so you can use it even if it's for personal purposes.
Audacity is an open-source vocal remover that still ranks in the list of audio editors. You can use isolate vocals in the Audacity feature on many platforms like Windows, Mac, and Linux.
Key Features of Audacity
This vocal remover supports multitrack audio and batch processing, which is very convenient for users.
There are many editing options, like sound effects, trimming, and others. They seem ideal for professional-level vocal removal.
All its features are non-disruptive, and you can also use VST3 plugins to add flexibility to your work.
Part 2: Easy and Straightforward Step-by-Step Guide to Remove Vocals in Audacity
With this, you can also record live audio with a microphone and export it in other formats. It also supports 16-bit, 24-bit, and 32-bit sound qualities, so you can use it for resampling.
Above all, you can also import audio files in multiple formats to isolate vocal Audacity. The spectrogram view mode also helps visualize the frequencies in a detailed manner.
Step-by-Step Guide to Remove Vocals in Audacity
Are you new to Audacity and want to learn how to remove vocals with Audacity? The under-stated instructions will help you regarding Audacity isolate vocal procedure:
Step 1
Access Audacity, and from its interface, click on the "File" button. After this, select "Open" and import the audio file from which you want to remove vocals. Next, click on the "Effects" tab and access the "Special" options, but first select the audio track.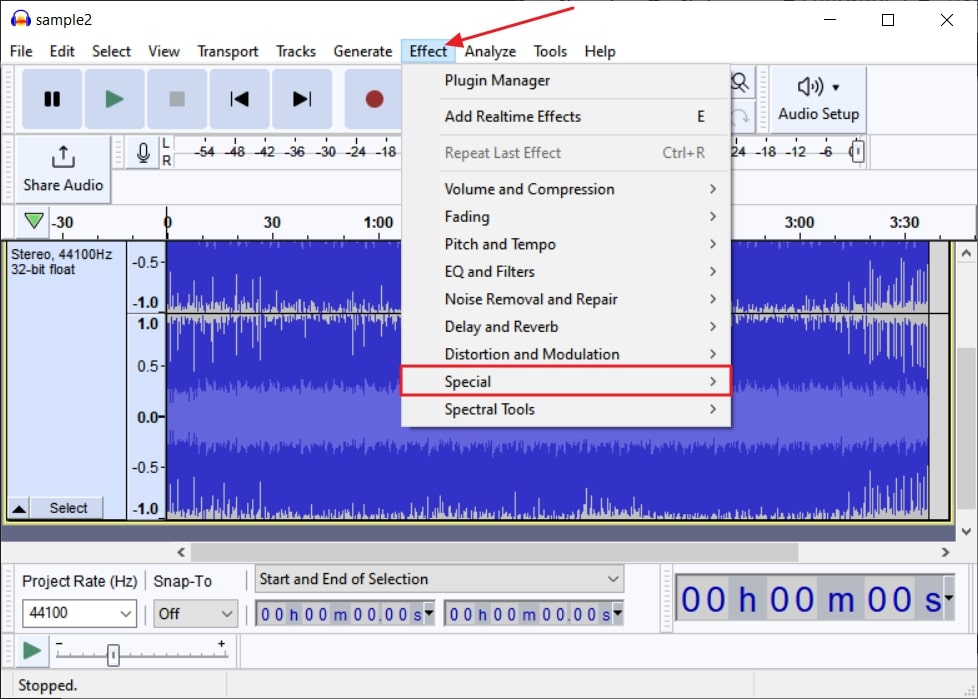 Step 2
From here, tap "Voice Reduction and Isolation." Afterward, a small window will pop up on your screen, and from here, you have to select "Remove Vocals" in the action drop-down. You can also adjust the Strength, Low Cut, and High Cut for Vocals for precise results. Next, tap the "Preview" button to check the results and press the "Apply" button to apply the feature.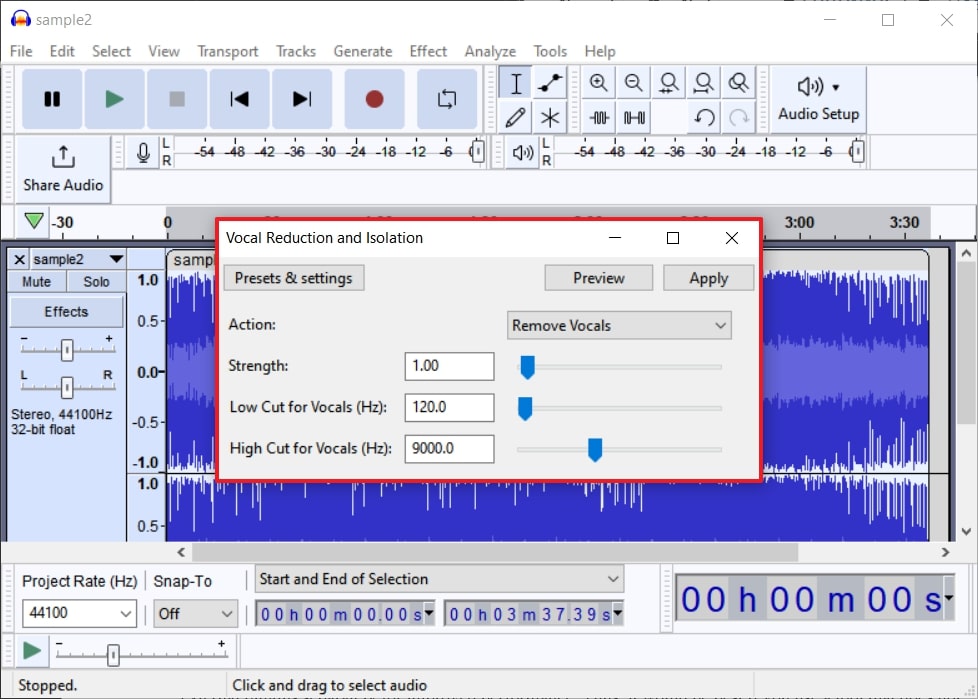 Part 3: The Best Vocal Remover Alternative of Audacity for Achieving Results Automatically
There is no doubt that Audacity vocal remover can help you remove all types of vocals from the audio file. However, facing limitations is still part of Audacity. The interface of Audacity is quite complicated, so you can have a disrupted user experience with it.
Moreover, users are also required to download external plugins for improved performance. Thus, it would be best if you use a tool that does not hold any restrictions. Media.io - Vocal Remover is a perfect tool to help you remove vocals from audio files. From a delightful interface to flawless and blazing-fast processing speed, everything is extraordinary in it.
This tool is straightforward to use, and you can use it without mastering any editing skills. Above all, it can remove vocals from audio and video files, yet Audacity can only remove them from audio files.
Straightforward Instructions to Remove Vocals With Media.io - Vocal Remover
Here are the steps by which you can remove vocals from songs without any complications:
Step 1

Launch Media.io - Vocal Remover and Import File

To access this robust AI vocal remover, open your browser and launch the Media.io - Vocal Remover tool. From the main interface of its site, click on "Get Started Now" and select the "Upload" button to upload your desired audio or video file.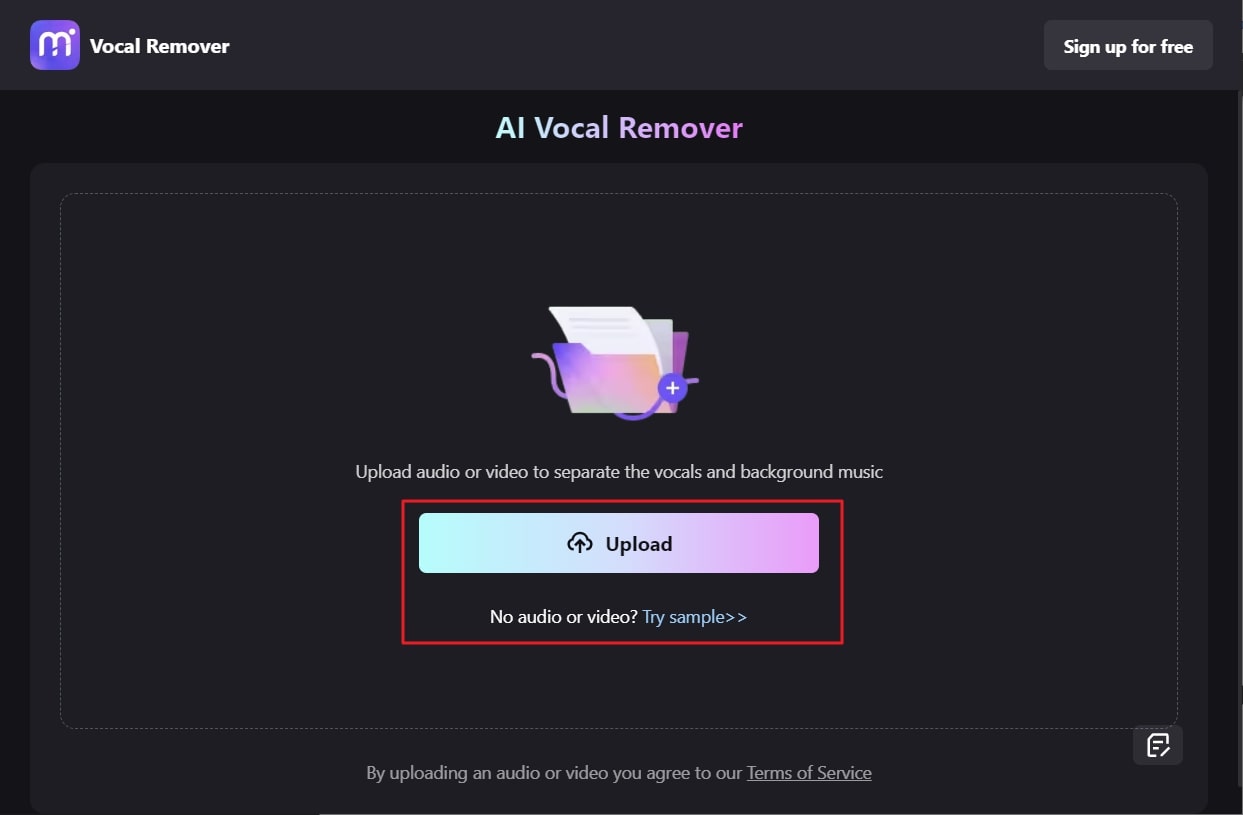 Step 2

Remove Vocals and Save the File

Afterward, upload the file of your choice, and once the file is uploaded and processed, click the download button next to "Vocals." If you want to download music and vocals files, tap the "Download All" button.