There are times when it is necessary to convert audio files into text. For example, these days, a lot of people send voice memos on Whatsapp and Skype. So if you want to understand what people have whispered to you, then your best bet would be to convert your voice memo into text format. 
Voice to text conversion is one of the most used features on mobile and desktop operating systems. In this article, I'll be covering the top 10 best voice to text converters, mostly freeware but with some paid alternatives as well. 
Part 1: Best Free Voice to Text Converters for Windows/Mac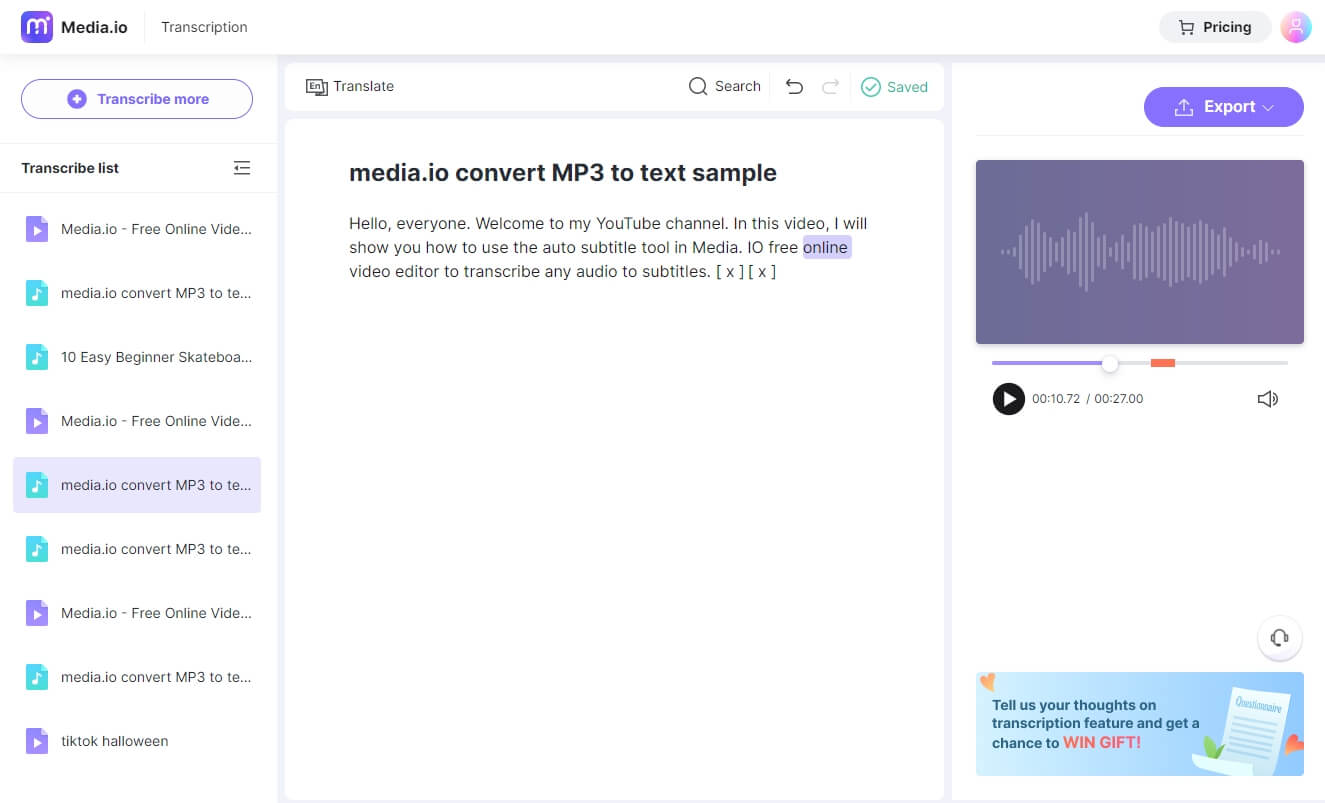 Available on: Web-based, Works on Windows, Mac, Chromebook, Linux, Android, and iPhone
Price: Free Trial or Upgrade to Get More Transcription Time
Media.io is a cloud-based platform that allows you to edit, convert and compress media files in a snap. The Sound to Text app allows you to convert your voice recordings into text on any device and at lightning speed (which means fast).
The Transcription app from Media.io is based on a unique speech recognition method that enables you to achieve the highest accuracy and speed possible, using AI and Machine Learning to precisely analyze audio/voice and create accurate transcripts. It boasts up to 95% accuracy while transcribing. This voice-to-text converter supports over 90 languages and accepts all standard audio/video file types. 
Converting texts from voice is easy with the Media.io transcription app. All you need to do is launch the Transcription app, upload the audio or video file, specify the language spoken in the file, and transcribe. You can then sit back and allow Media.io's AI to complete the work.
Pros
Convert voice to text fast and accurately 
Multiple languages supported, such as English, French, Spanish, Hindi, German and Italian
Translate transcribed audio and video to other languages for free 
Cons
● No real-time voice-to-text conversion
2. Windows 10 Speech Recognition (Windows)
Available on: Windows 11, Windows 10
Price: Free
Windows 10 Speech Recognition is a native feature on the Windows OS. It is essentially designed to be used to control the computer using voice commands. But, it comes with a dictation option that can be used on any text field.
In order to improve the accuracy of this voice-to-text software, you will need to train the AI. While this isn't the most user-friendly transcriber, it can get the job done. If you own a Windows PC with Windows 10 or a newer OS, this tool will already come pre-installed. 
Press theWindows logo key + H on your keyboard to enable the Dictation app quickly. And then start converting your voice to texts automatically in real-time.
Pros
● Totally free to use and no charge
● Popular languages are supported, such as Simplified Chinese, English, French, German and Spanish
Cons
● You can't upload audio or video files to convert to text directly. 
3. Apple Dictation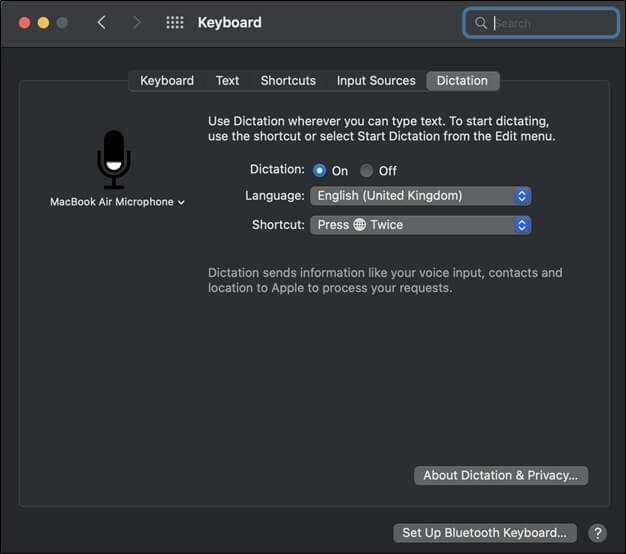 Available on: macOS, iOS
Price: Free
Similar to the Windows 10 dictation software, Apple Dictation is only supported on Apple devices. It allows users to control their Macs or iPhones using voice commands. It comes pre-installed with any Apple device and can be used to transcribe short voice notes. This tool uses the same software as Siri and so is quite accurate when capturing/analyzing voices.
To transcribe, you only need to activate dictation and speak into the mic. However, keep in mind that this tool can only handle short documents.
Pros
● Comes pre-installed on Apple devices
● Easy to make changes to the text while transcribing
Cons
● Cannot transcribe long documents
4. Google Docs Voice Typing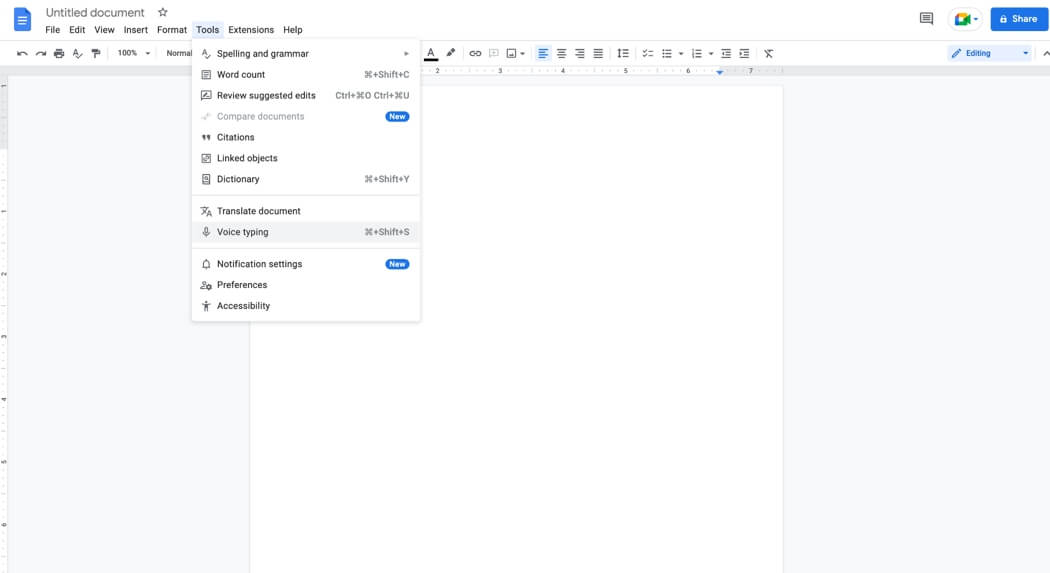 Available on: Web-based (Chrome, Mozilla, Microsoft Edge, Safari)
Price: Free
This is a great option for anyone already using Google docs. While it isn't an app you can download, anyone with access to Chrome can use the Voice Typing feature. The dictation is fairly accurate and the tool is able to pick up on voices well. 
To use this tool, simply open a new Google document and navigate to the Tools section. If the Voice Typing option is not available, make sure you have allowed Google docs to access your microphone in settings.
Pros
● Can be used with any device/web browser that has Chrome installed
Cons
● Doesn't always understand when punctuation is required
5. Speechnotes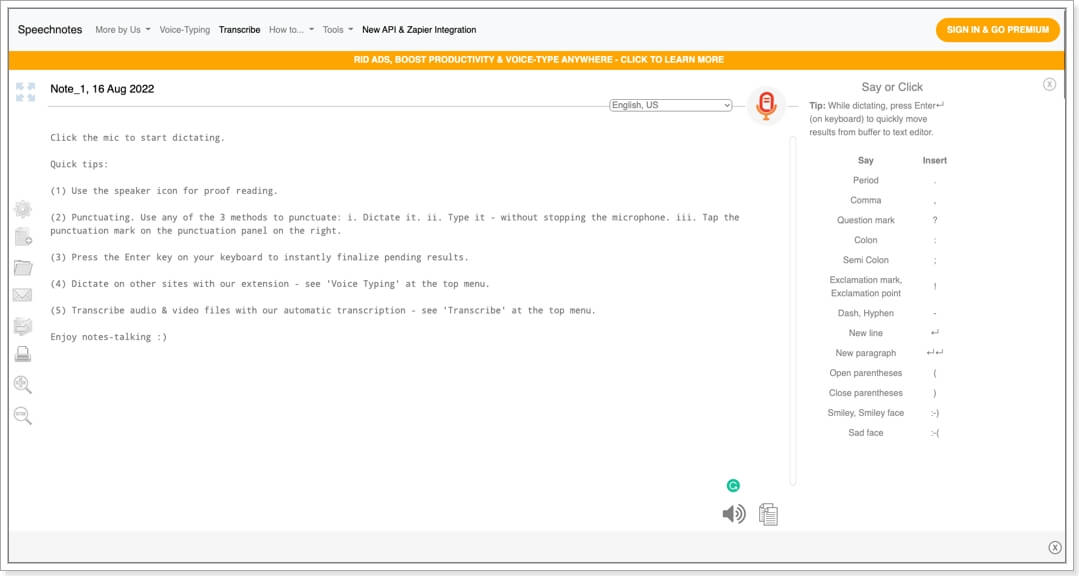 Available on: Web-based (Chrome, Mozilla, Microsoft Edge, Safari)
Price: Free
Speechnotes is a fantastic free voice-to-text converter that can be used on any web browser. It is an online notepad that uses the latest speech recognition technology for accurate conversion. While the tool picks up voices well, you may run into issues if you go too fast. Speak at a slower pace to get the best results.
To use this tool, simply open the webpage and click on the mic icon. Additional tips on how to use the tool are mentioned on the homepage.
Pros
● You don't need to download any software
● Can be used on any device with access to the internet
Cons
● The software doesn't always pick up all the words
Part 2: Best Voice to Text Converters for Windows and Mac [Paid]
1. Nuance Dragon Home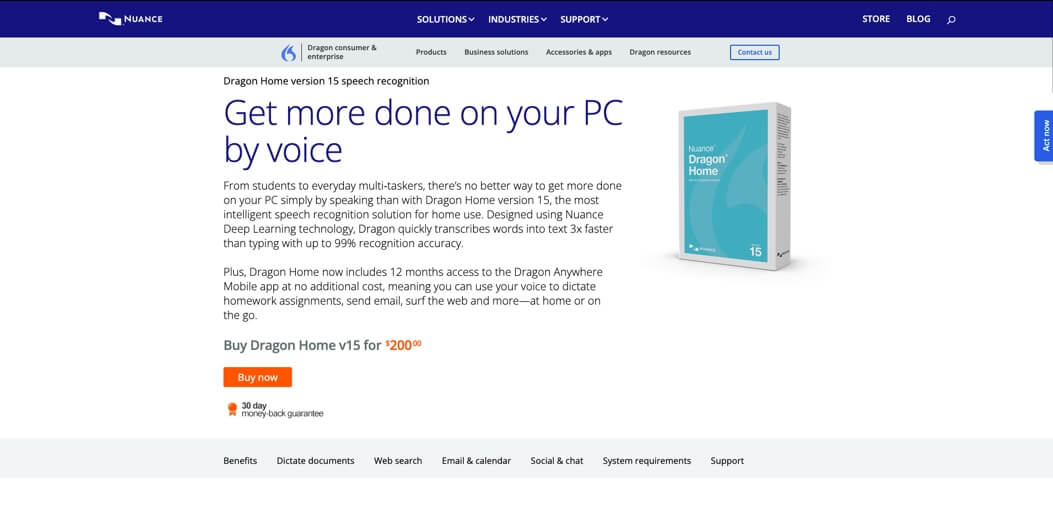 Available on: Web-based, Windows 7 and newer
Price: $200
Nuance Dragon Home is a powerful speech recognition tool with over 99% accuracy. It utilizes Deep Learning technology to ensure that voice-to-text transcription is three times faster. This technology also allows the tool to learn on the go by adapting to your voice and the environment.
You can use this tool on any text field. Whether you're using Microsoft Office or trying to send an email, all you have to do is talk. It can be used with PCs or tablets that support Windows OS.
Pros
● 99% speech recognition accuracy
● An intelligent solution that learns your voice the more you use it
Cons
● Supports only the English and German languages
● Expensive
2. Descript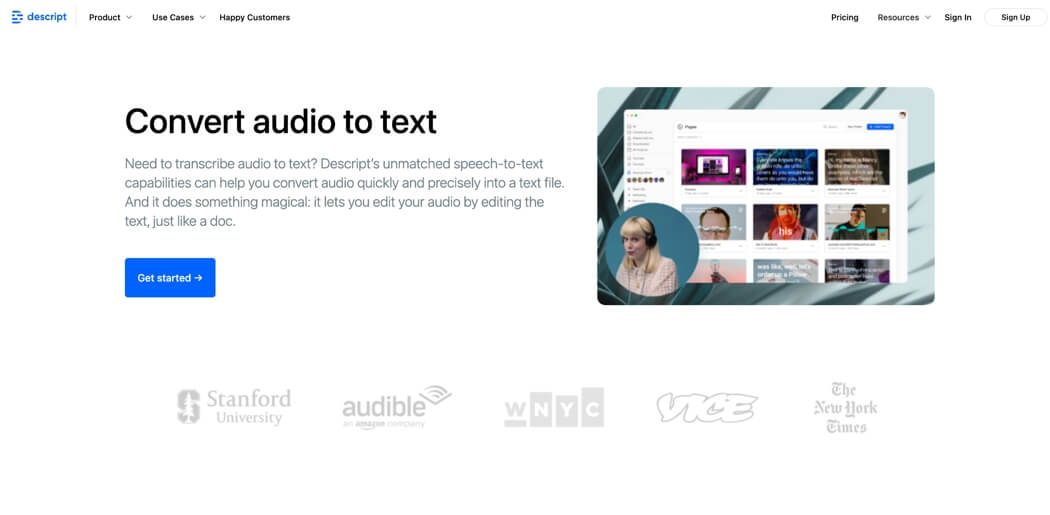 Available on: MacOS 10.11 and higher, Windows 10 and newer
Price: Free trial for 3 hours of transcription
Creator - $15/month or $144/year (10 hours of transcription)
Pro - $30/month or $288/year (30 hours of transcription)
Descript is well-known for one feature, speed. This popular voice-to-text software is highly accurate and uses advanced speech recognition technology. It is simple enough for anyone to use and always generates precise transcriptions. It features a Correction Wizard that automatically identifies errors while transcribing.
To use Descript, simply find the audio file that you want to use and drag it to a new Descript project. The AI will automatically transcribe the entire clip. You can then edit the file in real time.
Pros
● Supports most audio file formats
● Supports over 22 languages
Cons
● Users sometimes face problems with the transcript editing tool
3. Amazon Transcribe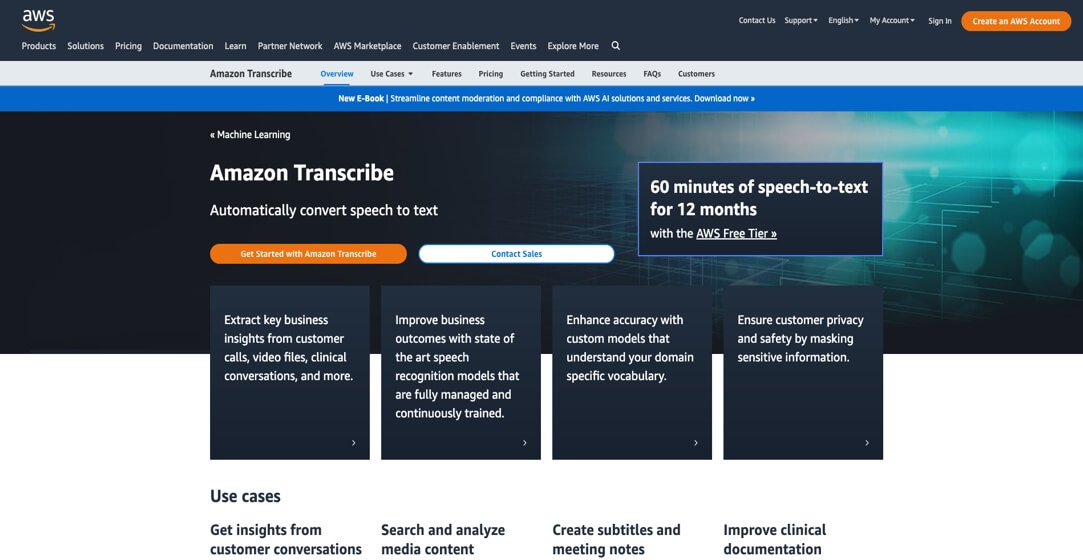 Available on: Web-based API
Price: 60 minutes per month given free for the AWS free tier. The standard rate of $0.024/minute is applied after this (will depend on region).
Amazon Transcribe is a tool that is intended for those who have already used AWS services. This voice-to-word converter was created to help users with their Amazon business. But, there's nothing stopping you from transcribing other documents. With this tool, you can transcribe real-time voice notes or separate audio files. The speech recognition technology works well in picking up multiple voices.
Pros
● Offers a free tier for existing AWS users
● You can include time stamps on transcriptions
Cons
● Isn't always accurate and will require proofreading
4. Watson Speech to Text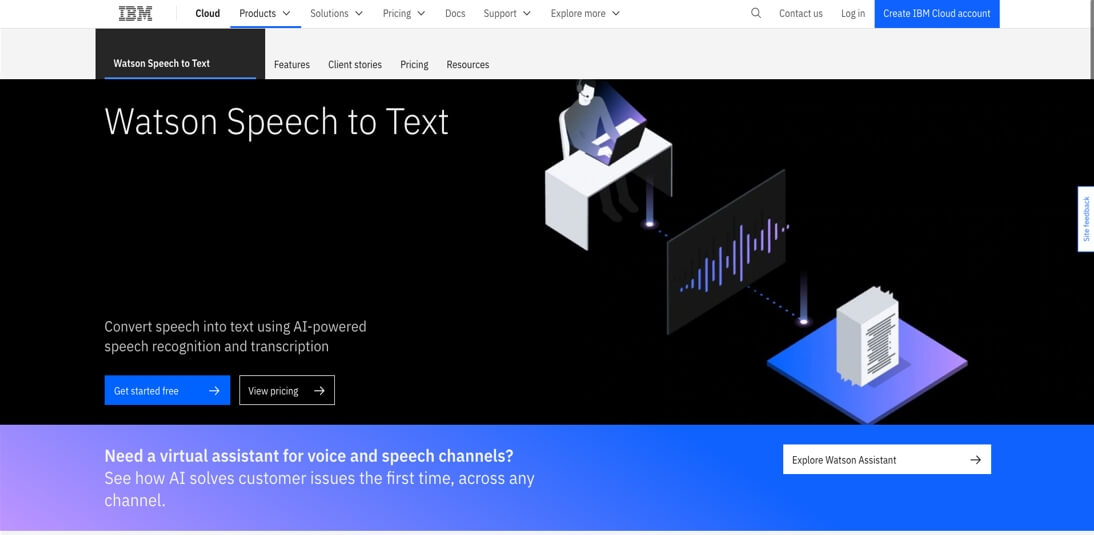 Available on: macOS, Windows, Cloud-based
Price: Free (500 minutes/month)
Plus ($0.01/minute)
IBM Watson Speech to Text is a highly advanced AI-powered tool that can accurately transcribe voice notes. The software can be trained to identify specific language characteristics that are unique to you. It can also analyze the audio files to fix bad audio before doing the transcription. 
Additionally, this tool can pick up to 6 voices at a time. It also works quite well in real-time as the AI is optimized for low latency.
Pros
● Multiple features to ensure transcription accuracy
● Smart formatting of dates, emails, currencies, etc
Cons
● More expensive than other solutions
5. Verbit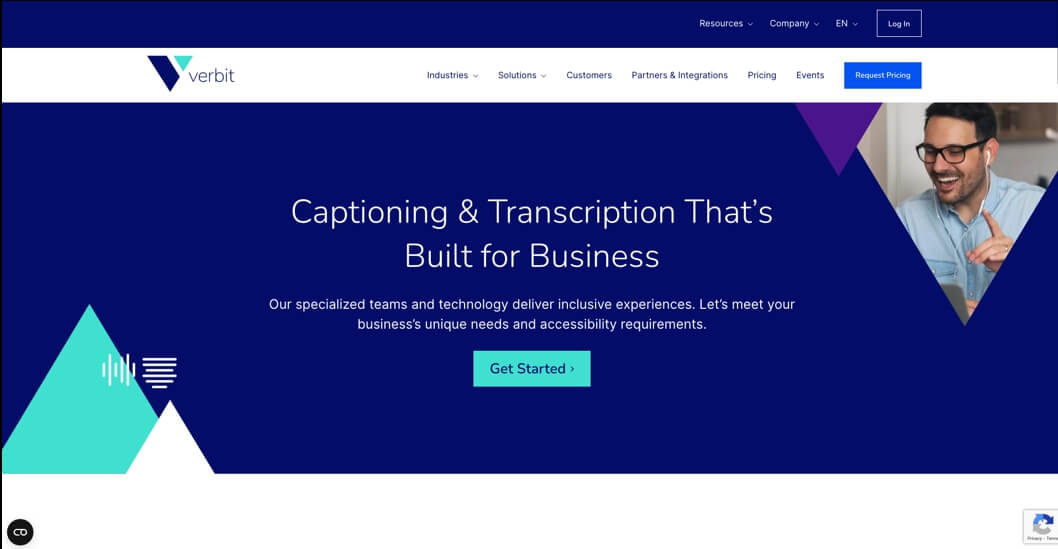 Available on: integrates using API
Price: Provided when requested
Verbit aims to bring the highest levels of transcription accuracy to the table. With a 99% accuracy rate, Verbit is among the best voice-to-text software available in the market. This tool is specifically used in legal proceedings and court cases for its accuracy.
It can be seamlessly integrated into multiple applications such as Zoom and YouTube for captioning. It has real-time transcription features and you are able to edit them on the fly. However, make note that the final transcription can take a few hours to reach you.
Pros
● 24/7 customer service
● Simple to use
Cons
● The final transcript can be delayed a few hours