Transcriber for WhatsApp
Convert WhatsApp voice message to text automatically and confidentially.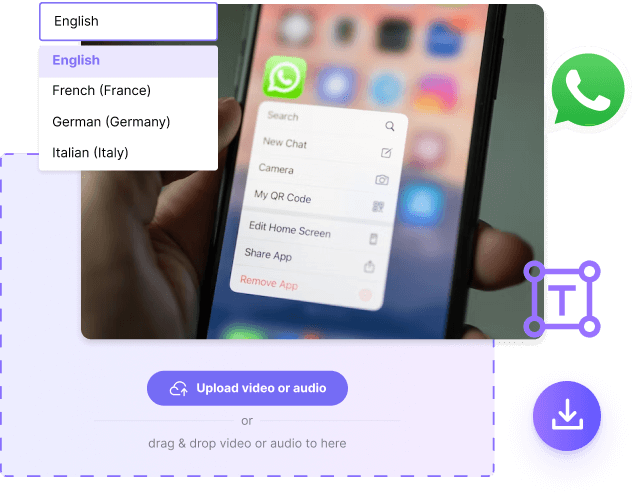 Convert WhatsApp Voice Messages to Text
Have you ever received a voice message on WhatsApp in a noisy environment? Ever found it hard to listen to it? Well, you're not alone. Most people face this quite often, if not daily or frequently. In this case, you can transcribe the Whatsapp voice note to texts and then read it again and again. The Transcription from Wondershare Media.io can quickly help you convert Whatsapp voice to texts. Regarding Media.io, it is a web-based, all-in-one toolkit for all your production and post-production tasks. And the Media.io Transcription app allows you to accurately and instantly convert your voice messages to text.
How to Convert a WhatsApp Voice Message to Text in Minutes?
Media.io online transcription app is available on your Windows, Mac, Android, and iPhone devices. The steps below are based on the Whatsapp iPhone app for demonstrating how to convert a WhatsApp voice message to text, but the steps on other devices are similar.
Step 1: Download WhatsApp Voice Note

On your iPhone, long-tap the voice message, tap Forward, tap Share from the bottom-right corner of the next screen, tap Save to Files, and save the file to your local phone or iCloud. Note: If you're using Android, you can go to the My Files > Internal Storage > WhatsApp > Media > WhatsApp Voice Notes folder to access the voice message file.

Step 2: Upload WhatsApp Voice Message to Media.io Transcription

Launch Safari (or any other compatible web browser of your choice) on your iPhone, go to the https://www.media.io/app/sound-to-text URL, tap Upload video or audio, tap Choose File, and locate and upload the WhatsApp voice message to the portal. Note: On Android, you can directly go to the voice message folder, and locate and upload the file to Media.io Transcription app.

Step 3: Transcribe WhatsApp Voice Message to Text

Tap Transcribe Now, when prompted, enter your Wondershare ID and password to sign in, and wait while Media.io Transcription transcribes the Whatsapp voice message to text. Preview the transcribed message, and if it is correct, download and save it to your phone for future reference.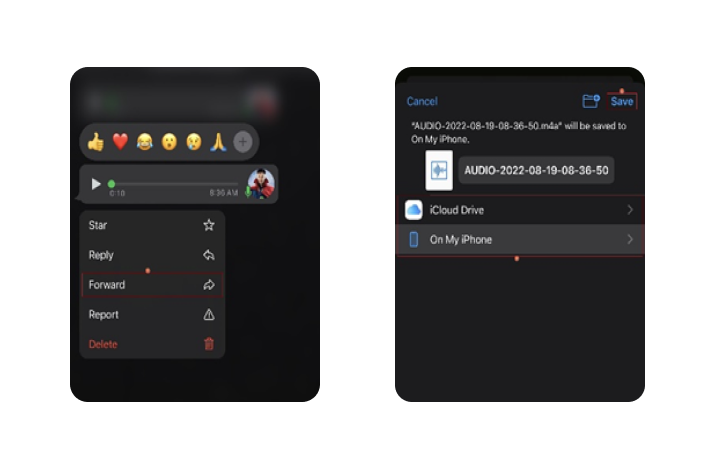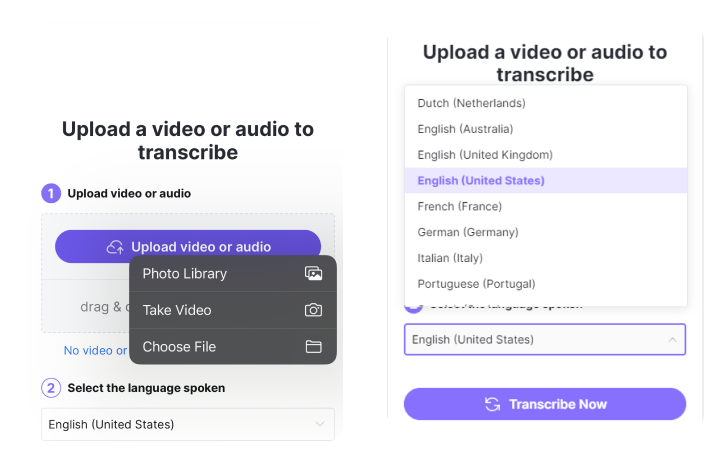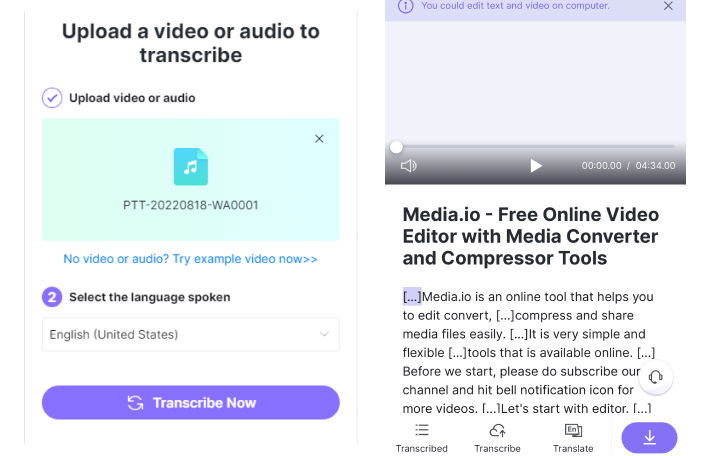 Why Use Media.io Speech to Text Converter for Transcribing WhatsApp Voice?
Transcribe Voice on the Go
With Media.io Transcription, you don't have to switch to any other app merely for file conversion or transcription. In addition, the web app supports M4A and OPUS formats in which iPhones and Android devices receive voice messages, respectively.
Multilingual Support
Media.io can recognize WhatsApp voice messages spoken in almost every major language and dialect. This makes the tool versatile and enables you to use the web app beyond geographical boundaries.
Transcribe voice Accurately
Because voice messages often might not be clear enough to be easily understandable, when transcribed to text with Media.io Transcription, they tend to make perfect sense as the information they contain becomes readable.
High Efficiency
When you transcribe WhatsApp voice messages with Media.io, you can rest assured that the output quality will be incomparable. This is because the web app is developed by Wondershare, a brand that can be trusted without a hitch.
Confidential and Security
Because Wondershare Media.io servers are highly secured, anything you upload or save on their Cloud remains protected, with no chance of breach whatsoever. And nobody can access your transcribed files except yourself.
Works on Any Device
Wondershare uses high-end servers to handle all the transcription tasks online. Therefore, any WhatsApp voice message file you upload to Media.io is processed quickly and seamlessly, all on the web, without any software installation.
FAQs About Converting WhatsApp Voice to Text
Does WhatsApp have a voice-to-text converter?

If you're a sender of a WhatsApp message, you can record your voice, and the app can convert it to text if you want it to. If not, you can directly send the voice message without conversion. On the other hand, if you receive a voice message, WhatsApp has no built-in feature to convert it to text, and you must rely on a third-party tool like Media.io Transcription to do the job for you.

How to translate WhatsApp voice notes to English?

Media.io Transcription recognizes a plethora of languages. For example, when you upload a WhatsApp voice message in a different language, the web app seamlessly translates it to English.

Should I download a WhatsApp voice message before transcribing it to text?

You must have access to the voice message file. So, yes, you must download it. However, this stands true only in the case of iPhones where you must do so manually, as explained earlier. If you use an Android smartphone, the voice message file is automatically downloaded to the WhatsApp > Media > WhatsApp Voice Notes folder in the phone's Internal Storage container.
I am a party person and that's why I mostly remain in a noisy atmosphere where it's quite challenging to listen to the audio messages that I receive on WhatsApp. Thanks to Media.io, I can now convert those voice notes to the text and can go through them without increasing the volume of my phone or searching for a quiet room.
Carl

Being a school teacher, I cannot put my phone in ringer mode or play any audio on it due to the policies of the management. With the Transcription tool, I upload the file to their server and transcribe the audio to text. It's quite convenient for me.
Lily

I am a member of an orchestra band where I actively participate in many programs. While waiting for my turn, I usually check the WhatsApp messages that I receive. If there's a voice note, I use Media.io to transcribe it to text so I can understand what the sender wants to say. Media.io made things easier.
Sheldon

I am a personal assistant of a senior political person and I can't turn up the volume of my phone during office hours. Thanks to Media.io as I can now transcribe voice notes to text and reply to the senders accordingly.
Dan

I work in a hospital and can't make any noise as it may disturb the patients. Therefore, whenever I receive a WhatsApp voice message, I use Media.io to transcribe it to text and then go through it. This helps me communicate with everyone and stay in touch with them.
Grace

Transcribe Voice to Texts
in Minutes.
Convert voice, recordings, interviews, speech and more to texts easily and accurately!