Audio to Text
Online Converter
Media.io AI sounds recognition service makes converting voice to text a walkover. Save time and energy without sacrificing accuracy to convert audio to text online for free.
👇🏻New Registers Enjoy a 7-Day Free Trial with Full Access!(Sept. 25th - Oct. 7th)
How to Automatically Convert Voice to Text Online Free?
Figuring out how to quickly convert speech, voice recordings or sound to text for podcast, interview, education, meetings, journalism, personal pleasure or any other purpose? Well, you've come to the right place! Media.io auto transcription tool does the difficult job for you. It's a simple online program that uses AI and deep ML to accurately analyze video or audio sounds and generate transcripts. You only need 3 simple steps to convert speech to text. See how it works!
Step 1. Upload Your Voice Files to Convert

Launch Media.io speech to text converter to upload your audio or video files to transcribe. You can upload medias from local storage.

Step 2. Start Transcribing Audio to Text Online

The automatic transcription tool will quickly analyze the voice and convert it into text in an instant. (You can make any necessary edits to the resulting transcripts.)

Step 3. Download Speech-to-Text File

Now your audio transcript is ready. Preview and Export the text file in .TXT or .SRT format to your device.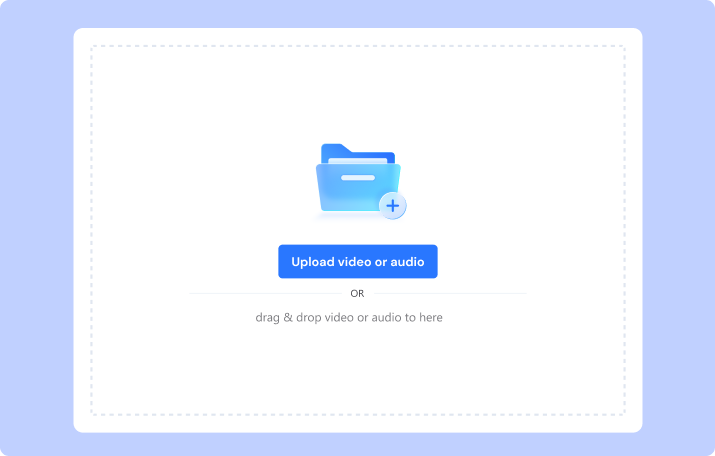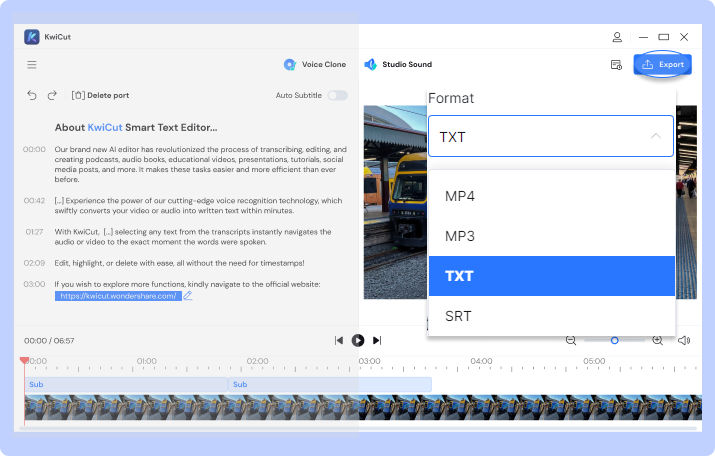 Top Perks of Media.io Audio to Text Transcriber
As for audio-to-text converting, Media.io empowers you to transcribe sound with remarkable accuracy and efficiency. After extracting the texts or subtitles from any video or audio files, you can get it auto-synced with your video or perform other editing tasks - delete, duplicate, copy and type, etc. Give it a try!
Online Speech to Text
With Media.io Auto transcript service, you don't need to install any complicated software to transcribe audio recording apps. Simply launch it from browser and transcribe audio to text free.
High Recognition Accuracy
Media.io uses an advanced AI translator and deep ML to transcribe any audio recordings into quality text. Gives you up to 95% accuracy with few spelling or grammar errors that need proofreading.
90+ Languages Supported
You can easily transcribe audio or video files in over 90 languages. It supports English, Spanish, French, Chinese, Indian, and other languages. Many accents are included. (Currently it only supports English, but support for other languages will be available soon!)
Accept Various Audio Types
Media.io supports almost all standard sound formats for importing. You can directly upload video or audio files in formats like MP3, M4A, WAV, MP4, MOV, WebM, AVI, OGG, FLAC, and more.
Multi-Functional Editor
This speech recognition software comes with a multitrack timeline to edit audio, video and text accordingly. You can trim, split, cut, add captions, etc.
Auto Add Video Subtitles
To cover up more regions and users and let them understand what you are saying or presenting in the video you post on YouTube, Facebook, Instagram, or Tiktok, convert your speech to different subtitles.
How Can Media.io Speech-to-Text Converter Help You?
Imagine you have to transcribe the audio to text by typing words manually, it could take hours to finish a speech-to-text typing work. But now, you got this Audio to Text Converter for helping you get relief from the time-spending work! It could be used to convert podcasts, speeches, video captions, etc. And the exported text file can be saved in .txt for matching Google Sheets, Microsoft Word, etc.
FAQs Regarding Sound to Text Converter
How can I transcribe voice to text quickly?

Media.io makes it super simple for you to transcribe audio to text. Just upload your audio recording files and our AI transcription software will take care of the rest, generating plain text in a matter of seconds. Interestingly, you can record voices using the inbuilt recorder and transcribe it.

How can I edit the auto-transcribed text?

Once you've finised auto audio transcription on Media.io, you can simply download the plain text or edit it further.

Can I add the auto-transcribed text to my video?

Yes, you can add the extracted text tracks to any video without manual operations. Just toggle on the Auto Subtitle button. The transcribed texts will be automatically burned into the video. If you wish to save the subtitles separately, click the Export icon to download the subtitle file in SRT or TXT.
More Tips and Tricks for STT and Voice Changing
This online voice to text converter works really well. The accuracy is amazing and it helps me transcribe my videos to English transcript without any hassles. I'm happy.
Oliver George

I've been a fan of Media.io products for a while now and this particular online product impresses me. The auto-subtitle generator is simple, fast, and accurate.
Sylvia Scott

This online audio to text converter works magic for me. Apart from being 100% accurate, it allows me to edit the generated text which is a big plus. Continue the good work, guys!
Jeremy Ash

As an online student, I always have to transcribe my lecture videos to understand everything and create notes. Luckily, Media.io helps me with that most of the time.
Noela

Everything about this online video editor is spot on. It's 95% accurate and hardly gives me the wrong texts when adding subtitles to my YouTube videos. I highly recommend it!
Javas Stone

Sound into Text Converter
You Can Rely On.
Best audio-to-text converter for freely transcribing speech, voice, sound, and audio into text online.
Transcribe Voice to Text Now