Snapchat, one of the most popular video and photo-sharing apps, is available for both Android and iOS devices. It's quick, interactive, and entertaining. Snapchat does, however, have some drawbacks. One of the disadvantages is that when users take screenshots or record videos, the captions are always visible.
Remove the Snapchat caption to keep your screenshot or video private. The most recommended Snapchat caption remover app is AniEraser. This comprehensive guide will show you exactly how to do so. This guide is for you if you want to remove Snapchat text from pictures for personal or legal reasons.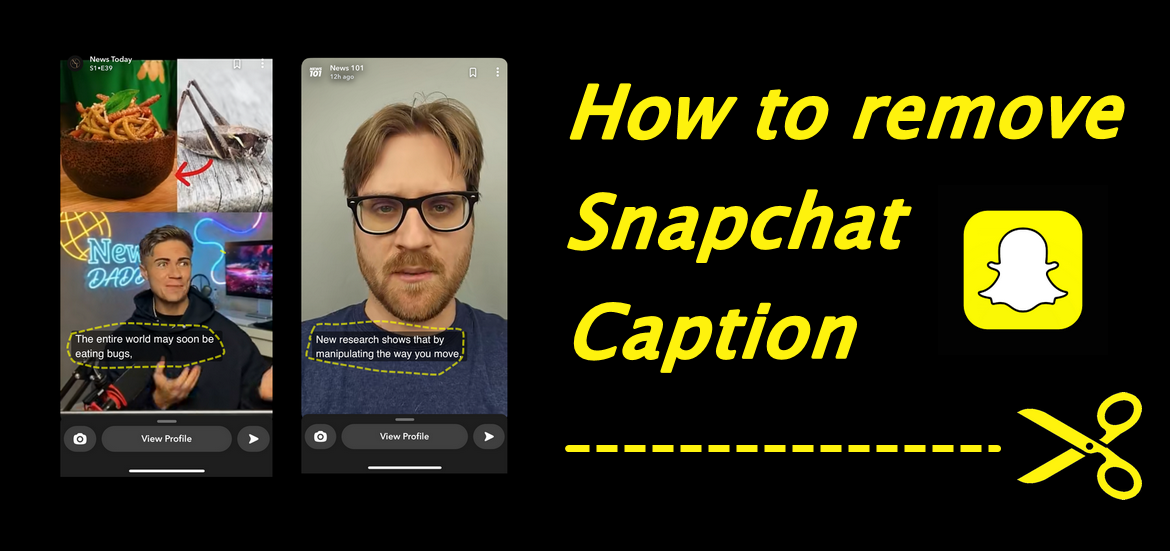 Part 1. Two Ways To Remove Captions on Snapchat
If you want to remove Snapchat text from pictures that have been screen-grabbed and shared online, there are a few different ways to go about it. You can remove the caption using the mobile app on your phone or through the desktop website if you're connected to the internet. Here's a step-by-step guide on how to remove Snapchat captions:
On Mobile:
To remove a Snapchat caption on your mobile app:
Open the Snapchat app and load up the post or photo with the unwanted caption.
Tap on the three lines in the bottom left corner of the image (this will open up the menu).
Scroll down until you see "Caption" and tap on it.
Next, you'll need to select which words or phrases you want to delete from your post or photo. Tap each one and select "Delete" from the pop-up window.
Finally, hit "Done" at the bottom of the screen to save your changes and exit out of Caption mode.
On Desktop:
To remove a Snapchat caption using a desktop website:
Log into your Snapchat account with your username and password.
In the top right corner of your screen, click on "Snapchat."
Next, click on the three lines in the top left corner of the screen and select "Edit Caption." In the "Caption" field, type in whatever text you want to replace the original caption and click "Save."
Part 2. How to Remove Captions from saved Snapchat Pictures & Videos?
The best method to remove Snapchat captions on all platforms - AniEraser
Look no further than AniEraser if you need a powerful Snapchat caption remover. AniEraser is the best snapchat remover for removing unwanted captions, filter texts, and more on all your devices. We offer superior quality removal services that are fast and reliable across three platforms: Desktop (Windows/Mac), Mobile (iPhone), and Web. With AniEraser's simple and intuitive features, you can quickly remove snapchat captions with a single click and easily access all features with one account on 3 platforms.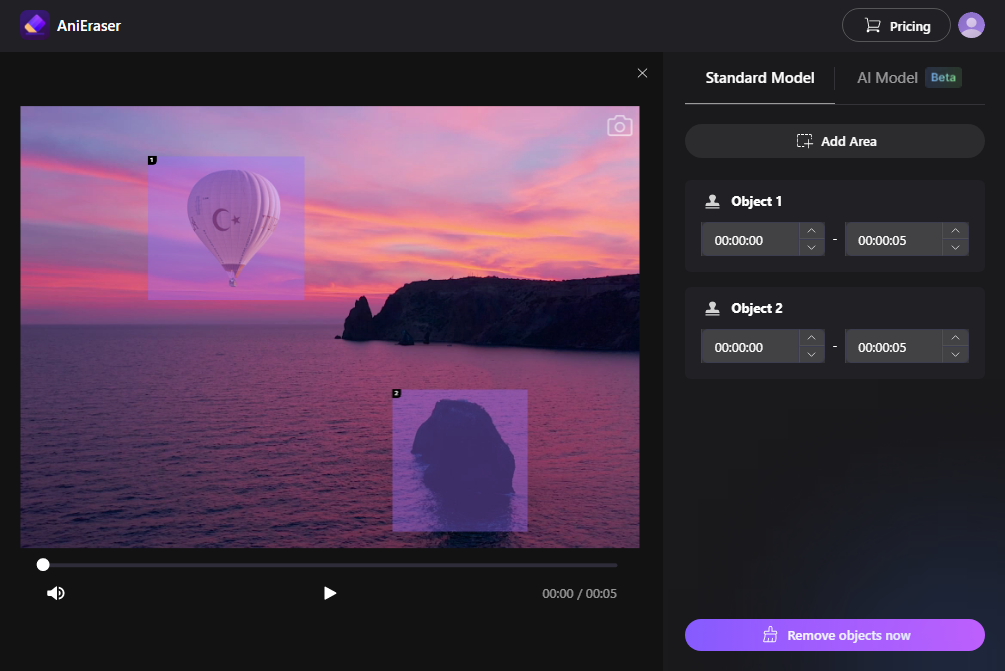 Product Features:
- Fast & Reliable Text Remover: Quickly remove snapchat captions or texts.
- Secure Removal Services: All your data are securely stored, so it doesn't get exposed to third parties.
- Easy User Interface: Simple UX/UI design allows users to quickly find what they need.
- Cross-Platform Support: Enjoy one single AniEraser account across all supported platforms
How to remove Snapchat Caption with AniEraser?
Step 1

Open AniEraser and upload Snapchat videos

Download the AniEraser app on your iPhone or iPad, click "Video Object Remover" and upload your saved Snapchat video.
Step 2

Remove the caption you want to delete

After uploading your videos, add the box and cover the area of captions. Then, click the "Next" button and wait for the removal process to be done.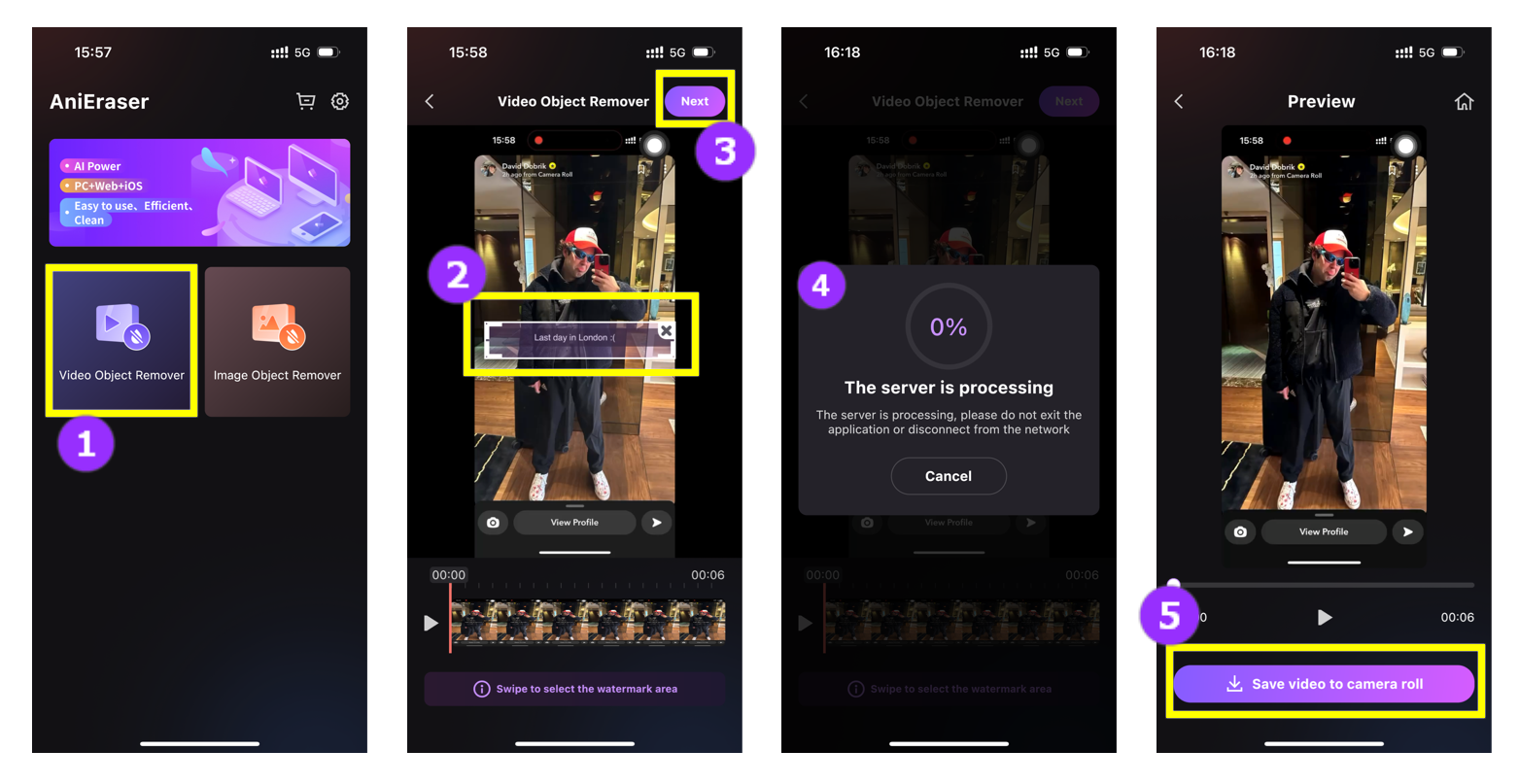 Frequently Asked Questions
How To Remove Snapchat Captions on Computer?
Here are the steps you need to do to delete Snapchat captions from your computer: Open your web browser, type "AniEraser Free Online," and click on the resulting link. Step 2 Choose the photo you want to upload, and then the Snapchat screenshot will appear. Third, pick your go-to selection tool before erasing the Snapchat caption.
How Can You Remove Snapchat Captions From A Video?
If you want to remove Snapchat captions from a video, there are a few different ways to go about it. But one of the most recommended methods is using a third-party app like AniEraser that will help you remove your Snapchat caption easily in no time.