People usually express their moods and emotions on social media by adding emojis and other characters to photos. However, sometimes they forget to save the original picture and suddenly save the ones with emojis. That's when users search for answers on how to restore their photo to its original file.
Fortunately, whether you're using an android or an iPhone device, many apps can help you remove emojis from pictures. And this article will unearth those valuable tools for you and teach you how to use them.
Part I. How To Remove Emojis From Pictures on Android
Getting rid of any unwanted emojis in your photos is pretty straightforward. Below, you'll find information on how to use a user-friendly app on your Android device to remove emojis in your pictures.
Snapseed is a mobile photo editing app for Android and iOS devices that can remove emojis from pictures. It has a Healing feature that allows you to remove unwanted content quickly and easily from images. Snapseed comes highly recommended if you want to process your photos on the go.
Key Features
The ability to edit an image, save changes, and transform it into a preset look is the most significant advantage of using Snapseed. Continue reading to learn more about its key features:
Powerful editing tools such as filters, color-correct tools, lens blur, and more
Keep track of your previous edits and reuse them in future photos
Comes with Snapseed tutorial cards as well as general photography tips and tricks
Selective filtering with a brush
Features adjustment curves and advanced tools
JPG and RAW file formats are supported
How To Remove Emoji From Photos Using Snapseed
To remove stickers, smileys, and other unwanted items from your Snapseed images, follow these steps:
Step 1
Open the app after installation and import the desired image by tapping the "+" icon.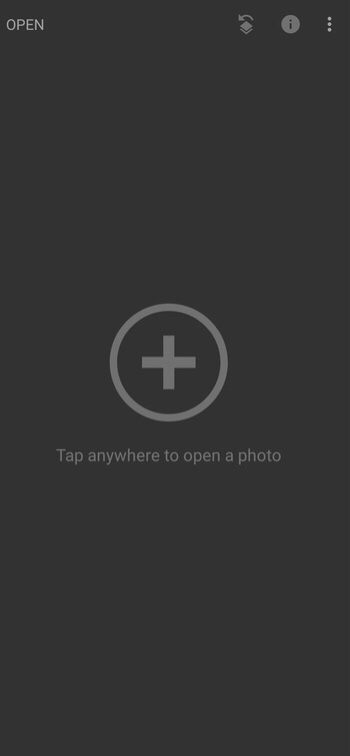 Step 2
Navigate to the TOOLS tab and tap the Healing tool.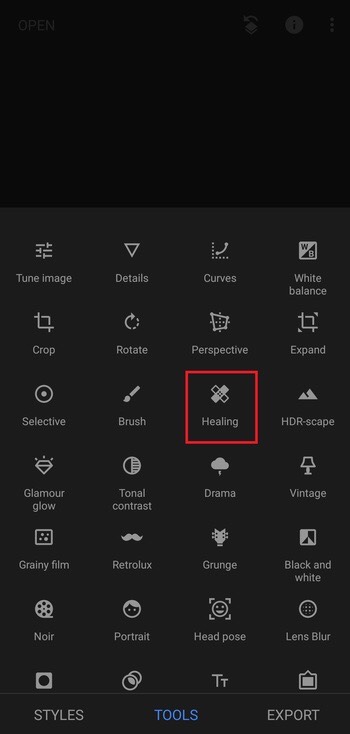 Step 3
Rub your finger lightly over the area where the emojis and stickers are present.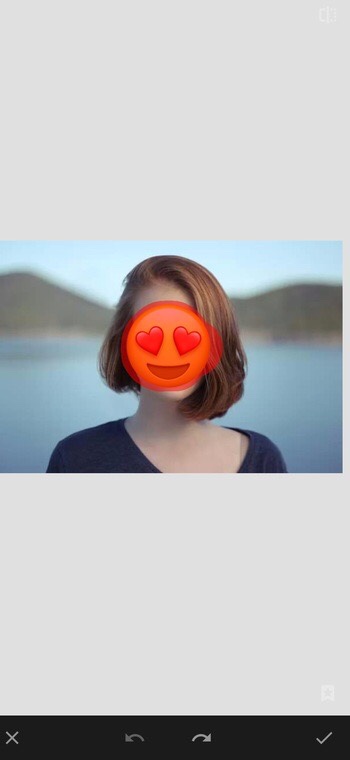 Tips and Tricks for Using Snapseed to Remove Emojis
If you're trying to get rid of emojis in pictures with Snapseed, you might want to consider these pointers below:
Adjust the brush size and opacity as needed
Select an area next to the emoji that has a similar texture or color
Adjust the exposure, brightness, or contrast of the selected area
You can use Snapseed's preset filters to enhance your photo further
Part II. How To Remove Emojis From Pictures on iPhone
There are several emoji remover apps available for download on iPhone devices. Still, in this section, we'll introduce the best one you can use to remove any unwanted stuff in your photos.
If you're using an iPhone device, there's a powerful emoji remover app you can use. AniEraser is an intuitive AI object removal tool that helps users easily enhance photos or videos. You can perfect your moment with a single click and enjoy a seamless, effortless picture transformation.
Key Features
AniEraser will not only assist you in removing emojis from photos but is also loaded with amazing features that will help you with any object-removal project.
AI-Powered

- By utilizing AI, you can easily remove multiple unwanted objects in seconds.

Cross-Platform Feature

- To meet all your needs, AniEraser works on PC, iOS, and online websites. You can use all its features on all three platforms with just one license.

No Editing Skills Required

- Import the files, select the objects you want to delete and be done with them.

Batch Processing

- With AniEraser, you can delete multiple items from a video or image simultaneously.

Retains Original Quality

- Get quick and precise results while keeping the quality and details intact.

Adjustable Brush Size for Precise Results

- You can adjust the brush size to achieve the best results.
Step-by-Step Instructions for Removing Emojis Using AniEraser
Removing emojis from pictures is done quickly in three steps with AniEraser. Follow the steps below:
Step 1
After installing AniEraser on your device, open the app, then tap Image Object Remover.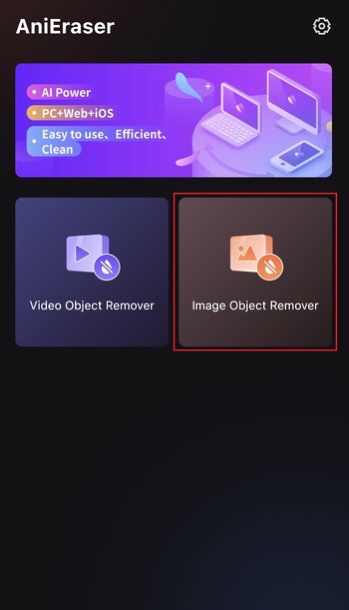 Step 2
There will be two options: Restore and Erase. Tap on Erase, then brush over the emoji you want to remove.
Tip: For precise removal and better control of the tool, you can freely adjust the brush size by dragging the brush size slider.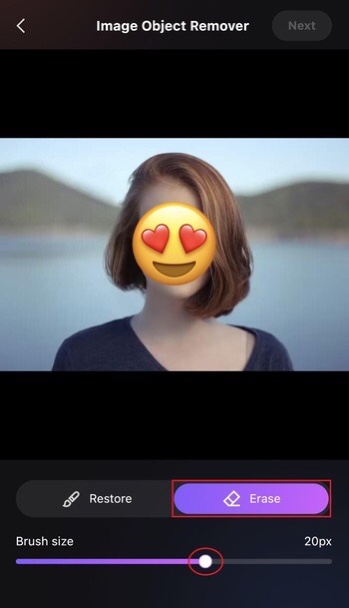 Step 3
Preview your final image to check if you need more editing. Once finished, tap the Export button to download the image.
Tips and Tricks for Using AniEraser to Remove Emojis
Here are some additional tricks that may prove useful when attempting to delete emojis from AniEraser:
If you ever make a mistake during editing, AniEraser also has a

Restore

tool that lets you undo the erasing actions you've done.
If you still need to make changes and want to return to your task, simply click the

Edit Again
Part III. Other Methods To Remove Emojis From Pictures
This section will go over two different ways you can get rid of emojis in your photos on a computer.
Photoshop is a powerful photo editing program that allows you to edit photos and remove emojis. It has several advanced features for removing emojis from photos without affecting image quality. Adobe Photoshop is a professional tool that may not be appropriate for beginners.
Key Features
Photoshop is a well-known graphic design and photo editing program for creating and editing digital images and artwork for both digital and print media. Consider the following key features:
Allows you to remove emojis easily
Allows you to draw on the emoji using its pen or pencil tool
A professional photo editing program
It has a variety of basic and advanced photo editing tools
It automatically saves your work
Steps in Removing Emojis From Pictures Using Photoshop
Check out the steps below on how to remove emoji using Photoshop's Clone Tool:
Step 1
Open Photoshop and import the image you want to work on.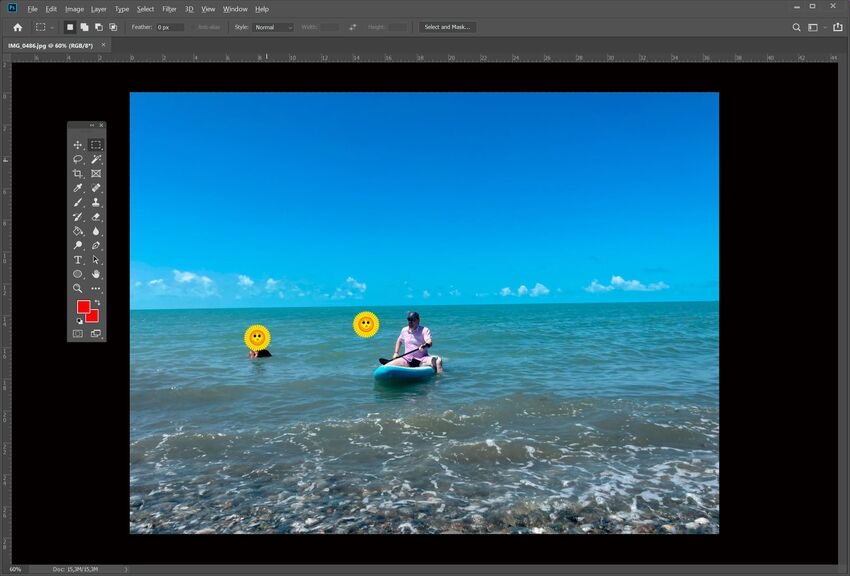 Step 2
On the left toolbar, locate the Clone Stamp tool, then click its icon.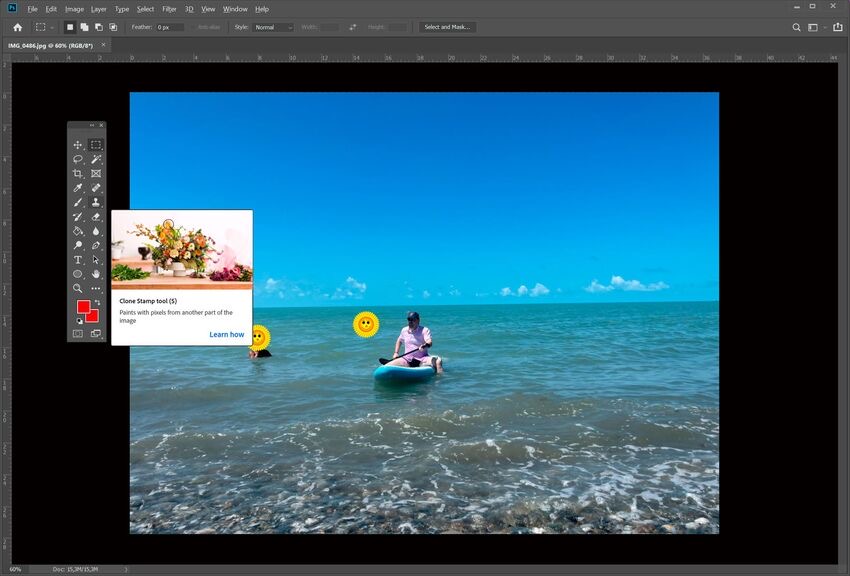 Step 3
Click on the area of the photo you want to use as a reference point, then press the Alt key and click on the emoji you want to remove.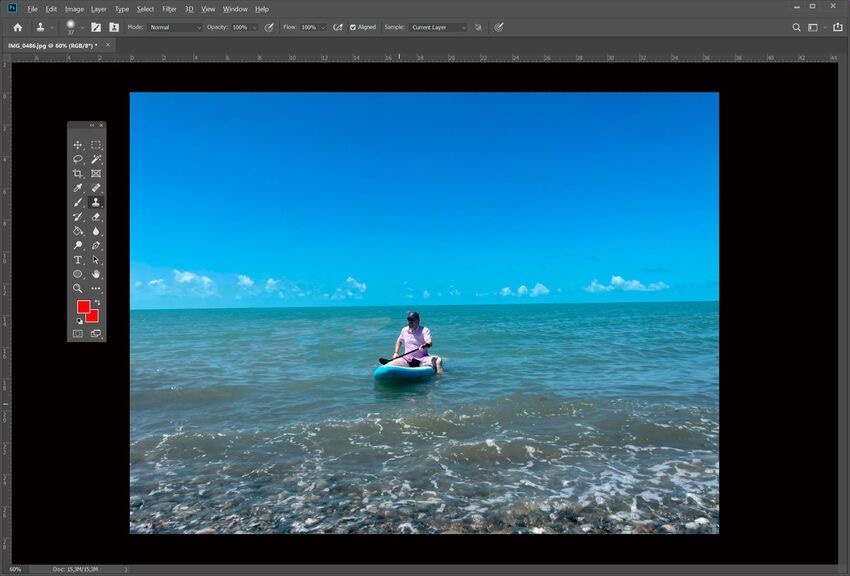 Step 4
Release the Alt key and click on the area where the emoji should be removed. Repeat until the emoji has been successfully removed from the image.
Using Online Tools Like Fotor
Fotor is an online tool that automatically removes emojis from pictures. Fotor can restore the original image after removing the emoji, thanks to continuous learning and technological advancement. You can also use Fotor to remove any unwanted object quickly and easily from a photo. Watermarks can be removed in seconds, and people can be removed from pictures as if they never existed.
Key Features
Fotor is a photo editing tool that includes a design and a photo collage maker. Some of its key features include:
Effects, frames, beauty tools, elements, text styles, and other adjustment tools are all available in the image editor.
It can remove emojis perfectly and with high quality.
The final image can be downloaded in various quality levels, allowing you to select what you require.
You can choose your preferred file format.
Brief Instructions For Removing Emojis Using Fotor
Continue reading the step-by-step guide below to learn how to use Fotor to remove emojis from your photos.
Step 1
Open Fotor in your browser, then click Open Image to upload the photo you want to work on.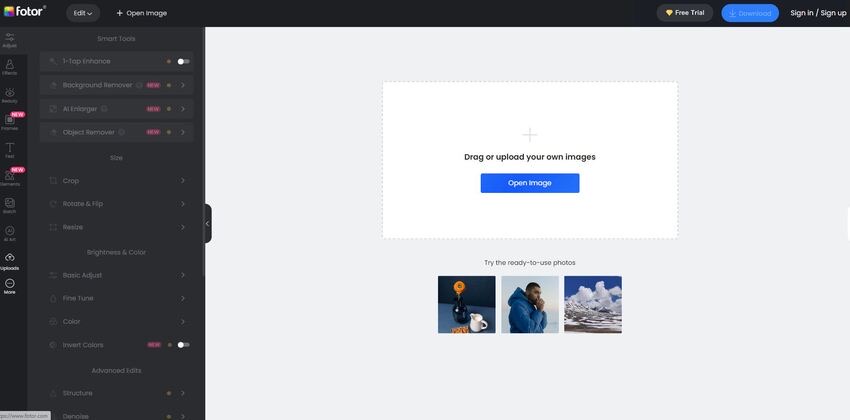 Step 2
To access the removal tool, click on the Object Remover button, then use the eraser pen to smear the emoji you want to remove.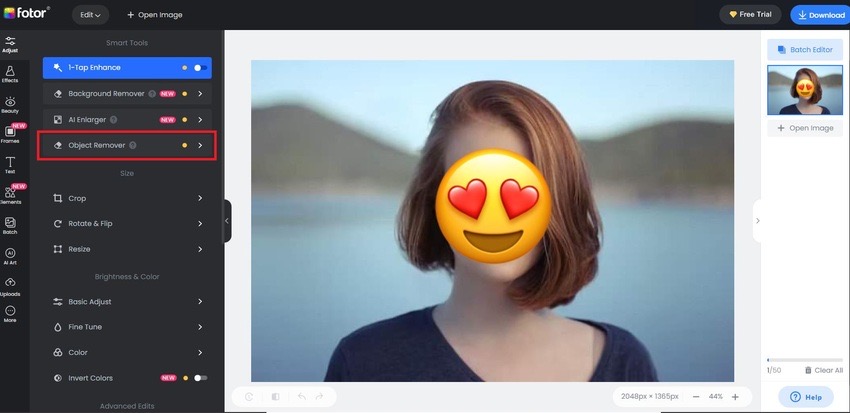 Step 3
Click on the Start Removing button. Once done, click Download to save your edited image.