There are many major streaming platforms, like Disney Plus and Netflix, where you can watch your favorite movies and TV shows. However, getting irritated by distracting subtitles while watching something in a native language is a possibility. Therefore, you can remove subtitles on Disney Plus for a better watching experience.
Moreover, if the video is in recorded form, then a tool to remove subtitles from the recorded video will also be discussed here. By the end of this article, you will know how to remove subtitles on Disney Plus.
Part 1: Importance of Removing Subtitles on Disney Plus
Disney Plus is a video streaming service owned by the most known company, Disney Entertainment. You can watch Disney, Marvel, Pixar, Star Wars, and other media content on this platform. The content library of Disney Plus is not limited to some specific domain. That is why most users watch and record videos of Disney Plus.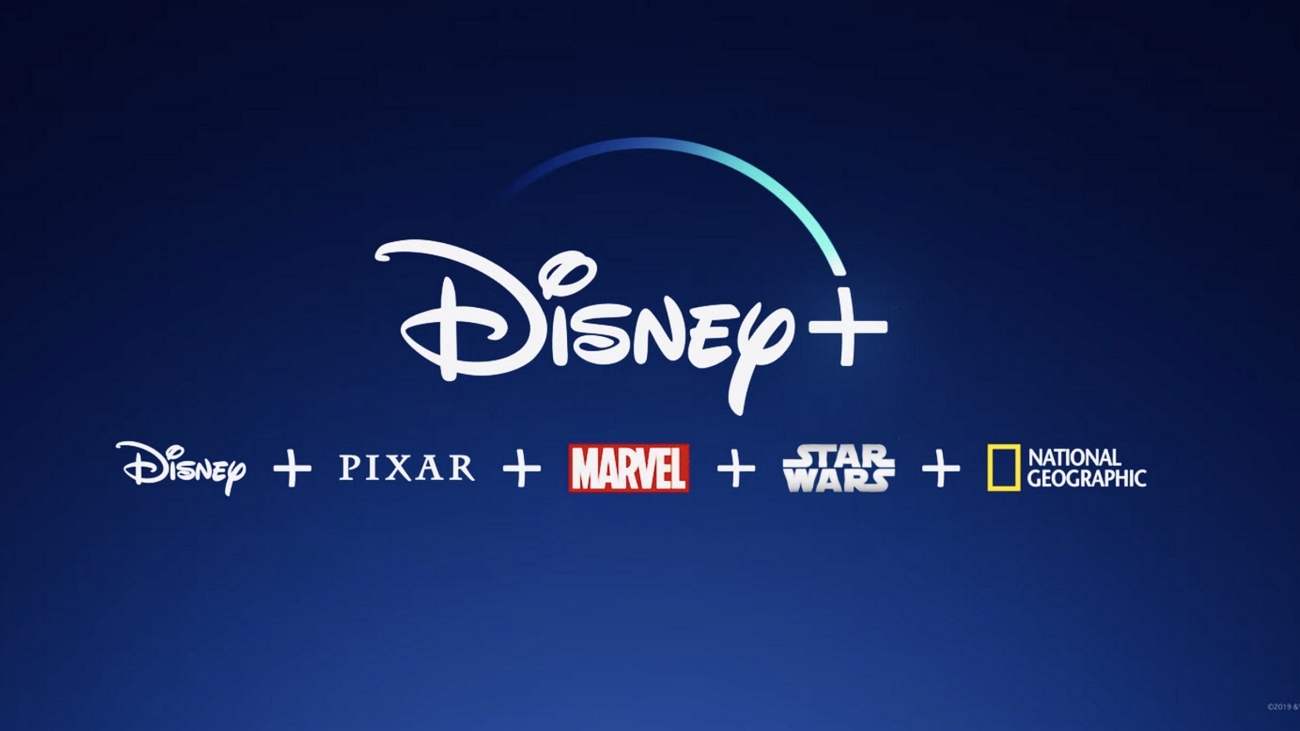 However, sometimes user needs to remove subtitles from this Disney Plus video. You can find the importance of removing subtitles on Disney Plus below:
1. Minimize Distraction
You are aware of the fact that distractions like ads can impact the user experience badly. Just like this, some users think that subtitles can be a distracting factor for them. To eradicate this distraction, the user needs to remove subtitles from videos.
2. No Glitches
Sometimes, disturbing audio synchronizations can mess up the overlays of the video. It can cause severe glitches. That is why it is important to eliminate the subtitles if they are causing glitches in the video.
3. Visuals and Storytelling
If a video's visuals and storytelling capability are enough, why do you need subtitles? If you can understand the video perfectly with high visuals and story flow, then playing subtitles during the video is not essential.
4. Personal Choice
It's totally up to the user if they want to play the subtitles or not. It is not compulsory to play the video with subtitles if it has subtitles. You can also watch it without any subtitles in a personalized manner.
Part 2: Step-by-Step Guide For Removing Subtitles on Different Devices on Disney Plus
Are subtitles irritating you, and do you want to know how to remove subtitles from Disney Plus? You can resolve this issue by using a reliable method of removing subtitles from Disney Plus videos. Above all, you can remove subtitles on mobile and desktop with the same process.
However, the steps to remove subtitles from Disney Plus videos on Smart TV are also listed below. Look underneath to find out what these methods are:
Remove Subtitles from Disney Plus on Desktop and Mobile Devices
Step 1
Initially, open Disney Plus on your device and play the movie or TV show from where you want to remove subtitles. Once the video is playing, tap on it to bring other options.
Step 2
After this, select the "Language Controls" icon from the top right of the screen, and from the appearing options, locate "Subtitles" options, and hit "Off."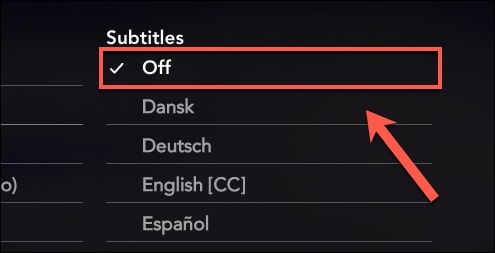 How to Remove Subtitles of Disney Plus Videos on Smart TV
Step 1
To begin, open Disney + on Smart TV and play the movie or show of your choice. As the movie or show starts to play, click on the "Subtitles" icon from the bottom right of the screen.
Step 2
Following this, choose the "Off" option from the "Subtitles" menu. You can also change the language of subtitles from this option.
Bonus Tip: How to Remove Subtitles from Disney Plus Recorded Videos Without Damaging the Quality?
This bonus tip is for those who have recorded the Disney + shows but don't know how do you remove subtitles from Disney Plus. By this, you can ultimately remove the unwanted subtitles from the recorded videos. A revolutionary tool named AniEraser can help you with this issue. It is a very easy-to-use tool, so you can use it without tech knowledge.
Moreover, the delightful interface of this tool is a point to mention here. With this subtitle's remover, you can optimize and customize the video without losing a bit of it. In addition, it never compromises the quality of the video, even after removing subtitles. As for the processing speed, it is blazing fast, so you will not have to wait for hours to get rid of subtitles from any video.
Universal Key Features of AniEraser
It never ceases to astonish users with its higher functionality. Not only videos, but you can also remove unwanted things like logos and text from images.
You can remove unwanted elements from a video in a fully Customise manner. It also lets you manage the size of the brush for precise modifications.
The cost-effectiveness of this tool is enough to show its reliability. You can use AniEraser on Windows, Mac, iOS, and online with just one license.
How to Remove Subtitles of Recorded Disney Plus Shows with AniEraser
Follow the instructions guided in this section to remove the subtitles from the recorded videos of Disney+ shows or movies.
Step 1

Install and Launch AniEraser

To initiate the process, install AniEraser on your desktop computer and launch it once installed. From the main interface of this subtitle remover, select the "Video Object remover" button. After this, double-click on the video from where you want to remove the video and import it.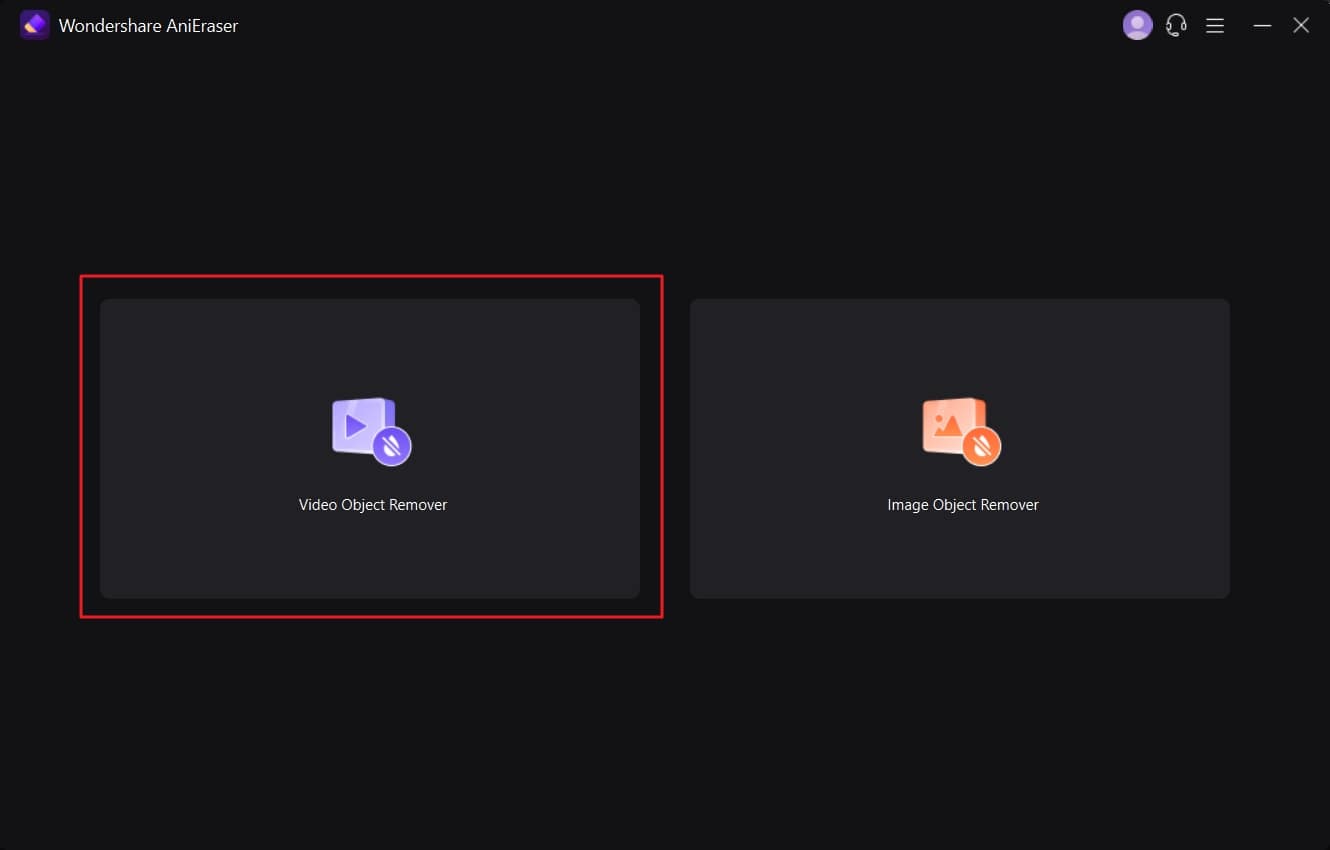 Step 2

Remove Subtitles from AniEraser

Once the video is imported to AniEraser, select the area around the subtitles by pressing the "Select Area" button. After choosing the area, select the "Preview" option to enable it to check the results.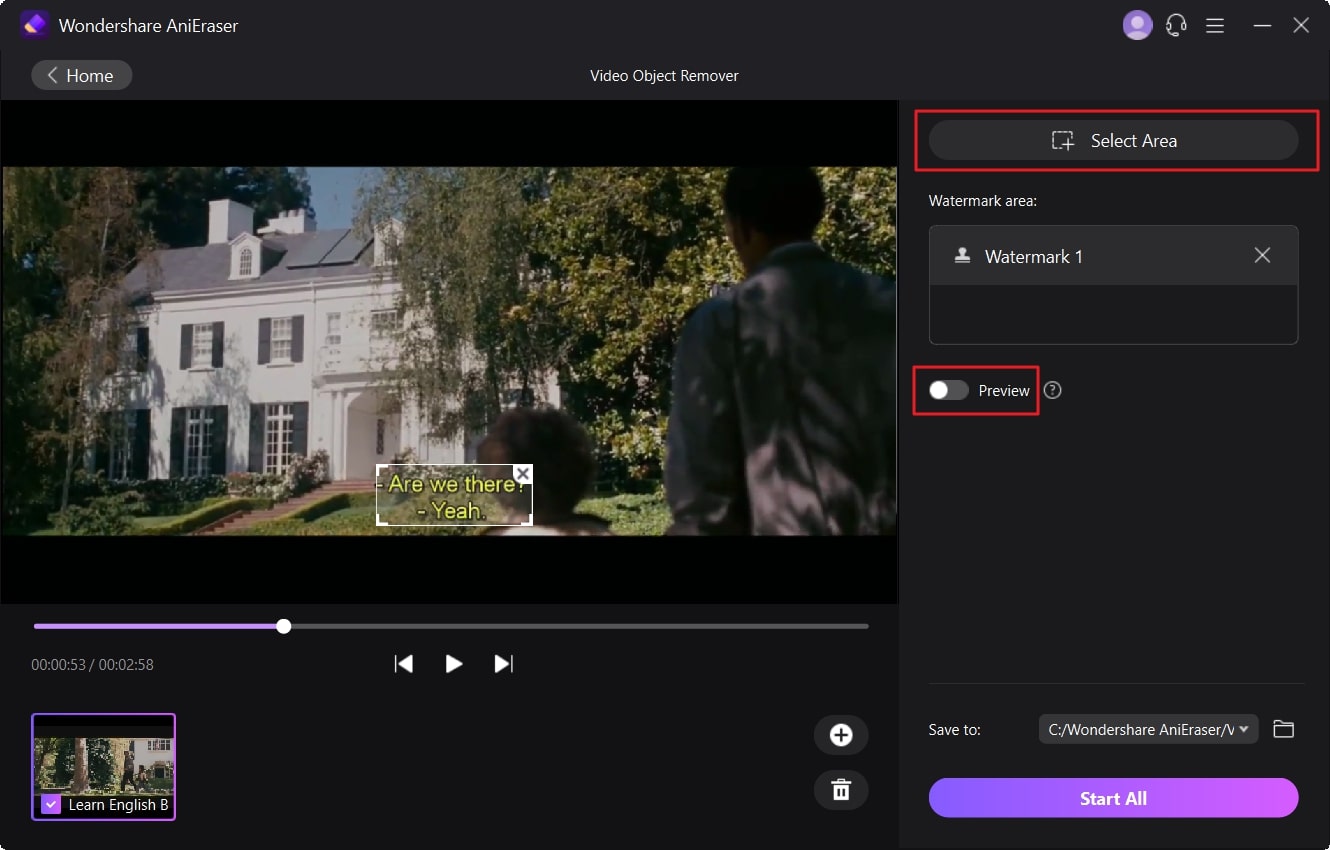 Step 3

Save the Video in Your Device

Once satisfied with the results, click the "Preview" option again to disable it. Next, select the "Save To" option and choose a destination folder for your videos. Now, click the "Start All" button to remove subtitles from the Disney+ videos.