Pictures are always close to people's hearts because they hold special moments which have been long passed. No one likes that any unacceptable person is ruining their memories. However, sometimes, a passerby can invade the photos unexpectedly. It will be a waste of time to go back and recapture the scene. The best way is to work smart using an app that erases people from images.
Multiple apps are available to remove unwelcomed objects or persons from the images. However, every application cannot be trusted because there are chances that your photos may leak. Therefore, we have come up with the 11 best apps that can easily remove persons from any photo you desire.
Part 1: The 11 Best Apps for Erasing People from Pictures
If you are confused about the best people removal app in the market, check this section and learn about the best apps for removing people from the picture.
App

All Support Devices

Price

Rating

AniEraser

Windows, Mac, iOS, Online

Monthly:

$39.99


Yearly:

$59.99

All Platforms:

5/5

AirBrush

Android, iOS

Monthly:

$6.99 - $7.99


Yearly:

$28.99 - $31.99

PlayStore:

4.3/5


App Store:

4.8/5

Adobe Photoshop Express

Android, iOS

Premium:

$4.99 - $34.99

PlayStore:

4.4/5


App Store:

4.8/5

Inpaint

Windows, Mac, iOS, Online
$3.99

App Store:

4.2/5

PicSay Pro

Android
$3.99

Play Store:

4.5/5

Pixomatic - Background Eraser

Android, iOS, Online

Monthly:

$7.99


Yearly:

$29.99

PlayStore:

4.1/5


App Store:

4.6/5

Snapseed

Android, iOS
Free

PlayStore:

4.4/5


App Store:

3.5/5

Retouch Remove Objects Editor

Android
$0.99 - $89.99 per item

PlayStore:

4.6/5

TouchRetouch

Android, iOS

Yearly:

$14.99

PlayStore:

4.4/5


App Store:

4.8/5

Picsart

Android, iOS, Windows, Online

Monthly

: $11.99


Yearly:

$55.99

PlayStore:

4.1/5


App Store:

4.7/5

Fotor Photo Editor

Android, iOS, Online, Windows, Mac

Fotor Pro:

$8.99/Month


Fotor Pro+:

$19.99/Month

PlayStore:

4.4/5


App Store:

4.7/5
Removing an object from photos is an easy task that most photo editors cannot perform in good quality. However, AniEraser is the best app to remove a person from a photo because it provides a cross-platform solution to photo-related problems. You can remove text, correct facial flaws, and fix ruined pictures using this AI-powered app without disturbing image quality.
It is famous among more than 50M users due to its customizable features that give precise results. Wondering how will you use such an advanced photo object remover? Don't panic because, without any technical training or learning, AniEraser can be used to get rid of awful objects or passersby present in beautiful pictures.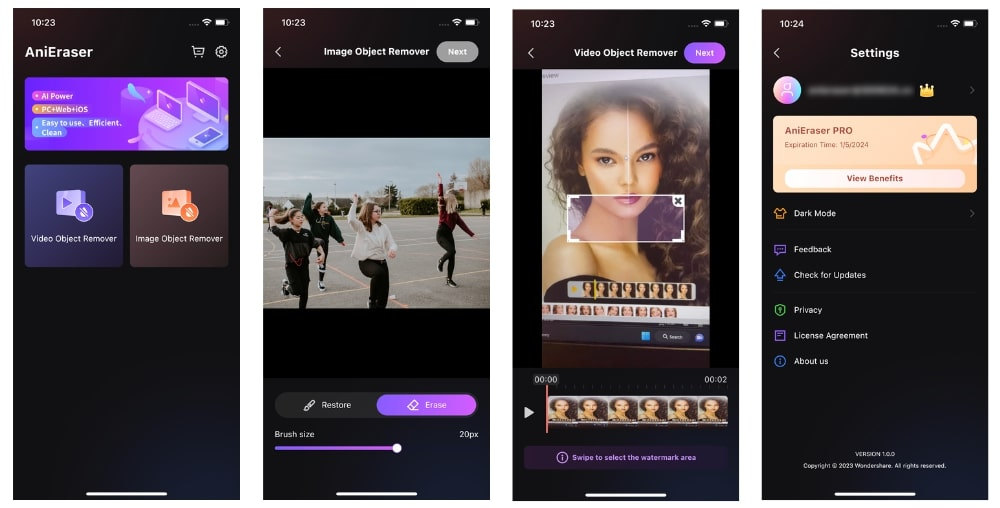 Download
Windows | Mac | iOS | Online
What We Recommend in AniEraser
This app can also be used to eliminate unwanted objects or people from videos instead of just photos.
A single license can run on multiple platforms like Windows, Mac, iOS, and Online, making it the best cross-platform object remover tool.
What We Don't Like in AniEraser
The only disadvantage of this people eraser app is that it is unavailable on Play Store.
2. AirBrush
Want to add radiance and charm to your dull photos? AirBrush is the one-step solution for removing pimples and blemishes from your photos. Its blemish remover and retouch technology make you look young and radiant, while its object removal feature makes your photos more personalized. Moreover, people facing problems with yellowish teeth can brighten up their smile by using its whitening function.
AirBrush is making its space in the photo-editing world because of its retouch feature, which can crop, slim, blur, or stretch pics to give an artistic touch. Due to its HD editing features and real-time editing technology, the app has been used by professional photographers for taking perfect pictures.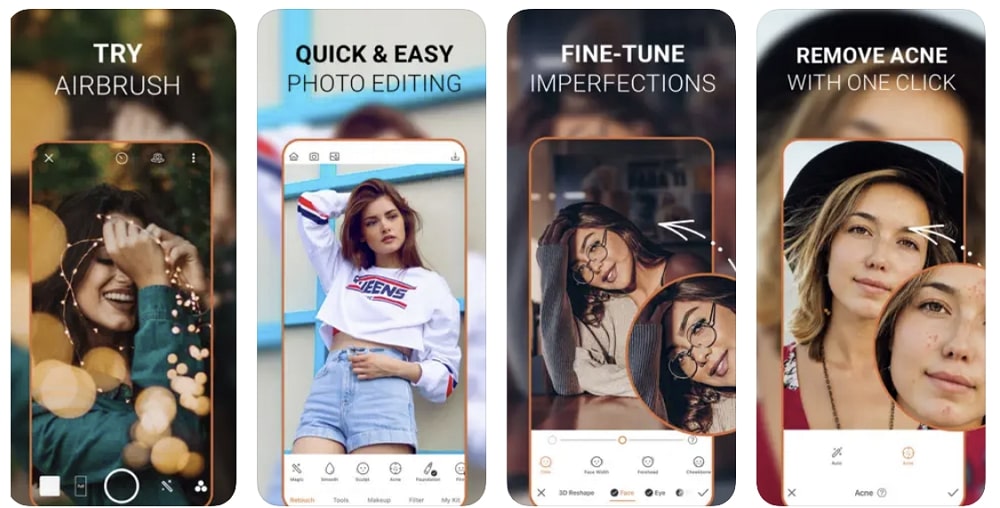 Download
What We Recommend in AirBrush
You can focus on a particular object or person in the image and blur the rest using its Blur editing tool.
People distressed with their chubby faces can use AirBrush to slime or reshape their faces to look smart and attractive.
What We Don't Like in AirBrush
Some free features, like resize and reshape tools, are now made premium, due to which the free version is becoming limited in features.
3. Adobe Photoshop Express
With a 4.8 out of 5.0 rating in the App Store, Adobe Photoshop Express gains users' trust by providing fast and easy-to-use features. Social media users can use its advanced healing features to remove unwanted elements or persons from pictures so only they can remain in the limelight.
Apart from being the app to erase people, it can also edit photos in multiple ways, like fixing portraits, adding stamps, and incorporating filters. Background noise can also be removed to smooth the imperfections and give the picture an artistic look. Above all, you don't have to take care of camera angles while taking photos because this app can also fix distorted angles.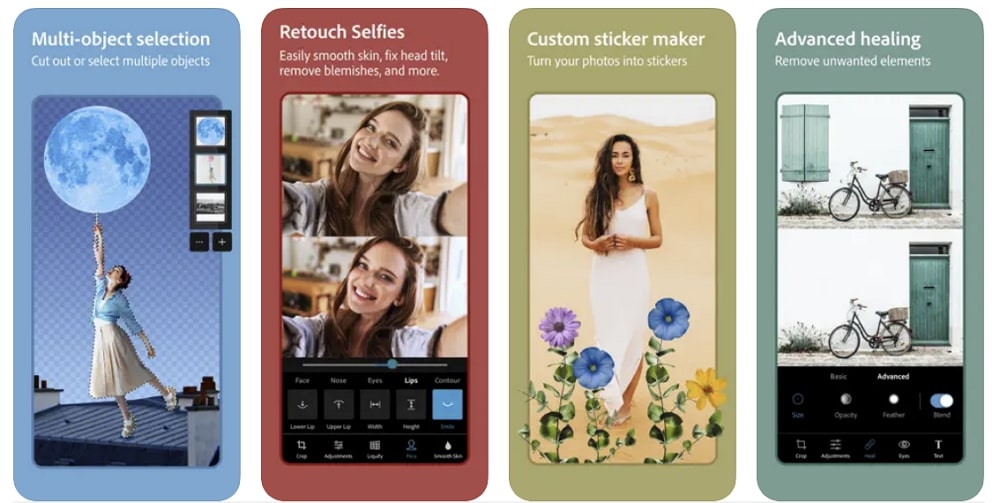 Download
What We Recommend in Adobe Photoshop Express
You can also make photo collages through Adobe Photoshop Express, apart from just editing the photos.
It can also add text, stickers, and watermarks to your photos to make them more personalized and vibrant.
What We Don't Like in Adobe Photoshop Express
Many of the advanced features of this application require a cloud subscription, making people less inclined toward it.
4. Inpaint
Old pictures hold a special place in our life because they recall beautiful memories, but what if these images get worn out? Try Inpaint to restore or clean up antique photos with its powerful photo restoration algorithm. This professionally designed tool works as a photo editor to remove a person and other things like watermarks, texts, logos, or date stamps.
Moreover, the app's brush to remove objects is so fine that it can remove wires and powerlines without disturbing adjacent things. Besides that, old age people can take advantage of this app by removing wrinkles and skin blemishes from their photos using its digital facial retouching feature.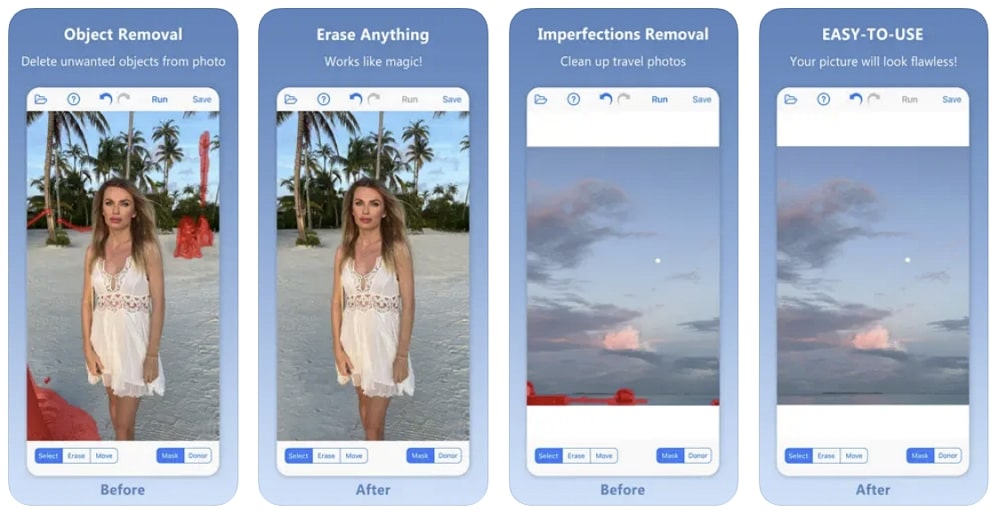 Download
What We Recommend in Inpaint
Inpaint is an easy-to-use application because its features are perfectly placed and organized.
The app is free of bugs or malware, so users don't face lagging or abrupt shutdowns while using the app.
What we Don't Like in Inpaint
Android users cannot remove objects from pictures using this app because it is only available for iOS smartphones.
5. PicSay Pro
This award-winning photo editor can be used by people taking their first step into the glamour industry. With its spotlight feature, you can make your photo more cinematic. This app proves to be Instagram-worthy because you can eliminate any person from the image which you think may take your limelight.
Red-eye problems occurred due to the bright light flash can also be quickly resolved. Moreover, it holds a beautiful collection of stickers and word balloons that can be used to add a colorful touch to photos. You can also splash out colors from black-and-white pictures to make them unique.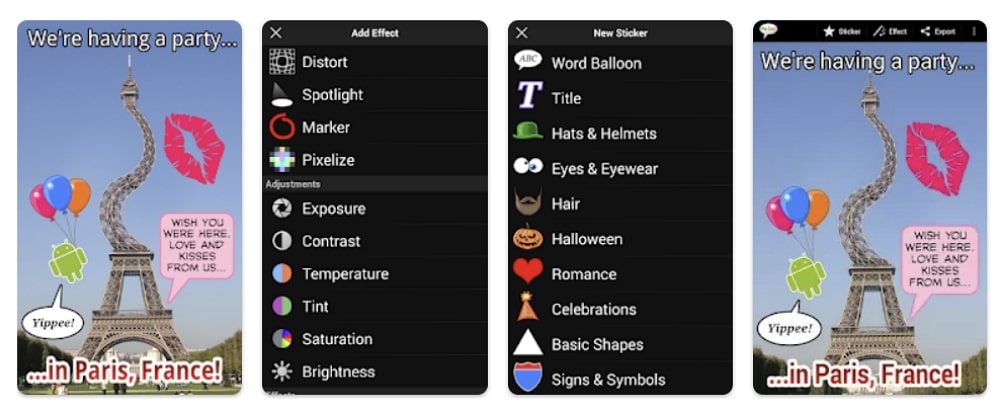 Download
What We Recommend in PicSay Pro
The app supports up to 13MP high-resolution editing and offers multiple unique effects like a pencil sketch, faux HDR, and many others.
You can rotate images between 90° and 180° and flip them in the horizontal and vertical directions.
What We Don't Like in PicSay Pro
This app was last updated on Jan 13, 2017, due to which you can face some bugs while using it.
6. Pixomatic - Background Eraser
Are you browsing the internet for an app to remove someone from a photo? Pixomatic is a decent choice because it has magical removal that can remove people and the background from any image. Without any technical assistance, you can explore endless features and use them to make your photo more beautiful.
Selfie lovers can retouch selfies to make them more beautiful and eye-catching. Different colors, textures, and styles can be used to impress social media followers. Moreover, this app offers more than 100 different filters and 35 polarized effects for giving photos a classy look.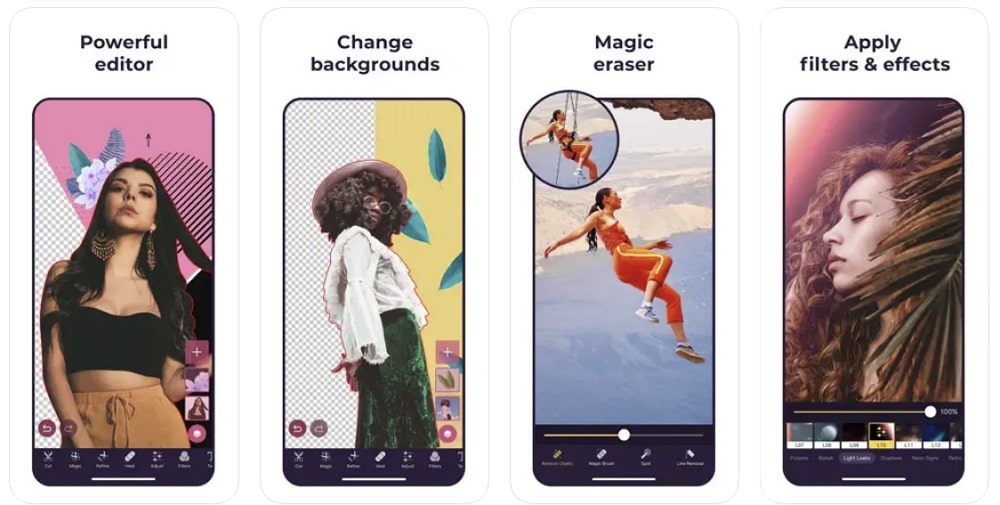 Download
What We Recommend in Pixomatic
You can add extra color depth, contrast, and shades to your images for a perfect finishing touch.
Edited pictures can be shared directly on social media platforms like Facebook, TikTok, or Instagram through Pixomatic app with just two clicks.
What We Don't Like in Pixomatic
The subscription fee of this application is expensive, due to which many low-income professionals are unable to afford it.
7. Snapseed
Snapseed is a user-friendly and feature-rich app used by Android and iOS users to make their pictures scroll-stopping. Its highly powerful tonal contrast, glamor glow, and HDR scape bring your photographs a unique and stunning look. To add quotations or poetry, use its text feature to add stylized or plain text.
Moreover, Snapseed removes a person from images with its advanced healing feature. This feature is handy when you are taking pictures outdoors because there is a high chance that some passerby also gets captured.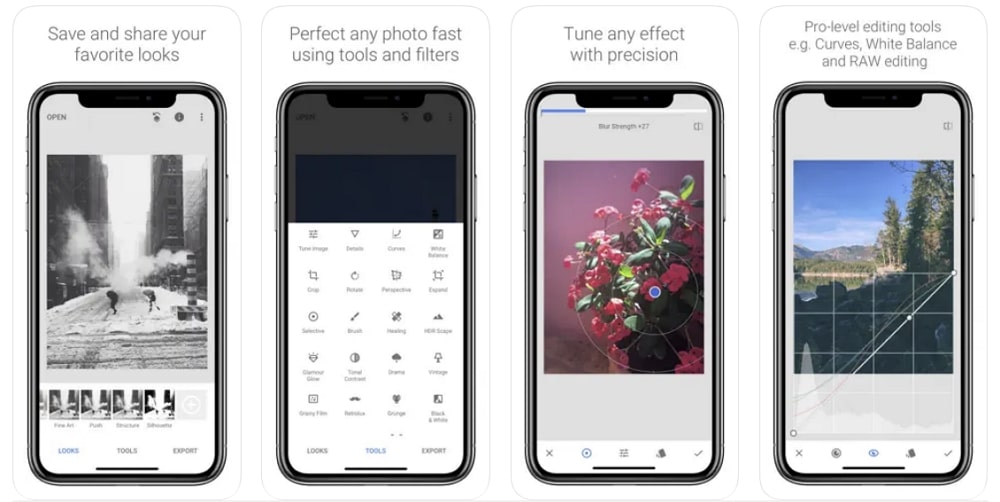 Download
What We Recommend in Snapseed
Using this app, you can increase the size of your canvas and blend two photos.
Multiple frames are also available on this application, and their sizes can be adjusted quickly.7
What We Don't Like in Snapseed
This app has a steep learning curve, making it unsuitable for new users.
8. Retouch Remove Objects Editor
With more than 100 filters, fonts, and stickers, Retouch Remove Objects Editor is paving its way to join the photo editors league. It mainly works as the people remover app but can be used to clone people when required. This AI-powered app can remove unlikable texts, backgrounds, or stickers very quickly.
The tool plays a huge part in making people feel confident on social media because it offers a blemish remover, which can be used to remove dark circles and dark spots. Besides fixes, you can also adjust the aspect ratio of your photos, so your social media profile gets a tidy look.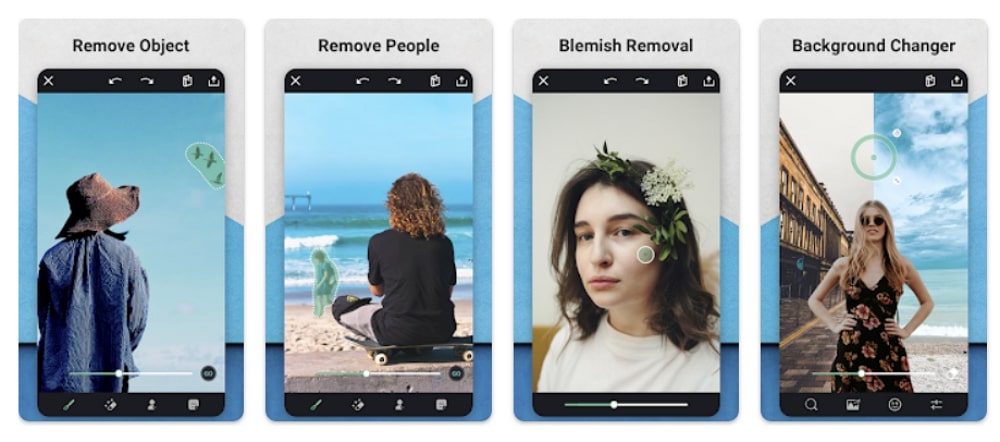 Download
What We Recommend in Retouch Remove Objects Editor
It can make multiple copies of yourself in a photo to amuse your friends or followers.
You can select any image from the gallery to make it your background. This allows you to personalize your picture as you want.
What We Don't Like in Retouch Remove Objects Editor
The Retouch Remove Objects Editor app is only available for Android users.
9. TouchRetouch
The robust removal algorithm and intelligent detection technology of TouchRetouch make it a suitable app for removing people from pictures. This photo remover ensures that your vacation pictures remain free of the wrong people, so your moments remain special. Those photos that get ruined because of watermarks can also be corrected using the retouch brush of this easy-to-use tool.
Apart from that, its flexible line remover feature automatically removes all the thick and thin lines. However, you can do that, too, by manually tracing or tapping over the lines. Whether you want to remove a small or big, thin or thick object, this app suits well in all conditions.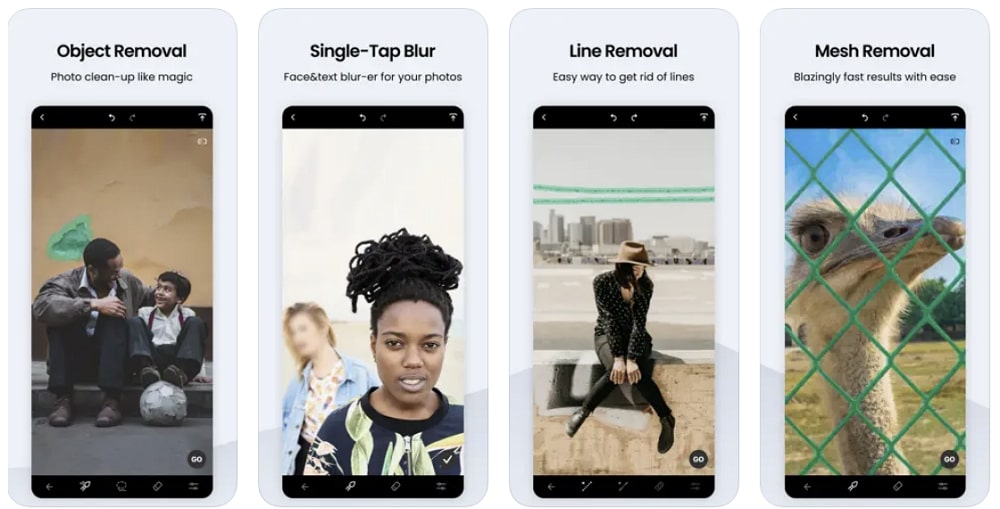 Download
What We Recommend in TouchRetouch
While removing people from photos, you will face no quality or EXIF data loss, mostly when using unauthorized

people remover app

The app can automatically detect mesh in the picture and remove it to make your picture look perfect.
What We Don't Like in TouchRetouch
The app has performance issues, as users have reported lagging and freezing issues during complex tasks.
10. Picsart
Picsart, used by over 150 million people, is somewhat different from other apps to edit people out. Its Remove Object tool is designed to remove an uninvited person from the image without disturbing other things. People who love to take selfies but are not confident about their beauty can use this tool to add makeup to their faces and change their hair color to look more attractive.
Another best thing about Picsart is that you can make customized avatars and change the text to images. Because of such changes, your image will look totally different, and you will excel in the digital content-creating market. Moreover, you can bring back your artistic nature to life by using customizable drawing tools.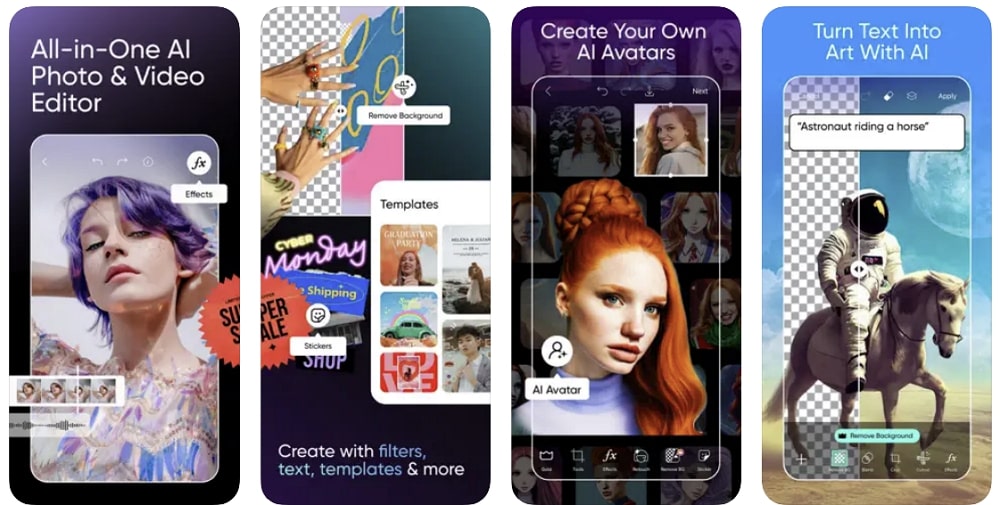 Download
What We Recommend in Picsart
Picsart provides more than 60 million stickers that can be incorporated into any photo to increase its fun level.
This app can also be used to blur or erase the background. Moreover, You can also replace your image background.
What We Don't Like in Picsart
The Android version of Picsart is not optimized, making people go for better

people remover app
11. Fotor Photo Editor
Fotor Photo Editor is packed with creative design templates for Instagram and YouTube, making itself an all-in-one photo editor app. The AI-designed features of this tool can make remarkable changes to your photos, like removing undesirable objects or persons, correcting facial defects, and enhancing the resolution.
The tool's machine learning technique suits it best for turning a picture into a painting. Color balance, professional photo filters, and art effects make this photo editor quite popular among graphic designers.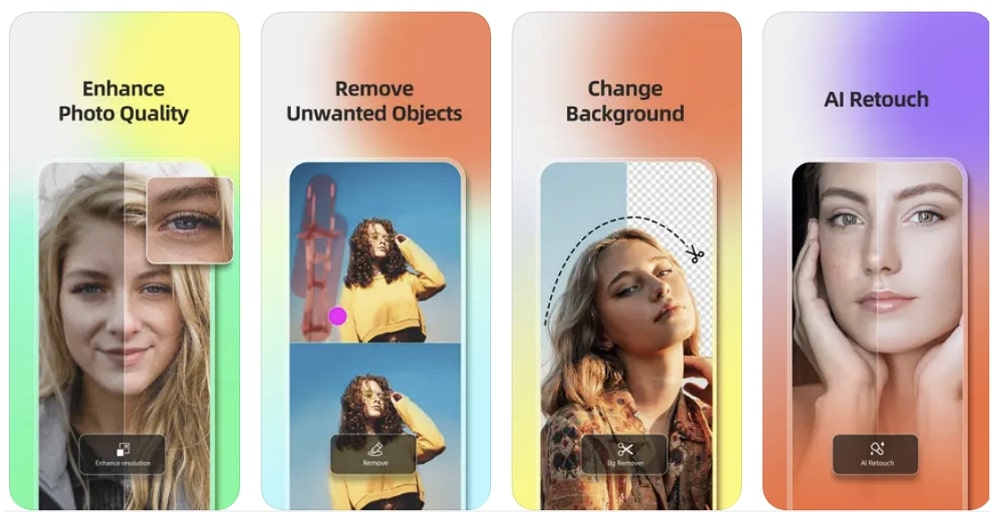 Download
What We Recommend in Fotor Photo Editor
This tool offers acne removal and wrinkle remover features, which are in high demand among people facing such facial problems.
Your blurry image can be cleared instantly without compromising its quality. Moreover, you can also remove haze to enhance the picture clarity.
What We Don't Like in Fotor Photo Editor
The UI of Fotor Photo Editor is a little bit difficult to use, due to which newbies get confused while using this

app to remove people from pictures

.
Part 2: What Should be Considered When Selecting an Object Removal Tool?
Hope you have got a precise idea about the top 11 photo remover applications from the above-given information. Now we will discuss some key points which should always be kept in mind while looking for the best app to remove a person from a photo:
1. Assess Ease of Use
A confusing user interface is not only difficult to use but also makes your working process slow. It is always better to have such a tool that has all its features well organized. Above all, the app should not demand much of your manual effort. It should work automatically to remove a person or object from photos. Such a feature is seen in those applications that are AI-powered.
2. Look at the Price
Small business people and freelancers cannot afford expensive photo editors. It is always wise to use a free app to remove a person from a photo, but if you cannot find such an app, look for a cost-effective one. This is important to note because buying an expensive app is fruitless when you can perform the same removal process from inexpensive apps.
3. Consider Other Built-In Features
Apart from just working as the app that erases people, the tool you select should also have other useful built-in features of photo editing. This observation will help you in the long run because if you get a complete package in a single app, you will not have to buy other tools in the future.
4. Check Reviews & Ratings
Last but not least, check reviews and ratings of the app before selecting it for object removal. You should go through the review section of the app to see what its users are talking about it. Never choose an app that holds a low rating or has more negative reviews.