With the rise of social media, many people want content that keeps them entertained, competition between content creators is at its peak, and a small mistake can result in low traffic to your page. These mistakes can be at any time, but the most important thing is your work quality. A slight change in video and audio quality can be easily noticed.
A major thing that damages the quality is background noise or sounds in the video or audio. These noises can be of any type, such as humming, static noises captured by the mic, car horns or cars passing by, footsteps, or any other random sound while shooting in public.
One way to avoid these mistakes is by taking care of the surroundings, having a good mic that doesn't catch these sounds, or having a proper setup for recording your video, audio, or podcasts. But if these are not available, some tools can remove sounds effectively in post-production. This article will discuss the top 10 noise-cancelling apps for windows.
Part 1: Top 6 Free Noise-Cancelling Apps for Windows
Noise can be a real nuisance for people who create podcasts, videos, and soundtracks, as they can damage the quality of the content and create a bad impression of your work. Even though "sound" is a little word, it can still be heard immediately whenever the sound quality is poor. A quality microphone will help you prevent these sounds from appearing in your recordings, but not everyone can afford one.
Because of this, background noise removers—tools designed to take these sounds out of your videos—have been developed. Although the background noises cannot be eliminated, they can be muted so that viewers can concentrate on the information being given in the recording.
We have created a list of the top 6 free noise-cancelling apps for windows for you.
NoiseGator
Lightweight noise gate software called NoiseGator sends audio from an audio input to an audio output. The audio level is evaluated in real-time; if the average level exceeds the threshold, the audio bypasses as usual. The gate, however, closes, and the audio is turned off if the intermediate level falls below the threshold.
OS: Available on Linux, Windows, and Mac
Pricing: Free to use for anyone.
Ease - of – Use: 3 / 5
Pros
Noise Gate for audio input to output.
Noise Gate your microphone to kill background noise and hiss.
It cuts out background noises when nobody is speaking on VOIPs like Skype.
It can be used to feed your microphone through your speakers.
Cons
Sometimes the noise cannot be filtered in incoming calls from skype.
UniConverter
WonderShare UniConverter is a media transfer, converter, editor, and burner utility. It is the preferred media tool because it provides all these functions in a single software. Through a single platform, it is intended to assist businesses in streamlining the processes of video editing, conversion, and compression. The application allows staff members to instantly add personalized filters, effects, and subtitles to movies.
OS Available for both Windows and Mac
Pricing Free Trail is available, and the yearly subscription starts from $ 7.89.
Ease–of–Use 4.5 / 5
Pros
Remove background noises from the file with a single click.
This tool can download online videos.
Convert videos without affecting the original quality.
Buring files on a DVD can be done.
Cons
The DVD burning tool can take some time and tries while burn.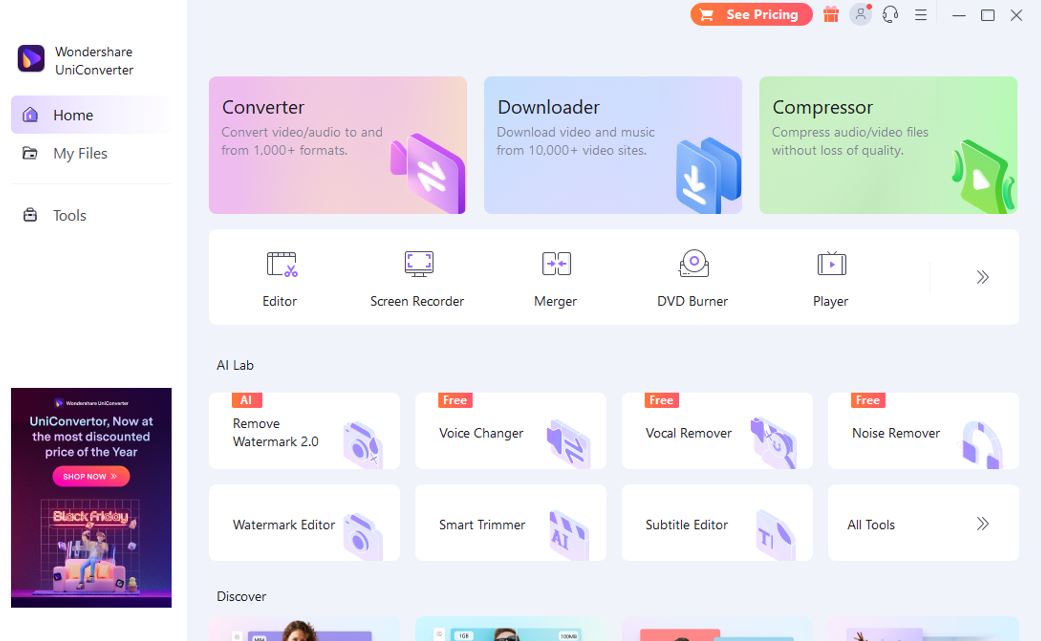 Audacity
With the aid of keyboard shortcuts, sound frequency analysis, and the ability to export, edit, and import audio files in various formats on a single platform, musicians may change soundtracks with Audacity, an open-source and on-premise audio editing program. Artists can use microphones to record, dub over pre-existing recordings, and remove the sound.
OS: Available on Linux, Windows, and Mac.
Pricing: A free and open-source software.
Ease-of-Use: 4.5 / 5
Pros
Simple editing of waveforms without much prior knowledge of audio manipulation.
Convert audio for podcasts or commercials.
Cons
Occasionally hangs up the system.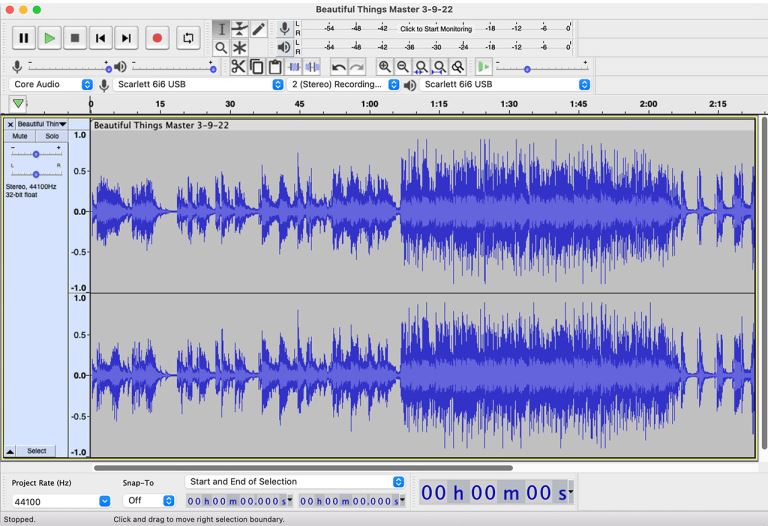 SoundEngine
A lightweight and portable sound editor called SoundEngine is packed with capabilities for both new and seasoned users. You can make podcasts and record your voice with them. While seeing the waveform, you can alter the audio, change the level, and record. Additionally, it can use professional sound equipment-like effects like fade-in/fade-out, echo, and enhancer (sound amplification), etc.
OS: Available on both Windows and Mac
Pricing: Free to use application
Ease-of-Use: 3 / 5
Pros
It is a portable audio editing tool.
Remove noise from your files.
You can adjust the volume with the application.
Cons
The user interface can look complex and tricky.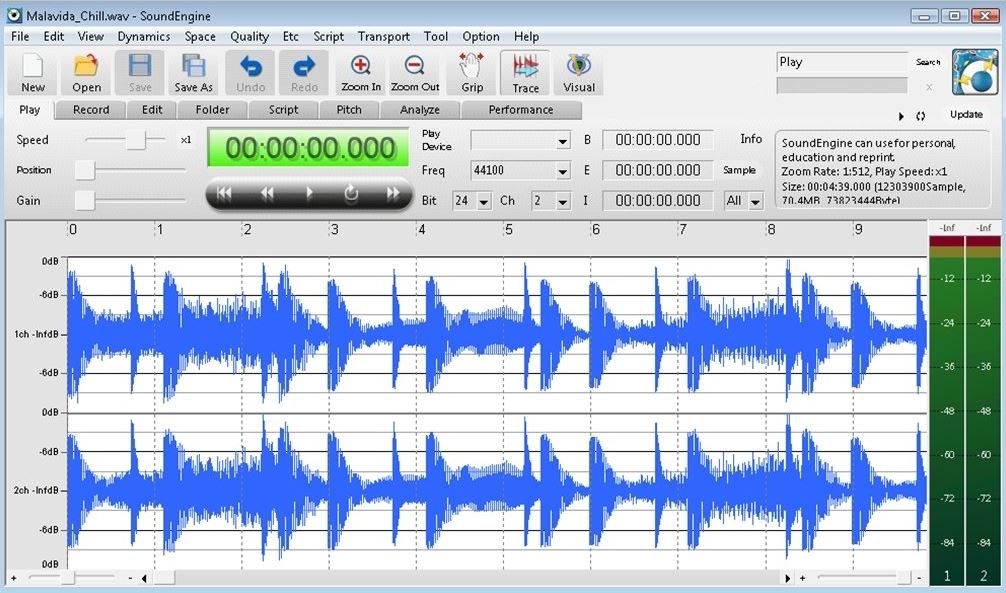 EArt Audio Editor
AVS Audio Editor is a powerful audio editing program for Windows that is hosted in the cloud. Users can digitize their music library, record audio, and voice, restore vinyl records, make stunning mixes, and much more.
OS: Available only for Windows.
Pricing: Free for all.
Ease-of-Use: 4 / 5
Pros
The speed of format changes is good.
The ease of use, comprehensive layout, and filters are well implemented.
Cons
No audio processing is present in Mixer Mode.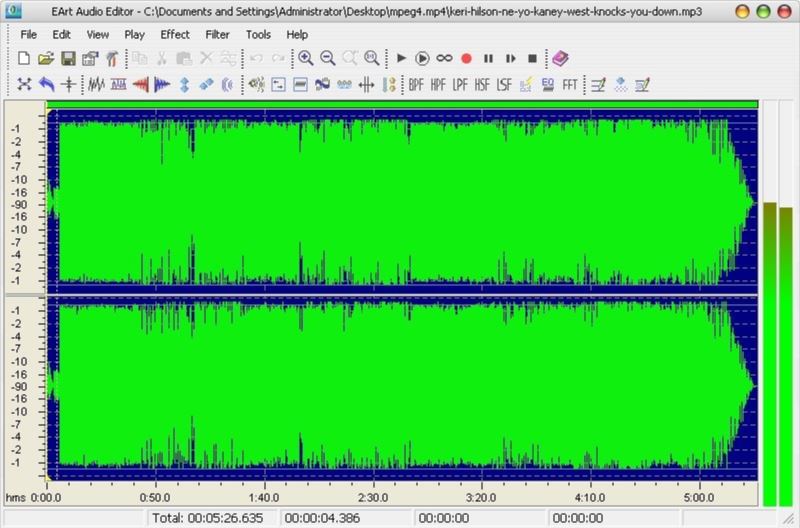 Part 2: The Best 4 Paid Noise Removal Software for Windows
Even though free tools are widely available in the market, there are not suitable for professional work. The user looks for easy-to-use and simple tools online to remove sounds from their files, as these online tools provide potential solutions.
But free applications don't provide professional results, and the user must compromise on some things. Here we are going to take you through the best 4 paid noise removal software for windows.
Krisp
Krisp is a top-notch noise-cancelling program that mutes outside sounds during calls in real time. It eliminates all unnecessary noises for incoming and outgoing calls with a single click.
OS: Available on Windows, Mac, and iOS.
The price: $ 8 per month for Pro Version, although a free trial is available for limited removals.
Ease-of-use: 4.7/5
Pros
Noise cancellation option for calls.
Completely removes noise from files.
Chrome extension available to be used on skype.
Cons
The Chrome Extension does not yet allow you to filter the recipient's audio.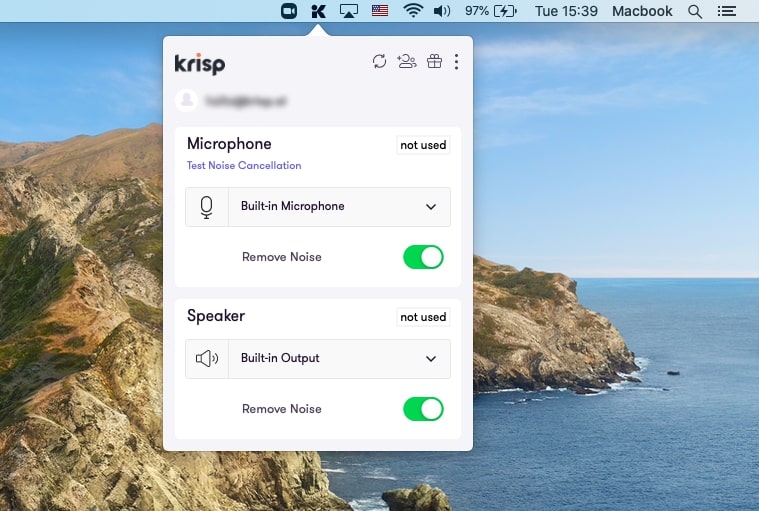 Adobe Audition
Professionals at businesses, institutions, and schools can create, edit, restore, and mix audio files with the aid of Adobe Audition. Waveform scaling enables administrators to regulate on-clip gain adjustments, reverberate background noises, and match loudness among music files by specifications.
OS: Available on Windows and Mac
Price: $ 20.99 per month
Ease-of-use: 4 / 5
Pros
Audition has an excellent noise reduction plugin.
Audition offers several ways to edit sections of audio within a wavelength.
Cons
The learning curve is difficult for novice users.
Samson Sound Deck
Samson Sound Deck for Windows is a PC noise-cancelling program that can increase your computer's communication and recording power.
OS: Windows and Mac
Price: $ 3.99
Ease-of-use: 4 / 5
Pros
The ultimate tool for home and office VoIP communication.
Samson Sound Deck Windows will reside on your computer's taskbar removing background noises.
Cons
It is not as effective at blocking out sudden noises or noises that are not repetitive or relatively constant in nature.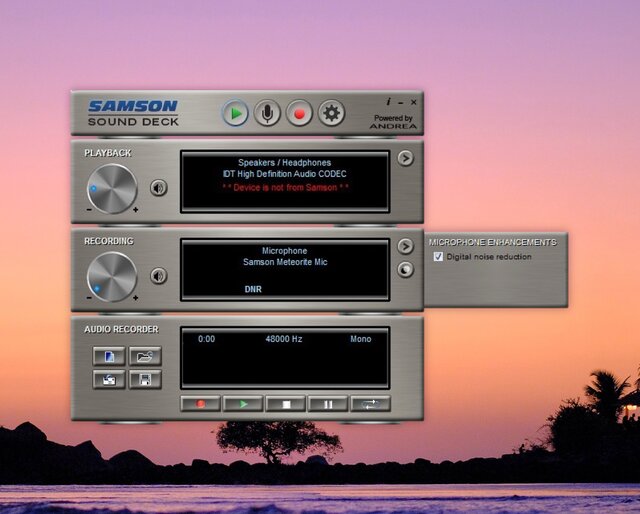 Andrea Audio Software
The great free audio recorder Andrea Electronics AudioCommander captures every sound entering your system, primarily through a microphone. Its noise cancellation technique creates clear and precise recordings without the use of filters that can degrade the audio's overall quality.
OS Only available on Windows
Price $ 9.99
Ease-of-use 4 / 5
Pros
Intuitive interface resembling a true hi-fi system.
Includes a useful calibration wizard for your microphone.
Excellent noise reduction tools for high-quality clear recordings.
Cons
Not available on Mac or any other operating system.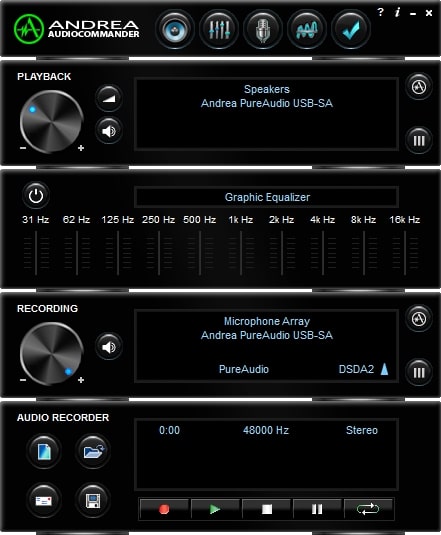 What's The Best Online Noise Removal Tool
A video editing program called Media.io may do wonders for your recording by eliminating even the most random background noises. The tool has no confusing complex sliders, making it simple to use. With Media.io's online video editor and converter, you can complete a variety of video and audio production tasks with ease, speed, and the highest quality without having to download anything.
Supports a broad range of video and audio formats.
Smart output settings.
No watermarks or file limits.