Images have the visual capability that can attract viewers more effectively. There are various situations that can compel you to put text in the images, such as creating brand logos, backgrounds, or titles. However, you may encounter pixelated text in the pictures that can ruin your overall image. Also, it can affect the readability of your text.
To help you enhance text in an image, this article will provide a helpful guide. By reading this article, you can learn how to increase the text quality in images through a desktop, online, and mobile app.

Part 1: What may cause a photo with blurred text?
There are some possible scenarios that can cause a photo to have blurred or pixelated text. To learn about the major causes of pixelated text in images, proceed to the following section:
Using image editor on free trial:

If you are using a free trial in the paid image editor, it may be possible that it can affect the quality of your image quality while exporting. Thus, it's recommended to execute editing on the images after buying the subscription plans of editors to avoid any mishap.

Low-quality image editor:

There are various free image editors that you can find on online platforms. However, some image editors are not capable of producing high-end results and end up harming the original quality of images.

Manually upscaling the low-resolution image:

Some people try to upscale low-resolution photos without using professional software. As a result, the text in the images can become blurred.
If you are dealing with pixelated text photos, we will help you by introducing three text image enhancers. To know about them in detail, continue reading this guide.
Part 2: How to improve text quality in images online?
As we have previously discussed the main causes of pixelated text photos, you can now discover a helpful tool known as Media.io to upscale text in images. Media.io is an online tool that can be accessed from any web browser instantly. This online tool provides various editing options that can modify your photos and videos easily. Besides being an amazing editor, you can use its upscale tool to enlarge your images up to 800% without damaging the quality.
Advantages of Media.io
This tool contains an image converter through which you can convert the file formats of your photos to PNG, TIFF, JPG, and BMP instantly.
It offers a background removal tool for images that enables you to remove the background from images automatically.
If you are bothered by the large file sizes of your photos, you can navigate to the image compressor of Media.io. Using this feature, you can reduce the file size of the imported image without quality loss.
Best for
Media.io is ideal for beginners and the general public as it contains an easy-to-use interface. It's a free tool that can be accessed from any platform using the browser. Also, you don't have to download this tool on your system to begin image editing, which will eventually save your storage.
Steps to upscale text in image using Media.io
Step 1

Select the image upscaler tool

Search for Media.io Image Enhancer from your web browser and open its official website. You can directly upload your pictures with pixelated text here.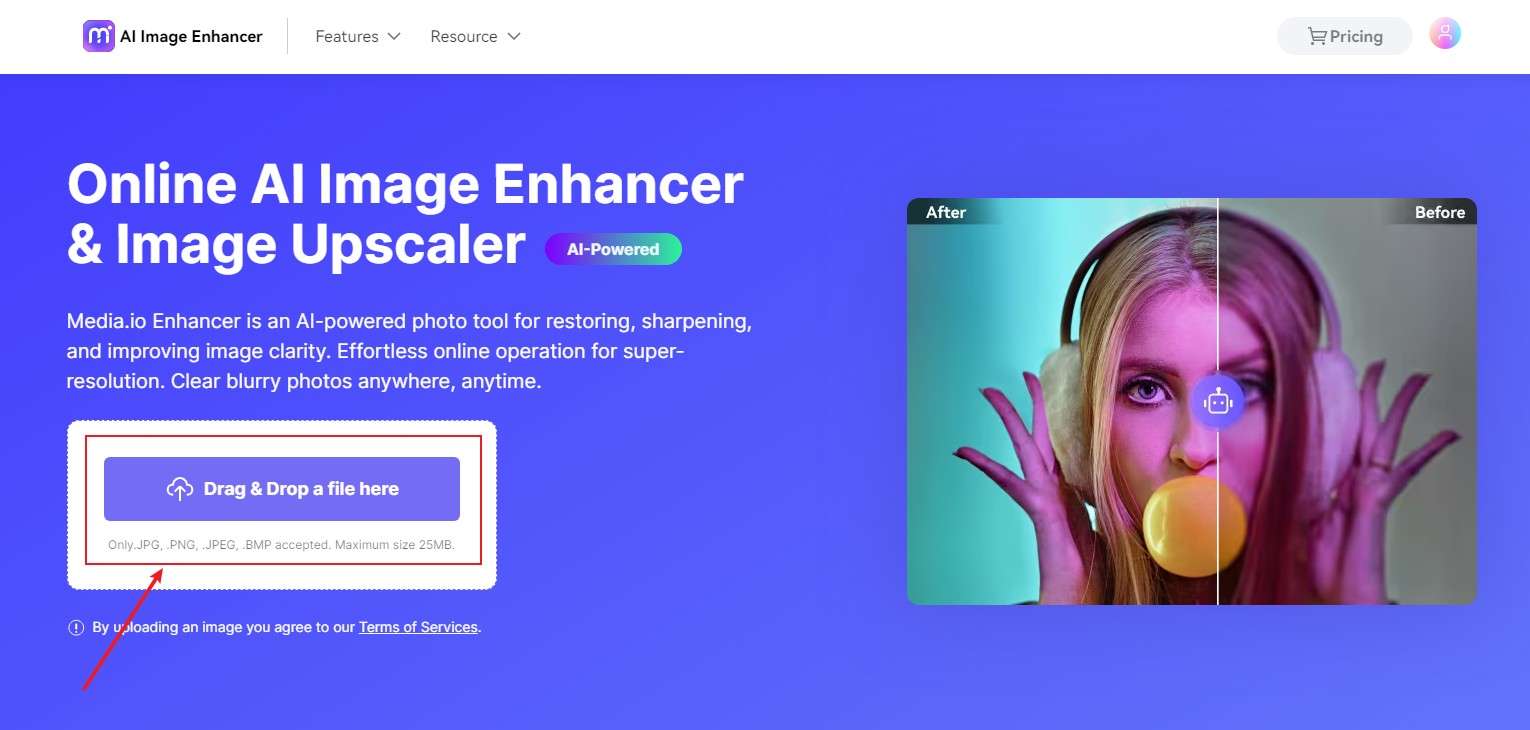 Step 2

Add your blurred text image

You can also press the "Upscale Image Now" button and select the "Upload Image" option in the operation interface. Afterward, you can import the picture that you want to upscale. Once done with uploading, select the upscale value from the given options, such as 2X, 4X, and 8X.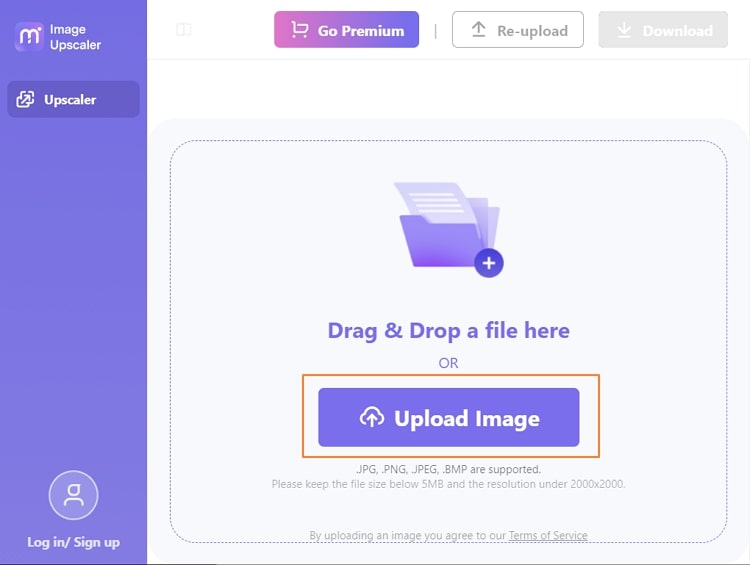 Step 3

Download text upscaled image

Once the upscaling is done successfully, you can hit the "Download" button on top to save the upscaled image.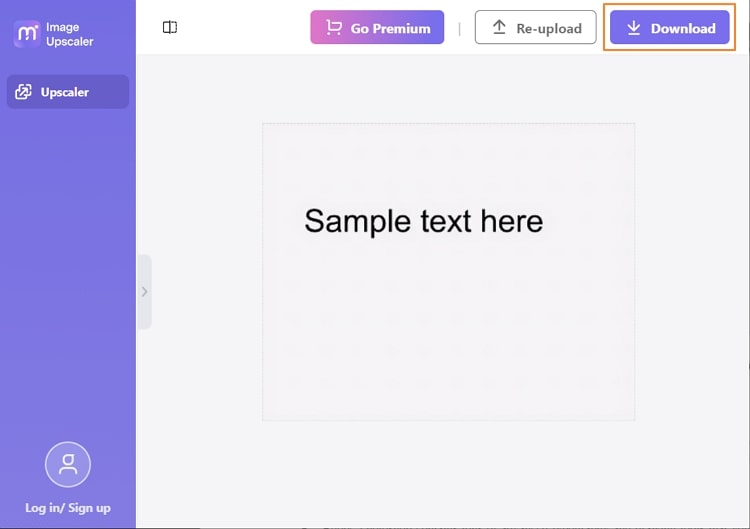 Part 3: How to enhance text in images with a desktop software?
Do you prefer using a desktop tool to enhance text in images? There are some users who prefer using desktop software to generate high-quality results. So, to accomplish professional and high-quality results, you can try Adobe Photoshop. It's a well-recognized desktop software that can drastically transform your imported images efficiently. When it comes to the functionality and distinct features of this tool, Adobe Photoshop never disappoints. You can edit, create, and enhance photos through this tool within a few clicks.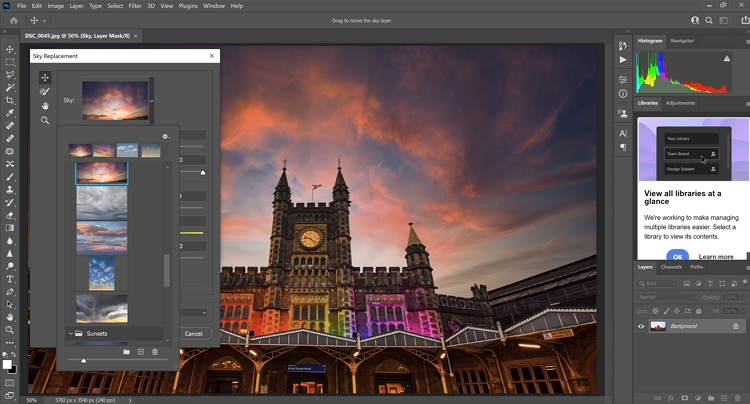 Advantages of Adobe Photoshop
Adobe Photoshop contains tons of advanced typography and drawing tools that you can use for graphic designing.
You can explore the vibrant and modern templates in Photoshop to get more creative ideas for image editing.
You can execute layers editing to modify some parts of your photo without altering other components. As a result, you can create unique, captivating images effectively.
Best for
If you are looking forward to a professional text image enhancer and image editor, Adobe Photoshop can be a great option. However, being a professional image editor, you may find its interface complicated or challenging.
Steps to enhance text in images with Adobe Photoshop
Step 1: On Photoshop and upload the image in which you want to fix the text. Afterward, select your "Text Layer" and then enable the Type tool. For this, you have to press the Letter T. Now go to the "Anti Aliasing" option displayed above and select "Smooth" from its drop-down menu.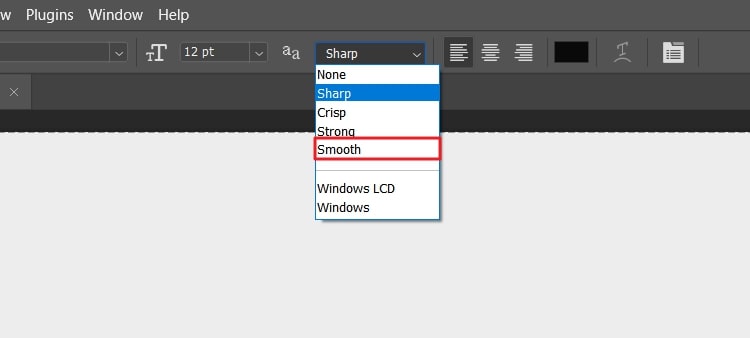 Step 2: Once done with uploading the photo on Photoshop, select your text layer. Now head to the "Image" section at the top and click on "Image Size" from the drop-down menu. On the image size window, change the width and height to 2000. Make sure to check the "Resample" option and select "Preserve Details 2.0" from it. You can also move the slider of "Reduce Noise" to bring more accurate results. Once done, press "OK."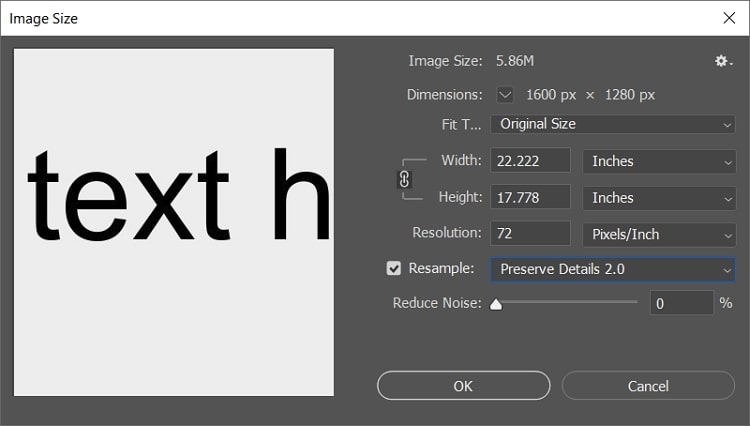 Step 3: Due to the JPEG file format, you may encounter a compressed image having pixelated text. To change the export file format, go to the "File" option and select "Save a Copy." On the new window, choose "PNG" in the format option. Once done, click on the "Save" option.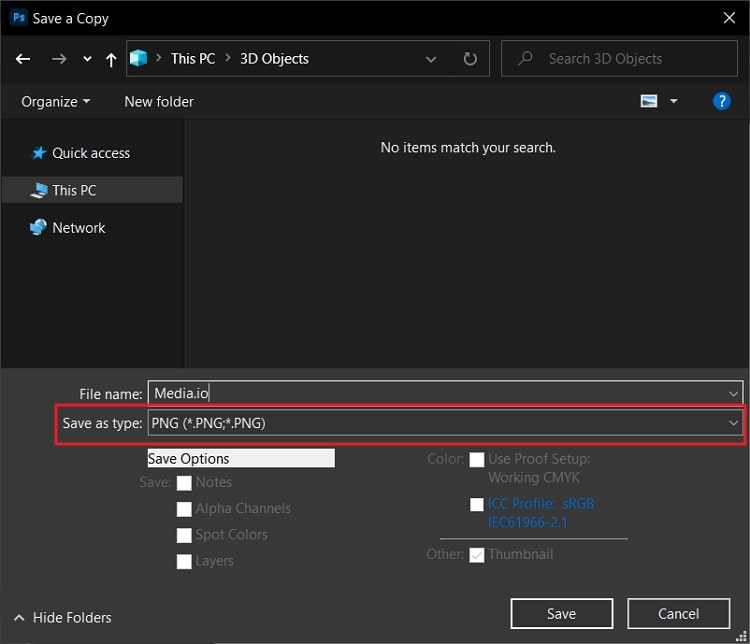 Part 4: How to upscale text in an image on mobile?
Are you interested in using a mobile app to upscale text images? EnhanceFox - AI Photo Enhancer is a reliable mobile app through which you can upscale your images in high resolution. This app is compatible with both iOS and Android devices and runs at a fast speed. Using this app, you can efficiently enhance the quality of damaged, blurred, and pixelated photos. Thus, it's a great app to increase the quality of your photos on Android and iOS devices easily.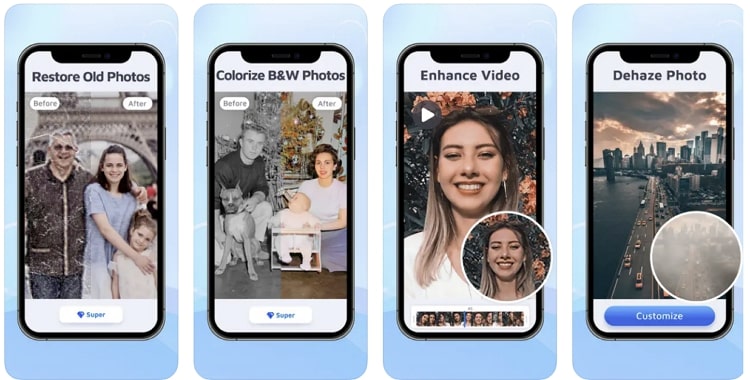 Advantages of EnhanceFox - AI Photo Enhancer
Using this mobile app, you can deblur your blurry videos smoothly and without hassle.
If you have some scratches on your photos, this app can remove them effectively to give your picture a new look.
You can also restore your old photos using this app instantly. Moreover, you can add color to your black-and-white pictures to give them a new life.
Best for
If you want to upscale your image without an internet connection, EnhanceFox - AI Photo Enhancer app, can be a good choice. However, it can take excessive storage on your phone, which can disrupt the overall functions of your device.
Steps to upscale text image on mobile
Step 1

Download the image enhancer app

On your iOS or Android device, install this app successfully. After opening its main interface, tap on the "Plus" icon and select "Choose From Album." Now you can import the desired photo on this app easily.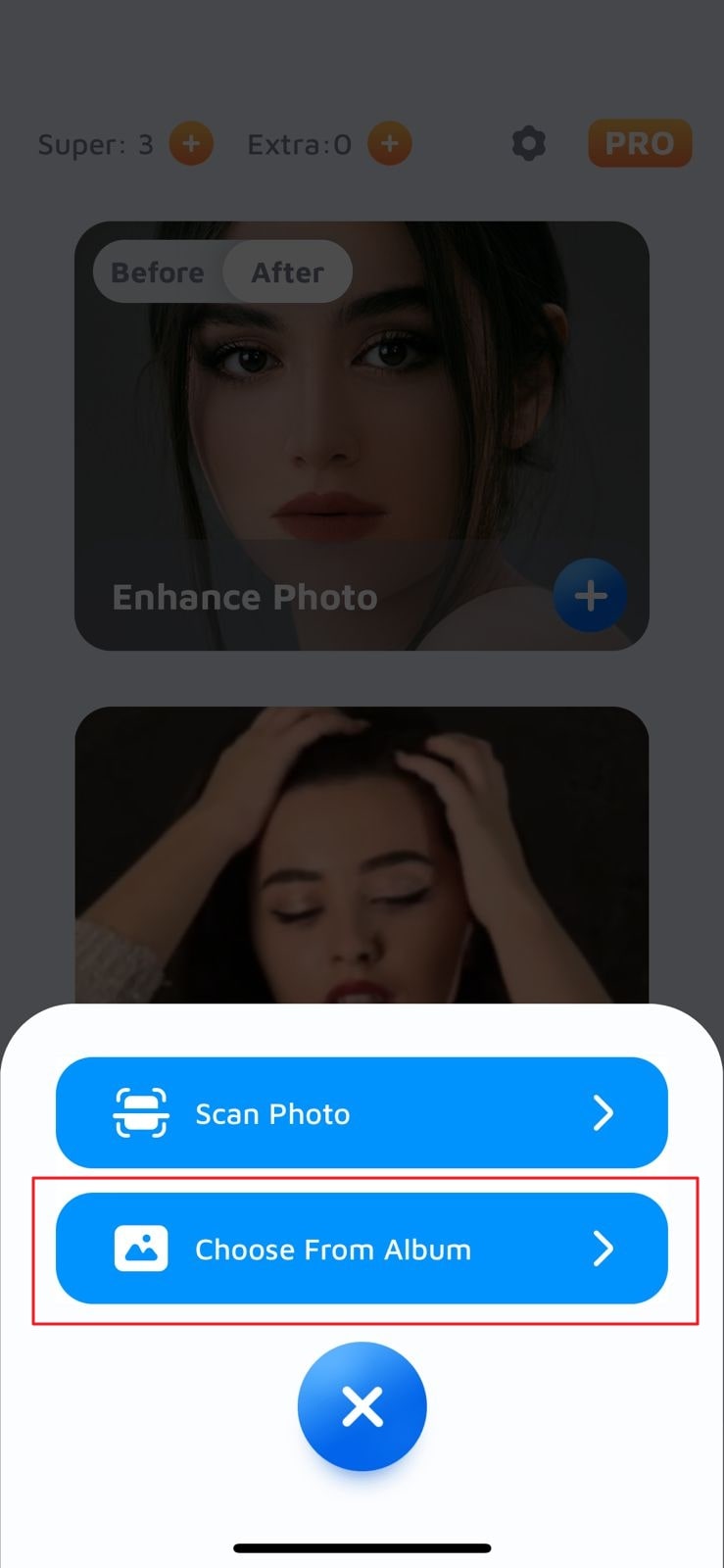 Step 2

Click the Enhance option

Now, the app will display several options below for editing. Tap on the "Enhance" option and wait until the process finishes.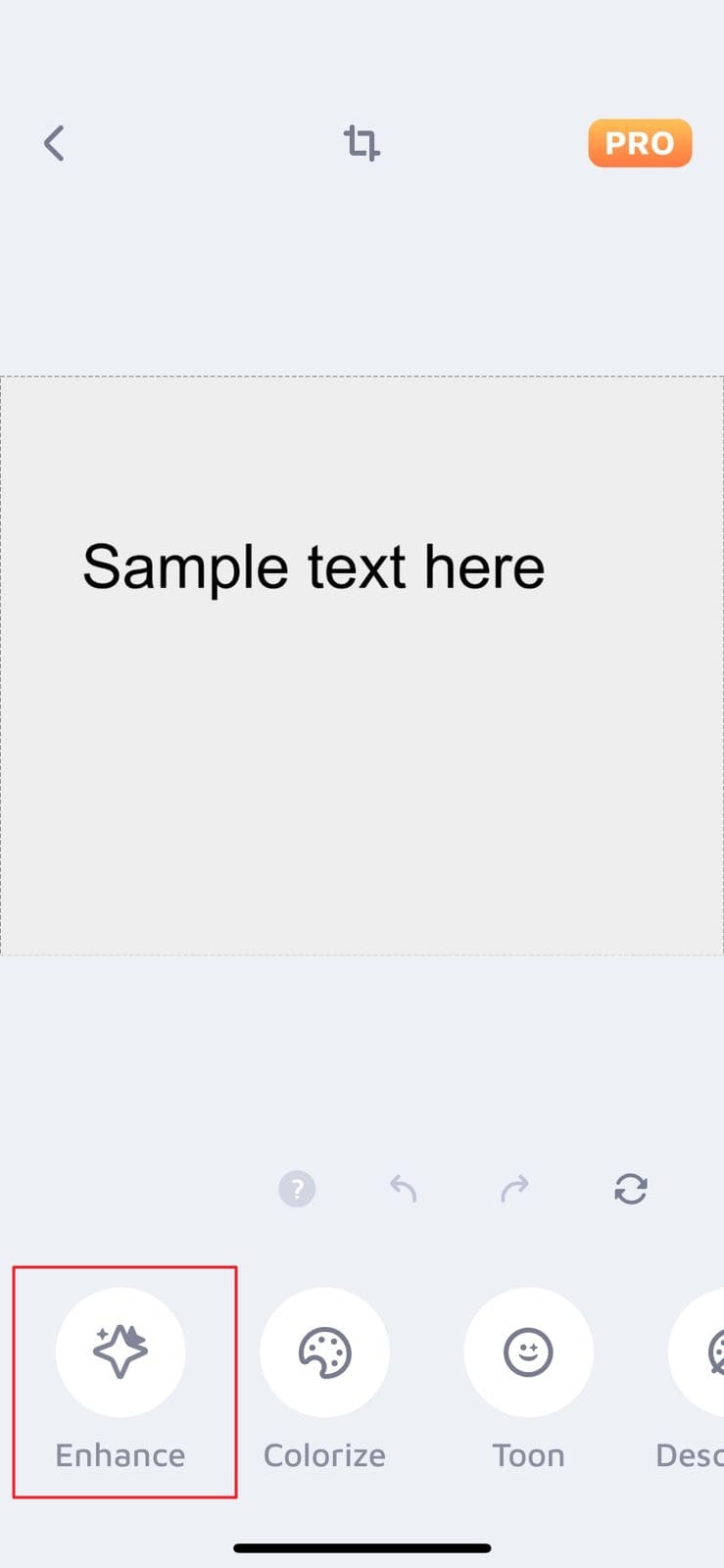 Step 3

Export your final image

Once the picture has been enhanced, tap on the "Arrow" icon to save the picture on your mobile instantly.