With the use of technology, digital photography has reached new heights in every respect. Since modern cell phones are so technologically sophisticated and have cameras that are more effective than human people, whatever image you take on them will mostly blur the result if it were shot in any other manner! Fortunately, numerous unblur image apps can help you sharpen fuzzy pictures.
Although mistakes might spoil the occasion, knowing the apps that unblur pictures is mandatory because blurry photos are a cause for concern. With the help of Unblur Picture Tools, it is simpler to acquire an exact picture and remove blurriness. Apps that may help you get rid of fuzzy images are widely accessible in the app store and Play store as well.
The top apps for Android and iPhone to unblur photos are listed below.
10 Apps to Unblur Images on Mobile
1. Adobe Photoshop Express - iOS and Android
Adobe Express is the top-notch answer to how to unblur photos on iPhone. This tool unquestionably ranks among the finest in terms of performance. Its usage is also somewhat more challenging, which is a negative. There are many capabilities, but you can only learn about them when you use them. The software can also address this issue, but we were more interested in photographs that had become blurry.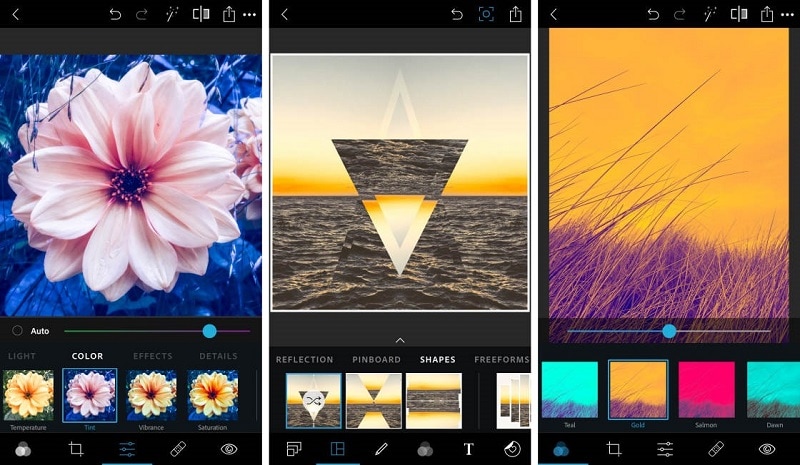 Features:
Adaptive sharpening settings are possible.
Depending on the technology and picture complexity, immediate results.
See the results immediately in a preview.
Pros:
Among the finest outcomes.
Several tools and templates are available.
Cons:
A little messy and complicated.
The sharpening tool does not have any special functions.
2. Snapseed - iOS and Android
An expert picture editor created by Google is called Snapseed. This program provides a ton of fantastic picture editing options and is flexible. This program not only enables you to touch your photos but also aids in capturing the image of what you want. Several beneficial tools for modifying photos are available while using the free version. Every image in your gallery may also be unblurred with this feature.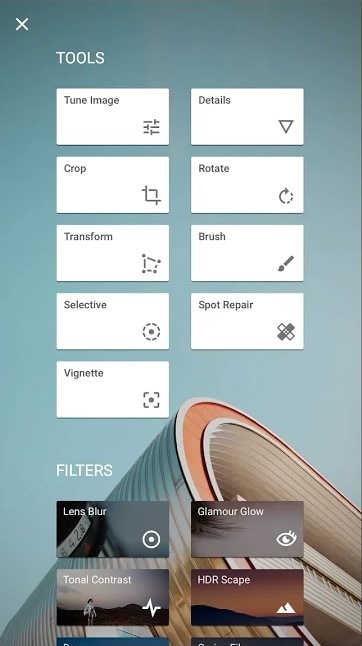 Features:
Impressively many filters, such as blur, tonal contrast, noir, and glow;
Overlaying a frame around the image's edges to boost the image's quality;
Certain items can be easily moved to adjust their location.
Pros:
The performance was excellent.
Has unique unblur characteristics such as hd and image sharpeners
Cons:
There could be more choices for manual editing.
Occasionally unable to respond
3. Fotor - iOS and Android
There are many powers, and you can only learn about them when you use them. The software can also address this issue, but we were more interested in photographs that had become blurry. After that, just swipe your finger over the areas of the image that you wish to make sharper. You can blur and deblur photographs simultaneously by doing this. Those who utilize apps love this function. Your shot will seem to be of professional quality if you blur the backdrop.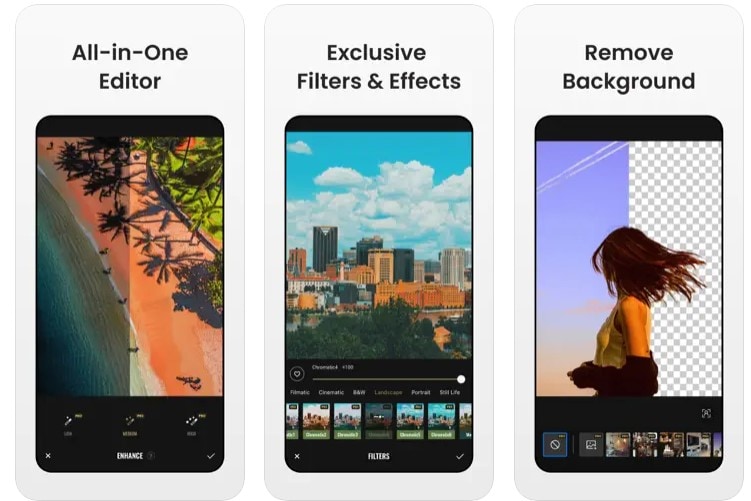 Features:
Fotos can import any image from the gallery and the ability to see previous retouching.
It also features many fonts and text effects.
Pros:
Easy-to-use
Simple advanced ai sharpening and quality enhancer
Unblur many images simultaneously and quickly
Cons:
It may take a while to complete the process.
4. AfterFocus - iOS and Android
You can use the auto-enhance feature or select the degree of sharpening in the AfterFocus Editor to improve your hazy images. Making your photos sharper also involves adjusting brightness, saturation, and contrast. Additionally, you have the option of blurring the background of your photo, which is ideal for portrait or selfie shots. Instead, just blur the area of the image that you want out of focus. You can export high-resolution pictures to all of your preferred social media sites once you've finished editing.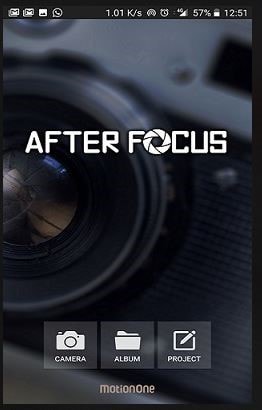 Features:
The most well-known presets of style filters;
AfterFocus is the first to use incredible special effects;
Pros:
Intuitive interface
Tools are arranged in a systematic way.
Practical image export and import
Cons:
Doesn't permit independent control of the deblurring settings
5. Pixlr - iOS and Android
Pixlr is a fantastic option if you're looking for an effective photo editing program. One of the most well-known apps for unblurring photos is Pixlr. Both iPhones and Android smartphones support the app. Pixlr offers a variety of filters and special effects in addition to helping you deblur photos to improve the appearance of your images. The app is user-friendly, and many of the filters, effects, and editing tools are available without charge, according to those who have used it.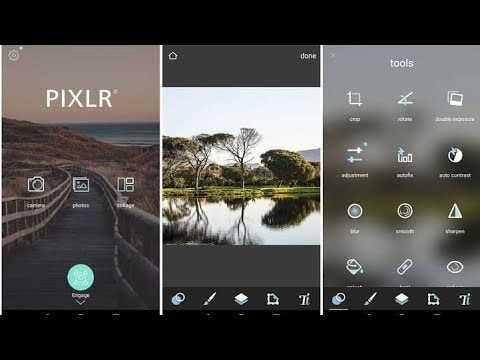 Features:
Easily editable and usable;
A social network's ability to accept ready-made works for upload;
Updating frequently and improving the quality.
Pros:
Easy-to-use interface
Simple to change the opacity, hardness, and brush size
Offers a range of editing tools
Cons:
Poor performance with noticeably blurred photos
6. Remini - iOS and Android
One Android app, Remini, offers comprehensive features like high-resolution photo filters and blur removal. Unblurring a picture before editing it is recommended. Change the image to a higher resolution if the photo is already clear but has a low resolution. You can add stickers and templates to your photos to make them more enjoyable.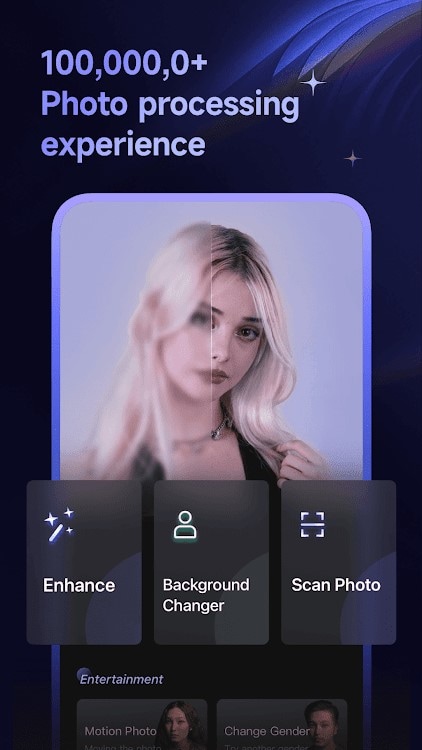 Features:
A slider that allows you to quickly change the brightness, contrast, and saturation
Remini also has a blur removal preset that can be used directly
Pros:
Sharpening instrument that works well
Powerful abrasive
The de-blurring effect is efficient
Cons:
The free version has endless advertisements.
7. Enhance Photo Quality - Android
Improve the quality of a blurry photo instantly. All you have to do is set the sharpened intensity and install Enhance Photo Quality. They allow you to easily change a depth selection. Because of the easy-to-use user interface, working with it will be much simpler. Aside from that, it can also blur pictures. Making your photos appear to have been taken with a professional camera is a very nice feature.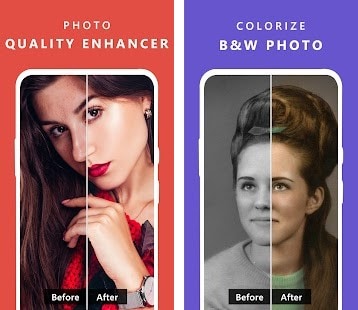 Features:
The capacity to rotate, crop, and enlarge pictures;
Provides you with the ability to use presets;
Various retouching tools are in abundance;
Numerous unrestricted filters
Pros:
Adaptable and light-weight
Appropriate for both experienced users and novices
An effective free version
Filters that have been carefully thought out and free, custom effects
Cons:
No ready-to-use templates
It is not a steep learning curve.
8. Unblur - Android
It won't take long to figure out how to use Unblur because it's so simple. Selecting the Unblur function will allow you to roughly and quickly deblur your image. Aside from that, the app has a ton of gifts that, when selected, will instantly make a picture clearer. Two modes are available when editing the image. You can thus always compare the original and edited versions of a photo.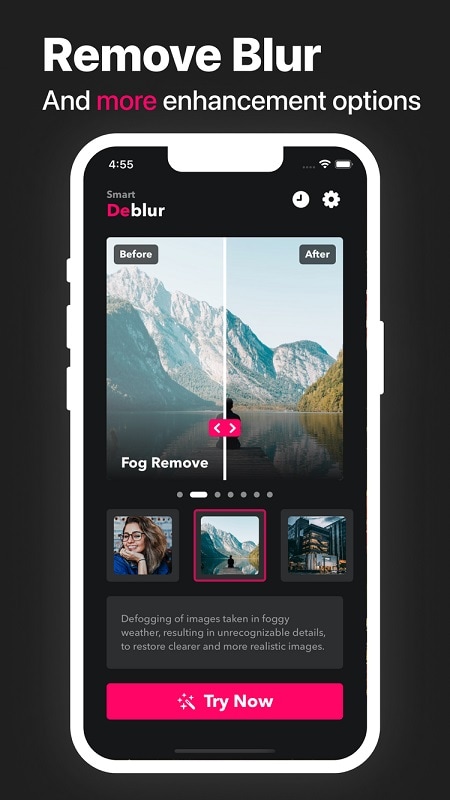 Features:
With just a few clicks, the white balance can be corrected with high quality;
On social media, post your creations.
Pros:
Multi-purpose app
Editing tools that are simple and have descriptions
Various useful photo-editing tools
A user-friendly interface
Cons:
It is only for android users.
9. SuperPhoto - iOS and Android
Users can improve the image's quality and get rid of blurry areas using SuperPhoto, a fully featured photo editor. The necessary picture must be downloaded after the app has been opened. The editing page, which has several sections, will then appear. An editing tool, special effect, frame, or retouching function can all be used here. Consequently, SuperPhoto is a solution that offers more than you anticipate when it comes to how to unblur a photo on Android.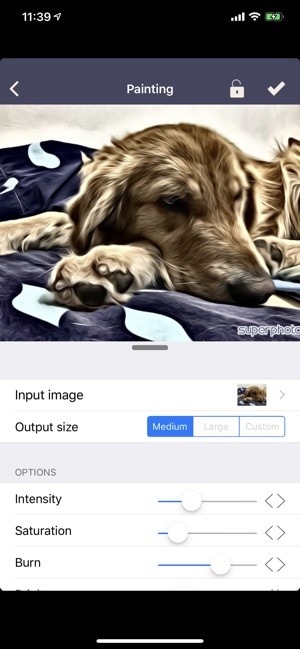 Features:
Possibility of removing unwanted items without compromising image quality;
A tunable HDR effect to create contrasty backgrounds;
Pros:
Easily usable app
There are many features and filters.
The potential for manual corrections is a plus.
App with several uses
Cons:
A few of the features are a bit clumsy.
10. YouCam Perfect - iOS and Android
Are you trying to find an app to unblur photos on an iPhone or other iOS devices? In that case, I recommend trying YouCam Perfect. You've been searching everywhere for an app that will unblur pictures. You can use the real-time editing features in addition to taking care of the images in your gallery. You should undoubtedly download and use this app to see its effectiveness.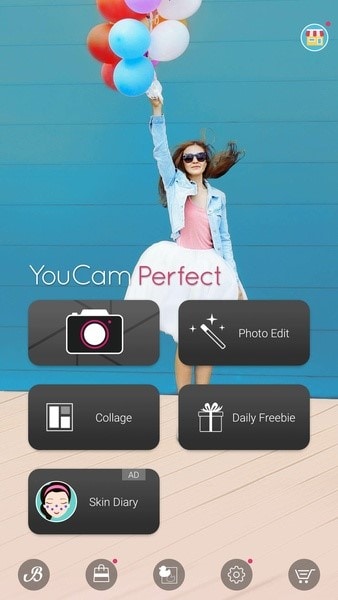 Features:
A program designed to allow users to adjust the focus of the camera
You can unblur photos with a simple fix
Pros:
An intuitive and quick-to-use interface.
The function of undoing and redoing
Social networking sites allow for photo sharing.
Cons:
Ads and pop-ups can be annoying.
Lack of some cutting-edge features
Comparison of the Top 10 Apps:
| | | | | | |
| --- | --- | --- | --- | --- | --- |
| Applications | Ease of Use | Effectiveness | Availability | Cost | User Reviews |
| Adobe Photoshop Express | Professional Level | Very effective | iOS & Android | $4.99/month | 4/5 |
| Snapseed | Intermediate level | Very effective | iOS & Android | Free | 3/5 |
| Fotor | Pro level | Significantly effective | iOS & Android | $8.99/month | 3/5 |
| AfterFocus | Intermediate level | Less effective | iOS & Android | $0.99 | 4/5 |
| Pixlr | Pro level | Very effective | iOS & Android | $5/month | 3/5 |
| Remini | Intermediate level | Less Effective | iOS & Android | $9.99/week | 3/5 |
| Enhance Photo Quality | Intermediate level | Very effective | Android | Free | 3/5 |
| Unblur | Intermediate level | Less effective | Android | $29.99 | 3/5 |
| SuperPhoto | Beginner level | Very effective | iOS & Android | $7.99 | 3/5 |
| YouCam Perfect | Professional level | Significantly effective | iOS & Android | $29.99/year | 4/5 |
In light of the above comparison, it is crystal clear that all of these mobile applications are a good fit according to their features list. However, for the best overall, Adobe Photoshop Express takes the lead because of its number of professional features and platform viability.
Bonus Tips - Unblur images online
Unblurring images does not require the use of sophisticated app or software. Utilizing Media.io, you can quickly deblur photos online. Based on the example image, we can infer that Media.io Image Enhancer automatically unblurs an image and that it does so fairly quickly. It allows you to quickly and easily deblur an image by simply uploading the blurred image to our photo blur remover. This tool is undoubtedly among the best in terms of performance as well.
If you have a lot of image blur, use Media.io. This unblur app online offers automatically generated fixes for image blur with the aid of AI-based algorithms. You can also decrease particular types of blurs by selecting the option in the Workspace. Motion, lens, soft, and general blurs can all be reduced in particular. For even better outcomes, combine the Image Sharpener with one of the additional photo editing tools available on Media.io.

Key Features:

For all of your photo editing needs, you can use this versatile app.
Media.io offers a free version for beginners to use the unblur feature handily.
Using filters to handle the picture unblur works for you.
You can be creative with small, quick changes that go beyond simple photo editing.
With Media.io, technical edits can be done by beginners easily.