Photos have visual representations of our stored memories, achievements, and moments. Hence, this visual media is special and close to every individual. There is yet a problem that we all face, and it's related to photo quality. Most of our pictures are victims of poor resolution, blur, improper colors, and more. So, there is a need for enhanced photos for stunning quality.
This article discusses 9 photo enhancer online tools you won't regret using. Start making your imperfect photos perfect again.
Part 1: How AI Photo Enhancers Can Help You in Your Daily Life
In this modern world where the use of images is rising, photo enhancement is becoming necessary. There are photo enhancement tools that possess the power of AI technology. With the help of AI, photo enhancement can transform our daily life. Here is how AI photo enhancers can help you:
1. Restoration of Photos
Restoring old and damaged photos may seem complicated, but it isn't. By using photo enhancers online for free, you can improve the quality of your photos. These AI enhancement tools remove stains, reduce scratches, and improve faded colors. Hence, your photos will become incredible again with top-level engagement. This attracts a wider audience as well.
2. Retouching Portraits
There are modern functionalities within an AI photo enhancer. After all, they can provide enchanting retouches to your picturesque portraits. It's executed by smoothening skin, improving facial features, whitening teeth, and removing blemishes. This way, your photos will get refreshing looks with enhanced lighting.
3. Improve Smartphone Images
Nowadays, everyone possesses a smartphone, meaning most of our photos come from here. The fact is that the quality of smartphone cameras is not that good. Hence, captured images aren't good either. With a photo enhancer, you can reduce noise, enhance details, and improve faded colors. Thus, your photos will get ready for social media uploads and sharing.
4. Extend Nature Photography
Nature photography is difficult because of the problems of capturing natural colors. With the help of an AI photo enhancer, nature's vibrant colors can be restored. It's possible by increasing color contrast, improving clarity, and adding more details. Meanwhile, your nature photographs will look attractive and memorable again.
Part 2: 9 Powerful and Advanced Photo Enhancer Online Tools
An AI photo enhancer is essential to enhance your photos' quality and engagement. You'll get unlimited recommendations when you search the internet for a reliable tool. Hence, choosing the right one becomes difficult. Here you'll find 9 best photo enhancer online tools to extend your photo editing:
Improve the quality of your old, blurry, or noisy photos with Media.io - Image Enhancer. With this image enhancer online free tool, you can make your photos great again. After all, the tool leverages AI-powered functions that assess problems and offers resolution upgrades. All major image formats like JPG, PNG, WebP, and BMP are supported.
The available AI functions include AI retoucher, AI denoiser, AI sharpener, AI restorer, and more. Moreover, cross-platform support allows you to use this MyHeritage photo enhancer alternative on iOS, Android, Mac, Linux, and Windows.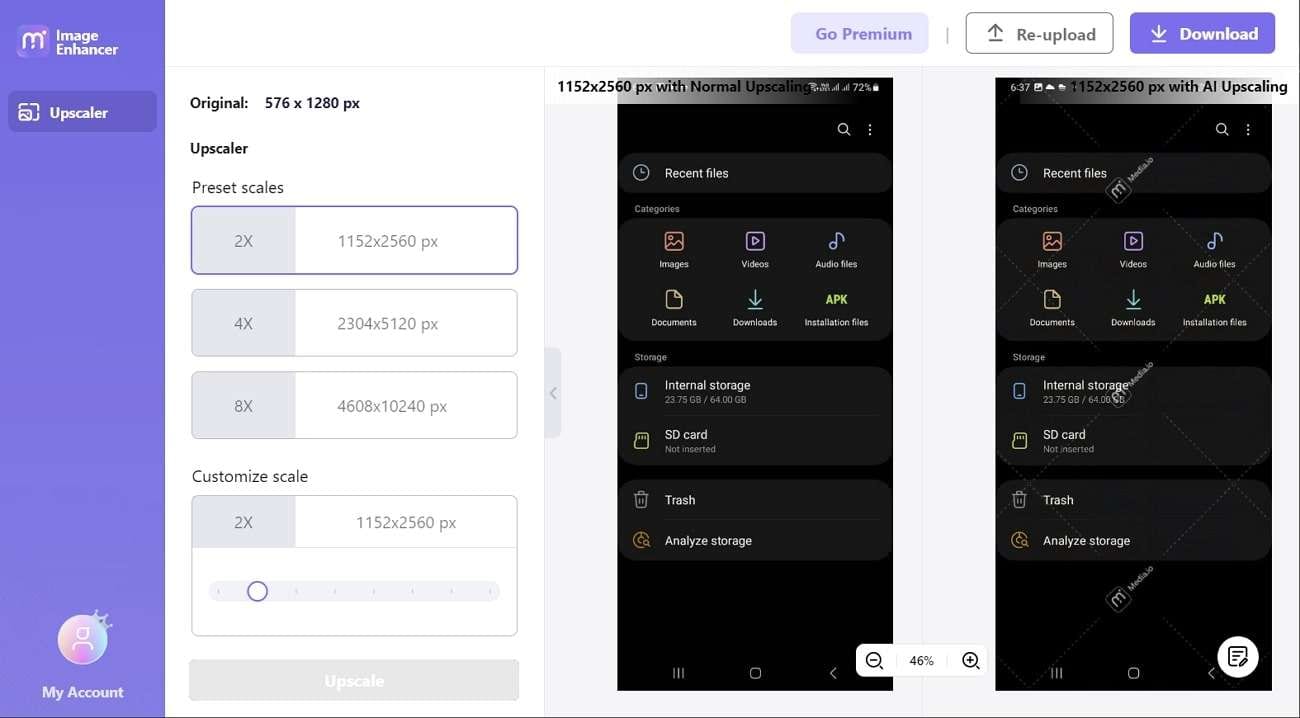 Quality Rating:
4.95/5.0
Key Features
When you download your enhanced picture, the watermark won't exist on it. This way, you can share photos on different networks or platforms without restrictions.
You can even preview your enhanced image side-by-side. If you're satisfied with the results, then proceed to download it.
It's possible to adjust the preset scales to 2X, 4X, and 8X resolutions. Moreover, you can customize the preset scale from 1X to 8X.
Make your pictures more attractive by using Let's Enhancer AI photo enhancer. By using this tool, you can improve image quality, resolution, and clarity. With a simple click, the image is enhanced in an efficient way. Its AI technology can scan, assess and upscale your pictures. Even if you've blurred photos, pixels will get fixed with improved lighting.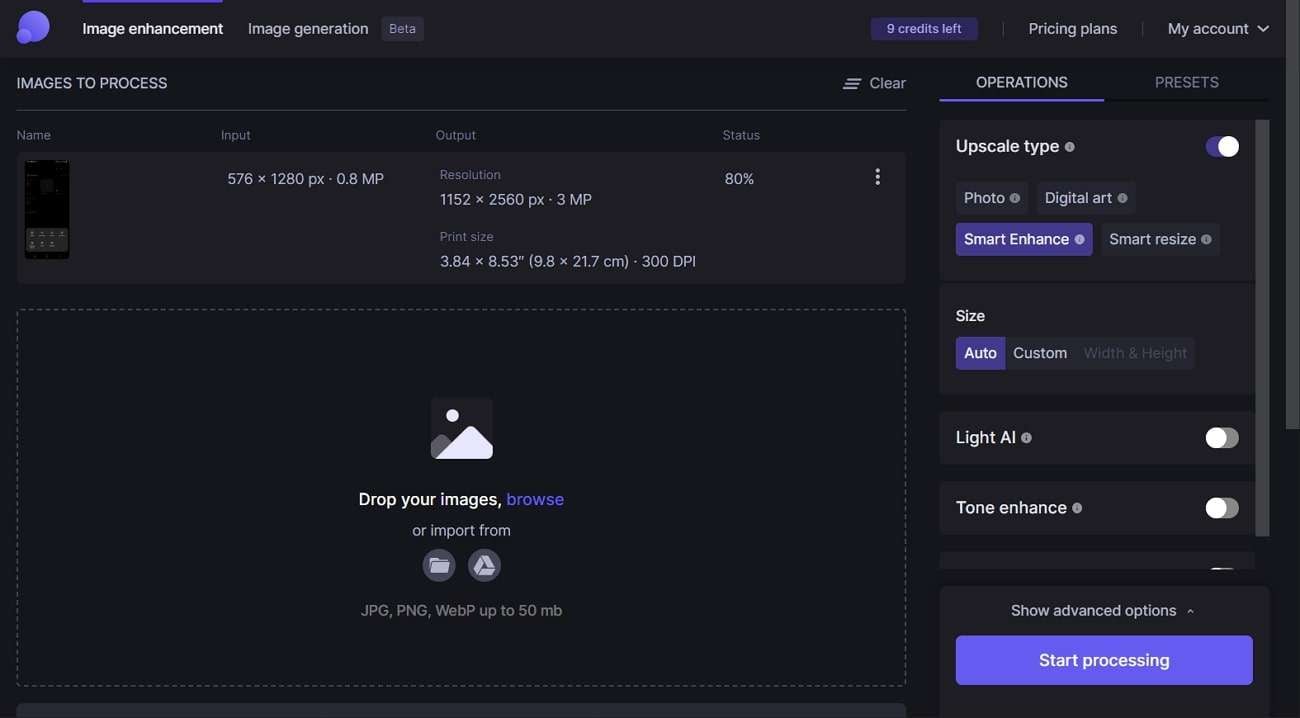 Quality Rating:
4.6/5.0
Key Features
There is an option to upscale your photos within resolutions like HD, 4K, and more. Thus, your photos will start looking more attractive.
Get detailed image prints in 300+ DPI with the available image printing facility. The provided resolutions, colors, and clarity will offer crispier looks.
You can also generate images by using AI. It's possible by providing text commands to establish stunning image artwork.
Fotor is amongst the best online photo enhancer tools that upscale images. Thus, if you're worried about a blurred picture of yourself in an event, use Fotor. This image-enhancing tool has highly trained AI algorithms to convert low-res to high-res images. Through this tool, the lighting, color, and sharpness will get upscaled. The interesting thing is that your image won't get damaged in the upscaling process.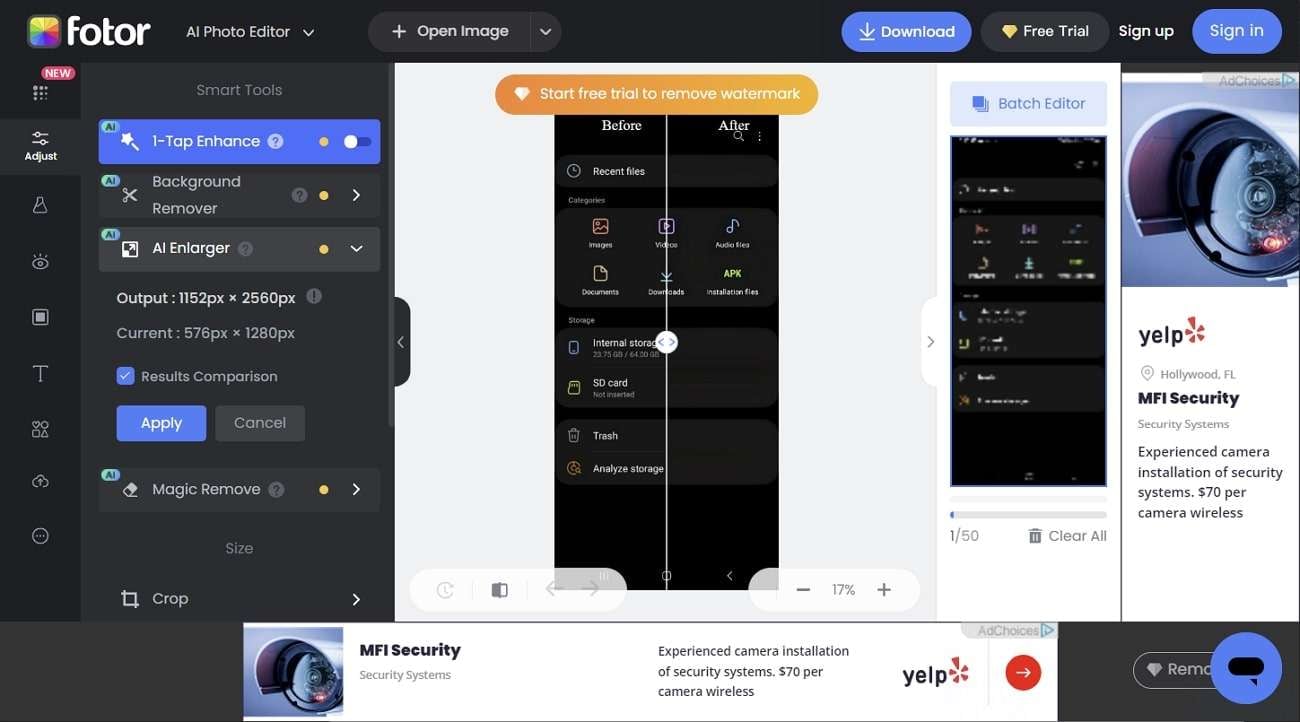 Quality Rating:
4.8/5.0
Key Features
You can crop or resize images to adjust the borders of your media. This also helps you to modify the size of your picture.
Use background blur if you've got a troublesome background in your good photo. Fotor provides a stunning background blur to make things easier.
Using the merge function, you can also merge two or more pictures into a single image. This provides a perfect collage template.
Restore the quality of your old, blurry pictures with PicWish. This photo enhancer online is an ideal solution for all low-resolution images. In fact, you will get faster enhancement with 3 seconds of AI processing. This way, your photos are enhanced quickly, within twice or four times the resolution. In general, using this platform is very easy and convenient.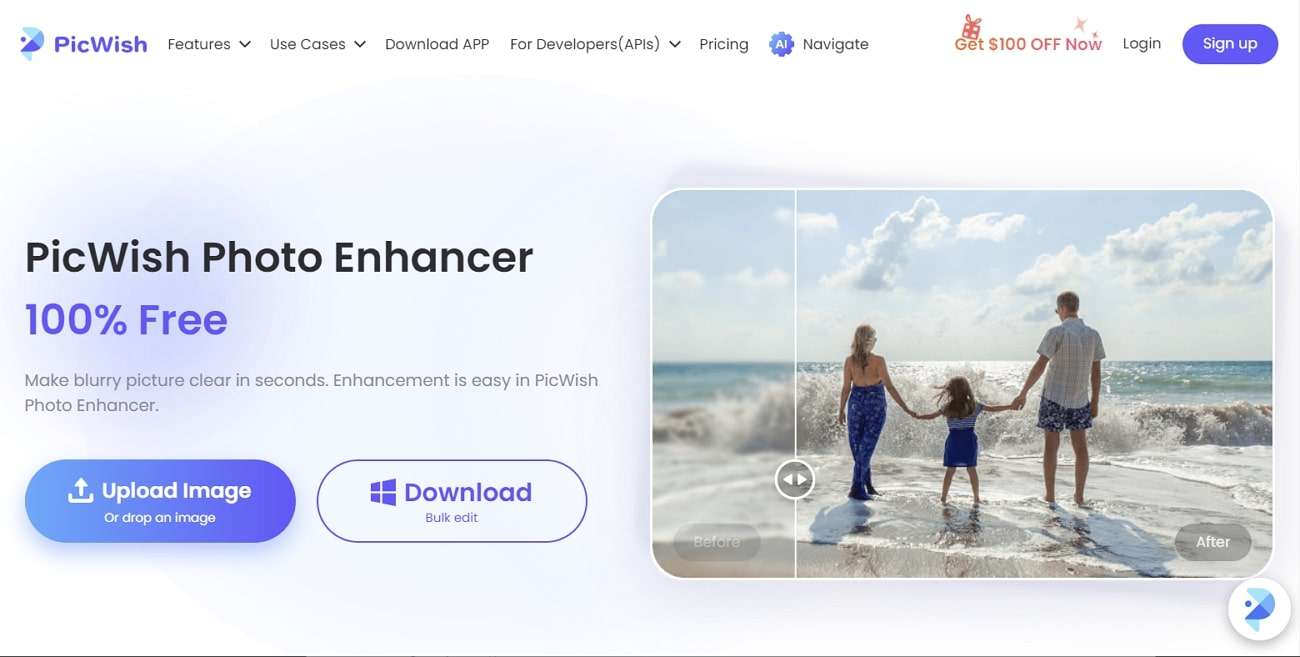 Quality Rating:
4.5/5.0
Key Features
You can add retouches to your portraits to make your face look beautiful. The blurred area is improved, and the colors are optimized.
Photo editing is also possible by converting, enlarging, compressing, and cropping images. In this way, you can transform your photos into the desired layout.
It's possible to colorize the black-and-white photos effectively. Hence, old gen photos could be upscaled with modern colors.
By using BeFunky AI photo enhancer, upscale your photos in a convincing way. After all, this tool utilizes smart AI technology to edit your photos with professional standards. The quality of your image won't get lost. In contrast, the photos' colors, brightness, and exposure will get enhanced. The available Sharpen DX tool enhances image details of captures from digital cameras.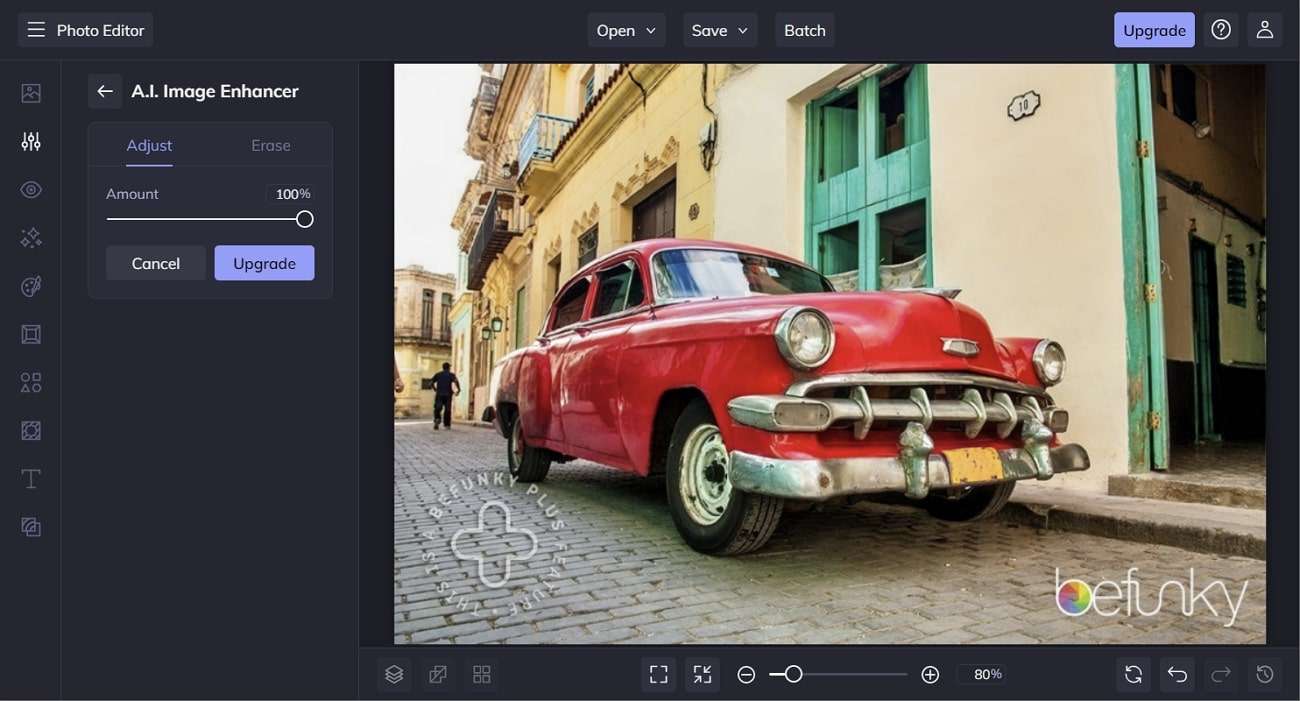 Quality Rating:
4.7/5.0
Key Features
With available Vibrant Colors DLX, improve the color gradients of your pictures. After all, this photo effect maintains vibrant colors in your image.
It's possible to reduce noise within images through the Denoise DLX photo effect. For this purpose, the ISO settings of pictures are optimized.
With a single click, you can also remove unwanted backgrounds from pictures. The backgrounds are then replaced with solid colors or transparent layouts.
Enhancing photo quality is now easier with Pixelied, a trusted MyHeritage photo enhancer alternative. Thus, you can use a wider range of photo effects to improve the picture quality. These photo effects include brightening images, sharpening images, image saturation, and tint effects. There is an option to apply preset color filters to enhance color grading within pictures.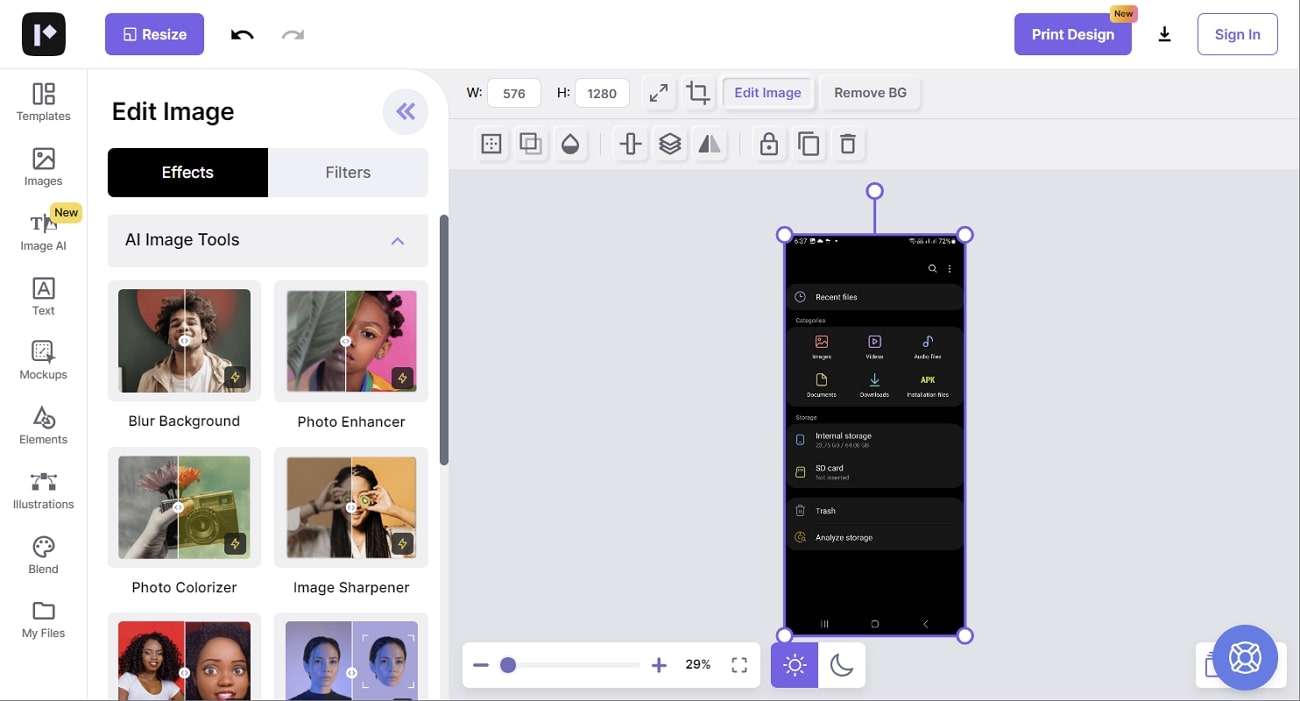 Quality Rating:
4.4/5.0
Key Features
Add text elements to your images through headlines, subheadings, or body text. In general, the text is possible to add within various styles.
Image resizing is also available following your requirements. Either you can resize the image within any format or perform custom resizing.
You can download images in popular file formats like PNG, JPG, or SVG. Within these formats, the quality of your image would remain optimized.
Get your all-important images enhanced and upscaled using AI. Image Enlarger. With this photo enhancer online free tool, you can add special retouches with upgraded styling. The available smart HDR AI technology will help apply aesthetic HDR effects. This will enhance your photography to the next level. The colors, contrast, brightness, and lighting will get extended.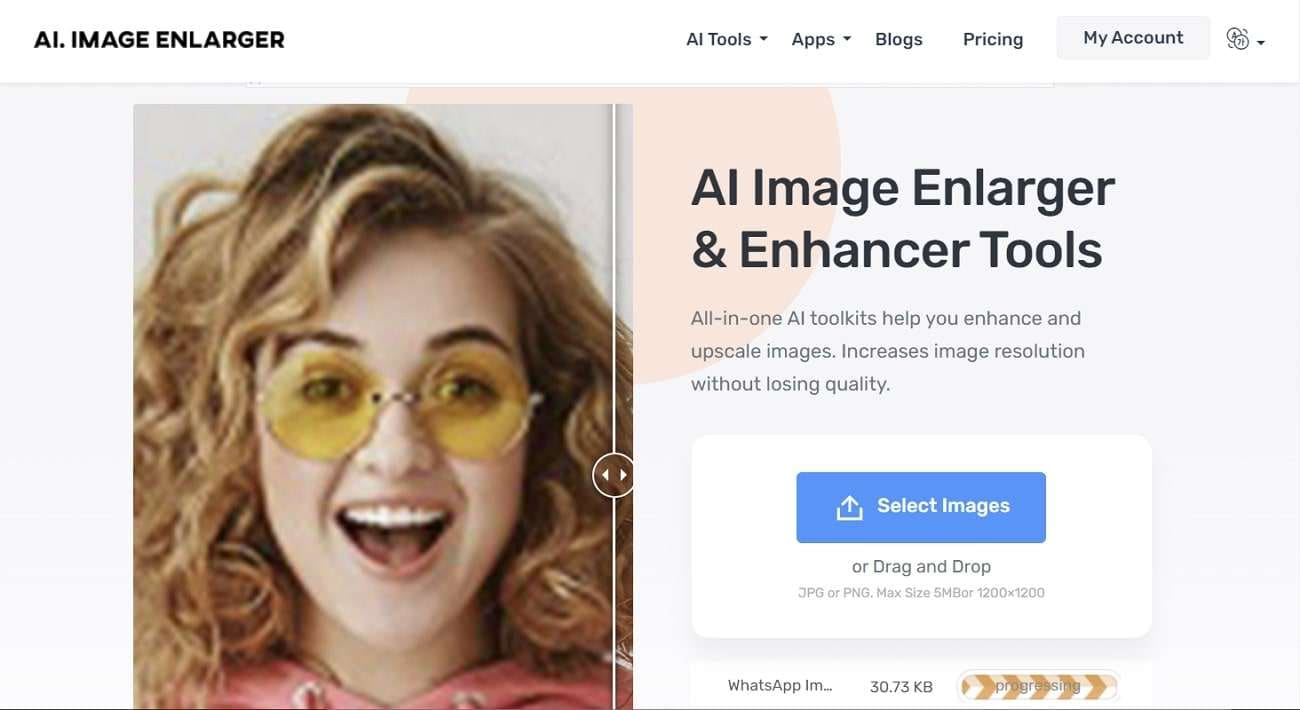 Quality Rating:
4.7/5.0
Key Features
You have the option to add annotations to your pictures. It's possible by adding rectangles, text, lines, shapes, arrows, and more.
Applying image redaction to your photos is possible before uploading them. After all, that's important to protect privacy.
The available AI cartoonizer can convert your image portraits to stunning cartoons. This allows you to turn your pictures into real-time avatars.
Enhance all your photos in a convenient way with Remini photo enhancer online free tool. By using this tool, convert all your low-resolution images to high-resolution visuals. Hence, the graphic quality of your pictures will experience top-level upscaling. This Remini photo enhancer can also enhance your face quality by treating blemishes.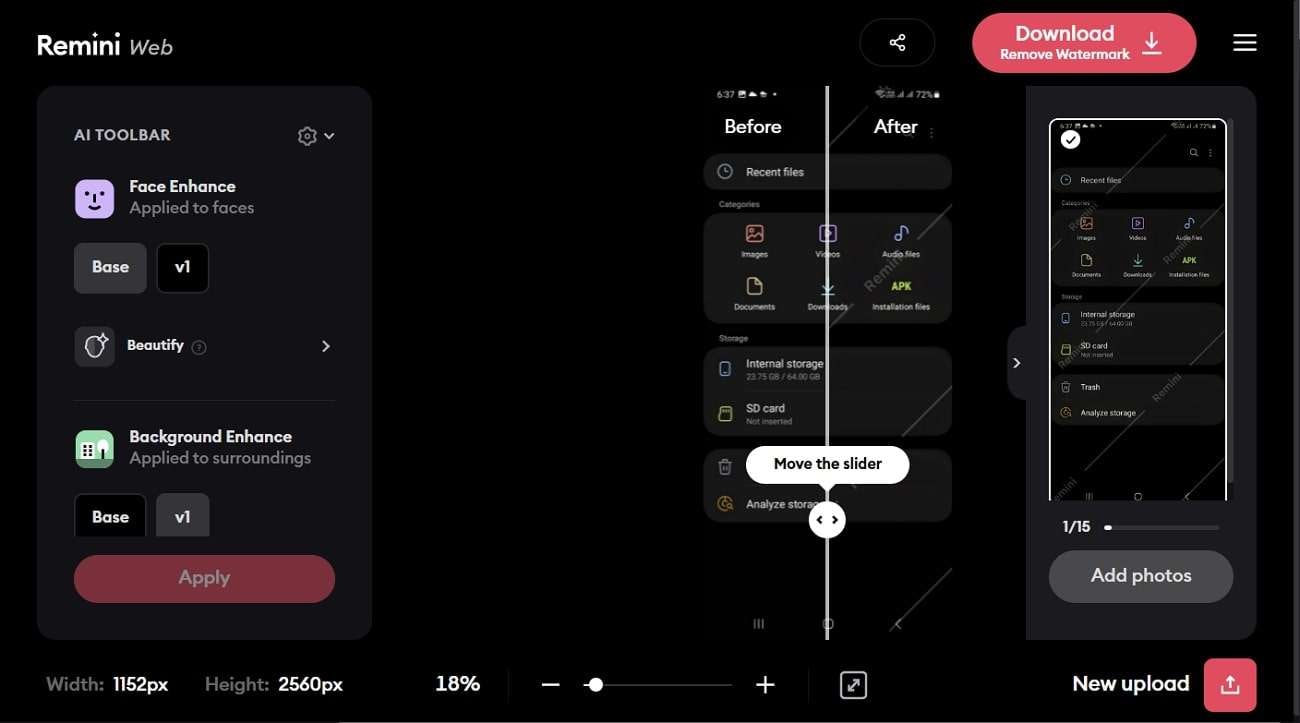 Quality Rating:
4.5/5.0
Key Features
Get your old and outdated photos restored by enhancing colors, contrast, brightness, and lighting. This improves the quality of your videos to an optimized standard.
After uploading your low-res image, you'll witness before and after preview. Hence, download the picture only if you are satisfied with the work quality.
The available batch processing allows businesses to upscale different images at once. This saves businesses valuable time with less utilization of resources.
No more old and blurred photos in your gallery when you use Cutout.pro. This photo enhancer online free no watermark tool is a perfect answer to image upscaling. After all, this tool converts your images into the best resolutions with a great display. There exist several AI image-enhancing features like denoiser, sharpeners, enlargement, and more.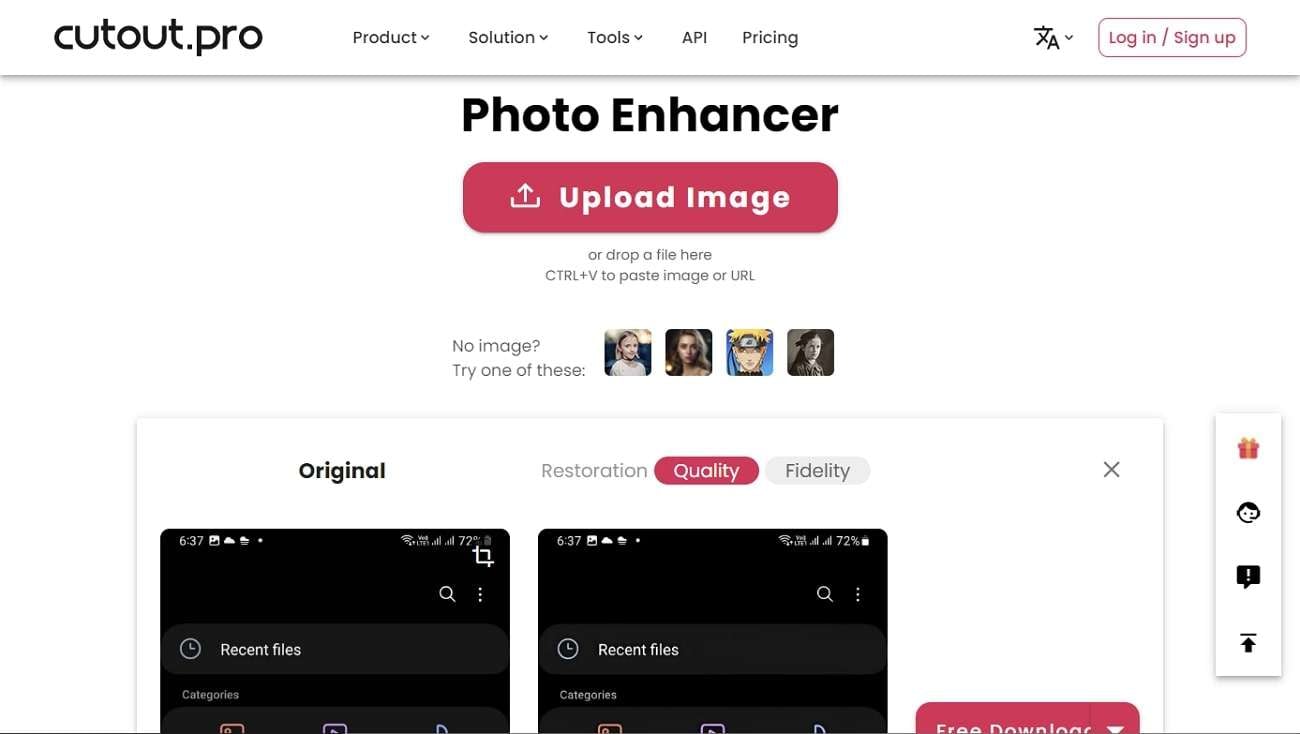 Quality Rating:
4.6/5.0
Key Features
You will get a preview of your original and enhanced photo in a single display. Hence, continue to download the image in desired resolutions.
All uploaded files are discarded after a time interval of 60 minutes. This will protect your data privacy, as no one can access your images except you.
Get your photo or frame enhanced up to 4K resolutions for better details. Your photography will get optimized with extended quality.
Frequently Asked Questions
1. Is it possible for someone to use an AI photo editing tool to enhance and upscale images?
Yes, it's possible by using Media.io - Image Enhancer, a perfect tool for upscaling images. Moreover, the tool is easy to use, with several image enhancement and editing features. The quality of your image will get optimized immediately.
2. How does an AI image enhancer work?
An AI image enhancer uses advanced machine learning algorithms to upscale images. These tools have training on large image datasets. Thus, when you upload your photo, an AI enhancer uses trained images to improve your photos. With functions like denoising, super-resolution, and color enhancements, enhance quality in a convenient way.
3. Are there any privacy concerns when using AI image enhancers?
Privacy concern does exist when you use a low-level AI image-enhancing tool. It's because you need to upload your images for enhancement. Such tools may use your data illegally or share it with a third party without permission. To avoid this issue, use a reliable tool like Media.io – Image Enhancer.