Images are likely to have been compromised by several factors, such as low-quality lenses and sunlight issues. You can get assistance from the best-in-class AI image enlarger to cater to this. In this era of advancement, you can find diversified image enlargers, but it can be pretty hectic.
Thus, to help you with this, we will introduce a top-quality AI enlarger. You can find both online and offline tools in this article. In addition, we will also discuss some factors you need to check before selecting the best image enlarger.
Part 1: What are the Criteria for Selecting the Best Image Enlarger
Mindlessly selecting the AI image enlarger tools can lead to problematic scenarios such as tricky procedures or data breaching. For this reason, you need to work with the top-quality tools. In this section, you will discover some factors a good image enhancer should have. Look below to learn more about this selection criteria:
1. Image Enhancement Quality
One of the foremost things that you have to keep in mind is to analyze the image quality outcomes. Make sure you select the tool which offers the best and unmatchable image quality without impacting the layouts. Other than this, look if the tool you choose can minimize the noise and artifacts in the image.
2. Upscaling Tactics
There are several types of image upscaling tactics, but not all of them are reliable. Yet, you must ensure you select the tool that comprehends the deep learning algorithms and super-resolution capabilities. Along with this, a good tool should also be able to enhance the image by polishing the details and sharpness in the picture.
3. Batch Upscaling
If you will work on several images, select the tool that supports the batch processing feature. This can help you save time and effort and accomplish your task in a limited time. Moreover, batch upscaling also helps to ensure you upscale numerous images at the same size and resolution.
4. Device and Format Compatibility
The compatibility of a tool plays an important part in making it the best tool. While selecting a tool, check whether it is compatible with your image format. Moreover, a reliable tool should also be compatible with several major operating systems to make your work easier.
Part 2: 6 Blazing Fast and Advanced AI Image Enlarger Online Tools
Most often, people prefer to operate with the image enlarger online because you can use them on almost every browser. There are no such compatibility issues in the online tool, saving you time and effort. If you want to work with the most top-rated online tool, here are some of the premium-grade image enhancers for you:
This professional-grade tool helps you to enlarge your low-quality images into up to 8X resolution. As it is powered by artificial intelligence, all you can expect from this online tool are the desired outcomes. You can access it on any browser without any problem, along with saving your device's storage. One of the best things is, Media.io – Image Enhancer never compromises the layout or colors of the images.
You can also custom enlarge your precious images by using this outclass tool. It also has the capability to fix old photos by removing blur and other lagging metrics from it.
Key Features of Media.io Image Enhancer
Not only images, but you can also upgrade and upscale the quality of videos with this premium-level tool.
If you accidentally capture any unrequired thing in the photo, you can also use its Object Remover feature to remove it from the picture.
Media.io also has a Video Compressor and Video Converter. You can use them to convert videos into other formats or to compress their size.
With this photo enlarger, you can maximize the resolution of images and improve their quality. It also helps you to add more clarity to the image to make it attractive. With a few taps, you can make any photo look prior and polished. It also has AI power which lets you create AI art in the optimized quality. Along with this, you also have the option to create new images with its AI image generator.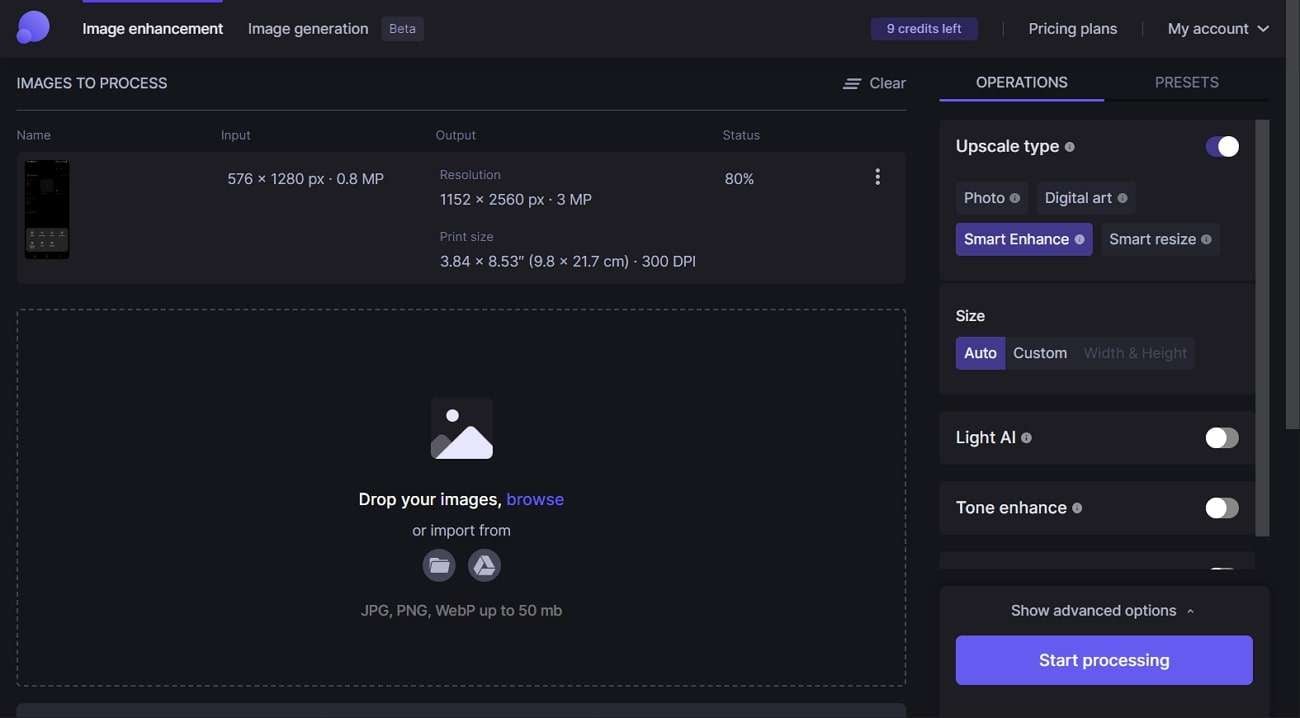 Key Features of Let's Enhancer
It can maximize the resolution of images into HD and 4K quality with few taps. This tool can also resize large pictures.
There is no restriction about the type of photo to upscale as you can upscale digital art, old photos, or landscapes with this.
This tool offers 300+ DPI to enhance the details of an image. You can also get an API for printing on demand in it.
Pixelied not only enhances the images, but you can also modify them in several ways with this. It can re-touch the images along with upscaling to fix any mistakes. You also have the option to replace the boring backgrounds from the photos. It is also a perfect tool for creating blog posts or social media content. After creating the images, you can also upscale them to provide better visuality.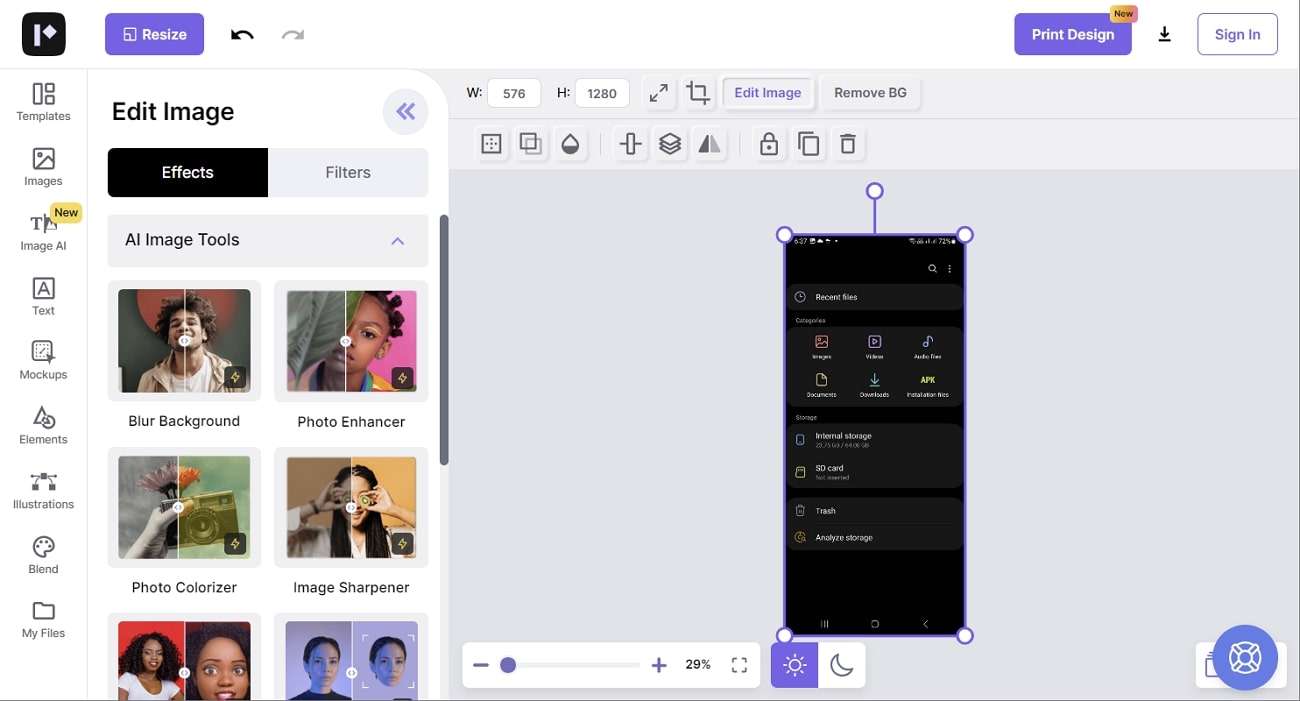 Key Features of Pixelied
There are thousands of readymade templates in this tool that can be used to create intuitive images. It helps to create images while saving time and effort.
It also has an ever-grown library of icons, and you can also search for specific icons through keywords. This is a perfect choice to spice up your photo design.
Pixelied also has more than 700 hand-drawn illustrations. After selecting the characters, you can customize them as needed.
It is also a famous image enlarger online, which can enlarge professional images. This tool can help you to maximize your productivity and streamline workflow efficiency. You can also remove the background of the pictures with this tool to add the background of your choice. While working on the black-and-white images, you can also use its Auto Colorizer to add vibrant colors to the photos.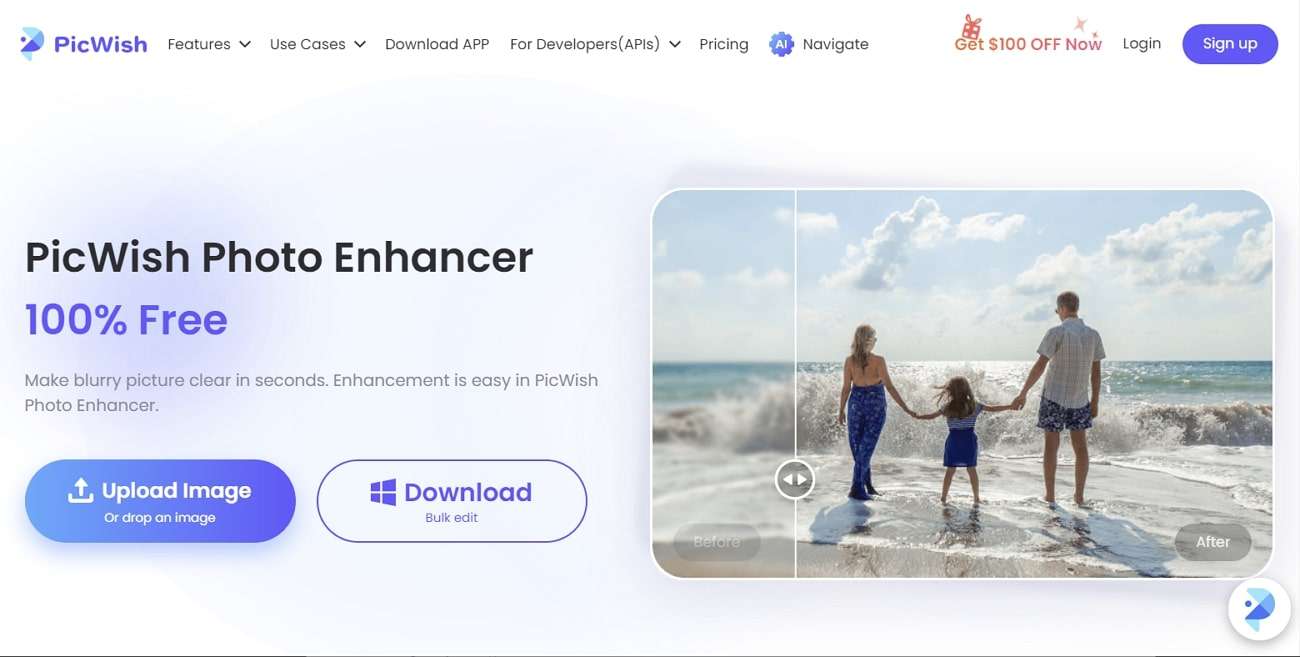 Key Features of PicWish
If you have logo, text, or spots in the images you wish to remove, then this photo upscaler can help you. It allows you to re-touch photos by removing these things.
The Face Enhancement feature of PicWish lets you re-touch your face in images. This also fixes the blurriness on the face and enhances the facial details.
With its Image Compressor, you can reduce the size of files and compress images to make them more share friendly.
Remini is quite a popular tool among photo editors because it can enlarge images without losing quality. With this, you can enhance photos and videos with stunning HD quality. Its transformative technology has an automated procedure, so you don't have to make manual adjustments to accomplish your task. Furthermore, it can enhance several photos, such as portraits, landscapes, and old photographs.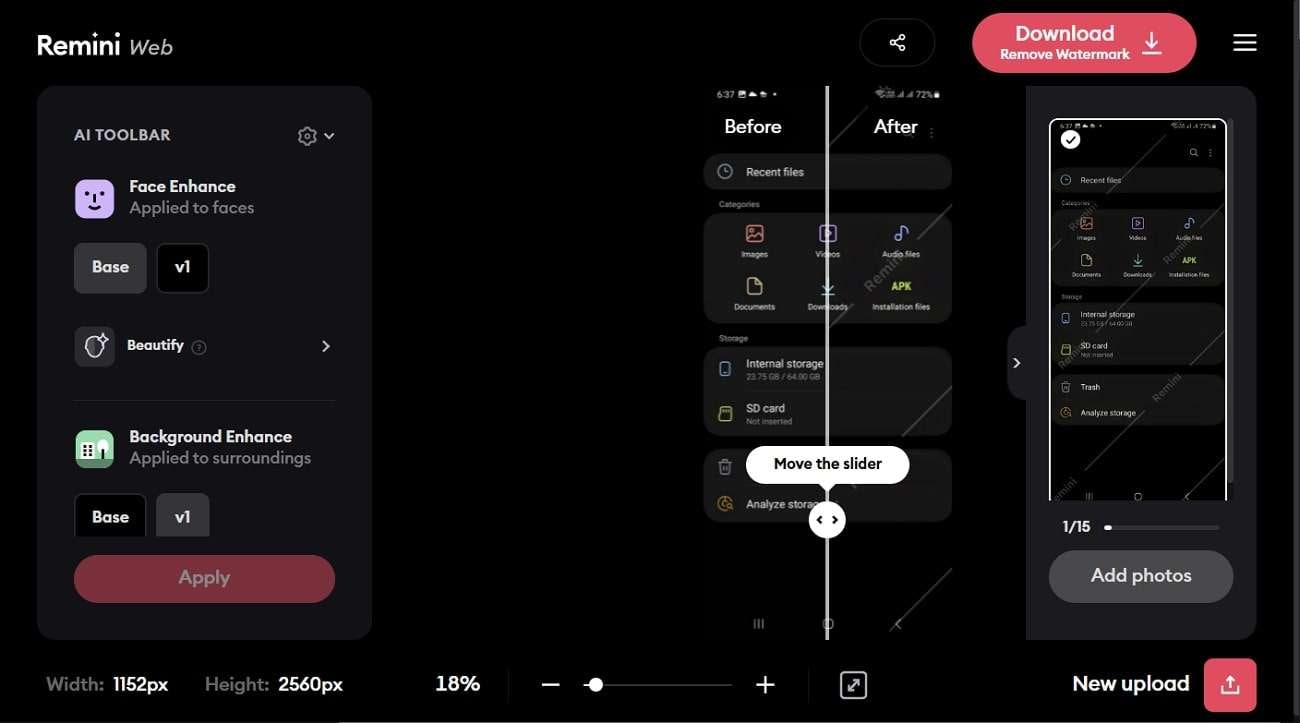 Key Features of Remini
This tool has an optimized image-enhancing procedure because it can add face glow in pictures and adjust color tones.
To increase the quality of every detail of the background of a photo, you can also use its Background Enhancer feature.
If you need high-quality color prints of larger file formats, this tool can also assist you with making high-quality prints.
Using the BeFunky AI image enlarger, you can add life to old photos. Not only upscaling, but it also has editing tools that you can use to make pictures more visually appealing. Other than this, you can also make intuitive and expressive photo collages with this. BeFunky also offers you the chance to alter the image's dimensions by cropping and resizing it.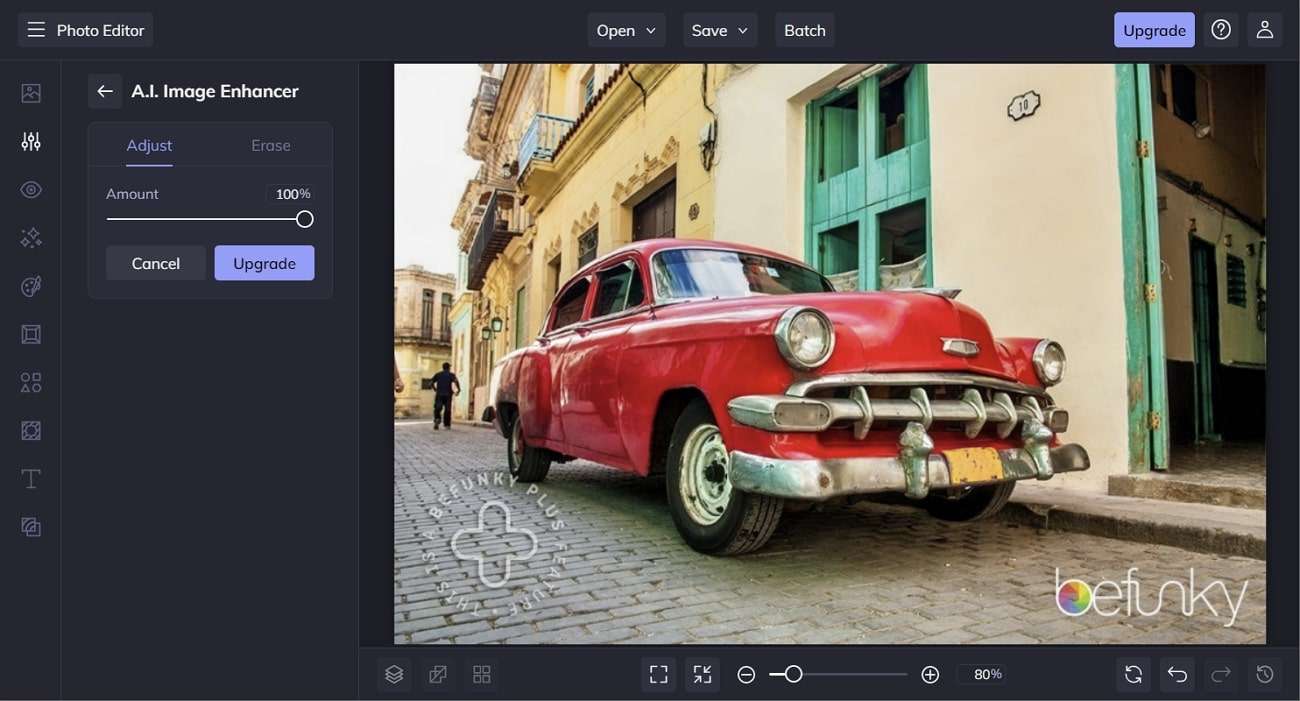 Key Features of BeFunky
With BeFunky, you can turn simple photos into intuitive and unique pieces of art as it has several Artsy filters.
To save time and effort, you can also edit, crop, and resize multiple photos simultaneously with its Batch edit feature.
One of the best things about this tool is it also lets you make high-quality photo collages with few taps.
Part 3: 3 Powerful and Optimized Photo Enlarger Tools for Offline Use
If you are going to upscale the images for a longer time, then it's better to use an offline AI enlarger photo tool. The web is loaded with tons of high-quality upscaling tools, but the chances of you getting confused while selecting some good tools are still there. For this reason, here are some of the best-in-class image upscaling tools that you can also operate while offline:
Topaz Photo AI is extremely easy to use that almost leads to high-quality images. With this AI image enlarger, you can upscale any image without worrying about its overlays. Besides this, you can upscale multiple photos at once with this tool. It also automatically detects your subjects and fixes defects to enhance details in an automated way.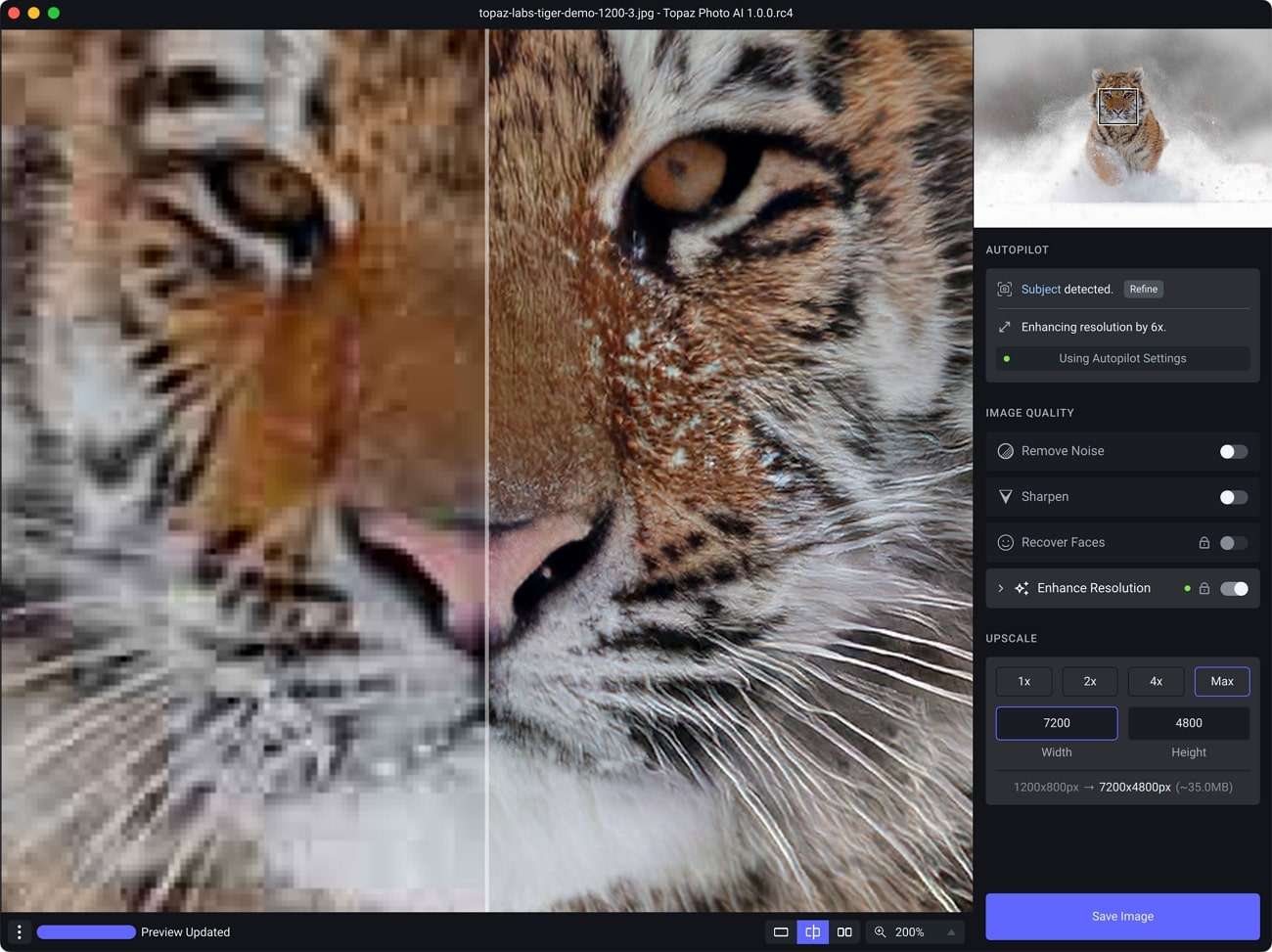 Key Features of Topaz Photo AI
With this tool, you can also upscale low-resolution images and correct blurriness, noises, and artifacts.
You can also make edits in layers and can also tweak masks to improve the visuality of the image. It also works with both raw and pre-rendered JPEGs.
This software also has a surprising feature of detecting motion blur, and you can also fix issues like lens deblurring with this.
With this exclusive photo enlarger, you can upscale images on Windows and Mac computers. Moreover, it has the capability to enhance the quality of the pictures in lossless quality. This can upscale photos in 4K and 8K quality, and you can also restore old photos with it. With this premium tool, You can also eliminate irritable noises and artifacts in the images.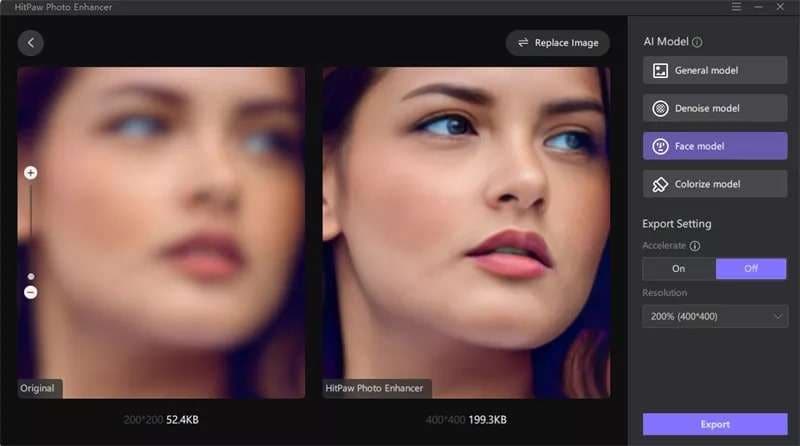 Key Features of HitPaw Photo Enhancer
Whether you wish to enhance the landscape, portrait, art, or selfies with it, this tool can handle everything for you.
It can also re-touch every detail of the image, and you can also remove spots and blemishes from your face.
If you want to restore your memories, it can also bring old images to life, as it can magically add colors to black and white photos.
This AI image enlarger can upscale low-quality photos with the optimized superior resolution. You can also do face and skin refinement to your photos to experience something magical. Along with this, it can also assist you in removing the background from your photos to upgrade its functionality. Adding colors to black and white pictures is also possible with this.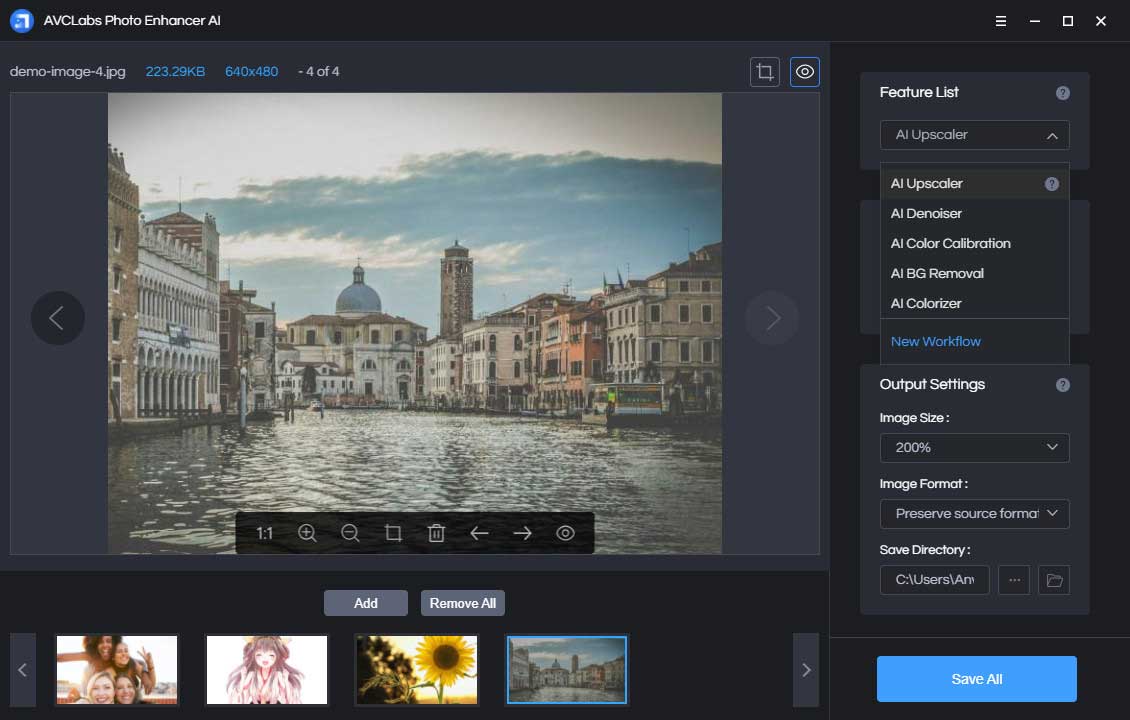 Key Features of AVCLabs Photo Enhancer AI
The AI Photo Calibration feature of this image upscaler can help you quickly fix all the color issues in the photos.
If your photos somehow got grainy effects and noise, you can use its AI Denoise feature to cater to this.
With its AI portrait Enhancement feature, you can also smoothen your skin virtually and add more details to facial features like lips.
Frequently Asked Questions
1. What is the best tool to enlarge photos on Windows 10?
After a lot of analysis, we have concluded that Media.io – Image Enhancer is the best tool to enlarge images on Windows 10. With the help of this top-notch tool, you can upscale any photo and video.
Other than this, it can also upscale your images into 4K, 8K, and custom resolutions. The upscaling procedure is non-destructive, and you can get the results without any issues with the overlays of the picture.
2. Can you take a digital photo and enlarge it to an 8' x 10' x 12' real-life picture to frame?
Yes, you can do this with the help of the most known tool named Media.io – Image Enhancer. With this revolutionary tool, you can upscale digital photos in customized resolution. There is no restriction to selecting the same customization, such as HD, for the digital photo. You can also go with 4K and 8K resolution.
3. Why does printing an enlarged photodegrade the quality?
When you enlarge a photo for printing, its quality degrades because the pixel density gets compromised. While enlarging the picture, the number of pixels does not increase or decrease, but it gets scattered to the larger area. This further leads to pixel distortion, which is not a good thing. Another common reason for the degraded quality of the image is image interpolation.
Interpolation is the technique that software uses to print small images as larger files. Some of the other reasons may include printing technology issues and source resolution problems.