Photo To Anime: Free AI Anime Generator
Convert your photo to anime with Media.io. Choose from a variety of cartoon effects to make your unique anime pictures and attract attention instantly!
Make Anime Selfies Free Online & Ad-free
Media.io is the best photo to anime converter in your brownser, supports converting picture to anime on PC and mobile. 100% free, no downloads required.
Apply Various Anime Effects to your Photos
Turn image to anime of different types including disney, 3D, barbie, retro comic, sketch and more. Create highly cute cartoon faces with artistic aesthetics now!
Revolutionary AI Technology
Media.io, fueled by a state-of-the-art algorithm, empowers you to effortlessly create breathtaking anime-style images that are visually striking and captivating.
Data Safe and Privacy Guarantee
Media.io is a reliable & secure free picture to anime converter. Protecting user privacy with SSL (HTTPS) encryption, personal data is deleted within 24 hours.
How To Convert Photo To Anime With AI In 3 Seconds?
Transform your ordinary photos into captivating anime-style creations with a powerful photo to anime converter like Media.io. Stand out from the crowd by effortlessly cartoonifying yourself and creating a unique digital profile. Whether it's for social media, forums, or chat programs, replace your regular photo with a fun and cool 3D avatar that truly represents your personality. Unleash your creativity to craft your very own personalized avatar today!
Step 1. Upload Your Photo

Select the photo you want to convert into an anime-style image. You can choose a photo from your device or drag and drop it into the designated area.

Step 2. Customize And Preview

Pick from a variety of anime filters to achieve your desired style. Take advantage of the real-time preview feature to see how the changes affect your photo instantly.

Step 3. Download And Share

Download the high-quality anime-style version of your photo and start sharing or using it in various platforms!
Transform Your Selfie into Anime for Eye-Catching Social Media Profiles
Ever wondered how you'd look as a captivating anime character? With media.io Cartoonizer, powered by AI technology, you can now have a personalized cartoon avatar in an instant. Effortlessly convert your selfies into stunning anime-style images that enhance your unique features. It's time to create your own distinctive anime selfies and share them on your Instagram or TikTok profiles! Experience the magic of turning your image to cartoon with media.io Cartoonizer.
Explore Your Desired Anime Effects with a Variety of Filters
Unlock a world of possibilities with our one-click access to a diverse range of anime effects. Transform yourself, friends, or even pets into 3D animated or Disney-inspired characters. Discover professional sketches of yourself or experiment with face swaps in Retro or Barbie styles. You can even turn into your favorite character from LOL. Find out which anime effect suits you best! Try it now!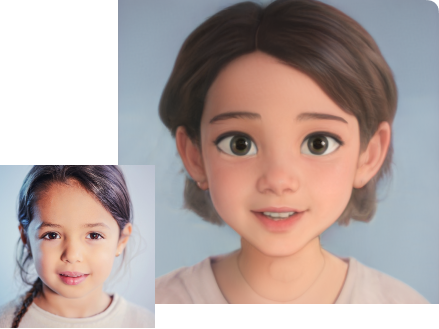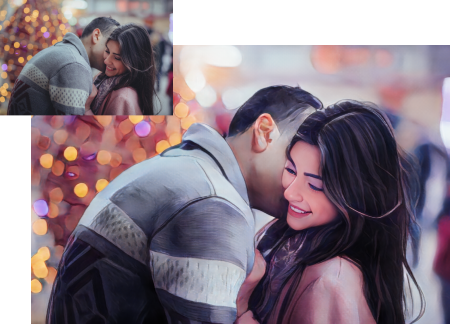 Captivate Your Friends with Unique Couple Cartoon Pics
Dreaming of having beautiful and romantic couple avatars or watercolor paintings? Look no further! Our watercolor filter and realistic pating filter can transform your couple photos into stunning works of art in just 3 seconds. Our powerful algorithm enhances facial features and lighting while preserving the intricate details of your hair. The synthesized anime effect is guaranteed to leave you amazed!
More Than Just A Photo Anime Editor
Powered by AI, besides converting photo to anime, Media.io always provides the most popular online tools to suit your various needs. Explore more funny AI tools to make you look ultra cool!
FAQs About Picture To Anime Converter
1. How to convert a picture into an anime?

Converting a picture into an anime is easy with Media.io Cartoonizer. Simply upload your photo, customize the settings, and generate a high-quality anime-style image in just a few clicks. Our intuitive interface makes the process user-friendly, allowing you to bring your photos to life with captivating anime effects effortlessly.

2. What website turns photos into anime?

Media.io is a reliable and popular website that turns photos into anime. Our Cartoonizer feature utilizes cutting-edge technology to convert your photos into stunning anime-style images. Visit our website and experience the artistic transformation firsthand.

3. What app turns your face into anime?

Media.io Cartoonizer is a versatile solution that turns your face into anime without the need to download any app. Unlike traditional app-based converters, Media.io Cartoonizer is a web-based tool accessible from both desktop and mobile devices. This means you can instantly transform your face into an anime-style avatar directly from your browser, without the hassle of app installations. Additionally, Media.io Cartoonizer offers the advantage of being completely free to use, allowing users to enjoy the photo to anime conversion experience without any financial constraints. Try it out today and unleash your anime-inspired creativity effortlessly.

4. What is the best photo to anime converter?

Media.io's Cartoonizer is widely regarded as one of the best photo to anime converters available. Our advanced algorithm ensures exceptional output quality, bringing out the essence of anime style in your photos. With a wide range of customization options and a seamless user experience, our Cartoonizer stands out as a top choice for transforming photos into stunning anime artwork.

5. Is Media.io photo to anime converter free?

Yes, Media.io's photo to anime converter is completely free to use. We believe in providing accessible and high-quality tools for users to explore their creativity. Enjoy the freedom to convert as many photos as you want into captivating anime-style images without any cost. Start using our free photo to anime converter and unleash your artistic side today.
I love using this Cartoonizer feature on media.io! It effortlessly transforms my photos into vibrant and captivating cartoons.
Sarah

That is absolute a game-changer! I've tried several converters, but this one consistently delivers the best results. It's user-friendly, and the quick deletion of personal data ensures my privacy. Thumbs up!
Mark

As an artist, I'm always looking for ways to explore different styles. Media.io's Cartoonizer has become my go-to tool for creating stunning anime-inspired images. It's free, secure, and the quality is exceptional. A must-have for any creative!
Emily

I'm amazed at how easily media.io's transforms my photos into anime-style artwork. The fact that it's free is just fantastic. Kudos to the team behind this incredible tool!
Jason

More Tips And Tricks For Converting Photo To Cartoon
Discover More
Free to Create PNG and
Transparent Background Online
Convert JPG to PNG and make full HD PNG background with ease.
Upload Image Now