Every color refers to the unique feelings and emotions in human beings. So, the importance of photo color lies in its capability that conveys meaning, emotion, and mood in photos. This is not enough; colors in an image can also enhance the visual impact, highlight certain elements, and lead to a specific atmosphere that provides various emotions to the viewers. Change the photo color if your original image does not have appropriate colors.
Before you work on the methods to change picture color, it is essential to understand photo color and how to make an image appealing and attractive according to content and atmosphere. Representing colors in photos satisfyingly and appropriately is significant for professional photo editors in various categories: fashion photography, product photography, artist, and graphic designing. Color grading and color theory are the two main terms that are essential to know in photo color.
Do you want to learn how to change the photo background color to make your image look appealing? The process of changing photo color in photoshop or other photo editor software involves; Adjustment of saturation and brightness, using color correction tools, applying filters, making fine tuning with selective adjustments, and at the end, saving the edited images. This article will teach you the best methods and tricks to change the picture background color.
Part I. Understanding Photo Color
First, as a professional photo editor, you must understand photo color in printing and digital media. It is fundamental to learn important information about photo colors because you can only change picture color and give a charming look to your image by having complete information about photo color and how to maintain it in an image. In digital and print media, there are two commonly used color models; RGB and CMYK.
RGB

CMYK

Stands for Red, Green, and blue colors.
It stands for Cyan, Magenta, Yellow, and Black color.
Commonly used in electronic displays such as:
· Monitor
· Television
· Mobile Devices
CMYK commonly use in printing such as:
· Offset printing.
· Digital printing
· Screen printing
With the help of the RBG model, various colors are created by adding the blue, red, and green colors in a significant amount according to the resultant color.
With the help of CMYK, various colors are created by subtracting or removing the cyan, magenta, yellow, and black from a white paper in a specific amount depending on the resultant color.
When red, green, and blue colors are added together at their maximum level, white color produces.
By adding all four colors at their maximum level, you can obtain a dark color, especially a rich black.
Color Balance
If you want to create high-quality images with proper arrangement of photo colors, then focus on color balance. Because color balance is an aspect that provides the authority to work on the color arrangement. When trying to change the picture background color into an appealing and attractive one, there is significant to know how to balance color according to requirements such as content, atmosphere, the message you want to convey to viewers, etc.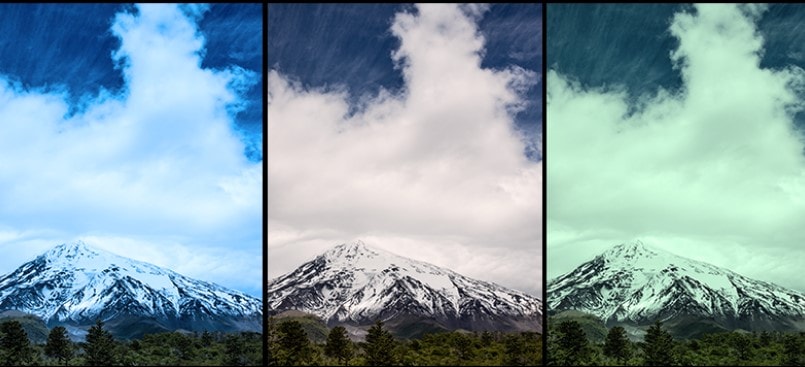 Color Balance refers to the Adjustment of primary color intensity in photos that can be rearranged in such a way as to enhance the appearance of an image neutrally and naturally. If you are unaware of color balance, you can change the picture color into an artificial interference with either too warm or too cool that appears unnatural. It might create a negative impact on viewers.
Color Temperature
The effect that plays a vital role in people's mood is color temperature. By adjusting the colors in any image, we can provide the temperature effect to viewers. For example, your original picture has a substantial yellow effect showing a warm temperature. But you want to give your image a natural and relaxed look, thus, changing the photo color into a cooler one.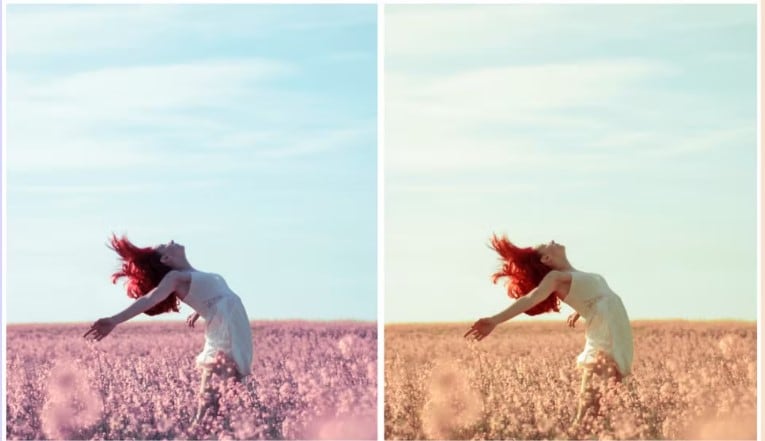 The color temperature impact is significant because it helps photo editors to change photo color online or in any desktop software so you can convey the appropriate mood according to the image interference and content. While keeping the color temperature trick in your mind, it is accessible to attain more compelling and visually attractive photos to impact the viewer's mood positively.
Part II. How to Change Photo Color on Different Platforms?
After understanding the photo color and its importance, it is time to go through the different color change photo editors that provide professional and satisfying results. Although several methods and techniques exist to change picture color, we have arranged the most appropriate and suitable platforms with suitable interference and photo-changing features. Hence, check out the following methods and change the picture color professionally and authentically.
Method 1 - Change Picture Color in Photoshop
In this method, we suggest software that can install on windows and Mac with professional tools to bring mind-blowing results to the image. Change picture color in photoshop because it is specially designed for photographers, photo editors, and graphic designers. Photoshop is a very famous and positively reviewed software with abilities to change image color by adjusting individual color channels. You can also use beneficiary tools such as color saturation or color balance.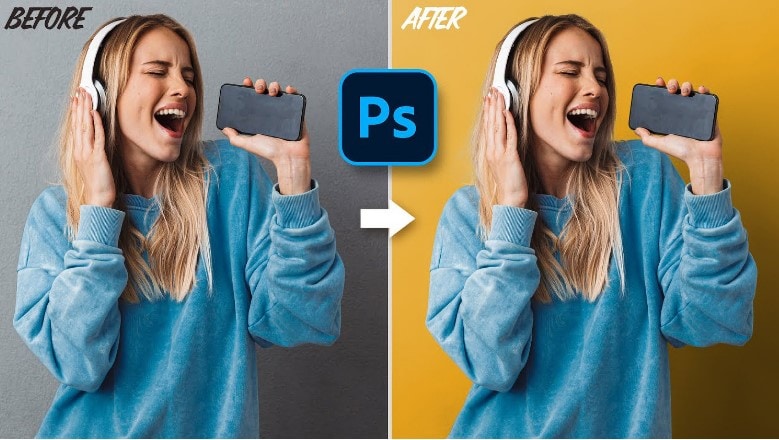 In Photoshop, use the adjustment panel tool to access color balance and adjust the colors on the image. Color replacement tool in photoshop provides an easy way to replace any color in the original image with your desired color. While changing picture color in Photoshop, benefit from the Selective Color adjustment layer or color lockup adjustment layer features to control primary colors and create a wide range of effects in an image.
Method 2 - Change the Picture Color Online
To consume time and make fewer efforts to change photo color online with AI tools and useful features. Several free or subscription-available tools provide the fundamental tips and techniques to change the picture background color in a few minutes. But here, we will discuss the most appropriate color change photo editor online that can bring a visual and charming look to the photos in a natural way.
LightX
Whenever you are looking for a platform to change picture background color online, you desire to experience many tools that can access you to edit photos as a professional, especially when it comes to changing image color. That's why we bring LightX online platform for you, where you can experience a wide range of tools such as color balance, color saturation, color temperature, and many more effects in a single platform.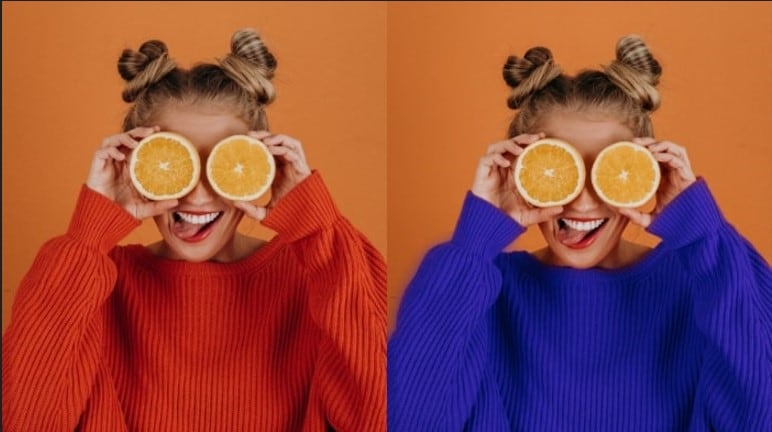 Just like in Photoshop, you can experience a color adjustment tool in LightX where you can make color balancing and adjust color saturation according to the requirements of the image and your desires. If you want to work on a particular area or color in the original image, use the Selective Color tool to adjust to that selected color. In LightX, experience different filters and effects to Change picture color online.
Method 3 - Using Color Change Photo Editors on Mobile
Some people are more comfortable and relaxed when changing the image color on their mobiles instead of laptop or desktop. Thus, in this method, we will discuss the platforms that can be best for mobile users. When it comes to changing the picture background color on Mobile, there are excellent platforms for both Android and iOS.
(Android) Colorize - Color Changer
In the android version, you might get a large variety of applications to change image color, but not all provide satisfying results. Colorize is a color-changing application with a wide range of features specially designed for digital work. By adjusting the brightness, contrast, color saturation, and color temperature, you can enhance the quality of the image within a few minutes. This color change photo editor allows you to work precisely on your image.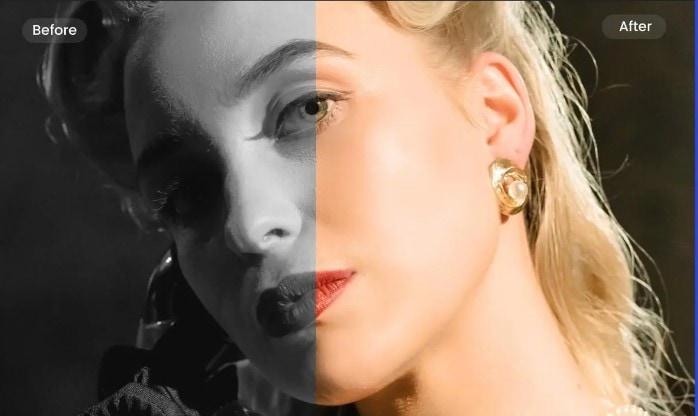 Along with digital work, this application is perfect for professional photographers, graphic designers, photo editors, and every person who desires to give a touch to make the image more visual in a natural way. You can edit the photos smoothly with features and tools in Colorize, but remember that your skills play a vital role. Colorize provides you with the effects and features, but you must adjust the color and use effects properly.
Key Features
Colorize includes various preset colors, themes, and styles that can be applied to change an image's appearance concerning its colors.
Enjoy social media integration and directly share your edited image on social media platforms such as WhatsApp, Facebook, Instagram, and Twitter.
With the help of advanced color correction technology, achieve the best result by working on color saturation and color balance adjustments on the image.
Some other special effects can help enhance an image's charming look. These special effects are Noise reduction, blur effect, and vignetting.
Experience friendly interference in Colorize with a proper guiding tutorial for beginners to

change image color

in different formats.
iOS Photos - The Built-in App on iPhone
If you are an iOS user, you can also get one of the top-rated color change photo editors. The Photos app is a built-in application available for iOS users. It is an innovative app that allows users to capture images or videos and provide access to change the picture background color.
Users can experience all the necessary tools and features required to change photo color professionally while preserving its natural look. Thus, iPhone or iPad users don't need to purchase a subscription to any platform to achieve the desired and satisfying results; they can use this color change photo editor, work on various aspects with their skills, and adjust the color in photos.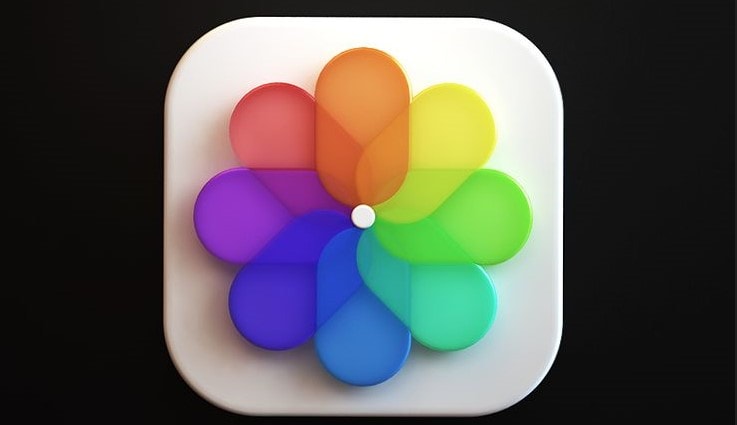 Key Features
The editing tools in Photos come up with different features such as photo editing, image cropping, rotation of the image, and Adjustment of color.
Different kinds of filters and effects adjust the exposure, brightness, and contrast of images.
Experience the memory option that automatically creates and personalizes the photos and videos into a collection based on time and location so you can enjoy the memories.
iOS Photos is directly integrated with social media platforms that allow users to share their images with friends on various social media apps such as Instagram, Facebook, WhatsApp, and Twitter.
FAQs
1.How to Change the Photo to Black and White?
Depending on the different platforms, there are several methods to change photos to black and white. The applications and online websites that provide color-adjusting features also give the techniques and tools to change pictures to black and white. Some unique methods and tools are involved in changing image color. Check out the following procedures you need to use while removing the color from the picture and turning it black and white.
Desaturation: This technique helps you to remove the information regarding color and turn the photos into black and white.
Black and White Adjustment Layer: Here, you can adjust the contrast and brightness level on a specific photo area to generate an appealing image with black and white effects.
Grayscale Tool: A mathematical tool determines the value of the used color in the image. Grayscale is available in many photo editing software that helps to

change photos to black and white

by assessing the value of colors in the original image and removing them.
2.How to Change the Picture Background Color Online?
To change the picture background color online, a straightforward method applies to almost all photo editor platforms online. First, you must create an account on any specific photo editor website to get access. Upload the image you want to use to change the picture background color and wait until the software processes the image and removes the background automatically using the AI tool.
Now, you can quickly get a new background, whether wallpaper or a simple color. Hence, you are done. Save your project once you think your editing looks perfect.