If you love to download songs with no vocals online, you may have noticed some limitations that hinder the smooth downloads of your favorite track music. These include copyright claims, budget limitations, and the downsides of free trial versions of such music.
Do not let these issues discourage you, as you can still carry out your instrumental music download if you want. The best way to achieve this is by using a vocal remover online to remove vocals from a song effectively.
This blog will give you the newest, best, free voice removers that will get the job done without losing audio quality.
Part 1: What is an Online Vocal Remover?
If you are in the mood for some karaoke-style music, or you need the instrumentals to a song to do your song cover, or you just want to mix the beats to a song to create another version, then you will need a Voice Remover. However, you may need to remove the vocals from a song urgently. That is where an Online Vocal Remover becomes useful.
An Online Vocal Remover is that crucial aspect of enjoying the karaoke version of songs at events, bars, studios, or home. But, more importantly, having an efficient voice remover will ensure that you want good music without vocals.
It uses Artificial Intelligence (AI) technology whereby the engine has been trained to separate audio songs into different stems, including vocals, bass guitar, drums, and other instruments. AI technology understands music as trained to do through daily deep learning. This continual training and listening to music births the separation technology that can be done in seconds or minutes, depending on the Online Vocal Remover in question.
Find below examples of how AI voice separation works on Online Vocal Removers:
Part 2: Top 10 free Vocal Remover Online [easy-to-use]
The following are our recommended ten best free vocal removers you can find online:
Media.io Online Vocal Remover is surely a powerful voice remover. It works instantly to remove vocals from any audio of your choice using its AI technology. It allows you to remove vocals from up to 10 audio files with a maximum file size of 100MB, which is a big plus for most music lovers.
If you use Media.io AI Vocal Remover, you stand a chance of enjoying great features such as the following:
It has an ultra-speed whereby vocals are removed from audio songs in a one-step process. Also, this karaoke maker is super easy to use.
The Artificial Intelligence embedded in this tool has been trained to understand music and efficiently extract the vocals from the actual song, leaving the music for personal use.
You can be assured of the original high quality your song came with. Thus, Media.io Vocal Remover does not decrease the output quality of your audio song.
It supports audio and video formats like MKV, MP3, MP4, WAV, M4A, etc.
The results of voice removal by this tool can serve different scenarios and purposes, such as for entertainment through karaoke, relaxation (meditation or sleep music), and music production.
You can also use other features to combine different music tracks, make a stunning music video and convert the audio to video.
The guidelines below will assist you in voice removal online with Media.io Vocal Remover:
Step 1: Upload the audio file to the home page. Do this by either copying and pasting the video URL to the site or clicking Choose Files to add the files to the page.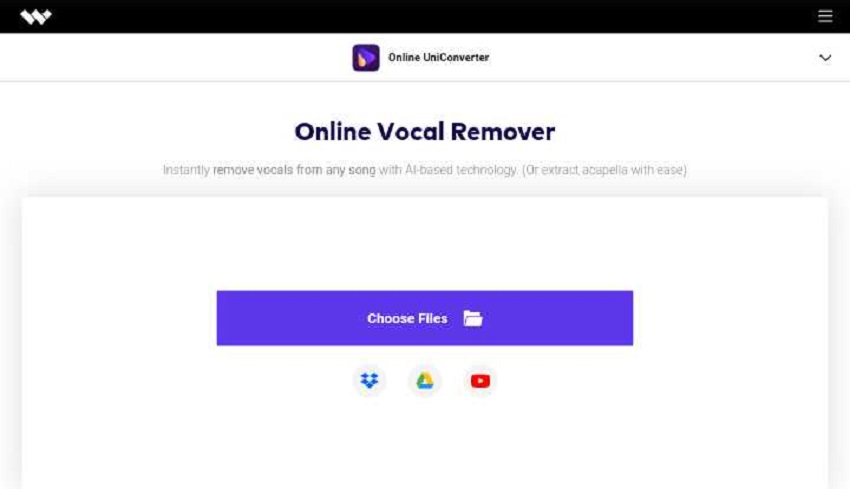 Step 2: Once you have uploaded the audio file, the AI technology will automatically remove the vocal from the song. It takes a few seconds to complete.
Step 3: You can preview the extracted instrumental track and Acapella version before you save or download.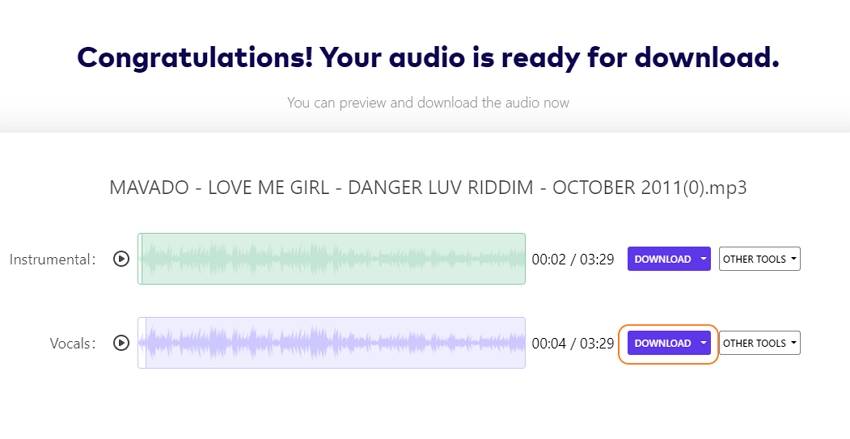 Vocal Remover and Isolation is also an online free tool that helps you separate the voice from the music you want to download to your music gallery. This, it achieves through the use of practical AI algorithms. It is a karaoke maker because it uses powerful AI algorithms to remove the vocals from the song you upload on the website.
At the end of this vocal removal and isolation tool, you will get an acapella version of the song (i.e., just the song vocals) and the karaoke version of the song (music without lyrics). All these can be achieved for free and within ten seconds, which demonstrates excellent speed.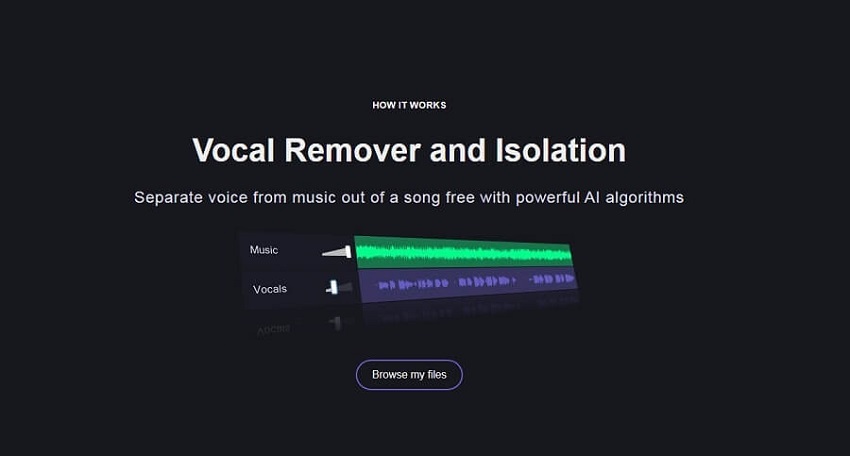 From the name of this online vocal remover, you can tell what it has been initially designed for: the removal of vocals from songs. However, AI Vocal Remover effectively extracts the instrumentals only from a downloaded song, making it a Karaoke maker. All you need is to add the track music of your choice to the website and let the voice remover separate the vocals from the audio song itself.
AI Vocal Remover supports audio formats such as MP3 and WAV. The tool takes about 15 seconds to complete one vocal removal from a song.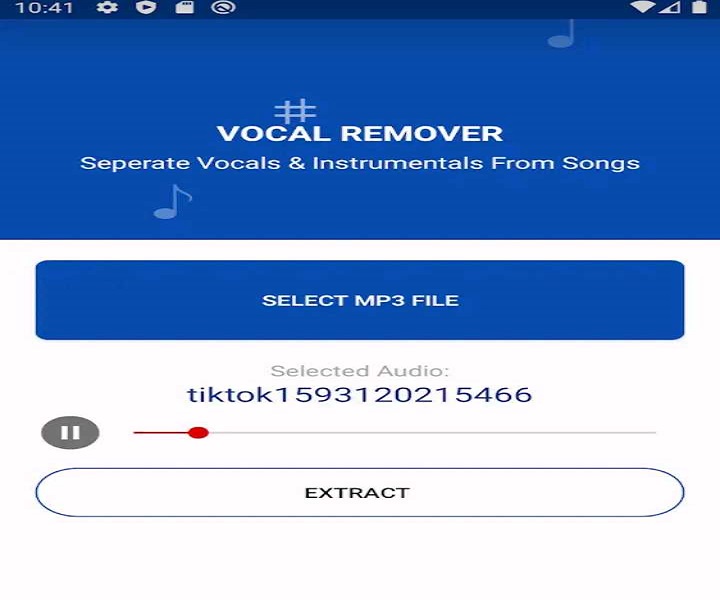 Vocali.SE is another newest free voice remover online that works only for audio files. With the tool, you can create a karaoke version of your downloaded track music. You do not have to register an account, pay for service, or download software to use Vocali.Se. However, you will find a button for donation on the site's homepage if you wish to contribute to the tool's continuous free and online existence.
This vocal remover takes less than two minutes to separate the vocals from your uploaded song, and it can process up to 20MB of audio song or songs that are as long as ten minutes in length.
Here is how to remove vocals from a song using Vocali.SE:
Add an audio file from your device to the website.
Select the option to separate the vocals from the music.
Let the tool automatically separate the voice from the song.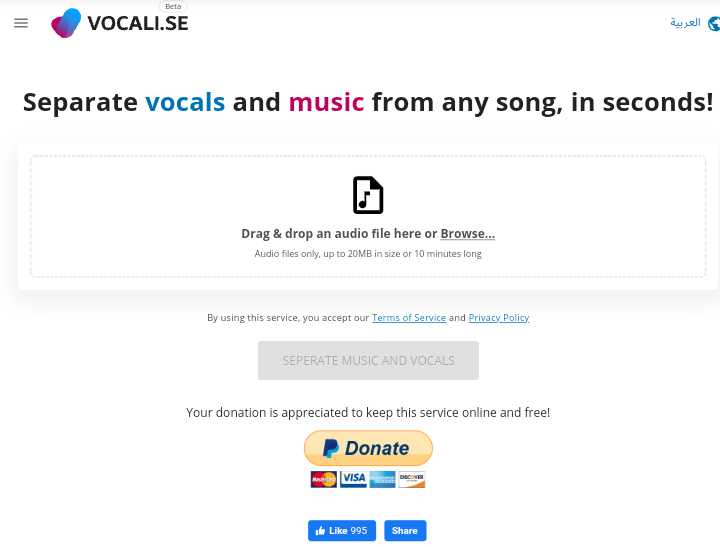 Lalal.ai is an online vocal remover that extracts vocals from your track music and at the same time extracts other accompanying instruments such as bass guitar, drums, piano, etc. Its top-notch AI technology ensures that the quality of audio you get at the end of the voice removal is still as high as the originally-uploaded audio.
You can choose from its three processing levels after adding the file you want to separate on the site; these levels include mild, normal, and aggressive. You can download a sample of the work on the website before you give it a try with your audio song.
Remove the vocals from your favorite song in three steps with another excellent newest free tool: Edit your Audio. This tool is free, easy, and fast. Once you upload your audio song, it processes immediately, removing the vocals from the uploaded song. Next, you can download the instrumentals and use them as you please.
So, do you want a karaoke version of your favorite songs for the next event you are hosting? Edit your audio is the best tool you can rely on to deliver the best instrumental and acapella versions of the song. You can also use the extracted sounds as minus one track for a DJ mix or as stems for the production of other track music.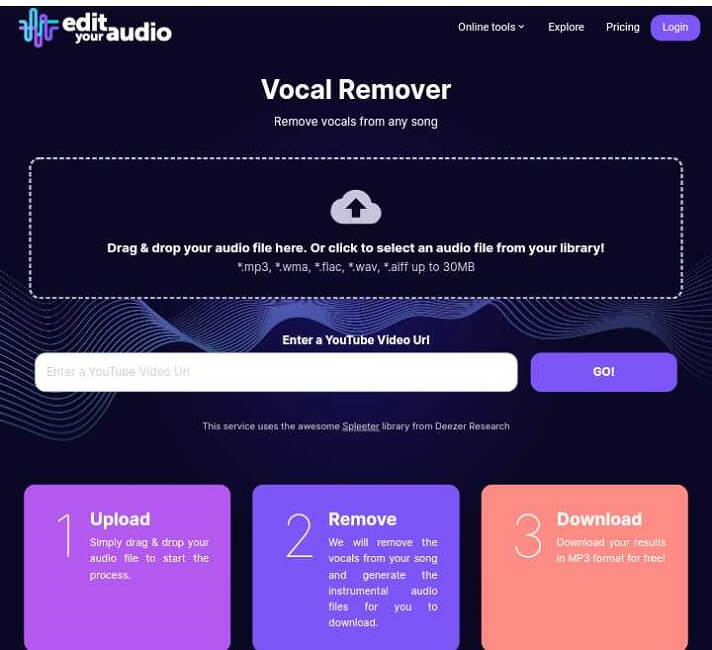 MazMazika is another online vocal remover that lets you upload MP3 audio files and paste the link to the song whose vocals you want to remove. File processing and vocal removal take between one to three minutes on MazMazika. The processed audio file is then kept in a Zip file, and you can download it for future use.
The tool was first designed as an online AI vocal remover, and now it has been transformed into the first online AI Stems separator. The stems include vocals, accompaniment, bass, drums, and piano, amongst other instruments.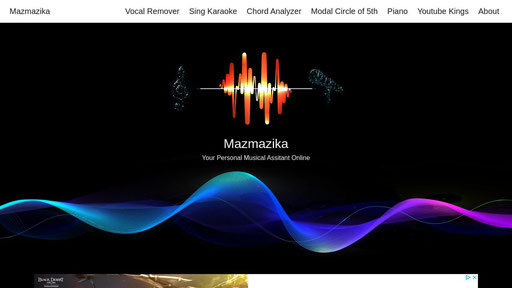 Another new best vocal remover you can use is DeMixor. DeMixor is AI-powered, and it gives you a clean output of instrumentals like drums and bass, removed from the whole song. It works in seconds, just like magic! More importantly, it is a free tool. However, for the complete package, you are advised to make a purchase.
With DeMixor, you can download the audio file you have separated without compressing the files.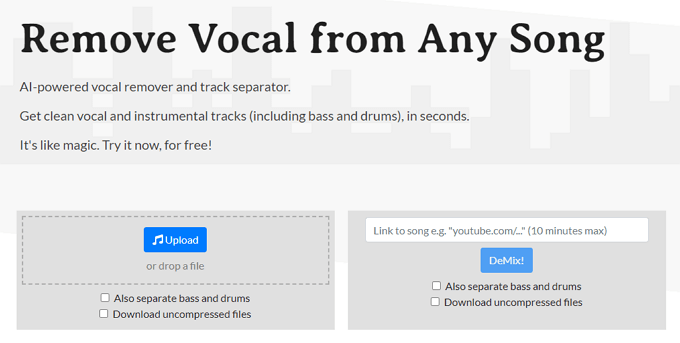 Use the amazing PhonicMind to separate drums, vocals, bass guitar, amongst other instruments, from your audio songs. This tool has a State of the Art AI instructed to remove the vocals from your song, giving you track music you can enjoy without the vocals. You can as well practice how to play your favorite instruments from the separated instrumentals.
You can run covers with the instrumentals that are left of the song after removing the vocals. PhonicMind can be downloaded on both the app store (for iPhone users) and Google Playstore (for Android users). With the app, you can remove vocals from your song offline.
If you are looking for an instant Karaoke maker and you cannot afford to download a vocal remover app, then Vocal Remover Pro is the best online tool for you. It speedily removes the vocals in your audio sound and works well for music tracks from YouTube.
It removes the singings from the song and generates a karaoke version for you to download and use online for song covers, music production, instrumental practice, etc.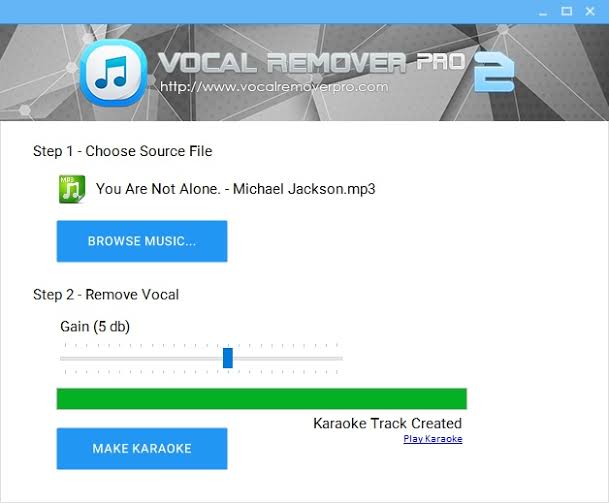 Part 3: Comprehensive comparison of 10 excellent Voice Remover Online
Name
Supported Formats
File Size/Length
Downsides
Best for
Media.io AI Vocal Remover
WAV, M4A, MP3, OGG (audio formats) and MP4, MKV, MOV (video formats).
100MB
The free version is limited in features, but you can register account to enjoy the more benefits. It could be the most cost-effective.
Music production, vocals mix, relaxation, entertainment, etc.
Vocal Remover and Isolation
MP3, WAV (audio formats)
30MB

1. The cost of service is high.

2. It is complex to use.

Meditation music, study, and sleep.
AI Vocal Remover
MP3, WAV (audio formats)
30MB

1. You only enjoy three free trials, and afterward, you must pay for the premium version to continue usage.

2. Ads are part of the free package.

Entertainment and music production.
Vocali.SE
MP3, M4A, WAV, FLAC, and OGG (audio formats)
20MB or 10 minutes at most.
The output quality is sometimes lower than the original audio song's quality.
Wedding ceremony, birthday parties, festivals.
Lalal.ai
OGG, MP3, and WAV (audio formats)
50MB or 10 minutes maximum audio length

1. The free version is limited in features and capacity. Only the paid version ensures full use of the tool's abilities.

2. Speed is limited in the free version.

Karaoke, music covers, entertainment.
MazMazika
MP3 (audio format)
60MB
It can prove complex to beginners and those who are not tech-savvy.
Music producers and for song covers.
Edit your audio
WMA, FLAC, AIFF, MP3, WAV (audio formats).
30MB
Ads interrupt smooth navigation of the website.
Relaxation music such as sleep music, study, meditation.
DeMixor
PCM, WAV, FLACC, MP3, AIF, M4A (audio formats)
50MB audio file size.
The free version is very limited in functionalities compared to what the tool can do with the purchased version.
Karaoke and song covers.
PhonicMind
MP3, FLAC, AAC, AIFF, WMA, WAV (audio formats)
100MB

1. The app needs more work as it is not as effective as the website.

2. There is no means to download or save the file.

Song covers, karaoke, entertainment.
Vocal Remover Pro
OGG, M4A, AC3, MP3, AAC, (audio formats)
9 minutes' files of not more than 100MB
The Vocal Remover Pro software has a superior quality compared to the online tool, so you cannot enjoy speed and quality at the same time.
Music production, instrumentals practice, song covers.
Conclusion
To remove vocals and lyrics from your favorite audio sounds, you need a vocal remover that has been tested and proven to be effective. That is why this article has brought you the newest ten best vocal removers online, so you don't have to make the mistake of choosing voice removers that do not effectively remove vocals from songs. Now you can enjoy creating song covers, mixing sounds and instrumentals, and relaxing to soft music while you sleep.