Video making is more and more common now days whether you're a YouTube creator, a vlogger, or just someone who likes to capture moments on video, we all have one thing in common: we want our videos to look as clear as possible. As a video editor, you need to be focused and equipped with all tools to show your best proficiency.
Unfortunately, blurry videos are an inevitable part of the equation. Whether it's due to shaky hands or bad lighting conditions, videos can quickly become ruined if they aren't clear. Fortunately, there are ways to combat this issue and make your videos look as good as new. In this blog post, we'll discuss the best methods to sharpen and clean your videos to make them look crisp and clear.
Part 1: Useful Tips to Clear Blurry Video
If your videos are looking blurry, there are a few things you can do to try and fix the problem. There are a few things you may do to try and fix the issue if your videos appear blurry. First, check the resolution of your video. If it is adjusted too low, it will be hazy. Next, try viewing the video on a different program or player.
Depending on the program being used, the video's clarity can occasionally change. Third, think about adjusting the playback preferences on your device. If the problem persists, look over and test out the recommended tools and programs to rapidly enhance the quality of your video.
Part 2: Recommended Apps to Clear Blurry Videos on Mobile/PC
There are a few things you may do to try and fix the issue if your videos appear blurry. Check your video's resolution first. It will be fuzzy if it is set too low. Try playing the video in a different application or player next. Sometimes the clarity of the video can vary depending on the program used. Third, consider modifying your device's playback settings.
You've come to the right place if your videos are pixelated, blurry, or otherwise bad quality because Media.io is the most widely used and regarded AI video enhancer. One of the best programs for quickly sharpening your videos and enhancing their quality is Media.io AI Video Clearer.
Main Features:
Transform blurry videos into HD masterpieces in a single click.
Improve the video quality by AI improving resolution or adjusting color settings.
Super quick processing.
Support Systems:
Android, iOS, Windows, Mac, Linux.
Pricing:
Free to use.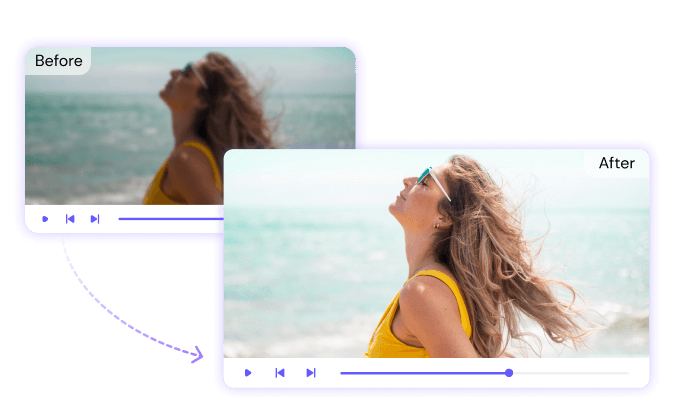 2. Blur Video and Photo Editor
Due to its awesome features, the Blur image video editor is well renowned. Your videos will be more engaging if you apply a blur effect. The ability to modify the level of blurriness is this tool's strongest feature. The details of this outstanding application are provided below.
App Link: Blur Video and Photo Editor

Main features:
Blur the image.
Adjustable area selection.
Specify the duration of the blur area.
 Support systems:
Android and iPhone
Pricing:
It offers a free trial before you purchase. If you want to purchase it starts from $ 9.99/month.
3. VdPrime Video Enhancer
While a good video editing program can sharpen films, eliminate blurriness, enhance crispiness, and save you time, the best video editor to use if you want to get everything done at once is Vdprime Video Enhancer. In only one click, your memories are restored.
Link: Vd Prime Video Enhancer
Main Features:
Turn Old damaged video into HD video
Restore videos
Support Systems:
Windows and android
Price:
Its trial is free.  $5.99/month.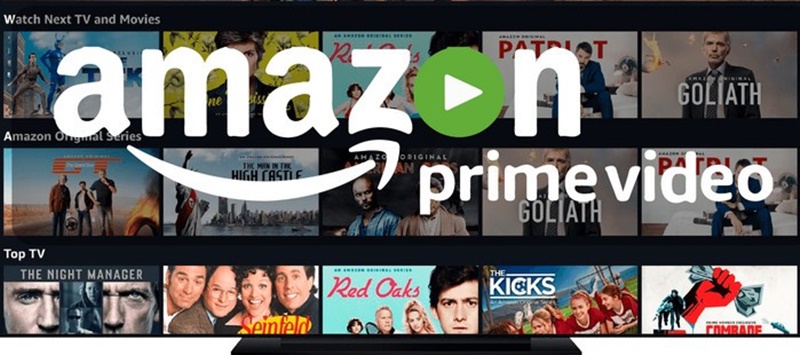 Part 3: Top Useful Tools to Clear Blurry Videos on PC
Making videos has become increasingly popular in modern times. Everyone wants to keep a remembrance journal. Some people do it as a hobby, while others are skilled video editors who use it as their primary source of income. Now that numerous programs can be used to fix fuzzy movies on PC, you are only a click away from becoming a good video editor. There are various video enhancement tools available, such as Topaz Video Enhancer, pixmap, isize, and others.
Using these tools, you can enhance the video's quality by boosting its resolution and erasing any blurring that might have happened while it was being recorded. If you don't mind spending some cash, several premium video editing programs include great features for enhancing video quality. A couple of the most popular choices are Adobe Premiere Pro and Video Enhancer.
1. Video Enhancer AI
Video Enhancer Ai is the best program for upscaling videos and is extremely user-friendly. If you create videos and edit them with the Video Enhancer Ai tool, magic is in your hands. This program performs an excellent job of minimizing blurriness and is made to enhance the quality of your movies. Simply choose the video you wish to improve, and the program will handle the rest. Your professional video is only one click away.
Web Link: Video Enhancer AI
Main features:
Ability to improve the quality of the video.
Add effects and transitions.
Covert the video in a different format.
Upscale video from SD to HD, HD to 4K
Upscale low-resolution videos on the large screen.
Trim your footage.
Supported systems: Windows, Mac, or any PC with an online connection.
Pricing:
The pricing of AI Video Enhancer is very reasonable compared to other video editing software. It offers a free trial system so that you can try it before you buy it. It offers €11 / month standard charges.
2. Adobe Premiere
You are only one click away from realizing your ambition of becoming a professional video editor. A robust video editing program with many capabilities is Adobe Premiere. It allows users to produce expert videos. Using the Adobe Premiere tool will give your films greater crispness, which will draw in more viewers. You can give your project the ideal look with Adobe Premiere. The professional's preference is Adobe Premiere.
Web Link: Adobe Premiere Pro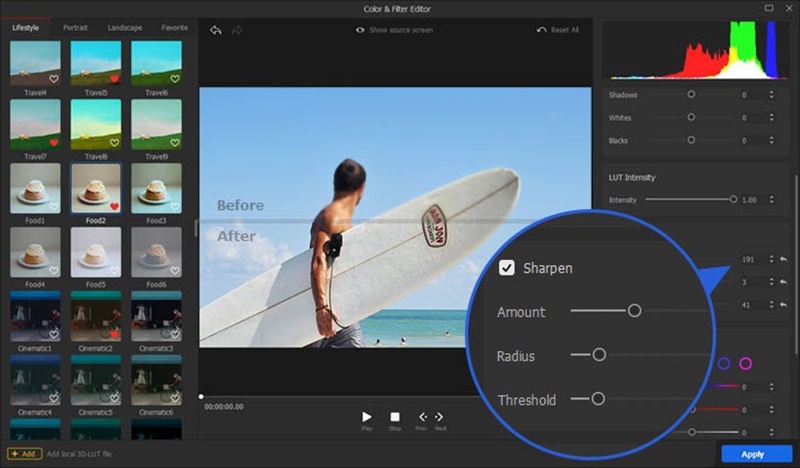 Main features:
Support various videos and audio formats.
Professional-level editing with timeline editing capability
Wide range of effects and transitions.
Multicam editing is available
Color correction and color grading
Audio mixing with other audio editing options
Supported System:
Windows and macOS operating systems.
Pricing:
Pricing starts from 20$/ month or 299$ for a one-time purchase.
3. VideoProc
Another excellent choice is VideoProc if you want to enhance your movies more, eliminate noise, and make them look more professional. Your video can be edited without sacrificing quality. It has a variety of features that make it simple to achieve the ideal outcome. It is a quick and simple program that may quickly correct your low-quality films. Due to its distinctive qualities, it is well known for Vlogging.
Web Link: VideoProc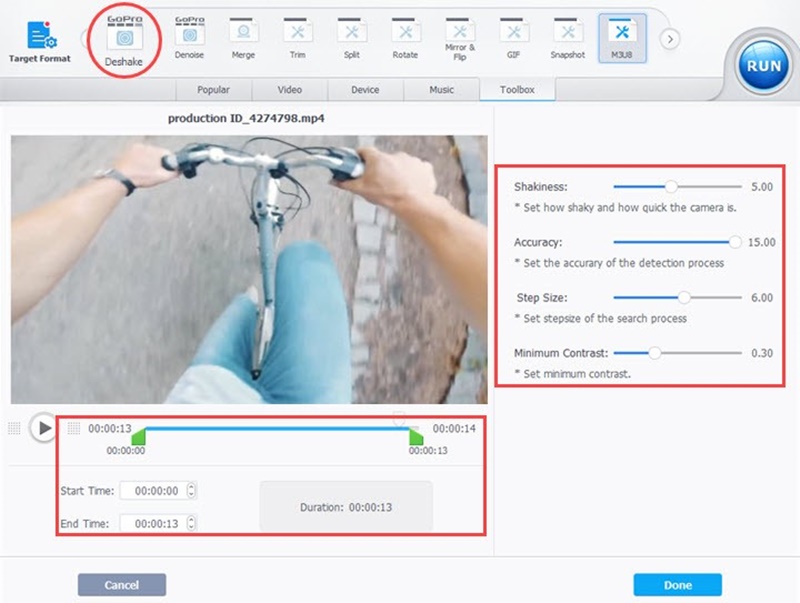 Main Features:
Cut, rotate, and the crop is available
Fix fisheye or any other basic video editing
Remove noise as well
Compress video option is also available
Supported Systems: Windows and macOS
Pricing:
It offers only a 5-minute free media file trial with basic features.
Its packages start from 25.95$ to 57.95$.
Part 4: Alternative Tools to Clear Blurry Videos Online
You can fix blurry video whether you're viewing it on an Android device or a computer. You can download a video player that supports HD playback for Android users as one alternative. This will guarantee that the video is being played back in the best quality possible, decreasing the likelihood that it may appear blurry.
Another choice is to utilize a video editing tool to enhance the video's quality before playback. If the original video is of poor quality or was overly compressed this tool can be useful. There are a few different ways to fix blurry videos for PC users. One is to change the media player's settings so that the video is being played back in a higher quality.
A different choice is to utilize a video editing tool to enhance the video's quality before playback. If the grainy video persists, you might try downloading a plugin or piece of software designed to enhance the playback quality of videos.
1: Flixier
Another option for enhancing your videos is Flixier. It not only enhances the quality of your video but also has several filters that add to the appeal and enhancement of your footage. Using Flixier can let you create memories and add more beauty. Flixier gives you free online access to get the maximum benefit.
Web Link: Flixier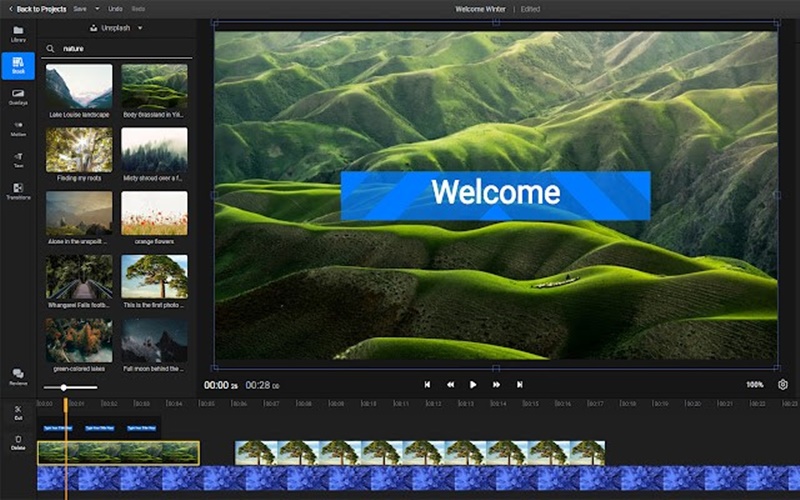 Main features
Powerful video quality enhancer
Free online access to enhance video
Variety of filters
Video resolution enhancer
Support Systems:
It works from windows and Linux to Mac and chrome books
Pricing:
It gives you free access but for pro and business, it ranges from $14 to $30/month.
2: Clideo
If filming videos is your pastime or your profession, you probably want to give your recordings a professional appearance. However, a fuzzy, blurry, and low-quality video is always annoying, so here is the ideal solution: Clideo.
Website Link: Clideo
Clideo has a huge number of features. You don't need to worry if you accidentally forgot to save a video you made with a blurry or dark background because Clideo may be used to edit it. It is another superb platform for editing videos. It works online as well, so you may use it without downloading anything. Here are its other top-notch features:
Main Features:
Merges and compresses videos
You can add subtitles
Media Library for new effects and objects
Support HD resolution.
Resizing options are available
Supported System:
It works on Linux, Windows, Mac computers, iOS, and Android
Pricing:
$9/month to $72/year