The picture with unwanted parts downgrades the attractiveness and user engagement. For this reason, it is important to take some initials to remove part of the image that is impacting it in a wrong way. There are many online object removal tools that can help you regarding this issue. However, not all of them can be best in their domains.
Thus, to minimize the hassle of finding good image part removers, this article is here for you. You can find the top 5 tools that can help you optimize the image without losing a bit of its quality.
Part 1: 5 Best Ways to Remove Part of Image Online
The number of image part removers is not limited to some specific point. You can face serious difficulties while finding a good tool that helps personalize the image. Yet this difficulty can be eradicated with the help of this part. Here you can find top-notch online tools that can help you cut the unrequired parts of images.
Furthermore, you will also learn about their complimentary key features and the process of how to erase part of a picture. Thus, look below to find out more about these innovative tools:
Undoubtedly, AniEraser stands above the list of image part removers online. With this high-end tool, you can make the outlook of the image more professional and up-to-date. Moreover, it's the perfect app to cut out unrequired parts of the picture in a modernized way. One of the best things about AniEraser is using it on multiple devices.
A point to note here is it offers several versions for the ease of the user. You can use its desktop version if you want to work without interruptions. The online version is best for those who don't want to compromise the space on their device. If you are in a hassle and have limited time to remove part of the images, go for its mobile version.
Key Features of AniEraser
You can use all the versions of AniEraser in an unlimited manner by buying one license. This one license will be compatible with all versions and platforms.
With AniEraser, you can not only work on images, but it also allows you to remove unwanted objects, text logos, and persons from videos.
Customization of objects for removal to derive desired results is also straightforward with AniEraser. Even a newbie without technical knowledge can use this AI tool.
How to Erase Unwanted Parts of Image with AniEraser
Step 1

Open AniEraser and Add the Image

Access the online version of AniEraser from your Chrome browser and click "Upload Video or Photo." From the new screen, click the "Upload" button and add the image of your choice.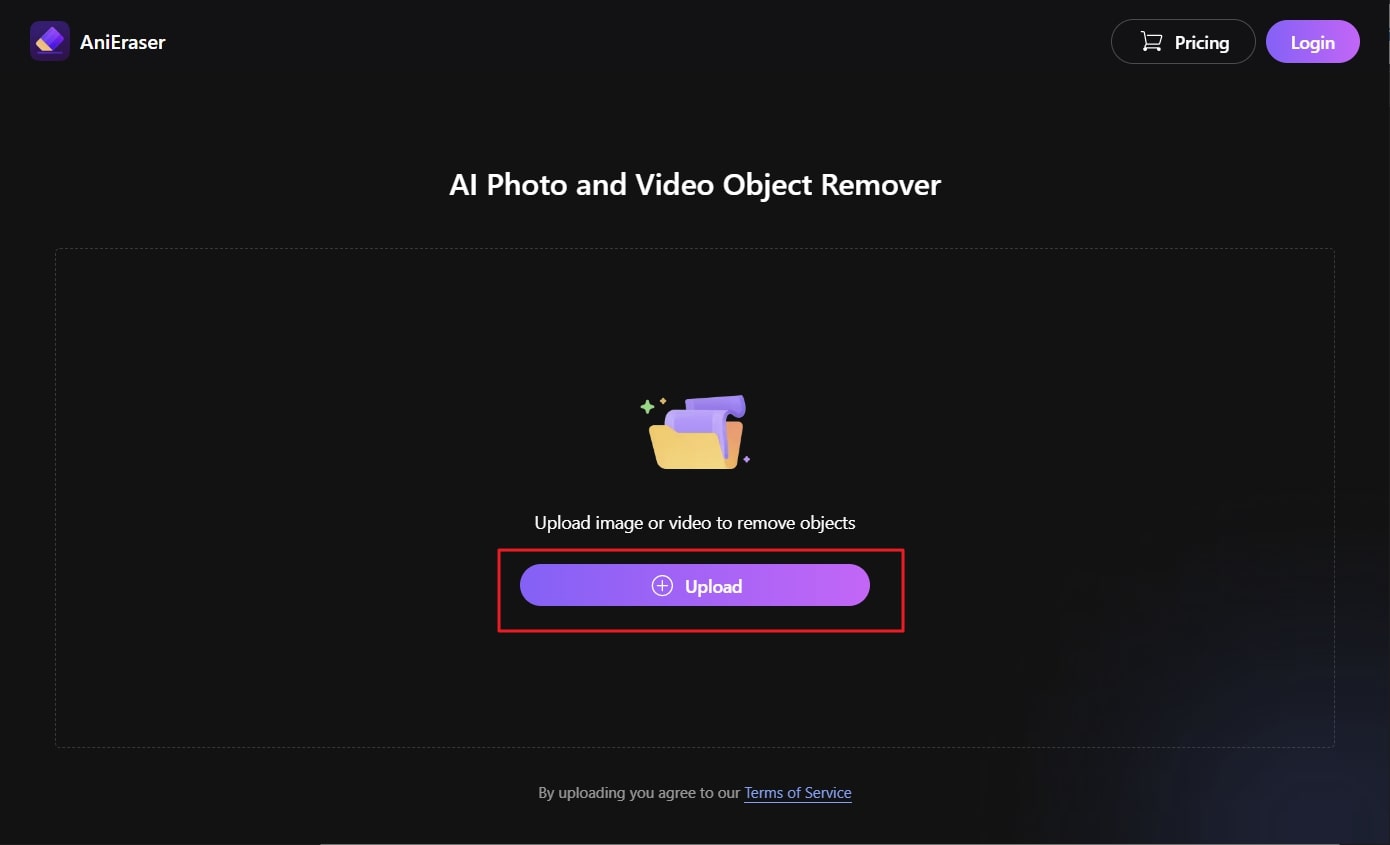 Step 2

Remove the Unwanted Part of the Image

After this, highlight the area that you want to remove with the help of a cursor. You can also manage the "Brush Size" with sliders and zoom in and out of the photo. Once the unrequired area is selected, press the "Remove Object Now" button.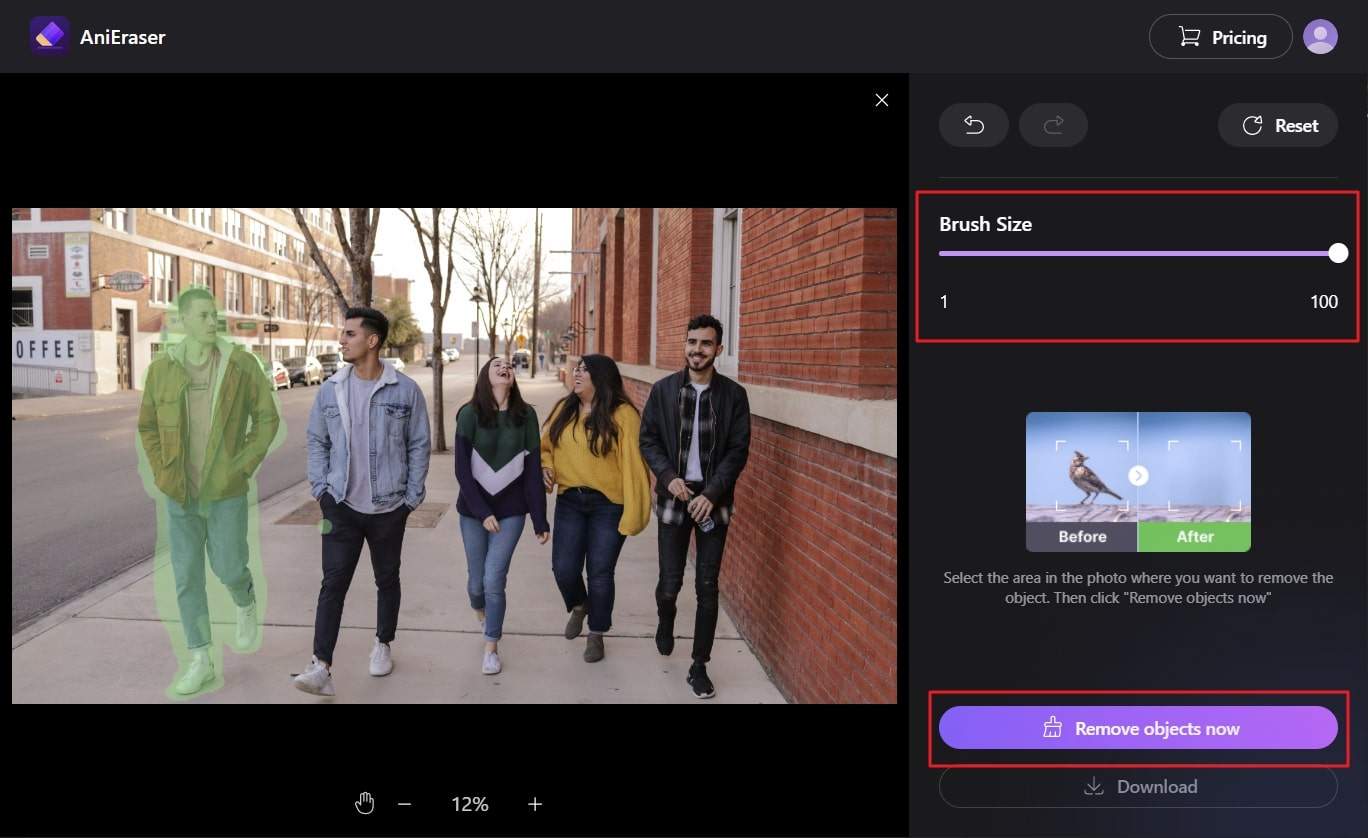 Step 3

Save the Image in the Device

Wait a few seconds until the process is completed, then click the "Download" button. By this, the image without any unrequired parts will be saved in the device.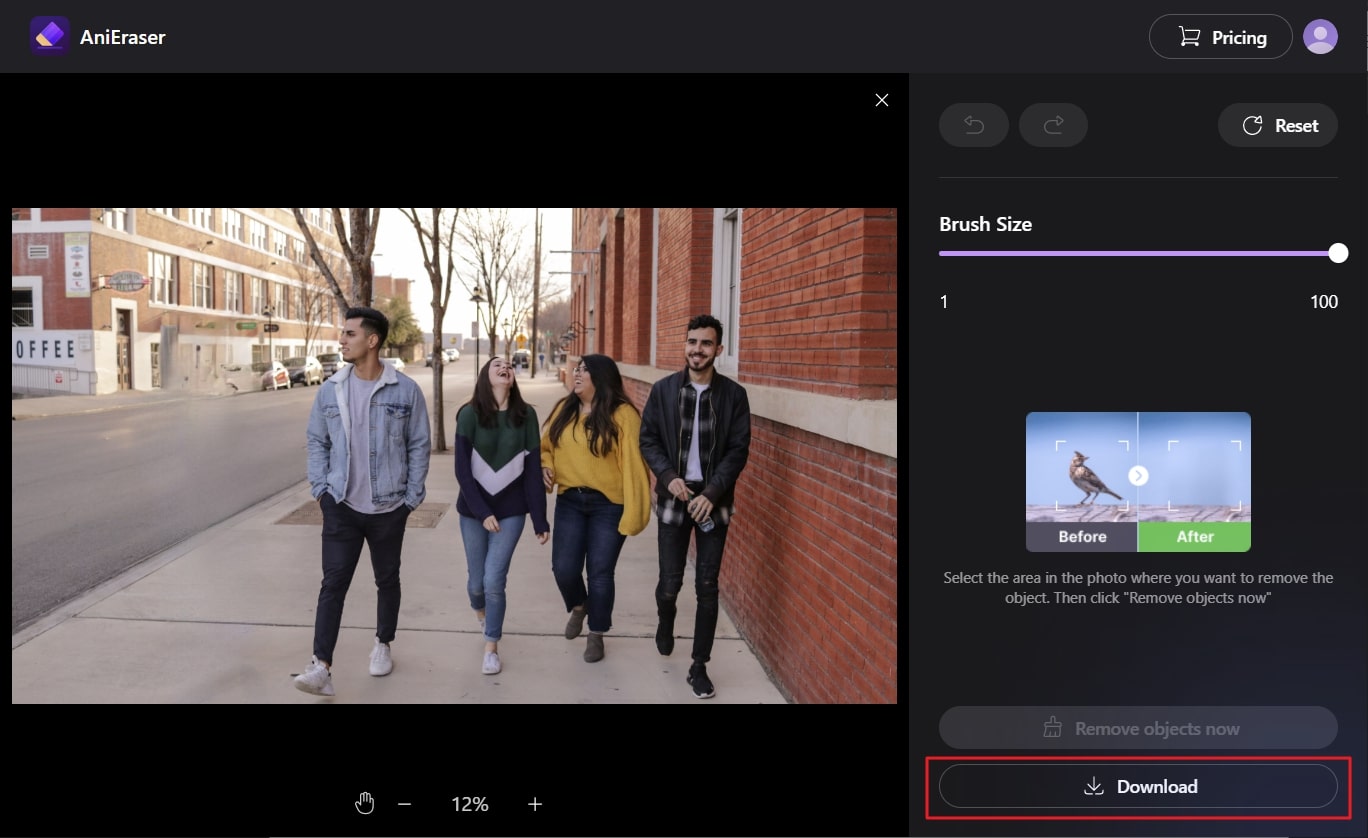 Do you want to remove part of the image with the help of a reliable online tool? Worry no more because Cleanup.pictures can help you in this scenario. With this tool, you can accomplish the task in a few seconds. It is beneficial for real estate, developer API, and creative agencies. Photographers can also use this innovative creation to give the pictures a state-of-the-art look.
Key Features of Cleanup.pictures
With this image part remover, you can remove stamps, watermarks, text, logos, people, and other distracting factors from your images.
You can also edit the background of your pictures to make them more captivating.
All the pictures that will be edited with Cleanup.pictures will have a high resolution as it also has high-quality refiner.
The Procedure of Removing Unwanted Parts of Images with Cleanup.pictures
Step 1
Open your web browser, search for "Cleanup.pictures," and launch the site. Now, drag the image from which you want to remove part into the interface of this tool.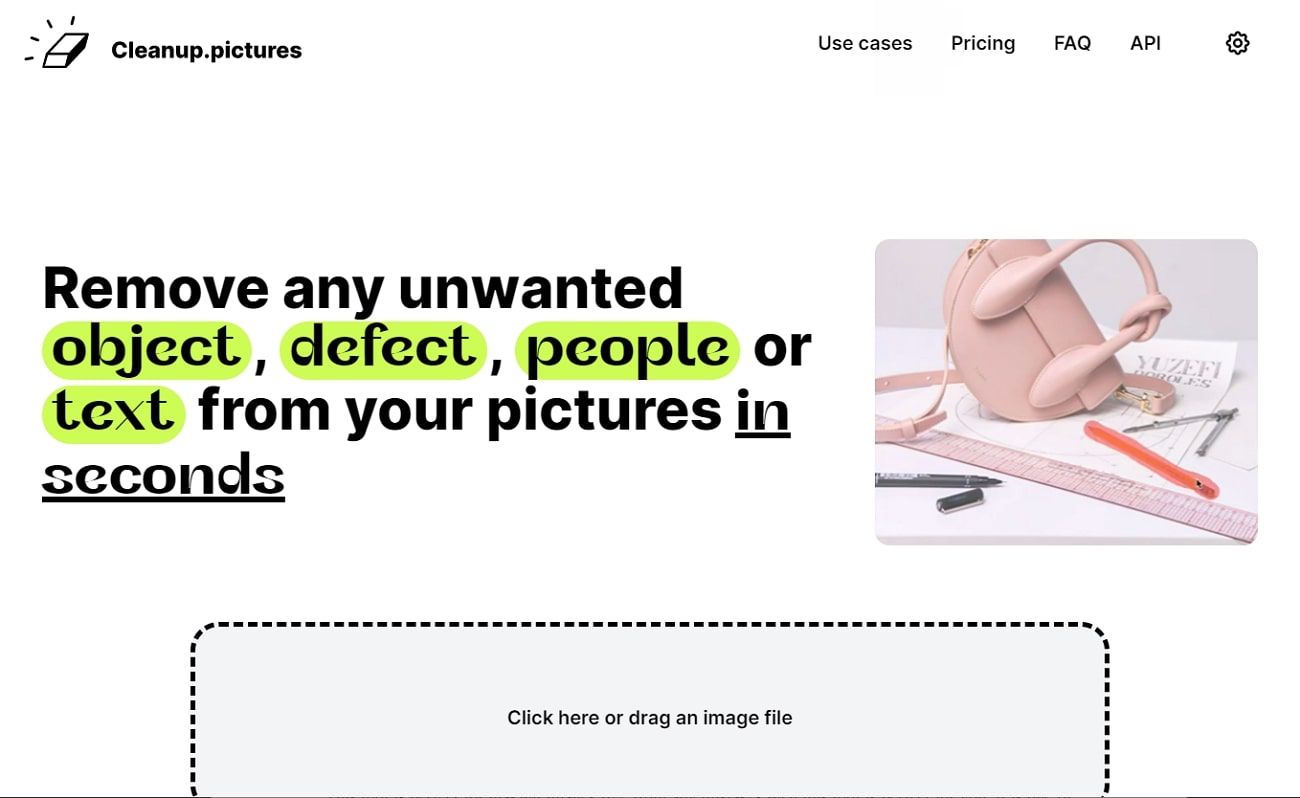 Step 2
Once the image is added, customize the size of the brush and highlight the unwanted area to remove it. After this, click on the "Download" button from the upper right on the screen.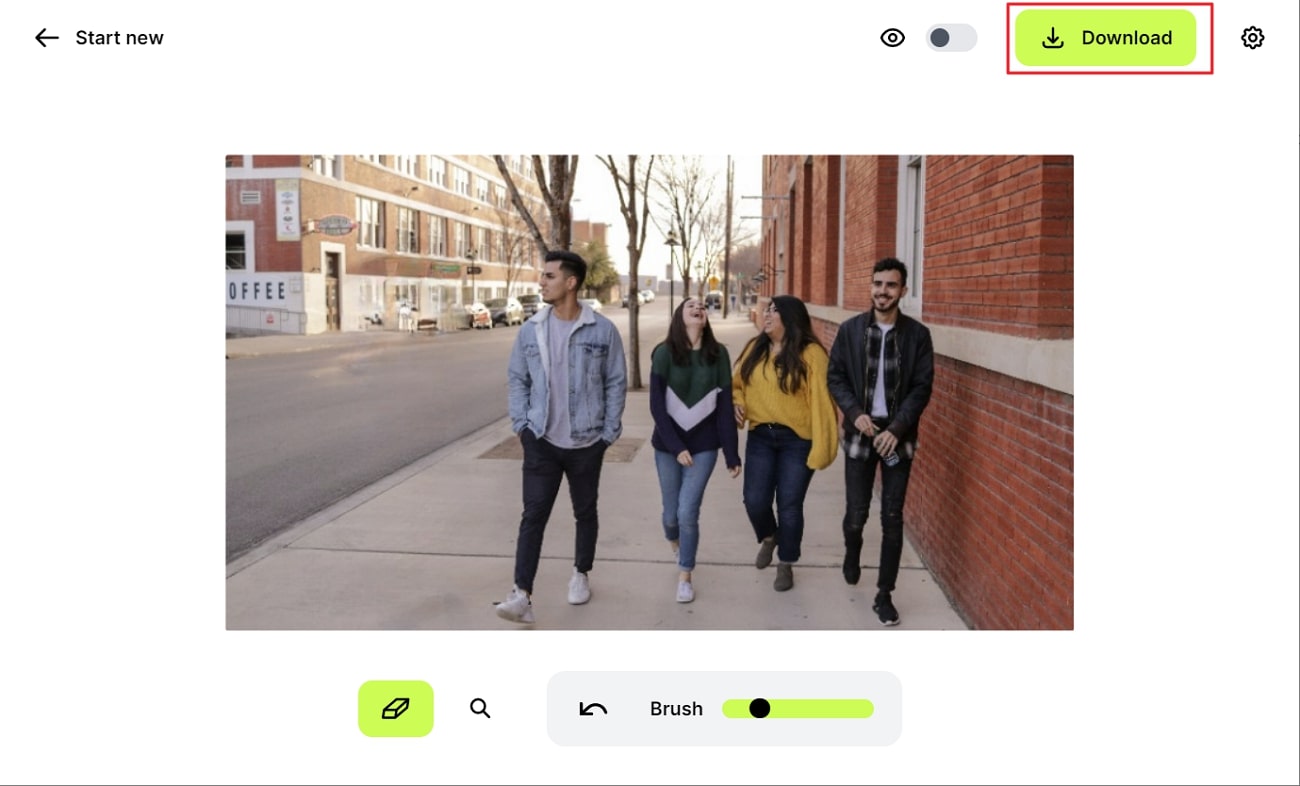 If you want to make the images free from any mistakes, this tool is perfect for this purpose. It is one of the best apps to erase part of photos without any hassle. Moreover, the interface of PhotoRoom is surprisingly aesthetic, so you will not get bored while using it. Converting raw images into pro-quality ones is also a specialty of this tool.
Key Features of PhotoRoom
There are 1000+ backgrounds and templates in it, which you can use to edit photos without wasting time.
Its Magic Retouch feature helps in removing all unwanted objects from photos. You can also crop images in the required aspect ratio with it.
PhotoRoom also allows you to store edited images on their cloud to help you enhance your productivity.
How Can You Remove Unwanted Parts of Images with PhotoRoom
Step 1
First, open the official website of PhotoRoom and access the "Magic Retouch" tool. Afterward, press the "Start from Photo" button and upload the picture to eliminate the unwanted part.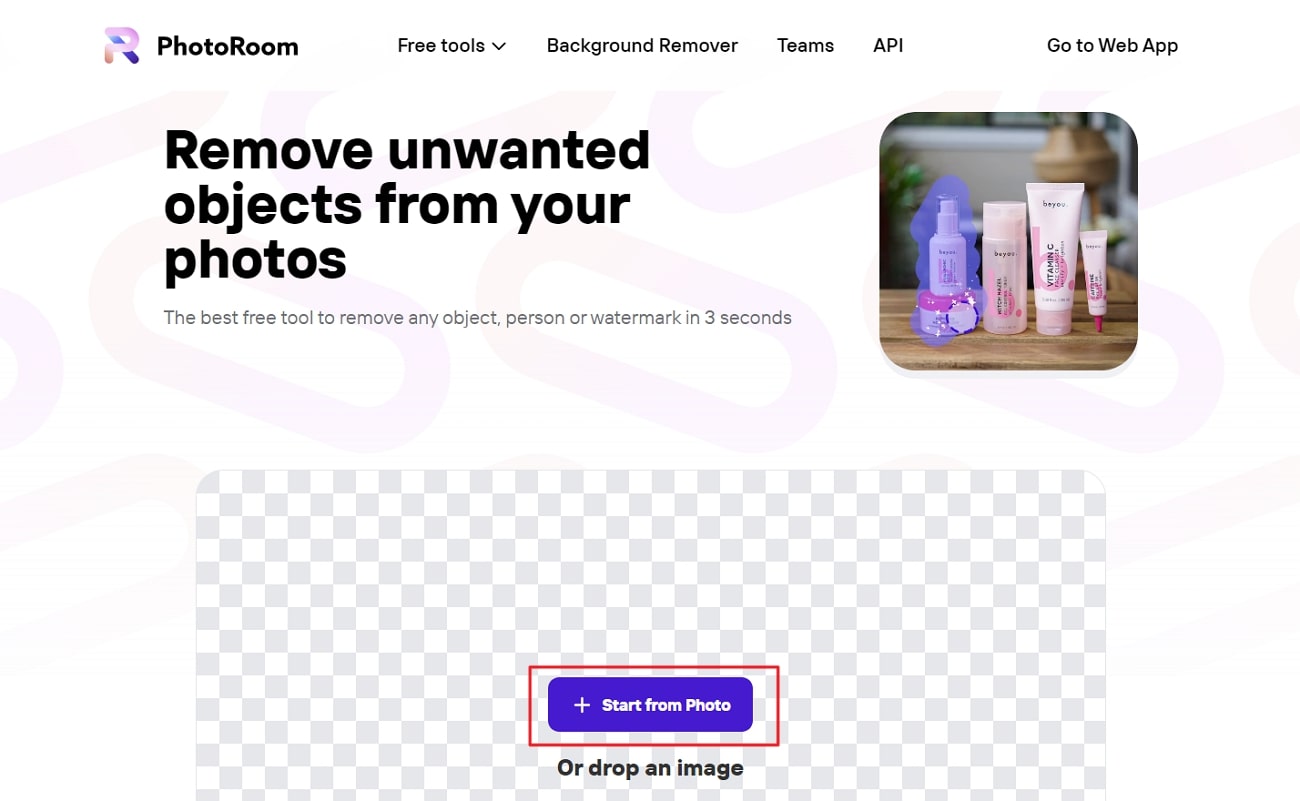 Step 2
Now, highlight the area you want to remove and wait a few seconds. Hereafter, you will see an image without that distracting area. Following this, click on the "Download" button.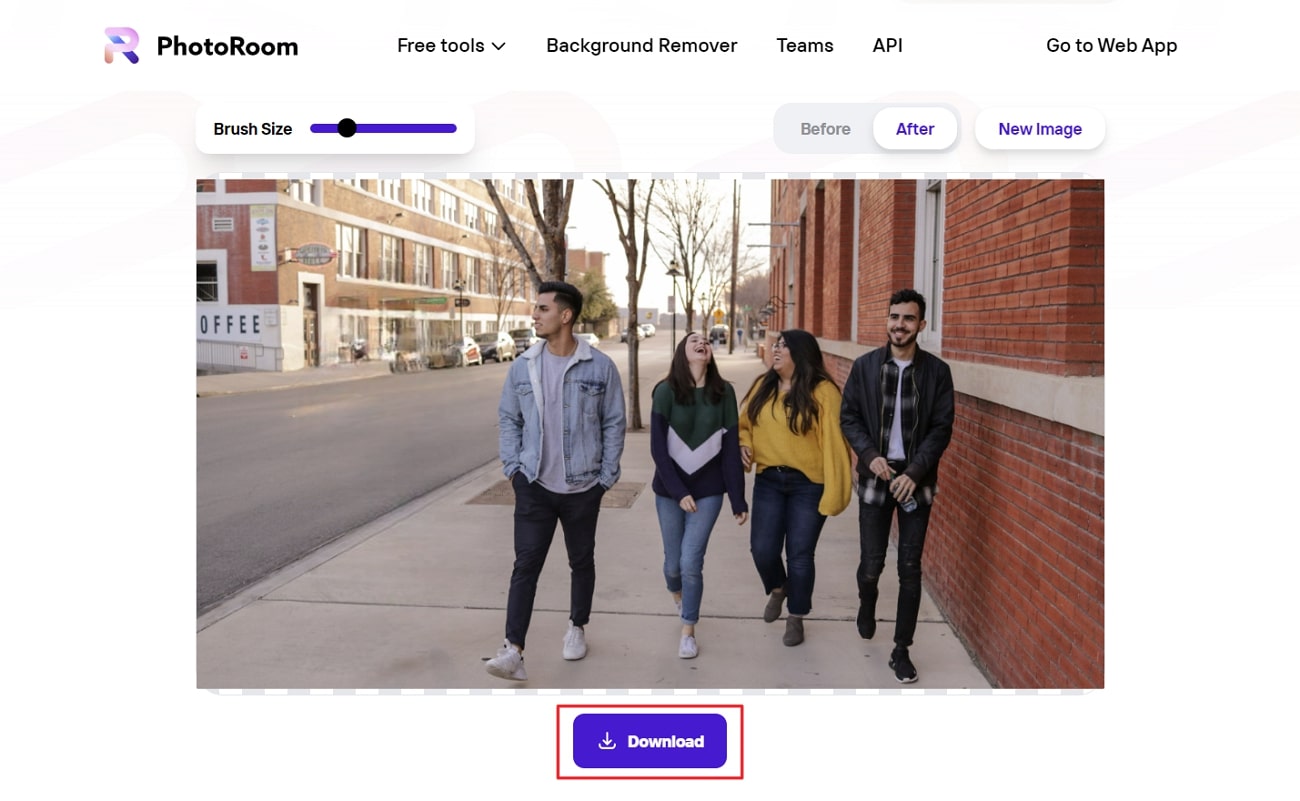 PicWish is known to be a perfect tool for giving a Studio look to an image. It is powered by artificial intelligence, so you will not see any flaw in the working of this image part remover. You can do many things with this to make the image better and more engaging. Another thing that attracts users is its lightning-fast processing speed.
Key Features of PicWish
Sometimes, because of inaccurate focus, the face in photos gets blurred. You can unblur the faces in photographs using the Portrait Enhancer feature of PicWish.
It also supports the feature of background remover, which you can use to remove boring backgrounds and add high-quality and majestic backgrounds to a photo.
Do you have an old photo in black and white, and now you want to make it colorful? The Photo Colorization feature of this tool is perfect for carrying out this task.
What is the Process to Remove Unwanted Parts of an Image with PicWish
Step 1
Open PicWish on your browser, and from the main interface, click "Explore All Tool." From the next screen, click on "Photo Retouch."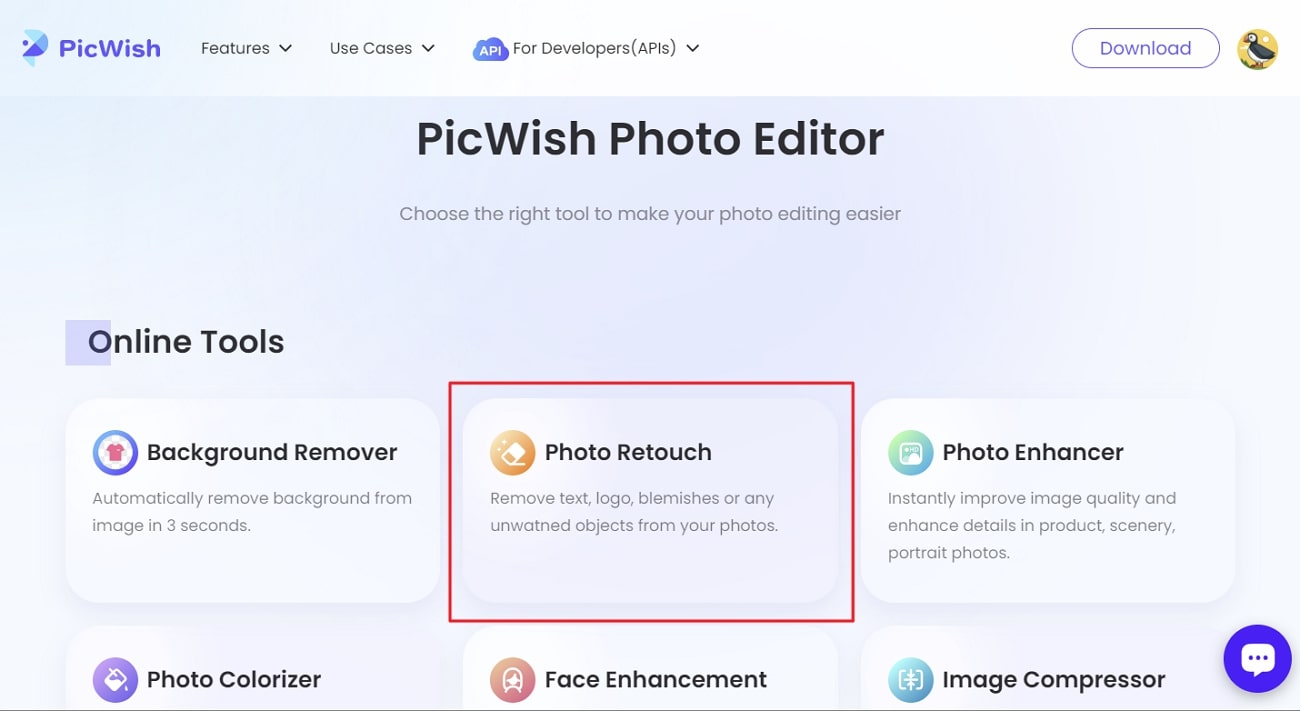 Step 2
Following this, select "Upload Image" and double-click on the image you want to work on. After this, highlight the unrequired area and click "Erase." Wait a few seconds for the tool to process the image, and click the "Download" button.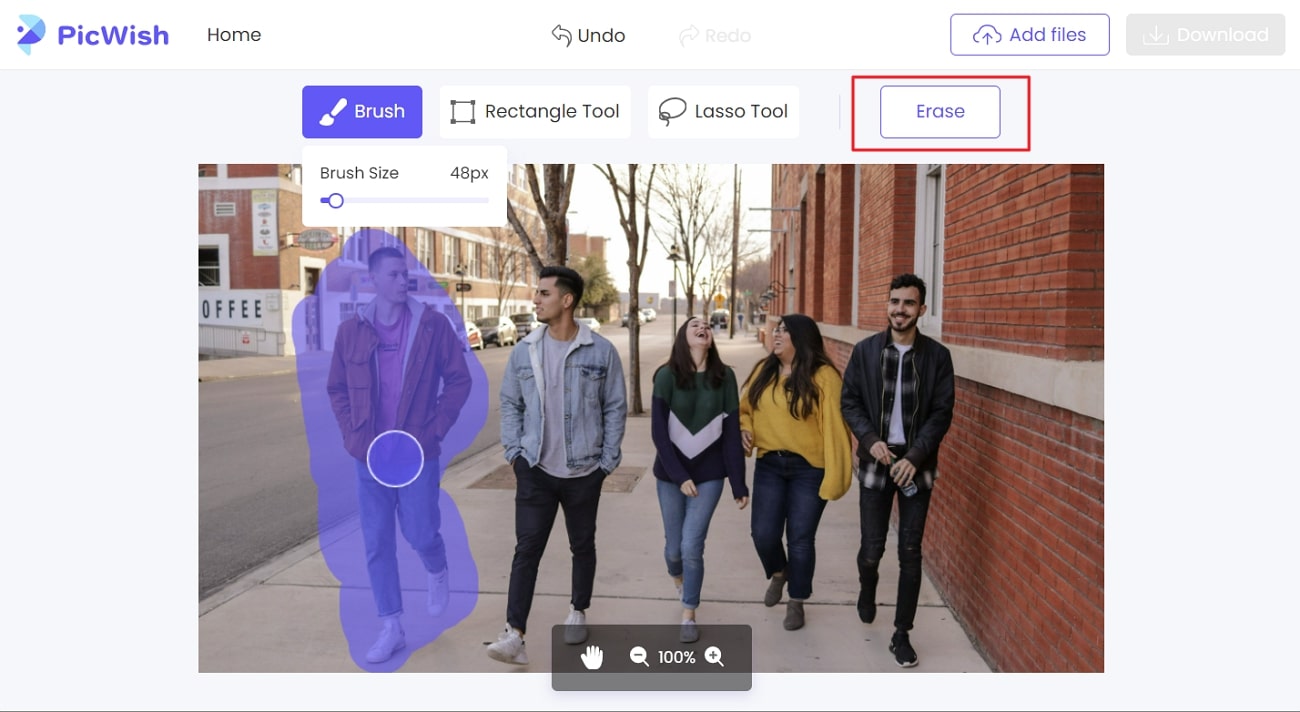 From editing photos to removing unwanted parts of an image, Picsart can help you with all. The diversity of this tool is not limited to just one photo function. You can do several types of modifications in photos with it. All the creators in all domains can implement their artistic imaginations in photos. Moreover, the interface of Picsart is very amusing, so you can enjoy your user experience here.
Key Features of Picsart
It offers a wide array of templates that are further classified into specific categories. With a few efforts, you can use templates from Instagram, Pinterest, Birthday, and more to create the best posts.
You can also discover perfect hashtags for your posts in Picsart. Moreover, it also has elements and stickers which you can use to create illustrative posts.
Picsart also facilitates its users by providing them with a mobile and desktop to edit photos and videos.
What are the Steps to Remove Unwanted Parts of the Image with Picsart
Step 1
To begin the process, launch Picsart on your device's browser and select the "Remove Objects" option from the "Editing Tools" menu. After this, click on the "Upload" icon from the left of the screen and import the image.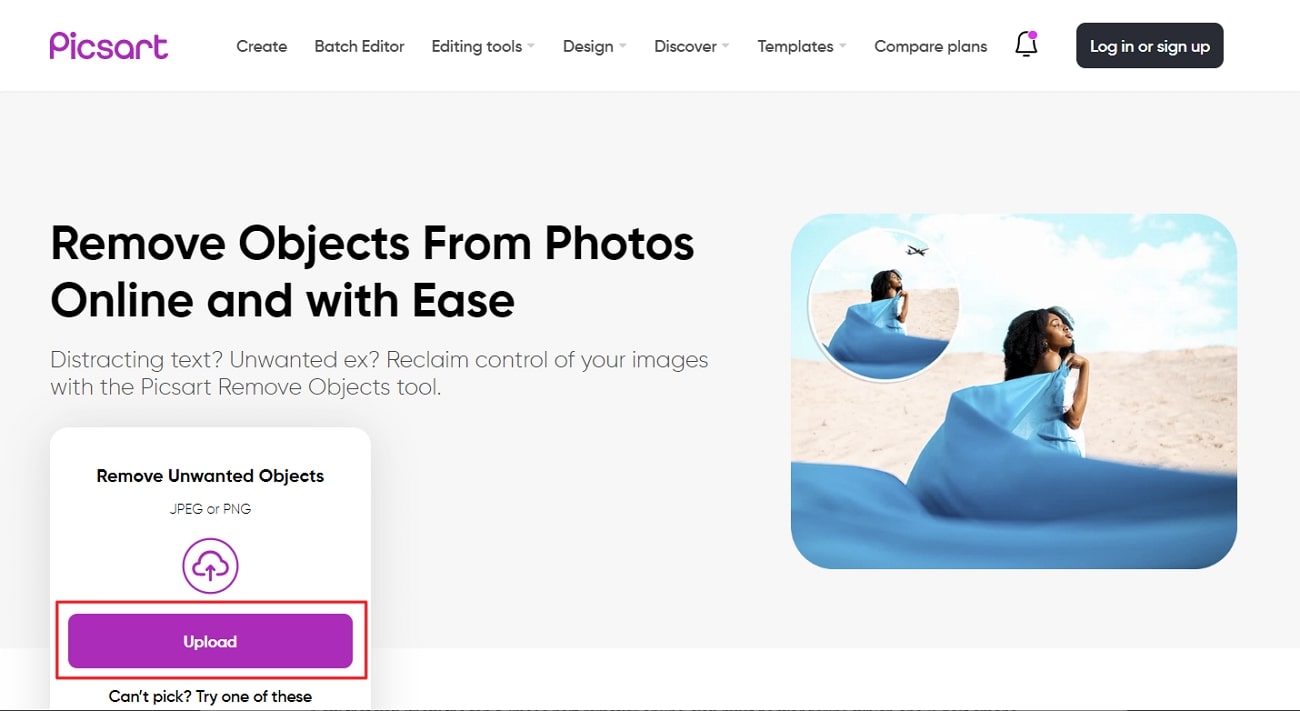 Step 2
Select the "Remove" tool from the Picsart editor screen and mark the part you want to remove by using the "Remove" brush. After highlighting the unwanted part, press the "Remove" button and export your photo once the process gets completed.
Part 2: Comparison Between the Best Tools for Removing Part of an Image
Now that you know the top 5 image part remover online, you must be wondering which one is best among them. The below-given table helps you regarding this query:
| | | | | | |
| --- | --- | --- | --- | --- | --- |
| Tool | AniEraser | Cleanup.pictures | PhotoRoom | PicWish | Picsart |
| Remove Objects from Videos | Yes | No | No | No | No |
| Ease-of-Use | 4.9/5 | 4.8/5 | 4.8/5 | 4.75/5 | 4.6/5 |
| Security | Excellent | Medium | Medium | Medium | High |
| Uploading Speed | Fast | Medium | High | Medium | Medium |
| Processing Speed | Fast | High | Medium | Medium | High |
| Output Quality | Excellent | Medium | Excellent | Medium | Medium |
Part 3: Tips to Capture a Perfect Picture in Your Daily Life
Are you facing difficulty while capturing a good picture? You must be thinking that only professional photographers can take a perfect picture. However, it is not true because you can also take captivating photos without doing much. The points below will work like a secret weapon that will help you in capturing pictures with high-end professionalism:
Direct eye contact is an essential part of showing your confidentiality and engagement in real life. Just like this, you need to maintain good eye contact in photos. Always hold your camera at the eye level of a subject for capturing interactive pictures.
Flash helps in increasing the quality of an image. Moreover, it brightens the environment and eliminates deep facial shadows; thus, always remember to use flash while capturing a photo in dull light.
When capturing a photo, do not forget to make a reasonable frame. If you are cutting a person's head in a picture or not capturing eye-catching scenery in photos, then it's a lagging factor. Make sure you don't miss anything important while capturing the image.
Always focus on the subject while taking a photograph. Learn about the camera's focus setting and recompose the picture with a complete focus on the subject.