It's very important to increase the pixels of an image, especially if you want to share it on social media. Indeed, you can easily find and do this job with many different tools. However, many of those tools can damage the quality of your images. Fortunately, this article will give you three very reliable tools to help you increase the pixels in your photos.
We also show you how to use all of these tools through tutorials, and the most important thing is that it can increase the pixels of image online. Therefore, you don't need to download any software or apps.
Part 1: The best 3 online tools you should choose
Many different kinds of software for editing photos can do things like 3D rendering, AI image processing, increasing pixels images, etc. Nonetheless, almost all of these tools let you do basic things with images, like resizing them or increasing image pixels.
However, advanced software can be pricey and hard to use because it has a steep learning curve. Fortunately, all the following tools below can help most people who want a free, easy-to-use website to increase pixels of images online.
1. ResizePixel
One of the great sites to increase the resolution of images online is ResizePixel. ResizePixel is a free website that lets you increase the resolution of photos online. It's easy to use, works on mobile devices, and is a safe way to increase the resolution of your image without giving up your privacy.
Also, you can select the image's width and height in pixels, then determine whether the final image should be compressed without sacrificing quality or resize the image in kilobytes or megabytes.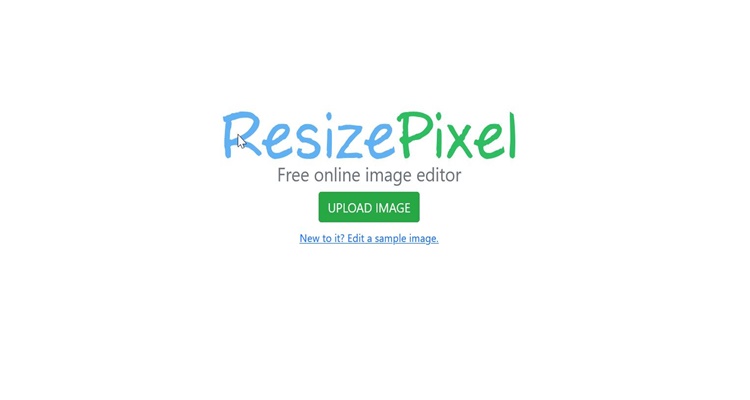 Remember that the automatic compression setting will reduce the image's file size without degrading its quality. You can decrease an image to kilobytes or gigabytes if you require greater control over the file size. It is vital to note that image size is significant because large images might slow down your website's loading time, hence decreasing conversion rates.
The reason why you should pick ResizePixel
Numerous features to meet your demands for image editing.
It's free.
RisizePixel promises that using their service is risk-free.
You don't need to download any apps since it's an online tool.
2. Media.io
The intelligent Media.io AI Image Upscaler enables automatic photo enhancement. You can boost the resolution of your pictures by 200%, 400%, or 800% without perceivable quality loss.
For instance, a 4X upscaling will result in a picture that is four times the size of the original, and the resolution will go from 200*200 to 800*800. You can improve the dimensions and clarity of a product shot, a hazy landscape image, a group photo, or even an old photograph.
Tools

Ease of use

Processing speed
(fast, medium)

Cost

Image quality
(excellent, good)

ResizePixel

Medium

Medium

Free

Good

Media.io AI Image Upscaler

Easy

Fast

Free

Excellent

img2go

Medium

Medium

Free

Good
Features
Enhance your images up to 4k resolution without losing quality.
Tons of great features besides enhance images. Such as removing the background from the image.
Effectively upgrade old photos and make them look like new photos.
Automatically removes your photos after uploading within 24 hours.
3. Img2Go
The next powerful tool to increase photo resolution online free is Img2Go. Img2Go lets you change the size of an image quickly. This site can do much more than just change the pixel of an image. It can compress, rotate, add or remove watermarks, and much more. Also, you can also switch between different image formats, such as PNG, GIF, ICO, PDF, and JPEG.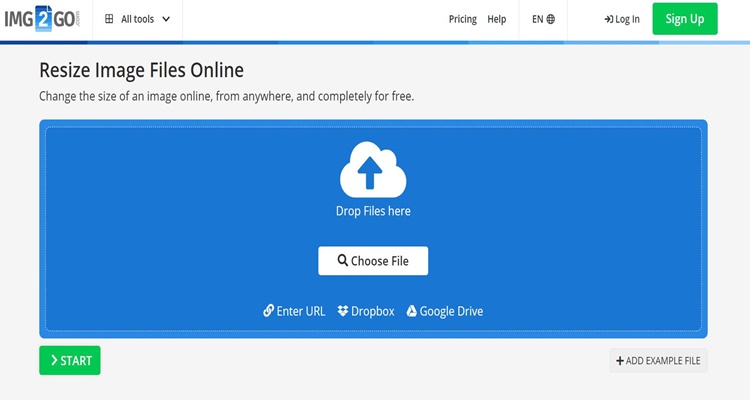 The reason why you should pick ResizePixel:
It allows you to convert your image to other formats, such as PNG or GIF.
It's easy to navigate since it has a simple interface.
There is a free plan option.
Many great features to edit your image.
Part 2: How to increase pixels of image online with ResizePixel
The online image resizer from ResizePixel is a simple but powerful way to change the size of an image in pixels. You can resize PNG, JPG, TIFF, and BMP images with the convenient option of maintaining the original aspect ratio. Try to change the size of an image in KB/MB to make it even smaller.
Follow the following steps to change an image's pixels online with just a few clicks and no need to install any extra software.
Step 1

Open your browser and search for ResizePixel.

In the following screen, click Upload image to import your image to ResizePixel.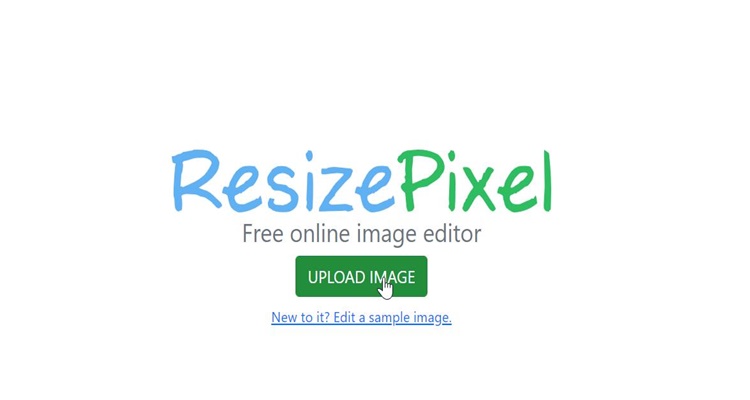 Step 2

Once the picture is in ResizePixel, click Resize and adjust the picture's width and height.

When you decide on the width and height, click Resize.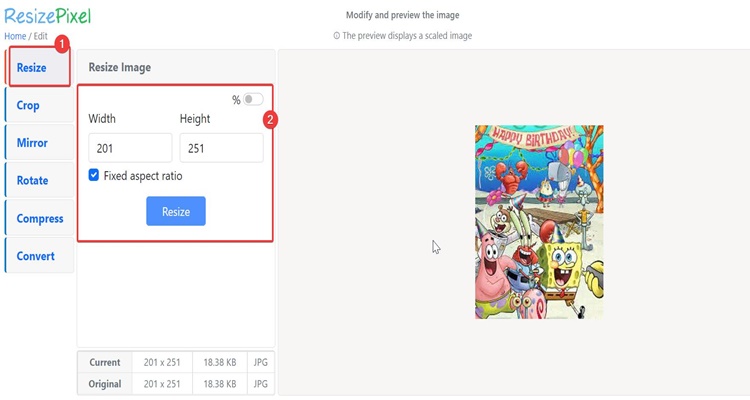 Step 3

When you are done adjusting the width and height of your picture, click Go to download to download your picture.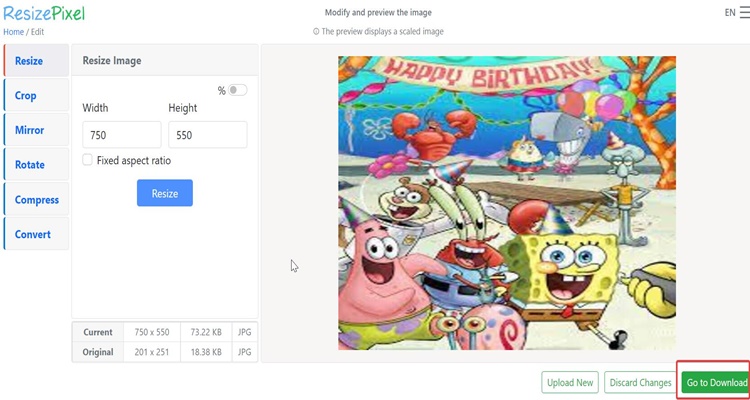 Part 3: How to increase the resolution of an image online free with Media.io
With Media.io AI Image Upscaler you can resize image pixels online for free. It has a very easy-to-use interface. Once you've uploaded the file, it enables you to do automatic photo enhancement. You can increase the resolution of your pictures until 8 times without losing any quality.
Here is how to increase the resolution of the image online free with Media.io
Step 1

Open any browser on your computer and go to Media.io Image Upscaler.

Before increasing the image resolution, you need to upload the picture to Media.io first.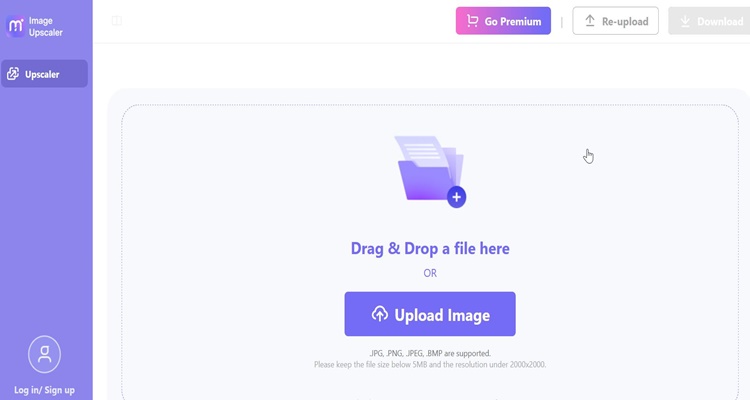 Step 2

On the following screen, after uploading a photo to Media.io, you have three options to upscale the image.

Two times upscale, four times upscale, and eight times upscale are available.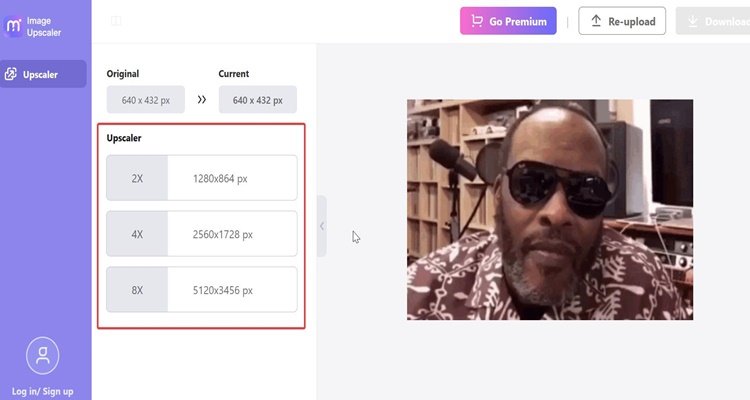 Step 3

Once you determine how many times you wish to upscale your image, you must then wait until the process of upscaling is finished.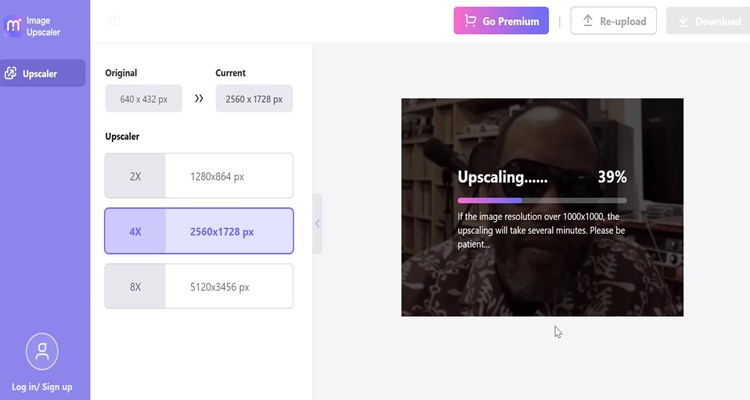 Part 4: How to make images higher resolution online with img2go
Img2go is an online image converter and photo editor that lets you edit, and improve the quality, crop, resize, compress, and add watermarks to your photos. This online platform for editing is very simple and easy to use.
Because of this, it is great for both beginners and experts.  Also, Img2go makes it easy for users to edit and change images to fit their needs. Users can add different watermarks to their photos, such as text, drawings, shapes, and other images.
Follow all the simple steps below to make a higher resolution for your image
Step 1

Firstly, you must open Img2go on your browser.

After that, import your image into it.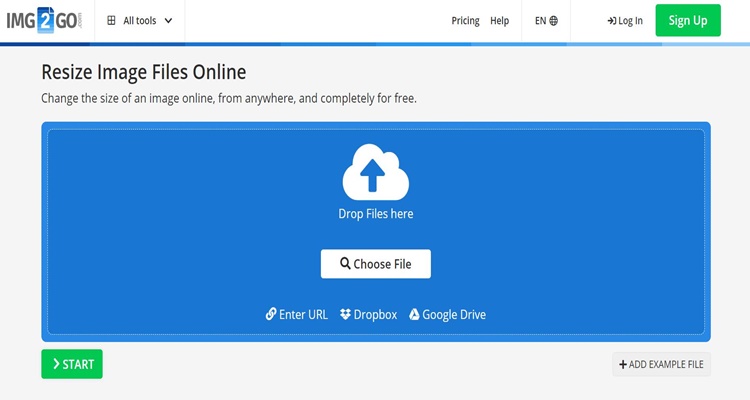 Step 2

When your picture is uploaded, scroll down your screen till you see the Setting option.

Here, you can change the size of your image's width and height.. Lastly, click Start to download your image.