Are you tired looking to convert GIF to ICO format converters? Surely you have done lots of research and still looking for the right converter to save files in high quality. Don't worry, and there are several options available for you to convert GIF to ICO file format. We have sorted some of the best websites that can quickly convert all your files without making any effort. Another thing is that these websites work online in your browser directly so you won't face many issues in saving files. Let's see how to convert GIF to ICO using these converters.
Part 1: Online GIF Converters-Animated GIF to ICO File Convert
URL: https://convertio.co/gif-ico/
Convertio website is an online converter which allows you to insert GIF file from the computer and then convert those files in any format such as ICO, PNG, JPG, and many other image formats. Convertio is not only a simple image converter but also offers you the conversion of documents, EBook, presentation, audio, video, and some different types of conversions. There is a paid plan provided by a website for the professionals to convert the files without any limitations.
Benefits:
It offers you to convert files quickly without any installation.
Conversion is simple, so you need to follow three steps.
Drawbacks:
Paid plans are slightly costly for personal users.
The website converts the files at very slow speed.
How to Convert GIF to ICO with Convertio
Step 1. Open the converter website in the browser and then click the From Computer. A popup will open on your screen. Now select the GIF files from your computer.
Step 2. Once you have selected GIF to convert then hit the Convert button at the right side, now the website will upload the GIF file and start conversion.
Step 3. After the successful conversion of GIF to ICO, the website will allow you to download it on your system. So, now click on the Download button and the converted file will be saved on your computer.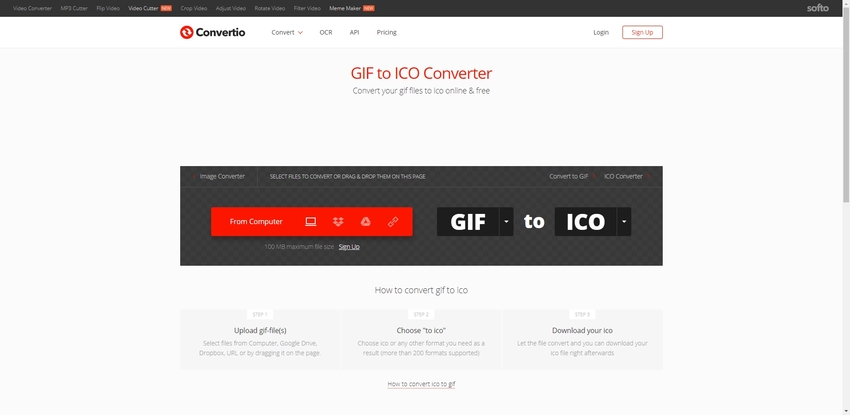 URL: https://convertimage.net/convert-a-picture/to-ico/?s=gif-to-ico
Convert Image is also an excellent converter option which enables users to quickly convert GIF to ICO format without any installation on the computer. This website supports JPG, PNG, GIF, ICO, PSD, TIFF, PCX, and PDF format for converting the images. For the input, you can insert PNG, PSB, PSD, TIF, XCF, PCB and several other formats. You can select any format image from the list above and convert in your needed formats.
Benefits:
It converts mostly all popular images format files in the ICO format.
It offers you a tool to watermark the images as well.
Drawbacks:
Unable to convert files without internet.
The conversion speed is slower.
Conversion Steps in Convert Image
Step 1. Firstly, browse the website and then click the Online picture converter tab from the top left side of the interface and then scroll down and select the output format as ICO from the list of output formats. There you can also select the output size of the icon.
Step 2. After selecting the output format scroll down and hit Select your Image button then use the popup and choose GIF image files from the system.
Step 3. Now scroll down again and make sure to accept terms and conditions by moving the slider and then click Create my Icon button. Currently, the website will start to convert GIF to ICO format.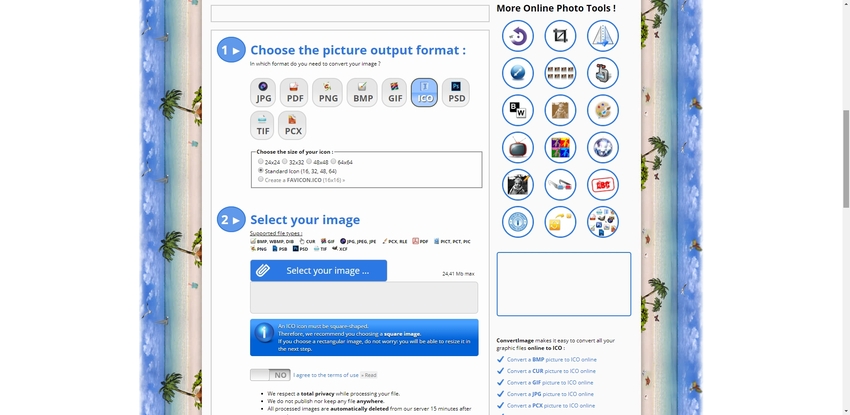 URL: https://image.online-convert.com/convert-to-ico
Online Convert as the name of the website defines its feature. This website is capable of converting GIF format files in the ICO icon format. It is purely a converter website which supports so many different types of data conversion with ease. It works online, and there is no need to install any software on the computer to use the converters of the website. For the quick conversions, it offers you a free plugin which can be installed in your browser for files conversion.
Benefits:
Not only GIF to ICO but also compatible in converting near about any file format.
This is free of cost website.
Drawbacks:
It converts the files at plodding speed.
Sometimes stop working and keep loading the files.
Convert GIF to ICO in Online Convert
Step 1. Copy the URL which we have shared above and then open it in your browser. After opening the URL hit Choose Files and selects the GIF from a computer in the popup box. You can also drag and drop files directly in the functional area. Moreover, you choose data from Google Drive, Dropbox, or URL of images.
Step 2. After selecting the files click Start Conversion button. That's it.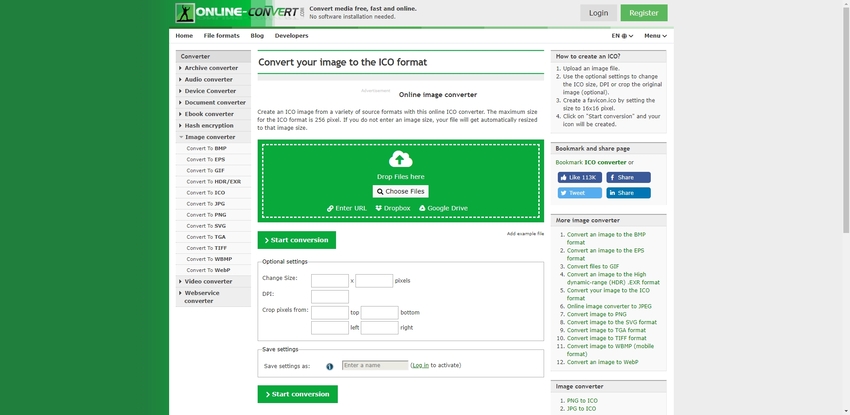 URL: https://www.coolutils.com/online/GIF-to-ICO
CoolUtils is an online conversion website which supports over 1400 formats of the several types of files. This website enables users to choose data from the local hard drive directly and convert them in their needed formats. This is free, but there are so many limitations for free users. To remove restrictions, there are paid plans offered by the website, which quickly works without any limitations of size or limit of file conversion per day.
Benefits:
This is a simple file conversion website and offers you mostly any files conversion.
It supports browsing files from URL directly.
Drawbacks:
So many limits are there in the free version of the website.
It is not able to convert the files without internet.
How to Convert GIF to ICO using CoolUtils
Step 1. Browse CoolUtils in your browser using the above URL and then hit Select File option.
Step 2. Now you can select several output options such as size, format, etc. After choosing the options hit Download Converted File button. This button will convert the file automatically and give you a download window.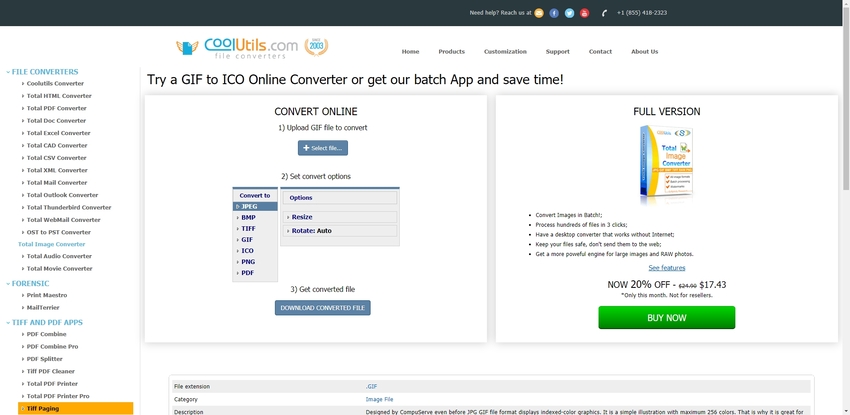 URL: https://icoconvert.com/image_to_icon_converter/
ICO Convert website is another online website to convert GIF to ICO format. This website is developed for the operations related to ICO file format only. It enables you to save the files as well as you can select the operating system for which you want to save the files. There are windows a website supports 7 and Windows XP operating systems. Moreover, you can also save the files for your website as well.
Benefits:
It allows you to convert ICO for a specific operating system.
You can select the output size of ICO files.
Drawbacks:
This is not possible to do any other type of conversion with the website.
It is not possible to edit the photos with the website.
How to Convert Animated GIF to ICO File with ICO Convert
Step 1. To convert GIF to ICO firstly open ICO turn website in the browser and then click the Browse. Now choose GIF from the system using the popup box and click the Open button.
Step 2. After adding the GIF files to website click the Upload option to upload files on the website to convert.
Step 3. Now scroll down, and you will find several options such as crop image apply style, select icon format. These are optional if you don't want to ask anything then scroll at the end of the website. Now click the Convert ICO. That's it. Now it will convert the files, and you will be able to download it once it is completed.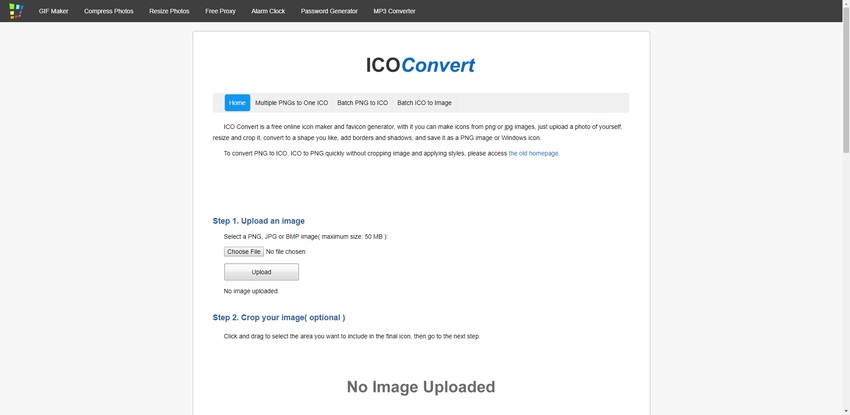 Part 2: More Details about GIF File
a. What is GIF File?
The Steve Wilhite developed the GIF format in 1987. It is also an image format, but there is a massive difference between the image and GIF format. Using GIF format, you can play images just like a video because it can hold video, text, and image data together, whereas the image formats can only hold image and text data. Using the GIF files, you can express your feelings to anyone because they are playable. GIF files get played automatically, and you don't need to click on any play button.
b. How to Effectively Use GIF on Social Media?
Social media sites such as Facebook, Twitter, Instagram fully supports playing and sharing GIF files. Using the GIF files on social media is suitable for the professional as well as personal users. There are so many options available for sharing the GIF on social media sites.
Using GIF on Facebook: Now Facebook has a tie-up with the Giphy website, which is a popular and biggest GIF filesharing website. Facebook allows users to directly choose GIF files on their news feed section or while commenting on the posts. You can write any text and choose the related GIF from the search results. These results directly fetched from the Giphy website.
Using GIF on Twitter: You can use the GIF files on Twitter as well, along with your posts. To post a GIF on Twitter, you need to place the link of GIF files in your tweet, and it will be automatically fetched and previewed from the related website.
Summary
From the hundreds of convert GIF to ICO websites, we have found the above-discussed websites as the best one. We hope you have seen about converting the process of these sites in the first part and now you don't any doubt about how to convert GIF to ICO file format. Using online websites is very good but sometimes if you don't have an internet connection, then you need to go for a desktop program which can work offline without internet. There are plenty of programs available such as Wondershare UniConverter which can work offline for converting your files.
Are you looking for GIF Converter? Wondershare UniConverter has Convert GIF function. You could convert your images or videos to GIF format. It also could convert GIF to JPG, BMP, TIFF, and PNG format.
Wondershare UniConverter
· Support batch processing of photos to GIF conversion.
· Convert Animated GIF to JPG, PNG, BMP, TIFF, GIF, and others.
· Convert to GIF or specific devices formats without any trouble.
· Transfer converted files from PC/Mac to external devices easily via a USB cable.
· Versatile toolbox combines Image Converter, GIF maker, video compressor and screen recorder, and others.