A sequence drawing with a proper storyline is known as a comic strip. It is a very common part of magazines and newspapers. With time, content creators began to create their comic strips on a virtual level. Moreover, students and youngsters love to read unique comics with high-quality layouts.
If you also have a mind of a writer and want to create your comic strips, you need to work with a comic book maker. Here, you will find the top-rated tools to help you make flawless comic strips. The tools that will be discussed in this article can work on any browser, so you don't have to worry about your device's storage.
Part 1: What is a Difference Between a Comic Strip and a Cartoon Video
Most people get confused between cartoon videos and comic strips. These are two different terms and require a different type of skill to work on. Have a look below to know the difference between a comic strip created with a comic generator and a cartoon video:
| | |
| --- | --- |
| Comic Stripes | Cartoon Videos |
| It is a series of illustrations and images arranged in a specific sequence to tell a story. | It is a series of moving illustrations and images that tell the story in motion. |
| You can read the story by viewing the images. It also comprises dialogue boxes to show dialogues. | You can know the story by watching the video. Listening to dialogues with audio is possible with it. |
| Comic strips are known to be short, and you can also control the pace of reading them. | Cartoon videos are usually lengthy, and the pacing is predetermined. |
| CIt does not target any age group, as everyone can read the comic. | CIt is specified as per the age group. For example, cartoon videos are particularly created for children. |
| The medium of comic strips is newspapers, magazines, and novel graphical sites. | The medium of cartoon videos is TV, movies, and shows. It is only available on a digital device. |
| Example: Superman, Spiderman, etc. | Examples: Simpson, Tom & Jerry, etc. |
Part 2: Top Online Comic Strip Generator
Comic strips help to read a story in a fun and entertaining way. The eye-catching colors with high-quality pixels make it aesthetically pleasing for the eyes. Here, you can discover reliable online comic strip creators:
Canva is one of the most known and reputable tools for creating graphical illustrations. It is a perfect comic strip maker for beginners because it is an easy-to-use tool. You can make comic strips even if you don't have any major editing and designing skills. From a fairy to a cat, you can create captivating comic strips on any character with images and dialogues.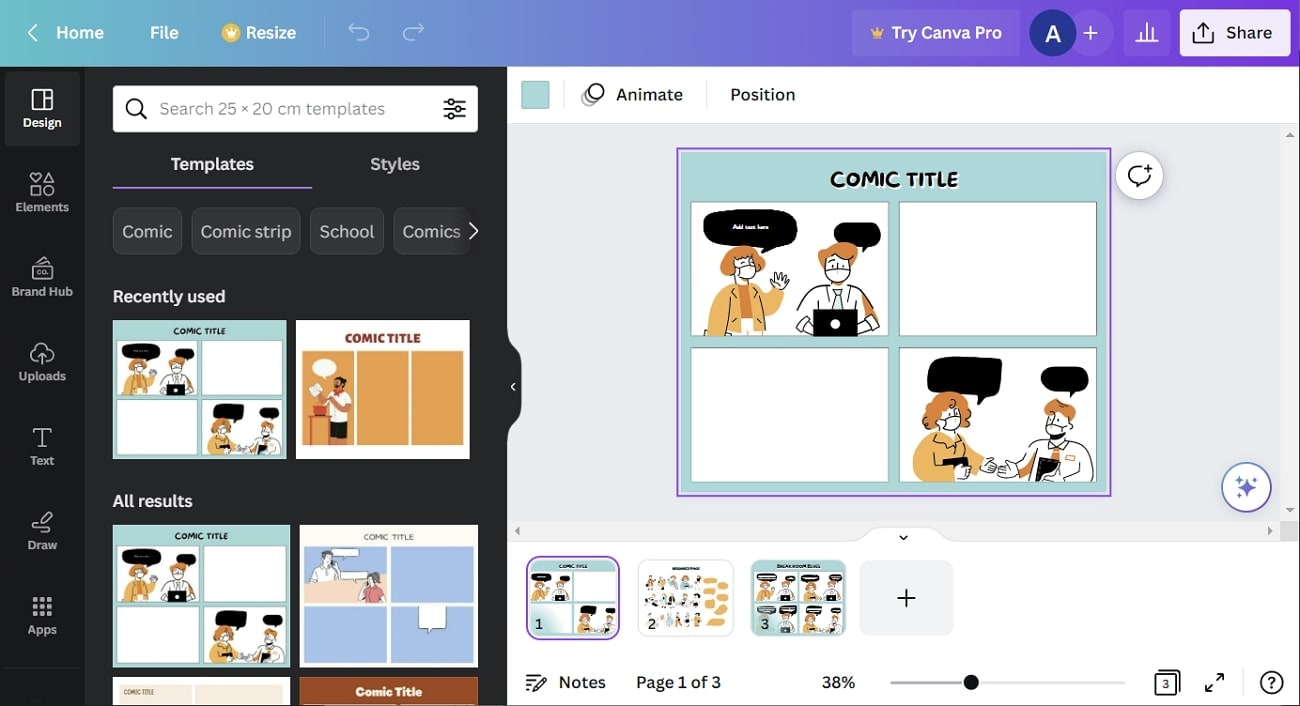 Key Features of Canva
There are hundreds of illustrative and printable templates on Canva that you can use to create comic strips. Moreover, it also lets you customize every bit of the template, from colors to elements.
In Canva, you can find high-quality and pixel-friendly fonts, elements, and other illustrative characters. Just pick up whatever you want and place it anywhere in your comic strip.
You can also create a comic book cover that can express the theme of your story. It also lets you download the comic strip in multiple formats or publish it on the web.
Pricing of Canva
Canva Pro: $6.49/month
Canva for Teams: $8.49/month
With the help of Storyboard, that comic strip maker for students, you can create all types of comics. It lets you select the personalized numbers of the cell and copy or move the strip cells. Moreover, adding new cells and deleting previous ones are also possible with it. You can also manage the layout of your comic strip with this tool from the options included cycle, flayer, timeline, and more.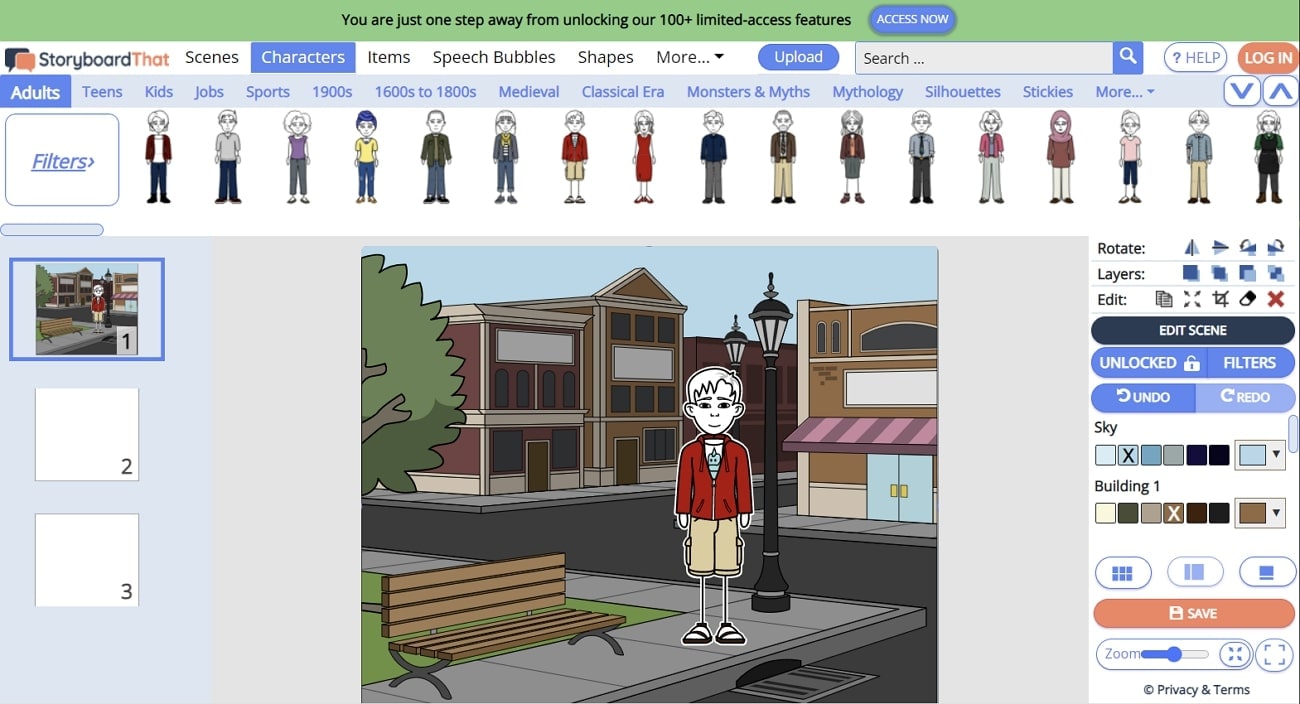 Key Features of Storyboard That
There are multiple types of scene templates in it which are placed in specific categories. The categories include town, home, school, transportation, outdoor and more.
You can also create customized characters for comic strips from the character templates. It has multiple character templates, such as kids, teens, adults, medieval and more.
This online comic strip maker also lets you add interactive speech bubbles in the comic strips, and you can also add several shapes and items to them.
Pricing of Storyboard That
For Fun: $9.99/month
For Teachers: $9.99/month
For Work: $24.99/month
With Creatly, you can implement your imagination on comic strips and share it with the world. It is one of the greatest visual platforms for professionally creating customized comic strips. Now, you can not only create comic strips but can also share them with the world via links. This comic generator also offers you to export comic strips in JPEG, PDF, PNG, and several other formats.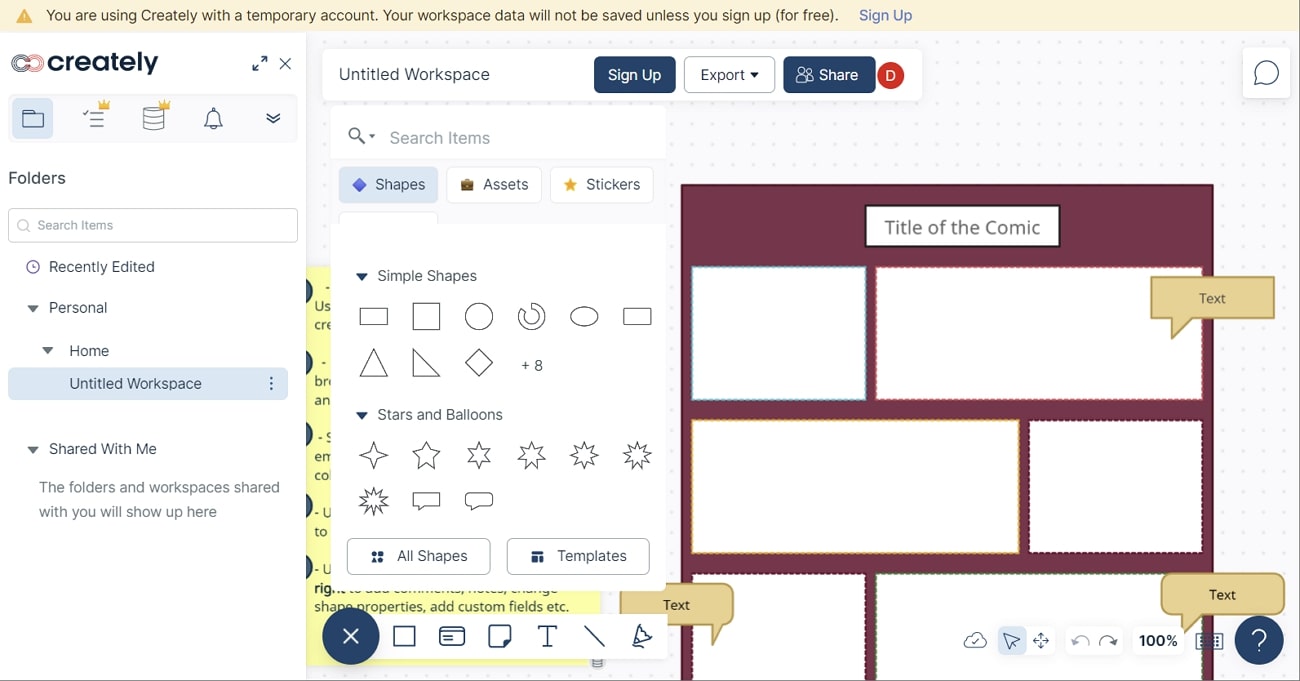 Key Features of Creately
It offers several templates, such as comic strips, comic books, blank strips, blank 6-panel comic strips, and more.
You can also collaborate with your team and do freehand drawing and sketching. By enabling content ownership, you can also differentiate everyone's work.
Exporting vectors and images and adding the context of narratives is also possible with it. You can also use built-in frames and canvases to make the comic strip more attractive.
Pricing of Creately
Starter: $8/month
Business: $149/month
With this famous online comic strip maker, you can create career-oriented comic strips. You can work on comic strips in your style and create content in all genres. With a few drawing skills, vivid imagination, and a writing perspective, you can create your masterpiece quickly. It escalates your success ratio as it offers over 20,000 licensed fonts and lets you share your templates via the link, email, Teams, and Classroom.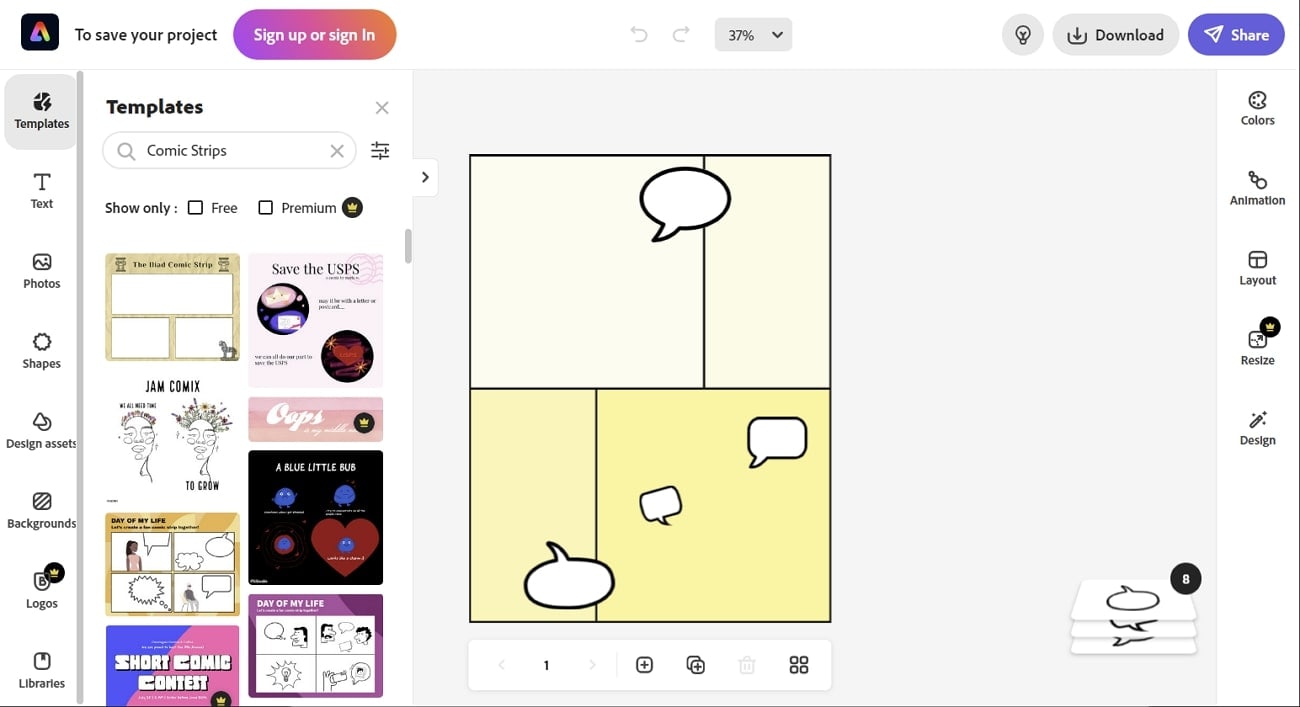 Key Features of Adobe Express
You can create multiple comic strips with it, including memes, books, carousels, awareness based, and more.
It has thousands of professionally designed comic strip templates that can help you create comics from scratch.
There are multiple powerful editing tools in Adobe Express that let you edit and customize the comic just as you want.
Pricing of Adobe Express
With Fotor comic creator online free, you can proficiently create intuitive and modern-style comics. If you are a beginner and don't know where to start, consider using Fotor templates. This tool has many comic strip templates, which you can modify to add a touch of your style and liking. Furthermore, you can also search for pre-made templates with keywords such as fictional, meme, and more.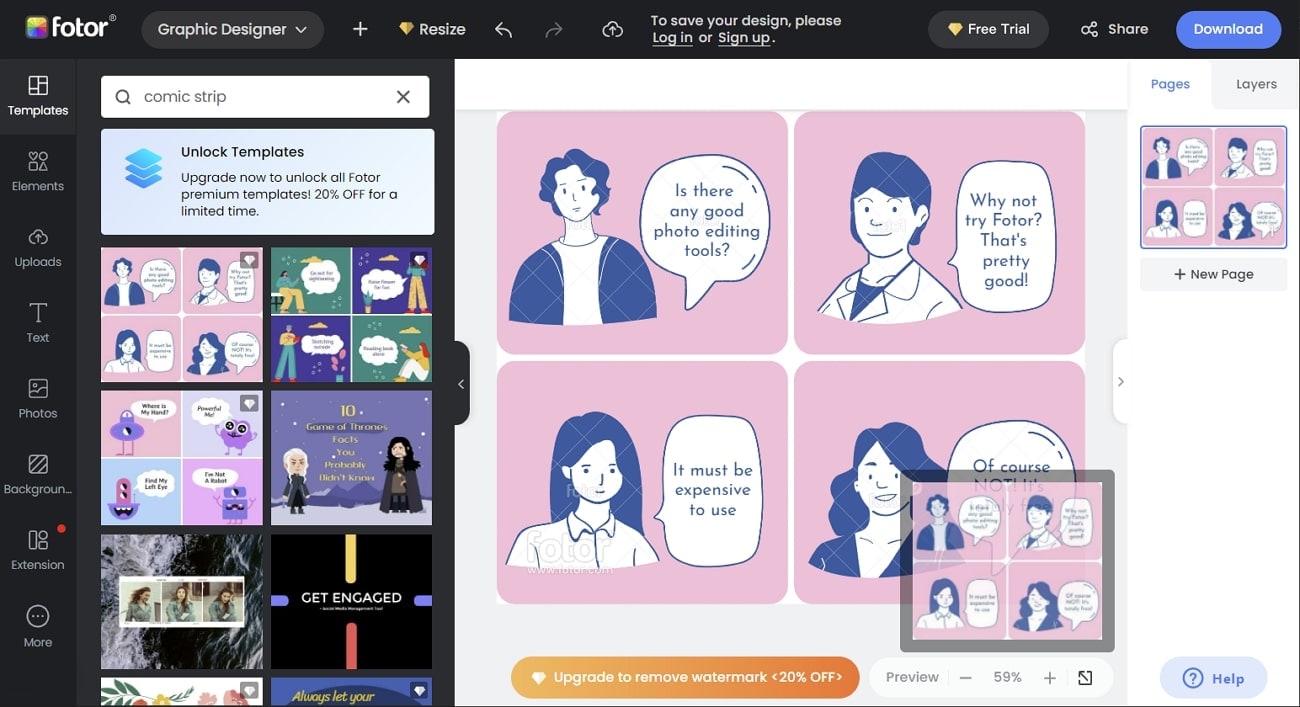 Key Features of Fotor
There are uncountable clipart, quotations, captions, watermarks, images, and emojis, which you can use to make captivating comics.
You can interconnect panels, display dialogue boxes, and serialize the images with captioned text with Fotor.
It allows you to personalize the color, size, position, and other metrics of an image or layout of a comic.
Pricing of Fotor
Fotor Pro: $8.99/month
Fotor Pro+: $19.99/month
Do you want to create impressive and vibrant comic strips? This comic generator lets you make intuitive-styled comics and share them with the world. Whether you are a student, teacher, businessperson, or influencer, this tool can help you. Just by choosing a template, uploading images, and personalizing it, you can create unique comics.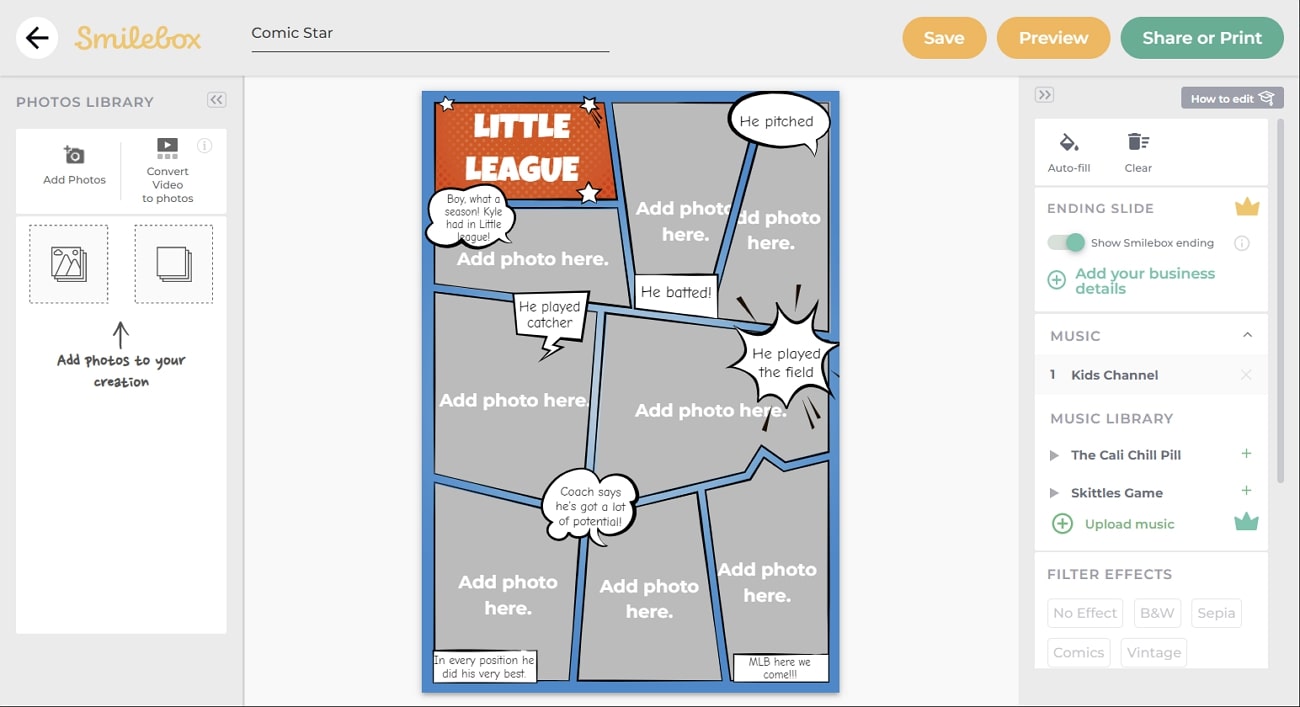 Key Features of Smilebox
This comic book maker helps you create cards, collages, announcement banners, flyers, slideshow, and other virtual content.
You can link your device and other social media platforms to add images and share your work with others easily.
Adding modernized text, tracking guest attention, downloading high-quality comics, and adding a logo are also possible with Smilebox.
Pricing of Smilebox
Premium: $59.88/year
Pro: $139.88/year