Add Audio to Video
Add background music, your voiceovers or sound effects to any video with our online free video editor. You'll find it pretty easy to create a captivating audio video!
Video Audio Mixer Online
The importance of sound in a video cannot be underestimated. For starters, you can add audio to video to make it more engaging and fun to watch; you may look to replace a noisy video narration with something more presentable; or produce a show-stopping music video to promote yourself. So, whichever the scenario, use Media.io Online Video Editor to add music to video for free quickly and easily. It's a simple online program that supports multitrack timeline editing for all video and audio formats. Just add the audio and video files to the timeline and make the necessary adjustments. You can trim, split, apply fade effects, add texts, elements, picture overlays, and so on. Most importantly, Media.io Online Free Video Editor doesn't leave a watermark on your video. Give it a try!
How to Add Audio to Video?
Step 1. Add Video and Audio to the Timeline.

Launch Media.io Online Video Editor and then click the Upload button to load your video and audio files from local storage. Or, you can directly upload a YouTube video by clicking the From URL tab and then pasting the video link. Either way, tap "+" to add your files to the timeline.

Step 2. Streamline the video and audio tracks.

To make your background audio sound more professional, you can trim, split, copy, and delete. Also, tap the audio track and click the Fade button to apply fade effects and move the volume slider to retouch the playback volume.

Step 3. Export and Save the Video with Audio.

If satisfied, tap the Aspect Ratio drop-down arrow at the top-right corner and choose a rate. Finally, tap Export, enter the video file name, select the video resolution quality, and click Continue. It's that simple!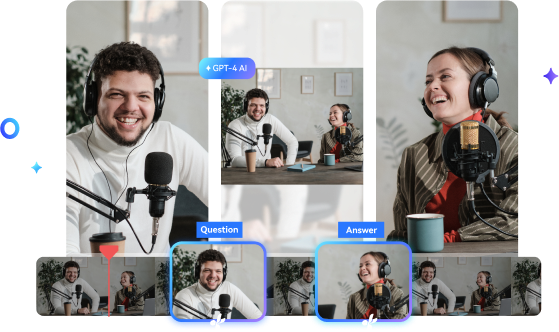 Transform Long Videos into Short Ones Instantly
√ Turn long videos into viral clips. Effortlessly transform lengthy videos into engaging, shareable clips.

√ Edit Video Seamlessly Like As Editing Text

√ AI Voice Cloner Ends Reshoots
Why Choose Media.io to Add Audio to Video?
Online Audio Video Merger
Unlike other professional video editor softwares, Media.io is excitingly easy to use. It directly works in your web browser. You don't need any special skills to add song to video.
Modify Audio Allowed
This simple tool allows you to retouch audio to make it sound more engaging and professional. You can mute, trim, split, adjust volume, delete, apply fade effects, etc. More audio editing are available, like instrumental maker, acapella extractor.
Multi-Track Editor
The multitrack editing timeline allows you to add multiple audios to video simultaneously. This will enable you to add separate audios to specific scenes or trim and reposition the audio tracks. You can even add an image overlay to the video.
Any Format Accepted
Media.io Add Audio to Video supports all standard video and audio formats. It works with MP4, AVI, FLV, MTS, WebM, MP3, AAC, OGG, and much more.
Music Video Maker for Social Media
Media.io Add Audio to Video tool allows you to export videos to numerous social media platforms. You can set the aspect ratio for Twitter, Facebook, Pinterest, YouTube, WhatsApp, more.
High Qualty Output
Media.io video audio mixer supports HD-quality video outputs in multiple resolutions. It supports 1080p, 720p, and 480p outputs.
Why You Add Music/Sound to Video?
Make a Unique Music Video for Special Moments
Music is known to whip up emotions. As such, you can choose a specific theme or genre for a particular occasion. For example, RNB and Soul music will do if you're creating a romantic video for wedding anniversaries or weddings. On the other side, use Heavy Metal, Hip Hop, or Big Band genres to bring out the energy in a fitness video. But remember, use the instrumental part always.
Spice Up Your Presentations with Vocals
Almost everyone likes to watch a video presentation with audio. To hold the interest of the viewers, you can add audio like voiceover, narration, or subtle background instrumental to make the video interesting and easy-to-understand. Plus, please be noted that when inserting an instrumental track, keep its volume low.
Match Background Music with Your Video Tone
Have you ever shot a nice video only to realize that the narration on somewhat off? Or, the video can have someone shouting in the background or a baby crying. So, instead of suffering to reshoot the scene, just mute that particular scene and add a nice piece of background audio. Your audience won't even know you did that, by the way.
Audio Boosts Social Media Engagement
Everybody loves music. And if you're a digital marketer on social media, the impact of adding music to a video is enormous. Think that's a lie? Well, research by Digiday says that some 85% of Facebook-ers watch videos without audios. This means that adding catchy background music can make your videos get more views on this highly populated platform.
FAQ about Adding Audio to Video
1. How to add music to a video?

Learning how to insert audio in a video is easy with Media.io Online Video Editor. Here is how:
Step 1. Enter Media.io Online Video Editor and then tap Upload to load your video and music file.
Step 2. Tap the green Plus icon to move your video and audio to the multitrack timeline.
Step 3. After that, edit audio by trimming, splitting, copying, deleting, adjusting volume, etc.
Step 4. Finally, tap Export, choose a resolution, and add audio to video on Media.io.

2. How to add MP3 to MP4 in seconds?

Media.io Add Audio to Video supports all media formats, including adding MP3 to MP4. Here are the steps:
Step 1. Hit Upload button to add your MP3 and MP4 files.
Step 2. Drag the files to the editing timeline and edit them appropriately.
For instance, you can trim and split to make the background audio sound more engaging.
Step 3. Preview your new MP4 video and click Export to save the video. It's that easy!

3. What is the easiest video background music changer?

If you want to replace your video's background music or sound, Media.io Online Video Editor will handle that easily.
Just load the video on the editing timeline and then tap the "Mute" icon on the left side of the video track. Then, add the music you want to use as a new background sound and export the video. Wasn't that easy?

4. How can I add music to video in iMovie?

Adding music to video in iMovie is as easy as 1-2-3. Follow these steps:
Step 1. Open your video project on the iMovie timeline and tap the Audio button.
Step 2. Then, choose a piece of music to upload and tap the Play button to preview it.
Step 3. Drag the music below the video on the timeline and Save your new video.

Top Tip: Although iMovie is free and easy to use, this program is only for Mac and iPhone users. Even worse, you'll need to download and install it from App Store. So, to avoid all these inconveniences, use Media.io Online Video Editor. It runs smoothly on any mobile or desktop browser and packs many editing tools. What's more, Media.io is free to use and doesn't watermark your videos.

5. How to add music to a Facebook post?

You can natively add music to your Facebook posts or stories. Do this:
Step 1. Open Facebook and tap the picture icon next to the "What's on your mind" text field.
Step 2. Next, browse through your gallery to select a video or click the Camera icon to record a video. Click Next to proceed.
Step 3. Find the Edit icon and click it. Then, tap the Audio icon to select music. Remember that Facebook has thousands of licensed music and sound effects to use.
Step 4. Click Done if satisfied.

Note:
- Using Facebook's inbuilt video music adder can be a little bit challenging and time-consuming;
- The royalty-free music tracks on Facebook are pretty short;
- It lacks integrated audio editing options.
With it concerned, I recommend adding music to video with Media.io Online Video Editor before loading it on Facebook. It's easier and better that way!

6. How to add music to a GIF?

Music or sound effect can make your GIF funnier and more appealing to watch. So, to add music to GIF, initially, use Media.io Online Video Editor to apply background audio to video. After that, upload the new video on Media.io Online Video to GIF Converter and generate the GIF file.
Glen Stevens
I've been using Media.io since 2018, and the new video editor is the real deal. I'm glad it houses all the basic editing features I need. Keep it up!
Gary Evan
This online app is precisely what I need. It's simple and allows me to add audio to video on Mac without any issues. I'm also glad it works perfectly on my iPhone. Recommended!
Monica W
An outstanding online video editor. It's fun and engaging to use, to say the least. No pesky adverts, by the way.
George Gocha
I love this online video editor. It's the simplest method to add music to video online for free with no watermark. The video rendering speed is also swift.
Fakim M
Like which professional app will allow you to create non-watermarked HD quality videos for free these days? I rate this app 5/5 any day, any time.
Add perfect audio tracks for your video
Online.
Make it memorable and sharable Today!