There is various software being invented day by day and are flocking in our markets. On the other hand, the demand for software is increasing owing to the change of time which has brought us to the digital era. Video recorders help in storage and transfer of information from one person to another. Graphical, video and photographic production have are becoming one of the most competitive fields. For excellent outputs which leads to prospering in the graphical production sector, one should use the best software available.
This article will highlight the latest outstanding and best video recording software in the market.
Part 1. 10 Recording Software for Windows and Mac
URL: https://www.media.io/video-converter-desktop.html
Support Platform: Windows and Mac
Wondershare UniConverter
· Wondershare UniConverter is the easiest to use software for a beginner with a simple interface.
· Upload, edit, convert, and download speed are high-speed.
· It allows you to transfer videos from computer to iPhone or Android mobiles without using iTunes.
· Using Toolbox features, it has convert images, create GIF, burn CD, rip CD, cast to TV, and fix Meta tags functions.
· Wondershare UniConverter allows you to burn video and other media files to DVD as well.
Pros:
UniConverter is the best user-friendly video recording software.
It has many features to help you in editing your video.
Con:
It is a bit complex which may take some time for beginners to learn how it works.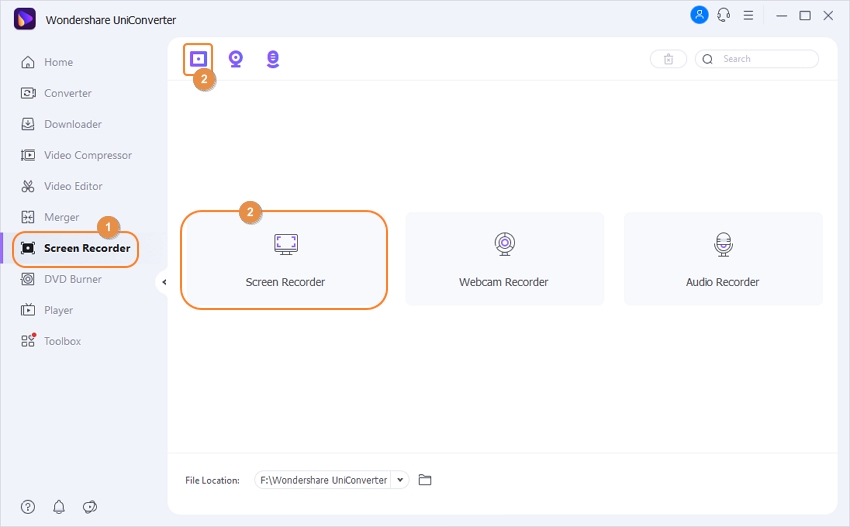 URL: https://filmora.wondershare.net/screen-recorder/
Support Platform: Windows and Mac
Pros:
Filmora is installed with unique and advanced text formatting and editing tool which enables handlers to change and improve text styles.
It has a split-screen which is a standout functionality among other video recorder software.
Con:
It does not have some shortcuts which help in navigating a video more efficiently.
It can only produce or export a whole video not some parts of it.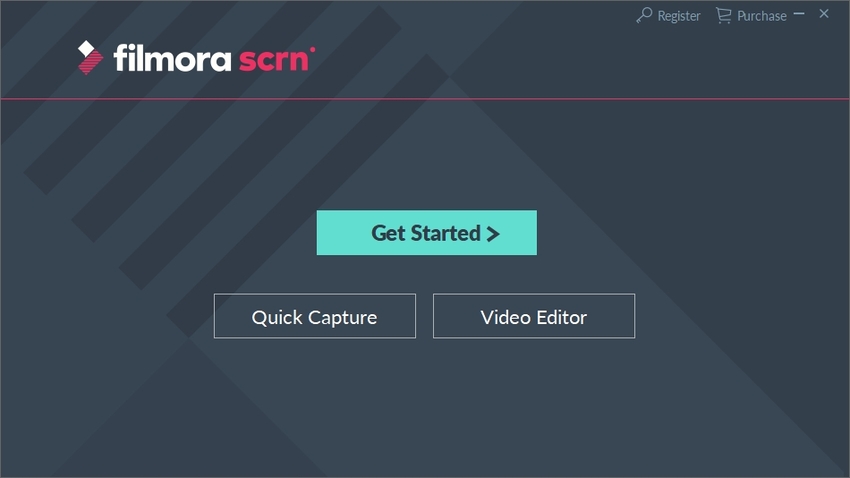 URL: https://getsharex.com/#capture
Support Platform: Windows
Pros:
ShareX can able to record a section of your screen when you don't need the whole screen captured.
It is a free video recording app with perfect basic features for people working with low budgets.
Con:
Its editing features are not as comprehensive and powerful as of other apps.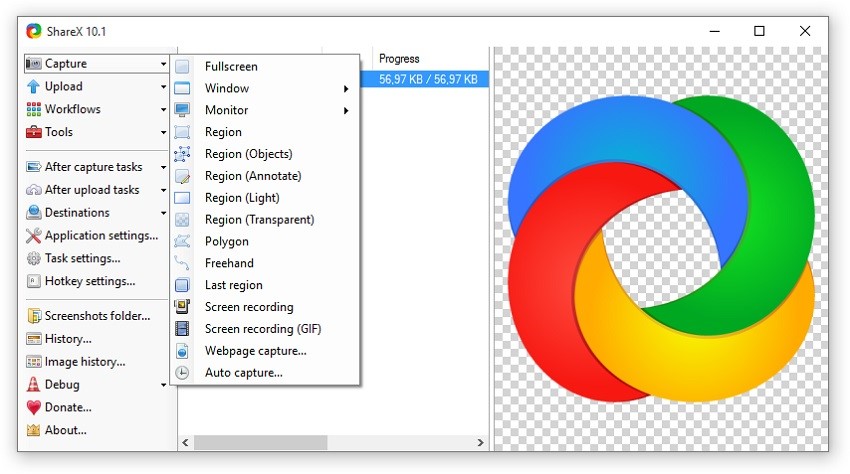 URL: https://www.nchsoftware.com/capture/index.html
Support Platform: Mac and Windows
Pros:
It is a powerful and free video recording software for personal use.
It can be used for various purposes like screen recording and also recording videos from external devices like CCTVs.
Con:
It has to be purchased for non-personal use.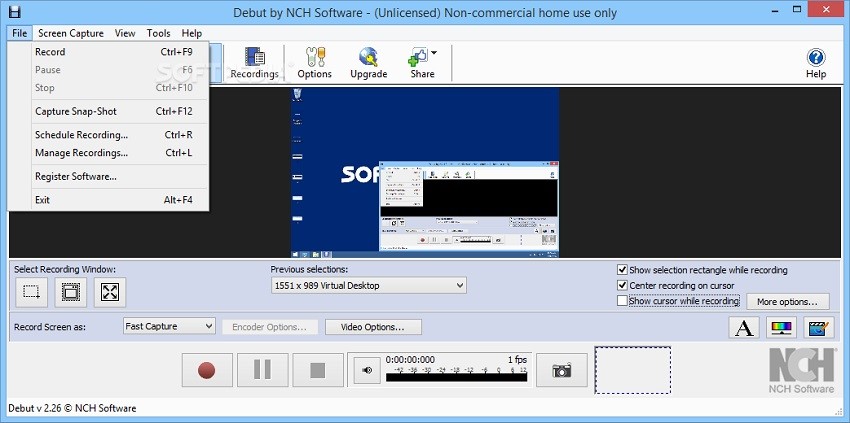 URL: https://www.techsmith.com/screen-capture.html
Support Platform: Mac and Windows
Pros:
It has a quick access tool-bar which enables fast and simple capturing of your screen.
It can copy captured images to a clipboard for pasting and sending later and saving to different desired formats.
Con:
In some instances, the size of the window to be captured is limited.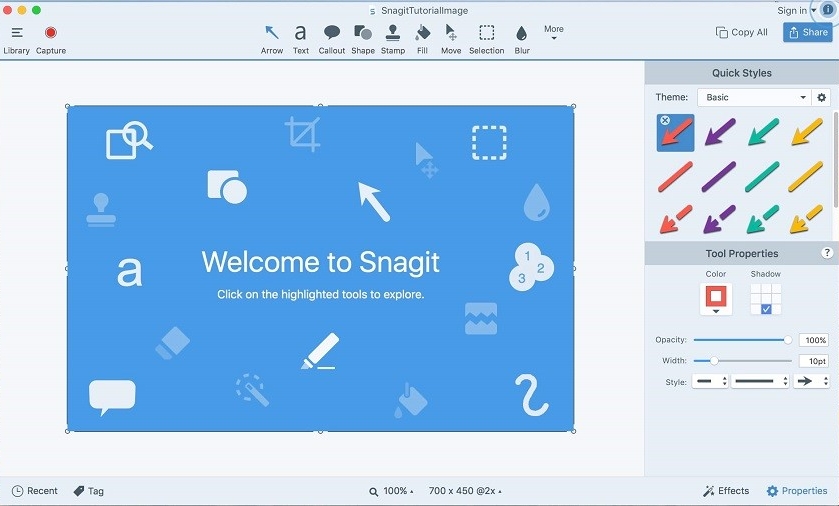 URL: https://www.bandicam.com/free-screen-recorder/
Support Platform: Windows and Mac
Pros:
The free version provides as many features as that of the paid version.
The Bandicam software is compatible with almost any computer.
Con:
In some instances, the software may not be able to remember sound and audio configurations.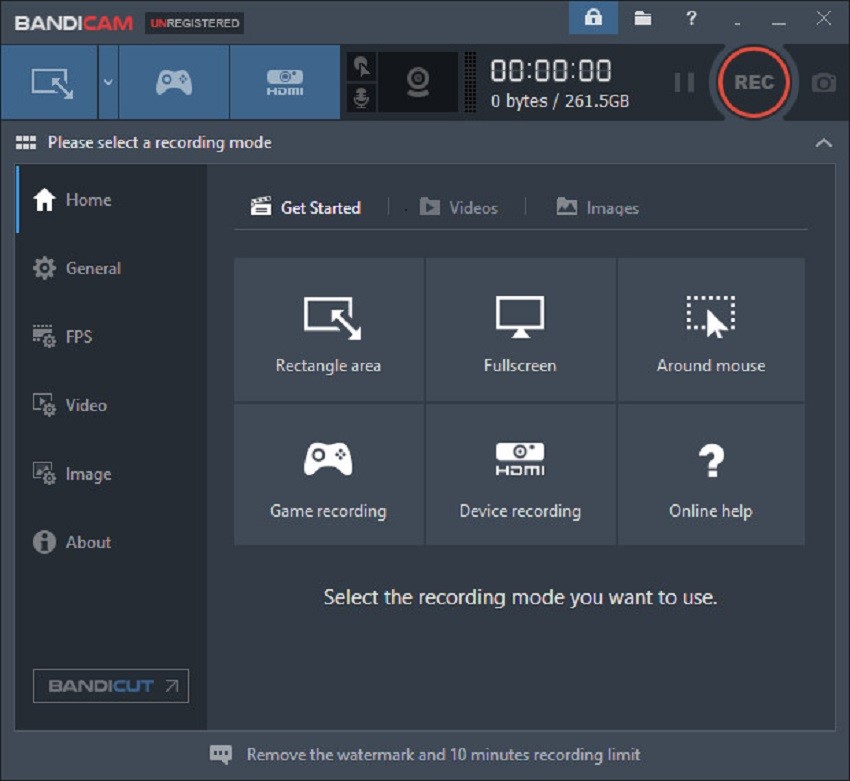 URL: https://www.freescreenrecording.com/
Support Platform: Windows
Pros:
It is a free recording software and it does not require any upgrade payments.
It offers super audio recording features.
It is free from adverts and does not limit recording time.
Con:
This software only supports MWV video format.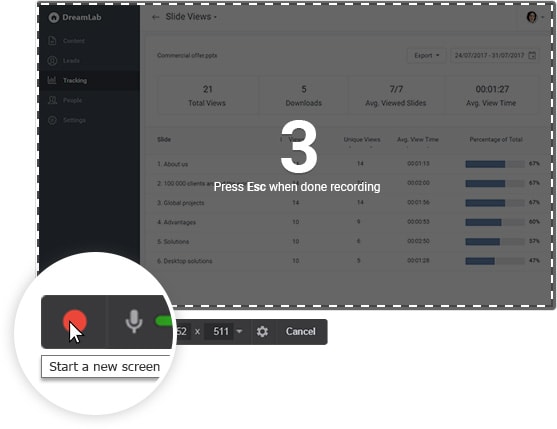 URL: https://www.ezvid.com/download
Support Platform: Windows
Pros:
It does not have adverts.
It captures HD video with good quality.
It has features which enables you to trim videos and also draw while recording.
It does not leave a watermark in recorded videos.
Con:
In some cases, it slows down your computer.
The only available saving format if WMV which can only play in windows.
It delays replay because the video has to be rendered every time.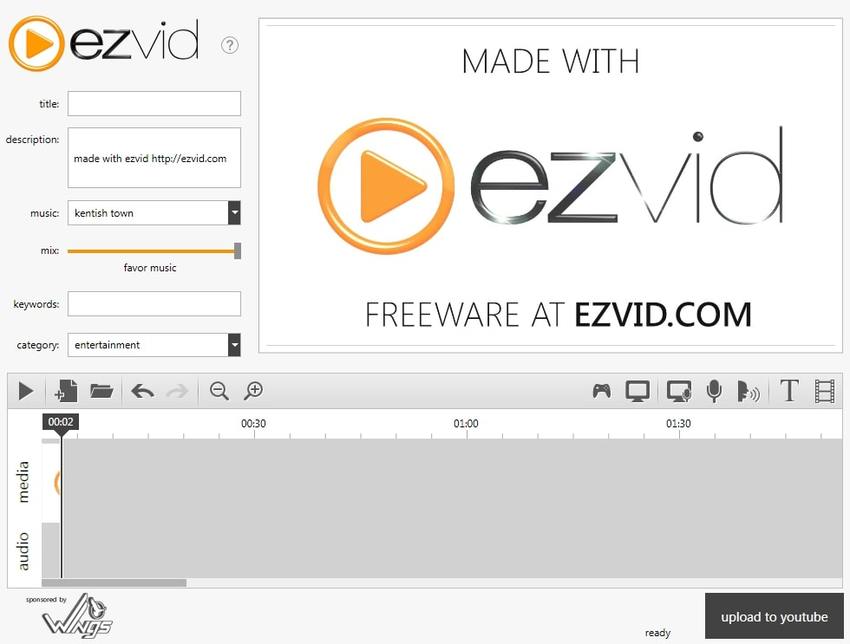 URL: https://www.ispringsolutions.com/ispring-suite
Support Platform: Windows
Pros:
It enables creating of casts on screen.
It does not leave watermarks on recorded videos.
It can also record your direct voice of externally produced from an audio machine.
Con:
The installed features are still very basic.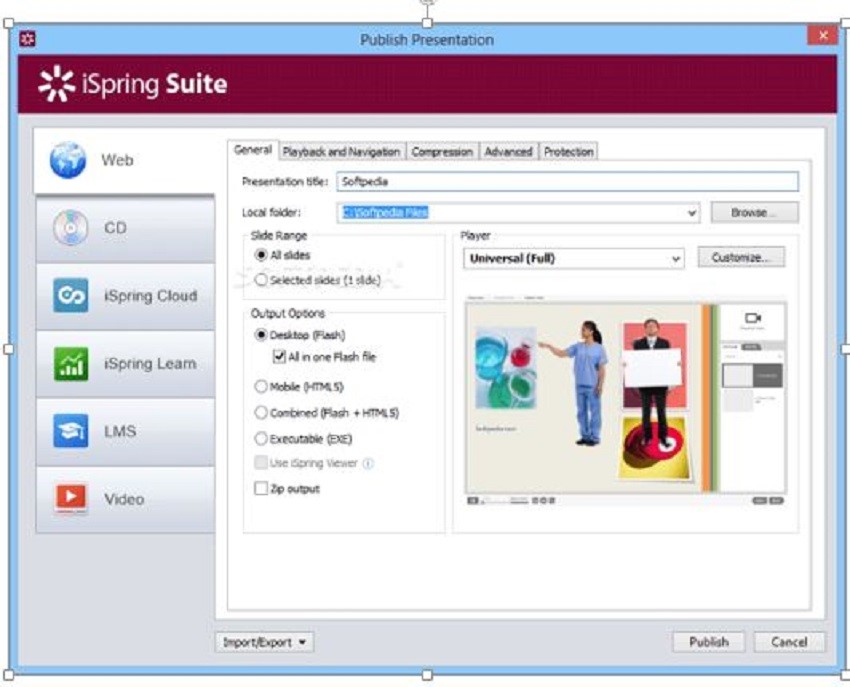 URL: https://www.flashbackrecorder.com/
Support Platform: Windows
Pros:
It has powerful features which enable text editing unlike most of the recording software.
It allows cutting and pasting of movie footages.
Con:
The process of editing videos and audios is very slow.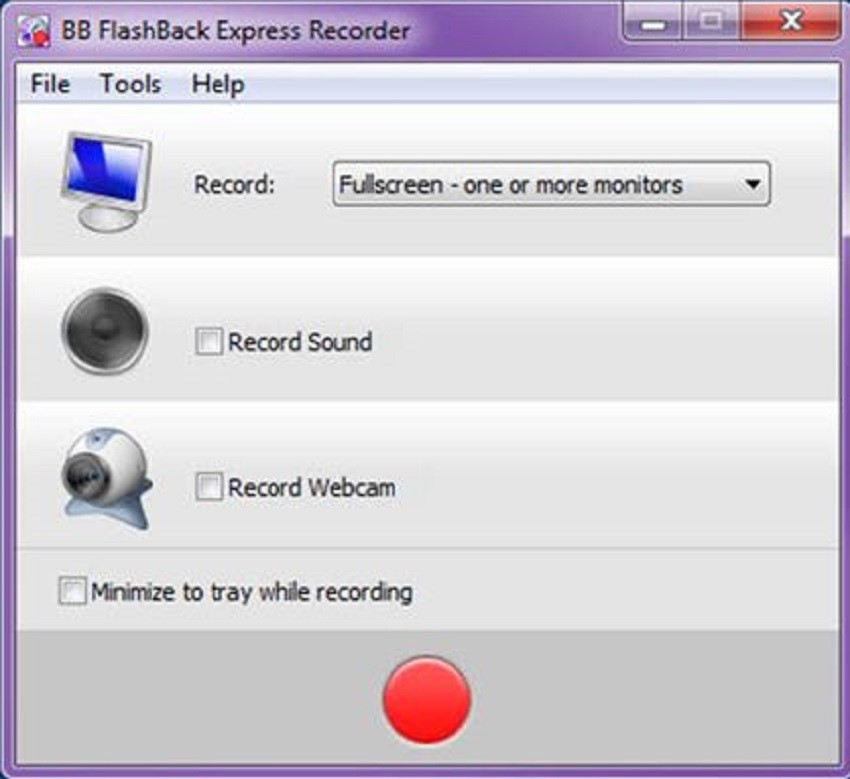 Part 2. Top 3 Online Video Recorders
Video Recorder is a free app that works online.it is used to record videos and taking of screenshots on your computer. The software video and audio settings are very flexible. It does the tasks very fast and does not limit the size of the files to be worked on.
Pros:
Its settings are largely flexible.
It processes your work very fast.
Con:
A software has to be installed on the computer being used.
It is assumed to consume high amounts of power.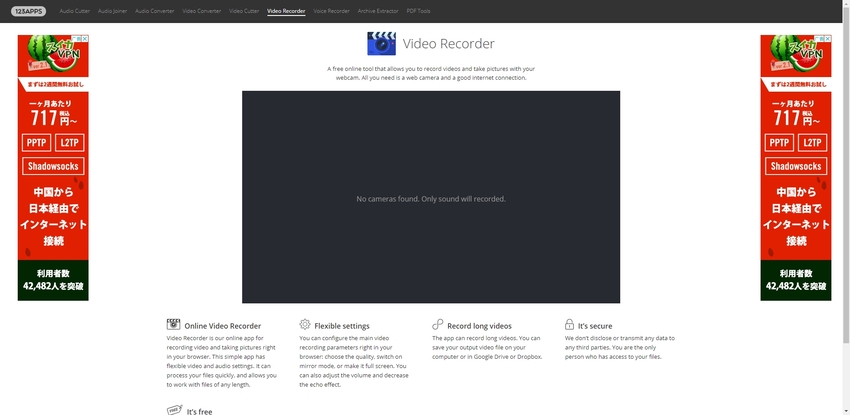 URL: https://util.clipchamp.com/en/dashboard
Clipchamp is a video recorder that can operate on Windows and Mac computers which are installed chrome. It provides an mp4 format for the recorded videos. This format is the best since it can play on any device including phones. It is suitable to use due to its flexibility of working with both computer's inbuilt camera and microphone and external ones.
Pros:
Climpchamp recorder interface is very simple to use.
The software is light making it work super-fast on computers.
Con:
This is not an independent app as it can only work as an extension of installed Google chrome.
During compression of videos, the quality is lowered due to the introduction of grainy particles.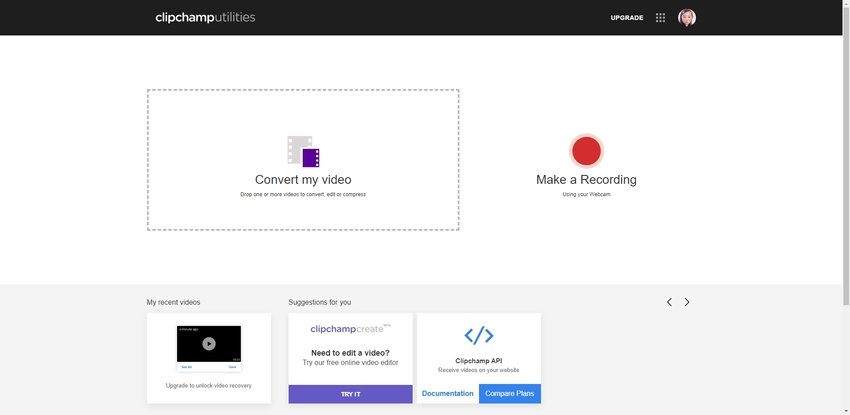 URL: https://www.screencastify.com/
Screencastify is one among the simplest screen recorders. It modifies the way people transfer information in the office. The services it offers include, editing, recording and sharing high-quality videos in a very short time. It works as an extension of Google chrome. Screenshots and screen videos reduce the work of typing emails and reports.
Pros:
The software is simple and easy to use and handy versatile.
It introduces a new way of presentation and information transfer.
Con:
It leaves a watermark.
It can work only with Google Chrome browsers.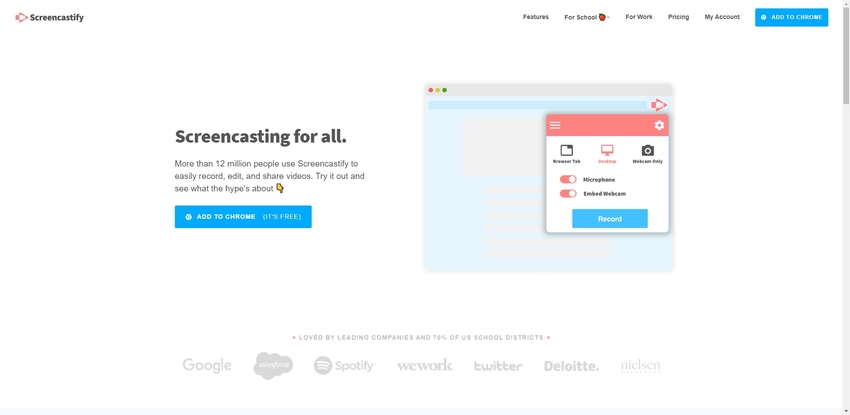 Part 3. How to Select Effective Recorder Apps?
1. User-friendly Factor
We always want to use things which does not complicate the situation we are in. video and screen capturing should be easier to encourage new users. Best recording should be flexible, clear and have a manageable interface which is more simplified to allow starters and experienced users to do their recording tasks quickly. The user experience of a recording app can be tried using free trial versions.
2. Recording Features
There are two types of existing Screen recorders in the market. Some offer a lot of control with many recording features while others have a few of them. It is always the best experience using software that has many features at your disposal. With multiple formats of recording and sharing videos, features enabling you to change the resolution, audio sources, and volume levels recording becomes enjoyable.
3. Editing and Fine-tuning Features
When choosing recording apps one should always consider the editing and fine-tuning parameters an app if offering. The fact that human beings are prone to error, editing recorded videos and audios is also necessary. Fine-tuning features help to enhance the quality of video production.
It is of importance to understand that some apps provide a handful of these features while others are very limited hence perfuming only basic improvements.
Summary
These software have different features and characteristics. Some of them are free others are paid for. With the best product for your desired output, it will place you in a preferred position among the other producers hence a guaranteed success.