Videos are now the best way to engage the audience or increase your fan following. If you are looking for ways to take your social media accounts to the next level, you might want to try and merge video online free for a truly impressive outcome.
By combining multiple videos into one, you can create wonderful highlights of your events or quick tutorials to delight your audience. Thanks to the numerous tools available, you can merge video free online without any hassle.
In this article, we will show you the ropes on how to join videos online free using the best tool on the web.
Part 1: The best way to merge video free online
As the name suggests, Online UniConveter is a tool that is available online and requires no download. You can simply access it on a variety of devices and merge videos online for free. No registration or subscription is required. Online UniConverter is packed with multiple editing tools that are intuitive and easy to use.
Whether you want to trim your video or adjust it to an aspect ratio to upload on social media, UniConverter has got you covered. It also works as a YouTube video joiner online. What's more, UniConverter functions at 30 times faster speed compared with any other converter. It also supports many output formats, and you can also choose the output resolution such as 240p, 360p, 480p, 720p, and 1080p.
Another benefit of using Online UniConverter is that it is super-easy to use. For further elaboration, here is a step-by-step guide on how to merge video free online.
Open Online Uniconverter Video Merger on your browser. In the

Merge Video

tab, you can choose from different ways to import the media. The videos can be added from

Dropbox

,

Google Drive

, or

YouTube

. Click on Choose

Files

to select videos from local storage.
After the media import is complete, you can change the settings in the way you want to combine videos online free. You can add more media by clicking on

Add Files

. Multiple cropping options and aspect ratio templates are available to choose from. You can also apply the

Crossfade

As you merge two videos online for free, you can also add Audio through this tool.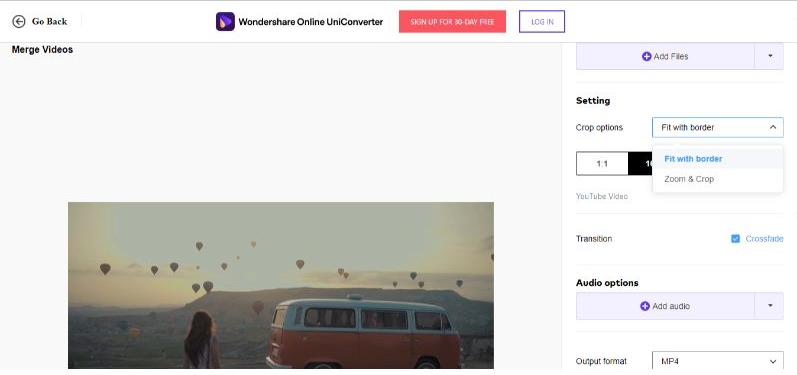 On the timeline at the bottom, you can drag and drop to adjust the position of the media. Next, before merging, you can select an

Output

Format. Finally, click on

Merge

.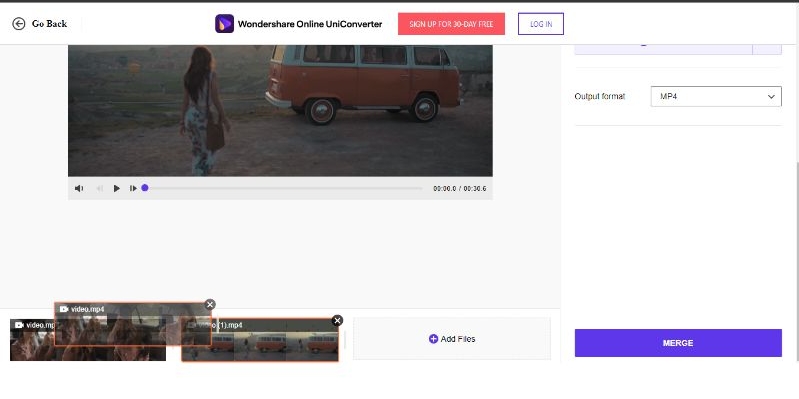 Now, you can preview the merged video and choose to edit the video further with other tools, or click on

Download

. The video can be directly saved to Dropbox, Google Drive, or local storage, depending on what you choose.

Part 2: The other 7 tools to combine videos online free
Here are 7 alternative means to merge videos online free. We have rounded up some of the best available tools.
Pixiko is an all-in-one online video editor packed with tons of different tools to help you create awesome videos with ease. Whether you want to merge videos online free or add a picture-in-picture effect, you can do it all on Pixiko. With this tool, you can not only combine videos online free, but you can also add captions to it, crop it, rotate, adjust the audio, and much more. With an easy drag and drop interface, you can quickly rearrange the videos in the order you like and merge videos online free without any hassle. Combine and share videos to YouTube, all with Pixiko video merger.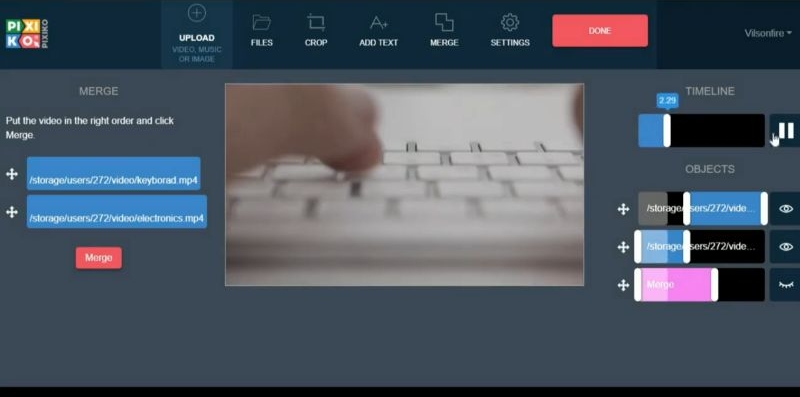 Fastreel is a quick way to merge videos online free while also making other wonderful edits to your video. This tool has a very intuitive interface, and you can add several clips to the timeline to combine videos online free. There are multiple aspect ratio templates available so that you can crop the video to your desired ratio with a single click. This tool also has various transition effects that can be applied to add a cinematic effect to the merged video. Moreover, Fastreel also has countless other editing tools that can help you create a highly professional-grade video. Add text to video, compress video, apply the split-screen effect, and much more.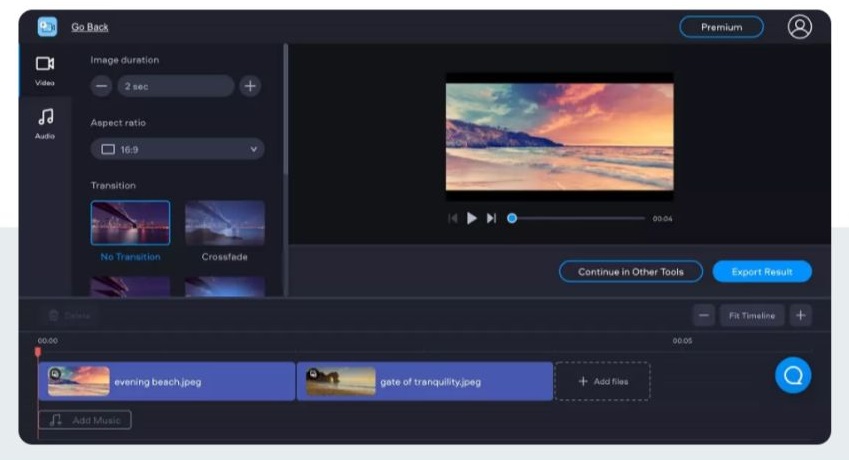 Clideo is yet another amazing tool to merge two videos online for free. It is a hassle-free tool that can be accessed through the browser and requires no registrations. Simply hop on to the site and import two or more video clips as you like. You can select an aspect ratio template or crop the video. A transition effect can also be applied for a more seamless video merging effect. In addition, Clideo also makes it easy to add music to enhance the ultimate video. By dragging and dropping, the videos can be rearranged to the desired order. Through this tool, you can stitch countless videos together within no time.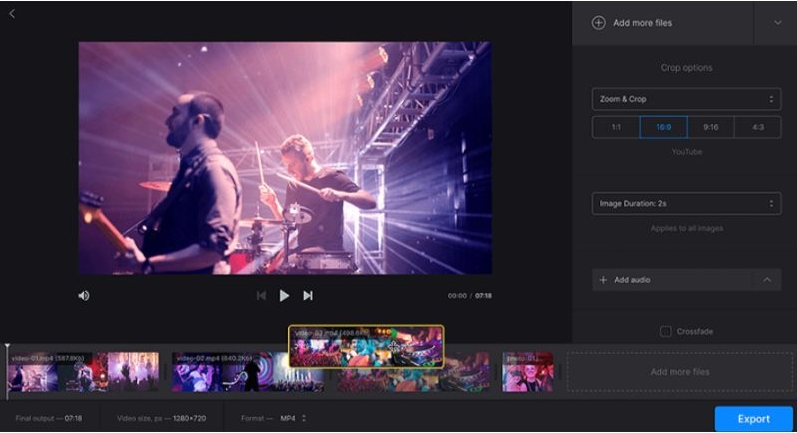 A great tool to merge videos online for free is Typito. It comes with a user-friendly interface that lets you create unlimited merged videos for free. With this tool, you can enhance your creations by adding catchy titles or your brand text with the font style, size, and color of your choice. You can also add a melody to the video for an ultimately outstanding outcome that wows your audience. Better yet, Typito imposes no limitations to the number of videos that can be added, and it also supports a range of video formats, making it a very versatile tool to merge video free online.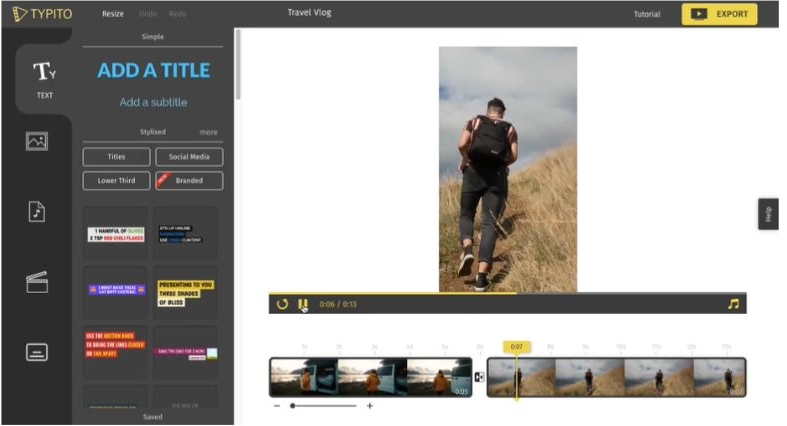 Wofox is a very simple yet equally powerful and easy-to-use YouTube video joiner. It has an intuitive interface with limited editing options. However, it offers a wide range of aspect ratio templates like horizontal, vertical, square, standard, etc. You can also adjust the video size based on where you want to upload it, like Snapchat stories, Twitter portraits, Twitter landscape, etc. Due to its simplicity, you can easily and instantly merge videos online for free. Hence, no editing experience is needed. Combine videos online free with a few clicks. On Wofox, you can also use other tools like adding subtitles, emojis, or music to the video.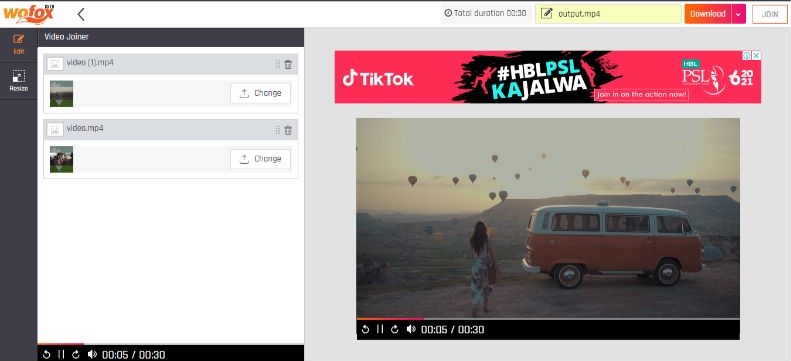 Creator Kit is a remarkable video maker and editor. It comes packed with attractive templates. If you wish to merge videos online free, you can easily do that with Creator Kit. After merging, you can also add a background color to the video and apply dynamic transitions for a cinematic effect. Creator Kit also offers numerous animated Titles as well templates for price tags, call to action, captions, and much more. With this tool, you can quickly combine videos online free and then export them in HD. Filters, animations, and even the Ken Burns effect can be added with a single tap. Better yet, your video won't be cluttered with any watermark.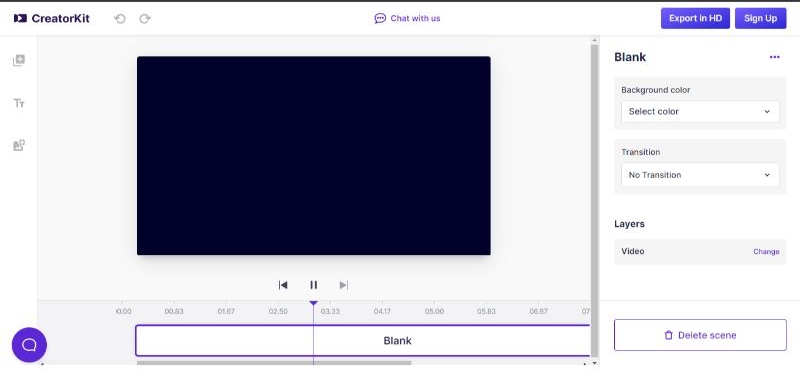 A renowned video editor, Kapwing, is frequently and widely used as a tool to merge video free online. Kapwing offers a multitude of attractive elements to add to the videos. You can also enhance the video through the addition of catchy captions. Adding music to your video is super easy as you can use an audio present in Kapwing or import any by pasting the audio URL. With an intuitive timeline and a drag and drop interface, Kapwing offers a simple way to adjust the order of the videos and start merging for an amazing result. Through the various aspect ratio templates, you can optimize the video for different social media platforms.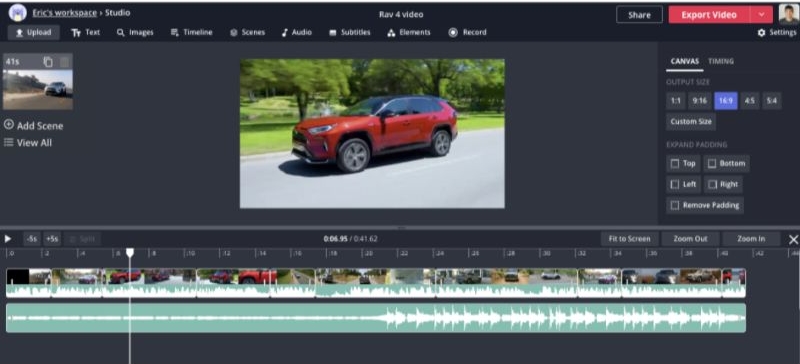 Part 3: FAQs -- Can you combine videos on YouTube?
Previously, it was possible to merge videos online free on YouTube. But now, YouTube does not offer this feature, and hence it is impossible to combine videos online free on YouTube. However, on the bright side, we have a better alternative, Online UniConverter.
As we mentioned earlier, Online Uniconverter works as a great YouTube video joiner online. It has numerous editing features and is very intuitive to use. With multiple aspect ratios and easy editing tools, UniConverter is your best bet to merge videos online free.
Conclusion
Finally, you know how to merge videos online for free. Even if you are a beginner looking to kick it up a notch by creating wonderful videos, the above-mentioned tools will help you get started. Create Highlight Reels or Instagram trailers to wow your audience.
Give Online UniConverter file merger a spin and test your creativity. Merge videos online free and step up your video creation game. No experience or download required. Just hop on to the site and start creating.