The process of recording the activities on your computer screen is called 'screencasting'. While the independent screen recorders can screencast all the movements that occur on your PC, including surfing the Internet using Firefox, Chrome, or Opera, some browser-specific add-ons are also available that allow you to capture the images of your web browser itself.
In this article, you will learn about various screencasting methods using independent tools, Firefox addons, and operating systems' built-in screen recording options. By the time you're done reading this, you will be able to decide which approach is best for you as per the final output you're looking for and the target audience you plan to address to.
Part 1. 6 Popular Screen Recorder Software for Recording Screen On Firefox
Among many others, the most popular Firefox screen recorder applications are listed below:
URL: https://www.media.io/video-converter-desktop.html
Wondershare UniConverter appears first in this list for a reason. As its name suggests, although the program is a universal audio and video converter, being a pack of multiple apps. It also has a built-in screen recorder that allows you to screencast your PC screen without having you to install any other app.
Wondershare UniConverter
· It has a 90x faster speed without quality loss while convert and compress files.
· With this application, you could use it to edit, compress, and convert video files.
· It allows you to transfer videos from computer to iPhone or Android mobiles without using iTunes.
· Using UniConverter Toolbox function, includes convert images, create GIF, burn CD, rip CD, and fix Meta tags with just a few clicks.
· The screen record of UniConverter is one of the popular features.
Process to Record Firefox Screen using Wondershare UniConvert is Simple and is Explained Below:
Step 1. Launch Firefox Browser
Launch Firefox (or any other web browser of your choice) before initializing anything else. Unless you want to demonstrate the process of launching the web browser itself, it is imperative to start Firefox before moving to the next step.
Step 2. Run Wondershare UniConverter and Prepare Screen Recorder Feature
Start Wondershare UniConverter, click Screen Recorder located on the left pane of the interface. Then you can click the top-left down-facing Arrow followed by the Screen Recorder button.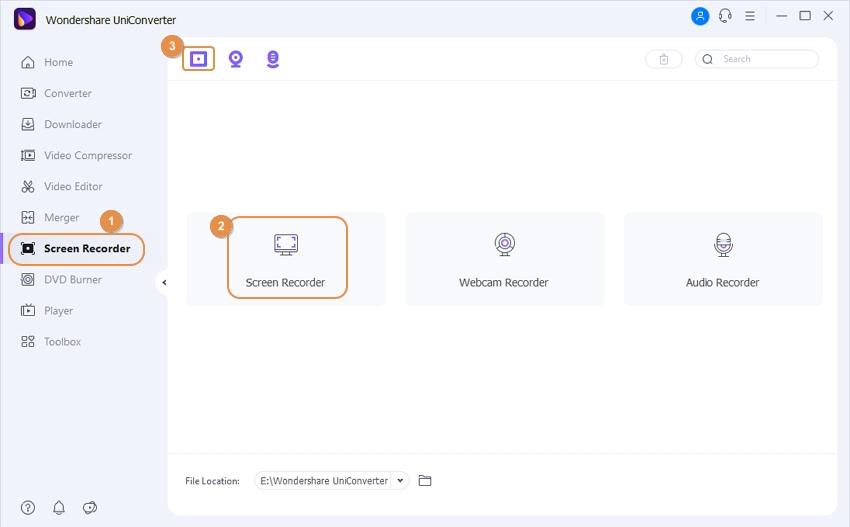 Step 3. Setup Screen Record Frame
Click the down arrow from the Capture Area section of the Wondershare Screen Recorder panel and choose Full Screen from the menu. You can leave the Custom option selected and drag the frame handles to cover the area you want the screen recorder to record the Firefox screen.

Step 4 (Optional). Setting Screen Recorder Speaker
Click the Speaker icon to prevent Wondershare Screen Recorder from recording system audio. Alternatively, you can leave the Speaker icon enabled, click and open the System Audio menu, and choose your preferred audio input device.

Step 5 (Optional). Setting Screen Recorder Microphone
Repeat the process explained in Step 4 for the Microphone section.

Step 6 (Optional). Others Settings for Screen Record
Click the Settings (gear) icon to expand the panel and configure advanced settings like frame rate, the default save location, mouse settings during screencasting, etc.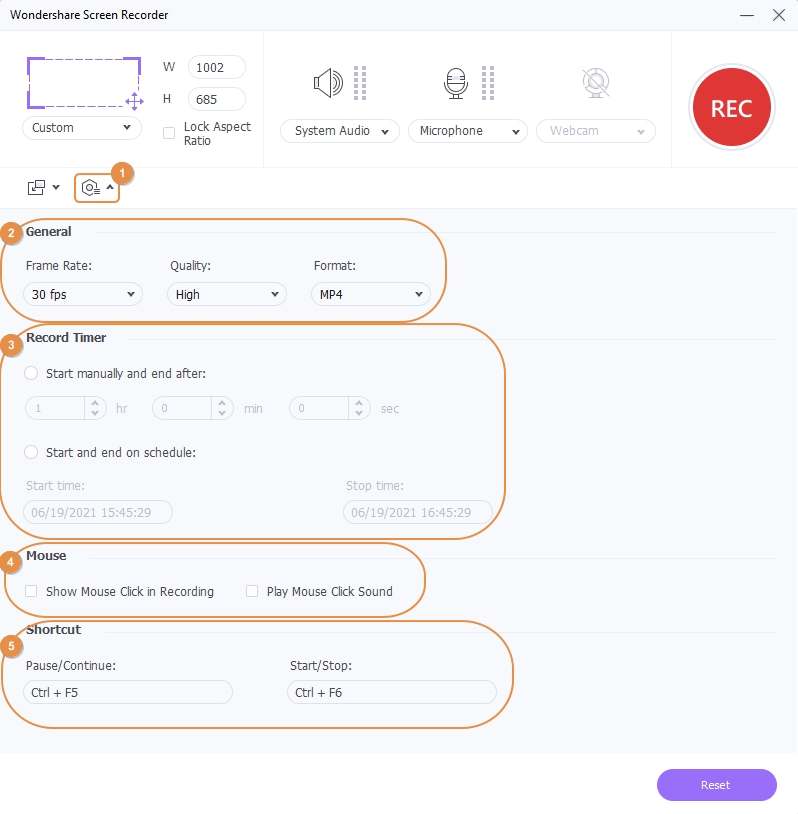 Step 7. Start and End to Record Firefox Screen
Click the REC button to begin recording the Firefox screen.
To stop recording, you can either click the

Stop

button or press the

Ctrl + F6

keys on your keyboard.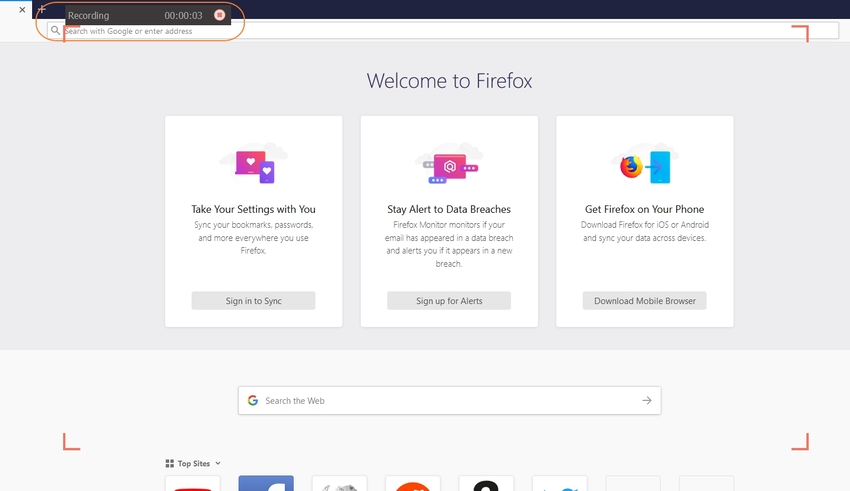 URL: https://screencast-o-matic.com/screen-recorder
Screencast O Matic is a free computer or Firefox screen recording software that also allows you to add voice-over through your microphone. In addition to this, you can even use your webcam to capture videos for further improvements.
Available for Chromebook, Mac, and Windows platforms and the facility to upgrade to Deluxe or Premium version to access more advanced features, Screencast O Matic has different variants for students, professionals, and developers.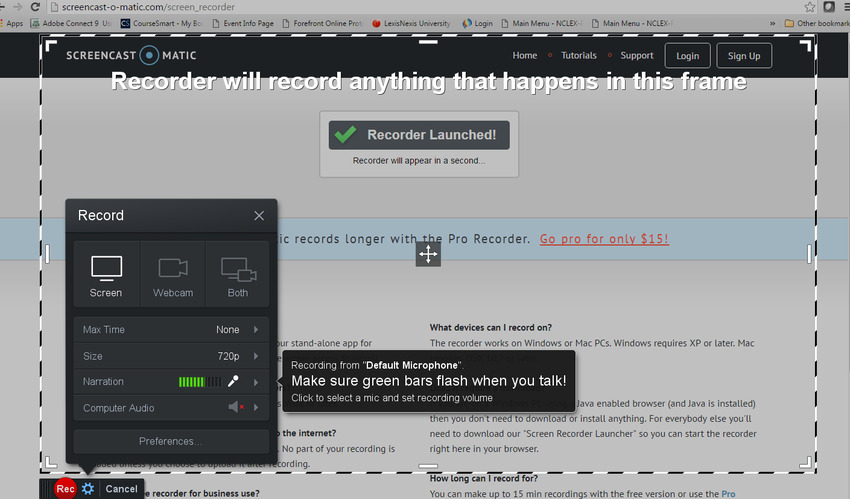 Debut Video Capture Software
URL: https://www.nchsoftware.com/capture/index.html
A multipurpose video capturing and screen recording tool that lets you record the videos using your webcam, VHS device, or network IP camera. Available for both Mac and Windows computers, when recording computer screen, Debut Video Capture Software also allows you to add text narrations, manage color settings, add timestamps, etc.
You can even add your audio via microphone or your computer speakers while recording the PC or Firefox screen.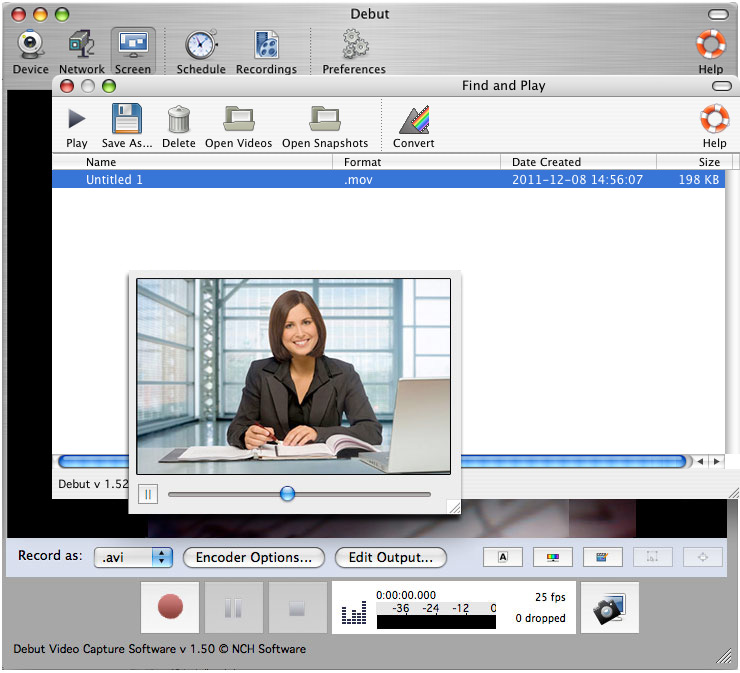 Powersoft Free Online Screen Recorder
URL: https://www.apowersoft.com/free-online-screen-recorder
One of its kind, Free Online Screen Recorder by Apowersoft, eliminates the need for installing the massive programs on your computer to perform screencasting. However, to allow the program to function correctly, you are required to establish a lightweight Launcher app that helps you launch the tool and manage the screen recording process.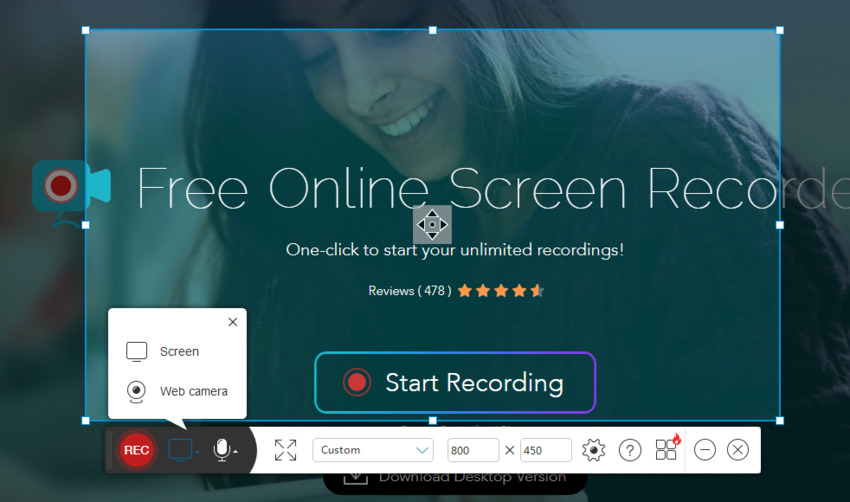 URL: https://www.fonelab.com/screen-recorder/
Yet another efficient tool that lets you record anything that appears on your computer or Firefox screen, or is audible via your PC speakers, be it a web page, audio, or even an online tutorial. Available for both Windows and Mac computers, Fonelab Screen Recorder also lets you choose video and audio recording formats.
Upon successful recording, you can edit the videos and audio to fit your needs best.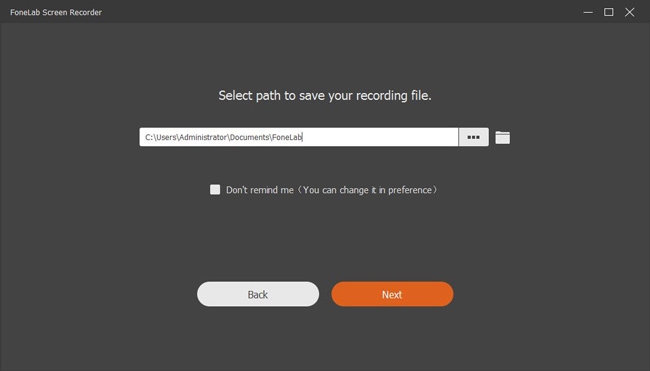 URL: https://acethinker.com/desktop-recorder
With Recording Scheduler, Screen Grabber Pro stands out from its competitors. Compatible with Windows and Mac, the program allows you to screencast your Firefox or PC screen, record only the audio, and, most importantly, lets you record live streaming videos.
Post successful recording, you can edit the videos, add watermarks to them, and add text narrations to make the final output more informative.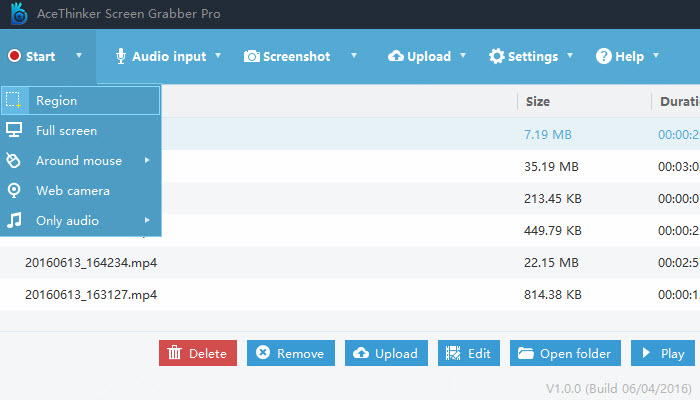 Part 2. Add-on Screen Recorders for Firefox
If you are looking for a free and straightforward solution to record the Firefox screen, there are a couple of add-ons available for the browser. These small and lightweight programs can be installed directly on Firefox as extension and can capture anything that you surf.
However, unlike the tools explained in Part 1, Firefox add-ons can only capture the screenshots and can save them as image files. Some of the most commonly used add-ons are:
URL: https://addons.mozilla.org/en-US/firefox/addon/nimbus-screenshot/?src=search
Used and appreciated by millions, Nimbus Screen Capture is an efficient and free add-on for Firefox that can:
Capture screenshots of an entire web page or a selected region
Annotate the captured images for further clarifications and future references
Save the final output either on Google Drive or on your local hard disk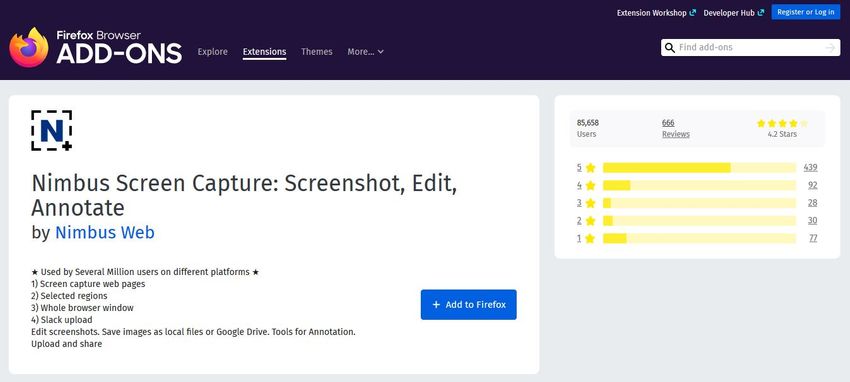 URL: https://addons.mozilla.org/en-GB/firefox/addon/fireshot/
With the ability to capture screenshots of the entire web page even if most of its section is not visible on your PC screen, FireShot has the following features that are worth a look:
Captured screenshots can be saved as PDF files along with all the hyperlinks
Windows version of FireShot allows you to annotate the screenshots and mail them to your known ones
The latest version of the add-on can now capture screenshots of all the opened tabs on Firefox and can save them as a single, multi-page PDF file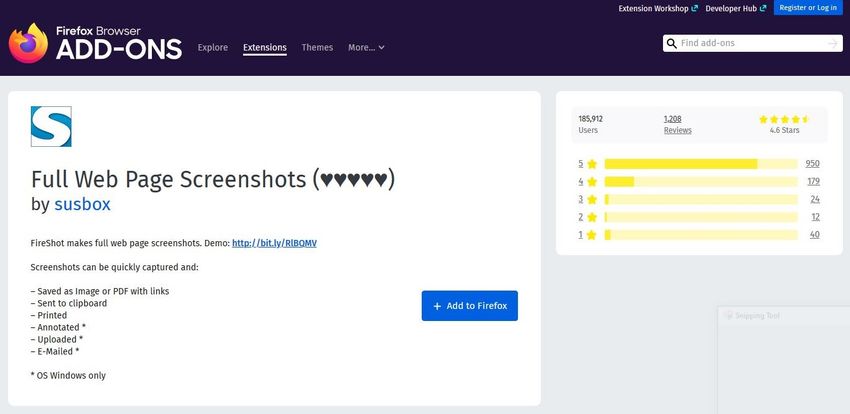 Part 3. Other Ways to Record Screen On Firefox without Installation
If you use Mac computer, you're in luck as you have two built-in options to record Firefox screen without installing any third-party program. Both the options along with their step-by-step instructions are explained below:
Option 1. Mac Default Method
If you use a Mac computer, you're in luck as you have two built-in options to record Firefox screen without installing any third-party program. Both the choices, along with their step-by-step instructions, are explained below:
Step 1. Launch Firefox and go to the website you want to screencast.
Step 2. Press Shift + Command + 5 on your Mac keyboard to launch the Screenshot toolbar.

Step 3. Click the Record Entire Screen icon to begin screencasting the whole Firefox screen. Alternatively, you can click the Record Selected Portion icon, use the side handles to cover the area you want to record, and click the Record button to begin screencasting the selected area of the web browser.
Step 4. Click the Stop button at the top once you're done recording, right-click the thumbnail of the recorded file from the bottom-right, and click Save to Desktop or Save to Documents to save the recorded video on your desktop or the Documents folder respectively.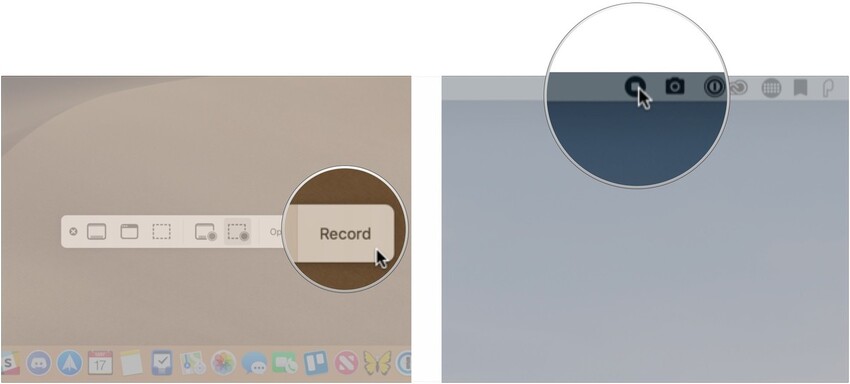 Option 2. Use QuickTime to Record Screen
QuickTime, a built-in media player in all macOS versions, also has a screen recorder integrated into it. However, this screen recorder only comes with the Mac version of QuickTime Player. You can follow the steps below to use QuickTime to record Firefox screen:
Step 1. Start Firefox and go to the URL you want to record the screen of.
Step 2. Launch QuickTime Player from the Applications window. You can also use the Finder app to locate the player on your Mac.
Step 3. Ensure that QuickTime Player is selected and is active, go to File at the top, click New Screen Recording from the menu, and click the Record button to begin Firefox screen recording.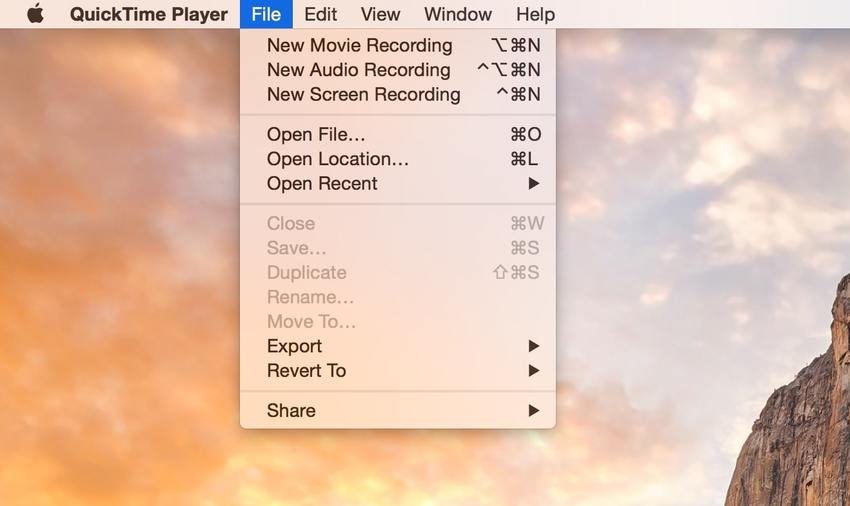 Step 4. Once you have recorded the process of interest, press the Control + Command + Esc keys on the keyboard or click the Stop button from the menu bar.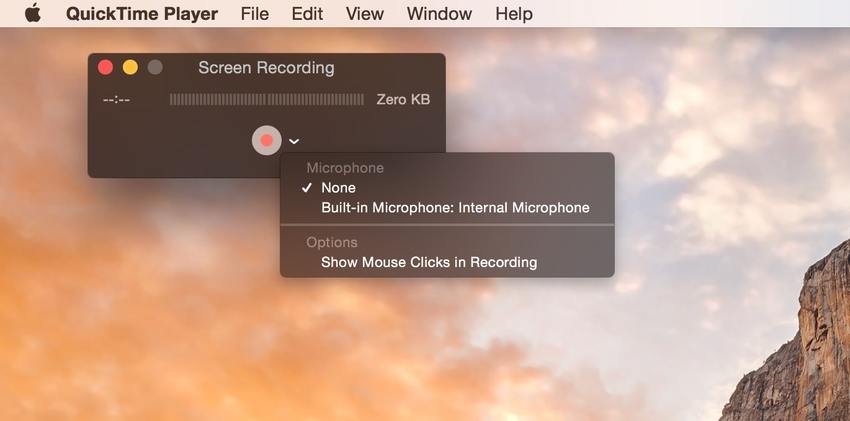 Step 5. You can save the screencasted video by going to the File menu after selecting QuickTime Player, clicking Save, and choosing your preferred location from the box that opens up next. Alternatively, you can click the Export option to export your Firefox screen recording to your preferred resolution.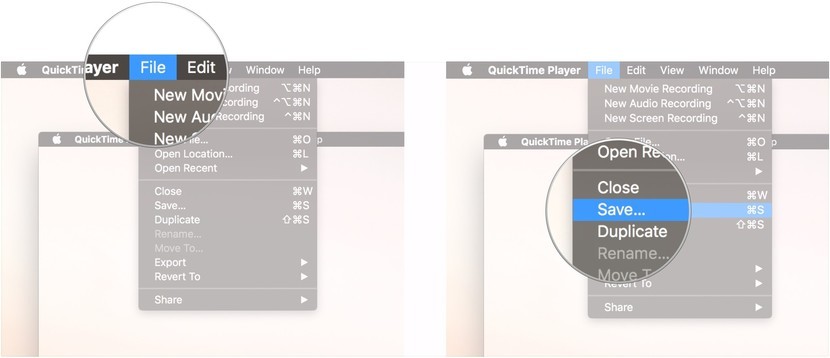 Summary
There are several methods to record the Firefox screen. Depending on your budget, ease of access, the platform of your computer, and your technical expertise, you may find any of the methods discussed in the article useful.
The level of precision and accuracy you would like to have in your recorded Firefox videos and how much editing you need in them can also be a significant factor when deciding which app you should go for and/or invest in.