When it comes to merging videos, there is no dearth of apps and tools. With a wide range of video combining apps available, selecting one depends on various factors like video format, size, and additional features required. If we consider the best app to combine videos, some of the key elements to look into include ease of use, support to a wide range of formats, customization, and additional features. For your reference, the article below discusses the top app to combine videos.
Part 1: Top 5 online video merger tools
Online tools are great for performing merging without downloading or installing any additional software or app. These tools work straight from your system or smartphone browser and help you get the task done in no time. Moreover, online tools are simple and free to use. Check out the top 5 tools in the category below.
Earlier known as media.io, this is one of the popularly used online tools for multiple tasks, including merging. Working from your browser, the tool supports adding the videos from your system, using URLs and Dropbox, and Google Drive. The interface is simple, and the process of merging is fast.
Key features:
Add videos from multiple sources
Free and simple to use tool
Allows to crop the video, choose aspect ratio, and select crossfade option
Add customized audio from the system or cloud storage
Choose the desired target format
Save merged files to the local system or the cloud
Steps for merging videos using the Media.io video joiner app:
Step 1. Run https://www.media.io/merge-video.html, and enter the operating entrance (as shown below), under the Merge Video section, click on the Choose Files option to browse and add the videos to be merged.
Step 2. After the files are added, their sequence can be changed by simply dragging and moving them to the desired position.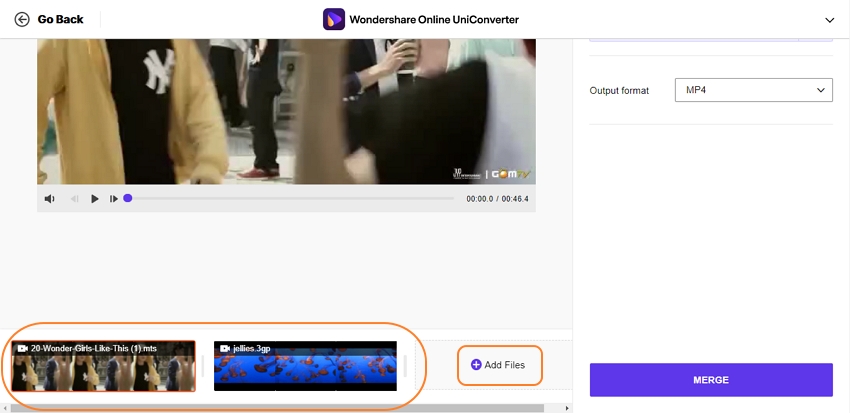 Step 3. Under Setting, select the option to crop or crossfade if required. You can also choose from the available aspect ratio options.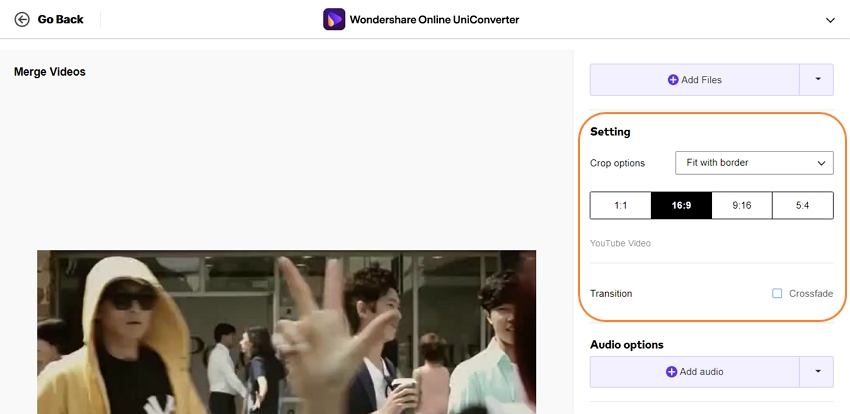 Step 4. Under the Audio option, choose to add customized music or audio if required.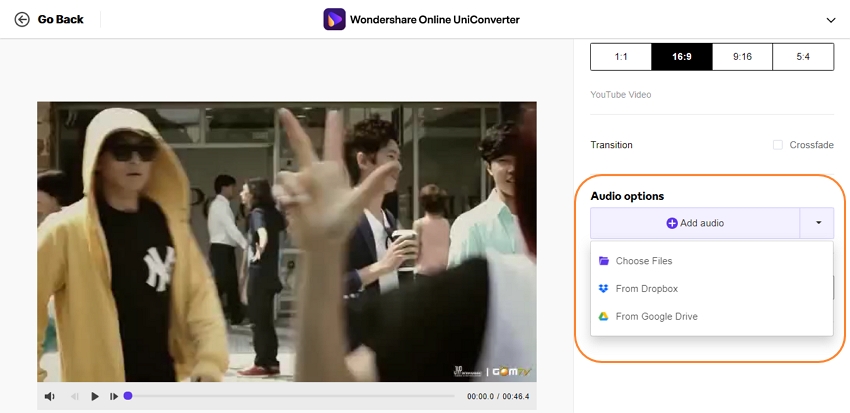 Step 5. At the Output format drop-down list, choose the desired target format of the merged file.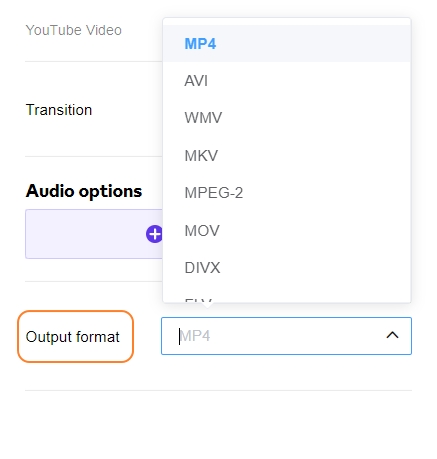 Step 6. Finally, tap on the MERGE button to start the file merging process.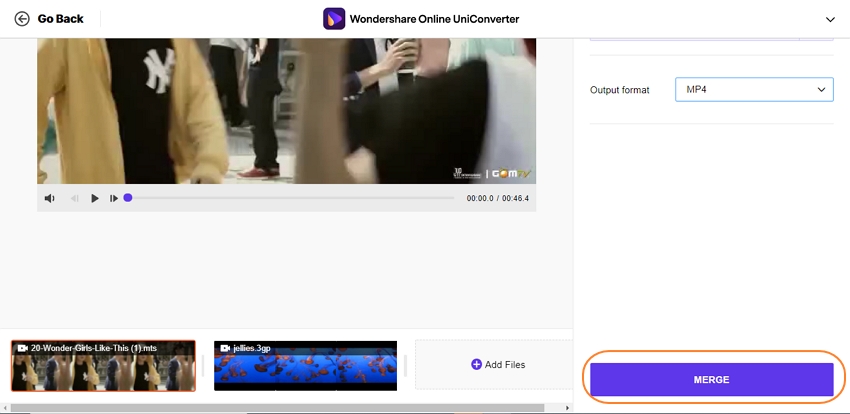 This is a simple to use online merging tool that allows you to add videos, images, and music files from your computer, URL, Dropbox, and Google Drive to merge them into a single file. Free to use, the tool can be accessed from your computer, tablets, and smartphones.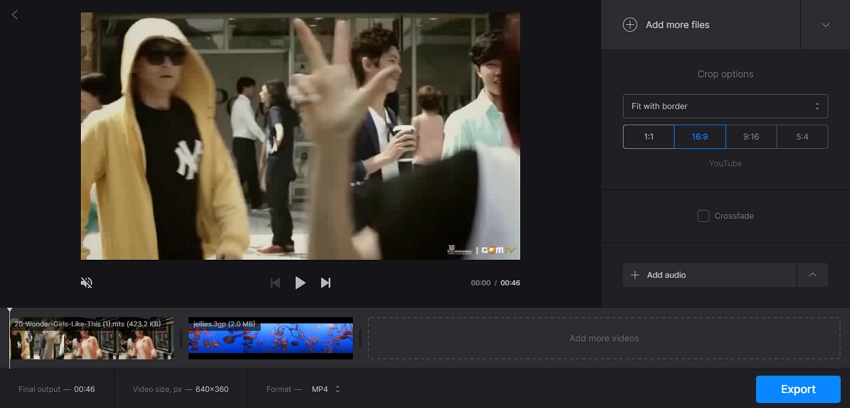 Key features:
Allows adding local, online as well as cloud storage videos, images, and music files for merging
This app to put video together is free and has a simple interface
Customized music and audio can be added to the merged video
Support to a wide range of formats, including MP4, AVI, VOB, and others
Allows customizing the file by selecting the resolution, format, cropping options, and others
Simple and quick to use, this online tool allows merging multiple videos, music, and image files. A collection of music and image files are also present to add them as a background. A wide range of formats is supported by the tool.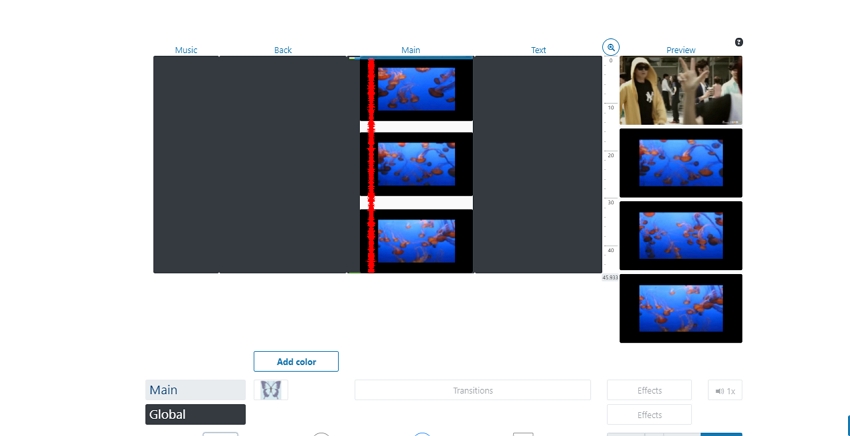 Key features:
This is a simple to use app to stitch videos together and free to use
Edit the order of the files as needed
Allows to trim, add transitions, add effects, stretch, selection duration, and other customization as needed
Add background music or image
Video, music, and image merging are simple and quick using this free browser-based tool. The interface is simple and allows one to simply browse and add the files or simply drag them. The added files can be customized in several ways.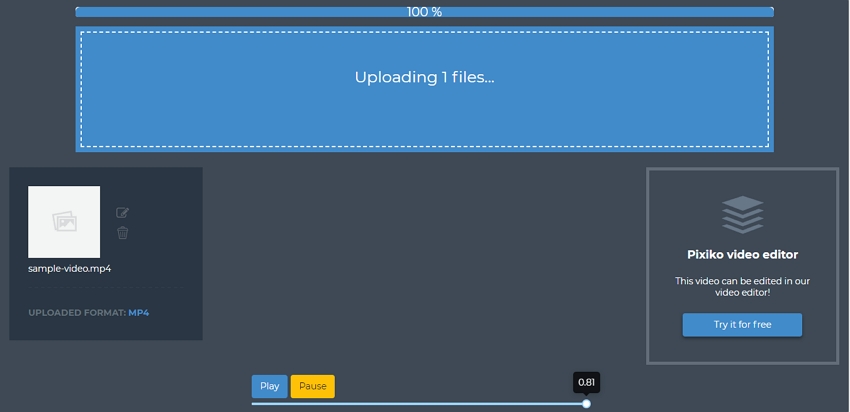 Key features:
Free browser-based app to merge videos together
User-friendly interface
Choose the order/sequence of the files to be merged
Choose the duration and the length of the merged video
This is a multi-functional online video editing app supporting a wide range of functions including video merging. Using the tool, you can merge the apps on your computer, tablets, and phones. The process is simple and you can even choose to cut and split the videos if needed.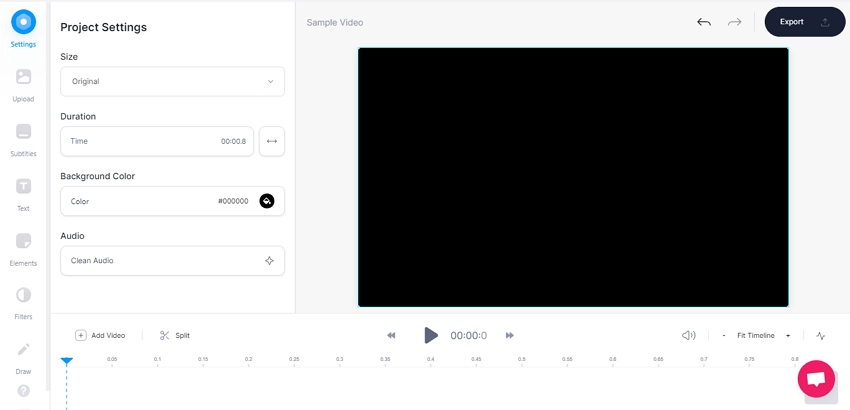 Key features:
Free online tool for video merging
Support to all key formats like MP4, AVI, MOV, WMV, and more
Add files from your system, Dropbox, or even record them
Multiple customization options like selecting the background color, duration, audio, filters, and more
Part 2: 4 popular video joiner apps on Android devices
If video merging is needed quite often on your smartphone, apps can be downloaded. There are several Android-based apps available and listed below are the popular 5 in the category.
With a 4.8 rating, this is a popular video merging app for Android devices available for free download on Google Play Store. Using the app, the videos in key formats can be quickly merged into a single file.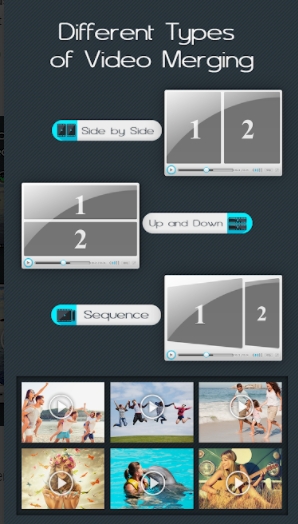 Key features:
Free app with IAP
Allows merging apps with different formats, frame size, audio rate, and frame rate
Option to merge side-by-side, merge up-down, and merge sequentially
Allows sharing the merged videos to friends and on social media sites
No watermark on videos
The app works in the background
This is a free Android app that comes with IAP and works as a complete video editing tool supporting multiple functions and features. Using the app, you can edit your videos in key formats and also add effects and share them.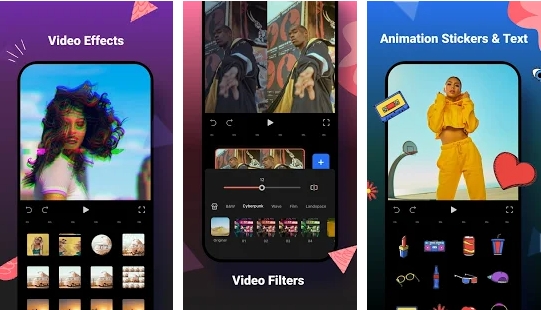 Key features:
Free Android app with IAP
Easy to use
Support a wide range of editing functions like video merging, trimming, cutting, adding effects, and more
Allows to add filters to the video
Processed videos can be shared on social media sites
Comes with more than 1000 style of music and option to add them as background
This is free to use ad-supported app with multiple video editing features like merging, trimming, adding effects, and more. The app also allows you to directly share the processed videos with your friends.
Key features:
Ad-supported free app
Allows to merge multiple videos into a single file
Supports video trimming
Video files can be converted to MP3 audio files
Works as a frame grabber
Additional features include rotating videos, sharing clips, playing videos, renaming, converting, and more
This app on Google Store comes with a 4.7 rating and can be downloaded for free on your Android devices. Using the app, you can merge two videos and then play them side by side. The created video can also be shared on social media sites using the app.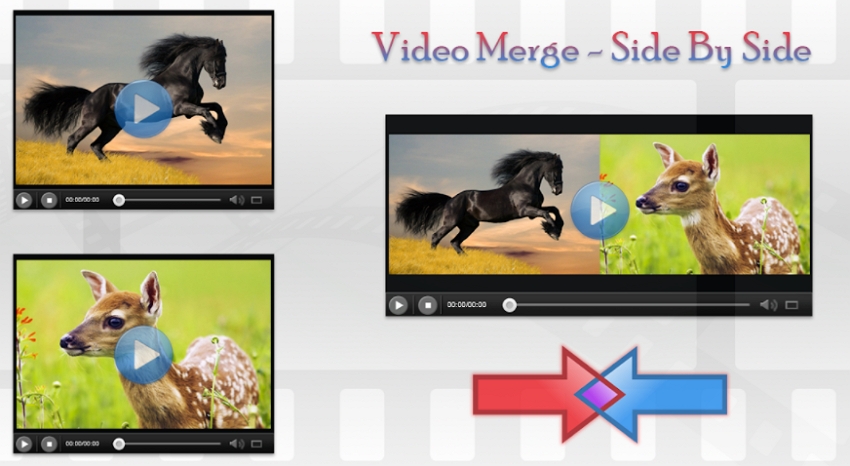 Key features:
Free app with IAP
Allows to merge videos and play them side by side simultaneously
Share processed videos on social media sites
High rating of 4.7
Part 3: Top 5 apps to stitch videos together on iPhone devices
To combine and merge videos on your iPhone, we have shortlisted the best apps as enlisted below.
To create and edit movies like a pro on your iPhone, this is one of the best apps to use. Free to download from the AppStore, the app has a 4.0 rating and supports multiple functions.

Key features:
Allows creating excellent videos and movies using its wide range of features
Edit videos using features like merging, cutting, cropping, and more
Comes with trailer templates to create stunning graphics
Create customized movie studio logos, cast, and credits
Add sound effects, filters, special effects, animated titles, and much more
Share processed files over emails, messages, and cloud storage
This free app from Vimeo works as a great video-making and editing app that comes packed with all needed features, including video merging. The app has won several awards and has a premium version (paid) with added features.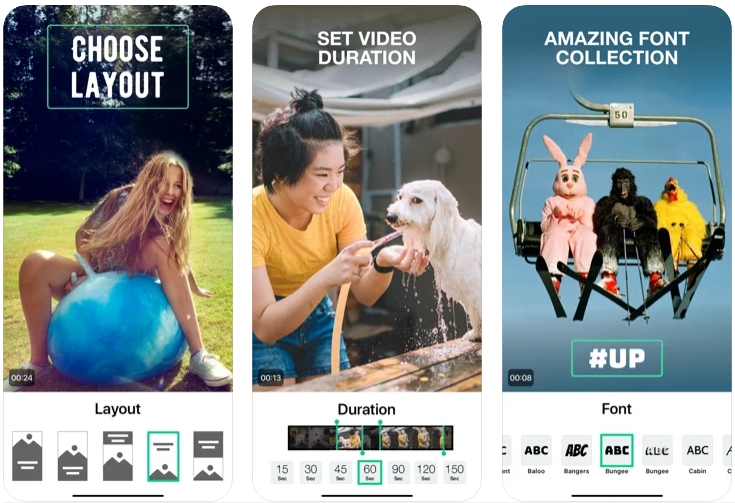 Key features:
Allows creating excellent videos and movies
Merge videos without any quality loss
Allows to add effects, filters, music, and graphics
Comes with readymade templates
Allows to cut, trim, and perform other editing functions
Multiple options for video customization
This is a free app with IAP and has the highest rating on the App Store of 4.9. The app is great for video editing, where you can add effects and customize videos as needed. Almost all major editing functions are supported by the app.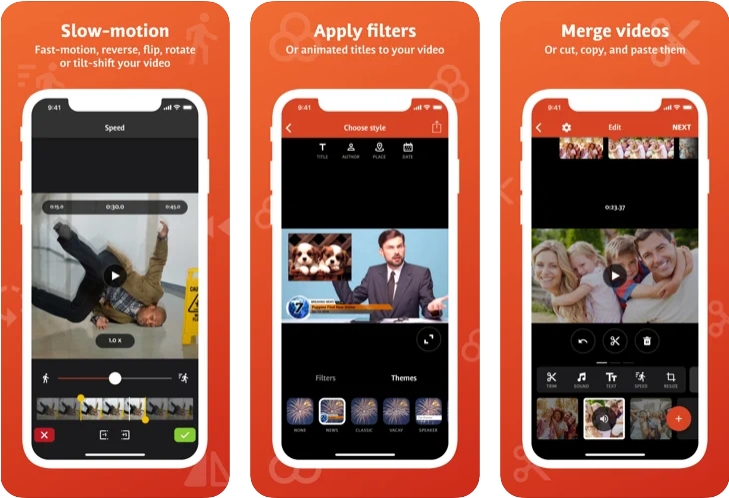 Key features:
High rated free app (4.9 ratings)
Allows to merge multiple videos into one
Allows to trim, adjust the display, cut, and split videos
Allows adding music and sound effects
Video speed can be adjusted as needed
Additional features include adding filters, resizing, reversing, adding transitions, copying, adding animated titles, and more
Share created videos directly to social media sites
This is another popularly used video editing app on App Store that is available for free download. The app is simple to use and comes with powerful editing features where you can merge, trim, cut, and perform a host of other functions.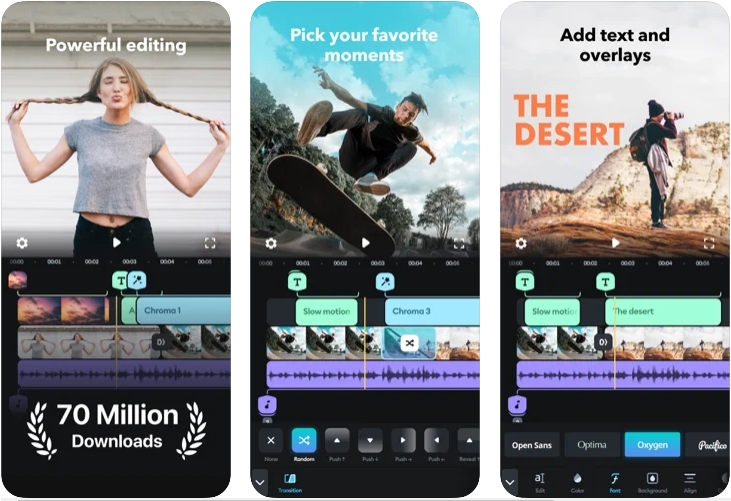 Key features:
Allows to merge multiple videos into one
Facilitates trimming, cropping, and cutting
Allows adjusting the playback speed of the videos
Allows to set the exposure, saturation, and other parameters
Add filters, effects, and animations
Allows to remove background and also create slideshows
Audio customization supported
Share the processed video over social media sites
Designed by YU BO, this is a free video editing app using which stunning videos can be created in no time. You can merge multiple clips as well as customize them in several ways.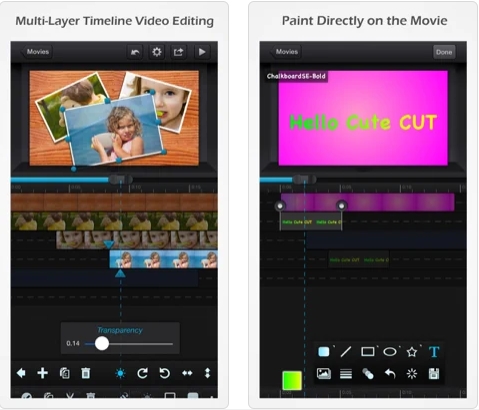 Key features:
Free app with user-friendly interface
Allows merging multiple videos and clips
Up to 6 different media types can be added to a project
Customize resolution and aspect ratio
Offer customizable transitions
Allows sharing created videos and movies through the mail, YouTube, and Facebook
Part 4: FAQ regarding video merger app
What is the best app for combining videos?
Multiple videos merging and combining apps are available with varied functions and features. Though iPhone and Android-based apps are quite decent, they need to be downloaded and installed on your device, and the majority of the free apps have limitations with respect to their features and functions.
So, if you are looking for the best app for video merging, we recommend using online tools. One such app that is just perfect for your video merging and other editing requires is Wondershare Online UniConverter. This is a simple and lightweight app that can work from your computer or your smartphone browser. Files in all key formats can be merged quickly using the tool along with added features like cropping, adding music, selecting aspect ratio, and choosing the desired target format. The process is fast, and the user interface is simple. Though you can use any one of the above-listed tools, when it comes to the best app to stitch videos together, Online UniConverter matches all the requirements.
Summary
Check the supported features, formats, and other merging functions of all the above-listed apps and choose the best matches your requirements.