One of the most preferred video formats in which users like to watch their favorite homemade videos and movies is AVI. Before sharing memorable videos with loved ones, people prefer to edit AVI files by placing a logo, inserting a new track, subtitles or cutting and resizing the original clip. There are various video editors which will allow you to place a watermark on a finished project. This makes it unique if you want to share it on several video sharing websites.
Part 1. Top 5 Online Tool for Edit AVI Files
URL: https://www.media.io/video-editor.html
With this AVI editor, you can easily trim, crop, flip your desired video. The online editor also makes you edit videos as per the specifications are given by various social media websites. On this web portal, it is effortless to upload a video file via drag and drop feature. For the edition of your video file, you don't have to download any added software on your computer system. The site also offers you different online platforms on which you can effectively upload the edited video.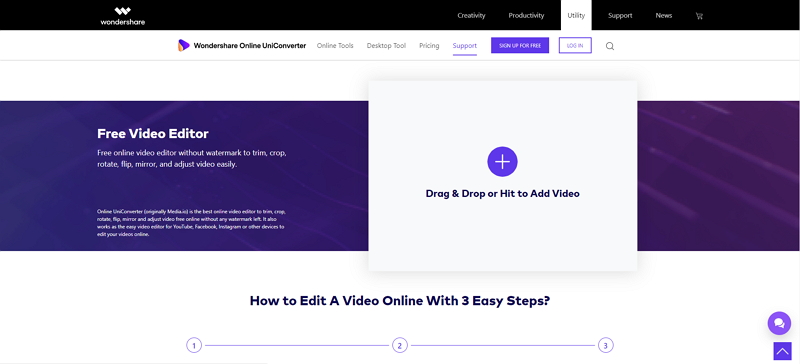 URL: https://online-video-cutter.com/
Video Cutter is one of the best free AVI editors where you get a chance to upload a file up to 500 MB at a time. For edition purpose, you can upload files from several platforms, which are Dropbox, URL, and Google Drive. This video editor also follows confidentiality norms and deletes all of your converted files after a specific time interval. Video trimming is one of the best features offered by this editor as it is intuitive and easy to use.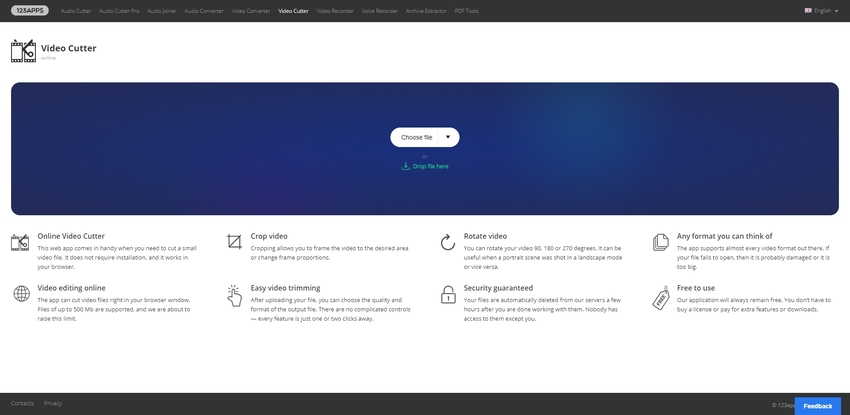 URL: https://clideo.com/cut-video
It is effortless to navigate the video editing website as it has the best GUIs. Moreover, you only have to go through 3 initial steps to edit your videos, which make your task easier. The site can easily be operated in several platforms like mobile and desktop, which provide you ease in the edition. You get to choose from several video formats, and it has a collection of various tools. During the editing, you will get complete privacy since you will get secured connection.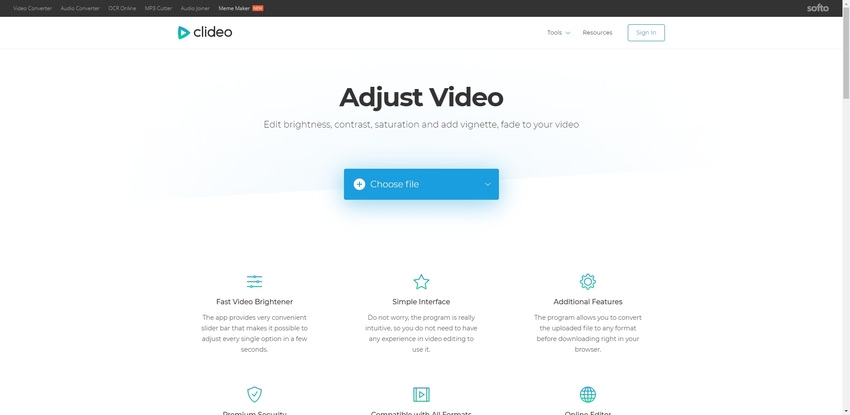 URL: https://ezgif.com/reverse-video
EZGIF provides thorough guidance to a user during video edition through frequently asked questions, and you can also contact them on various social media platforms. The layout of the website of this video editor is very predictable, which offers you great ease during a project. One can upload a video up to 100 MB at a time which is very useful to complete even big projects in small time duration.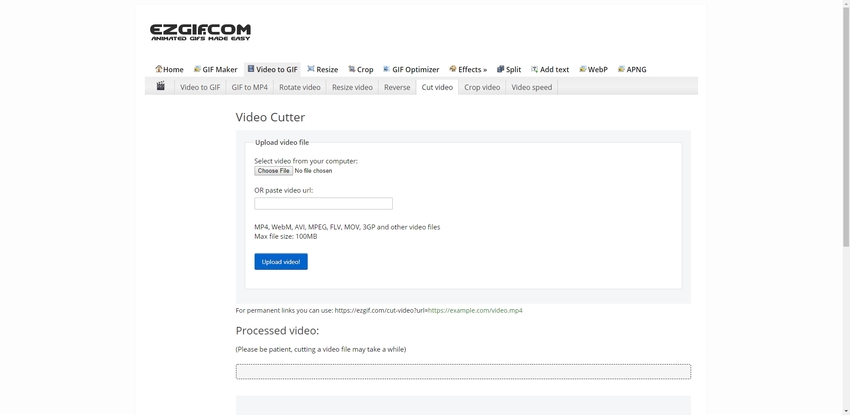 URL: https://www.aconvert.com/video/split/
Before submitting the edited video for conversion you get a chance to review your project thoroughly. On the video editor site user gets a chance to review about the video files which have been edited. The website has impeccable UX and UI and you get a chance to upload videos around 200 MB at a time. You will also get a chance to store your converted files on cloud platform thus much of your memory gets saved.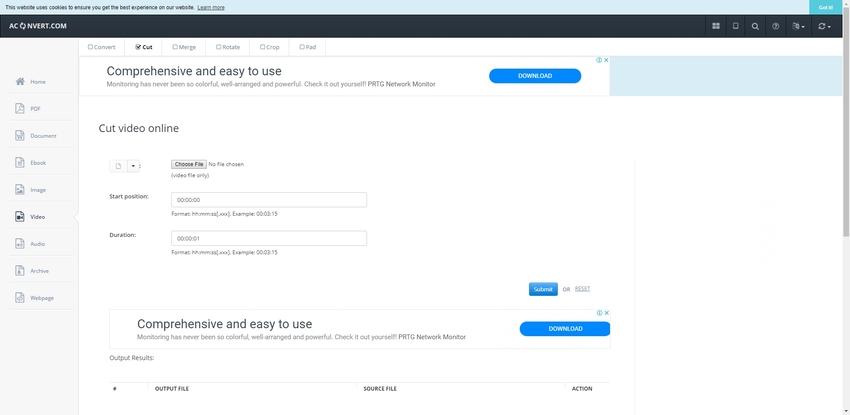 Part 2. How to Edit AVI Video Files for Windows & Mac?
For Windows and Mac laptops, there is various software available over the internet, which you can download straight on your system. Unlike online conversion, here you don't have to worry much about fast internet connectivity, and you don't even have to face a limit of the daily upload. On this software, you will get access to plenty of editing features which will allow you to get best-edited files. When you edit AVI files Mac or on Windows laptop, then there is no worry about data manipulation and viruses.
Wondershare UniConverter
· In this converter, you will be able to choose from more than 1000 file formats for editing the project.
· The overall conversion speed of this software is 30 times faster in comparison to others; thus, you will be able to save a great deal of time.
· With the help of Wondershare UniConverter, one can easily trim, add subtitles, crop, add watermarks and apply different effects on a video.
· You can quickly transfer files on several devices like Android, iOS devices, camcorder, flash drives, etc.
· The software also allows you to burn DVDs with your favorite videos and share it with friends.
Pros:
Here you will get to choose a lot of customization tools used for video editing purpose.
No need of fast internet connectivity, you can even edit your file on a remote location.
Apart from installing the software, you don't have to download extra plug-ins.
Cons:
Optimization profiles are fewer in number.
It also covers a great deal of space in your computer, and you will not be able to save your files on the cloud.
To unlock more features, you have to purchase a premium version.
Step by Step Guide to Edit AVI Video File
Step 1. Addition of AVI Media Files
In the initial stage, after launching best AVI editing software free you just have to drag and drop the file which you want to edit on the Wondershare UniConverter.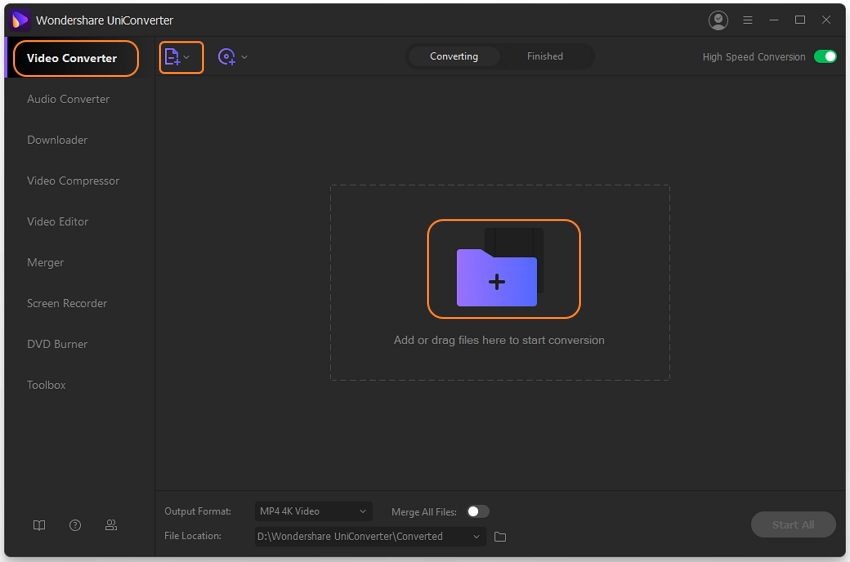 Step 2. Edit Your AVI File
You then have to enter the edit option on the next page and can select from various options viz. trim, crop, and apply effects.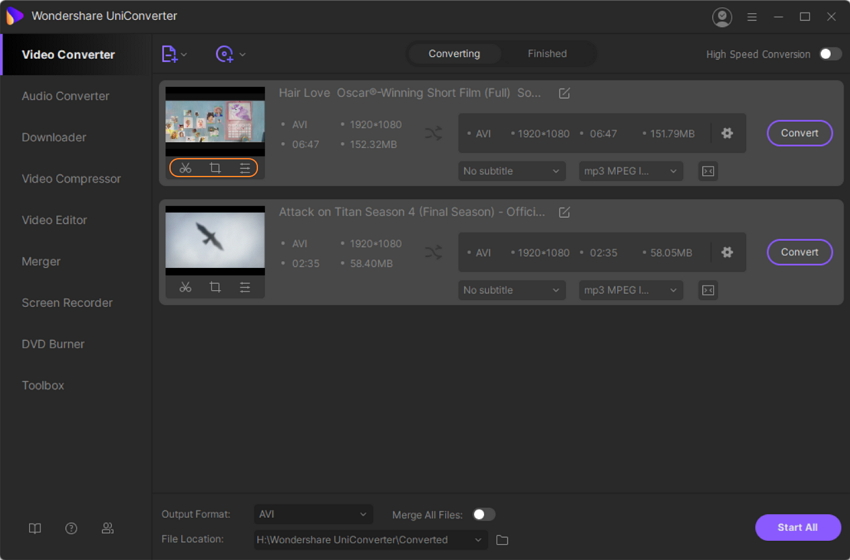 1. Trimming AVI
After clicking on the trim button, a new window will be opened, and you will be able to trim the videos as per your choice. Choose the exact time for which you want to trim the video and then click on the Cut button. One can also merge videos in AVI frame editor by clicking on Merge into one files.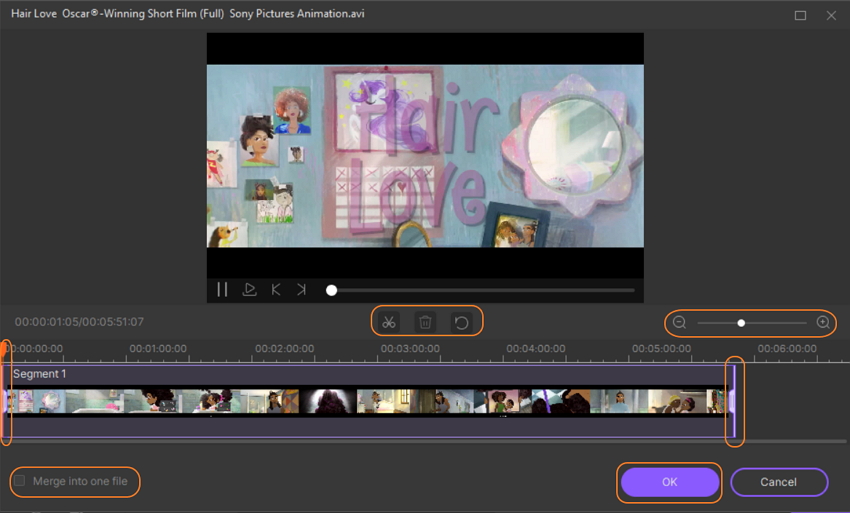 2. Cropping of the AVI Video
After launching AVI frame editor on your Mac or Windows laptop, you are expected to click on the crop button. You can easily drag on the video as per your wish by writing the units manually on the crop size area. In the last step, you have to save the changes made by you.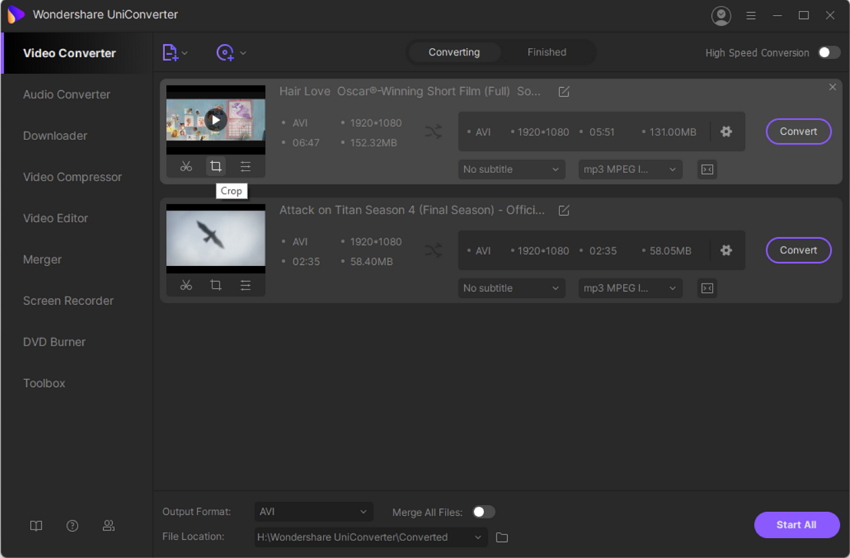 3. Apply Effect to AVI Format
After adding a video, click on the effect filter, and you get to choose from a wide range of options, such as brightness, contrast, and saturation. After that, click on the OK button.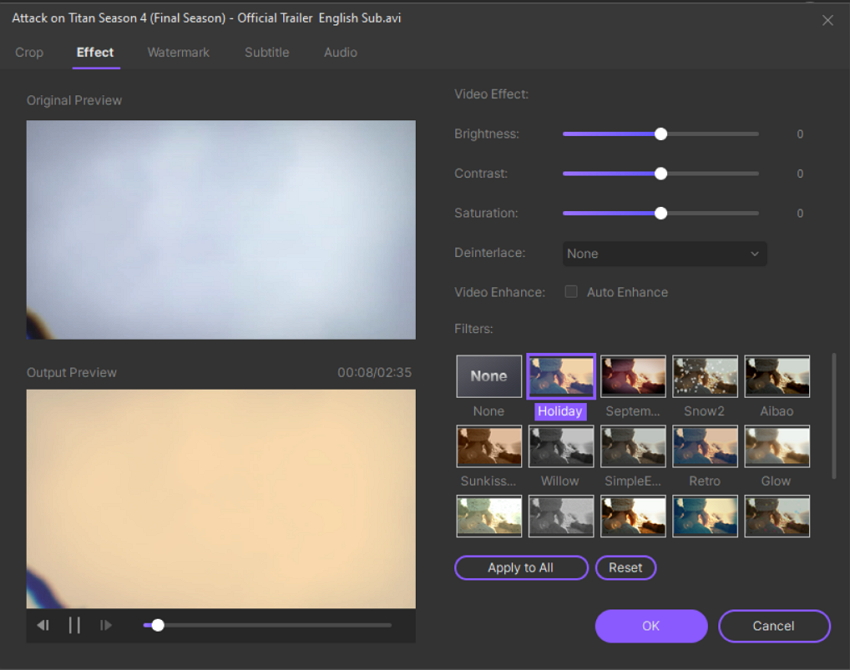 For more information about UniConverter, download now to see more.
URL: https://www.microsoft.com/en-us/p/movie-maker-10-tell-your-story/9mvfq4lmz6c9#activetab=pivot:overviewtab
Pros:
Here you don't have to care about virus or worm as all the work is done in an offline mode.
The software is straightforward to use as it has excellent GUI, and it is very predictable.
To install it on your windows laptop, you only require minimal configuration.
Cons:
It is only available for Windows users.
You have to part with a sufficient amount of memory and have to save convert files right on your hard disk.
In case you want to acquire more sophisticated features, you are required to purchase the product.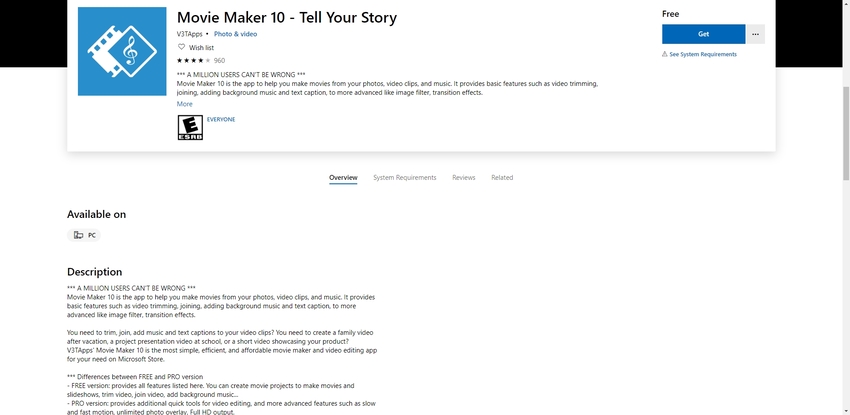 Summary
Since AVI file formats are high in demand, thus there are various on and offline software with which you can easily edit your files. Most of the online AVI frame editor software requires fast internet connectivity, and you get to save your converted files over the cloud system. The software is easy to use as they have great UX and UI as well as provide practical ease in the editing of an AVI file.
In case you want to use offline editor then you must learn how to edit AVI files in windows 7 for this you are required to download Wondershare UniConverter and Movie Maker. This software is too simple to use, and you don't even have to be an expert in using them with perfection. You have to follow simple steps which are user-friendly and offer you great results in the end.