"I am trying to make myself proficient in video editing and want to add music to videos to make the viewer's watching experience better. Which is the best app to add music to video that I can use to polish my skills?"
There is something different about a video with a piece of catching music playing in the background compared to one with no sound effects. The video becomes more attractive and gathers more viewers. Still, the complete music selection and insertion process takes much thinking and time. One minor slipup could make the entire video unwatchable, pouring all the hard work down the drain.
However, you can prevent any such disaster if you have the right tool at your disposal. The easy-to-use app to add music to video will reduce the editing time and make you more skillful. Yet, it is tough to identify the best add music to video app as many music video editors are available for free. We will fix this predicament for you by listing the eight best apps to add music to a video.
Part 1. Best apps to add music to video recommended
This section will introduce the 7 top-quality and recommended apps to add music to video.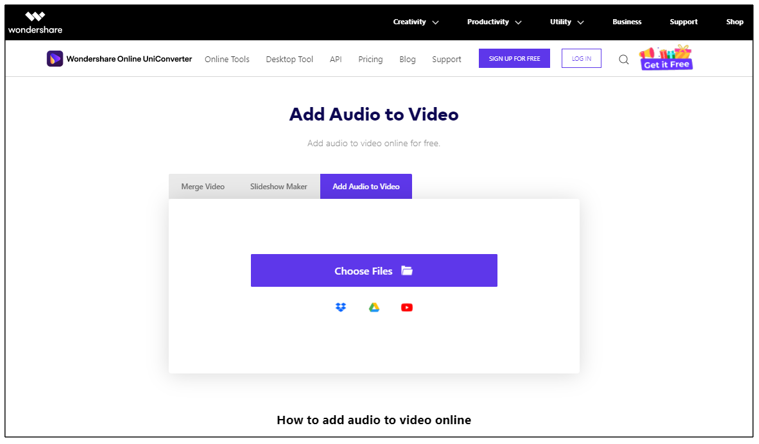 Media.io is the best app to add music to videos. There is no need to install any software on your device as the tool is accessible from every modern web browser. The service provides you the creative freedom to manage your videos professionally. Additionally, you can upload the clip straight from your cloud storage accounts(Dropbox/Google Drive) to the Media.io's interface. The layout is easy to navigate. Moreover, there is no need to acquire technical skills to add audio to video or use the platform's other tools efficaciously.
The top features of add any music to video app are as follows:
* Easy to add music to your YouTube or Instagram videos.
* Merge video and audio totally online without any other tool installed.
* You can edit the audio by trimming,looping,or changing the volume after adding it.
* It allows you to trim video to get your desired segment and select an appropriate output format.
* It can protect your privacy. Media.io deleted the uploaded files from our servers after 24 hours automatically.
*The online editor can convert audio and video files.
*Video and audio compression is also available.
Pros
It is free to use.
The online subscription is cost-effective.
Excellent live chat support service.
Cons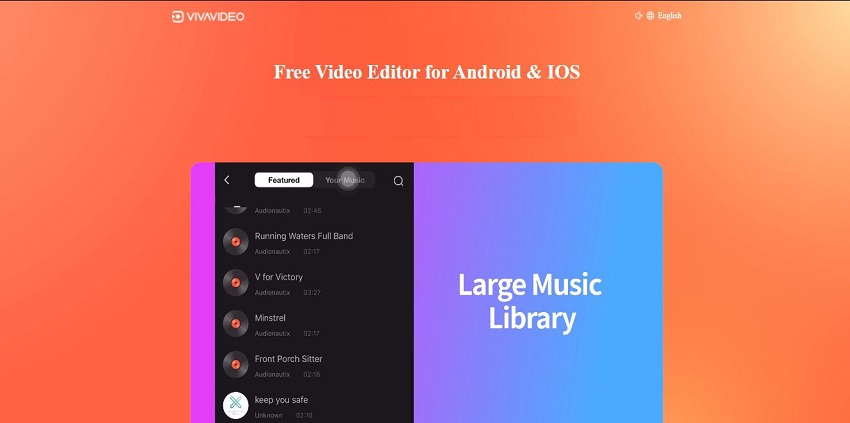 VivaVideo is a renowned editing platform amongst beginners and social media influencers. The tool is easy to use and offers an exhaustive list of editing tools, filters, and transition effects. You
can add text, stickers, and emojis while trimming the video. Other features include blurring the background and merging multiple videos into one.
Pros
It provides HD quality videos.
Many creative templates are accessible.
Cons
Video processing takes a long time.
The app causes issues when you try to import content from the device or other apps.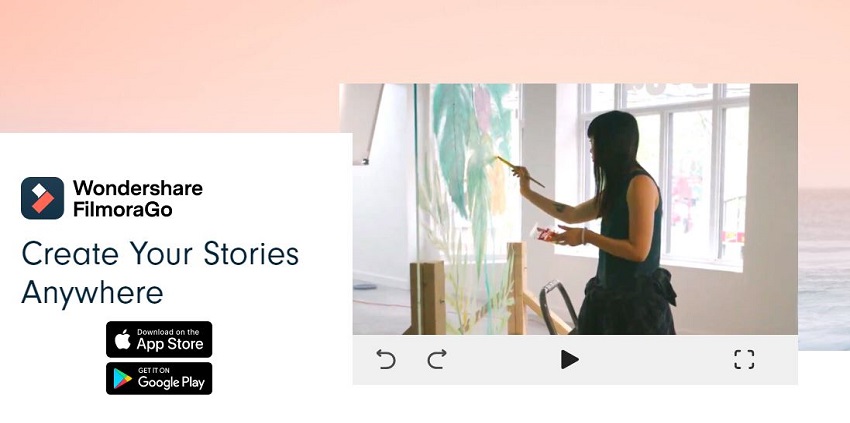 It is one of the highly-regarded video editors that makes it simple to add music or sound effects to videos. Additionally, it lets you add voiceovers, remove unwanted audio, and extract music from the video. Moreover, you can manage the speed of the uploaded audio. A wide variety of special effects are also accessible from the intuitive app.
Pros
It is available on both Android and iOS.
1000+ different styles of music are available.
Cons
The pro version is not budget-friendly.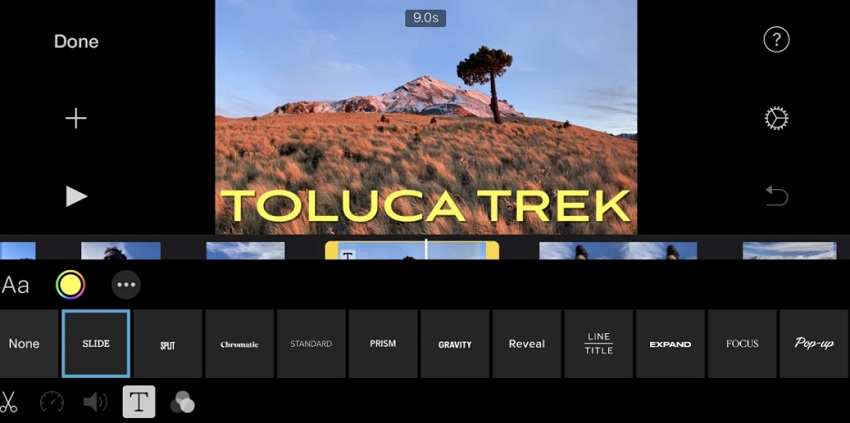 iMovie provides a simple platform to create cinematic videos with your favorite music playing in the background. You can add built-in sound effects or insert audio from the device. It lets you add ready-made video filters for a better viewing experience.
Pros
It connects with AirDrop and iCloud Drive.
The app is free.
Cons
It is only compatible with Apple devices.
Some features do not offer precision.
The audio-adding tool can confuse newbie video editors.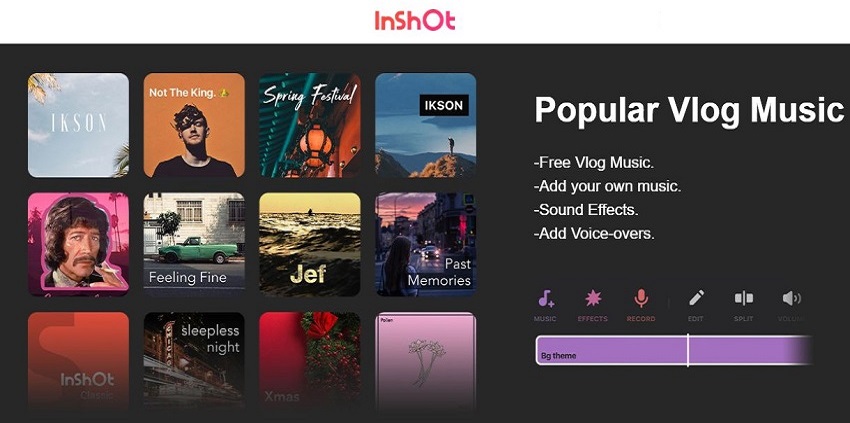 GlitchCam offers you access to free music and 100+ effects to create a glitch video. Other than the built-in music library, you can add audio from your device. It enables you to change the video's aspect ratio according to the device you wish to play it in.
Pros
Handy app for content creators.
It lets you remove the watermark after following specific instructions.
Cons
The recording feature causes lag and disrupts audio quality.
It doesn't offer a desktop version.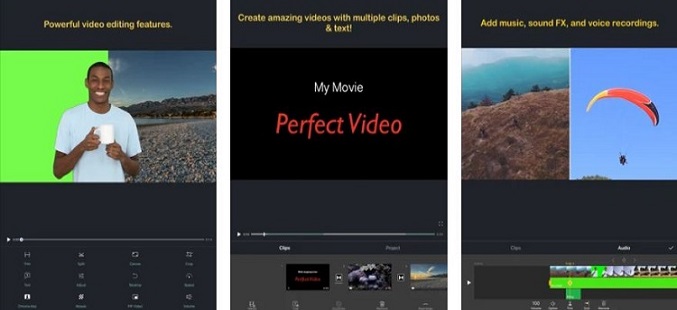 It is perhaps the best app to create greetings, wishes, and slideshows for a loved one. You can add audio from the app's vast licensed music library. The powerful in-built AI facilitates you throughout the editing process. Other app utilities include ready-made templates, beautiful themes, and a wide variety of text styles and fonts.
Pros
Eye-catching filters.
Supports all video file types.
Cons
You can only export 480p videos for free.
Phone support is not available.
It is Expensive.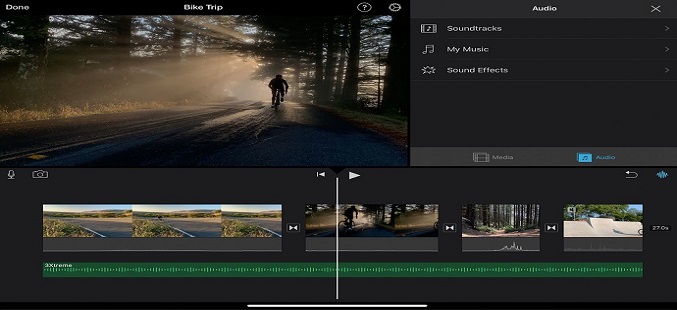 Suppose you are looking for a platform that offers every function related to managing the audio of a video. In that case, Timbre is the best option. It lets you add, trim, and convert audio files. You can join multiple music files using this app. However, it is only available on Android.
Pros
It is entirely free.
A dedicated app to add music to video.
Cons
It has limited editing features.
The app needs to be updated more regularly.
You can only use it on Android.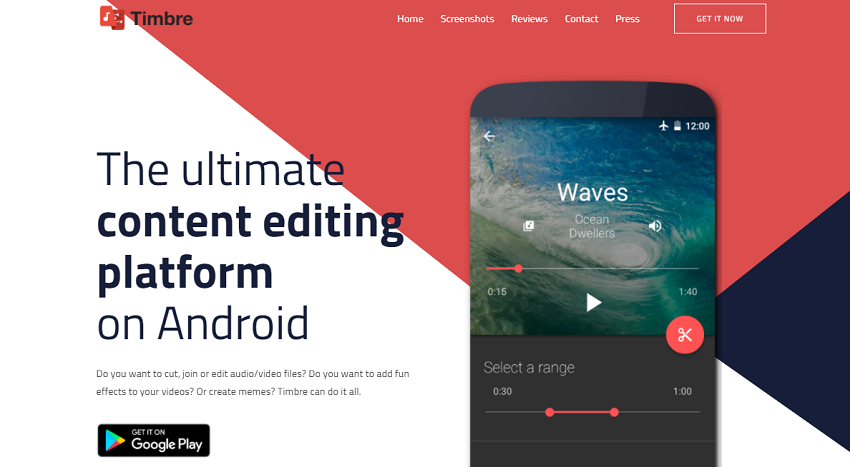 Part 2. How to add music to video using Media.io
Though each of the top 7 apps is a pioneer in offering you to add whatever type of music you like to the concerned video, still, there are some limitations to a few of them. The main issue with apps like Timbre and iMovie are available on a single platform. Moreover, the free versions of apps such as Magisto, GlitchCam, VivaVideo, and FilmoraGo do not offer many features and creative room to edit videos. Similarly, the pro versions are not pocket-friendly. These apps also cause a strain on the device's performance and storage space. Besides, the video quality isn't linear the majority of the time.
I have found the Media.io to be the best app to add music to video. The first good thing about it is that there is no need to install software on the device. I was able to access the tool on my PC and smartphone without any issue. Furthermore, the app supports all formats and offers additional features to create a more professional video.
The step-by-step guide to using Media.io to add any music to video is as follows:
Step 1: Open the Media.io and upload video
The first step is to access the Media.io on your device from any web browser. Once you open it, click on the Add Audio to Video tool, and hit the Choose Files  button to add the video. The service also allows you to import clips from Youtube, Google Drive, and Dropbox accounts.
Step 2: Add audio file to video
Once the video is uploaded, the next phase is to add the audio file and mix it with the clip. Click on Add Audio to insert the sound effect, music, or recording. Trim the audio, and select the new format for the added video. Once you are satisfied with the file settings, click on Merge to start the process. Proceed to the next step after that.
Step 3: Save the music video
Once the video processing is done, click on the Download tab to store the file on your smartphone or PC. If you wish to save the video online, then hit the Arrow button, and select Google Drive or Dropbox. That's it! After applying the easy three-step method, you will understand why the Media.io is regarded as the best app to add music to video.
The video and audio quality remains the same. Moreover, you get the luxury to download the video to your favorite file format.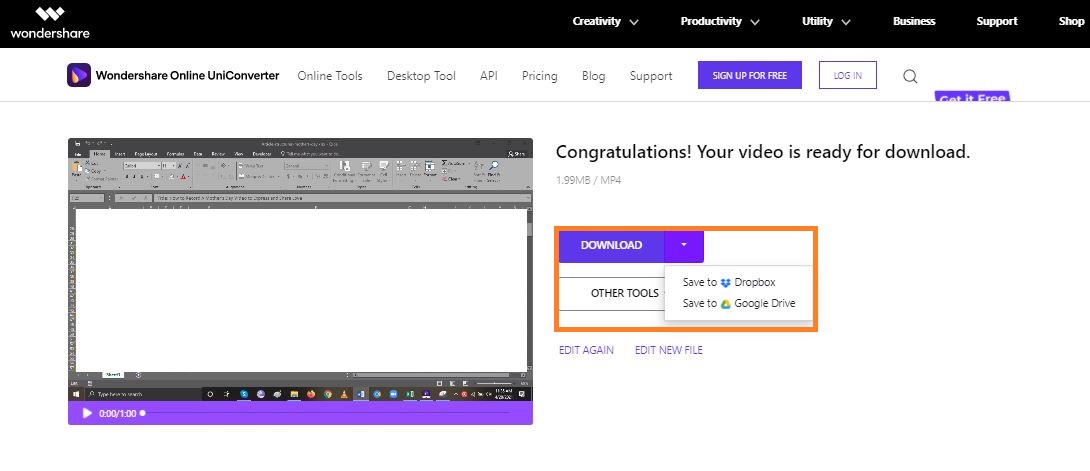 Part 3. Conclusion
Whether you are adding music to a video or applying filters to enhance its look, it is vital to have access to a user-friendly video editor. Such apps not only make you a better video editor but also save your precious time. Additionally, it helps you garner more viewers if you intend to share the video on social media platforms.
Now you know all about the top 7 dedicated apps to insert audio to videos for free. Each tool is unique in its own right. However, we suggest that you use the Media.io because it is a more comprehensive tool that can efficiently run on any device or platform. Moreover, there are other functions that you can use that are not available with other apps named in the article.