If you want to add music to video, this is the right page for you. Usually, adding background music to a video clip makes it more entertaining and engaging. However, you first need to find the perfect music track that blends nicely with your video. So, without much time-wasting, let's discuss some ten excellent pop music tracks to use as the background song of your video. You'll also know how to add music to a video using the best free online video creation tool. Read on!
Part 1: Add music to video — 10 best pop music in 2021 recommended
Let's begin this guidepost by listing some ten popular music tracks of the Pop genre to use as the background music of your video.
Stronger (Kelly Clarkson) Inspirational Videos
What doesn't kill you usually makes you stronger, at least according to this song. So if your video is about inspiring viewers to do something 'impossible,' use this Kerry Clarkson song to whip up emotions. The song talks about her soft, carefree side with her meaner and more mature personality.
All I Want for Christmas Is You (Mariah Carey) Christmas Videos
Christmas is indeed one of the most celebrated days globally. Therefore, use this song on your Christmas video's background to rump up the holiday mood. The music also brings in a touch of love, making it perfect for those romantic Christmas videos.
B-Day Song (Madonna) Birthday Videos
Sometimes, you want to create a birthday slideshow for your little sibling or best friend. In that case, you can sequentially arrange the photos and back them up with this birthday music.
Look What You've Done (Drake) Graduation Videos
Did your brother or sister make it through their college education successfully? Well, Drake's Take Care album has a music track for almost any occasion, including graduation. The song talks about grand life accomplishments and who to give thanks to at the end of the day.
A Thousand Years (Christina Perri) Wedding/Marriage Videos
Marriage is a phase of life that most people undergo. It can be your sibling, friend, or even yourself who's tying the knot. Either way, use this twilight anthem on your wedding video to start your trip into forever with your loved one.
Stand Up (Right Said Fred) Sports Highlight Videos
Choosing the perfect background music track for a sports highlight video can pump up the feeling a great deal. Luckily, that's what this ultimate sporting song delivers. In fact, your viewers are 100% likely to sing along.
Dance with My Father Again (Luther Vandross) Memorial Videos
Long gone are when funeral songs used to be classical pieces and hymns. That's because you can use this pop-rock music to blend it into the background of your funeral video tastefully. The trouble is, this song only talks about a father-child relationship.
Monster Mash (Boris Picket) Halloween Videos
Are you still looking for spooky music to add to your Halloween video? Time to add this soundtrack to your playlist. This music for celebrating the creepiest night will definitely get the misfits and the weirdos excited.
Fly Me Away (Amazon Kindle) Advertising/Corporate Videos
Since the early 1920s, music has played a vital role in advertising. Today, digital marketers will certainly make do with catchy music tracks that fit their product videos perfectly. So, add this music to your video and get clients to associate the soundtrack with your brand forever.
Till I Collapse (Eminem) Gym Workout Videos
Do you run a fitness vlog or channel for gym freaks? Well, one of Eminem's greatest hits will give you a big boost on your workout videos. 'When you feel weak, you feel like you want just to give up, 'Eminem says.
Part 2: How do I add music to video online for free
After finding the perfect soundtrack, it's time to learn how to add music to the background of a video using Online UniConverter. With this simple online app, you will add music to video without paying anything. Meanwhile, it allows you to edit the added music track by trimming, looping, and adjusting the volume level. You can also mute human voices or music sounds on your video sound for a more background music feel. And yes, users can export videos to MP4, MOV, MTS, 3GP, and other standard video formats.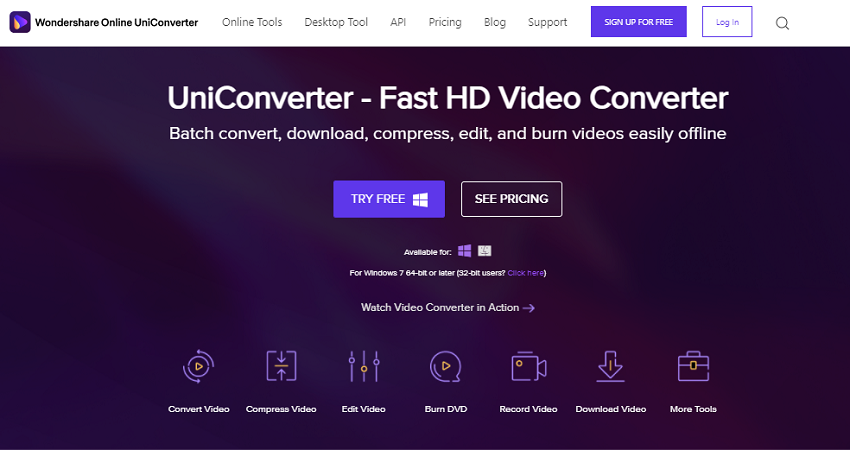 Key features:
It supports popular video and audio formats like MP3, MP4, MOV, M4A, etc.
Edits the uploaded music track by cutting, looping, and adjusting volume.
Export videos to all standard video formats.
Intuitive slideshow maker for creating killer photo and video slideshows.
Responsive 24/7 customer support.
Compatible with updated browsers on Windows, macOS, Android, and iOS.
Below are the steps on how to edit and add music to video using Online UniConverter:
Step 1: Launch the Add Audio to Video function.
Open Online UniConverter on your website and then click Add Audio to Video under the Online Tools tab. The program will launch automatically.
Step 2: Upload your video file.
Next, click Choose Files to open your local media libraries and upload a video file you want to edit. You can also upload clips from YouTube, Google Drive, or Dropbox.
Step 3: Upload your background music.
After uploading your video successfully, click the Add Audio button to browse and add your background music. Then, proceed to edit the uploaded video file by trimming, adjusting the volume bar, and looping. When cutting, you just need to drag the trimming handles or manually enter the start and stop time.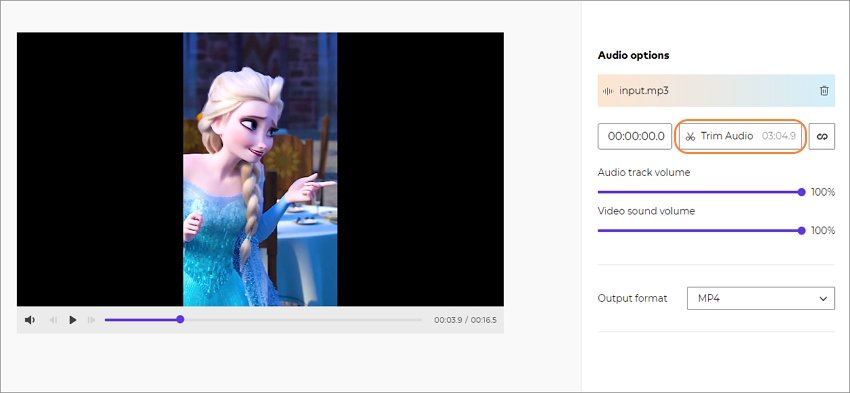 Step 4: Choose an output format and Add Audio to Video.
Before anything, click the play icon to preview your edited video clip. If satisfied, choose a target format and then finish off by clicking Merge. Online UniConverter will process your new video with background music in seconds. It's that simple!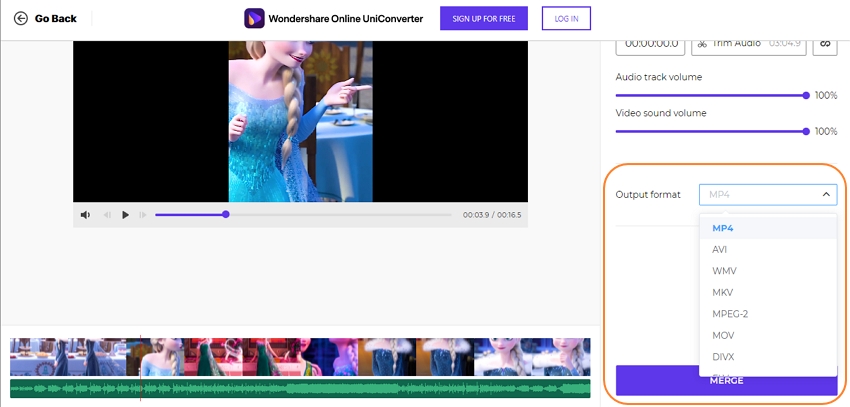 Part 3: Five things to know before adding music to a video
Finally, let's wrap it up by discussing how to embed a killer background song on your video.
1.Choose the perfect track
A piece of background music for your video clip should be entertaining and able to speak to your audience. In other words, you should first research your viewer's age, preferences, and affiliations. For example, if your video targets younger generations, pop, indie rock, and hip hop can do the job. If it's a wedding or romantic video, R&B and classic could do. Overall, know your audience before selecting a music track.
2.Identify the role of the music in your video
It is somewhat a continuation of the first point. Remember that background music is supposed to play with the viewer's emotions and set the mood. For instance, if you're creating an announcement or advertisement video, use a dramatic song to evoke emotions. On the other hand, you can use subtle background music to maintain attention on your how-to or demo video. So, ask yourself what kind of video you want to create and the role the music will play in it.
3.Get the volume right
You don't want to clash the background music with the human voice on your video, do you? If your video clip involves a lot of talking, don't use background music with human voice tones. Instead, opt for music with guitar, viola, cello, and other keyboard instruments. But that's not all. You may need to reduce or mute the music volume in sections where you want to pass important messages. In that case, use Online UniConverter to adjust the audio volume of the video sounds and background music.
4.Consider royalty-free music
If you have a tight budget, then you don't want to get caught using copyrighted songs. Therefore, use copyright-free music or stock music. This way, you won't have to pay additional royalties when using the music on your video. Remember, however, that royalty-free doesn't always mean totally free.
5.Use the right music editor
Above anything else, edit your background music professionally to bring out the message ideally. So, get an online converter and editor to trim, mix, merge, rearrange, convert, and perform other basic audio editing tasks. As usual, Online UniConverter will come in handy.
Part 4: Conclusion
All said and done, choosing the best background music track can make or break a video. Before you add music to video, ensure that it's professionally edited and perfectly fits the video content. And most importantly, use Online UniConverter to edit and add music to videos on any device. Enjoy!