There are many reasons to add audio to video. For example, you may want to create a photo or video slideshow for a specific occasion with thematic background music. You may also need to create a workout video tutorial with an electric background song to pump up the session. Either way, adding a background music track to your video can make it more entertaining and appealing. And the good news is that multiple online apps let you do that effortlessly. So, today's article takes a look at some easy methods on how to add audio to video on any device.
Part 1: Top 5 websites to add audio to video online
If you know something about Yahoo's Jumpcut, then you need no introduction to JayCut. This flash-based online video editor allows users to upload audio and video files before creating movies with background music or mixes. If you're a beginner, JayCut comes with a free video-editing suite, including videos, images, and audios. What's better, users can directly export videos to PC, mobile devices, and YouTube. But on the flip side, JayCut users must register to unlock all functions. Even worse, JayCut is no longer accessible on popular operating systems like Microsoft Windows and Android.
Pros:
Very user-friendly.
Customizes videos with effects, transitions, music, and titles.
Cons:
Not available on some devices.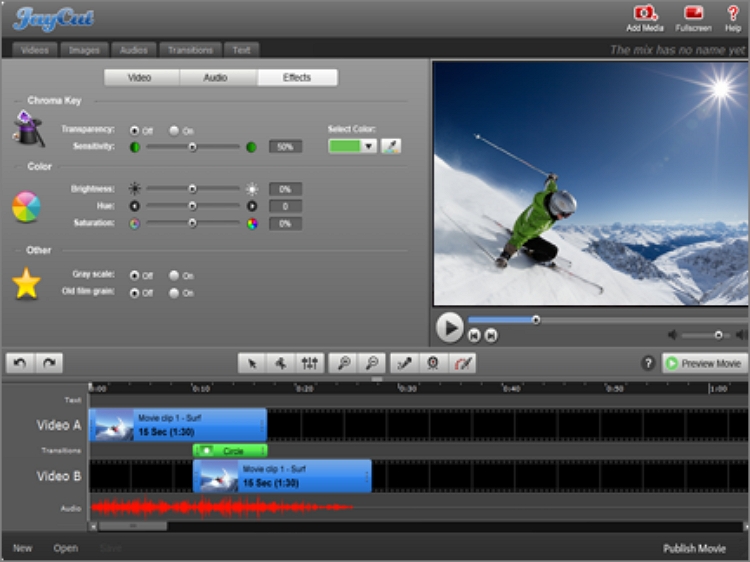 We all know what adding music tracks to your videos can do to your growing YouTube channel. Fortunately, YouTube allows content creators to do basic video editing tasks like adding background songs to videos on YouTube Studio. However, this feature is only available to clips shorter than 6 hours. Just visit YouTube Studio, select content, click the edit/pen icon, and then click the editor on the left pane. Now click the audio icon and add your background music.
Pros:
Free, open-source app.
Directly publish edited video to YouTube.
Cons:
Not best for green hands.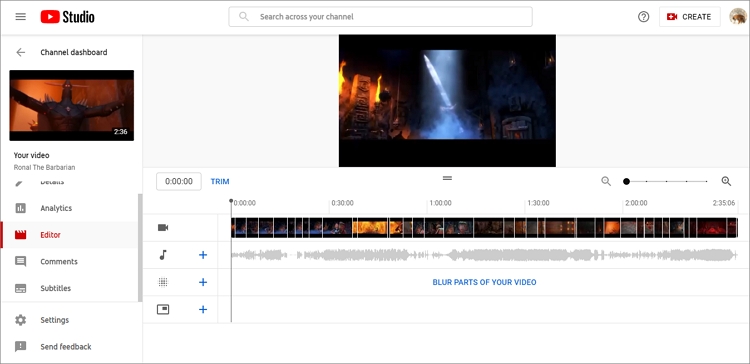 Animoto is undoubtedly one of the most widely used video creation and editing apps ever. The app is free and comes with multiple customizable templates. Here, users can create videos for occasions like anniversaries, graduations, birthdays, engagements, and more. Interestingly, Animoto users can add audio to a video file by downloading one on Animoto's royalty-free music library or uploading a song from their local media library. Sadly, Animoto isn't for beginners.
Pros:
Hundreds of customizable video templates.
It offers multiple royalty-free music tracks for adding to video.
Cons: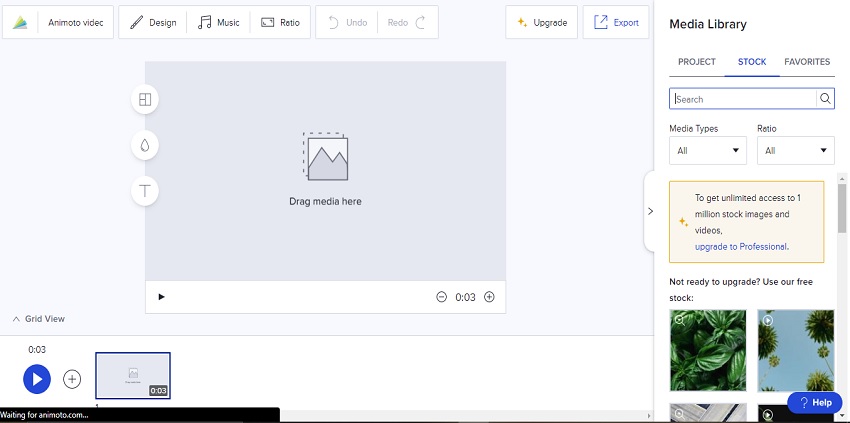 Online Converter is an excellent add audio to video converter that works with almost any file format. Popularly known for its file conversion capabilities, this online app also packs a tool to help you add audio to video quickly and easily. Before adding background audio to your video file, you can choose to replace or keep the original audio in the video. Plus, users can set the custom volume percentage for their output video. Remember, however, that this tool supports a maximum of 200MB only.
Pros:
Super-fast file processing speed.
Simple to use.
Cons:
A limited file upload size.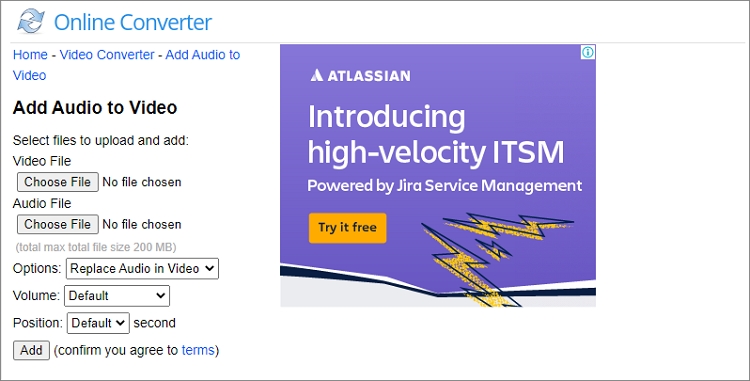 Finally, you can use Voice2V to add audio to video for free. This app is fast, straightforward, and lets users upload any standard audio and video format. Apart from adding audio to video, Voice2V can also convert text to video, add text to video, create a collage slideshow, and much more. But you can only enjoy these features if you don't mind the cluttered and ad-laden user interface.
Pros:
Multiple file editing tools.
It's a free app to use.
Cons:
Painfully slow video processing speed.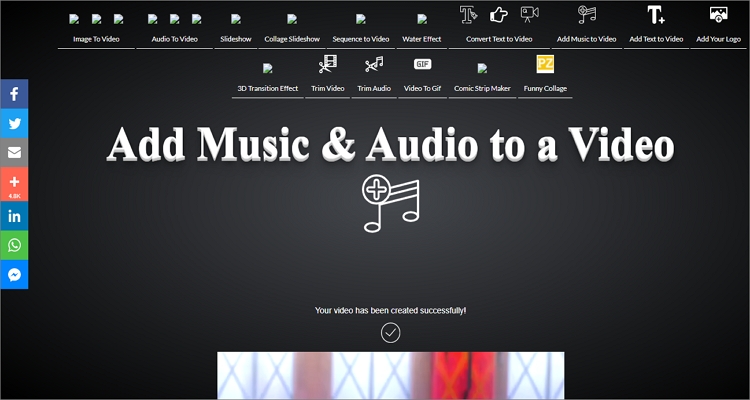 Part 2: Best tool for adding audio to video for free - Online UniConverter
If the online apps above don't cut it for you, use Online UniConverter instead. Unlike the other apps, this website is beginner-friendly, but it packs a host of tools to make all advanced users happy. That said, Online UniConverter supports most standard video and audio file formats, including MP4, MOV, VOB, MP3, M4A, and more. After uploading a background music track, users can edit it by looping, trimming, and adjusting the volume level. Another thing, users can export videos to any video format.
Key features:
It supports 1000+ file formats, including VOB, FLV, MP4, MOV, MP3, M4A, etc.
Uploads media files from the cloud, local folders, or YouTube.
Edit the added audio by trimming, lopping, and changing the volume level.
It offers additional file manipulation tools like a slideshow maker, video merger, audio converter, GIF maker, etc.
Helpful 24/7 customer support.
Now follow this step-by-step process to add audio to video using Online UniConverter:
Step 1: Launch the Add Audio to Video Tool.
Use an updated web browser to visit Online UniConverter and then click Online Tools. Now click the Add Audio to Video tab on the Online Video Tools section.
Step 2: Upload Your Video and Audio Files.
Click the Choose Files button to browse your local media libraries and add your video file. After adding a video successfully, press the Add audio button on the right pane to upload your local music file.
Step 3: Edit the Uploaded Music File.
Obviously, you may want to edit the music by trimming to get the most professional output. To do that, click the Trim Audio section, then drag the trimming handles to remove the unwanted parts of your audio. Next, close the trimmer, then adjust your video's audio volume and that of the uploaded music.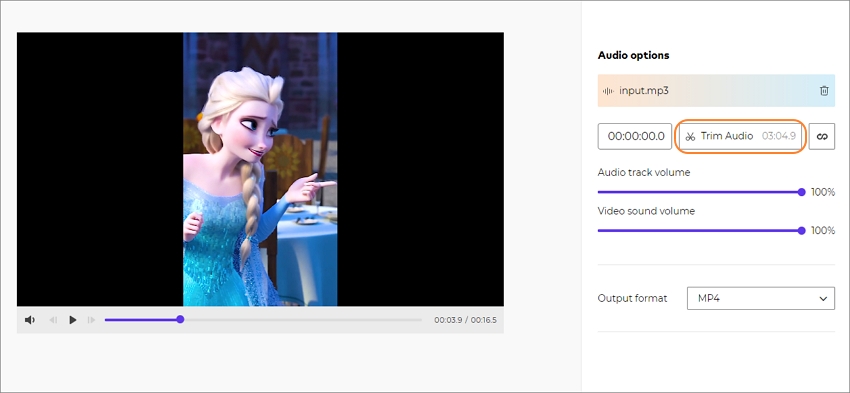 Step 4:Choose a Target Format and Convert the Video.




First of all, click the play button to preview your created video file. If everything looks ready, choose an output format and then press Merge to begin converting. That was simple, right?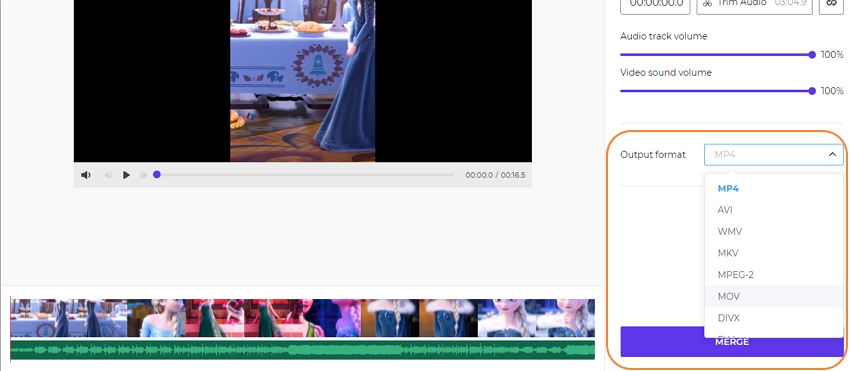 Part 3: FAQs for adding audio to video with Online UniConverter
What Are the Video Formats Accepted by Online UniConverter?
Many! Generally, Online UniConverter supports all standard video file formats. Users can import and export MOV, MP4, FLV, WebM, 3GP, MTS, and many more.
What Are the Audio Formats Accepted by Online UniConverter?
Like with video formats, Online UniConverter works with any Audio format you throw at it. Creators can upload and export MP3, M4A, WAV, AU, RA, OGG, and more.
Can I Edit My Audio File After Adding It to the Video?
Yes, Online UniConverter allows you to retouch your audio file before adding it to your video clip. Users can trim, loop, and adjust the audio volume. Also, you can reduce the volume level of your video's audio.
How Do I Add Audio to a Video on My Phone?
To add audio to video on your iOS or Android smartphone and tablet, use Online UniConverter. Just apply the steps above to create an award-winning video file with background music.
Conclusion
Have you already identified the perfect method to add audio to video with lossless quality? Hope so! But if you're still undecided, then we recommend Online UniConverter. Not only is this app feature-rich and beginner-friendly, but it also comes with lots of additional file manipulation tools. Nonetheless, all the websites discussed above will come in handy.