Video making is becoming increasingly common with time. In 2022, statistics revealed that the maximum number of the total online viewership was video-based. This means that the demand for video editors is also on the rise. For some users, video editing is about video-making and designing. While for others, it is more of customizing and removing the background of their videos. In this guide, we will enlighten some quality editors so you can remove your video backgrounds hassle-free.
Editing video backgrounds is essential for better demonstration, personal privacy, and other purposes. Kinemaster is a popular video background editor that is used by millions of users around the world. It is compatible with different operating systems like Android and iOS. However, many Kinemaster alternatives are available for different operating systems. In this article, we'll discuss their features as well as their pros and cons. Follow along!
Part 1: Overview of Kinemaster Video Background Editor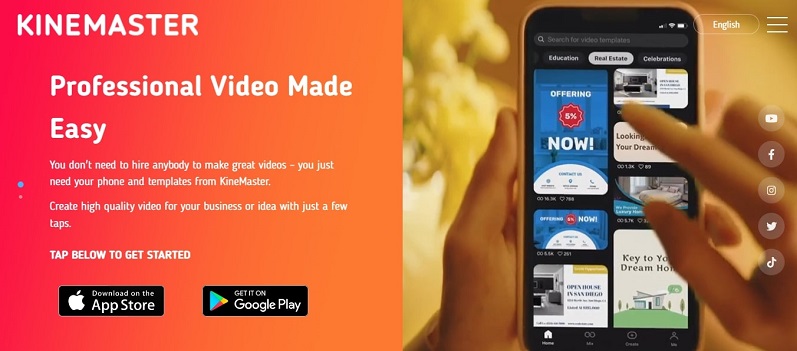 Kinemaster video editor is a video editing app developed specifically for mobile devices. It is an ideal tool with various features that make it easy to customize and edit videos. The app is available for Android and iOS devices. It has a range of built-in tutorials and templates to help users get started quickly. With its intuitive user interface, Kinemaster is the perfect choice for creating amazing videos on the go.
The software, Kinemaster, offers a wide range of features for video editing. The app supports various formats, such as MP4, MOV, and AVI. This tool also allows its users to remove the background of their videos. With the help of chroma key support and speed adjustment tools, you can edit video backgrounds. On top of that, you can also find pro options like adding audio tracks, voice-overs, and other audio effects.
Pros
Ease of use, which makes it ideal for beginners
Available for both Android and iOS
Cons
Lack of support for the 4K video
Random issues with exporting videos
Limited functions of the free version
Website Link

KineMaster - Mobile Video Editor

Free/Paid

Basic features are free. The paid version is around $5 per month

Supported file formats

Video formats: MP4 / MOV / 3GP containing H.264 (AVC) and H.265 (HEVC)
Audio formats: AAC or PCM
Part 2: Video Background Editor App Alternatives to Kinemaster
We just learned how great the KineMaster editor is and how you can use it to edit the background of your videos. But what if you don't want to use this software? Well, here are the top alternatives to Kinemaster.
Video Background Changer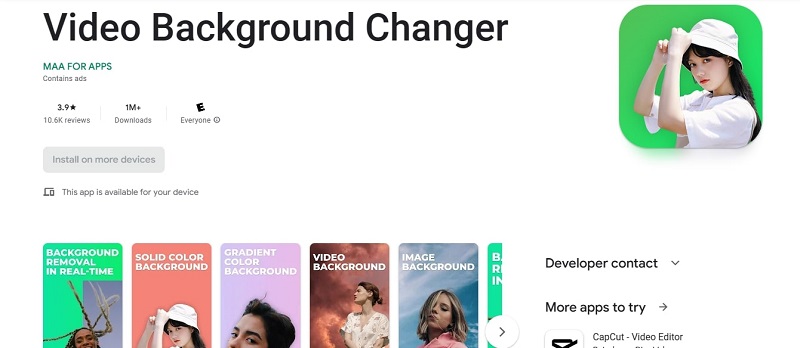 Video Background Changer is an app for Android available on the Google Play Store. This application helps change the video backgrounds using the green screen feature.  You can take a photo of yourself or a friend and upload a photo from their device. Then, select a background from the many available options.
People can also use the app to add text, stickers, and music to their photos. This tool is ideal for those who want to add a bit of fun to their photos or make them look professional.
Pros
Variety of backgrounds to choose from
Can add text, stickers, and music
Professional quality photos
Cons
No ability to customize photos
Frequent ads that can be annoying
The app can be used only in portrait mode
Erase&Change Video Background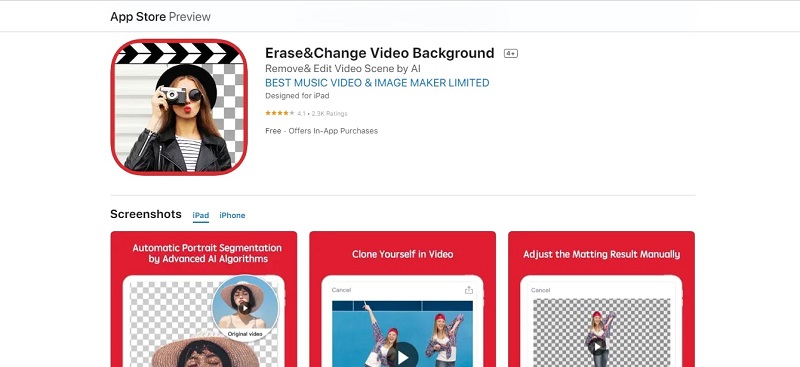 Erase & Change Video Background is an app for iPhone users that allows them to change the background of any video easily. This app lets you pick from various backgrounds, from a solid color to a custom image. With the help of numerous effects and filters, users can customize their videos. And the best part is that there is an AI assistant to help with any issues or questions.
On the feature side, the Erase Change Video Background app has many functionalities that make it great for creating fun and unique videos. It has a lot of background templates, effects, and filters. On top of that, the AI assistant also makes it easy to get help with any issues or questions. It also has features such as 3D animations, music, and sound effects. 
Pros
Variety of backgrounds, effects, and filters
The app is easy to use and comes with a tutorial on how to use it
Cons
It can take time to render videos
The automatic feature can disorientate the subject
Part 3: Video Background Editor Online Alternatives to Kinemaster
This part is for you if you like to edit your videos on the go and can't suffice for a long render time. Here we have applications that allow you to change the video background without downloading any software.
Vid BG Remover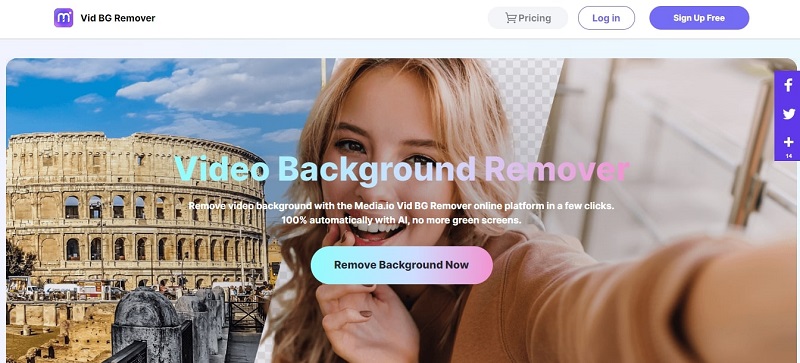 Vid BG Remover from media.io is an online platform for video background removal. Unlike other online tools, you can even customize the background before removing it. A plus feature is that it can remove the background from the videos quite effectively. This software supports multiple video formats. The app can be used from any browser as it is a completely online tool.
Vid BG Remover also has several advanced features, such as automatic background replacement (with the help of AI), image masking, and color correction. It is also coupled with a simple interface, making the app easy to use. You can upload many video formats to get started with removing your video backgrounds. These features make it easy to create professional-looking videos without investing in expensive video editing software.
Pros
Advanced features like image masking and automatic background replacement
The editing feature is also available with a lot of top-notch features
No need for a green screen as it can detect background using AI
Cons
You can edit only 5 minutes of video on the free version
| | |
| --- | --- |
| Website Link |  https://vidbgrem.media.io/ |
| Free/Paid | Limited free version. Paid plan starts at $25.50 per month |
| Supported file formats | MP4 or MOV. The video will be downloaded in WEBM format. |
Veed.io's Green Screen Editor: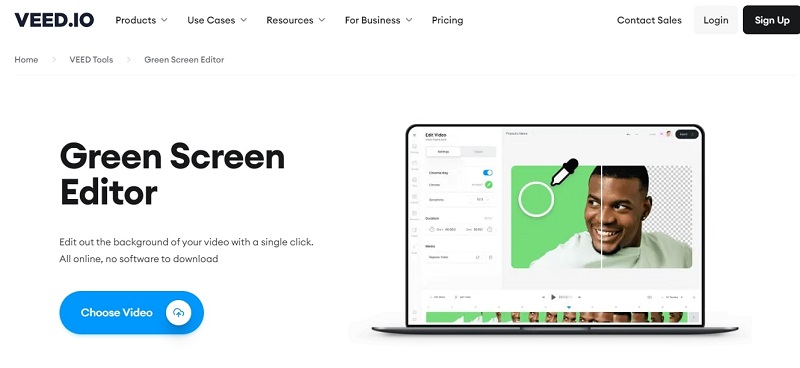 Cut out the clutter, and make your videos stand out with Veed.io's Green Screen Editor. It is another best alternative to the Kinemaster application. This online editor provides users with an easy and affordable way to create high-quality green-screen videos. It offers a wide range of features, such as:
The ability to customize the color of the background
Crop and resize the video
Add text and images
The software also provides an automatic chroma key feature. This can be helpful to quickly and accurately remove the green screen from the video. In addition, Green Screen Editor includes a good selection of special effects, including blurs and lens flares. The software also has many audio and video filters and transitions, making it easy to create professional-looking videos
Pros
Easy to use and intuitive user interface
Includes a wide range of features
Automated chroma key feature
Praised by many notable companies like Facebook and Pinterest
Cons
Not suitable for advanced video editing
The free version only allows you to edit 10 mins video
Part 4: Video background editor for PC Alternatives to Kinemaster
When it comes to video editing, nothing can compete with PC software. Since these tools have the rendering power of a CPU, they can be much more powerful and feature-rich. Here are 2 top-notch PC alternatives to Kinemaster.
Adobe Premiere Pro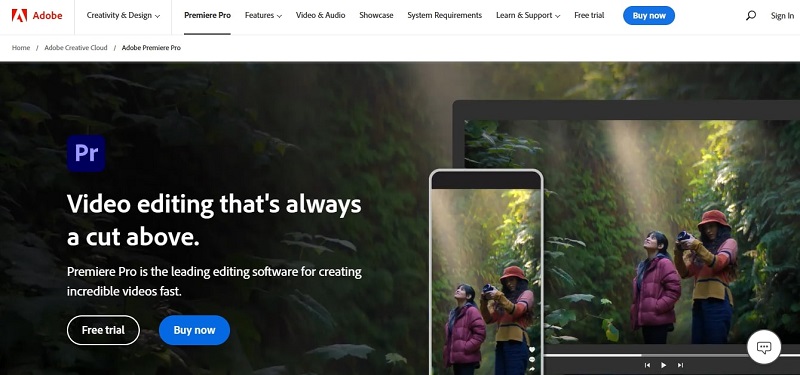 Adobe Premiere is the leading software for cutting-edge video editing. It is a tool that enables users to create stunning videos with myriad features to enhance the editing experience. The software includes advanced tools such as motion tracking, color correction, and audio mixing. Not to mention the paid plan, which lets you access Adobe's library. Premiere provides a variety of effects, transitions, and titles that you can use to add value to your videos.
Moreover, one of the most useful features of Premiere is its ability to remove backgrounds from videos. This makes it easier to create dynamic, creative videos that stand out from the crowd. You can easily remove unwanted elements from their videos and replace them with a more suitable background. Accessory tools such as masking, blending, and tracking can help you in this removal process.
Pros
Used and recommended by top video editors
Ability to remove backgrounds from videos
You can even fine-tune your videos to perfection
A free trial is available
Cons
Expensive compared to other software (The basic plan starts at $21/month)
Advanced features can be difficult to use
The user interface can be difficult to use for those who are not used to video editing
| | |
| --- | --- |
| Website Link | Professional video editing software | Adobe Premiere Pro |
| Free/Paid | Free trial. The paid plan starts at $21 per month |
| Supported file formats | Apple ProRes, ASF, AVI, DNxHD, DNxHR, H.264 AVC, HEVC, MP4, MOV, and audio formats like AAC, MP3 |
iMovie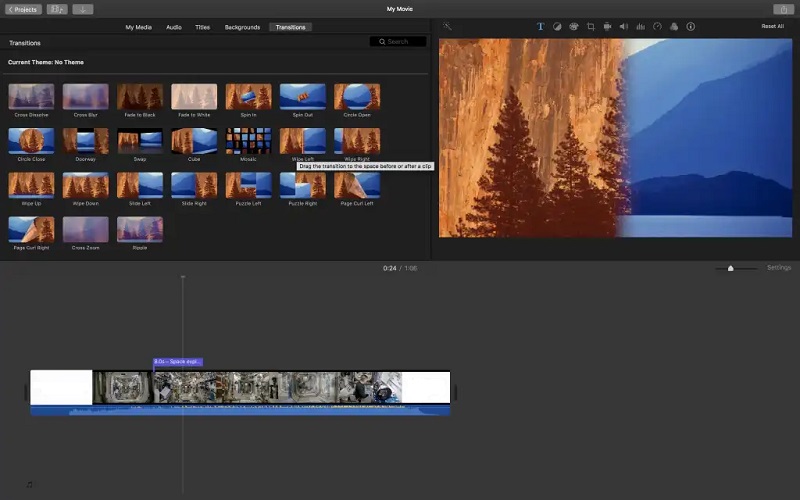 Apple iMovie is a feature-packed video editing software that can help you create amazing videos. With its intuitive and user-friendly interface, it's great for both beginners and professional video editors. This software can add titles, music, and effects to your videos. You can also trim, split, and merge clips and customize the look and feel of your videos with themes and transitions.
Create your movie masterpiece with iMovie – the ultimate editing tool for the modern movie maker. iMovie also can remove backgrounds from videos. With the green-screen effect, you can instantly drag the background from your video and replace it with a custom background.  This can be especially useful for creating stunning visual effects or editing videos with people in them.
Pros
Green-screen effect for background removal
Ability to add titles, music, and effects
Latest features like Magic Movie and Storyboards
Cons
Limited format support for music and video
Limited support for 4K video
It can only be used on Apple's products
| | |
| --- | --- |
| Website Link | iMovie - Apple |
| Free/Paid | Free trial. The price starts at $39.95g |
| Supported file formats | DV, HDV, AVCHD, Apple Intermediate Codec, Apple Animation Codec, Motion JPEG/A, iFrame, h.264, and some varieties of MP4, MOV |