Have you recently found a collection of old videos and home videos in your cupboard? So now when VHS tapes are no more in use, playing these videos and movies is only possible by converting them to a digital format. Thus to preserve your memories for yourself and your future generations, convert old videos to digital using a software, device, or retail services.
Method 1. Convert Old Movies to DVD on Your Own- VHS to DVD conversion device
To convert the collection of your movies and videos on your own, VHS to DVD conversion device works as the best DIY option. You can buy a DVD recorder or a VHS VCR combination unit online or from a local store. The process of conversion using these units is simple and quick where you just need to insert your tapes in one unit while a blank DVD into the other. Playing the VHS tapes and recording them on the DVD will get your task done in no time. Additional features like cross dubbing, a built-in tuner, and others are also supported by these units. If you are looking to purchase one of these units, listed below are the popular names:
Sanyo FWZV475F DVD Recorder/VCR Combo
Funai ZV427FX4 DVD Recorder/VCR Combo
Emerson ZV427EM5
Funai Dual Deck DVD and VHS Player
JVC DR-MV150B DVD Recorder/VCR Combination
Panasonic DMR-EZ48VK DVD recorder/VCR Combo
If you already have a VCR with you can skip buying these combo units and rather only purchase a DVD recorder and connect it with your VCR using RCA or S-Video Cable to convert the content into a DVD.
Once the content of the tapes is converted into a DVD they can be burned into a digital format using any professional software. One good program that can be considered here is Wondershare UniConverter.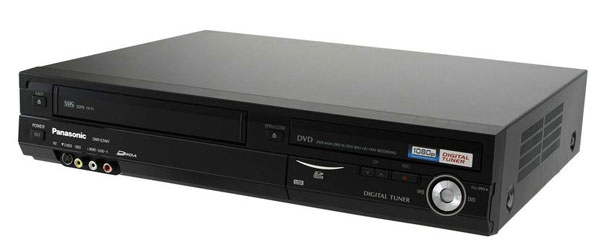 Method 2. Using Retail Services to Convert VHS to DVD
If you lack the time or want to forgo the technical process of VHS conversion there are retail services to get your task done. Big retail corporations have their photo departments through which they offer their services of VHS to digital and DVD conversion for a price. The three most commonly used service providers are:
Walmart
Costco
Walgreens
Each of these providers offers VHS tapes to DVD and digital format conversion services for a price depending on the number of tapes and the hours of content. You can choose from their packages available. Most of them also offer the content on the cloud which can be accessed anywhere anytime. Additional services like multiple discs, personalized DVDs, private online account, and others are also offered. Almost all of these retail services have an option to drop the tapes and pick up the content from their stores or opt for delivery services.
So to convert old home movies to digital you can either go for professional retail services get it done on your own using the recording unit. If you have several tapes with hours of content, retail services will come out to be quite expensive and thus buying a recording unit will prove to be a more sensible solution. Whereas if there are only 1-2 tapes to be converted get them processed by one of the retail services in a hassle-free manner.
Summary
As we mentioned above, if you have converted your VHS tapes into a DVD, you can then convert the same into the desired digital format and one program that we suggest for the same is Wondershare UniConverter. This versatile tool facilitates converting the DVD content into an array of digital formats as well as a pre-defined device-specific format in no time. You can even edit the videos using the built-in editor of the software.
Wondershare UniConverter
· Transfer videos to Android and iPhone devices effortlessly.
· Burn videos to DVD with built-in colorful DVD menus.
· Convert videos to any popular formats for any need.
· Trim, crop and rotate videos depending on your needs.