TikTok Downloader is a popular tool used for downloading TikTok videos in MP4. With TikTok Downloader, users get to download MP4 TikTok in simple steps, making it one of the best tools of popular demand.
Although this tool stands out among other relevant online tools, some alternatives come highly recommended. With these free alternatives, you can get out of such issues as being unable to download TikTok MP4 through your browser if you are using iPhone or iPad with a version above version 12.
Therefore, if your goal is to use other ways to convert TikTok to MP4 other than TikTok Downloader, then this article is the best solution for you.
Part 1: How to apply TikTok Downloader to convert TikTok to MP4
TikTok Downloader is a TikTok to MP4 converter that allows you to download TikTok videos in MP4 for free and without a watermark. This online tool converts TikTok videos to different audio formats, the top of which is MP4. That is what makes the tool unique among other online download utilities. More so, you can download all your TikTok videos to MP4 with TikTok Video Downloader.
How do you use TikTok Downloader to Convert TikTok to MP4? Just follow the steps below:
Step 1: Choose the video you want to download on TikTok and copy the video link on your computer or mobile phone.
Step 2: On the TikTok Downloader, paste the link to the TikTok video and select check video.
Step 3: Download the converted video using the Download button.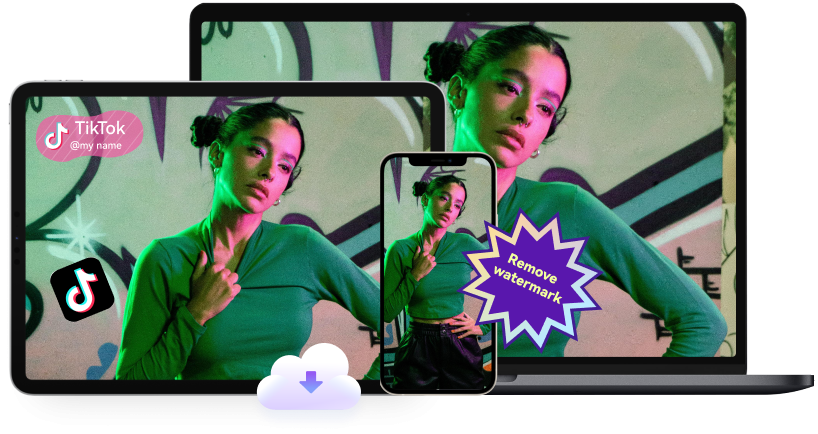 Part 2: Top 5 TikTok Downloader's alternatives [simple-to-use]
TikTok Downloader is quite an effective tool that gets the job of TikTok to MP4 conversion done. However, you may be having issues using your browser to download TikTok to MP4 if you are an iOS user. That calls for other alternatives that can get the job done effectively too.
Find below a list of our top five recommended TikTok to MP4 converters:
Wondershare UniConverter
MiniTool Video Converter
Savetik Converter
Tikmate App
TikTok Video & Audio Downloader
Wondershare UniConverter is a desktop tool that lets you convert TikTok to MP4 in simple steps. You can download MP4 TikTok with no watermark on the file and then access it offline for future use. Wondershare UniConverter is our first alternative TikTokDownloader choice for several reasons, which are outlined in its features below:
Wondershare UniConverter
It allows you to download the TikTok link to MP4 file format. Note that MP4 is just one of the many different formats supported by Wondershare UniConverter. There are over a thousand file formats that are supported by this utility.
It removes the TikTok watermark from downloaded TikTok videos.
It supports the easy transfer of videos to your Smartphone if you want to use it after converting it on your desktop or computer system.
It can batch convert multiple TikTok videos to MP4 with great speed.
No internet requirement and more reliable.
Now follow these steps to convert TikTok to MP4 with UniConverter:
Step 1: Launch Wondershare UniConverter on your PC. Ensure you have downloaded the TikTok video you want to convert on your computer storage.
Then, select the Converter feature and choose Add Files to the window. The Converter button can be found on the left panel of the home page.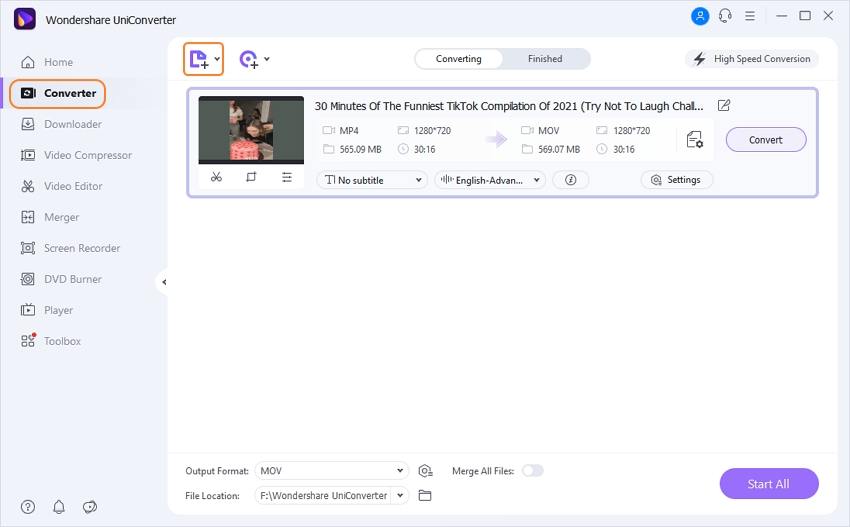 Step 2: After adding the TikTok video, edit it to your taste. Different tools exist for this purpose, including Crop, Trim, Subtitle, and Effect.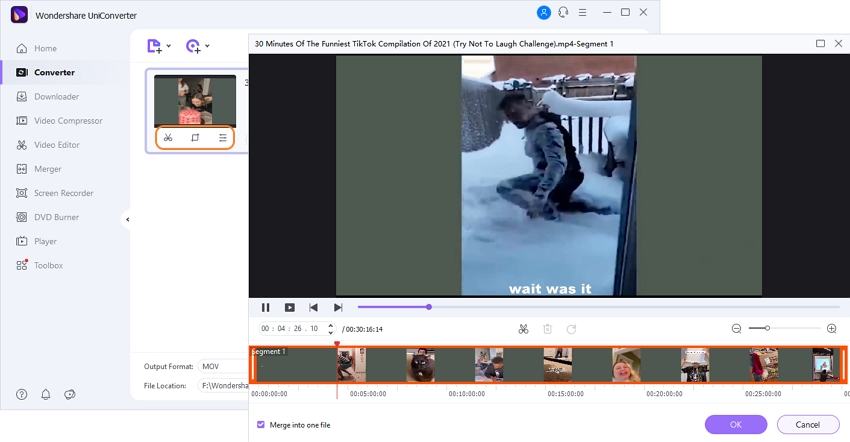 Step 3: Select Output Format at the bottom of the page. Click on Video and select MP4 as the format you want for your video output. Also, you can choose the specific video resolution you want; then click on Start All.
Wondershare automatically converts TikTok to MP4 and saves it on your device, Android, iOS, Windows or Mac. It has proven to be enough for you.
However, if you require other alternatives, you can check out the rest below: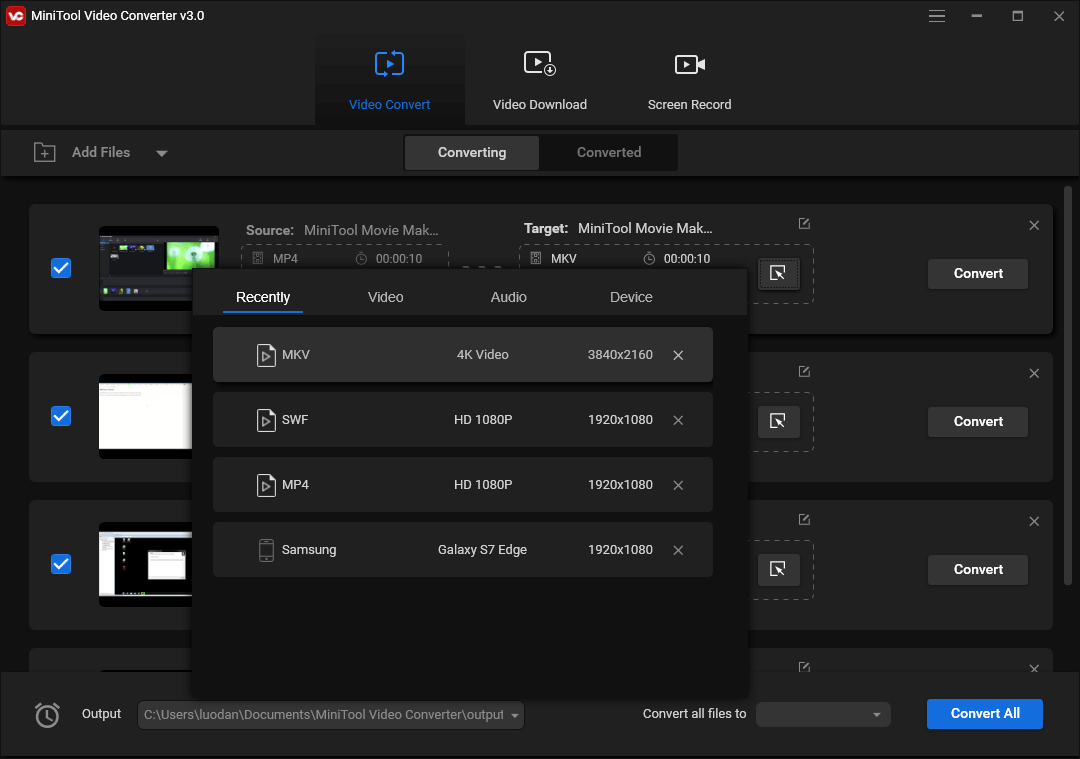 MiniTool Video Converter is another TikTok downloader that converts video files to MP4 audio within minutes, giving you high-quality output at the end. It supports 1000+ video and audio file formats such as MP4, MKV, FLV, WMV, AVI, TS, etc.
More so, MiniTool Video Converter supports individual video file edits and then batch conversion of those videos files into MP4. Batch conversion does not affect the fast speed this tool is known for.
MiniTool is compatible with Windows 7 to 10; it requires Intel Core i3 processors and above and a 4GB RAM minimum to give you the best functionality.
Pros:
It is free software.
Download 4K video quality with MiniTool.
It has incredible speed.
Cons:
It works only on a Windows computer system as a desktop tool.
It requires an ample space of up to 400MB on the hard disk and a system of 4GB RAM to function properly.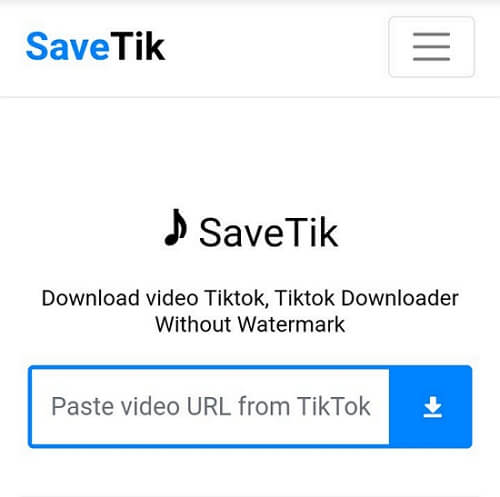 Download TikTok videos to MP4 without watermark on SaveTik online tool. SaveTik has been added to this best tools list because of its effectiveness in downloading videos from TikTok and TikTok lite without watermark and in MP4 format. It is used online on different browsers such as Firefox, Chrome, etc., although the Progressive Web Apps (PWA) can give you the best experience when using SaveTik.
The tool supports different devices such as iOS-based phones, Android, Windows PCs, tablets, laptops, etc.
Pros:
Video conversion and downloads are done smoothly because of the stable connection.
It supports a wide range of systems and devices.
It is always free to use online, and the user does not need to download the app to enjoy these free benefits.
Cons:
You may experience slow responses from customer support in handling issues.
It requires more features.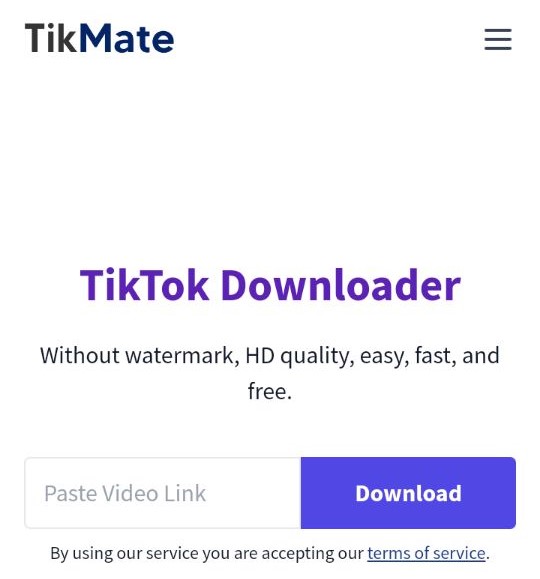 TikMate is a highly recommended TikTok to MP4 downloader that allows HD quality downloads for free and at incredible speeds. TikMate is a popular tool used to download TikTok videos as MP4 and saved for later use. It works perfectly on Android devices, Windows, iOS devices, macOS, and Linux devices.
To use this tool, all you need is the TikTok video link. Then, paste it on the TikMate website and download your MP4 in HD quality without a watermark.
Pros:
It allows for the download of high-quality MP4 TikTok with no watermark.
It is fast and easy.
It supports different systems and devices.
Cons:
It is loaded with ads that interfere with the smooth running of the website.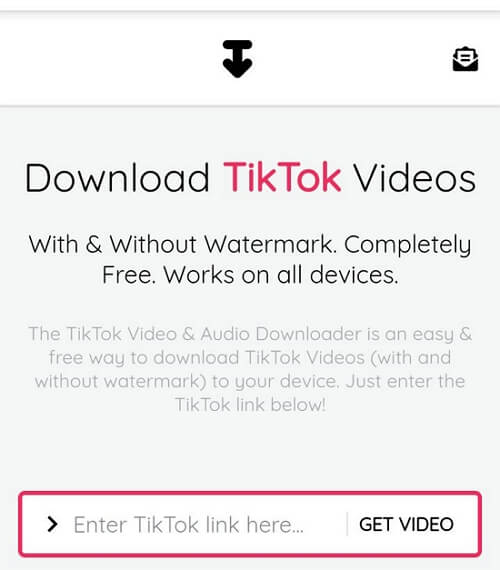 Get a TikTok link and a good internet browser, and you can download TikTok videos to MP4 using TikTok Video and Audio Downloader. No app download is required to use this free online tool. With the TikTok video link, you can download this tool directly to your tablet, mobile device, or desktop.
You have the liberty to choose either to download the TikTok video with a watermark or without it, in the original quality of the video. In addition, you are allowed to preview the converted video before saving it to your device's storage.
Pros:
Video and audio downloads are done in their original quality; hence quality is not compromised with this tool.
TikTok to MP4 downloads is unlimited with this downloader.
You are assured of the security of your online history as the tool does not collect data or record your activities online.
Cons:
The website contains several ads, typical of any free online tool.
Downloading videos/audios in their original quality can be challenging.
Part 3: Q&A about TikTok MP4
1. How do I download TikTok video without watermark?
It is impossible to download TikTok videos directly without a watermark. That is why you need the help of a TikTok watermark remover/video downloader. There are several tools available online for this purpose. However, we prefer to recommend Media.io TikTok Converter to help you effectively remove the TikTok watermark from your videos before you can download and use them for other social media platforms that may not necessarily tolerate repurposing videos from other sites.
2. How do I add YouTube MP4 to TikTok?
To upload a YouTube MP4 to TikTok, first, you may need to convert and edit the video on an excellent online video editor. Choose from any of the MP4 downloaders shared in this article above to complete this task. Copy the YouTube video URL, then paste it on the website of the video editor. After editing and converting the video to a format suitable for TikTok, you can download the video on your device and share on TikTok.
If you save the video on your device, you will need to upload it on TikTok using the + icon for creating videos on TikTok. Then, go to your camera roll and add the video you converted from YouTube. Then, please share it with your audience
3. How to save TikTok video for WhatsApp status video?
It is pretty easy to achieve if you have found a TikTok video you wish to share on your WhatsApp status.
Step 1: Download the video by tapping the right arrow that stands as the icon to share videos.
Step 2: Choose to save the video and wait for it to download to your camera roll. You can now go to your Whatsapp status and upload the saved video from your gallery or camera roll.
Conclusion
In a nutshell, many apps and online tools promise to convert TikTok to MP4 in a fast, effective way, but not all of them deliver on their promise. Therefore, we'd better know some reliable TikTok to MP4 converters like Media.io or others mentioned above. With these tools, you are assured of the best experience to download TikTok MP4 video, all for free on your device.