Passports are essential for documentation, registrations, and many other official reasons. Almost everyone will need them at some point, while most people use them regularly. When you run out of passports, going to a photo booth or studio to take new passport photos and wait for the printed copies can be stressful. In addition to this inconvenience of leaving your comfort zone, you'll have to spend time and money in the process.
Fortunately, technology has come to our aid with a range of passport photo cropping tools that can make the process easier, faster, and more efficient. These tools are designed to help you meet the strict requirements for official documents set by governmental and international authorities.
This article will introduce you to the "Best 6 Passport Photo Cropping Tools You May Need In 2023." Whether you're a frequent traveler, a professional photographer, or someone preparing for official documentation, this guide is here to help you navigate the world of passport photo cropping tools.
Part 1. Best 6 Free Passport Photo Cropping Tools to Recommend
Ready to start creating premium-quality passport photos without stress? Check out these top 6 passport photo cropping tools below.
Media.io Passport Maker is a cutting-edge, AI-powered tool that empowers you to create professional passport and ID photos online, and the best part is it's free.
This innovative passport-size photo maker provides preset templates for over 60 countries, including the USA, Spain, France, Germany, and many more.
One of the standout features of this free passport photo cropping tool is its ability to automatically take care of cropping, resizing, adjusting, and laying out the photo, with the face perfectly centered. This level of automation ensures that your photo will meet your needs with precision and accuracy.
This passport photo cropping tool can also replace the background of your original passport-size photo with a crisp, white background that adheres to official standards seamlessly. It also allows you to make on-demand background color changes, ensuring your photo can be tailored to your needs. In addition, the AI can change your dress with multiple dress change options for both genders.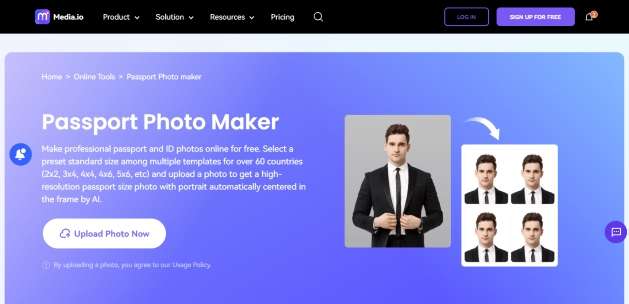 To use Media.io Passport Maker, follow the below three easy steps:
Step 1: Select a Preset Size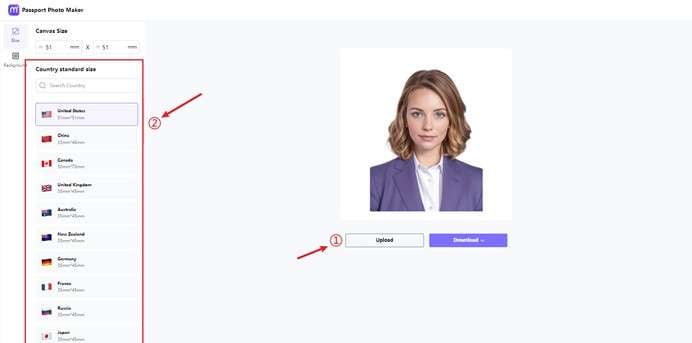 Start by taking a suitable photo that meets the requirements for passport photos and upload it to the Passport Photo Maker. Then, choose a preset standard photo size from a variety of templates available for over 60 countries.
Step 2: Let AI Do the Magic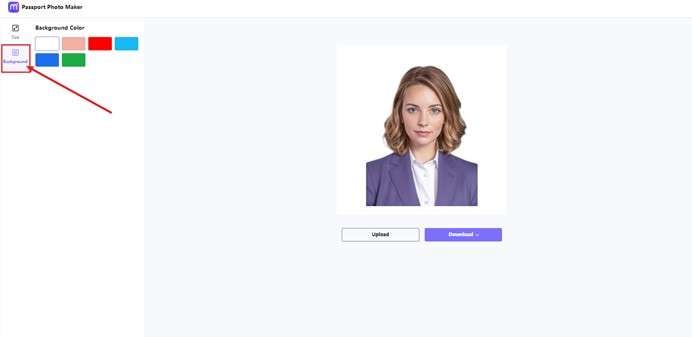 The AI will automatically crop, resize, adjust, and lay out the photo, ensuring the face is centered correctly for a passport photo. It will also retouch the passport photo to meet the necessary standards, providing you with a professionally edited result. You have the option to adjust further and crop the images manually until you are completely satisfied with the outcome.
The passport photo cropping tool also automatically removes the original background of the passport photo and replaces it with a white background or any other color you prefer, ensuring that it meets official requirements.
Step 3: Download Passport Photo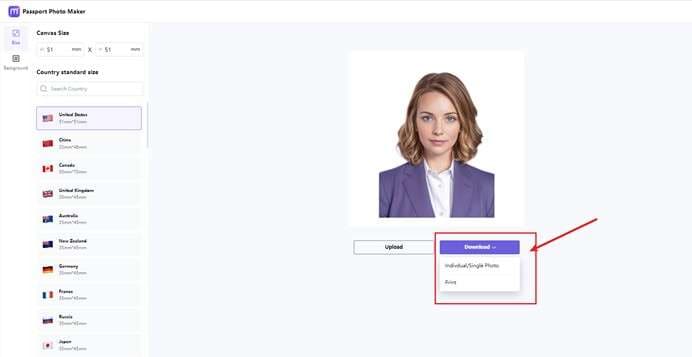 After uploading and allowing the AI to make necessary adjustments, click the appropriate button to generate the passport photos. You can choose to generate the photos in a combined format, where multiple photos are arranged on a single sheet of standard print paper size or as a single, standard-sized passport photo ready for use.
PicWish is an excellent passport cropping tool that creates ready-to-use passports in top picture quality. This online tool is 100% free, and you can crop your photo into a passport photo in less than a minute. You can also change the background of your passport from any color to white – the generally accepted background color for passports. Anyone can use this online passport photo cropping tool, provided they can read and write. Simply upload your photo, choose your passport size from the list of preset options, and let the AI do its job. Download afterwards and use.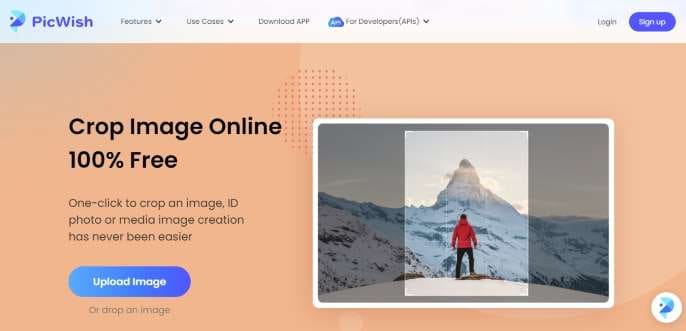 Pros
It offers a list of preset passport sizes for different countries.
Picwish has the freeform option that lets you manually crop your photo.
It features a simple user interface for anyone to use.
The platform easily compresses the file size without reducing the photo's quality.
Cons
It requires a subscription to access all the features, which might not be ideal for users looking for a completely free solution.
Passport Photo Generator is a quick and convenient solution for obtaining passport-ready photos within minutes. You can easily upload your selfie, and the AI will generate ready-to-use passport or ID photos for you.
This passport photo cropping tool supports passports for over 99 countries and ensures a high acceptance rate for online applications. Simply upload your selfie, select your passport's country, and your photos are automatically adjusted to meet the specifications required for your particular location, saving you the time and effort of manual editing.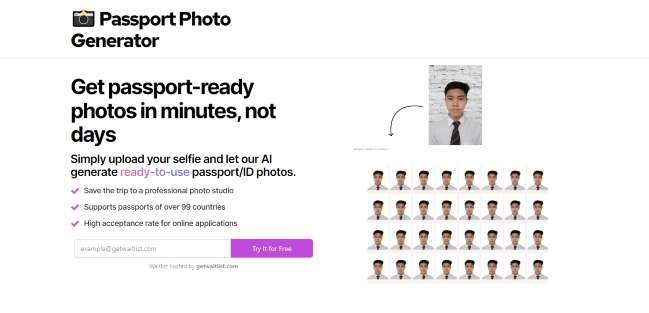 Pros
This free passport photo cropping tool provides passport-ready photos in minutes, eliminating waiting for days.
It has a user-friendly interface.
It supports passports for over 99 countries, making it versatile for users worldwide.
The tool automatically adjusts your photos to meet location-specific specifications, saving you from manual editing.
It ensures a high acceptance rate for online applications, reducing the likelihood of photo-related issues.
Cons
Users are required to sign up with their email address before using the service, which might not be preferable for those who prioritize anonymity or are concerned about sharing personal information.
It might require a subscription or fee for access to all features
Passport Photo Software is a valuable tool for businesses and individuals to create passport and visa photos that meet the latest official requirements. This free passport photo cropping tool leverages a neural network trained to detect biometric features, enabling even home users to quickly edit their DIY photos and convert them into fully compliant ID pictures.
This simple online passport cropping tool can create passports out of photos in different sizes, with photo templates for over 130 countries. However, users can customize the templates manually to suit their preferences. Additionally, it offers background editing tools, which are handy when the necessary backdrop color is unavailable in a studio setting. Further, it can change your outfit right in the picture.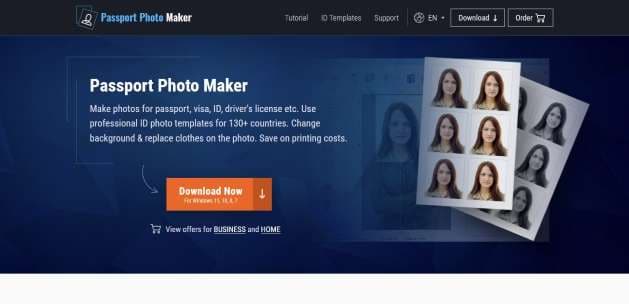 Pros
It offers automatic photo cropping.
This passport photo cropping tool free allows users to generate flawless ID photos in a matter of minutes.
It boasts a wide range of photo templates for over 130 countries.
It enables users to create a perfect background, ensuring adherence to official specifications.
The software can change the outfit on the ID photo to comply with formal dress code requirements.
Cons
Users are required to download and install the software, which may not be ideal for those seeking entirely web-based solutions.
This tool offers a user-friendly solution to create passport photos that adhere to the standards of multiple countries with just a few clicks. This passport size photo crop online platform provides a cost-effective way to crop photos accurately without manual work and even offers a custom background feature. Users can upload their photos, and the service takes care of scaling, cropping to the correct dimensions, and, if desired, background removal. Best of all, these services are available at no charge, making it a convenient and budget-friendly option for passport photo needs.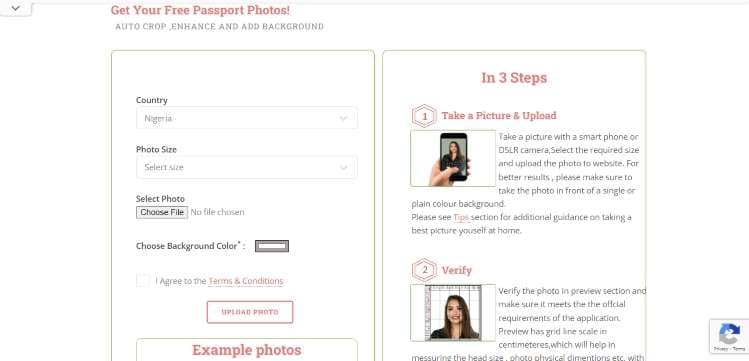 Pros
The service offers automatic cropping, ensuring the photo is perfectly sized to meet passport requirements.
It provides automatic photo enhancements to improve the overall quality and appearance of the image.
Users have the choice to remove the background, allowing for customization and compliance with specific regulations.
Users can access preset passport-size templates for over 100 countries.
Cons
It has limited editing features.
It has just a few background color options
Persofoto offers a seamless and intuitive user interface that allows users to easily upload, crop, and create standard passport photos according to different sizes. This passport photo crop online tool won't let you print a passport if it's not up to the internationally accepted standard in size and picture quality. The AI tool checks if the passport is fit for use, and if it's not, it will enhance it automatically and make it up to the standard before printing. Also, if you don't have a photo already, you can take one directly with an in-built webcam feature on the platform.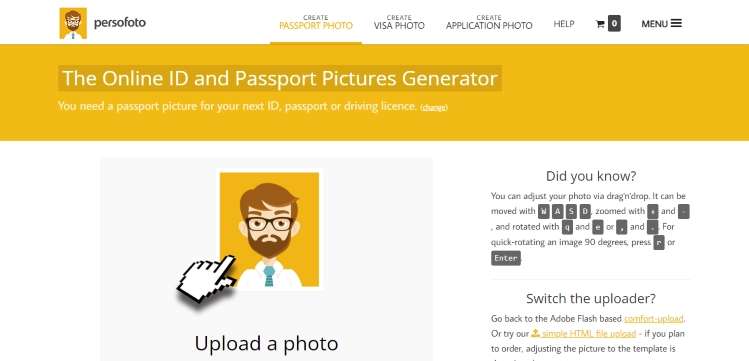 Pros
It features an in-built webcam, so you can take photos on the site if you don't have any.
It performs compliance checks on your passport photos, ensuring they meet the required standards.
It has an intuitive user interface for seamless usage.
Printouts are of exceptional quality.
Cons
It has a limited customization option
It does not offer automatic background removal
Part 2. Hot FAQs about Passport Photo Cropping Tools
1.Is there a passport photo cropping tool online?
Yes, there is indeed a passport photo cropping tool available online, and one such option is the Media.io Passport Photo Maker.
Media.io Passport Photo Maker is a user-friendly and convenient online tool that easily crops and edits your passport photos. It offers a range of features, including automatic cropping, background removal, and customization options, ensuring that your photos meet the specific requirements of various countries.
2. What is the tool for cropping passport photos?
There are many tools to crop your passport photos. These include Passport Photo Generator, Passport Photo Software, PicWish, Persofoto, and Free Passport Photo. These tools make it convenient and cost-effective to crop passport photos while ensuring they adhere to the specific standards required for official documentation in various countries.
3. Do I have to pay to use a passport photo cropping tool?
No, you don't have to pay to use a passport photo cropping tool. Many online tools, like Media.io Passport Maker, offer a free and user-friendly solution. You can simply visit the website and upload your photo, and the AI-powered cropping tool will automatically assist you in creating compliant passport photos at no cost.
4. Do ears have to show in passport photo?
It is generally preferable that ears be exposed in a passport photo. While specific regulations may vary by country, the key requirement is that the photograph should clearly and accurately identify the applicant. In many cases, this means that the ears should be visible to ensure that the person's face is fully and unmistakably represented in the photo.
5. How long does it take to crop a passport photo online?
Cropping a passport photo online with any of the mentioned tools typically takes less than 2 minutes. In fact, with fast internet connections, the process can often be completed in less than a minute. These online tools are designed for efficiency and user-friendliness, ensuring that you can quickly and easily obtain correctly cropped passport photos in minutes.
Conclusion
Free passport photo cropping tools eliminate the hassle of getting a passport the traditional way, saving time and money in the process. Whether it's Media.io Passport Photo Maker, Passport Photo Generator, PicWish, Persofoto, Free Passport Photo, or Make Passport, users have access to convenient online solutions that simplify the process.
These tools offer features like automatic cropping, background removal, and customization options while adhering to the specific requirements of over 100 countries. The best part is that many of these services are completely free, ensuring that obtaining compliant passport photos is accessible and cost-effective.
As we navigate through 2023, these passport photo cropping tools provide a valuable resource for individuals and businesses alike, making the task of acquiring official ID photos quicker, more convenient, and hassle-free.