A watermark is a unique pattern, shape, or symbol applied to a photo or video. The major goal of using a watermark is to protect your content from copyright issues. This means that no one has the authority to use your content without permission. Meanwhile, in this modern world, the need for watermarks is rising. After all, content stealing, or illegal use is increasing.
In this regard, using a watermark creator is essential to enhance your content privacy. This article discusses different tools to add watermarks to videos and photos.
Part 1. 2 Reliable and Blazing-Fast Watermark Creator for Videos
Adding watermarks to your videos is a way to mark your content ownership. This way, no one has the authorization to use your content illegally. Here you'll find 2 reliable and blazing-fast watermark tools:
Enhance the privacy of your videos using the Media.io - Video Editor. Using this logo watermark creator, you can add watermark to your videos. This way, you can prevent copyright infringement issues. Meanwhile, you can add watermarks as texts, images, or logos. It depends on how you want to protect your digital content.
You can create a customized watermark tailored to your requirements. Thus, it gives you the leverage to change the size, location, color transparency, and other parameters.
Key Features of Media.io video editor
You can use this tool on all major OS platforms with issues. This includes Linux, Mac, Windows, and Chromebook devices.
In the watermark addition process, the quality of your video won't be affected. Thus, you can apply watermarks with confidence.
The platform supports popular video formats like AVI, MP4, MKV, WMV, and other formats. Thus, add watermarks to your videos with convenience.
How to Add Watermark into Videos Using Media.io - Video Editor
Media.io – Video Editor is an excellent utility for adding personalized watermarks. If you're wondering how to add watermarks to videos, these steps will help you:
01of 03
After launching Media.io Watermark Creator tool on your browser, press "Watermark Video Now" from the homepage. This takes you to the video editing interface. Press the "Upload Media" button from the screen's left side to upload your video.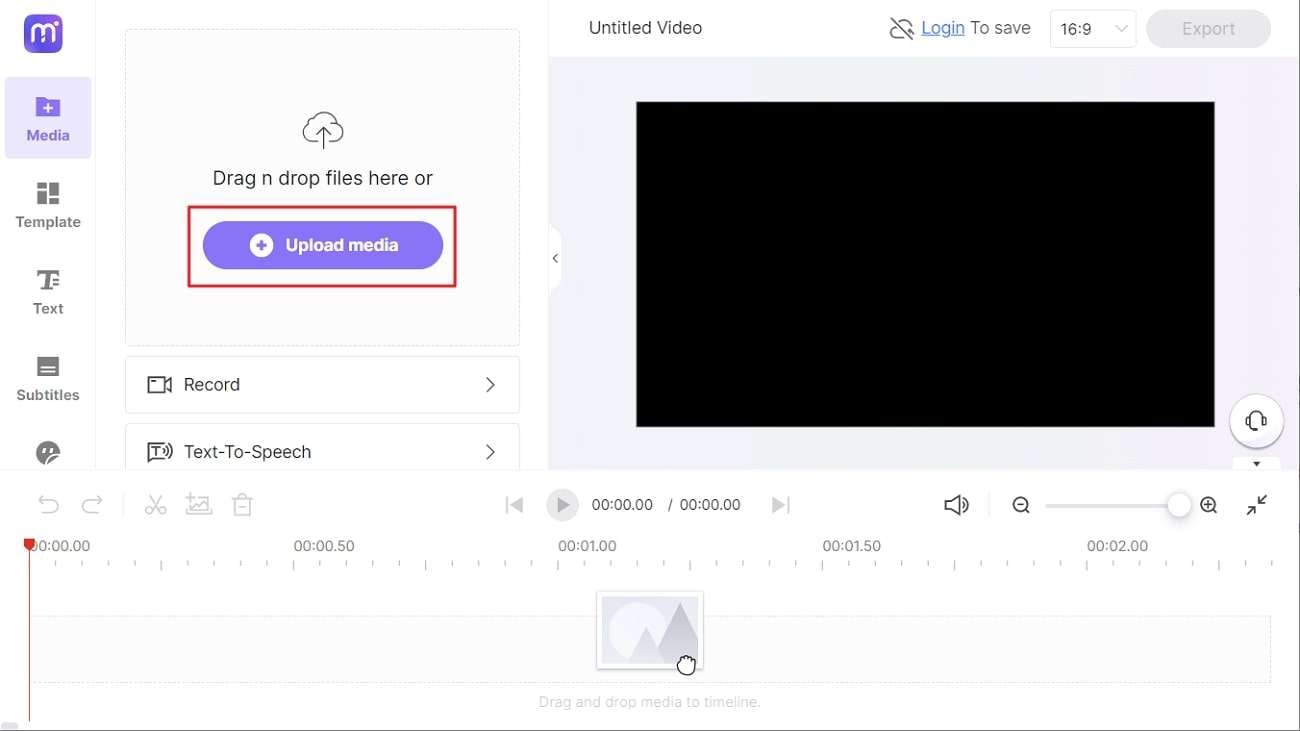 02of 03
Choose "Text" from the panel on the left side, select your text template, and click "Add to timeline." This will add your text template to the timeline. Now edit the watermark text from the preview screen. You can also edit the text watermark through font, position, and size. Uploading PNG or JPG file as your image watermark is also possible.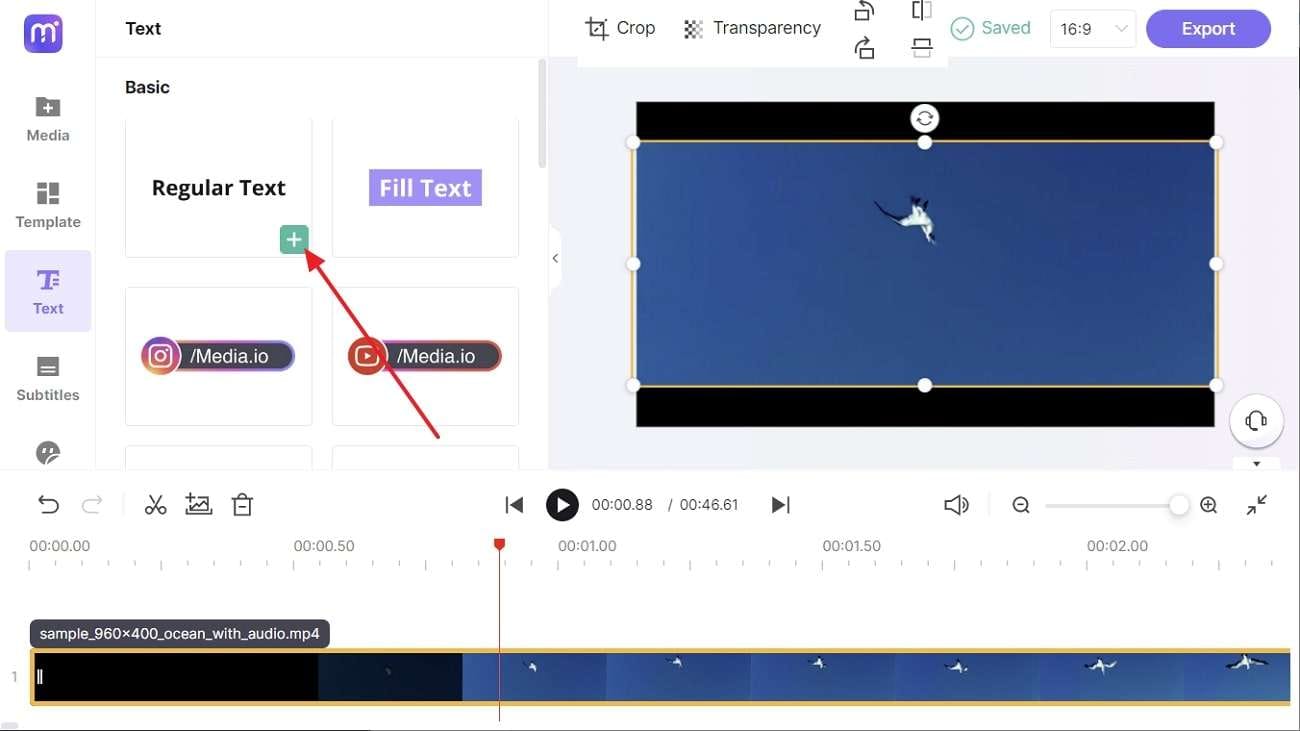 02of 03
Press the "Export" button from the screen's top right side. Select the desired "Format," "Resolution," or checkmark "Burn subtitles." Following this, click "Continue" to save the final video with a watermark on the device.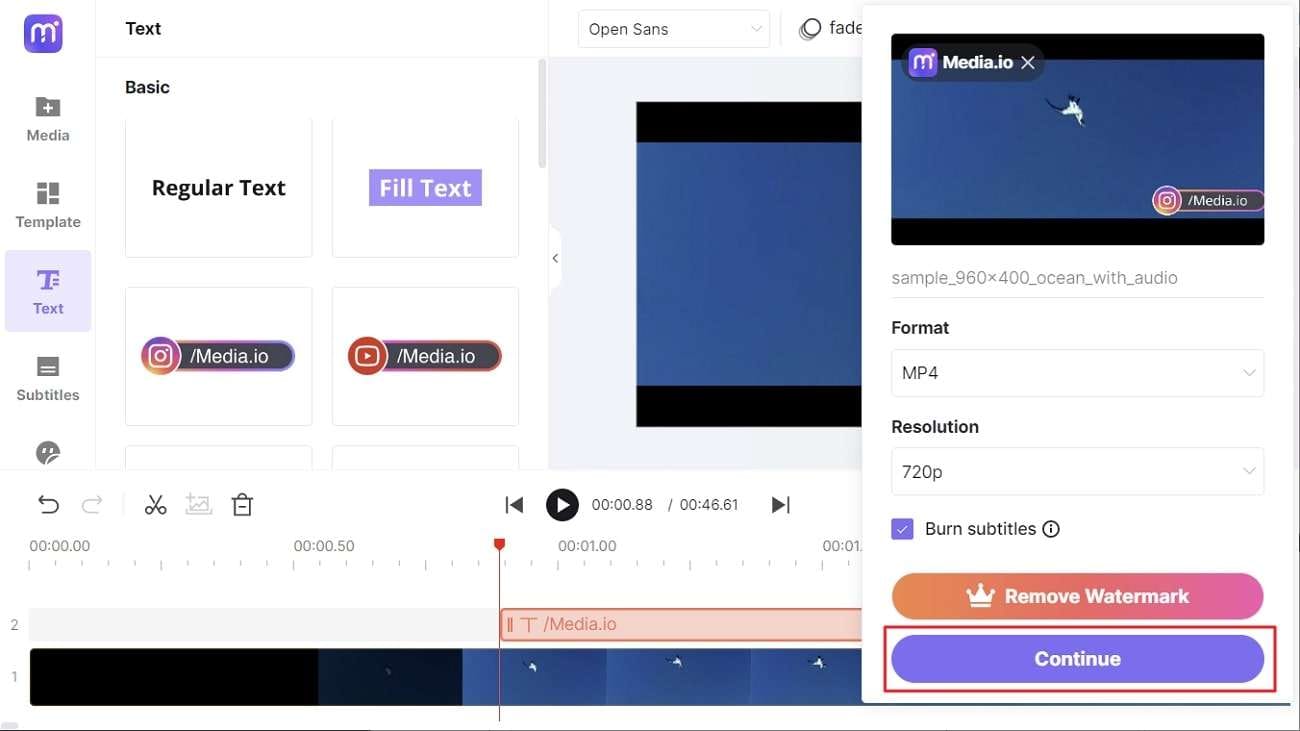 Make no compromise on the privacy of your digital content. After all, Veed.io lets you add a watermark to your videos. This free watermark creator online tool is easy to use and allows adding watermarks conveniently. It's possible to add watermarks as a text format or even logos. Meanwhile, a watermark gets added to your video with a few clicks.
In general, you can upload a transparent background for your watermark in PNG format. Although, Veed.io allows uploading any file format for images. With different use cases, Veed.io offers complete watermark solutions.
Key Features of Veed.io
You can use this tool for editing your videos from a broad perspective. This includes adding audio to your videos, removing background noise, and more.
Screen recording is also available in high-quality resolutions. Just select the layout of your screen recording and begin recording screenplays.
Make sure to add subtitles to your videos with accurate transcriptions. After all, there is a speech-recognition tool to autogenerate subtitles.
Step-by-Step Ways to Add Watermark into Videos Using Veed.io Video Editor
Veed.io is a leading online tool that adds watermarks to your videos. To use this tool, follow the simple and easy steps here:
01of 03
After opening the "Add to Watermark" tool of Veed.io in your browser, press the "Choose Video" button from the home screen. Click the "Upload a File" tab from the prompt window to upload your video.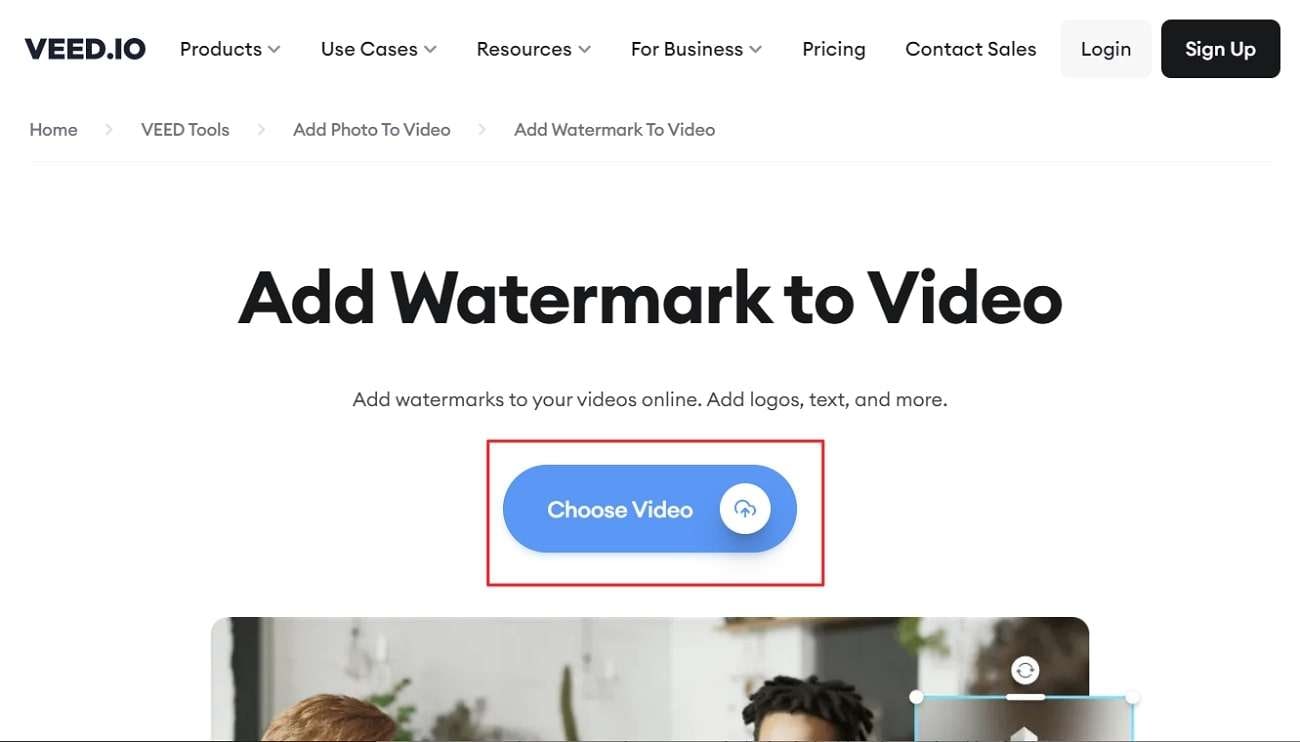 02of 03
From the screen's left side, click "Text" and tap on the desired text template. The text watermark will get added to the timeline and preview screen. Edit the text from the given customizations. To use the image as a watermark, press the "Media" icon, click the "Upload a File" option and add an image to your project. You can place watermarks in the desired location on the video frame.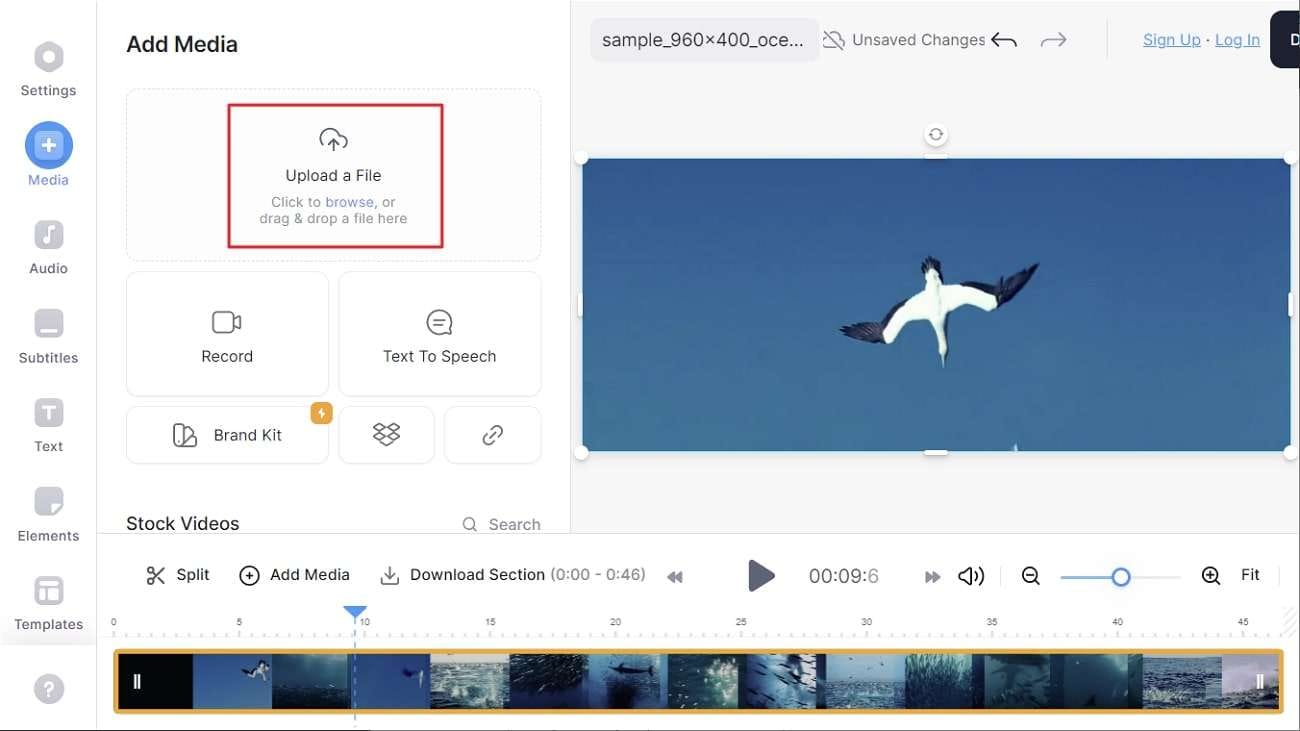 02of 03
From the screen's top-right side, press the "Done" button. Afterward, click the "Export Video" option from the "Export Your Video" mini window to download the video after signing into your account.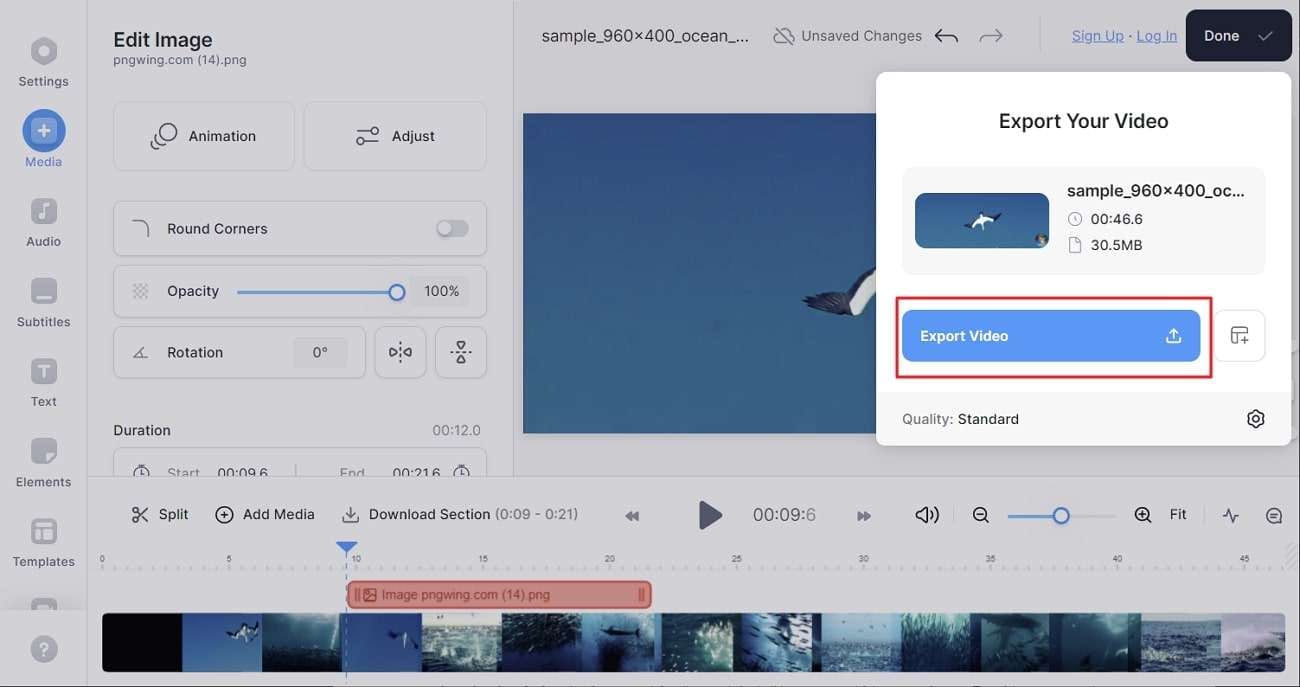 Part 2. 2 Powerful and High-Quality Watermark Creator for Photos
Photos are important visual media that store our milestones, achievements, and professional content. On the other hand, there's always a risk of copyright infringement within your photos. For this reason, using an online watermark creator is important. You'll find 2 popular tools for adding watermarks to photos:
Extend your personal photos' privacy using Fotor - Free Online Watermark Maker. By using this watermark creator, protect your visual work from issues of illegal use. With the available batch processing, add watermarks to different images simultaneously. In fact, you can also personalize watermarks according to your requirements.
It's possible to adjust the position of the watermark as well. You can rotate, change position, or adjust the watermark's orientation.
Key Features of Fotor - Free Online Watermark Maker
With the available drag-and-drop tools, adding watermarks to your photos becomes easy. You will not face problems operating this tool.
Change the color of your watermark or apply various font styles. You can even change the transparency of the applied watermark.
There is cross-platform support, as you can use this tool on various platforms. This includes Web, Windows, Mac, iOS, and Android.
How to Add Watermark into Photos Using Fotor - Free Online Watermark Maker
Videos are special for us because of the important content they store. Meanwhile, using Fotor can help you add watermarks to photos. To use Fotor, find easy steps here:
01of 02
Open the watermark creator tool of Fotor on your browser and press the "Create Watermark Now" button to enter the editing interface. Next, click the "Open Image" button to import your image.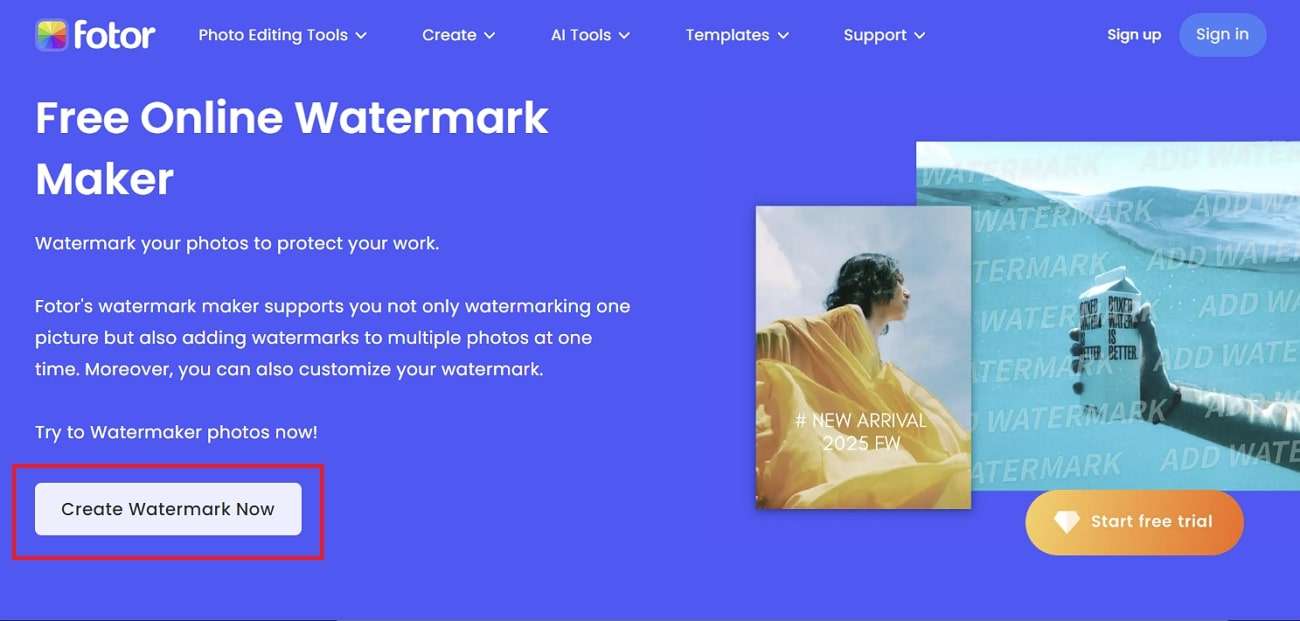 02of 02
Following this, choose the text template and add text to the "Text Content" box. Adjust the watermark settings with "Position," "Color," "Rotate," and more options. From the screen's top-right side, press the "Download" button to download and save your image with a watermark.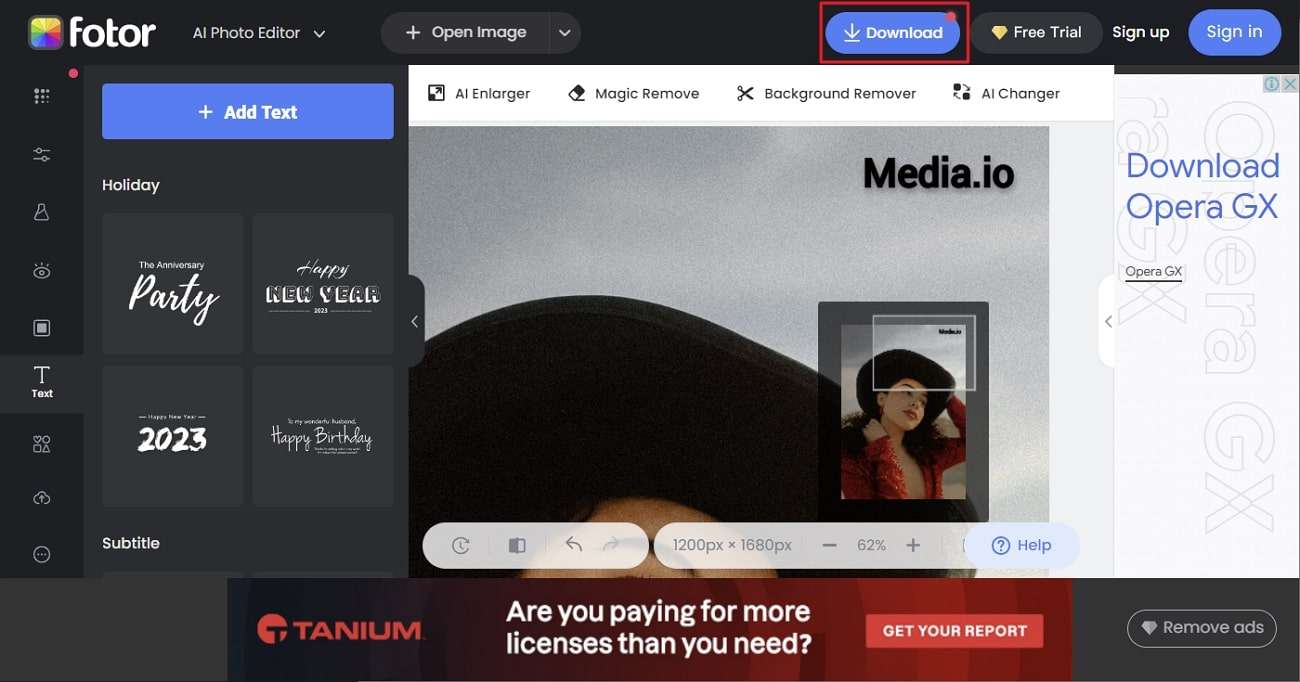 Start protecting your important images by using Ellty watermark creator. This online tool allows you to create and add watermarks to images in a few minutes. Meanwhile, there's an option to add a text watermark or a translucent logo. This way, you'll have complete authorization of your images, which prevents copyright infringement issues. In addition, Ellty has several templates for stock images that you can use.
With its user-friendly interface, using Ellty is simple and convenient. After applying the watermark to your images, continue to download free images.
Key Features of Ellty Watermark Creator
Apply a watermark to your images while using different modification tools. This includes text, photo, elements, background, and resize.
Put your name or your company's name on the applied watermark. This makes it clear that you're the real owner of this content.
Customize your watermark in different styles, colors, and fonts. In fact, you can also adjust the watermark's position and size.
Steps on How to Add Watermark into Photos Using Ellty
Do you want to add a watermark to your photos using the Ellty logo watermark creator? Follow these easy-to-follow steps here:
01of 03
Open the Ellty website on your browser and click the "Create a Watermark" button. The editing interface will open. Press the "Uploads" button from the screen's left side to add your photo and apply the watermark. If you don't have your image, get a stock image by navigating into "Photo" from the screen's left side.
02of 03
Once the photo is added, click "Text" from the sidebar on the left side. Select your watermark template and write the text in the provided preview screen. You can also edit the text by changing font size, layout, size, and more. You can also add "Background" and "Elements" to your watermark image.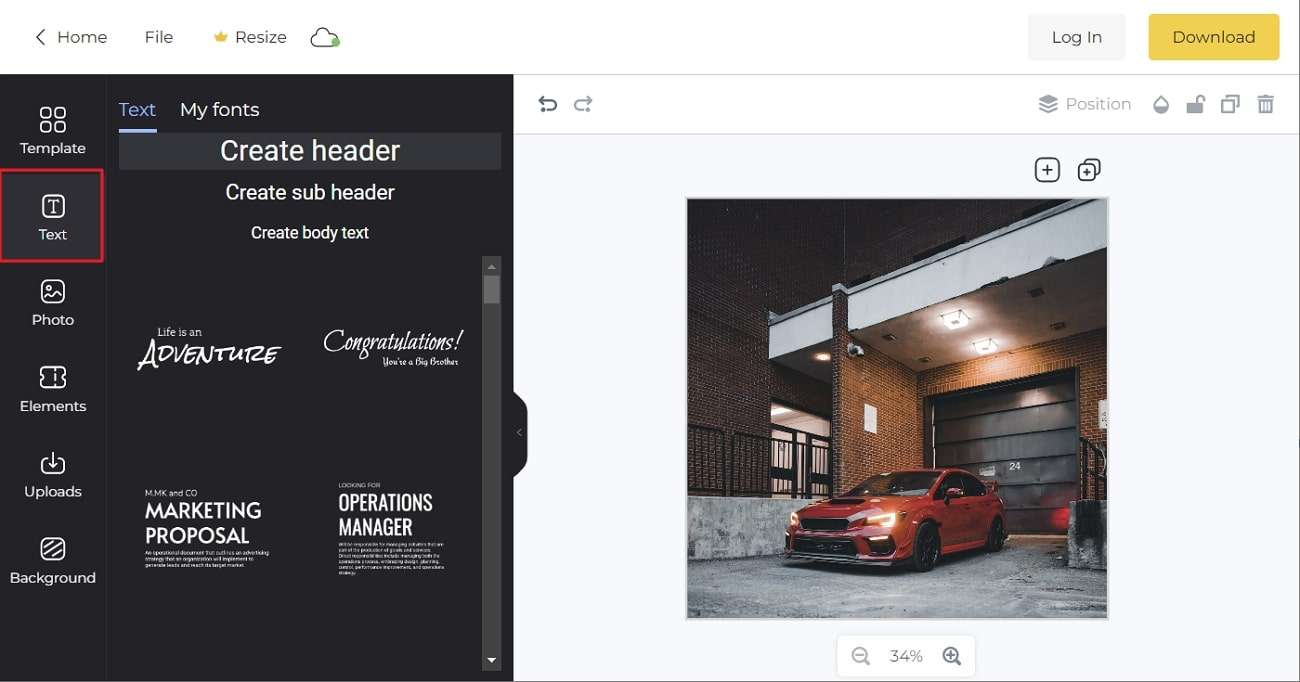 02of 03
Press the "Download" button from the top-right corner. A prompt will open asking you to select the format from "File type" and adjust the pixel on the slider. Press "Download" again to save the watermark image to your device.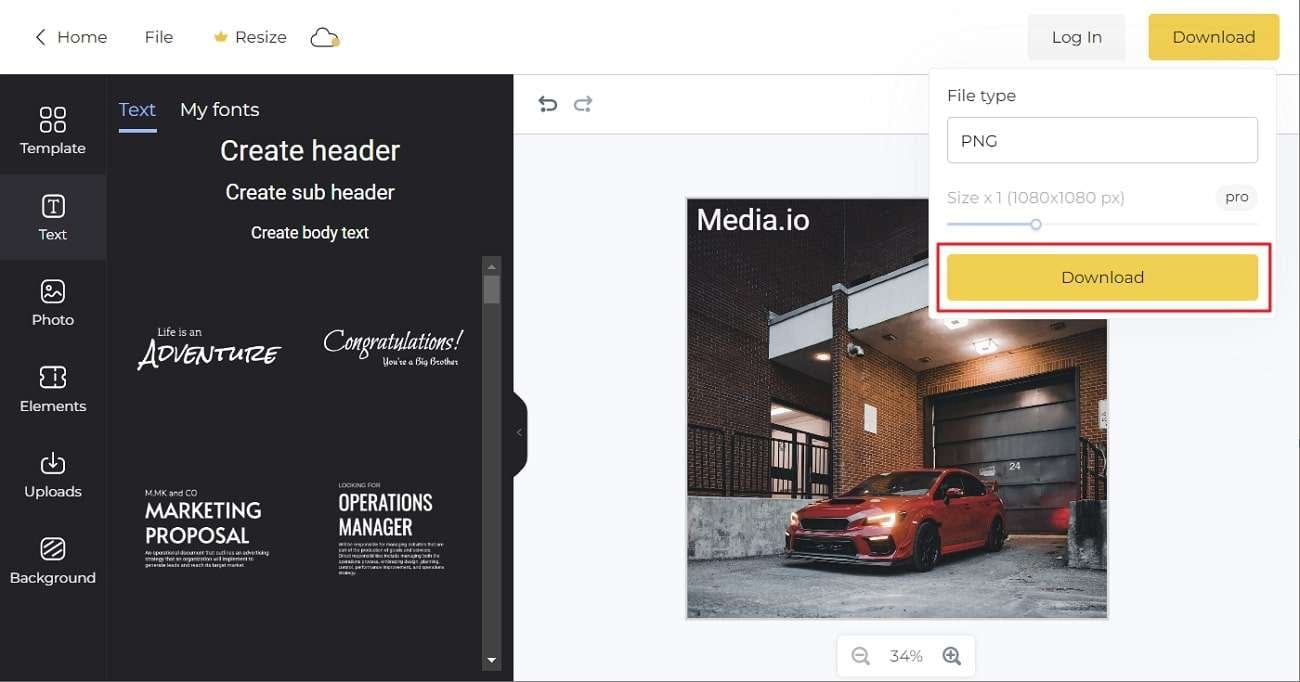 Bonus Tip - How to Remove Watermark from Photos or Videos with the Powerful Watermark Remover
These days, the use of TikTok, SnackVideo, and other similar platforms is increasing. This means there's also an increase in content creation within videos and photos. Most platforms apply personal watermarks on every exported video and photo. Hence, you'll find restrictions while sharing your recorded clips or uploading captured portraits. In this regard, using AniEraser is a great assistance.
After all, AniEraser is ideal for removing watermarks from photos and videos. That platform uses advanced AI algorithms to remove unwanted objects. With batch processing, remove watermarks from 5 videos or photos at once. Use this platform with confidence on Windows, Mac, iOS, and the Web.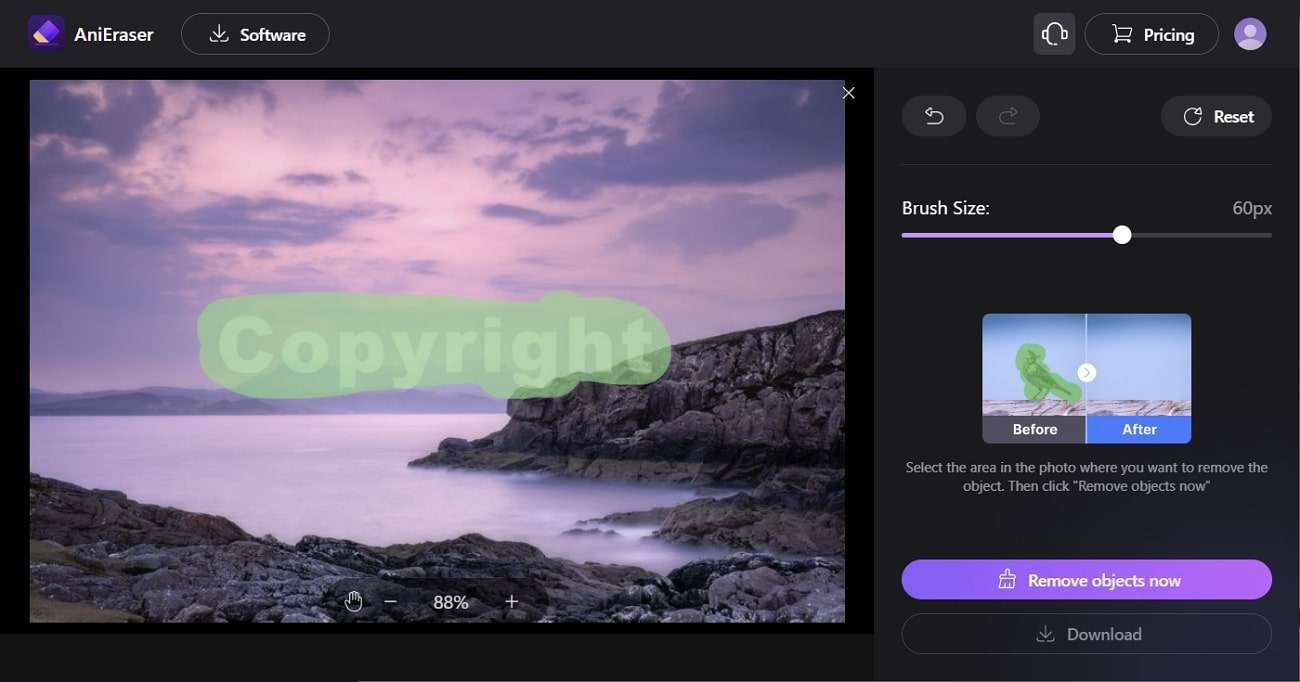 Key Features of AniEraser
While removing the watermark, your photo or video's visual quality won't get reduced. Hence, the details and layout are preserved.
Using the adjustable brush size, erase larger or smaller areas depending on the object's size. This ensures the best results for watermark removal.
You can even remove people from your backgrounds in outdoor portraits. This helps enhance the quality of your image to perfection.