If you are a music teacher, you may come across a scenario where you need to remove clean audio online. It makes the music distraction-free, and students can focus on the instrumentations and rhythm segmentations. Yet, it can be problematic if you don't know a good tool to do this.
For this reason, this article will discuss voice cleaners that can make your videos free of unwanted audio. Above all, you can also make perfect karaoke videos with the help of a tool that we will discuss in the bonus tip. This bonus tip will work like magic for your career as a music teacher.
Part 1: 5 Best Online Tools to Perform Audio Cleanup
Are you tired of attempts of audio cleanup with unreliable tools? In this section, you will find the perfect tools to help you with this task. Moreover, you can also find their key features and pricing. In short, these tools will help you a lot regarding removing unwanted sounds.
Whether you are a vlogger, musician, or journalist, this clean audio software can help you with everything. With this noise reducer, you can smoothly eliminate all types of unwanted background noises to optimize the video. Furthermore, you can also make any audio studio quality with just a few taps.
It also allows you to play some demos, so you will not face any complications. Removing unwanted audio with this clean audio software is also straightforward. Even a person without any tech skills can work with this tool.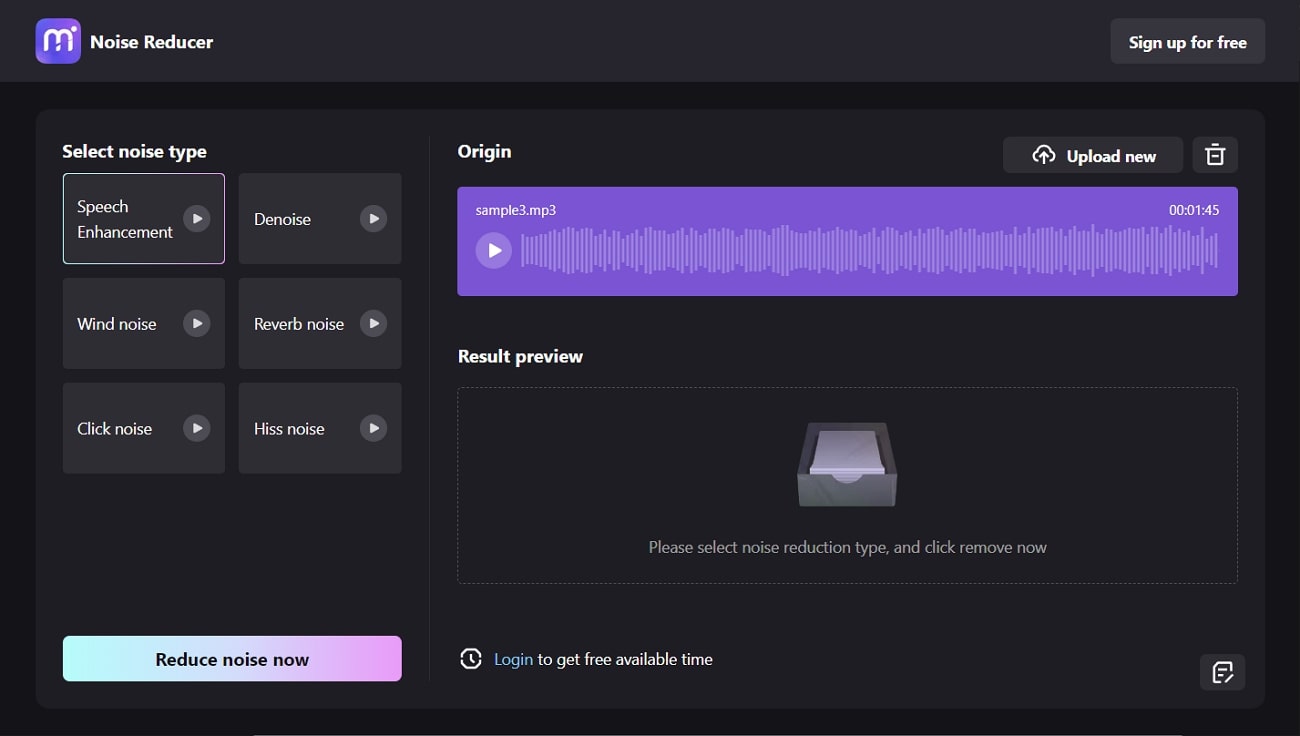 Key Features of Media.io - Noise Reducer
You can elevate sound quality and remove ambient noise from audio, screen recording, or videos.
It can remove unwanted noises like clicks, wind, hiss, and pets. You can do this without worrying about the format of the video or audio.
io also allows you to choose the type of background noise during the removal process to gain highly accurate results.
Pricing Plans
| | |
| --- | --- |
| Monthly Plan | $1.00/hr |
| Pay As You Go | $1.50/hr |
With this cleanup audio online tool, you can clean audio and remove the background noises without any issues. It enhances the audio quality, which feels like a soothing melody to the ears. The AI background noise remover supports audio intelligence, which can also correct loud and popping sounds. You can do this by uploading the file and following the on-screen instructions.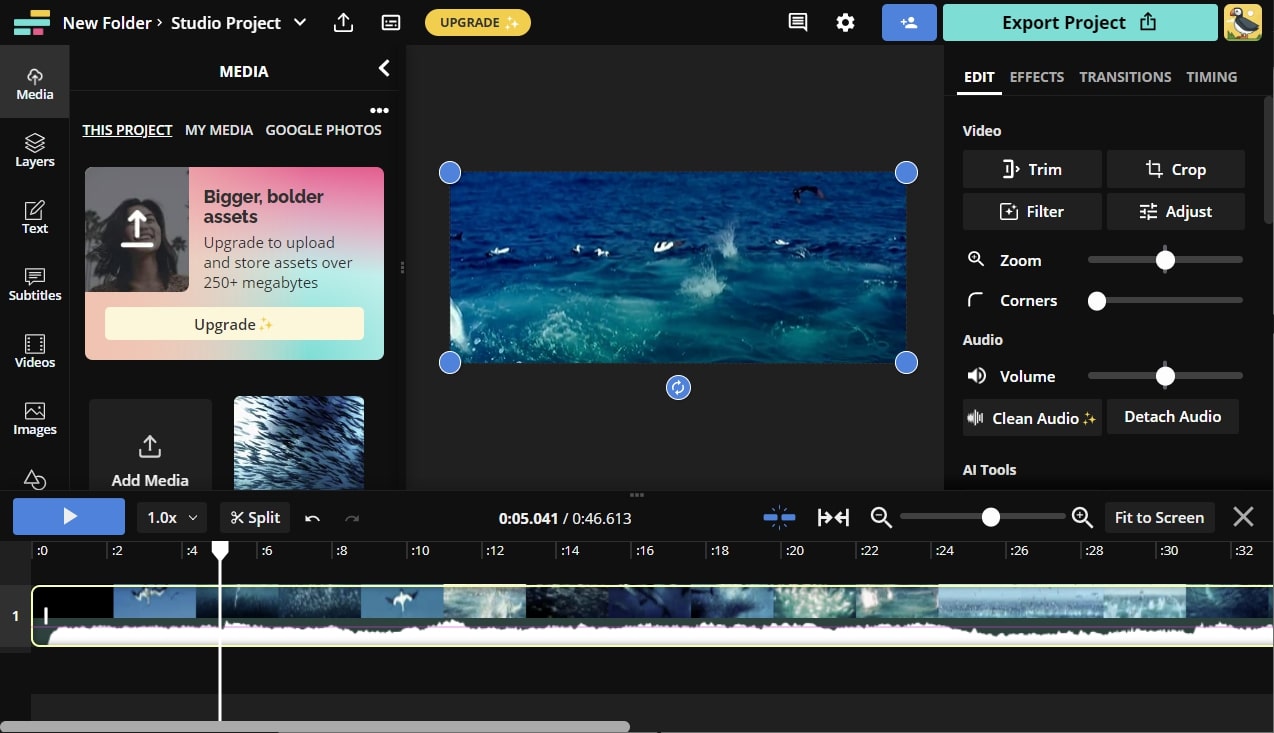 Key Features of Kapwing
You can create customized captions for your videos in a fully automated manner, as it can transcribe the videos without any mistakes.
There are many professional templates in it by which you can implement your creativity on images and videos.
It allows you to trim the length of the video, rearrange clips, edit silences, and make precise modifications in several types of videos.
Pricing Plans
| | |
| --- | --- |
| Basic | $10/month |
| Pro | $24/month |
| Team | $16/member |
By using LALAL.AI voice cleaner online, you can remove unwanted sounds in your video or audio files with minimal effort. The interface of this tool is quite organized so that you can easily find the feature of your choice. Moreover, the processing speed of removing sounds is ultra-fast, so you don't have to wait hours to finish the work. It also allows you to work on multiple videos at once.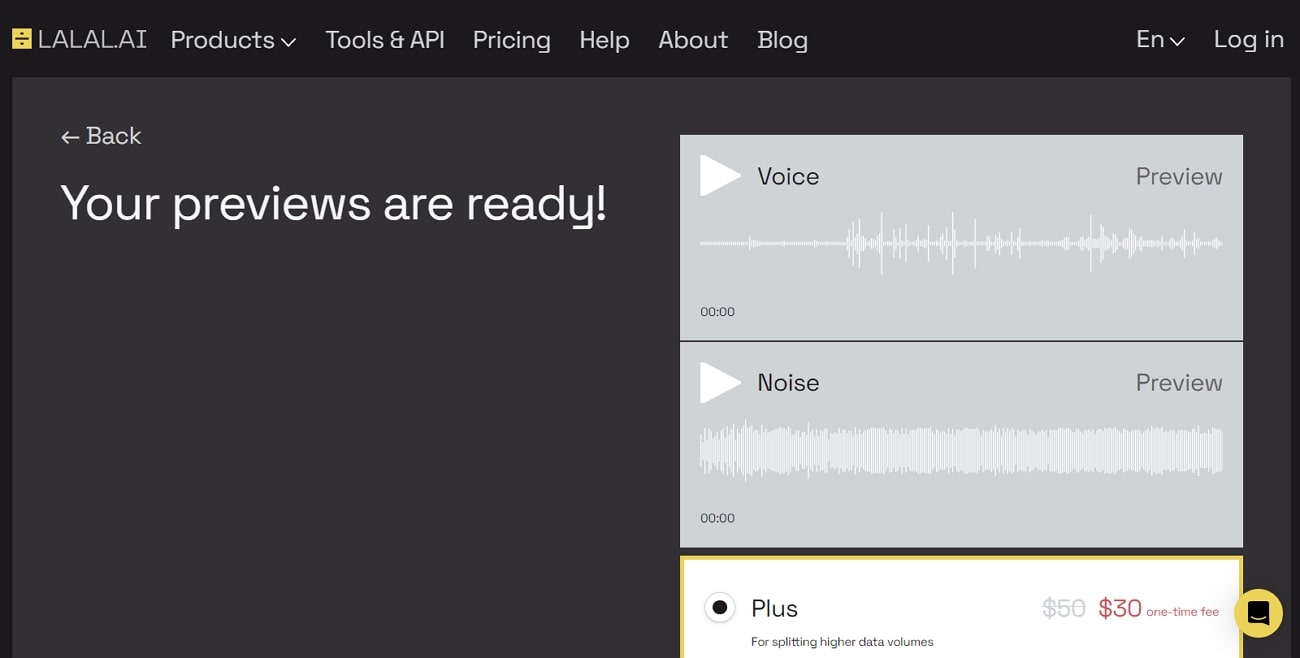 Key Features of LALAL.AI
It supports various audio and video formats, such as WAV, MP4, AIFF, AAC, and more.
You can also work on lengthy video files with large sizes with the help of this noise reducer.
AI also lets the users split the full tracks into smaller ones at their convenience.
Pricing Plans
| | |
| --- | --- |
| Plus Pack | $30 |
| Lite Pack | $15 |
Using Aspose vocal remover clean, you can remove the background noises from audio online. It also works perfectly on major operating systems like Mac, Linux, Android, iOS, etc. Above all; you will see that the quality of the audio is not that much compromised even after sound removal. As it is a free online tool, you can face some bugs or quality issues in the files processed by this background noise remover.
Key Features of Aspose
With Aspose, you can customize the output format and save the video in the format of choice, irrespective of its basic format.
Aspose being a free tool, still have good privacy policies because they automatically delete the files from the server after 24 hours.
It supports various audio file formats, such as FLAC, M4A, MP3, CAF, AAC, WAV, and more.
Pricing Plan
With Veed.io's clean vocal remover, you can eliminate all unwanted noises without worrying about the quality of the video. It is a super simple tool so that you can eliminate all the problematic noises to clean videos. Above all, you can do this without downloading it to your device. You just have to upload the video or audio and click the "Clean Audio" button. After this, it will automatically remove the irritating sounds.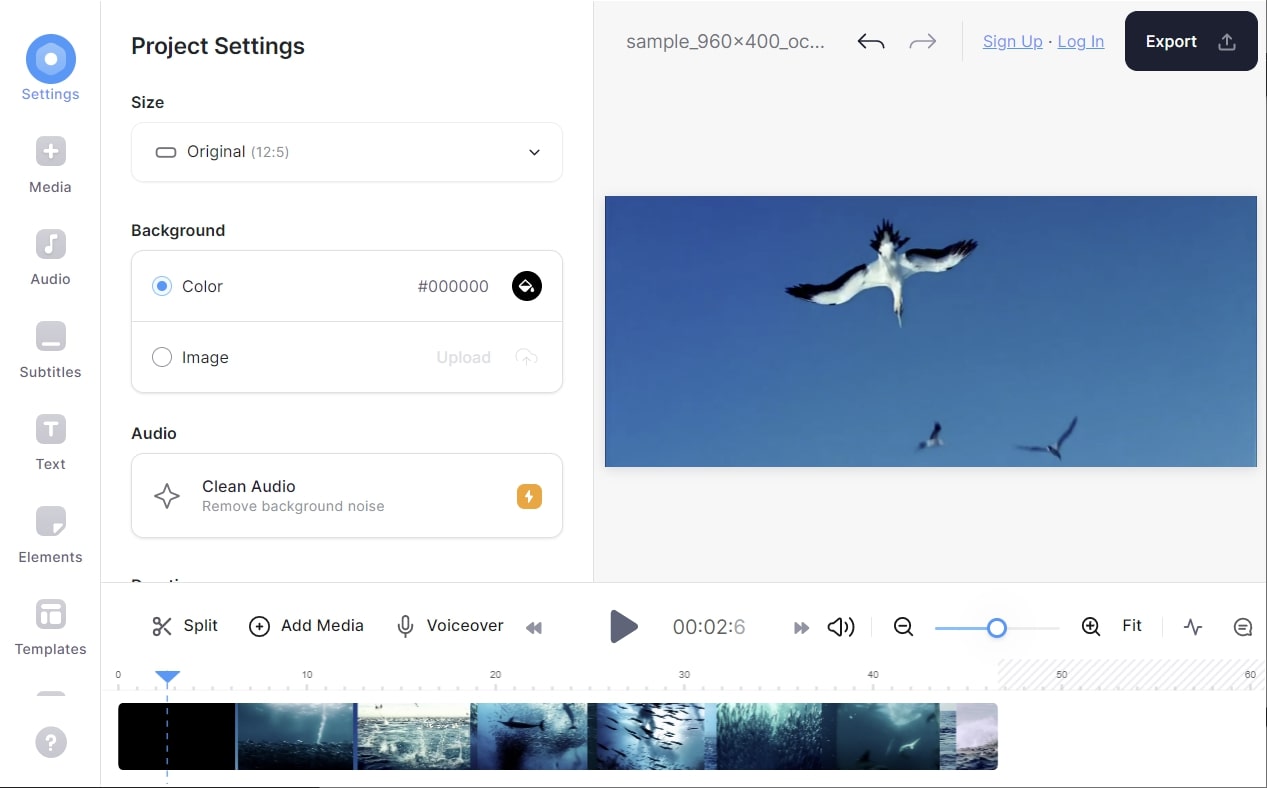 Key Features of Veed.io
It is a perfect tool for editing videos for zoom and online courses because it integrates professional measures.
You can also add a personalized audio file like voiceovers, songs, or effects and replace it with unwanted background music.
This tool also provides multiple online tools for different purposes, such as Video Enhancer, Video Podcast, Presentation Recorder, and Green Screen Editor.
Pricing Plans
| | |
| --- | --- |
| Basic | $18/month |
| Pro | $30/month |
| Business | $70/month |
Part 2: Tips to Avoid Background Noise While Recording Audios/Videos
Here are some valuable and implementable tips by which you can avoid background noises while recording audio:
High-Quality Microphone:

If you are going to record video or audio, you will need a microphone to record sound. Yet the microphone should be of high quality that will also interpret sound in improved quality. Directional microphones are primarily used for this type of purpose.

Quiet Environment:

Initially, notice the environment in which you will make a video or record audio. Make sure there are no or minimal background noises. Moreover, the room in which you are recording the video should be free of loud fans and air conditioners.

Pop Filter:

Sometimes, when you speak words starting with "p," "t," "s," and "b," the sound is popped and distorted. To minimize this issue, you can use the pop filters. It eliminates the distortion in videos.

Close All Windows

: Before starting to record a video or audio, make to close all the windows present in your studio to avoid all the outside noises like traffic, machines, and people.
Bonus Tip: The Best Noise and Vocal Remover Clean Tool for Separating Vocals and Music
Now that you know the cleaning up audio recording tool, you must be wondering which one is best among them. No doubt that all the tools discussed above have good reputations. However, after checking all of them and trying them out, the recommendation lies with Media.io. This tool holds the highest functionality ratio among all the noise reducers.
You can not only clean noise from audio but can also separate vocals and music in videos with it. In short, this tool is a perfect solution for managing all audio and video-related problems. This tool is perfect for all those who love to listen to vocals or want to use the vocals of different songs in their video. You can get accurate and high-quality results with this vocal remover tool.