Portraits are referred to as artistic representations of an individual's face. In general, they tend to capture facial expressions in a unique upper body picture. In most scenarios, we often fail to capture portraits in high-quality resolutions. This means that our captured portraits won't look good or attractive.
Moreover, portrait enhancement is essential because there's a need to share and upload portraits on social media. This article will discuss 8 AI portrait enhancer tools to make your portrait enhancement easier. By using these tools, you no longer need to have low-res portraits.
Part 1: What Factors to Look into Before Selecting a Portrait Enhancer
Making portraits of yourself can make your personality look more creative. Meanwhile, you do need a portrait enhancer for upscaling your portrait quality. But there are some factors when choosing a good portrait enhancer. Let's find these factors:
1. Ratings and Reviews
You won't like to use any product that leverages poor ratings. The same is the case with a portrait enhancer. After all, a portrait enhancer with good ratings and satisfied customer feedback will have trust. Hence, by user ratings, you can judge the quality of the tool.
2. Facial Enhancement Schemas
Most portraits have poor facial quality with blemishes, dark skin, wrinkles, and more. Hence, a good portrait enhancer needs to improve facial looks. For this purpose, the tool must have dedicated filters and effects that extend facial beauty.
3. Batch Processing
A good AI face enhancer online must have a batch-processing function embedded. This way, users can enhance many portraits at once without problems. Hence, there's no need to enhance portraits one by one. This will save a lot of valuable time that's possible to use in different tasks.
4. Color Correction
Due to poor camera quality, most of our portraits get affected due to resolutions. The resolutions get reduced because of lousy color gradients and visual schemas. In this regard, a good photo enhancer can perform color corrections to optimize color scales.
Part 2: 8 Reliable and Features-Enriched Photo Enhancer Tools
Editing portraits has immense importance for improving visual quality. Meanwhile, when it comes to deciding the suitable photo enhancer for yourself, selection becomes difficult. After all, the internet has many portrait photo enhancer tools. Here you'll find 8 reliable AI image enhancers to get started:
Make your portraits look more enchanting with Wondershare AILab. This AI face enhancer online tool makes your portraits look sharper, more colorful, and clearer. The available AI noise reduction will remove grainy looks to increase portrait details. Moreover, you don't have to upload blurry portraits again on social media.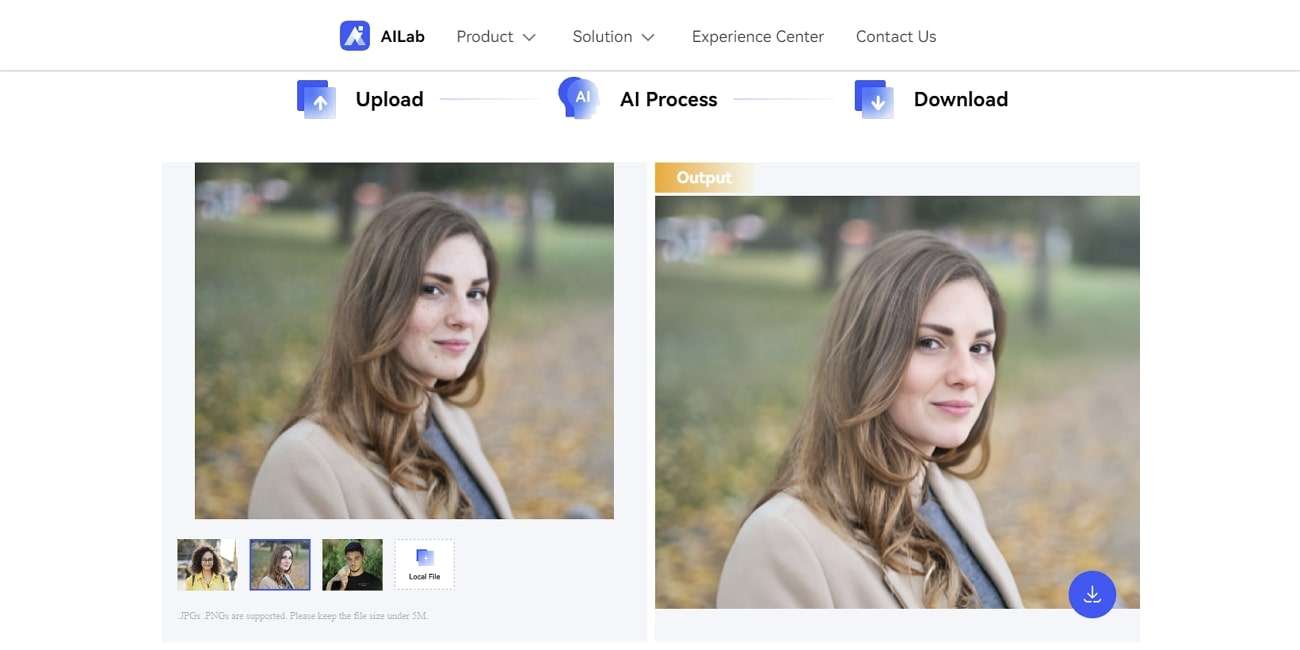 Key Features
This online tool utilizes the SSL (HTTPS) certificate that guarantees data privacy in the long term. Thus, you don't need to worry about your sensitive portraits.
The system uses cloud infrastructure which means you can enhance portraits from anywhere. There isn't any network or device restriction.
The built-in AI technology has advanced neural networks to analyze and enhance portraits. Face quality and picture resolutions are also optimized.
Blend glowing retouches to your portraits using VanceAI portrait enhancer. This online tool removes all blemishes, wrinkles, spots, or acne. Add a retouch that enhances facial looks with better visualization through a simple click. You only need to upload your portrait, let the system process it, and download your enhanced portrait.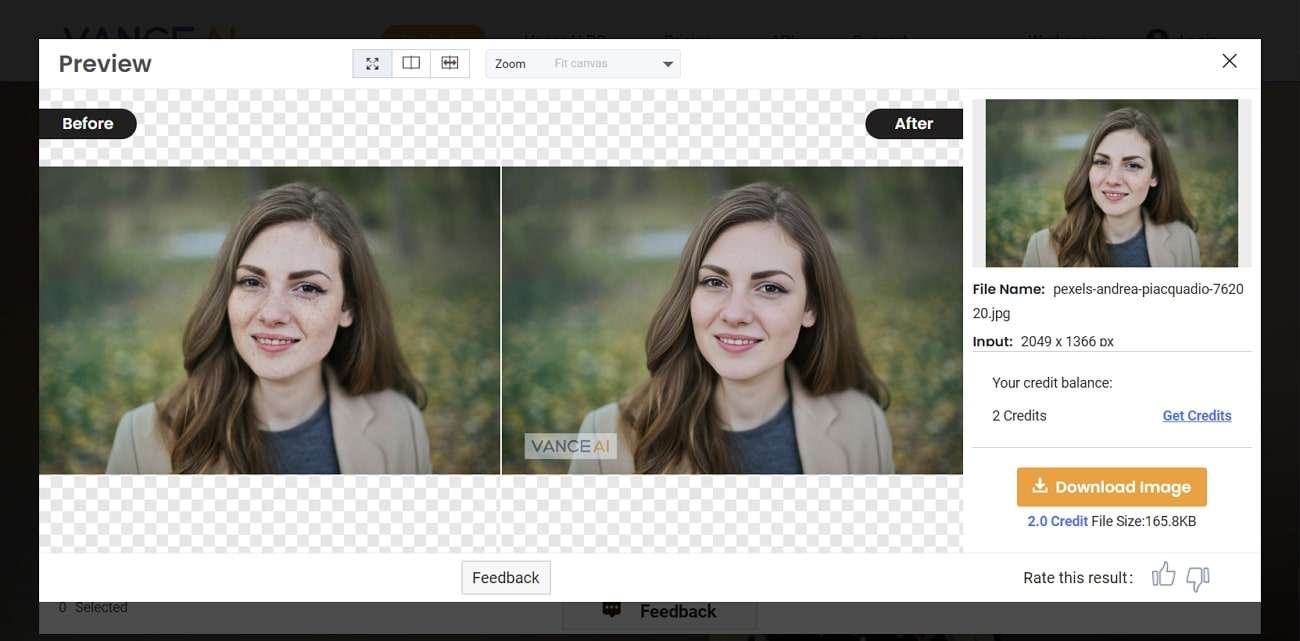 Key Features
There isn't any manual editing required. After all, the available AI tech can perform auto enhancements through a simple click.
You don't need to worry about the protection of your visual data. All the processed images would get deleted in 24 hours.
With batch processing function, enhance different portraits at a single time. This saves your time and allows focusing on other tasks.
Portrait enhancement is now easier with BeFunky AI upscale portrait. After all, this online software comes with every function to enhance portraits in one solution. So, you can improve picture quality with lighting, brightness, saturation, and more. You can also extend your facial looks with personalized schemas in high resolution.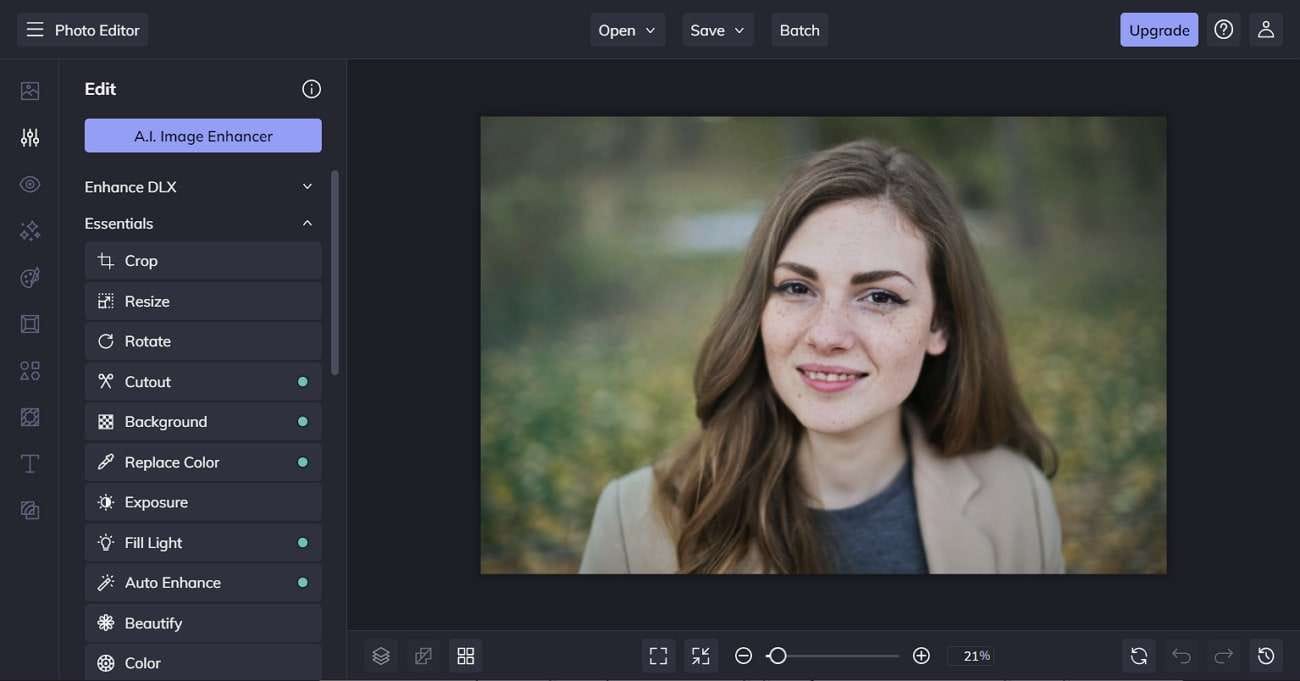 Key Features
Make your smiling portraits more natural by brightening the teeth with BeFunky. So, when you have whitening teeth, your smiling portraits seem exceptional.
This tool uses AI to enhance the brightness of your eye within the portrait. The color will also get optimized for better facial looks. The red-eye effect can be treated as well.
Experience natural glowing skin effects by using BeFunky. The tool analyzes your photo to brighten it with even complexes.
AI. Image Enlarger is an ideal online retouching app for visualizing facial portraits. This portrait photo enhancer uses advanced artificial intelligence algorithms to improve picture quality. This means that face blemishes, spots, and skin tone would get optimized to perfection. After all, the quality of portraits will improve with lighting, brightness, and contrast.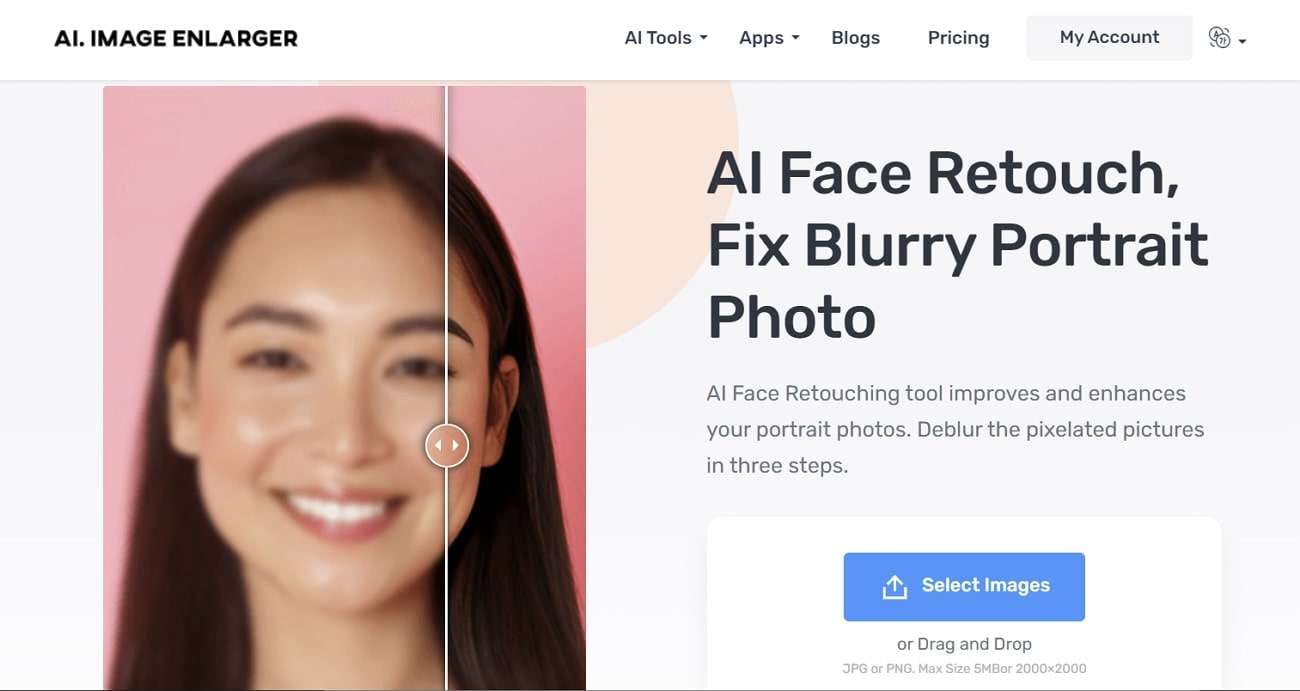 Key Features
The portrait images are upscaled without damaging the layout and dimensions of the original image. Hence, you will not face any problems relating to the image size.
With the robust AI Denoiser feature, you can easily clean your photos and eliminate all types of noises from the portraits.
You can also enlarge your portraits by up to 200%, 400%, and 800% scale resolutions. The visual quality won't be affected in any case.
Get your portrait clicks enhanced with stunning resolutions by using Autoenhnace.ai. After all, using this AI upscale portrait makes it possible to optimize graphical image quality. Meanwhile, the platform exists as an API that can get integrated into existing systems. With the available white balance correction, transform color temperature within the desired schema.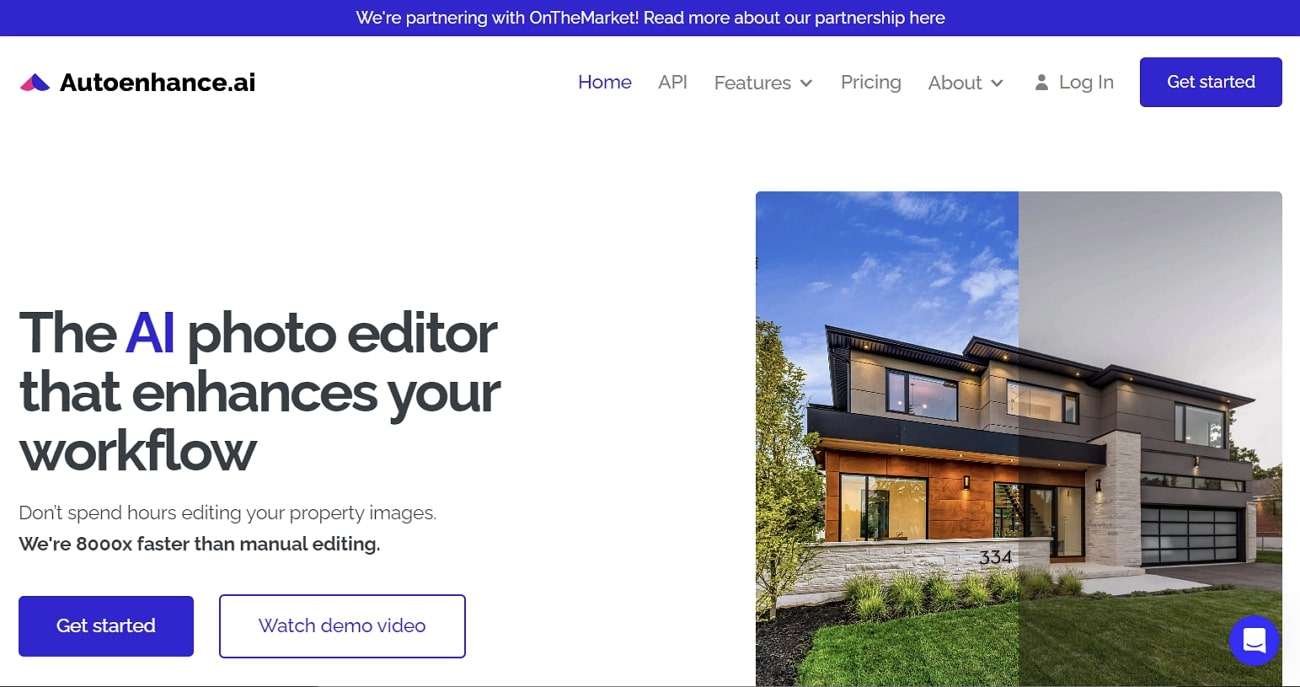 Key Features
Bad weather or poor camera quality may ruin your outdoor portraits. Autoenhnace.ai brings sky replacement for optimizing sky color with natural blue gradients.
Say goodbye to all the blurred portraits in your gallery because Autoenhnace.ai helps to blend sharpness. Thus, your portraits will start appearing clearer.
Improvise your dull and low-light portraits with an image relighting function. This makes your portraits look bright and attractive.
No more poor facial looks in your major selfie portraits when you use Makeup.Pho.to. This AI portrait enhancer online editor possesses a solution to add retouches to your face. With these retouches, you'll experience glowing looks with refreshing skin tones. Thus, next time, you can upload or share major portraits without having poor looks.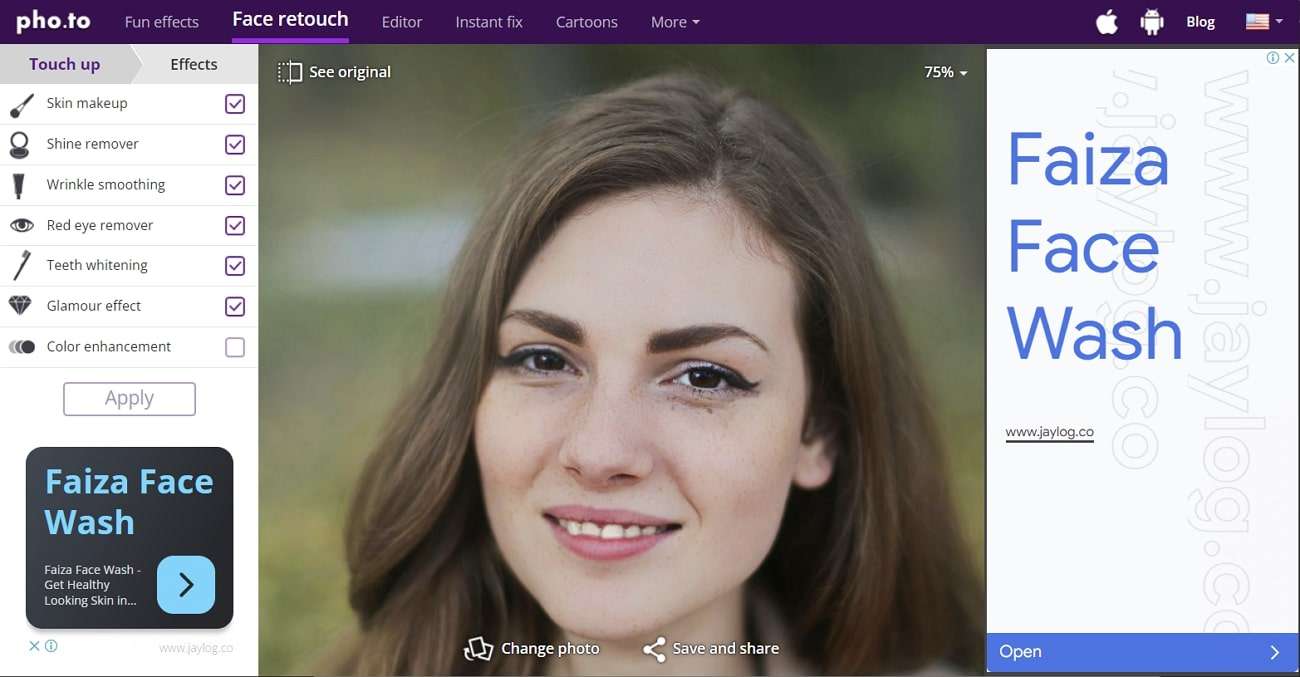 Key Features
Through a one-click, you can apply virtual makeup to your digital portrait. This way, you can eliminate acne, dark skin, wrinkles, red eyes, and more.
There are more than 40 color effects that you could use and apply to portraits. Each color effect brings unique color styling with dedicated filters.
Portrait selfies are incomplete without a smile. With the available tooth whitening facility, brighten your teeth for a perfect and confident smile.
As an online retouching tool, PortraitPro is a simplified solution for your facial enhancements. In general, this tool comprises modern technology to upscale portraits in an extensive way. After uploading your portrait, the subject's face is analyzed, and facial features are adjusted. Thus, it's possible to add retouches to the skin, hair, and backgrounds.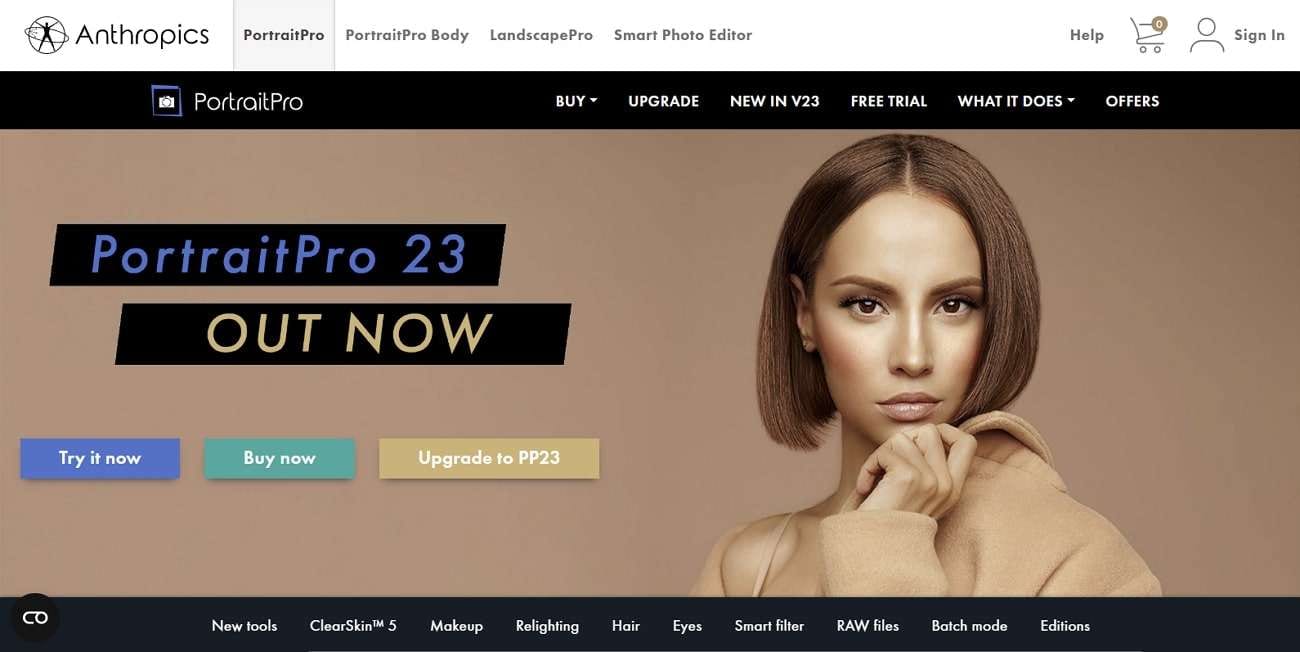 Key Features
The available skin smoothening tools can enhance your skin texture and tone. As a result, the shadows and blemishes on the skin will get eliminated.
The retouches are customizable, allowing you to adjust retouching through the available sliders. This way, you can adjust the facial gradients as required.
Select from 40 base shades in fine hair colors for better portrait visualization. Thus, add luxurious highlights to your face in desired hair color.
With Retouch4me, make your portraits look exceptional again. It's because this AI upscale portrait has dedicated solutions to optimize and enhance your facial quality. Meanwhile, there are many features in this AI plugin, including skin tone, white teeth, skin mask, eye brilliance, and more. With these unique retouches, your facial expressions will start looking more natural.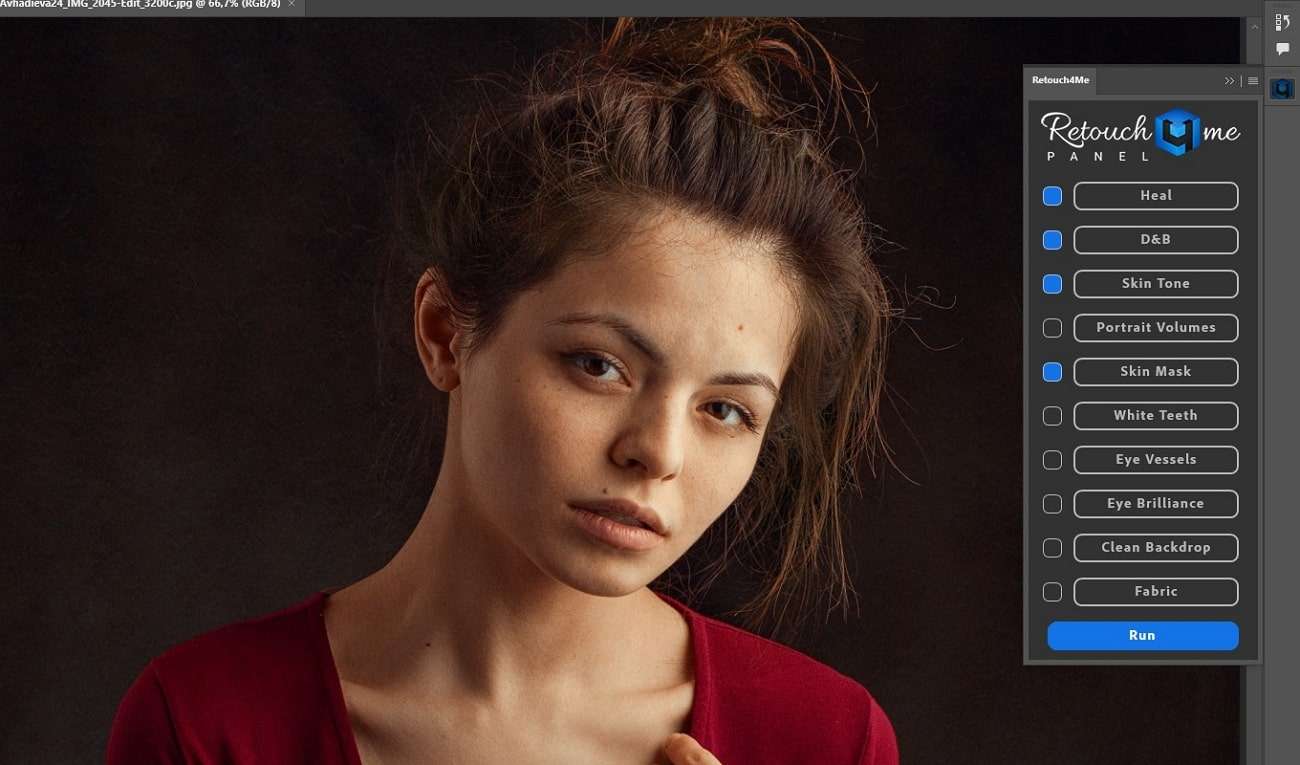 Key Features
Change the respective settings of your enhanced portrait in a convincing way. You need to work with layers, channels, and paths.
You don't need an internet connection to enhance your facial beauty. After all, this plugin works offline to allow you to use the tool anytime, anywhere.
The presence of a batch processing function allows for enhancing different portraits at one time. Thus, you can focus on other tasks while portraits are getting enhanced.
Part 3: Exploring Common Techniques for Enhancing Your Portraits
When it comes to enhancing portraits through visualization, there are also some common techniques that you can use in your daily life. Let's explore what these techniques sound like:
1. Fine-Grained Control
Most image portraits have poor quality with noise and grain issues. This means that images contain blurred visuals, which ruins the quality of your portraits. In such a scenario, controlling grain could help improve the quality of your all-important pictures. This will provide more sharpness and clarity to the image.
2. Adjusting Tone
Due to poor camera quality, most portrait captures have low res-res graphics. This is because of issues in color tone. So, when you adjust tone, color gradients and contrast get optimized. Hence, your portraits will look more appealing and engaging.
3. Age-defying Filters
No one wants to look old, regardless of age group. But there's a way to start looking young again, even if you're old. This is possible by applying age-defying filters to your selfie portraits. Thus, you'll notice reduced blemishes, wrinkles, acne, and dark skin. The skin tone will also enhance to provide refreshing looks.
4. Brightness, Sharpness, and Lighting
For making your portraits look aesthetic, it's essential to enhance their quality. Meanwhile, an ideal way to improve the portrait is by importing brightness, sharpness, and lighting. This way, your portrait will get a special retouch for a more appealing look. Visual engagement will also increase.
Bonus Tip: The Advanced and Reliable Photo Enhancer for All Types of Photos
You may have discovered a lot of potential AI portrait image enhancers available. The best yet most reliable competitor to them is Media.io - AI Image Enhancer. Using this portrait enhancer online, add stunning retouches to your portraits with super-resolutions. Meanwhile, you could upscale images to 2K, 4K, and 8K resolutions. You can also customize the resolution from 1X to 8X scale.
If you've blurry portraits, let Media.io sharpen them with better saturation and clarity. The platform also possesses solutions to unblur portrait images without affecting image layout. The option also exists for color correction with optimized gradients and vibrant visuals. Colorizing black and white photos or restoring old ones is also possible.