WebP is one of the recently developed formats that are popularly used for its capability of storing high-quality images in a smaller size file. Being new, WebP is compatible with a limited number of platforms and browsers. So to make your WebP files accessible by all types of programs and browsers, converting it to GIF is the right solution. Additionally, the conversion of WebP files to GIF format facilitates creating an animated version of your image. To help you convert WebP to GIF, below listed are the popular tools.
Part 1. Converting WebP to GIF Online Free
Converting WebP to GIF is hassle-free, simple, and free using online tools. These programs do not require any installation as they work from the browser window. Below listed are the best online tools to convert WebP to GIF.
URL: https://ezgif.com/webp-to-gif
This simple tool allows converting your local WebP files to GIF format in a quick manner. After the file is added to the interface, you need to choose the toggle range of frames and then select the delay time and the loop count for creating the animation. Option for adding effects like crossfade frames and don't stack frames is also there. Option for optimizing the GIF files is also there.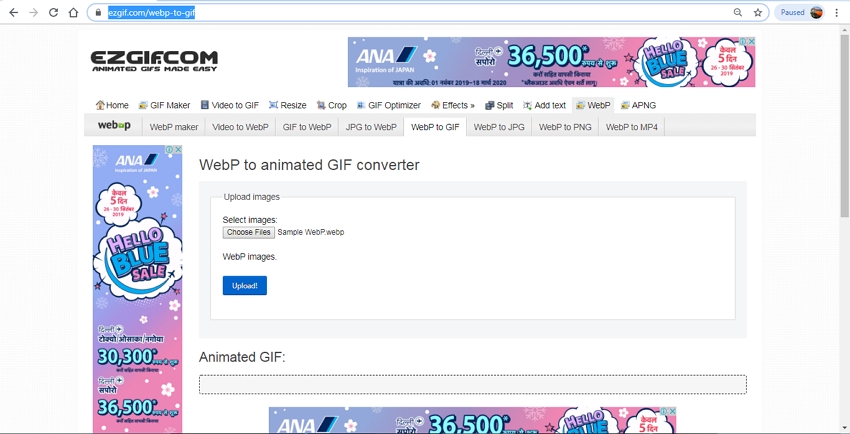 URL: https://www.zamzar.com/convert/webp-to-gif/
For conversion of all types of files and formats, Zamzar is a popularly used tool and the program also allows converting WebP to GIF format. The program allows adding local as well as online WebP files through a link. In addition to GIF, other image formats as target files are also supported by the program. The processed file can be downloaded to the computer or can also be received on your mail-id.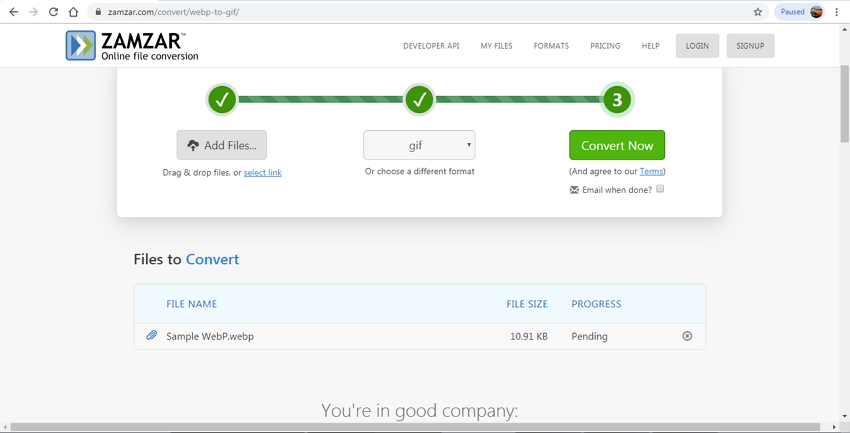 URL: https://www.aconvert.com/image/webp-to-gif/
Files in WebP format can be easily and quickly converted to GIF animations using AConvert tool. Files saved on your system, Google Drive, Dropbox, and also on URL can be loaded to the program interface for the conversion process. The tool also has an option to resize the output file by changing its width and height, only width, only height, or through the change in percentage in comparison to the original file.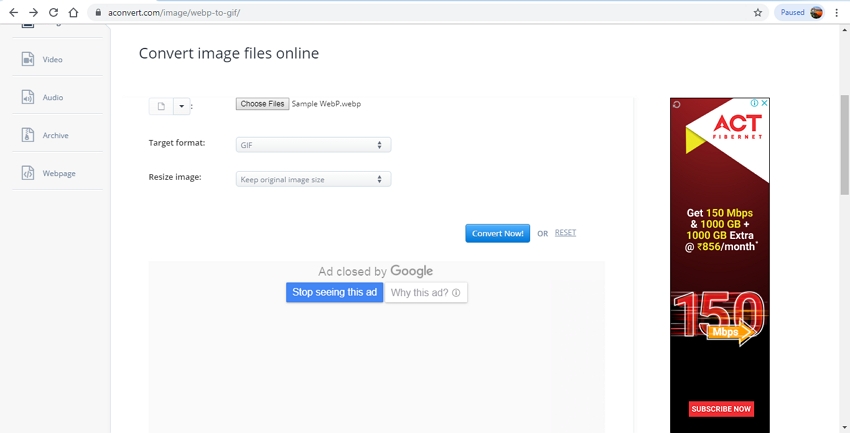 URL: https://convertio.co/webp-gif/
Using Convertio, the WebP files present on the local system, cloud storage as well as online files can be added to the interface. Multiple files within the maximum supported size of 100MB can be added at a time for the conversion process. In addition to GIF, the tool supports converting your files to an array of other images, video, document, and other file formats. The converted files can be saved locally or on to your Google Drive, or Dropbox account.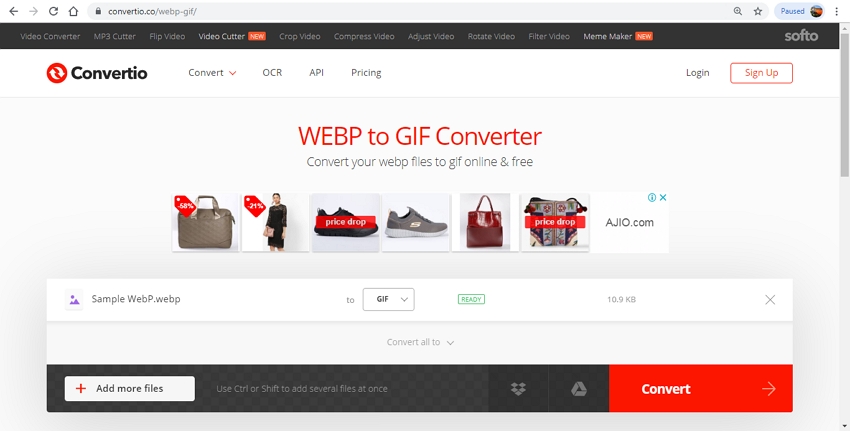 URL: https://mygeodata.cloud/converter/webp-to-gif
This browser-based tool allows conversion of your WebP files to GIF in high quality. The tool can be used for a single or batch conversion process as needed. The program supports over 90 vector and rasters formats along with more than 3000 coordinate reference systems. The process of conversion is fast and easy where you just need to add the local files to the interface select the output format along with the coordinate systems and start with the process.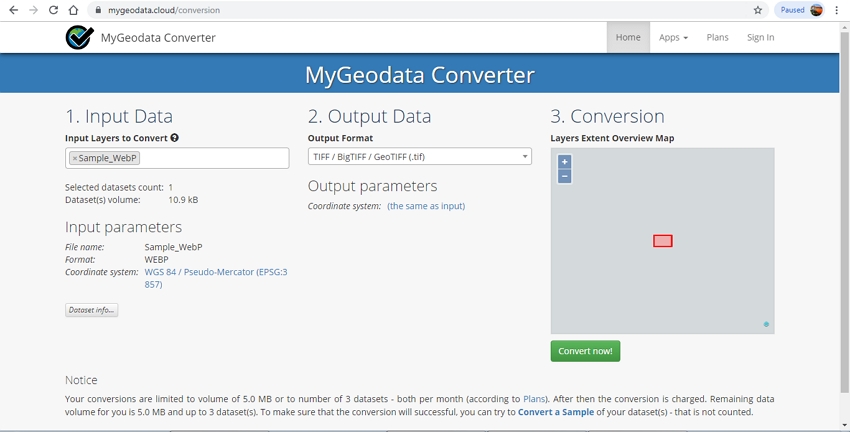 URL: https://www.freeconvert.com/webp-to-gif
Using this online conversion tool, local and online WebP files can be converted in a hassle-free manner. The tool also supports the advanced features wherein you can resize the file in accordance with its height and width, change the frame speed, and edit the loop count. Option to merge all the images into a single GIF is also there.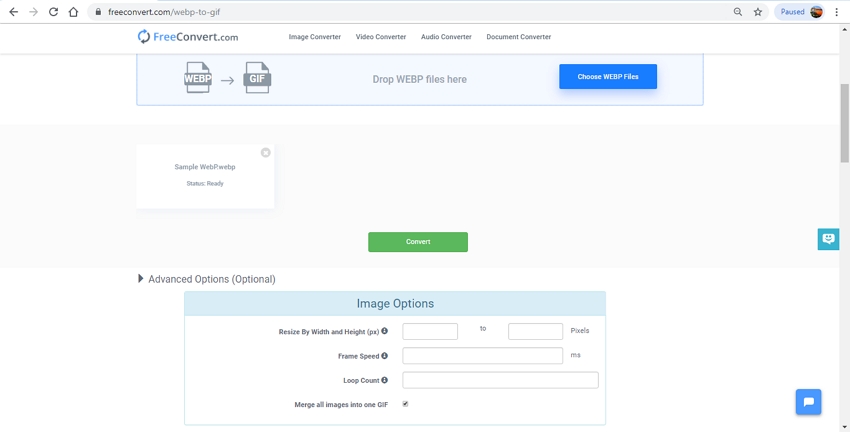 URL: https://www.onlineconverter.com/webp-to-gif
WebP files up to 200MB can be added to this online tool for conversion to GIF in decent quality. The files can be added from the computer or through a URL. File resizing option by the change in height and width is also available. Post conversion, the animated images can be downloaded to your computer.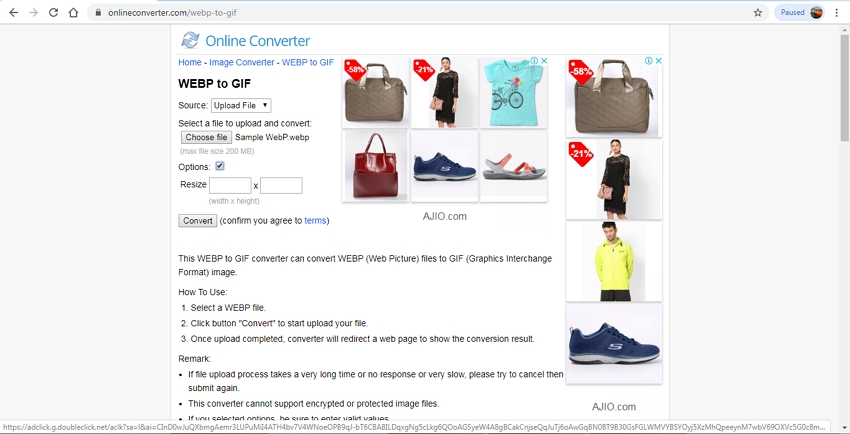 URL: https://www.filezigzag.com/webp-gif-en.aspx
Using this popular online tool, WebP files on your system can be converted to an array of formats, including GIF. The program interface asks for your mail id where the link for downloading the converted file is sent. The tool has a simple interface, and the process of conversion is fast.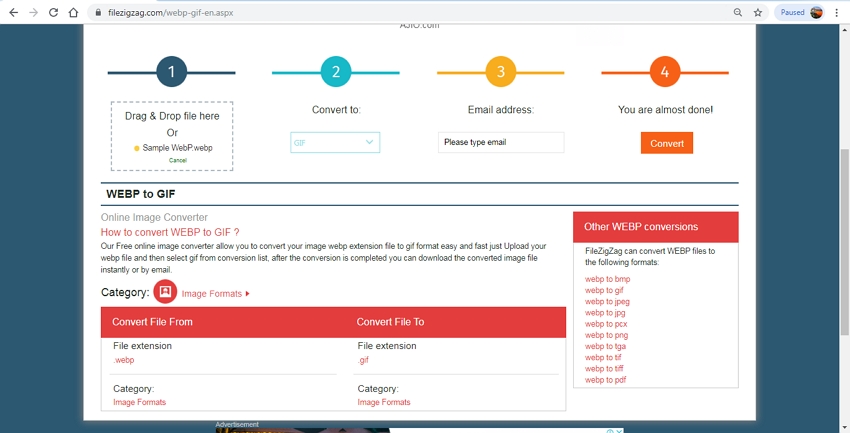 Part 2. WebP to GIF Conversion Application for Free Download
Several free to download desktop software to convert WebP to GIF format are available as well. Listed below are the two popular tools from the category.
URL: https://www.reaconverter.com/convert/webp_to_gif.html
Using ReaConverter desktop tool, you can convert a single of multiple WebP files to GIF in an effortless manner. The program supports an array of other formats in addition to GIFs for the conversion process. To get the desired animated file, several editing options are also available with the tool. The software is available for free download on all the latest versions of the Windows system. You can also retouch, adjust, alter, as well as add watermark to your desired file.
Pros:
Supports multiple formats for the conversion process.
Allows file editing, alteration, adding watermark, and other features.
Con:
Only available for download on the Windows system.
Being a software tool, it needs to be installed.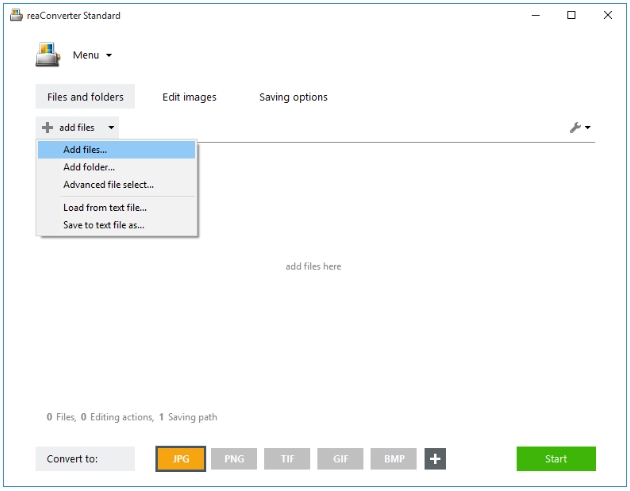 URL: https://www.xnview.com/en/xnconvert/
This is a free tool that is compatible with Windows, Mac, and Linux systems and allows converting your WebP files to GIF format. The software supports batch processing, and the process of conversion is hassle-free and fast. The program also allows you to edit the added files by resizing, cropping, rotating, adding filters, adding watermarks, and others. You can also interlace and choose GIF 87a parameters for the output file. The processed file can be saved locally to your system.
Pros:
Available for free download on Windows, Mac, and Linux system.
Facilitate batch conversion of files.
Con:
Need software download and installation.
Too many settings on the interface.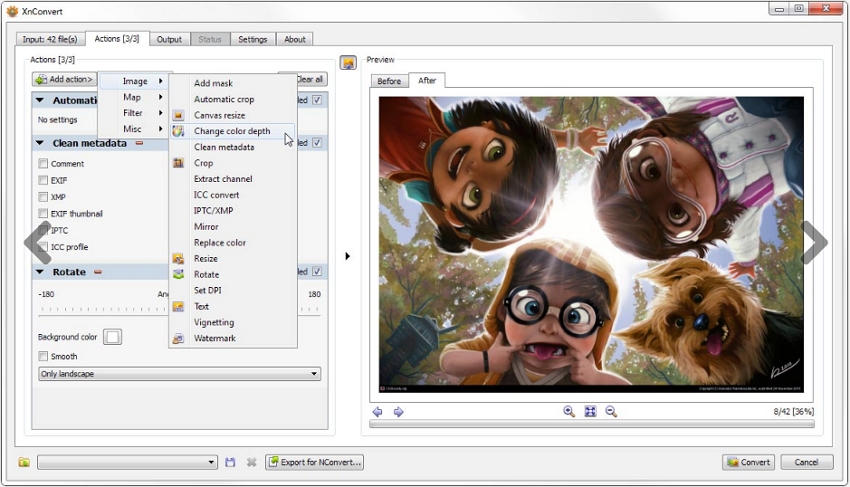 Part 3. What Exactly Is WebP?
a. About WebP File
Developed by Google, WebP is an image file format that can use both lossy as well as lossless compression. The format is capable of offering rich and high-quality pictures while maintaining smaller-size and thus popularly used for displaying images on the websites. A WebP image is 25-35% smaller in comparison to JPEG files while 26% smaller to that of a PNG image on an average.
b. Pros and Cons of using WebP Images
There are several benefits as well as drawbacks of using WebP images as enlisted below.
Pros:
WebP images are smaller in size as compared to JPEG and PNG, and thus using the format for uploading pictures on the sites; help the site to load faster. Moreover, the quality of the images is also not lost.
Additionally, if the site has a large number of images to be used, WebP facilitates saving more bandwidth.
Con:
A number of browsers and platforms does not support WebP formats like Safari and Internet Explorer.
WebP images are not supported by Word press tool. Thus if you are using Word press as your CMS, WebP will not work.
Summary
Thus it can be concluded that WebP is an excellent format for uploading pictures on your sites. Moreover, to create animated images of your WebP files, several desktop and online programs are available.
[没有发现file]
Wondershare UniConverter
· UniConverter could easily convert JPG, PNG, TIFF, and BMP image files to GIF.
· UniConverter Toolbox provides Image Converter, Screen Recorder, GIF Maker, Video Compressor, and other powerful features.
· It allows you to transfer videos and photos from computer to iPhone or Android mobiles without using iTunes.
· Upload, convert, and download speed is faster than online toosl.
· Wondershare UniConverter supports Windons and Mac system.