This article includes methods to convert TIFF images to JPG image format using Software and Online tools and compares them. There are many ways in which one can convert TIFF to JPG format. TIFF stands for Tagged Image Format and is mostly used for printing business. It is not widely supported by web browsers and is heavier than JPG and PNG format. Whereas JPG stands for Joint Photographic Group and its the lightest format for saving the digital image and is preferred usually.
For TIFF to JPG conversion software, we have listed UniConverter which is both video and image converter by Wondershare.
Part 1. TIFF to JPG Online Conversion Tools
Through the internet, you can find many sites that let you convert images having TIFF format to JPG format. Some of these are mentioned below:
Online UniConverter is created by a famous company, which is called Wondershare. You could use its online version or free download desktop version for more features. Both versions are supported batch TIFF files to JPG and vice versa. 3 simple steps to finish the conversion. Below is the place to try to convert TIFF to JPG. Upload the TIFF that you want to change, and select the JPG as output format. The last step is to click the convert button to finish the conversion.
---
TIFF to JPG is a free online tool that lets you convert TIFF images having multiple pages to high-quality JPG images that are small in size. Size limit for uploading TIFF image is 50 MB. The maximum no of files you can upload is 20. Once the files are uploaded, they will be automatically converted. You can then download the files either individually or as a batch in zip format. It is fast and convenient for novice users.
Conversion Steps for TIFF to JPG
Step 1. Select the UPLOAD FILES button and upload your desired Image.
Step 2. Click on Download to individually download each file or you can download all files in zip format by clicking Download All.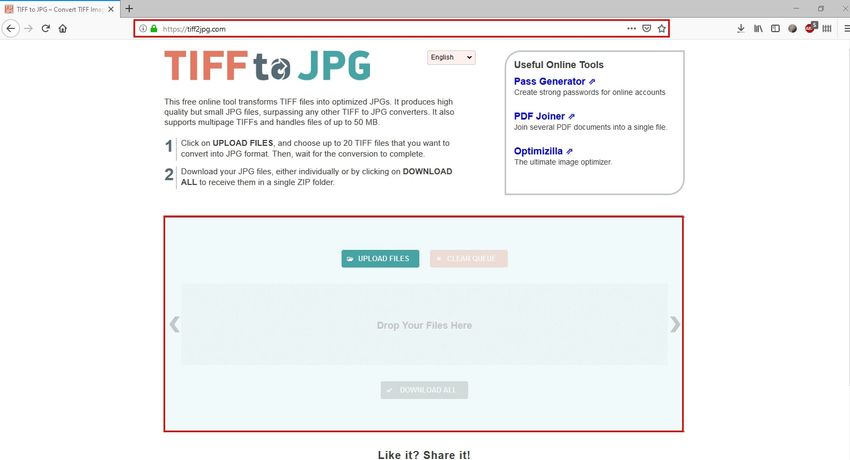 URL: https://www.ps2pdf.com/convert-tiff-to-jpg
PS2PDF is another free online converter for TIFF to JPG format that also lets you convert other image formats to PDF format. Not only it supports different format to convert but also it lets you upload images from the cloud using Gmail and Dropbox. It can take some time to convert images, unlike TIFF2JPG.com. According to the UX perspective, its design requires more actions. As you first need to upload then select medium then click convert button to convert the images.
Step by Steps to Convert TIFF to JPG in PS2PDF
Step 1. To convert images, select the blue box. You will be prompted to a menu asking for different options for uploading images.
Step 2. Select the From Computer option. A dialog box opens. The images uploaded will be shown below the Blue and Green boxes
Step 3. Click on Convert Now! to convert the files.
Step 4. You will be directed to download page, where you can download your images.
Step 5. Select either a green button or blue button to download files.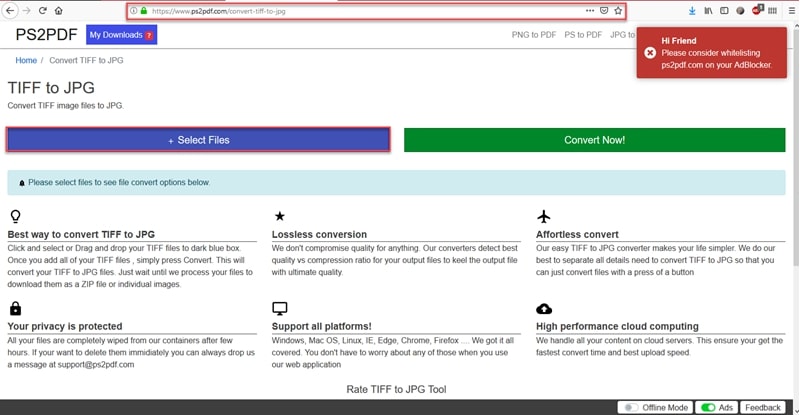 URL: https://www.onlineconverter.com/tiff-to-jpg
Online converter is another free online converter that converts images, audio, video, and documents to multiple formats. It is a multipurpose tool for converting measurement units, currency rate, file converter as well as image, audio and video converter. Simpler to use and can be accessed anywhere if you have internet. It even allows you to compress your files. Once you clicked convert, your file will be downloaded automatically. Compared to the above mentioned online tool this one doesn't ask you to download.
Each Step for Convert TIFF to JPG File-Online Converter
Step 1. To convert, you upload the file you want to convert and click Convert.
Step 2. After you have clicked Convert, you will be navigated to the download page where your file will be downloaded.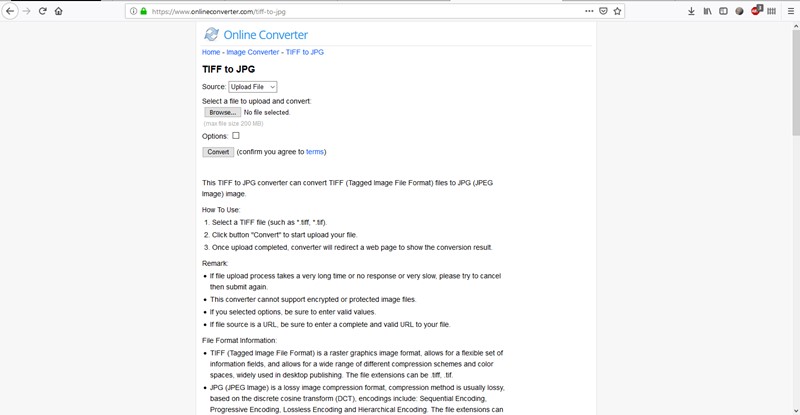 Part 2. How to Convert TIFF to JPG on Software
Wondershare offers a variety of software. One of Wondershare's product UniConverter that let user convert, download videos from URLs, recording, GIF making, and many more features. Its interface is user-friendly and simple.
UniConverter is available for two platforms, Windows and MacOS. You can download it from the official site of Wondershare. It can also convert images to a different format. For this tutorial, we will be using the TIFF image to JPG image format. You can convert a batch of images simultaneously as well.
Wondershare UniConverter
· Support batch processing of picture conversion.
· Convert image to over 1000 formats, including JPG, PNG, BMP, TIFF, GIF, and others.
· Convert TIFF to JPG or specific devices formats without any trouble.
· Transfer converted files from PC/Mac to external devices easily via a USB cable.
· Versatile toolbox combines Image Converter, GIF maker, video compressor and screen recorder, and others.
Please Read the Conversion Steps of Below Carefully
Step 1: To convert image from TIFF format to JPG format, open Wondershare UniConverter after you have downloaded and installed it.
Step 2: Select the Toolbox tab from the main Toolbox on the top.
Step 3: Select the Image Converter option to convert images.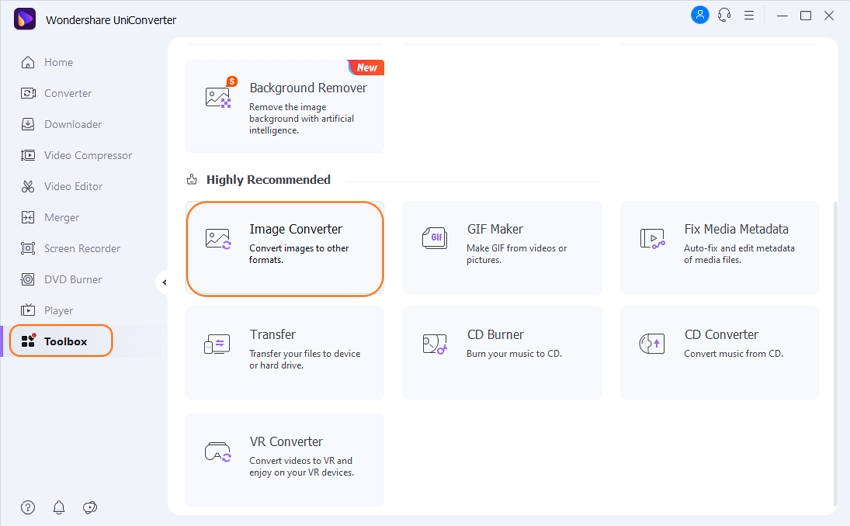 Step 4: Select Add Images to upload images that you wish to convert.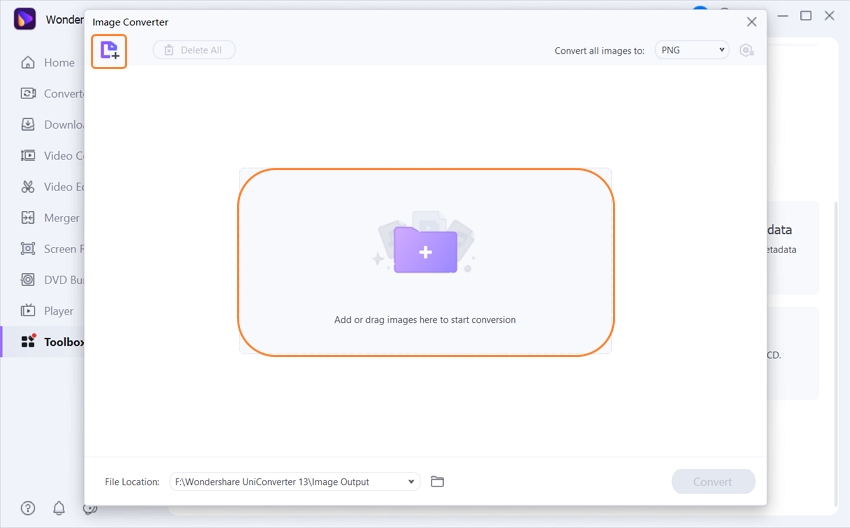 Step 5: Once the images have been uploaded, select format to which you wish to convert. Here we will choose a JPG format. Click Convert.
Once the files have been converted, you can check the newly converted JPG images in the folder specified.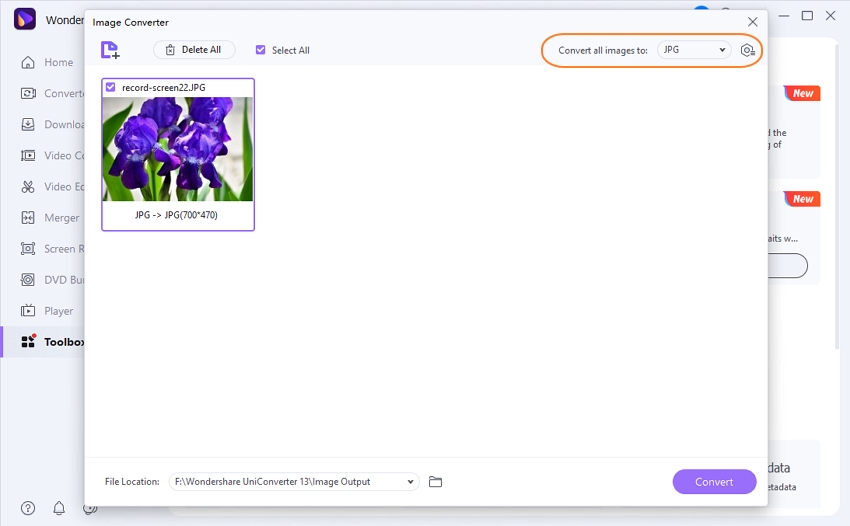 Click the Free Download for Windows or Mac System of UniConverter.
Wondershare UniConverter vs Online Converter Tools
UniConverter Pros:
Simple interface
User friendly
Video/Audio manipulation along with conversion features.
Can support large files upto 2.5GB
Doesn't require internet for conversion
UniConverter Cons:
Online Converter Pros:
Online Converter Cons:
Support small size files only
Many tools don't allow editing
Can contain many ads and can sometimes also contain viruses
Quality of image can be compromised sometimes
Summary
There are many ways, you can convert TIFF images to JPG image format through various ways and products. For one time use and small size files, online tools can suffice and are readily available. However, for larger size and long-term usage, Desktop software are better option and offer more freedom and productivity. Also, for enterprise and small businesses, software converter is better option.