TTF simply stands for True Type Font. It is an outline font standard created by Apple and Microsoft. It is used by both companies as a raster font format. What this implies is that it can be converted to any size without having an adverse effect on the quality of the image. What's more, the converted image looks exactly the same when printed and as when it was still on the screen. TTF also has a vector format so it is easy to scale.
The capacity to make use of TTF files is solely vested in the Apple and Microsoft OS. TTF files are birthed by certain image editing software such as OpenOffice Draw.
So, now that you've got a good idea of what TTF is, it is imperative at this point that you know how to convert TTF to JPG which is the ambit of this article. I'll be sharing some of the best ways to get this done, so make sure to read this post till the end! Let's get it started.
Part 1. Top 5 TTF Online Converters to Convert TTF to JPG
URL: https://convertio.co/ttf-jpg/
Convertio is online software that converts various files from one format to another. Convertio supports over 2000 formats which include audio notes, presentations, images, etc. The software also makes provision for you to export the files to other locations like google drive and Dropbox. On Convertio you can start conversion then leave the app, the conversion still continues and when it's complete It's automatically uploaded to your file storage.
For any kind of file uploaded on the software, Convertio has the ability to convert them to more than four file types. Features of Convertio include Developer friendly API, ability to convert many file types, and different pricing options to choose from.
Steps to Convert TTF to JPG on Convertio
Step 1: Upload ttf files from your computer, Google Drive, Dropbox, URL.
Step 2: Choose to jpg or other formats you need as a result.
Step 3: Download your jpg images.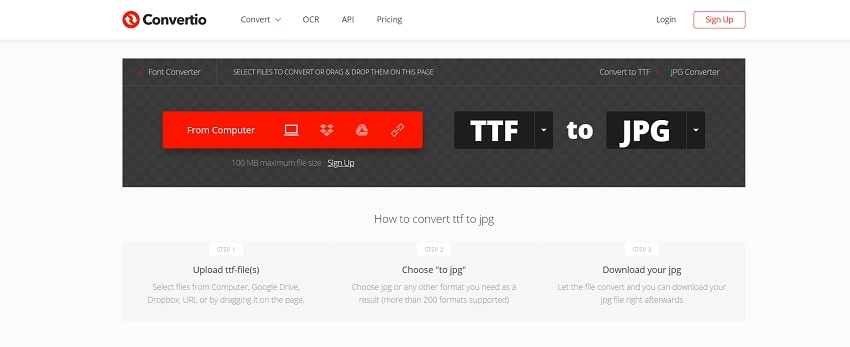 URL: https://www.aconvert.com/image/ttf-to-jpg/
Aconvert is an offshoot of PDFonline.com. However, the scope of Aconvert transcends PDF includes the conversion of all kinds of documents ranging from eBooks, icons, audio notes, images, archive files, etc. This is the reason for the A in the domain name which stands for All.
There has been a recent development on Aconvert which has brought about the additional servers which changed the change file button to change files this is to the effect that you can run multiple conversions at the same time using this software.
Steps to Convert TTF to JPG on Aconvert
Step 1: Choose the file to be converted and the location from where you want to import it.
Step 2: Select whether or not you'd like to resize the file.
Step 3: Click Convert now! and wait for your converted file.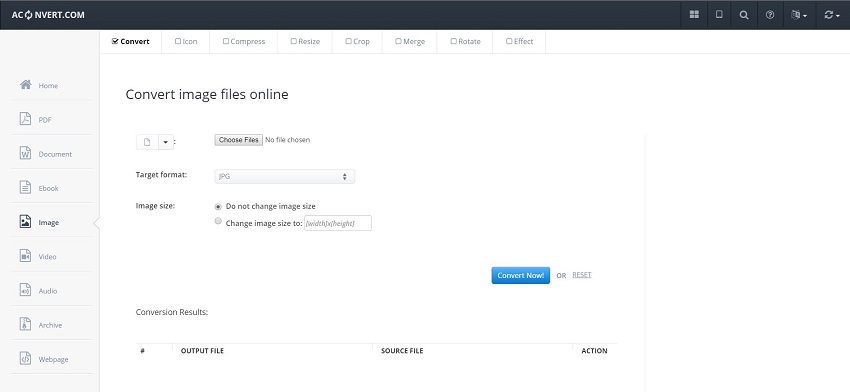 Coolutils is an online converter software developed in 2003. It supports over 1,400 file formats this means that it doesn't matter whether your file is outdated or up-to-date, Coolutis will always come through for you. Coolutils operates a user-friendly interface and the app can also run on the command line for the sake of convenience.
Coolutils provides users with a 30days free trial before they can choose from the multi-subscription packages and payment methods available are over 50. Another important feature of this app is that every upgrade within one year of purchase is free.
Steps to Convert TTF to JPG on Coolutils
Step 1: Click on Select files as shown below. Then choose the TTF files you'd like to convert.
Step 2: Set the destination file format to JPEG and choose whether to resize the final image or not.
Step 3: Click Download converted files to get your file.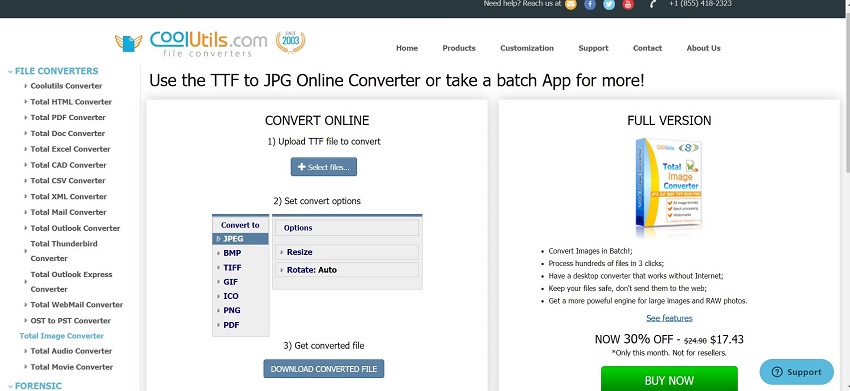 URL: https://www.office-converter.com/TTF-to-JPG
Office Converter is a useful online conversion tool. The converter creates perfect working image documents from texts, graphics, etc using the initial formatting document. With Office converter, you can produce some of the common image formats like JPG, BMP, GIF, TIF, TGA, RLE, PNG, EMF, WMF from complete documents such as Word (doc, docx, docm), Excel (xls, xlsx, xlsm), PowerPoint (ppt, pptx, pptm), .txt, and htm/html.
The good thing about Office converter is that it preserves the original quality of whatever file you're converting. It also has the batch convert feature which allows you to convert multiple files to one format at one go! Sign up in order to upload and convert file size of up to 1GB.
Steps to Convert TTF to JPG on Office Converter
Step 1: Click Add files... to upload your file(s). You can also drag and drop your files in the box as shown above.
Step 2: Then select Start Convert.
Step 3: Wait for your file(s) conversion to be completed and then download.
You can also convert another document located online by entering the website link to such files. Then click Download and Convert.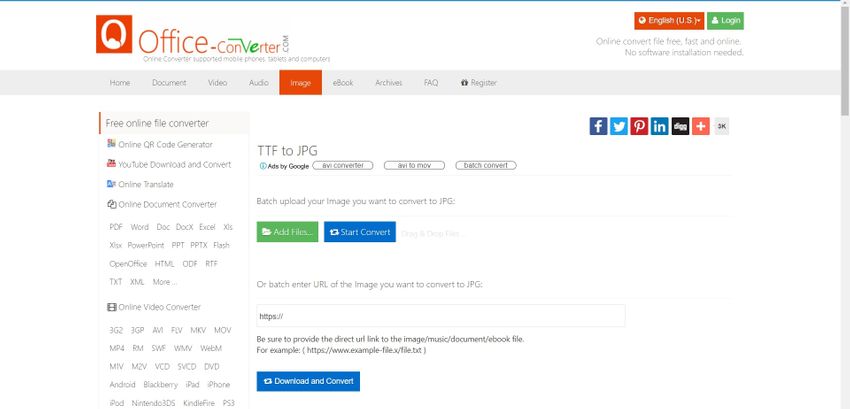 This is a free online tool that converts TIFF files to optimized JPG images. The software allows for multi-page TIFFS and handles files up to 50mb. On TIFF TO JPG conversion doesn't reduce the image quality. Also, the process of conversion is very easy owing to the explicit and simple nature of the software.
Another feature of this converter is that your privacy is highly protected as all your files are deleted from their containers after a few hours. It supports virtually all platforms and runs on a high-performance cloud computing.
Steps to Convert TTF to JPG on TIFF to JPG
Step 1: Click on Upload files to select and upload multiple TIFF files. The limit of files you can upload at once is 20.
Step 2: The conversion starts automatically after uploading. So, wait for it to complete.
Step 3: Select Download all to download all the converted files in one batch of ZIP folder or download them individually.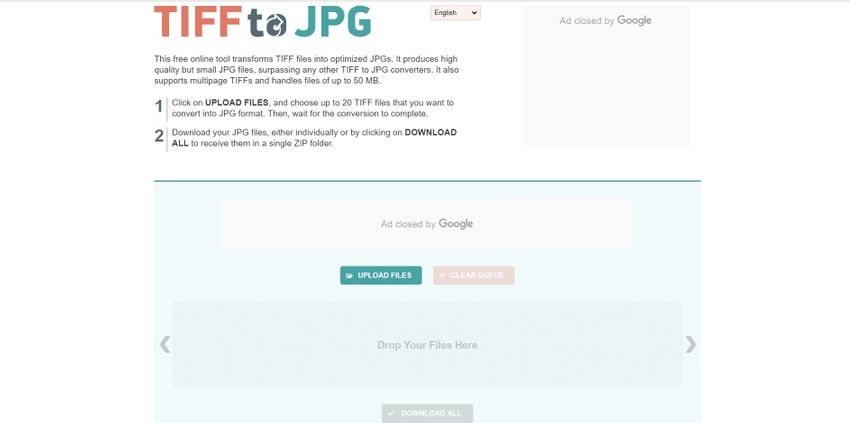 Part 2. How to Convert Picture to JPG
Lots of websites and apps would in most cases not allow you unless it's in JPG format. Most times this is super annoying; hence, the need to convert other picture formats such as GIF, PNG, and a lot more into JPG forsmat becomes compelling. JPG format also known as JPEG is widely known for its ability to reserve the best quality in the smallest size.
You don't necessarily have to be a geek to be able to convert other picture formats into JPG. You can usually do this with paint which is pre-installed on your PC. Also, there are certain apps that enable this conversion and one amongst these many apps is Uniconverter.
Wondershare Uniconverter is web-based converter which converts videos to over 1000 formats at a 30x speed without loss in quality. It also allows you to download, edit compress, burn and transfer videos.
The Wondershare unit converter was previously known as Wondershare video converter ultimate.
Wondershare UniConverter
· Support batch processing picutre conversion.
· Convert image to over 1000 formats, including JPG, PNG, BMP, TIFF, GIF, and others.
· Convert to JPG or specific devices formats without any trouble.
· Versatile toolbox combines Image Converter, GIF maker, video compressor and screen recorder, and others.
Steps to Convert Images to JPG
Step 1: Open Wondershare Uniconverter
Find the Wondershare UniConverter Software icon on you PC desktop, double click it to run it.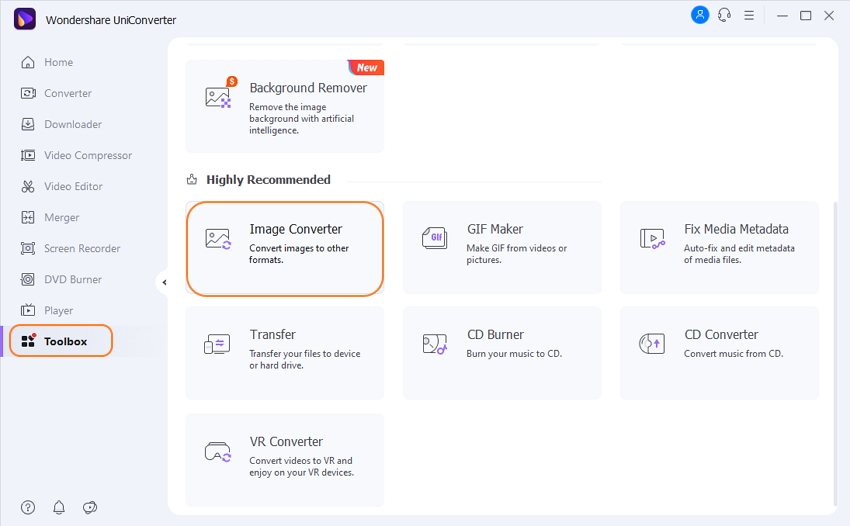 Step 2: Add TTF Images to UniConverter
Select the Image Converter features from ToolBox. After that, click the Add Files or Drag&Drop file to upload TTF file.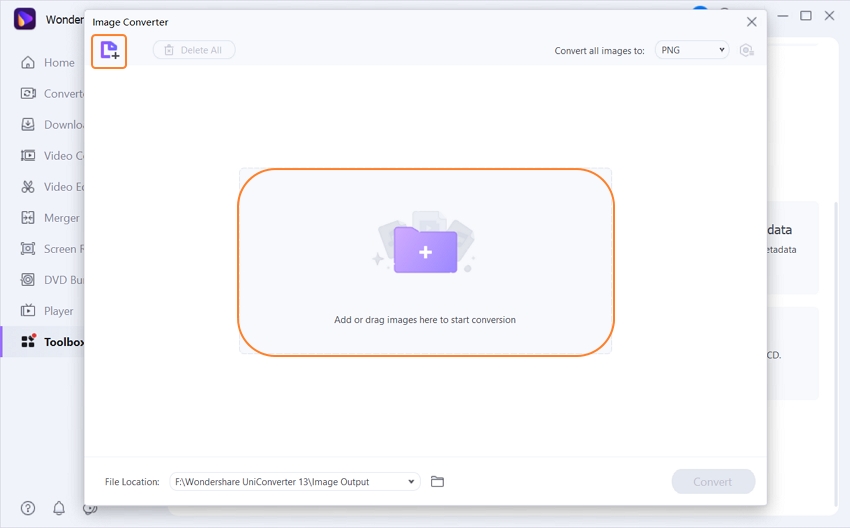 Step 3: Choose JPG as Converted Format
In the upper right corner, there is a ribbon for selecting the output format, which is called Convert all images to. In here, you should choose JPG as your output format.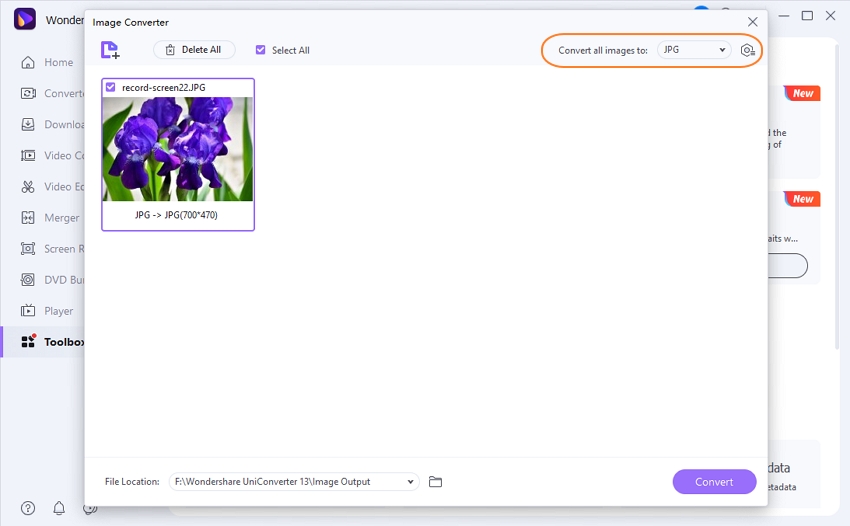 Step 4: Complete your Conversion Process
After choosing image output format, click the Convert button to do the TTF to JPG Conversion.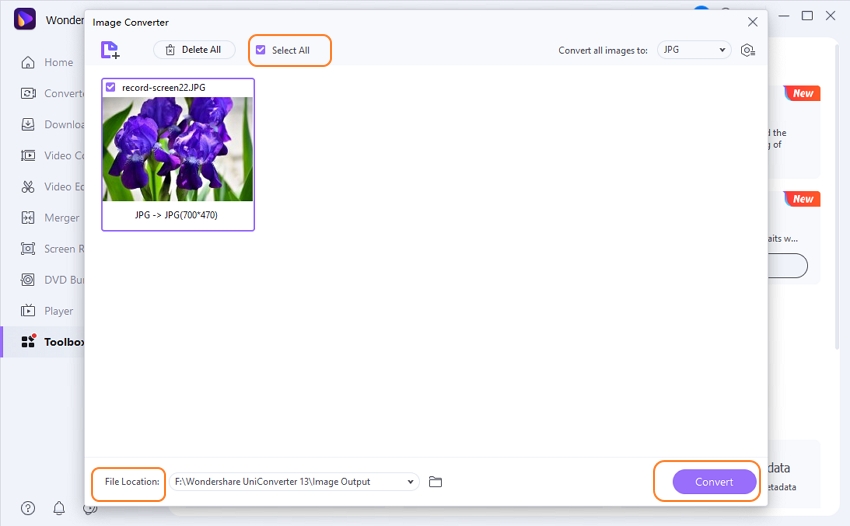 To complete certain tasks, one might need to convert TTF to JPG. However, to help with this task, different apps that can actually perform this task have been listed above along with their pros and cons and the required steps which contain images to get you acquainted with the interface of these apps.
Now you're the umpire! You can now choose whichever app you feel suits your own need in order to make easily convert your photos.
The most powerful image converter could be downloaded here. Please check more information below.