Converting your PSD files to JPG format makes them accessible as a general image and by almost all types of devices, editing programs, and other tools. A number of online programs facilitate your file conversion from PSD to JPG in a quick, hassle-free, and free manner.
Part 1. PSD to JPG Converter Online
Converting PSD to JPG can also be achieved by using an online tool. With online programs, you do not have to worry about any software installation or registration and the tools are free to use. Know about the popular PSD to JPG online tools in the following part.
URL: https://www.iloveimg.com/convert-to-jpg/psd-to-jpg
Using this online converter, your PSD files on the computer, Dropbox, and Google drive can be converted to a JPG file in a simple manner. Free to use, the program allows adding multiple files to the interface for the conversion process. If a PSD file has multiple images, they will be merged into one during the conversion process. Once converted the image can be downloaded to your PC or cloud storage. There is also an option to share the download link or scan the QR code of the file.
Pros:
Allows adding files from cloud storage in addition to computer
Converted files can be downloaded to Google Drive, Dropbox, and its link can also be shared
Con:
Internet dependence
No option for file editing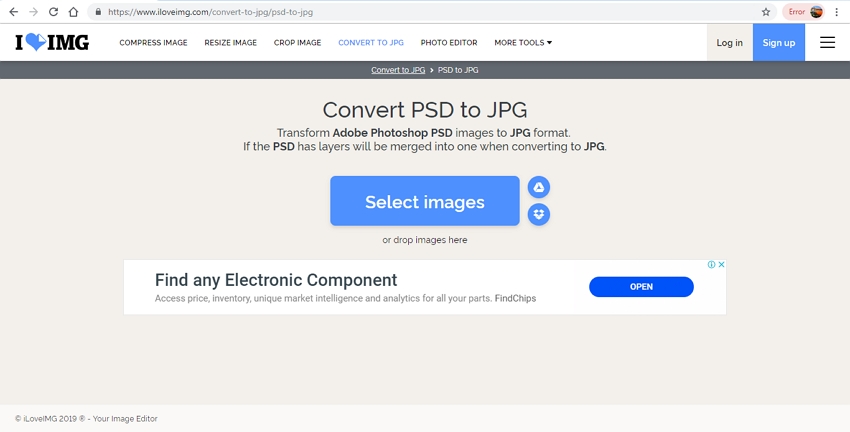 URL: https://www.onlineconverter.com/psd-to-jpg
Using an online converter, a PSD file with maximum 200MB size can be converted to JPG format in decent quality. The program allows adding a local and online file for the conversion. Option for file resizing by choosing width and height and selecting output file quality is also there. The converted file can be downloaded and saved to your PC.
Pros:
Allows to add local and online files
Option for file resizing and choosing quality available
Con:
200MB is the maximum file size supported
No batch processing option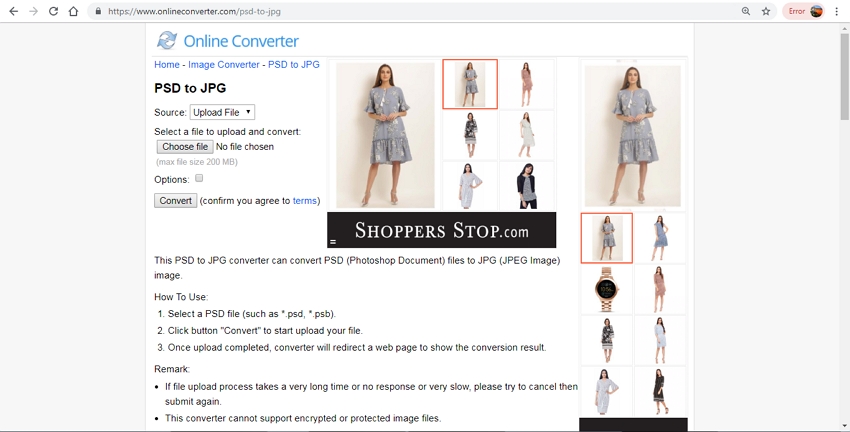 URL: https://www.zamzar.com/convert/psd-to-jpg/
Zamzar is a widely used online conversion program that supports a wide range of file types and formats. Using the tool, your PSD file can be converted to JPG and other supported formats. The tool features a simple interface where you need to add the local or online PSD file and choose the output format. As you select to start the conversion process, the file is uploaded and then converted in decent quality. You can download the processed file on PC or can get its link on mail if needed.
Pros:
Free software with a simple interface
No requirement for software installation or registration
Con:
The converted file needs to be downloaded
The site comes with ads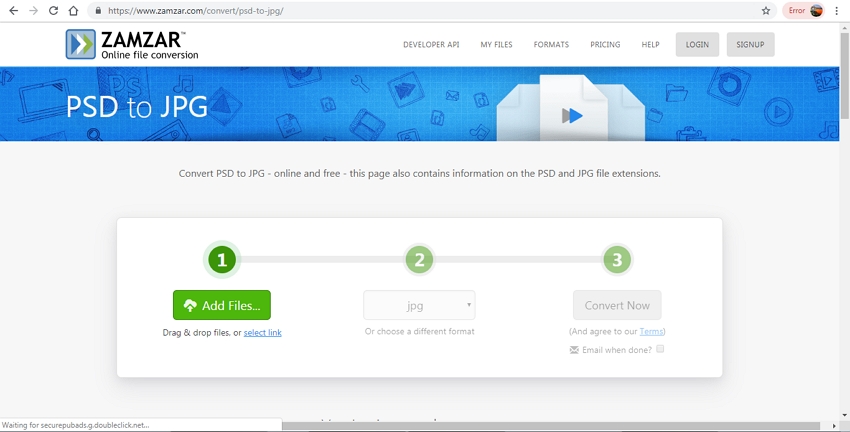 URL: https://image.online-convert.com/convert/psd-to-jpg
With Online Convert, your PSD file on the computer, URL, Google Drive, and Dropbox can be processed to JPG format. The tool supports an array of editing options like selecting quality, changing the size, choosing the color, enhancing the image, and cropping the file. The selected file settings can also be saved if needed for future files. Save the converted file on the desired location at your computer or cloud storage.
Pros:
Allows adding files from the computer, link, and cloud storage
Option for choosing file quality and size
Allows to crop the file if needed
Con:
No option for batch processing
Dependent on the internet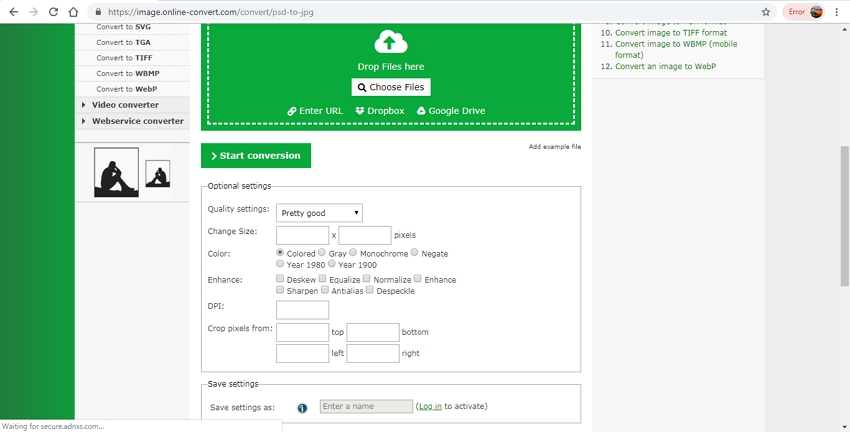 URL: https://convertio.co/psd-jpg/
Convertio is a popular online tool that supports conversion of different types including PSD to JPG. While using the program you can add the desired file from your computer, through a link in case of an online file and also from cloud storage. In addition to JPG, a number of other formats are also supported as the target file. The added file once uploaded and processed is available for download from the interface itself. You can even save the converted files to Google Drive or Dropbox.
Pros:
Allows adding files from multiple sources
Free software without any need for registration or installation
Con:
The site comes with ad
Slow conversion speed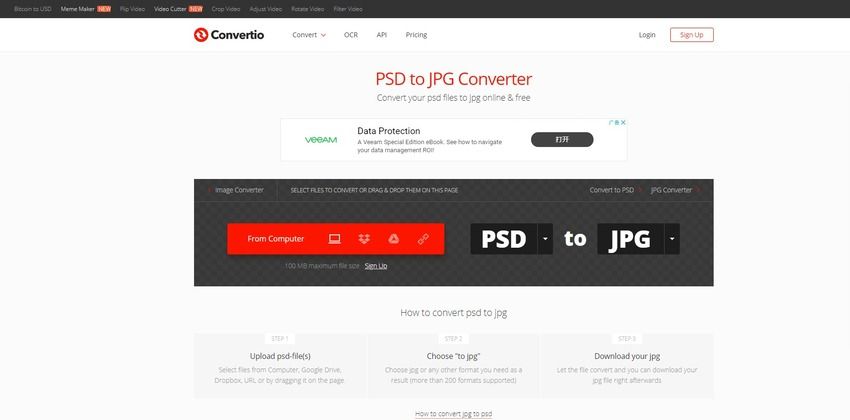 Part 2. Save PSD to JPG with Photoshop
In order to use PSD like a normal image file and share it over internet and mail, converting it to a compatible format like JPG is required. Using Photoshop is the easiest and the most straightforward way to change PSD to JPG.
Steps to convert PSD to JPG using Photoshop
Step 1: Launch Photoshop app on your computer and from the main interfaceopen File > Save As….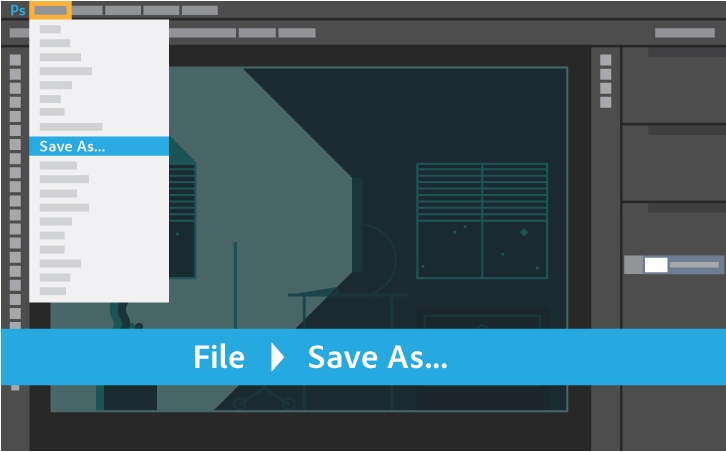 Step 2: From the pop-up window, choose JPEG as the desired format type under the supported Format list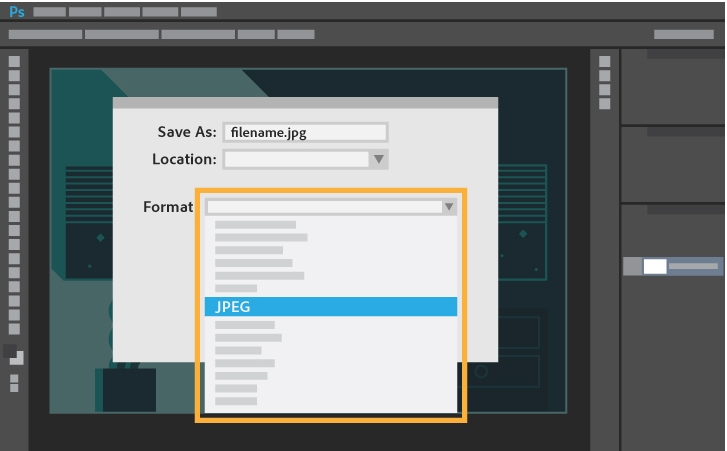 Step 3: At Save As: tab, choose the desired file name. Click on the Save button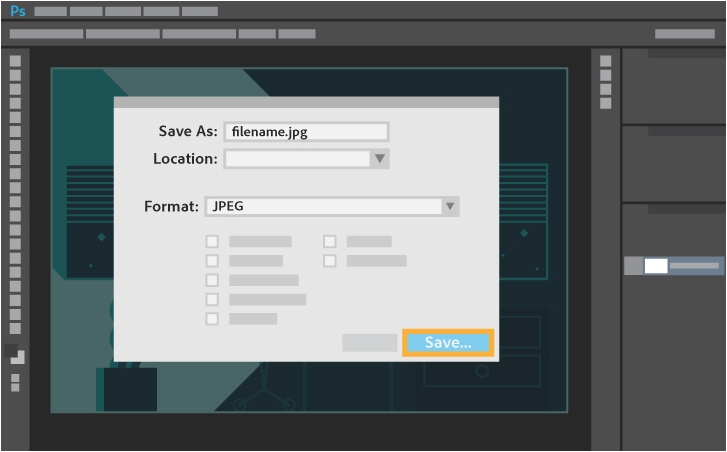 Step 4: Next, you need to set the export options. Here you can choose the image quality and format options as needed. Click on the OK button to confirm the settings.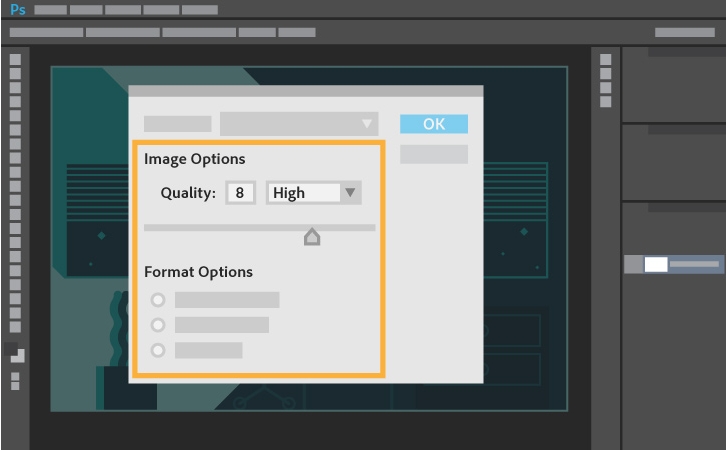 Part 3: PSD Information
a. What is PSD File Format?
A PSD is an image file format that is created by Adobe Photoshop. Standing for Photoshop Document, this is a layered image file which is the default format that is used by Photoshop for saving the data. A PSD image may include layer masks, file information, image layers, adjustment layers, keywords, annotation and other elements which are Photoshop specific. The file is majorly used by the professionals working with the graphics. A PSD file supports a maximum size of 2GB and height and width of 30,000 pixels.
b. What is the Data Structure of a PSD File?
Talking about data structure, a PSD file can be separated into 5 parts as listed below.
1. File Header: This part of the file contains information pertaining to the main properties of the image like color mode, version, bits per channel, pixel height and width, number of channels, and others.
2. Color Mode Data: This part of the file provides information on the color data length. Until the color mode is indexed or it is duotone, the value is set at 0.
3. Image Resources: This file part specifies the image resource section's length along with the image resources. An image resource is a block series having a resource ID and it includes information about the type of data which is stored in the block. Non-pixel data like tool paths of pen or pencil are stored in the blocks.
4. Layer and Mask Information: Information related to the layers and the masks are stored in this part of the file. The major information includes channels in the layers, number of layers, adjustment layer keys, mask parameters, blending ranges, and effects layers.
5. Image Data: Information related to an actual image, pixel, and data compression are included in this part of the file.
Thus to make your PSD files accessible as a normal image, convert it to JPG format using Photoshop or one of the above mentioned online tools.
Wondershare UniConverter is one of the most useful software for image converter and video converter. It also could do the video compressor, VR converter, GIF maker, and others.
Wondershare UniConverter
· Support batch processing of pictures conversion.
· Convert images to over 1000 formats, including JPG, PNG, BMP, TIFF, GIF, and others.
· Convert photo to JPG or specific devices formats without any trouble.
· Transfer converted files from PC/Mac to external devices easily via a USB cable.
· Versatile toolbox combines Image Converter, GIF maker, video compressor and screen recorder, and others.